Part 1 A season from Hell - Part 2 What went wrong? - Part 3 End of an era - Results and table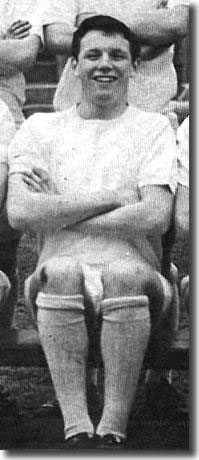 An unbreakable bond between the names of Leeds United Football Club and Eddie Gray was forged in May 1963 when manager Don Revie signed a slender left-footed Scot for his mediocre Second Division outfit despite competition from some of the biggest clubs in Britain.
Gray made his first team debut as a 17-year-old in January 1966, going on to give what should have been a match winning performance in the mud of Wembley in April 1970 in the Cup final against Chelsea. He was told by the irascible Brian Clough in 1974 that if he'd been a racehorse he would have been shot, before going on to play for Leeds for another decade, registering almost 600 first team appearances.
The club turned to him as manager in 1982 when they were relegated and he inspired a new generation of Elland Road youngsters before being disgracefully sacked in October 1985. Howard Wilkinson brought Gray back to the club a decade later to coach another crop of youngsters, and he went on to become assistant to David O'Leary.
One of Peter Reid's first decisions when becoming 'permanent' manager of United in May 2003, was to remove Gray from the position of assistant manager, before the chairman made him his 'special ambassador'.
Six months later, on 10 November 2003, when Reid was shown the door, Leeds United turned to Gray, appointing him caretaker manager, with the unenviable task of reviving a team rooted at the bottom of the Premier League.
Never once did Gray complain, welcoming the chance to once more manage the club he loved. He said when he was appointed: 'It's a fantastic opportunity for anyone to take over. I have been at the club for a long time and you don't think it's going to happen again. I'm looking forward to it.'
Gray was given special dispensation by the Premiership to take charge despite not having the required coaching qualifications.
His first match in charge of a Leeds United team for more than 18 years saw his players facing Bolton at Elland Road, just the sort of game that the team would need to win if they were to escape relegation. Unfortunately, they had to take the field without Alan Smith, Dominic Matteo (both suspended) and Gary Kelly (injured), while Gray chose to exclude Jermaine Pennant. However, he felt able to recall Mark Viduka to play up front after his spat with Peter Reid.
United began well but saw defensive lapses hand Wanderers two goals in the space of sixty seconds to leave them trailing after just 17 minutes.
Zoumana Camara, deputising for Kelly at right back, tried to stop the ball going out for a throw but succeeded only in giving Bolton possession. Michael Duberry's weak clearing header fell to Kevin Davies, who drilled the ball home. Seconds later, Davies found a remarkable amount of time and space to free Stelios to score from close in.
After that, United huffed and puffed but the game was as good as over, and a sixth successive defeat, the fourth in a row at Elland Road, left Gray in no doubt about the enormity of the club's plight.
He spoke frankly afterwards, saying: 'I expected a better performance from them, but it didn't materialise. I didn't expect them to get beat 2-0 at home. It's a difficult situation and I said that before the game. I still think that if the players apply themselves properly to the task and we get one or two players who weren't available to us back then we still have a chance of picking results up.
'The fact is we are at the bottom of the table and that is disappointing, but you have to look at it with the point of view that if you can win a couple of games you are right back in there. The aim of everybody at the club has to be to get confidence flowing back through this club. There is no doubt that there is definitely a lack of confidence in this team as a unit. In general we have to defend better, and you look at the team as a whole and we are making it too easy for teams to play.
'I was not looking for favours from the players, I was expecting them to do themselves some favours and play with pride. They need to pick points up because the important thing is for the club to maintain its Premiership status.'
Gray considered what he could do to stem the tide and give his beloved club a chance of coming back from the dead. He decided on two significant courses of action to try and change things around.
Reasoning that the side badly needed an injection of fighting spirit, he discarded the foreign loan players whom Peter Reid had signed, and opted instead for home grown talent. Lucas Radebe and Mark Viduka were the only non-Brits in his eleven for the following weekend's trip to Charlton, with Jermaine Pennant the only loanee selected.
Secondly, recognising the defensive weaknesses (Leeds had by far the worst goals against record in the Premiership, with 33 goals conceded in just 13 matches), he sought to make United difficult to break down by deploying a defensive 4-5-1 formation. Welcoming Smith and Matteo back from suspension, he ranged them in unaccustomed central midfield roles, alongside David Batty, to stifle the opposition and deny them space. Pennant and young James Milner, back from a loan period with Swindon Town, operated on the flanks with Viduka ploughing a lone furrow up front.
Gary Kelly returned at right-back to form an experienced Premiership back four with Radebe, Michael Duberry and Ian Harte.
Gray's changes reaped immediate dividends, as the new formation brought much needed solidarity to the middle of the field, allowing Leeds to build the foundations for a decent performance. Smith, Matteo and Batty put in sterling, hard working displays, smothering the life out of Charlton. The spirit of the side was light years away from the feeble surrender that had characterised their display against Bolton.
In a gentle echo of their shock 6-1 win at the Valley in the spring of 2003, Leeds took the fight immediately to their high placed hosts.
Alan Smith looked justified in his unsuccessful penalty appeal early on when Mark Fish pulled him, but his side was soon in a surprise lead. Mark Viduka moved in from the left to push the ball to Milner on the edge of the area. The 17-year-old's first touch was superb and gave him the space inside to slide the ball past Charlton keeper Dean Kiely.
Despite the negative formation, United continually troubled the fourth placed club, going close on several occasions. They always had the upper hand and enjoyed a dominant afternoon, emerging with their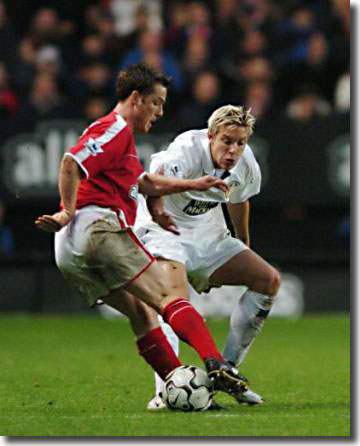 first clean sheet in 13 matches.
Eddie Gray was delighted with his team, saying afterwards:
'I thought we deserved our win. This is a difficult place to come to and most sides would be delighted to win here. I'm especially pleased with our attitude. There has been a lack of confidence running through the club and hopefully this victory will give the players a lot more belief and we can start to climb the table. The ability is there. The players just need to have belief in each other. We have a long way to go before we can consider ourselves a good side but I'm extremely pleased how it went for us today.'
Dominic Matteo also sang the praises of his teammates: 'Today we got back to playing together as a team. Viduka was outstanding. He worked his socks off, some people have said he doesn't work hard enough, but you could not fault him today, he was amazing. It was great to see Batts back in. We always wanted that but it is up to the manager who picks the team, he gives us that little bit of cover in front of the back four and is class to play alongside.'
Despite the win, Leeds were still bottom of the table, but when another hard working performance at home to big spending Premiership leaders Chelsea brought a shock point, Leeds managed to climb above Wolves and leave themselves just a couple of points away from clearing the relegation zone. United had taken the lead with a smart goal from Jermaine Pennant. The winger ispossessed Claude Makelele on the right flank and weaved his way through William Gallas and Wayne Bridge as if they weren't there, before clipping the ball adroitly over Carlo Cudicini from eight yards
The Sky TV cameras were at Elland Road for the following match, on Sunday 14 December, as Leeds entertained a Fulham side who were enjoying a wonderful season and sitting fourth in the table.
Bolstered by the turnaround in their fortunes, Eddie Gray's men were suddenly exuding confidence. Stephen McPhail, had been the only change against Chelsea, replacing David Batty, but now the veteran England midfielder was back, with the other ten players combining for the third game in a row.
Such uncommon stability was refreshing and once more the five-man midfield unsettled supposedly superior opponents. The first half was evenly contested, but from the thirty-minute mark confidence and composure allowed Leeds to exert some dominance and put together a few decent movements.
Nevertheless, it seemed the first half would end in deadlock, until, with four minutes to go, there came a somewhat fortunate breakthrough. Luis Boa Morte brought down Alan Smith on the right hand edge of the area. Ian Harte's free kick was smartly parried by Fulham keeper Edwin Van der Saar, but cannoned back into the net off Michael Duberry's knees for the big defender's first goal since May 2000, although he knew little about it.
Seconds after the interval, Leeds were two up. Mark Viduka shuffled his way across the area from the left and curled in a brilliant right-footed effort, giving the keeper no chance.
That should have been that, but United were by no means yet fully recovered. Confidence might have been restored, but it remained fragile, and while the supporters were still celebrating, Fulham had reduced the advantage. Louis Saha's long range low drive slipped under Paul Robinson's vain dive and suddenly Leeds were subject to a desperate case of the jitters.
Fulham came close to equalising on several occasions, but it looked like United would hold out to earn all three points as the seconds ticked by.
There were four minutes to go when Saha found the time to fire another effort goalwards from the same sort of distance as before, and once more it reached the back of the net. Elland Road was as silent as the grave as it looked like all the old frailties had returned, but the action was not yet over.
Leeds now threw caution completely to the wind and swept forward, desperately struggling for an unlikely winner. Two minutes from time they were awarded a free kick out on the right and when Ian Harte floated the ball over Dominic Matteo rose majestically in the area to flick the ball home with his head. It was the defender's first goal since the heady night when he had scored against AC Milan in the Champions League. United had snatched the most dramatic of victories just when they looked to have thrown the points away.
You could smell the emotion and the relief all round Elland Road as players and fans saluted each other. It was a startling victory, lifting the hearts of everyone at the club. They now had fifteen points from 16 matches, and some over optimistic scribes in the local papers pointed out that United were only ten points shy of a Champions League spot!
Draws followed at Manchester City and at home to Aston Villa, and it seemed that Eddie Gray had discovered the Midas touch, finally giving the club some reason to hope they could emerge successfully from this battle against relegation. Unfortunately, a late knee injury for Lucas Radebe at City saw the back four disrupted with young Matthew Kilgallon taking over from the Chief.
Another goal from Michael Duberry saw Leeds take the lead at bottom club Wolves on 28 December, but a fluke error by Alan Smith brought the Midlands club back onto level terms.
The Independent: 'In what was a must-win match for both clubs, Michael Duberry had headed Leeds in front after just three minutes. Such was the impact on Wolves' fragile confidence that one sensed a second goal for the visitors might lead to a rout. Another Leeds player duly scored in the 18th minute, but to the despair of their acting manager,
Eddie Gray, Alan Smith put the ball into his own net in bizarre circumstances.
'The crowd groaned when Henri Camara scuffed an 18th-minute corner kick straight to Smith, who was stationed at the near post. However, the jeers turned to cheers, tinged with disbelief, as the Leeds forward sliced his attempted clearance back over the heads in a crowded six-yard box, the ball entering the net off the far post.'
That stroke of fortune changed the course of the entire game; indeed it might have shaped the entire season for Leeds United. Their good luck rejuvenated Wolves' flagging spirits and prompted them to overwhelm the Yorkshiremen, with two second half goals from Steffen Iversen earning a 3-1 victory Wanderers so badly needed.
This was a match that Leeds simply HAD to win. Wolves had been there for the taking, and a win for United would have kept a run going which could have been decisive. As it was, a stumble became a full-scale disaster, and the shock of the defeat set the club back firmly on its heels, destroying the brittle confidence that had been building up.
A week later Premiership leaders Arsenal won 4-1 at Elland Road to end United's slim hopes of FA Cup glory despite a shock opening goal from Mark Viduka in the eighth minute when Gunners keeper Jens Lehmann fluffed his clearance. Rather more serious for United, however, was the run of five straight Premiership defeats that followed, decorated with but a single goal, a late consolation by Matthew Kilgallon at Southampton.
As the club teetered almost inevitably towards administration, Eddie Gray continued to speak hopefully but desperately of survival:
'You try to instil as much belief as you can but they've got to have that belief as well. That's the important factor. I have confidence and belief in them and you say that to them but they have got to have the belief themselves that they can get out of trouble. I don't think that belief is waning. I still think the players feel they've got a chance to pull away.
'We need to start going into games without that fear of losing. It is difficult at a club in our position with the expectation levels here. But the boys have to overcome this and have the confidence and courage to try things because that is what wins matches. They have to express themselves more. That is what happens with the top teams - and it is that freedom of expression that keeps them there. Manchester United and Arsenal have top players who can go out and change the course of games. That's what makes the likes of Roy Keane, Ruud van Nistelrooy, Thierry Henry and Robert Pires great players.
'I am confident we have the players here who can do that. Jermaine Pennant and James Milner may only be young, but they can transform matches with their ability. But time is not on our side. We have to start winning games - quickly.
'Like me and everybody else connected with the club, the supporters have got to have the hope that we can get out of trouble, it's up to the players to have that hope as well. We have still got the players at this football club that can turn it around.
'The players themselves know the situation and they can be a help to the club if they get out of the situation we are in. They need to try and help the club. They are a bit concerned with things that have gone on, but I try and impress upon them that they should concentrate on football and everything else will take care of itself whatever happens. It has
not been any harder for me these past few weeks, and it shouldn't be any different for them. What I am doing is just the same as what I was doing when I came back to the club, and the players should be the same. They go training and get ready to play football matches and that's how it should be.
'Nothing's changed for me at this club. Most of my playing days here were in great times. This is just the other side of things. People were talking about Leeds going under 20 years ago, too. The big difference now is that there's far more money involved, in terms of the size of the debt and what the players earn. But our club will survive. We've bounced back before and we will again.
'We couldn't afford eight years in the wilderness like the club had after we last went down. Look what's happened to Sheffield Wednesday. When they were doing well in the Premiership a few years ago, who would've thought they'd be playing league games with Rushden & Diamonds, who my son Stuart plays for? That's why it's vital we do our utmost to stay up.'
On the plus side, United had got through the January transfer window without losing any of their crown jewels, as had been widely expected. Striker Michael Bridges, fighting his way back from injury, was sent on loan to Newcastle with his contract due to expire in the summer, while Scottish international defender Stephen Caldwell made the return journey, also on loan.
Chief executive Trevor Birch fought hard to retain the best players, with Mark Viduka staying at the club despite rumours of a move to Middlesbrough. Birch had refused to accept an offer of £5m from Tottenham for Paul Robinson and James Milner, although only issues with Premiership rules blocked the transfer of the goalkeeper. Originally, it was agreed that Robinson would be sold and then loaned back to Leeds for the remainder of the season, but that would have broken regulations on the numbers of players on loan and so the deal fell through.
Two players who did leave were Cyril Chapuis and Roque Junior, as their loan deals were terminated in an attempt to save money. The club had also sought to offload Zoumana Camara, Salomon Olembe and Lamine Sakho, but they opted to remain at the club, at least until their loan periods ended in the summer.
Roque Junior had one of the most disastrous of all Elland Road careers - all but one of his seven appearances ended in defeat, with 25 goals conceded in the process. The Brazilian was booked twice and dismissed against Birmingham City after conceding a penalty.
The contributions of Peter Reid's other recruits were only marginally less inglorious than that of the South American: Jody Morris made 12 appearances before having his contract terminated and departing to Rotherham United after allegedly turning up drunk for training - he also faced rape charges, which were eventually dropped by the Crown Prosecution services; Domi (12 appearances), Chapuis (3 - 2 of which were in Worthington Cup), Olembe (12) and Camara (13) played only a marginal part, while injuries restricted Sakho to 17 Premiership appearances and a single goal after a bright pre-season. Strangely, Domi made the majority of his Leeds appearances under Eddie Gray, but Roque Junior, Morris, Chapuis, Olembe, Camara and Sakho made just seven starts and 10 substitute appearances between them after the departure of Peter Reid. The one exception to the roll of dishonour was Jermaine Pennant who maintained exciting form throughout the season and was a regular choice, even though at times he flattered to deceive.
David Batty was told that he would not figure in Eddie Gray's plans for the first team for the rest of the season, and there were dark hints that the midfielder was becoming a disruptive dressing room influence, while Mark Viduka was missing for several weeks after being granted leave to spend time with his seriously ill father in Australia.
As February began, Viduka returned to the club and suddenly there came the faint hint of a playing revival, which commenced one dark night in Leeds, as an equally desperate Wolverhampton Wanderers came to call.
The Observer: 'Last against second-last, a six-pointer and then some. For the home side the mathematics of defeat may not be decisive but the effect on players, club and fans, not to mention creditors owed about £100 million, will almost certainly be terminal.
'The omens are bad. Leeds have lost six in a row and Wolves are showing signs of a revival. The morning's Guardian includes a doomy feature about life after Leeds United and the afternoon's Yorkshire Evening Post fills its back page with the message: "If United fail to beat Wolves tonight will the last person out of Elland Road please turn off the lights?"
"'or the vultures in the press box the script for this cold, wet Tuesday night is written already: the club is about to tip into relegation, administration and possibly oblivion. Thirty minutes in and that is just how it looks. Leeds have scrambled a goal through Alan Smith only for Wolves to cancel it out. The home defence is a mess, with goalkeeper Paul Robinson missing crosses and central defender Steve Caldwell, just in on loan, wobbling under pressure. It's only a matter of time.
'Then something changes. Seth Johnson starts winning tackles; James Milner, on the wing, makes Denis Irwin look his age; Smith is reaching the high balls; Mark Viduka's little passes find their men. Sensing the shift the crowd turns the volume up, chanting with arms aloft: 'We are Leeds! We are Leeds! We are Leeds!' Just before half-time, Dominic Matteo scores and, after the hour, Milner makes it 3-1.
'"Want another," says a fan beside me greedily, and he has his wish. In the final minute Viduka wins the ball on the left, slips past a couple of defenders and thumps it between keeper and upright.
'On the bus back into town afterwards fans smile and shake their heads in disbelief. They have defied the doomsayers and bought the club some precious time; there's a long way to go yet but perhaps the worst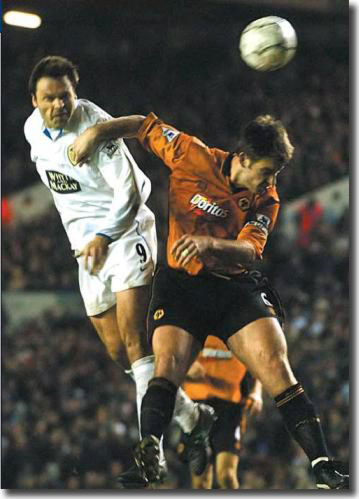 will not happen.'
That was an astonishing night in a dismal season, when once more the old times were remembered at Elland Road, when the players performed as the supporters knew they could, but had rarely seen in recent times. Finally, hope was burning bright in the hearts of those supporters again.
Days later, some of that hope turned to despair when the news came through that United legend John Charles had passed away at the age of 72 following a long battle against illness.
Charles had been admitted to hospital in January after feeling unwell prior to a scheduled appearance on Italian television. He was taken to Milan's San Carlo hospital where he needed an emergency two-hour operation on his heart, after suffering a burst blood vessel in his leg. A private jet owned by Juventus brought Charles back to England, where he was transferred to Wakefield's Pinderfields hospital.
Those who loved football were heartbroken at the news and thousands rushed to pay tribute to the Gentle Giant. There was a minute's silence as a mark of respect before Leeds' visit to Manchester United and the occasion seemed to inspire the team, with Alan Smith rising majestically to head a second half equaliser, and 18-year-old rookie goalkeeper Scott Carson making save after save in his first start after coming in for the suspended Paul Robinson, sent off against Middlesbrough.
More tributes to Charles came the following week at Elland Road when Leeds fought out a 2-2 draw against Liverpool, Harry Kewell and all. It was like the great old days, when United and the Anfield club held sway over English football and the thrill of battle ignited the hopes of one of the most passionate supports in the game. 'Marching on together', they sang, demonstrating once more the incredible loyalty that had withstood all the horrors of recent years, all the betrayals, all the negligence, all the pain.
It was possible once more to be proud to be a follower of Leeds United.
The fans had been incredible throughout this most dismal of seasons, and had never once wavered in their support, even if their faith had long since deserted them. Leeds might have been going down, but at least they were going down fighting.
The emotions had cooled by the time Leeds lost at Fulham but were in evidence again during the next home match against Manchester City, who themselves were being drawn into a relegation battle. The club's new owners watched the game with Gerald Krasner and the men who made up Adulant Force in attendance. Leeds pulled off a breathtaking victory when a run by Alan Smith earned a controversial late penalty winner for Mark Viduka.
Leeds were still in desperate straits, but they had managed to escape administration and now looked like they might also be able to escape the grip of relegation.
Their visit to Birmingham City saw them start off promisingly. Jermaine Pennant's cross field run cut through the heart of the Midlanders' defence and his clipped ball to Mark Viduka at the far post allowed the Aussie to round Maik Taylor in the Birmingham net and open the scoring.
Viduka had already gone close with a volley from an Alan Smith header and in the 10th minute he put another wonderful chance wide from close range. At this point, Viduka and Smith were pulling the home back four all over the place, but any confidence evaporated when Bryan Hughes equalised a couple of minutes later.
United did, however, at least hold their own for the rest of the half, although Birmingham went close on a couple of occasions before taking the lead when Hughes netted his second goal after 67 minutes. There was then little doubt about the result and a brace from Mikael Forssell produced a 4-1 scoreline that left United five points away from the Premiership safety zone with just eight games to go.
The first of those matches was a key one, at Elland Road against fellow strugglers Leicester City, sitting three points above the Whites. Both teams knew a win was vital, and for Leeds a defeat was simply unthinkable.
When Michael Duberry's header gave United the lead after 11 minutes, and Mark Viduka's sharply taken overhead kick doubled the advantage within two minutes, it looked like it would be a bit of a cakewalk. Indeed, the next hour saw the home side assume control. But in this most awful of all seasons, the Yorkshiremen never once made life easy for themselves, and first Paul Dickov and then Muzzy Izzet got onto the scoresheet. It looked as if Leicester were the team likeliest to snatch it, but with four minutes to go, United's crown jewels finally showed what they could do. James Milner pushed the ball into the area for Viduka to chest down into the path of an onrushing Alan Smith. The sometime England striker gleefully buried the chance to spark wonderful celebrations and capture three vital points, drawing Leeds level with their visitors.
Bottom of Premiership - 10 April 2004

Pos

P

F

A

Pts

13th

Everton

32

41

46

37

14th

Tottenham Hotspur

32

41

51

37

15th

Manchester City

32

45

46

33

16th

Blackburn Rovers

32

43

54

31

17th

Portsmouth

31

33

46

31

18th

Leeds United

32

34

63

31

19th

Leicester City

32

41

57

28

20th

Wolverhampton W

32

30

69

25
The drama was not yet over, however. Viduka's time wasting tactics in the closing seconds, when he kicked the ball away, saw him dismissed for a second bookable offence, and out of a decisive fixture against Portsmouth. It was a rush of blood to the head by the Aussie that was to prove crucial.
When a relatively comfortable 2-1 win at Blackburn brought up the first back-to-back victories of the season, United were signalling that they were building up a head of steam that could yet see them pull off a great escape. They were now on level terms with Blackburn and Portsmouth and two points behind Manchester City, with Leicester and Wolves bringing up the rear.
Unfortunately, however, old boy Nigel Martyn returned to Elland Road to haunt his former colleagues, giving a brilliant display to deny Leeds the win against Everton they desperately needed. James Milner equalised Wayne Rooney's opener, but then Martyn defied all that was thrown at him. It was an ominous result, which slowed the momentum that had been generated, and days later Thierry Henry's four goal super show for champions elect Arsenal further knocked Leeds' slim hopes. Smith and Viduka had offered some early threat, but the Gunners scored five times without reply to leave Leeds in tatters.
They now faced a vital home game, with Portsmouth the visitors and had to take the field without the suspended Viduka. A vast improvement in discipline by Alan Smith meant that Leeds had at least one of their star strikers on show. Smith had gone 13 games without being cautioned, after receiving nine bookings earlier in the season. If he had had his name taken once in that period he would have been banned. He had received a suspension earlier for throwing a bottle back into the crowd during the Worthington Cup against Manchester United, and was consequently withdrawn from an England squad, but it seemed he had finally turned over a new leaf.
Smith led the line against Portsmouth, in partnership with young Simon Johnson, but Leeds were never at the races. Yakubu gave Pompey a ninth minute lead and when Lomana Lua Lua scored a second six minutes after half time, the game was all but up.
A late penalty from Ian Harte was scant consolation as Leeds' Premiership future teetered on the edge. They needed to pull off an extremely unlikely win at Bolton's Reebok Stadium. Viduka was back for the game and netted a first half penalty to give his team the lead, but more indiscipline saw him dismissed minutes later. The ten men remaining were no match for an in form Wanderers side who hammered in four goals to leave United well beaten.
Alan Smith was in tears at the end - his beloved hometown club were not relegated, but their dire goal difference meant that survival was only a mathematically remote possibility, and everyone knew that a fourteen year stay in the top flight had come to an ignominious end.
Smith said afterwards: 'I just feel sorry for the fans. If the team had been as good as them, we'd probably have won the league. For the foreseeable future I am a Leeds United player and we have to show pride and passion in the games that are left. It has been a long and hard season for us. I think we deserve to go down because we have not been good enough but it is certainly difficult to take when it comes. I'm not a First Division player, I've got an international career to think about and I hope the Leeds fans will understand that. But I'm no different to anybody else right now. I've got pride and I'm hurting. Hopefully, in years to come, it won't be the last time they see me in a Leeds shirt.'
Bottom of Premiership - 4 May 2004

Pos

P

F

A

Pts

14th

Portsmouth

36

41

50

42

15th

Everton

36

43

50

39

16th

Tottenham Hotspur

36

44

57

39

17th

Manchester City

36

49

51

38

18th

Wolverhampton W

36

37

74

32

19th

Leeds United

36

37

75

32

20th

Leicester City

36

44

62

30
An exciting 3-3 draw at home to Charlton gave the Elland Road faithful the chance to pay a final farewell to Smith, mobbing him at the end, despite rumours that he had decided his future lay at arch rivals Manchester United. Before Leeds' final game, England keeper Paul Robinson departed to Tottenham in a £1.7m deal which had been widely predicted.
There had been warnings from the new board for some time that the summer would inevitably bring holesale changes to the playing squad, and relegation ensured that the cull would be drastic. 'We have 60 professionals at Leeds - that's first-year professionals right up to internationals. Fifteen of those professionals are on £1m or more. It's unsustainable,' said Geoffrey Richmond before he departed the club. One player, he remarked, referring to Mark Viduka, earned £3.5m a year, but Richmond ruled out any suggestion that contracts might be renegotiated. 'It is impossible to renegotiate a contract. These contracts were negotiated in good faith. However, some contracts - £11m worth of player contracts - come to an end on June 30 and it is unlikely any will be renewed.'
David Richmond: 'It is not going to be easy because we don't have a lot of money but we have to do what we can for those wonderful supporters. We have got the backing of the best fans in the country and they deserve a lot better than what they have got.
'Next year we will have the passion on the pitch to compare with the passion shown by our fans. There is a lot of hard work ahead and that may include making some decisions which, in the short term, will prove unpopular, but this football club is in such a mess in every single way that we will need to completely re-build in the summer.
'We need a new team of hard-working players. Nobody wants our players because of their wages, some of which are beyond belief, but I will get rid of those players we need to as quickly as possible to give us the best possible chance of coming back stronger next season.
'Come August we will have a very, very good Division One team. We won't be buying average Division One players, we will have between £4m to £5m available to spend on wages and we will bring in the best possible players. On paper, at least, we will have a side that the fans can look at and say "we have a chance."'
During the week the club unceremoniously confirmed that Eddie Gray's time at the helm was over. Gray was calm dignity itself at the news, saying: 'I have said before that the club do not owe me anything and they don't. I have had a great life with the football club and it's just sad that it has come to this but that's life.
'I just wish the club all the best and hope they bounce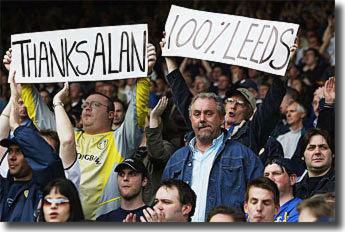 back in the future.
'I will continue in a consultancy role for a year and see what happens. At this moment I just wish all the players and all the staff the very best, they deserve to be back in the Premiership. I have also always had a great relationship with the supporters, I can't thank them enough for that and I firmly believe they will be the people who really help the club to bounce back.'
After the game The Independent carried an incisive analysis by Nick Townsend on life with Leeds:
'Three years ago, they were Premiership peers, their ambition unconstrained by the man then considered the League's most admired chairman, yoked to the most promising young manager. Yesterday at Elland Road, an ebullient atmosphere could not conceal the inner despair. For Leeds, the culmination of a season - some say the most traumatic for a relegated team since Manchester United descended into the old Second Division 30 years ago - in which the Yorkshire club have been variously mocked, condemned, and now, finally, pitied.
'The end of the peer show, as we recall those acts which have passed through: David O'Leary, Terry Venables, Peter Reid and Eddie Gray; Peter Ridsdale, Professor John McKenzie and Gerald Krasner. But will it be Leeds United's final curtain as they pass from the glamour of the West End to the hand-to-mouth existence of repertory?
'The best one can say is that Leeds are currently in thoroughly appropriate hands. Those of an accountant. But not just any old balance-sheet shifter. "I am an insolvency specialist," declares Krasner, the latest chairman. "I lecture on it. Companies in administration who need surgery, I give them advice. We are like undertakers or surgeons - we either bury them or save them. The only difference is I bury the same person more than once.
'"In terms of ruthlessness, I've been very polite today," adds Krasner, 54, a pinstripe-suit clad, bluff Yorkshireman, with a dry humour and a sharp tongue. "But you haven't seen the other side of me. Ask a few people in Leeds. You don't save businesses from going bust by being genial."
'The deal with the bond holders means the board can now sell and lease back Elland Road, which will provide a crucial source of finance. Krasner says: "We saved this club from going into extinction. But we're not in this for credit. We went into this because we all live here. My late father is buried a mile from Elland Road. He always taught me if things are good in life, put something back."
'I asked Krasner if his brief exposure to the realities of Premiership football had astounded him. "My background, in insolvency and recovery for 20 years, means there are not many things that have shocked me," Krasner replies. "It's upset me we didn't stay in the Premiership. But having been threatened with a body bag being sent round to me by a funeral director I had dealings with, I can cope with anything."
'Thrice-married, with two grown-up daughters but now separated from his third wife, Krasner is a long-standing fan of the club and was among a record crowd of 57,892 who witnessed a game against Sunderland in 1967. "It's a surreal experience being chairman at Leeds," he says. "It's good that I come to my office and find out what's really important in life. Or you switch the news on and find out what's happening in Iraq and get another perspective of the world."
'You ask what emotions he had felt, from the outside, as he watched Leeds spiral into decline from Champions' League and Premiership title contenders under the Ridsdale-O'Leary regime to relegated club in just three years? "Firstly, we never won anything," he says. "You get nowt for being second, as we say in Yorkshire. You saw the signings, but you didn't realise the commitments that were being entered into. Looking at it with hindsight, we had to win the Premiership and Champions League to break even each year. Even Arsenal can't do that.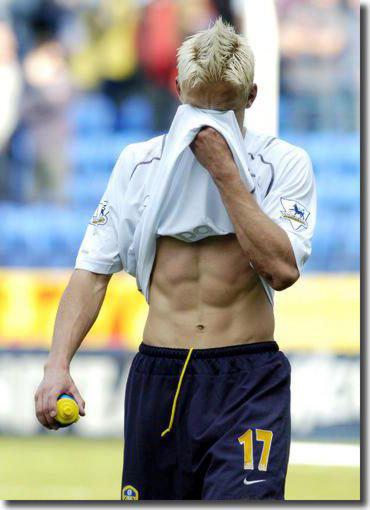 Everyone got carried away by emotion. That's not understandable from hardheaded businessmen. It's not excusable."
'What Krasner and his five fellow directors now have to assess is how to reduce an annual wage bill of £53m - no, that's not a misprint - to realistic proportions for the First Division. Alan Smith and Viduka will depart once the season ends next Saturday. "It's very unfortunate that Alan will probably be leaving," says Krasner. "Smithy is the Mr Leeds United of the current era. Before that, it was Billy Bremner. Before that, John Charles. Maybe James Milner will be the new Mr Leeds United."
'He is adamant that the teenage midfielder will stay, "because he's a young rising star", though Krasner swiftly adds: "If somebody offered me silly money I'd seriously have to think about it, because the finances of Leeds United are more important than any one player."
'Though he won't comment directly on what individual players have contributed, or, more pertinently, have not contributed, this season, he observes: "I thought we had enough players not to go down. Some haven't played to their potential. Whether they've lost it or the discipline is wrong are in-house matters - but that will not occur next season."
'It is understandable that there has not been the formation of an orderly queue of would-be new chairmen, prepared to wrest the club from his hands. Local businessman Steve Parkin is reportedly preparing a takeover bid, but has yet to convince the board he has the necessary funding. "I want to get Leeds back in the Premiership and will do whatever that takes. If it's somebody coming in and wanting to do it their way I won't stand in their way," Krasner says. "But unless MrAbramovich Mark II comes along, I think I'm here for the long haul."
'Certainly, he doesn't appear to suffer from the stress of it all. "I've got younger since I took this job," he says dismissively. "I'm a great believer that worry never solves a problem."
'Which is just as well because, where Leeds United are concerned, there is no prospect of the problems being resolved in the foreseeable future.'
After the sacking of Eddie Gray, the board announced that his assistant, Kevin Blackwell, would assume temporary control, supervising a last day visit to Premiership runners up Chelsea. Leeds emerged creditably from a 1-0 defeat with Scott Carson performing heroics in goal, but there was very much a feeling of after the Lord Mayor's Show as Blues manager Claudio Ranieri also bade farewell to his club.
With the vultures already circling around Elland Road, the club tottered out of the Premiership and into an uncertain and perilous future, with no money, few hopes of retaining their star players and perilously few notes of optimism.
The days at the top were over, for a year at least …
Part 1 A season from Hell - Part 2 What went wrong? - Part 3 End of an era - Results and table