Born: Santa Rita do Sapucai, Minas Gerais, Brazil, 31 August 1976
Jose Vitor Roque Junior, invariably referred to as Roque Junior, enjoyed the biggest reputation of any of the players recruited by Leeds United manager Peter Reid in the early weeks of the club's disastrous 2003/04 campaign.
Reid hoped to build an unlikely revival on the shaky foundations offered by a bunch of foreign mercenaries recruited on loan. In truth, with the financial storm clouds gathering around Elland Road, there were few other options open to him.
With the infallible benefits offered by hindsight, it is clear that Reid's faith in a bunch of foreign mercenaries was horrifically misplaced; indeed, Roque Junior is widely regarded as one of United's most disappointing signings, ranking only below the Swede, Tomas Brolin, as a figure of ridicule with Leeds fans.
The Brazilian's seven first-eam appearances yielded four cautions, one dismissal, six defeats, 24 goals conceded and a horribly tarnished CV. His one moment of respite came in the Worthington Cup against Manchester United when he marked the occasion with two goals and a manic conga of celebration. Roque failed completely to live up to his billing as a classy World Cup winner, though in truth that reputation was based on flimsy evidence and he was always blighted with accusations of clumsiness and a failure to apply himself properly.
Reid's assistant manager, Kevin Blackwell: 'Bringing in the six foreign boys was just too many at that one time. There is always an element that one in four don't come off, but we were in a position where all six had to come off… Roque Junior was only in the country for about eight hours and started a game against Leicester he was never meant to play in, but due to an injury to Dominic Matteo, he had to. He struggled for the rest of time after that. There's a basic language necessity, that did prove to be a problem at times, and when we needed to build team spirit I don't think it helped.'
Roque Junior began his career with local club Santarritense in 1991, making 31 appearances before moving on to Sao Jose two years later. He played forty-seven games for the Sao Paulo club before joining Palmeiras in 1995, where he was a mainstay of the side for the next five years.
Roque made sporadic appearances as the club won the Sao Paulo State Championship in 1996, but came into his own the following year.
The fortunes of Palmeiras were transformed by the appointment as coach of Luiz Felipe Scolari,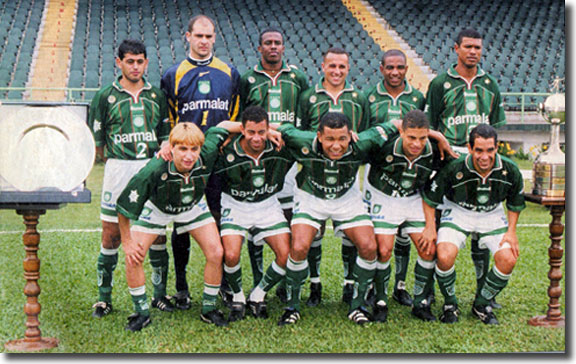 future manager of the national side, and it was under his guidance that Roque came to the fore.
The charismatic Scolari led Palmeiras to the Copa do Brasil and the Copa Mercosur in 1998 and the Copa Libertadores a year later. They were runners up to Manchester United in the Intercontinental Cup in 1999 and Roque's performances saw him nominated for the Bola de Prata team of the year.
On 9 October 1999, the defender won his first cap for Brazil. Among his team mates in the 2-2 draw with the Netherlands in Amsterdam were Cafu, Roberto Carlos, Rivaldo, Ronaldo and Ronaldinho. Roque's first international goal came during his second appearance, a 7-0 defeat of Thailand in February 2000, and a year later he became an international regular.
Palmeiras reached the two-legged final of the Copa Libertadores in 2000, where they lost on penalties to Boca Juniors, Roque being one of two Palmeiras players who fluffed from the spot.
Weeks later, both Roque and Scolari departed Palmeiras; the manager moved to Cruzeiro, while AC Milan paid £10m to sign Roque on a five-year contract after outbidding Parma.
Roque made 22 appearances in his first season. He was an unused sub at Elland Road when Leeds beat Milan 1-0 in a Champions' League group game on 19 September and made his Serie A debut in a 2-1 defeat to Bologna in October. He was in the team that drew with Leeds in the San Siro return on 9 November, a tame draw that suited everyone, seeing both clubs through at the expense of Barcelona.
It was a mediocre season for Milan; they finished a disappointing sixth in Serie A, 26 points behind champions Roma and only 12 points clear of relegated Reggina. Their Champions' League campaign was lacklustre, and they won only one of their six second stage games, finishing below Deportivo la Coruna and Galatasaray to exit the tournament. The home game against PSG in February was typically wretched. Milan were held to a 1-1 draw and played half the game with ten men following the dismissal of Roque after a professional foul on Nicolas Anelka.
2001/02 brought little improvement with Roque appearing a mere 18 times as Milan finished fourth.
Away from the gloom in Italy, Roque Junior was experiencing better days with Brazil, following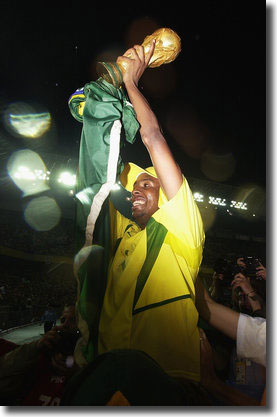 the appointment of former mentor Scolari as national coach in June 2001. Under Scolari, Roque became an automatic choice for his country.
At the time of Scolari's appointment, Brazil were in grave danger of missing out on the World Cup finals with five qualifiers remaining. Under the leadership of Vanderlei Luxemburgo and then Emerson Leao, shock defeats to Paraguay and Chile had left their qualifying campaign in ruins. On appointment, Scolari admitted, 'If I don't win, I'm dead meat.'
The coach adopted a pragmatic, win-at-all-costs approach with a 3-5-2 formation that often had five defenders deployed behind a pair of holding midfielders. The configuration was ideal for Roque, and playing alongside the emerging Lucio allowed him to mask his clumsier traits. Ronaldinho, Ronaldo and Rivaldo were always a threat going forward, but it was the organisation and discipline introduced by Scolari that provided the foundation for World Cup glory in 2002.
Midway through the qualifying campaign, Roque Junior scored a 94th-minute winner against Colombia to secure three priceless points. If Colombia had held out for the draw, both they and Uruguay would have finished above Brazil and eliminated them.
Brazil were not among the favourites going into the competition, but gained momentum as the tournament progressed; they beat England en route to the final where they defeated Germany 2-0 to lift the World Cup trophy. Roque was booked in the first few minutes of the final, though he was generally felt to have given a sound performance.
Following the finals, it seemed that Roque Junior's Italian job might be at an end, with Real Madrid making an enquiry, but a ludicrous £13m asking price brought a swift end to negotiations.
Roque was not a favourite of Carlo Ancelotti, who took over as Milan coach in 2001, and he was restricted to four Serie A appearances in 2002/03. Inspired by new signings Rivaldo and Alessandro Nesta, Milan started the season in strong form, before fading to a third place finish. That disappointment was eased as the Rossoneri won the Champions' League for the first time since 1994, beating Serie A champions Juventus on penalties in an all-Italian final.
Roque began the game on the bench, as he had so many that season, but came on in the 66th minute for Alessandro Costacurta. The game was goalless after 90 minutes, necessitating extra-time.
Three minutes in and Roque's slip almost cost the Italians the game, but the angle was too tight for Marcelo Zalayeta. Seconds later, Roque injured himself in a challenge and went off for treatment but had to continue as a limping passenger with Milan having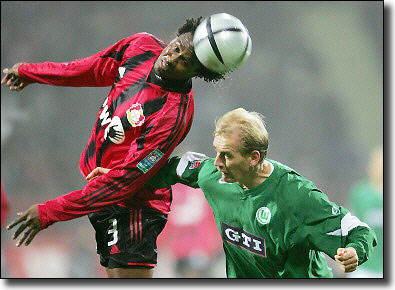 used all their permitted subs. The game ended goalless and the Italians won via a penalty shoot out.
Roque Junior had often been criticised for being prone to defensive lapses and a lack of both concentration and application; oblivious to these limitations, Leeds United fans were pleasantly surprised by the news in early September 2003 that the club were interested in a centre-back who was now the proud possessor of winners' medals from both World Cup and Champions' League.
Manager Peter Reid had to plead the Brazilian's case for a work permit after United negotiated a season-long loan.
Reid was upbeat in the press conference afterwards. 'I am delighted with the Department of Employment's decision … The only reason his original application was rejected was that he hadn't played 75 per cent of Brazil's international matches in the last year, but that was because he was injured and missed the Concacaf Cup.
'He is a World Cup winner, a Champions' League winner and he is a big boost for the squad. He can play left-back, left centre-half, but is another quality player at the club.'
Roque had been earning £40,000 a week at Milan but the Italian club agreed to subsidise his wages to sweeten the move for Leeds. No transfer fee was involved but United had to pay £200,000 to arrange a deal that was later the subject of official review by the football authorities for the part played in it by an unlicensed Italian agent.
The Brazilian made his United debut partnering Zoumana Camara in the heart of the defence at Leicester on 16 September. He had time for one training session after flying in from two gruelling World Cup qualifiers and was still settling into the game when Leicester stunned United with two goals in the space of three minutes early in the first half.
The defender was clearly unsettled by the pace of Premiership football and in one telling shot the
Sky television cameras caught him staring pleadingly at his team mates as if in the hope of some miraculous salvation that was never forthcoming.
Roque was booked at the start of the second half for pulling back Marcus Bent. He was lucky to escape with a caution, and, with ten minutes of the game remaining, he was replaced by Lucas Radebe 'after a debut he would rather forget' (according to the club's official website). The game ended 4-0 to Leicester.
After the game Reid accepted that he may have thrown the new man in too quickly: 'You can see he has quality but I think he had a baptism of fire. They were at him and certainly he was tired towards the end, but it's not about one man is it? You look at decisions and sometimes you have to ask yourself if you made a mistake. All over the pitch we were second best. The eleven on my team got outfought by eleven Leicester players, it's not just one man.'
Things went from bad to worse when the Brazilian was sent off in his home debut, five days later against Birmingham. He was dismissed for a second bookable offence after being adjudged to have fouled Mikael Forssell when conceding a penalty. That compounded a fifth-minute caution for impeding Christophe Dugarry.
Two more goals were conceded as Leeds were held to an embarrassing Carling Cup draw at home to Swindon. United won on penalties, one of them slotted home by Roque, but required a headed equaliser from goalkeeper Paul Robinson deep into injury time to keep them in the game.
The Brazilian's torrid introduction to the English game continued when both his shirt and his reputation were left in tatters after a 4-0 hammering at Everton on 29 September.
The rumbustious Duncan Ferguson gleefully roughed up the defender, leading to memorable photos of a dishevelled and struggling player.
The Times: 'To put the result into context, Everton were four goals to the good inside the first hour and Wayne Rooney was still on the substitutes' bench. In his place was Duncan Ferguson, who was rewarded for his brace against Stockport County in midweek with a first Premiership start since April 2000 and duly repaid David Moyes' faith with a performance that will give Junior, the Brazilian World Cup winner, nightmares for weeks to come.
'Ferguson's name alone on the Everton team sheet will have done little to settle the nerves of Junior, who has struggled to adapt to the pace and rigours of English football since joining Leeds on loan from AC Milan.
'It had taken Ferguson less than 15 minutes to introduce himself to Junior. In the wake of sustained Everton pressure, the pair challenged for a bouncing ball that resulted in Ferguson almost ripping his opponent's shirt off his back. Junior went one step farther and removed it completely in a theatrical attempt to make his point to Paul Durkin, the referee. In fairness to Junior, he responded well by doing just enough to put off Ferguson as he shot wide of goal but it was to prove his only highlight on an otherwise wretched afternoon.
'It was inevitable that Everton would take the lead and Watson obliged, courtesy of a clever interchange with Ferguson that left Junior hopelessly exposed. With Junior attracted towards Ferguson, Watson was able to drift into space on the right hand side of the Leeds penalty area before receiving a return ball and hammering an unstoppable drive past Robinson.
'Ferguson left Junior on the seat of his pants once again in the 33rd minute but spoilt the moment by screwing his shot wide. Moments later Radzinski charged onto Watson's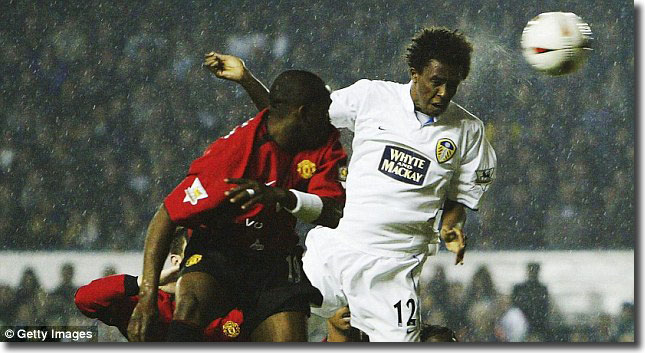 searching pass but saw his low shot clip the outside of Robinson's left-hand post.
'Such profligacy became irrelevant when Everton scored twice in the space of four minutes. Watson doubled his tally and that of his side with a clever lob from 40 yards after Robinson had raced off his line to hack clear under pressure from Radzinski. Five minutes before the break Ferguson got in on the act, nipping between Junior and Zoumana Camara to head Tony Hibbert's accurate cross past a shell-shocked Robinson. Game over.
'Watson completed his hat trick and the rout seven minutes after the interval. Leeds have now conceded ten goals in three successive defeats and Reid admits he has run out of excuses.'
The highlight of Roque's Leeds career came in the Worthington Cup-tie at Elland Road against Manchester United on 28 October.
Against a second string Manchester selection, the Brazilian was finally able to recapture some form; he was firm in the tackle and dominant in the air and showed good positional sense. At the start of the second half he opened the scoring after climbing well to head home a Seth Johnson corner. But then after 78 minutes David Bellion beat the offside trap to equalise and send the game into extra time and Diego Forlan gave the visitors the lead seconds after Leeds were denied a penalty. With six minutes remaining, Roque tapped home a James Milner cross to snatch an equaliser. The game was not yet done and Eric Djemba Djemba netted a winner for the Reds with three minutes to go.
With United struggling at the foot of the Premiership, Peter Reid was sacked after a depressing 6-1 defeat at Portsmouth on 8 November; Elland Road favourite Eddie Gray replaced him.
That effectively spelled the end of Roque's Leeds career. He did not figure in the new manager's plans and there was little surprise when the Brazilian's contract was terminated on 23 January; he joined Italian club Siena on loan for the rest of the 2003/04 season, making five appearances.
At the end of the campaign he signed for Bayer Leverkusen of Germany as a replacement for Brazil team mate Lucio, who had joined Bayern Munich. Roque extended his contract by two years after impressing in his early months in Germany and played regularly over
the next couple of seasons, before his career was badly derailed by an Achilles injury in December 2005.
His English nightmare had not affected Roque's international fortunes and he continued to feature regularly for Brazil until his final appearance on 12 November 2005, an 8-0 defeat of the United Arab Emirates when he was replaced at half-time. Earlier in the year he had helped Brazil win the Confederations Cup.
The Achilles injury cost him his international place and ruled him out of the World Cup finals in 2006. He announced his international retirement in September 2007 after 50 caps, which included games against a Catalonia XI and Spanish club Sevilla.
Injury limited Roque to one game for Leverkusen in 2006/07. He looked to make a new start with Bundesliga rivals Duisburg the following season, but managed only four appearances and on 17 April 2008, he joined Qatari club Al-Rayyan. In September 2008 he returned to Brazil to sign for Palmeiras, where he was reunited with former national coach Luxemburgo.
The deal was arranged on an emergency basis after normal defensive pairing Jeci and David were ruled out with long term injuries. There was no dream homecoming and Roque struggled to make a mark. In February 2010 he moved to Ituano FC before retiring at the end of the season.
Thereafter, the Brazilian devoted his time to supporting Sao Jose Esporte Clube's youth players with a project called Projeto Primeira Camisa, a social inclusion scheme designed to offer opportunities to young people from the region.
In December 2013, Roque became the executive director of football at Brazilian Serie B Club Parana. After being confirmed in the post he said: 'I'd been on a visit to Curitiba this year and to the club, and I spoke with the board. I know that Parana is a team with tradition and I accept this invitation now because I am ready for the challenge.
"'hat appealed to me was the chance to work in Parana, and the people here are aiming high for the future of the club.'
Parana finished eighth in the 2013 Serie B season, just three points off the last promotion spot, and, coincidentally, it was Junior's former club Palmeiras that secured the championship.