Part 2 - What went wrong? - Part 3 - Back from the brink - Part 4 End of an era - Results and table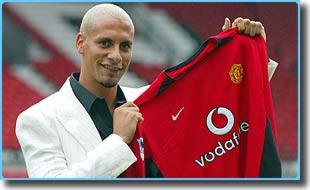 The demise of Leeds United in the early part of the New Millennium was swift and violent: barely twelve months after a memorable Champions' League adventure, manager David O'Leary was out of work. Amid claims that he had 'lost the dressing room', O'Leary was sacked by chairman Peter Ridsdale for questioning the board's decision to sell Rio Ferdinand. The Irishman's replacement was charismatic Londoner Terry Venables, who saw his squad picked clean by circling vultures as fire sales and a relegation battle commenced in earnest. Peter Reid succeeded the former England coach in the spring of 2003, with nothing more appealing on the horizon than a grim rearguard action to avoid the drop. The temporary appointment of Reid was one of Ridsdale's last actions before he too lost his job, giving way to Professor John McKenzie, a major shareholder in the club and recently installed as non-executive director.
The caretaker-manager somehow cajoled a purple patch of form out of star striker Mark Viduka in the closing weeks of the season. The burly Aussie returned 13 goals from the final 9 matches, including a hat trick in a breathtaking 6-1 win at Charlton. A memorable victory at mighty Arsenal in the penultimate match of the 2002/03 season secured Premiership survival, earning Reid the dubious privilege of being the man given the opportunity to revive the club on a long-term basis.
Originally, Reid's tenure had been seen as only temporary, with Martin O'Neill of Celtic, Nottingham Forest's Paul Hart, Southampton's Gordon Strachan and Leicester City's Micky Adams all rumoured to be on the board's list of potential saviours. However, few men in steady employment would have been interested in coming to a club on the edge of financial ruin and the caretakerhad impressed the board with his attitude and results. There was little surprise when the Merseysider was granted a rolling, one-year, incentive-based contract within five days of the Highbury triumph. His basic package was £500,000 per annum, rising to £1m if the club could regain a European place.
Reid's first decision was to dispense with the services of assistant manager Eddie Gray and head coach Brian Kidd. Few tears were shed over the departure of ex-Manchester United man Kidd, whom many amongst the Elland Road faithful blamed for the collapse in the club's fortunes. Gray, however, was a very different case, and his forty-year association with the club made him a fans' favourite. John Boocock, co-chairman of the Leeds United Supporters' Trust, was quoted as saying, 'Reid has put his neck on the line and if he fails to cope without Eddie Gray then he will have made himself a hostage to fortune. By taking Eddie out of his backroom staff, Reid is making a statement.'
Chairman McKenzie, mindful of the way that supporters had turned against Peter Ridsdale, offered Gray a role as his 'special ambassador', although it was difficult to pin down exactly what that position involved. It all smacked ominously of the muddled thinking that had characterised much of the club's recent history, but the chairman could be excused for trying to curry favour with terrace support.
Unperturbed by any potential loss of popularity, Reid explained, 'I feel changes have to be made if the club is to progress in the way I want it to.' He quickly brought in a new assistant, the highly regarded coach Kevin Blackwell, who had worked under Neil Warnock at First Division Sheffield United, helping them to pitch Leeds out of both domestic cup competitions in 2002/03.
44-year-old, Luton-born Blackwell had been, by his own admission, a journeyman footballer. His playing career started at 14, with Ron Atkinson at Cambridge United, and saw him keep goal for Barnet, Scarborough, Notts County, Torquay, Huddersfield, Plymouth, Bury and Sheffield United. 'I realised early that I wasn't going to reach the top as a player,' Blackwell said of his curtailed career. A badly broken leg, and two years out, confirmed that.
Leeds United's immediate outlook, under the yoke of massive financial debts, remained gloomy. There was endless speculation surrounding the future of the jewels in the Elland Road crown, but the summer transfer window did not bring quite the mass exodus that had been feared.
Terry Venables' loan signings, Teddy Lucic and Raul Bravo, returned to their clubs in Sweden and Spain, while Paul Okon was released from his contract, moving back to Italy with Serie B side Vicenza. Olivier Dacourt made his loan move to AS Roma permanent in a protracted £3.5m deal, which had been long anticipated.
Goalkeeper Paul Robinson was on the verge of a reunion with former Elland Road manager David O'Leary, now in the hot seat under Deadly Doug Ellis at Aston Villa, but the deal broke down over the keeper's personal terms after a £3.25m price tag had been agreed between the clubs.
The summer's one major departure was surrounded with controversy.
Leeds United had been stung badly a year previously when Lee Bowyer's prospective transfer to Anfield had collapsed and the club was determined not to see Harry Kewell disappear on a Bosman free transfer when his contract ended in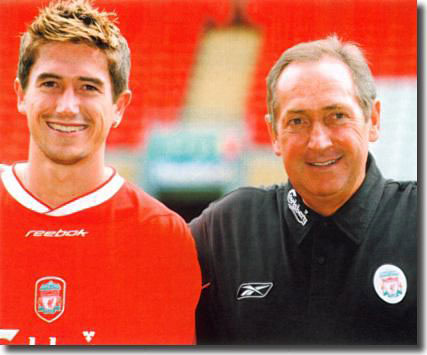 2004. When it became clear that the gifted Aussie winger had decided his future lay away from Elland Road, Professor McKenzie accepted the inevitable and sanctioned a move.
The player's agent, Bernie Mandic, was given the go ahead to negotiate a deal, but relations quickly became strained and there was a war of words in the press. Leeds could have got more money by selling Kewell to Chelsea, Manchester United or Barcelona, but the winger had set his heart on Liverpool. So angered was McKenzie by developments, that the club website was instructed to cover events in vehement detail:
McKenzie and Mandic met prior to the Arsenal game on 3 May. It is made clear to McKenzie that Kewell was willing to extend his contract at the club, but the terms Mandic spoke about caused extreme concern, with Harry having the freedom to move at any time and then also receive 50% of the transfer fee. If a transfer was before the end of the season, Kewell and the agent would expect a similar fee.
17 June Leeds receive a letter from Mandic. The letter confirms the details discussed in the earlier meeting. It also gave the first formal indication of the terms that Kewell's agents were looking to obtain from any deal.
25 June and McKenzie sends two letters to Mandic. The first gave Mandic the authority to find a buyer for not less than £5m. It was made clear in the letter that any deal would be subject to plc board approval. The purpose was to 'flush out' the mystery buyer that Mandic was speaking about.
The second informed Mandic that, subject to plc approval, Max Sport would be paid £2m of any £5m transfer fee in order to ensure United would receive higher than the 50% split Mandic wanted.
26 June and Mandic sends United a letter accepting the terms of the letter.
30 June, McKenzie expresses his displeasure in the Yorkshire Evening Post at the way the Kewell negotiations were being handled. He brands the situation a farce after reading about a mystery club chasing Kewell. His comments are passed on to Mandic by the media for a response. Mandic's response to Leeds is to inform Leeds that Harry is no longer for sale.
2 July, Mandic comes clean over the mystery club and reveals them to be Liverpool and that negotiations had been ongoing for some months.
3 July, McKenzie returns from his trip to Japan and informs Mandic that he will take back control of any transfer negotiations.
3 July, Liverpool ring to say they would be prepared to make a £5m offer for Kewell. McKenzie does not accept and both parties agree to give the offer more time.
4 July, Liverpool return with an improved informal offer of £7m. An agreement was made verbally and permission given for Liverpool to start talking to Kewell about his personal terms.
7 July, Leeds received a letter from Max Sports and it became clear that they were now back to a £5m deal. The same day United received firm £7m offers from Chelsea and Manchester United but Harry made it clear he had his heart set on Liverpool. It left United with little choice but to accept Liverpool's offer. That evening, Kewell left a message on McKenzie's phone informing him he would walk away for nothing in the summer on a Bosman if Leeds did not accept Liverpool's offer. Leeds were also informed that Australian TV station Channel 9 were preparing to air an exclusive interview with Harry revealing his new club the following morning. They paid Kewell £25,000 for the privilege.
8 July, McKenzie calls a meeting of his advisors with the plc board members and Peter Reid. 'We didn't see any alternative but to press ahead,' said McKenzie. Financial director Neil Robson concluded talks with legal representatives shortly before midnight, believing there were just loose ends to tie up in the morning.
9 July, After the decision to sell Kewell was ratified by the plc board, with United feeling forced to accept the £5m on offer with £2m going to Max Sport, another snag held up the deal - Mandic's solicitor was demanding payment of £27,000 for an insurance policy on Kewell. The deal was finally completed later that afternoon and announced shortly after 4.30pm.
McKenzie emerged from the episode with a less than glowing reputation, branded naïve in the extreme, while Kewell's name was quickly expunged from the Christmas card lists of Elland Road supporters. Whatever the facts of the matter, Leeds United had seen another prize asset walk away for a fraction of his true worth.
However, life had to go on, and Peter Reid reconciled himself to life without Kewell, laying plans to replenish his playing strength.
Delays in sorting out the Kewell deal meant that four experienced Premiership players slipped through the manager's fingers after deals had been worked through. Liverpool's Patrik Berger and Markus Babbel chose instead to join Portsmouth and Blackburn, while Henning Berg swapped Ewood Park for Rangers and Paulo di Canio abandoned relegated West Ham for Charlton. Reid was devastated when the moves collapsed.
Similarly, Leeds could not agree terms with Crystal Palace for young left-sided midfielder Julian Gray, despite taking him on trial. Instead, Reid opted to recruit a number of players in loan deals, and took another, Chelsea's diminutive schemer Jody Morris, on a free transfer.
Morris, 24, an England Under-21 international, had failed to secure a first team place at Stamford Bridge. He had been one of the most promising young midfielders in England, but lost his way badly after making his Chelsea debut in 1996 when just 17. In the days following the 9/11 terrorist attacks in America, Morris was one of several drunken Chelsea players who offended American tourists during a drinking binge. The incident brought a public outcry, and the players involved were fined. In January 2002, things went from bad to worse, as Morris was involved in an incident outside a nightclub, along with John Terry. He was arrested and charged with affray and actual bodily harm. Cynics noted wryly that Morris would fit in perfectly at Elland Road.
The most notable loan signing was Arsenal's exciting winger Jermaine Pennant, who had shown enough promise with Notts County in 1998/99, when he was just 15, to persuade Arsene Wenger to sign him for £2m. He became the Gunners' youngest ever first team player at 16 years and 319 days, and won caps for England at youth and Under-21 level, but struggled to break through at Highbury, leading to a couple of loan spells at Watford.
French League players Didier Domi, Lamine Sakho, Zoumana Camara, Cyril Chapuis and Salomon Olembe all signed 12-month loan agreements, as did Brazilian World Cup winning defender Roque Junior, who had tasted Champions' League success with Milan.
It seemed that Peter Reid was developing his squad very nicely, so much so that he felt able to offload England goalkeeper Nigel Martyn for a nominal fee to Everton, severing a seven-year relationship during which the Cornishman had laid claims to be United's finest ever keeper.
Howard Wilkinson had signed Martyn from Crystal Palace for £2.25m in 1996, shortly before losing his job, and the keeper established himself as lynch pin of George Graham's rebuilt team. Terry Venables promoted Paul Robinson to the first team in 2002, prompting Martyn to move on. It was a sad day for player and club, but Reid saw it as a move the player deserved: 'He's in the last year of his deal and he has been a fantastic servant to this club. We've got young goalkeepers - that's one of the reasons for letting him go. But the other is as a thank you for being so patient. He is a top professional and deserves a first team place somewhere.'
Also leaving Elland Road, although only on loan deals, were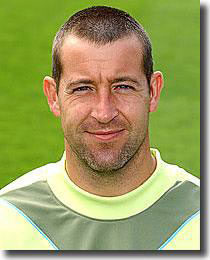 Danny Mills to Middlesbrough, Stephen McPhail (Nottingham Forest), Matthew Kilgallon (West Ham) and James Milner (Swindon). Ian Harte would also have been off, if Portsmouth had not already been up to their full complement of loan signings.
The Mills move came after a bitter row with Reid, which saw the right-back dropped amid fitness doubts. Mills exploded with rage, saying: 'Within two months I've gone from starting a European Championship qualifying game for England to being completely omitted from the Leeds first-team squad, so read into that what you will. I find it a slur on my character that the manager has questioned my training and, in his opinion, I have not performed in matches or training.'
The criticism had come during poor pre-season preparations when Leeds had failed to win a game, slumping to defeats at Burnley, Hull and Shelbourne. The papers were filled with dire forecasts of a relegation struggle.
The Sunday Times spoke in dark terms of the season to come:
'Championship wannabes last summer, Leeds have the look of relegation material this time around, and their manager says a mid-table finish would border on the miraculous. How has it come to this?
'Characteristically blunt, Reid said: "I've always prided myself on being able to get the best out of my teams. I haven't been getting the best out of Leeds United." Why not? "The attitude isn't right. How do I change that? I'm trying to get them as organised as possible, and to work as hard as I want them to. So far, I haven't had that. I'm also trying to get them fitter. My hope is that the competitive nature of the Premiership will bring the best out of them."
'It would be easy to blame the club's financial malaise. Too easy for Reid. "That's a cop-out," he said. "Don't get me wrong, the situation here has been very difficult for everybody concerned, but when you go out on that football pitch, you should still give everything you've got, and I don't think I've had that pre-season. Once the league starts, I'll be looking for a lot more. If we get beaten in a match having given everything, I'll hold my hands up and say, Fair enough. You're not going to win every week, but we need to have the attitude that will make us hard to beat. It's going to be a very difficult season, I'm under no illusions about that, but if the players give me what they've got, we'll be all right. There's more quality here than I had at Sunderland. If I can put the attitude right they'll win enough football matches. There's a repair job to be done that is going to take years, not weeks. I wouldn't have taken it on if I didn't think I could do it." Will he be given long enough? The odds, he admits, are stacked against him.'
One could have been forgiven for querying why anyone should bother turning up for the first game of the season, with fancied Newcastle United the visitors to Elland Road. The Tynesiders included Leeds old boys Lee Bowyer and Jonathan Woodgate. It seemed a complete mismatch: Bobby Robson's Geordies had won 1-0 at Partizan Belgrade the previous Wednesday in their first Champions' League match.
However, just when all seemed blackest, the much-maligned players pulled something out of the hat and were disappointed not to emerge from the game with all three points.
Robinson retained the goalkeeper's jersey, behind Lucas Radebe, partnering debutant Camara in the centre of the defence, with Gary Kelly and Dominic Matteo on the flanks. Morris and Sakho made their first appearances in a midfield quartet with Seth Johnson and Jason Wilcox, while the old firm of Alan Smith and Mark Viduka were in tandem up front. It was a decent team on paper and for once also on grass.
After 20 minutes Radebe pulled England midfielder Kieron Dyer down in the area and there was little doubt about the decision. Alan Shearer, with a phenomenal scoring record against Leeds, stepped forward to keep the run going from the penalty spot. The home crowd held their breath at the thought of what the reaction would be among a set of players who were not exactly brimming over with confidence. They need not have worried, however, for it took just four minutes for Leeds to fight back and Morris and Sakho combined well to put Viduka free. A quick flick with the outside of his right foot and Leeds were level.
While the Geordies were having the better of the play, the Whites rose admirably to the challenge and surprised even their most ardent aupporters with the quality of their performance, going close several times before Alan Smith gave them the lead twelve minutes after the break.
Newcastle full-back Olivier Bernard headed the ball back to keeper Shay Given, but misjudged the pass, allowing Smith to get in to score with a low shot. The striker's passionate brandishing of his Leeds badge sparked breathtaking scenes of celebration. He had earlier said, 'I am a Leeds United player and proud to be so. I was born in Leeds and I have no intention of leaving the club. This is where I want to play my football. I am happy here and the only thing on my mind at the moment is doing well for the club.'
The Leeds faithful rose in tribute to their local hero, in sharp contrast to the venomous welcome they dealt out to the returning Lee Bowyer. Jonathan Woodgate got a less negative response than his team mate, but Elland Road does not take kindly to those who choose to move on. Smith's assertion that he was going nowhere had seen his stock rise even higher with the home fans.
Leeds, redeployed in a 4-5-1 formation with Smith pulled back into midfield, now showed a spirit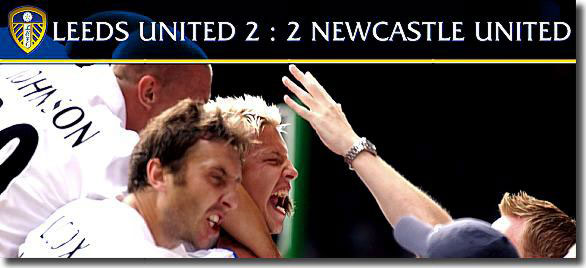 that had been all too lacking under Terry Venables. The celebratory mood was boosted after 74 minutes when cult midfielder David Batty came on for Wilcox, making his first appearance since a last minute substitution in April 2002 against Derby. With the clock ticking down and a winning start looking more and more likely, though, disaster struck.
The partnership between Radebe and Camara had looked sound all afternoon, but a cross from the right two minutes from time prompted a rare misunderstanding. Radebe miscalculated the flight of a cross and was stretching too far to make the header when his colleague looked better placed to clear. The ball ran free, leaving Shearer to rifle home an equaliser and save Newcastle's blushes.
It was a disappointment to concede so late, but Peter Reid was delighted with the way his troops had rallied, saying: 'I thought my team were great. The players gave me everything they had. I cannot fault any of them. They have now set themselves standards for the rest of the season because they have got to do this week in and week out.'
The team looked resilient again a week later at Tottenham, with Alan Smith's long range skimmer earning a fifth minute lead. However, wonder goals from Mauricio Taricco and Freddie Kanoute turned the game around, and Leeds ended disappointed again. Days later, they drew a blank at Elland Road against Southampton, having to settle for a goalless draw despite another spirited display.
One notable feature of the day was the emergence after 78 minutes of Aaron Lennon as susbstitute for Mark Viduka. As reported by United's official website: 'Aaron Lennon made his Premiership debut as he came on for Mark Viduka with 11 minutes of play left - becoming the youngest ever Premiership play by 59 days, taking the record from Coventry's Gary McSheffrey at the age of 16 and 131 days. Lennon showed what he can do with a scampering run from midfield that had Spurs on the backfoot, but faced with a flat back-line to beat he chipped it into space only to find no-one had made the run for him.'
Peter Reid was not happy at the lack of points but was content with the players' effort and application: 'I'd be concerned if we weren't playing well. I am pleased the way the players are playing. It's just a matter of getting that little bit of quality, or that little bit of luck to get us a goal. If you want to take plusses out of this game then no goals against means you don't lose and if you keep doing that then you are going to win football matches.'
A visit to Middlesbrough was the final match before a fortnight's break for a round of internationals and looked a difficult prospect. Boro had Danny Mills making his debut at the start of a season long deal, with European internationals Boudewijn Zenden and Gaizka Mendieta also in their line up. Mendieta was the man who had tormented United in their Champions' League semi-final with Valencia in 2001. The Teessiders were struggling at the foot of the table, but looked to have enough talent to see off United.
Lamine Sakho opened the scoring for United in the 16th minute after Jermaine Pennant played him through with a defence-splitting ball. It was the Senegal-born forward's first goal for the club and Zoumana Camara also netted for the first time when his bullet header after 77 minutes brought Leeds level after goals from Nemeth and Juninho had given Middlesbrough the advantage. It seemed that the game would peter out to a draw, until Mark Viduka took a hand in the closing seconds.
The in-form Pennant played a smart chip towards the edge of the area prompting a stumble from the young defender Davies, leaving Viduka with unexpected space. He steadied himself and calmly lobbed keeper Schwarzer to mark his 100th Premiership start for Leeds with his 50th goal. It was a picture perfect effort, and well worthy of winning any game.
Leeds had been outplayed, and were lucky not to concede a penalty when Paul Robinson brought down Mendieta in the area, but it's results that count in the end and Peter Reid could afford to spare himself a sigh of relief: 'The players are really pleased, we needed that one. I think we had forgotten how to win, as a team and a club. Hopefully that will change things round for us. Middlesbrough put us under a lot of pressure but we kept on going. We lost a lot of games in the last 10 minutes last season. Let's hope this is the start of something different.'
By now, Dominic Matteo had become Camara's partner in defence, while the form of Jermaine Pennant on the right wing gave everyone at the club cause for optimism. Smith and Viduka had managed a couple of goals apiece, Sakho was settling in well on the left and Seth Johnson seemed to have put his injury problems behind him. The transfer window had closed, so no more players would be leaving, Roque Junior had arrived, bringing with him a big reputation, and there were the first faint traces of optimism around Elland Road. The club could have done with a few more points, but their position in 11th was better than expected. Peter Reid had reason to feel satisfied, having taken 18 points from the 12 games since his appointment in the spring. If he could maintain such a return, relegation would be unlikely.
Once again, though, the players proved they could confound any judge of football, and the mood at Leeds United quickly became as dark as it had been in the days of Terry Venables.
Leeds had an apparently straightforward Premiership game to look forward
to on Monday 15 September. They travelled to the Walkers Stadium against promoted Leicester City, struggling at the wrong end of the table with just two draws to their credit. United were confident of getting three points in front of a Sky television audience.
Peter Reid chose to blood Roque Junior, despite the fact that the Brazilian defender had just jetted in after two gruelling World Cup qualifying games in South America. He lined up in a new look defence with Gary Kelly, Zoumana Camara and Didier Domi, making his first start in place of Dominic Matteo, sidelined with ankle ligament damage.
Leicester went close early on from a succession of corners and their muscular approach established the ascendancy. Leeds fell behind after 20 minutes when French midfielder Lilian Nalis moved under a looping defensive clearance as it dropped 25 yards out. He met the ball perfectly with a stunning left footed volley, sending it crashing unerringly into the net, with Paul Robinson stretching in vain. It was a wonder goal and set the Whites firmly back on their heels.
Barely two minutes later, aggressive Leicester striker Paul Dickov chested down a header from partner Marcus Bent on the edge of the United area, spun sharply on the ball and fired home with a low shot to give City a 2-0 lead.
Dickov and Bent, supported by Jamie Scowcroft, were wreaking havoc in the Leeds defence, and Roque Junior was exposed time and time again by their assaults, earning a booking when he pulled back Bent. There was one telling moment when the Brazilian, completely thrown by the breakneck Premiership pace, looked across imploringly at his team mates, as if asking, 'What have I got myself into?' This type of game was completely alien to him, and he was looking more a rank amateur than a seasoned international defender. Things were not helped by communication difficulties arising from the mix of nationalities in the Leeds rearguard, with an Irishman, two nationalised Frenchman and a South American sharing neither language nor much understanding of each other's play.
Leicester completely overwhelmed Leeds after the break, although debutant Salomon Olembe showed some good midfield touches after replacing Domi. Such refinement, however, was lost in the face of the Foxes' aggressive approach as they threatened several times to increase their lead. However, the beleaguered United defence somehow contrived to survive until ten minutes from time. Roque Junior, still reeling, was withdrawn with Lucas Radebe replacing him.
Dickov capped a fine display with his second goal to make it 3-0, before Scowcroft finished things off with a far post header a minute from time, leaving Leeds bewitched, bothered and bewildered. They had been thoroughly outplayed by a supposedly inferior side and all the optimism engendered by the Middlesbrough victory had vanished into the ether. Reid admitted as much afterwards: 'I thought we had turned a corner but now we need to get back on the training ground and get it going again. We were second best, really disappointing.'
This was set to be a long hard season.
There was a better performance the next weekend at Elland Road against Birmingham City, but the outcome was similar, with Roque Junior dismissed for a second bookable offence, and a 2-0 defeat. One of the goals came when the
referee controversially ordered a penalty to be retaken after Paul Robinson, adjudged to have moved, saved the first attempt.
When Roque Junior suffered yet another nightmare at the hands of Everton's no-nonsense striker, Duncan Ferguson, losing his shirt in the process, it was clear that Leeds had major problems in defence and the World Cup winner was no Messiah. Makeshift Goodison striker Steve Watson grabbed a hat trick in a dismal 4-0 reverse.
Only days previously, it had taken an astonishing headed goal in injury time from goalkeeper Paul Robinson to rescue the Worthington Cup-ie against lowly Swindon Town, allowing United to win the match on penalties after extra time. Swindon had taken a deserved 2-0 lead before Ian Harte pulled one goal back with the end in sight. Robinson went forward for an injury-time corner and rose perfectly to guide home the equaliser, an extraordinary moment in a quite extraordinary game.
Rumours about the instability of Peter Reid's position were all over the back pages, with Leeds enduring their worst start to a season since 1981/82, the last time they had been relegated. Chairman Professor John McKenzie and deputy Allan Leighton met to consider the manager's future, and McKenzie chose to seek the opinion of supporters. In the end, the support of the fans swayed the balance, and the manager was given a stay of execution.
However, the papers saw the decision as further evidence of a lack of leadership and slated McKenzie, terming him 'The Nutty Professor'. Simon Barnes in The Times provided possibly the most eloquent condemnation:
'The latest drama is based on one of those simple inversion themes that have been a staple since time and comedy began: master-as-servant, woman-as-man, son-as-father. Leeds have added a new twist, though: supporters-as-chairman.
'The result? Peter Reid in I Stay Shock! Everybody knows that when a club does badly, you sack the manager. That's the manager's job: taking the praise, taking the blame. So Leeds have done badly but they have inverted the traditional way of doing things. They made the usual big announcement, but twisted it: keep the manager!
'Supporters have a traditional role here. A committed supporter has only one source of power, the withdrawal of his emotional and financial support, which is the one thing he will never do. So a supporter is by definition powerless; all he can do is make life hell for people and that, football has long agreed, is his irrefragable right. And mostly, the person he makes hell for is the manager. The team loses? Sack the bastard! Boo him, shout horrible things at him, make his life intolerable. And in the end, he goes, the sacking of managers being football's great substitute for problem-solving.
'But Leeds, with the theme of inversion running hot and strong, have elected to keep the manager. And McKenzie, the chairman, has inverted the chairman's traditional contempt for fans and actually brought them into the consultation process. The fans, true to the theme of inversion, said that Leeds should keep the manager. That gives them the only other option of Sack the Players.
'And so the ship heads straight into the worst storm you have ever seen. "All right, skipper, what do we do?" "Buggered if I know. What do you think?" It is the crew who are supposed to mutiny, not the captain, but on board the good ship Leeds the captain has rebelled against his own authority and asked the crew to sail the ship for a bit.
'Meanwhile, the crew, the fans, have pondered long and hard and worked out exactly what the board wanted to do. And recommended the exact opposite. As an argument, it certainly holds water: if you head in a direction 180 degrees to that suggested by the Leeds board, there's a fair chance that you'd be heading roughly the right way.
'They cannot sell any players because fans have been driven mad by the fire sale policy that followed the disaster of missing the Champions' League. They cannot buy any players because they haven't got any money. They dare not get relegated because that will be financial disaster: and they are looking doomed.
'They have players who can play but the club has been stripped not just of its assets but of its self-belief. McKenzie insists that he "doesn't go in for time-scales", which is very sweet of him. After Saturday's match against Blackburn Rovers, Leeds play Manchester United, Liverpool and Arsenal. I'd say that, as time-scales go, it is probably time to start getting worried.'
There was a touch of hyperbole about the article, but there was no escaping the fact that Leeds United had been the laughing stock of the Premiership for months. Their descent into farce left no one at the club with any credit or credibility. It seemed all that was left now were the inevitable player departures and an ignominious end to their ever-present Premiership record. Leeds were in the relegation zone and seemingly in free fall.
A Seth Johnson double on 4 October against Blackburn at Elland Road brought some relief, but even then Leeds were left hanging grimly on at the death after Dino Baggio pulled a goal back for Rovers.
There was not much succour in the games that followed, with Manchester United, Liverpool and Arsenal showing no mercy. Faint Worthington Cup hopes were extinguished when a second string Old Trafford side came to Elland Road and emerged victorious, although Roque Junior enjoyed a rare Elland Road personal triumph by scoring both Leeds goals in a 3-2 defeat. The revived David Batty showed that he could still make a telling contribution with a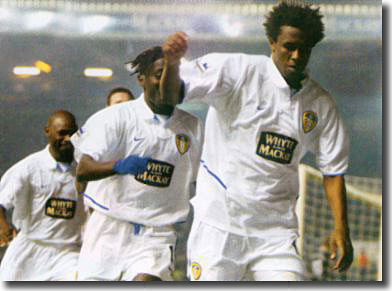 string of man of the match performances, becoming a rare breed, with Matteo and the heroic Smith, in escaping the ire of the fans.
Peter Reid was effusive with his praise for the former England midfielder: 'That's back-to-back games now in which he has been fabulous. He has had a frustrating 18 months or so, but he was tremendous against the best in the likes of Keane and Scholes. He was breaking up play, intercepting, tackling and he kept the ball for us better than any other player. He was a massive plus for us. I have to say I wasn't certain whether he was capable of lasting in a Premiership game, but he provided a lot of answers to questions against him. I think he might have had reservations about whether he was still capable of playing at the top level, so I think the Blackburn game was a massive relief for him given the way he played in it.'
Having come through such a nightmare patch, Reid took some consolation from the prospect of a less challenging run of fixtures to come. Leeds now faced a relatively easy trip to Portsmouth on 8 November, although they were bottom as they travelled to Fratton Park, following Leicester's 2-0 victory over fellow strugglers Blackburn.
United headed south without Mark Viduka, after a training ground bust up between Peter Reid and the Aussie. Viduka had turned up late when Leeds played Arsenal and was dropped - then, when he was also late for a training session, Reid saw red and fined him two weeks' wages.
The story went that Viduka had said to the rest of the players, 'If you want to go down, stick with this fella,' motioning at the manager. Reid's judgement was called further into question when he selected Roque Junior for a holding midfield role at Pompey, switching to a 4-5-1 formation, with Alan Smith as a lone front-runner.
New chief executive Trevor Birch, fresh from attracting Roman Abramovich and his billions to resurrect Chelsea, and hoping to find a similar saviour for Elland Road, was in the crowd as the teams kicked off on what was to become a nightmare afternoon in the history of Leeds United.
The Yorkshiremen managed to hold their own in the early stages, Alan Smith equalising almost immediately after Pompey took the lead on 16 minutes. However,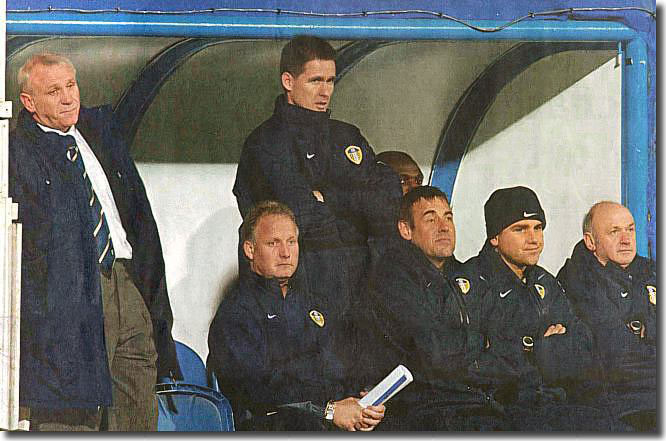 Portsmouth regained the advantage just before half time through Gary O'Neil, and never looked back. They might have been a collection of limited journeymen, but they had enough ability and bottle to destroy an insipid Leeds in the second half with further goals from Foxe, O'Neil, Berger and Yakubu.
Leeds were shell shocked. The 6-1 reverse was the club's worst ever result in the Premiership, and it was as much the nature of their play as the scoreline which hurt - the team had simply disintegrated. A forlorn Peter Reid admitted as much, saying, 'There was no desire to play football, to win a tackle. It's very disappointing because the team is my responsibility. At the age of 47 I'm not going to start resigning now. I have to get on with it.
'That second half was the worst 45 minutes of my managerial career and the players don't deserve to pick up their wage packets after that performance. The white flag ran up so early it was untrue. If we get another of those 45 minutes it's going to very difficult for me. I'm not sure if the players understand how serious the situation is. We need to pull our sleeves up and battle. We needed a kick up the backside. I won't resign but I'm certainly not happy about the lack of desire. I can't speak for the players but I've had my say in the dressing room and that's private.'
Despite Reid's fighting words, the defeat badly stung the powers that be at Elland Road, and his fate was decided. Barely 48 hours after the debacle, the club announced that Birch and Reid had 'mutually agreed' that there should be a change of manager and that Eddie Gray would assume the role of caretaker-manager.
Reid was not apparently bitter about the decision. Indeed he had some pretty positive thoughts about his experience at Elland Road:
'I've been at Sunderland and Manchester City, but I've never known a club attract press like Leeds does. Every day we were on the back pages for something or other and when we weren't we were on the front pages! It was ridiculous at times and it's a crying shame because there are so many good people at the football club.
'It's a long, long job and I wished Eddie all the best. Whoever the next manager is they must be given time to do the job. It could take years, not months, for Leeds United to turn around and the club needs stability. Everyone has to pull together from top to bottom. That will be the key for the club in the future. If everyone does that, I'm sure Leeds will come through this.
'I'm glad to have had the opportunity to manage such a great club.'
Eddie Gray had no doubts about answering the call when it came and was
enthusiastic about the challenge, saying, 'It's a fantastic opportunity for anyone to take over. I have been at the club for a long time and you don't think it's going to happen again. I'm looking forward to it.
'The first priority is to try and pick points up - that goes without saying looking at the league position. You have got to go and do something about it yourselves because you won't get any help from outside the club; it's up to myself and the staff to get results under our belt.
'I don't know how long I will be here for and probably the people at the top don't, but we'll see what happens. The fans were terrific to Peter and have been fantastic towards the players all season. They have been getting behind the side and they will get behind the team even more now because I am sure they realise it is going to be a tough season.'
It was clear, however, that the return of Gray to a position he had held from 1982 to 1985 would not be helped by money to address shortcomings. Leeds were experiencing a financial meltdown, the like of which had never been seen before in English football. So dire was the position that the very existence of Leeds United Football Club was being seriously called into question.
Part 2 - What went wrong? - Part 3 - Back from the brink - Part 4 End of an era - Results and table