Part 2 Closing down sale - Part 3 A great escape - Results and table
By the summer of 2002, for those who were willing to see it, the writing had been on the wall for Leeds United for several months. The lacklustre end of season form had been merely the symptom of a deep running malaise. After topping the Premiership table at the turn of the year, the side had enjoyed a nightmarish spell in the spring, punctuated by insidious rumours of dressing room unrest.
However, it was the precarious financial position that gave the greatest cause for concern.
At the beginning of March, chairman Peter Ridsdale announced interim losses of £14m, adding that there was a pressing need to lower the club's debt burden. At least £15m was required from player sales in order to improve liquidity. Long-term borrowing had risen to more than £85m in the pursuit of the golden egg of the Champions' League. Now, it was clear that the price of failure was crippling. Ridsdale sanguinely demanded the sale of six players: 'One of the transfers will probably be more than £10m with three or four smaller deals made up of squad players who are not regular first-teamers. The amount left for the manager to spend will depend on European qualification.'
The news confirmed fears in the City that the club had borrowed much too heavily. The squad was independently valued at £198m but the share price placed the worth of the entire club at just £25m.
A late revival on the pitch helped to secure a place in Europe, but in the less attractive environs of the UEFA Cup, rather than the Champions' League, and it was estimated that the difference between the rewards on offer was more than £20m.
On the playing side, the club was resigned to the departure of Lee Bowyer. The dynamic midfielder's relationship with the chairman had been badly soured following his acquittal from charges of grievous bodily harm. Ridsdale insisted that Bowyer should pay a fine for his drunken misbehaviour while Bowyer was equally resolute that the fine was both unfair and excessive. There was only a year to go on the Londoner's contract and permission had been given for Liverpool to discuss a move. Leeds had hoped for a £15m fee, but in the end agreed on £9m. The deal had been all but sealed, but at the twelfth hour it fell apart, with Liverpool manager Gerard Houllier claiming that Bowyer was not wholly committed to a future at Anfield. It was a shock to all concerned, and left Leeds in a sticky financial position, needing to raise funds, but finding it increasingly difficult to find takers for any but the most valued assets.
One major transfer did eventually go through and proved a particularly bitter pill for the Elland Road faithful to swallow. Captain Rio Ferdinand had proven himself possibly THE jewel in the Leeds crown after his record breaking £18m move from West Ham a couple of seasons previously. His outstanding performances during the World Cup finals in Japan and South Korea prompted transfer rumours and the newspaper talk unsettled the player, as did his discussions with squad colleagues while he was in Asia. Ferdinand roomed with Manchester United defender Wes Brown, while David Beckham, Paul Scholes and Gary Neville were also on hand to hint at the advantages of playing for their club.
Peter Ridsdale gave assurance after assurance that the club would not sell Ferdinand, and the player himself professed his loyalty. However, the promises were empty and a £30m record fee was eventually agreed with Manchester United. Ferdinand became an Old Trafford player on 22 July, provoking bitter reaction from fans, distraught at the news of another favourite deserting the club. The fact that it was the reviled Red Devils and the lure of filthy lucre behind the move made the taste an even more bitter one.
By then, more controversy had engulfed Elland Road, as manager David O'Leary was sensationally and suddenly sacked on 27 June. The press release read: 'After four successful years the pressures of some of the off-field incidents have resulted in the company deciding that it would be beneficial for a change of manager. It is hoped that news of a successor can be announced in the next few weeks. Leeds United would like to place on record its thanks for David's enormous contribution over the last four years.'
The public statement hid cracks in a relationship which had become increasingly fractious. The Guardian's Daniel Taylor wrote: 'Had O'Leary not been prone to so many foolish utterances and crass errors of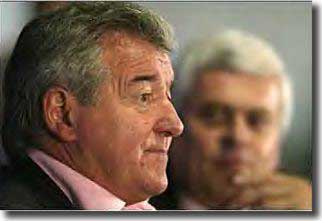 judgment, it is a safe bet his relationship with Ridsdale would not have disintegrated to the point that his first day on holiday will be spent contemplating a new life among the nation's unemployed.
'What has become apparent is that Ridsdale has become increasingly resentful towards O'Leary. The lack of silverware was not enough to justify O'Leary's sacking. Likewise, his implied criticism of the plc over the proposed sale of Rio Ferdinand has been annoying but not earth-shattering. And O'Leary is certainly not the first manager to be disliked by his players, even if it has reached the point where one first-teamer, at a recent club function, refused to sign a book bearing the manager's picture.
'Where O'Leary made his fatal error is by persistently upsetting a chairman whose nickname of Publicity Pete reflects his obsession with the club - and himself - being seen in a positive light. Ridsdale was appalled by the level of criticism that O'Leary brought upon the club by releasing Leeds United on Trial immediately after the court case involving Lee Bowyer and Jonathan Woodgate, so becoming the one person at Elland Road to profit financially from the revolting street attack on the Asian student Sarfraz Najeib. Over the last few months, Ridsdale has watched with dismay as the media have launched a sustained campaign against O'Leary, himself and the club.'
As speculation turned to the matter of who would succeed O'Leary, many felt that Ridsdale would attempt once again to lure Martin O'Neill, who had been the original favourite when O'Leary was appointed in 1998, but Celtic acted quickly to block any move. O'Leary himself believed Ireland manager Mick McCarthy had already been lined up by his former masters, while newspaper talk focused on Middlesbrough boss Steve McLaren.
In the end, however, former England main man Terry Venables was the shock appointment at the beginning of July. Ridsdale spoke glowingly as an initial two-year contract was agreed: 'I had lunch with Terry in Spain on Saturday and within 10 minutes, so infectious is his enthusiasm, that he has you believing that you can play for England. I firmly believe we have the best - the very best. Players respect him, coaches admire him and I do think that Terry is special.
'For tangible evidence of his qualities you only have to look at the incredible rescue act he performed at Middlesbrough the season before last. Barring a miracle they were down and out of the Premiership with not even a hope of survival. They couldn't get a result to save their lives, but in walked Terry and from the moment he made his entrance things changed for the better. It takes a special man to be able to do that.'
Venables had been out of the game since the Middlesbrough role in 2000/01, and was released by ITV from his contract as a TV pundit to take up the Leeds job. Venables was as pleased as Ridsdale with the deal: 'It has all happened so quickly. I had a call from Leeds at my home in Spain when I was told they wanted to meet me. The whole business had been conducted like a whirlwind. It was irresistible. What surprises me most is how good I feel about taking on this job. I am excited by the thought of it, genuinely excited.'
There was much talk of the new players Venables would bring in. Expectancy was high and there seemed to be new rumours every day of big money deals. However, reality soon began to bite, and the only arrivals were two experienced midfielders the manager had worked with previously in Paul Okon and Nicky Barmby.
Okon was the Australian national team captain and had figured for his country in the period when Venables was in charge. He had also worked with the coach at Middlesbrough, and had played in Italy with Lazio. He had been released on a free transfer by Watford.
Barmby moved from Liverpool for £2.75m, but had probably enjoyed his best form at the start of his career when he played under Venables at Tottenham. He had gone on to win England caps and had also played for Middlesbrough and Everton.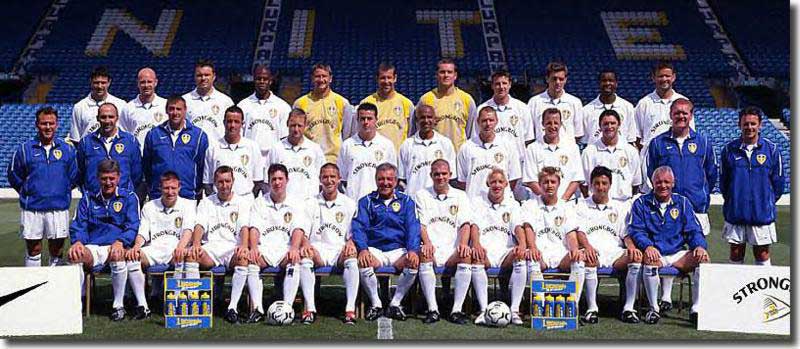 The Leeds United faithful started to rumble and grumble as days went by with no more news, but there was still a crowd of 40,000 plus for the opening game, as newly promoted Manchester City visited Elland Road. Young keeper Paul Robinson was preferred in the net to Nigel Martyn, following the England international's decision not to accompany the squad on a pre-season tour, while Barmby made his debut. A fit again Lucas Radebe partnered new captain Dominic Matteo at the heart of the defence, with Danny Mills and Ian Harte also present after good showings in the World Cup finals. Eirik Bakke and Lee Bowyer completed the midfield set up, while the manager went for three up front with Mark Viduka, Alan Smith and Harry Kewell. The 4-3-3 formation looked interesting and hinted at a refreshing approach. Venables had spoken of his desire to employ Kewell as an out and out striker, rather than his customary left flank role.
Venables' original intention was to employ a 3-5-2 formation, using Jonathan Woodgate, Rio Ferdinand and Dominic Matteo, but the departure of Ferdinand had ruined those plans, while Woodgate missed the first game after needing eight stitches in a knee wound suffered in a pre-season friendly with Rangers.
A successful promotion campaign under former England boss Kevin Keegan had brought fresh confidence to Manchester City, who gave Leeds a number of problems at the back, particularly in the first half with Ali Benarbia, Eyal Berkovic and Nicolas Anelka all in good form. City hit the woodwork twice and had several good chances, but it was Leeds who struck first. New boy Barmby opened the scoring after 15 minutes, stealing in on a deep cross from Bowyer to force the ball home from close range.
On the stroke of half-time Barmby played Viduka into the clear and he finished clinically past City keeper Carlo Nash, deputising for the injured Peter Schmeichel. Robbie Keane came off the bench to replace the burly Aussie after 70 minutes and ten minutes from time wrapped matters up after breaking clear. He exhibited outstanding presence of mind to chip the ball over the advancing keeper for one of the most spectacular finishes of the season's opening day.
A week later Leeds faced another of the promoted sides. They defied the passionate home support of the West Bromwich Albion fans in a difficult opening half hour as the Midlanders pressed them back. However, Leeds had too much finishing power and confidence for a side tipped from the start for relegation and six minutes before half time Harry Kewell sidefooted home a Danny Mills cross. After that, there was little doubt who would be the victors and in the 52nd minute Lee Bowyer curled home an outstanding long-range shot from the right after neat interplay between Smith and Kewell. Viduka rounded the keeper after 70 minutes to tap in a third and even though Lee Marshall claimed a consolation goal in the closing seconds, Leeds had emerged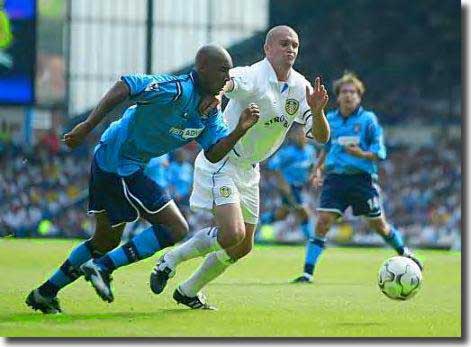 as easy victors in the end.
Venables: 'We knew they would throw everything at us and they did, but we had a bit of good fortune early on, and I thought we slowly got the game back 15 minutes before half time. I changed the way we played, which I said we would at times, and it pleased me that we adapted well to it.' Despite the muted response, it was clear that the chirpy Londoner felt his side could genuinely contend for Premiership glory.
The optimism was rudely dispelled, however, as Leeds lost 1-0 in midweek at home to struggling Sunderland. Tellingly, the game brought Sunderland's first goal and points of the season, providing much needed solace to Peter Reid, their beleaguered manager. Days later, Leeds came away pointless from a trip to the third promoted side, Birmingham City.
The departure of 22-year-old Robbie Keane in a £7m move to Tottenham before the transfer window closed at the end of August brought more grumbling, particularly when the replacement was an unknown Swedish defender, Teddy Lucic, joining on a loan deal from AIK Solna. He had seen previous action in Serie A with Bologna, but was not the sort of high profile name the fans had hoped for, while the exciting Keane had been a favourite with the fans.
The expected big money arrivals had failed to materialise and the fans wanted to know what had happened to the treasure trove generated by Rio Ferdinand's departure. When it had looked like there would be money to rebuild, the fans grudgingly accepted the sale as good business, but now it was apparent that the bargain basement was the only store in town. This was no brave new world.
The mood around Elland Road was noticeably lighter than during the final six months of David O'Leary's time, but there were few signs that Terry Venables was the Messiah who could rescue a club firmly on the downward curve.
Since his arrival at Elland Road, the manager had bemoaned the lack of opportunity to work on the training ground to get the players in tune with the style he wanted to employ, but the season's first round of international games brought an opportunity to do so. However, call-ups for those matches decimated his squad.
'I don't welcome this break at all,' said Venables. 'The problem now is that we've played Wednesday, played Saturday and you think to yourself that you want a nice clear week to top and tail what I want to do with them, but they're all off and I can't. I suppose the rest of the clubs are the same, but with me not knowing them as much it makes it a bit frustrating. We've almost got to close down whilst all the internationals are away.'
However, both Alan Smith and Lee Bowyer were on their way to memorable performances for England against Portugal.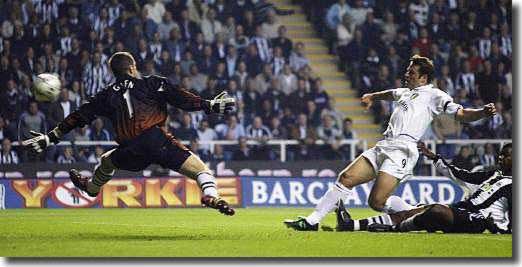 Smith scored his first international goal with a remarkable diving header and Bowyer gained his long delayed first cap, laying on the goal for his team mate.
The pair took their good form into their next club game, at Newcastle United's St James' Park, as Leeds pulled off one of the season's most outstanding results. Five minutes in, Harry Kewell broke clear on the left and crossed for Mark Viduka to open the scoring. The Newcastle defenders vainly appealed that Kewell had been offside, but the fault was more with their slack marking than the assistant referee.
After that, Paul Robinson demonstrated the form that had seen him promoted to the England bench by pulling off a string of marvellous saves, denying Newcastle again and again. Jonathan Woodgate, who had also returned to the international fold against Portugal, was another star performer as Leeds gave ample proof of their defensive resilience.
Three minutes from time, Smith crowned a wonderful personal week by blasting home a splendid second goal from the edge of the area after Newcastle failed to clear a corner.
The 2-0 score was flattering, but Venables had seen his side demonstrate some real potential, lifting his spirits: 'I'm really very pleased for the players, they worked very, very hard and everyone played their part. This is a very hard place to come and get a result.'
When Rio Ferdinand returned to Elland Road with his new Old Trafford colleagues a few days later and went home disconsolate after losing out to Harry Kewell's header, things suddenly became even rosier. Leeds United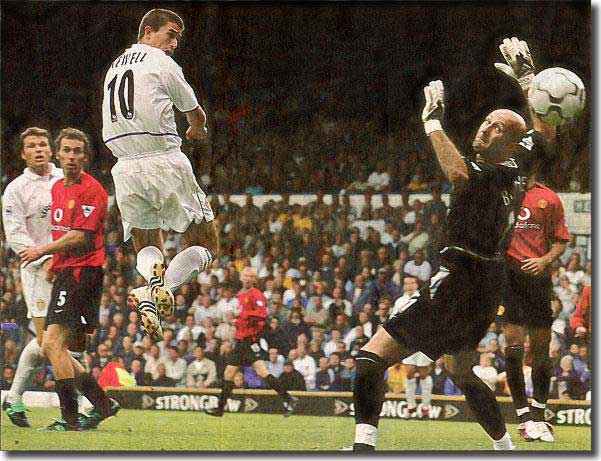 victories over Manchester United are rare things, and the crowd forgot for a while their feelings of betrayal.
Two such unexpected victories provided a marvellous fillip, and the early kick off time of the United match meant that for a few hours at least, Leeds United sat on top of the table.
There was more good news when striker Michael Bridges, out of action with a bad injury for the best part of two years, returned to the subs' bench for the UEFA Cup tie against Metalurgh Zaporizhzhya of the Ukraine. He came on to heartfelt applause after 64 minutes with Leeds struggling for a goal, and had a key role when Alan Smith finally broke the deadlock.
It looked like the Ukrainians would escape with a priceless 0-0 draw after a mean defensive display, but Bridges seemed to act as a good luck charm. There were just ten minutes remaining when Leeds finally pierced the defensive rearguard. Ian Harte pumped a ball forward and Bridges was lightning quick to get on the end of it. He prevented it going out for a goal kick right on the byeline, then with a defender in close attention he turned it back into the path of Smith who fired home from six yards.
Leeds couldn't add to the goal and were disappointed with their performance, but had crucially managed to keep a clean sheet. Terry Venables said afterwards: 'I thought Michael did very well. It has been a hard story for him. He must have had times when he was very low. But in the two years he has been out he has worked extremely hard. He has been frustrated because he wanted to get back into the team, but this was a big moment for him tonight and I thought he not only played well but contributed well to the goal. I am very happy for him.'
Venables was less enamoured, however, with events in the weeks that followed. Alan Smith missed a penalty as Leeds went down by a single goal at Blackburn, and then were on the wrong end of a resounding 4-1 drubbing at home to champions Arsenal, who were in outstanding form as they chased a second title in succession. Some of the Gunners' football was breathtaking, but Leeds' own problems were evident for all to see.
Ian Harte had been given a chasing by Keith Gillespie at Blackburn and was omitted against Arsenal, with Danny Mills switched to left back and Gary Kelly on the other flank. The changes left Leeds looking lop-sided and out of sorts and if truth be known the result was flattering, for Arsenal had won at a canter.
A late equaliser from Nick Barmby saw Leeds through in the UEFA Cup away to Metalurgh. Back in domestic football, however, Leeds' stop start campaign continued to stutter. Neither one of two poor sides could manage a goal when United visited Aston Villa on 6 October, and then Leeds lost 1-0 at home to Liverpool. Twice Leeds took the lead at Middlesbrough, twice conceded an equaliser, and then saw Alan Smith dismissed for a second bookable offence, harsh though the decision seemed to be. Everton won at Elland Road for the first time in more than fifty years when the youthful Wayne Rooney made Lucas Radebe look leaden footed. Even worse, two goals in the closing seconds saw a Worthington Cup lead at First Division Sheffield United turned upside down and Leeds tumbling out of the competition at their first hurdle.
The first half-hearted cries of 'Venables Out' were heard on the terraces. 'It is frustrating, we are not getting the results that our play deserves,' said Venables.
The frowns were temporarily lifted by a gripping 4-3 win at West Ham, but Leeds had almost contrived to throw away a 4-1 half time lead and had been left hanging on grimly for three points which would be so crucial at the end of the season. West Ham were in the most appalling run of form, and defended abysmally in the first half, allowing Barmby, Kewell (2) and Viduka to profit.
The Hammers looked a different side in the second half as they enjoyed almost total dominance. The United team retreated into desperate defence, looking bemused and bewildered in the face of a determined and sustained assault. Terry Venables was on the edge of his seat throughout a terrible second half, but could at least breathe a sigh of relief at the end.
Mixed in with those stuttering performances had come two UEFA Cup ties with Hapoel Tel Aviv, both of which Leeds had managed to win. In fact, the second away match (held in the neutral stadium of Fiorentina in Florence) had seen Alan Smith turn in a virtuoso performance with all four goals in a sparkling 4-1 success. The Israelis had
pilloried Smith after the first leg for his aggressive approach, but he now showed what a good player he is, revelling in the praise of his exultant manager.
It was only a temporary relief, however, for Venables, as he suffered a string of dire results. Any faint hopes Leeds still harboured of a decent season vanished completely during November and December.
After the Hapoel victory, Leeds lost four straight Premiership matches, with the first an amazing 4-2 defeat at home to Bolton Wanderers who, like Sheffield United, came back strongly at the death. Leeds had the lead, then saw Bolton equalise before two late goals stole all three points.
The Times ran an interesting piece on Lee Bowyer, who was rumoured to be off to Tottenham: 'Bowyer's loss of form has contributed to five defeats in seven home Barclaycard Premiership matches, although others such as Harry Kewell and Mark Viduka, have been performing worse. It is a dressing-room where too many players appear to have one eye on the exit, but Bowyer is annoyed by the suggestion that he is ticking over until the day he can leave.
'"They can use me as a scapegoat - it has happened in the past - but if I am performing on the pitch, then what more can I do?" he said. 'Would you rather someone on a four-year contract who is not going to do as well as me? Our record is crazy and I don't know why. We have two good results and then I turned on Teletext at home on Sunday and it was 4-2. You just think: How have we lost 4-2 against Bolton at home? These are the same players we had when we almost won the title and got to the semi-finals of the Champions League.
"'I never had a problem with David O'Leary, but it started last year. Before then, things were fine. The club has brought in a new manager, but he can't work miracles. I feel sorry for him because it must be so frustrating to see the quality of players and yet it is just not happening. He is there every hour he can be. We just had a meeting. He said: Listen, it's mad. It is 2-2 with five minutes left and you have put six men in the box for a free kick. We have good enough forwards that we can get a goal without throwing everyone forward, but they break, score and it is over. You are unbeaten for two games and then you lose to Bolton at home and you are low again."'
Some of this smacked a little of self-justification for a disenfranchised talent, but clearly there were problems in the camp and Leeds United were tottering on a dangerous precipice. No one, it seemed, could adequately explain what had happened to the most exciting young team in the Premiership. The loss of Ferdinand and Keane had been damaging, sure, but Terry Venables still had a strong squad from which to pick, and one which had been good enough to beat both Newcastle and Manchester United without conceding a goal. However, he also had a dispirited group which could lose to Sunderland, Birmingham, Bolton and Sheffield United, and for which the clichéd phrase 'too good to go down' could have been invented.
Part 2 Closing down sale - Part 3 A great escape - Results and table