Part 1 A new beginning - Part 2 Closing down sale - Results and table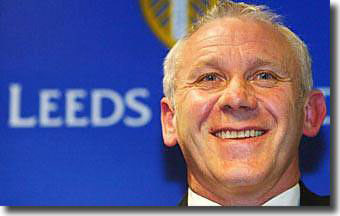 On 21 March 2003, after weeks of speculation, Leeds United terminated the contract of manager Terry Venables after a disastrous string of results. Just hours later former Sunderland boss Peter Reid was appointed as caretaker manager for the remainder of the season, with eight matches left to save the club.
The Merseysider was delighted with the appointment, which gave him the opportunity to return to management after being sacked by Sunderland in October. After great success as a midfielder with the Everton side which dominated the English game in the mid-80's, also winning the Cup Winners' Cup, Reid had made an impact as manager with Manchester City and Sunderland, but a poor run of results at the start of 2002/03 had seen him sacked by the Wearsiders after just two wins from their first nine matches.
The run in facing Reid looked daunting to say the least. Liverpool away, Charlton away, Spurs home, Southampton away, Fulham home, Blackburn home, Arsenal away, Aston Villa home. For a side which had taken just four points out of a possible 24 since beating Birmingham on New Year's Day it was hard to see where Leeds United would get the required points. Surely not from the away games that looked like they had been hand picked to work against the club?
Reid's first game in charge, on 23 March versus Liverpool at Anfield, saw a predictable 3-1 defeat with few signs of resurrection.
Bottom of Premiership - 23 March 2003

Pos

P

F

A

Pts

13th

Fulham

31

35

40

38

14th

Aston Villa

31

33

37

36

15th

Birmingham City

31

28

42

35

16th

Leeds United

31

38

45

34

17th

West Ham United

31

34

53

30

18th

Bolton Wanderers

30

33

47

29

19th

West Bromwich Albion

31

21

47

21

20th

Sunderland

31

19

50

19
West Brom and Sunderland were as good as relegated, but West Ham were running into a useful spell of form and looked increasingly likely to overtake Leeds.
There was also more sobering financial news to consider, and as the interim financial results were released at the end of March, so too came the news that there was to be a change of chairman. Peter Ridsdale's final job was to front up the news release, announcing his own departure and welcoming a new figurehead.
His statement read as follows: 'This has been a very tough six months for the company and our performance both on and off the pitch has been unsatisfactory. This means that tough action has had to be taken to generate funds from player sales and to reduce costs both on and off the pitch. Although difficult, it is necessary to balance our books to suit our current position. One outcome of this has been to subject me to significant comment, and created pressures that are not right for me, my family or the club. Therefore, after five years as chairman I have decided to step down and hand over the reins as chairman to Professor John McKenzie who has my full support.'
The move had not been of Ridsdale's choosing. It was clear that the financial mismanagement of the preceding few years had made the departure inevitable, and the chairman had been guilty of 'living the dream', a fan in a businessman's world, unable to control his desire to buy glory.
The commentary accompanying the interim financial figures outlined the extraordinary challenges facing the club:
'The figures for the past half-year are disappointing and reflect the fact that we missed out for the second year running on qualification for the Champions' League. Having assembled a squad with a cost base that required regular European football, this has led to a requirement to reduce overall costs and particularly those of the playing squad. TV revenues for the UEFA Cup were substantially lower, reflecting the reduced competition from TV companies for rights to the earlier rounds of this tournament.
'Having made a change of football manager with the appointment of Terry Venables at the start of the season, results on the field have been extremely disappointing. This has led to a lower number of live Sky games than we have experienced previously and a substantial reduction in Sky merit payments expected for the end of the season. Since the half-year end we took the decision to make a further change of football manager, with Peter Reid being appointed for the last eight games of the season.
'For the first time in this country, the transfer window system was introduced meaning that players could only be bought and sold during two periods of the year. This new system meant that further opportunities to reduce player costs were not possible until after the half-year end. During January, Lee Bowyer, Robbie Fowler and Jonathan Woodgate were sold, with Olivier Dacourt going to Roma on loan. The impact of these transfers will be reflected in the second half numbers.
'At the AGM in November, I announced the intention to review both the executive and non-executive management structure and the non-playing cost base. This led to the appointment earlier this year of two new non-executive directors, John McKenzie and Neil Holloway.
'Since becoming Chairman we have mostly had relatively good performances both on and off the pitch until the current season. This year's results have therefore been extremely disappointing. In a high-profile role, when results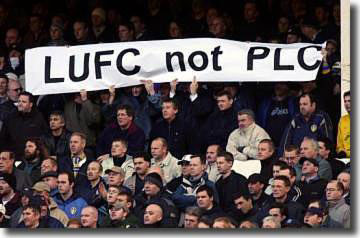 are not up to expectation levels, you rightly expect criticism. This comes with the territory. When this criticism becomes so intense that it affects your family and health, it requires clear reflection on the right way forward. The intensity of personal criticism has led me to conclude that the best decision for myself, my family and the company is that I step down as Chairman of the plc and football club and relinquish all executive responsibilities. This I am doing today.'
The outstanding long-erm debt was the figure upon which most attention was focused. Net debt at 31 December 2002 had soared to an incredible £78.9m. £30m had been raised in cash from the sales of Ferdinand and Keane, but the club had still to find £16.9m as further instalments on Fowler, Johnson, Keane and Barmby had become due. Further clues as to the lack of financial stewardship came in a popular anecdote about Johnson's signing.
When the midfield player moved from Derby County, he had been hoping for a weekly salary of £15,000. The initial Leeds offer was £30,000. At the news Johnson sat back in his chair in delight. The reaction was misinterpreted, and the response was, 'Okay, £35,000, and that's your lot …'
The combination of O'Leary's ambition and Ridsdale's profligacy had taken the club to the verge of bankruptcy and the impact would be felt for years to come.
Professor John McKenzie was an interesting choice to succeed Publicity Pete. The club website offered the following resume: 'The new Leeds United chairman, Professor John McKenzie was born in Ilford, Essex. The 65-year-old comes from a family background that has long been involved in football, his father was DW McKenzie, a member of the FA international committee and president of the Isthmian League.
'His involvement with Leeds United began during that time when he became a season ticket holder and has been a regular supporter ever since. He later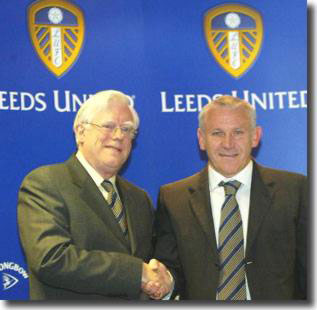 went on to invest in the club, gradually building up his shareholding until he became the second largest individual shareholder with some four million shares. He was invited to join the Football Club board in October, and joined the plc board as a non-executive director six weeks ago.
'An Economist by training, he graduated from the London School of Economics and gained a BSc from the University College of London, Bedford. In 1986 he was made rector of the London Institute and is currently director of international development. He was also head of Liverpool Polytechnic during the height of the Hatton crisis. His professional career has seen him take up senior positions with a number of FTSE 100 blue chip companies including Cadbury's Schweppes, Unilever and SmithKline Beechams. He is also currently a special advisor to the Shanghai Municipal Government, the Tokyo cultural institute, Sarawak University in Malaysia and has a long standing interest in the Far East.'
There were notable differences between McKenzie and his predecessor, as The Times pointed out: 'Many would say that Ridsdale, who had been dubbed Publicity Pete, was too high-profile. His over-exuberance, agreeing to gamble the future of the club on the hope of Champions' League qualification, led to his eventual downfall. McKenzie, already media-shy, yesterday hinted as much. "I am not Peter Ridsdale in disguise," he said. "We are adopting a procedure much closer to that of Manchester United and Arsenal, where the chairman of the plc is not a high-profile figure."'
McKenzie's initial comments were realistic but positive: 'It is serious but not impossible. The fact that the city institutions have endorsed my appointment gives me a very good starting base, and Peter had already begun something of a financial turnaround of the situation with some of the decisions made earlier. In any way breaking up the squad would be a final resort situation, I would want to see us try to find ways of increasing our income in all sorts of ways and control our costs, but you can't be a fine football club without a fine squad of players.
'We had hoped with the squad we have to be significantly up the table and not on the fringe of relegation. I hope that as a club we will become cohesive, fans, employees, team and manager together to take us back to where we rightly ought to be. In terms of the plc then clearly we have to review our strategy and look at ways of increasing our finances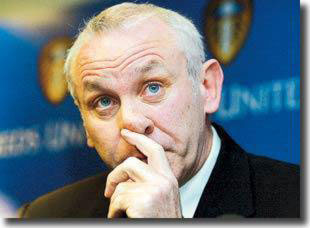 and bring our debt down, but hopefully not at the cost of damaging our football team.
'You can't just cut away at the business and lose the quality which that business has or else you lose everything. So we must ensure we have as good a squad as possible and we build around that and we build financially. When we move forward we will do everything we can to generate income and restrict to a minimum the sale of players. Players come and go for different reasons, sometimes they want to go, sometimes the manager has a view that's different. I would regard it as a real disappointment if we had to go much beyond losses other than for those two reasons.
'If the club went on haemorrhaging money at the current rate there would be a material problem, but we are not going to keep losing money at that rate. Already steps have been announced by my predecessor and it has been clear for some time that change has begun and clearly over the coming months more has to be done. You don't have to be a great expert to say that you can't afford to keep losing £17m in half a year unless you have a multi-millionaire behind you and prosper.
'You can't begin to see major impact of any changes in half a year, although Peter had already put in place certain changes, clearly there are some refinancing issues we may be able to undertake during the period, but I'm not in this for a short term, expedient, two doses of antibiotics and you're fit again kind of fix - this will take some time.'
It sounded upbeat enough, and gave desperate fans some reason to hope, but in the meantime, Peter Reid had a desperate battle against relegation on his hands and the trip to Charlton on 5 April did not offer much comfort with Alan Curbishley's South London outfit handily placed at seventh in the table.
Astonishingly, however, it was exactly as things seemed at their most desperate that the Leeds players at last found some decent form. Inspired by the hard running and aggressive performance of Alan Smith up front, the Aussie duo of Harry Kewell and Mark Viduka caught fire, snaffling five goals between them, with Ian Harte getting the other in a breathtaking 6-1 away win. The performance was as mysterious as it was impressive. If they could play like this, wondered the pundits, why had the team struggled all season, and why could Reid coax a performance out of them when Terry Venables could not.
The win took them six points clear of relegation, and into 14th position with just six matches left, prompting Sky TV to claim, 'As well as surely securing their Premiership status, the win will help Reid's claims for a permanent post and showed that, as he has insisted all along - and most of football suspected - Leeds are too good to go down.'
However, the next couple of weeks brought a fortunate 2-2 draw at home to Tottenham, and then a dire 3-2 reverse at Southampton, with two late consolation goals giving the score a respectable ring, while Alan Smith suffered the ninth red card of his short career. Peter Reid was as disappointed as he had been elated by the triumph at Charlton, moaning: 'They got out-fought, outworked, outbattled, outpassed, outscored, out-everything. I can't protect that performance. I don't want to. I might be here for just a short time, but those players have got long contracts and they've got to get their fingers out. The league table doesn't lie - look where they are. The chairman doesn't make tackles, the players do. I wish the chairman did make tackles - he might have won a few.'
Happily Leeds United still had six points advantage on West Ham, who were occupying the final relegation spot. The gap was mainly thanks to Bolton beating the Hammers that same day with the only goal of the game.
Bottom of Premiership - 19 April 2003

Pos

P

F

A

Pts

13th

Aston Villa

34

38

41

41

14th

Fulham

34

37

47

41

15th

Birmingham City

34

33

44

41

16th

Leeds United

34

48

51

38

17th

Bolton Wanderers

34

37

48

38

18th

West Ham United

34

37

57

32

19th

West Bromwich Albion

34

24

53

24

20th

Sunderland

34

21

56

19
With West Brom and Sunderland now formally doomed to demotion, the fight for relegation came down to just three clubs, Leeds, Bolton and West Ham. United's rivals were both enjoying a run of results which a woefully inconsistent Elland Road side could only dream about.
On Easter Monday, 21 April, while Leeds rested, Birmingham beat FA Cup finalists Southampton, and Aston Villa and Bolton gained draws at Newcastle and Blackburn -West Ham gained ground with a 1-0 home win over Middlesbrough. The Hammers were now just three points behind Leeds and hot on their heels.
Again, however, Mark Viduka brought home the bacon, netting both goals in a 2-0 home win over Fulham the next day, to once again give his side a six point cushion.
The Times: 'The club may be more than £70m in the red, but Leeds United took on another debt last night and this time it was one that they were more than happy to accommodate. If they are to survive relegation after one of the most traumatic seasons in their history, it is to Mark Viduka that they will owe considerable gratitude. The Australia forward took his tally in the past seven Barclaycard Premiership matches to 11 goals with the double that accounted for Fulham at Elland Road and lifted Leeds above the London side to the comparative safety of fifteenth place, six points clear of West Ham United. Both Leeds and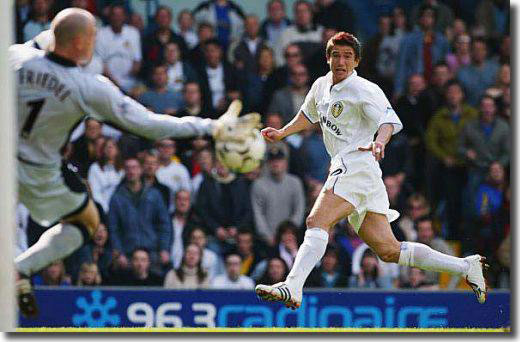 Fulham need four more points to be mathematically safe from the drop, but on the evidence of last night's one-sided affair it is Fulham who will be fretting most.
'This victory owed as much to Leeds's superior hunger and desire as it did to Viduka's cool-headed finishing. Leeds never allowed their opponents to settle and Reid appreciated the effort put in for the fifth of his eight matches in charge. "This is a big result and the players deserve all the credit,' Reid said, 'but we must keep working hard because other teams around us keep picking up points as well."'
The relegation pendulum swung dramatically against Leeds the following weekend, with a desperate 3-2 defeat at home to Blackburn. The Times: 'Viduka's twentieth goal this season should have been the foundation for a win that would have put safety beyond reasonable doubt, but Michael Duberry's senseless handball allowed David Dunn to equalise from the penalty spot. Andrew Cole, relishing hostilities with Danny Mills and Dominic Matteo, forged Blackburn ahead in the 68th minute and Andy Todd applied a finishing side-foot volley after Paul Robinson had misjudged Damien Duff's corner ten minutes later. Alan Smith's headed goal in injury time was meaningless.'
Bolton pulled out a last gasp equaliser at home to gain a point against championship contenders Arsenal and leave themselves just a point shy of Leeds. The next day West Ham earned all three points with the only goal away to Manchester City to leave everything still in the melting point.
Leeds' final two games comprised a visit to Arsenal and a home match with Villa. While the Birmingham side looked relatively easy meat, the Gunners were the equivalent of Everest to a Leeds side whose nerves were clearly jangling.
The Arsenal match was fixed for Sunday, 4 May, giving Bolton and West Ham the chance to draw first blood on the Saturday. West Ham were first to kick off, at home to Chelsea. Caretaker Hammers manager Trevor Brooking, covering for the indisposed Glenn Roeder, brought the disaffected Italian Paulo Di Canio back into his squad. The game was petering out to a goalless draw when Brooking threw his last dice and ordered Di Canio off the subs' bench. The headline writers had a field day as the temperamental Italian broke the stalemate with only minutes to go, allowing West Ham to draw level on points with Leeds.
Bottom of Premiership - 26 April 2003

Pos

P

F

A

Pts

14th

Aston Villa

36

40

44

42

15th

Fulham

36

38

50

42

16th

Leeds United

36

52

54

41

17th

Bolton Wanderers

36

39

50

40

18th

West Ham United

36

39

57

38

19th

West Bromwich Albion

36

26

62

24

20th

Sunderland

36

21

60

19
A teatime kick off allowed Bolton the luxury of knowing what they needed to achieve away to Southampton, and they held out for a goalless draw, allowing them to also draw level on 41 points.
It was now clear that even a draw for Leeds at Highbury would be of little benefit and would see them needing a last day win to be safe. Goal difference was massively in Leeds' favour, but tension was eating away at a club whose very future was in question.
Peter Reid, who had faced similar battles at other clubs, issued the clarion call: 'It's going to be very difficult, but it's still in our own hands and we've got to make sure we do our bit. It's all about having the ability to handle the situation physically and mentally. I've been in it before and seen both sides, so I know what's needed. We have to be brave, brave to make tackles and brave to make our passes. There is no place to hide.
'Right now the only message I'm drumming into the players is to stop giving away silly goals because individual errors keep costing us. When there is a threat on our goal it's got to be safety first every time. We've got to make sure that in our last two games we are hard to beat. We cannot afford to give away silly goals like we did against Blackburn.
'People talk about pressure and having bottle in football. This is what it's all about. We never expected to be in this position, but West Ham have done terrifically well. For the players here, this match now is as big as any of the Champions League ties they played. We need to win to stay in this League. I like to think we've got enough players who can rise to the big occasion, and I certainly expect them to do it.'
Reid prayed that the Leeds side turning up at Highbury would be the team that had thrashed Charlton, rather than the meek losers who capitulated at Southampton. He had his answer after just four minutes, when Harry Kewell brought down a long ball and hit it first time from the left flank to net an unstoppable effort.
Thierry Henry equalised after half an hour, but Leeds were fighting like men possessed. Ian Harte scored for the third successive season in the fixture, with a characteristic free kick three minutes into the second half. Again Arsenal fought back on the hour, and Dennis Bergkamp was on hand to sidefoot home after Robert Pires played him in after a break from the left.
It looked like Leeds would settle for a well deserved draw, but with just two minutes remaining, the Elland Road club's moment of the season arrived. Skipper Dominic Matteo, who had been outstanding in an unaccustomed midfield role, broke up the play near the centre circle and lofted a long ball up to Mark Viduka on the right. There were suspicions of offside, but Viduka did not hesitate, controlled the ball instantly, cut in on his left, took aim and curled a brilliant winner round England keeper David Seaman to spark unbelievable celebrations in the Leeds camp.
It was an amazing triumph, and few would deny that Leeds merited the win. Certainly Manchester United, who were thus presented with the
Premiership title, were for once 100% behind their despised Yorkshire rivals.
For Leeds, however, Old Trafford's gain was the last thing on their minds as their survival was ensured, and the home match with Villa became nothing more than a formality to be endured before they could enjoy a summer of rest.
The doom mongers reminded everyone that the club's financial state meant that in reality all their players were in the transfer window, but for now at least Peter Reid cared not. Five days after the Arsenal game his appointment was confirmed on a rolling, one-year incentive-based contract.
'Obviously I was brought in to do a specific job and thankfully that was achieved,' he said, at a press conference on Friday, 9 May. 'Fortunately for myself I have managed to get the job on a permanent basis. When you are manager of a club like Leeds, with its traditions, you know what the bottom line is; you have to win football matches.
'When you get beaten in 19 games, that is not good enough and we have to improve, first become a hard side to beat and then improve the football. It's hard in the Premiership but we have got some really good players here and, hopefully with the wheeling and dealing in the summer, we can get some more good ones in.'
Two days later, Leeds ended their season with a 3-1 win at home to Aston Villa to finish above the Midlanders in a final 15th position. The win was fortunate and achieved despite a lacklustre display, but few at Elland Road cared. The club's worst season for many a year was finally over, and despite all the newspaper headlines and criticism, they could look forward to a 14th successive season in the top flight.
Part 1 A new beginning - Part 2 Closing down sale - Results and table