Part 1 A new beginning? - Part 3 A great escape - Results and table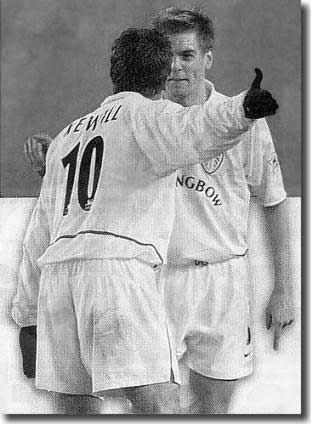 The early season honeymoon and promise of Leeds United's showing under Terry Venables was a distant memory and it was clear as autumn drew into winter that the former England manager had to contend with the genuine threat of relegation.
Disastrous defensive blunders and a lack of concentration late in games cost Leeds dearly in November, but the attack was suddenly goal shy as well as Spurs, Charlton and Fulham all secured maximum points.
The defeat at Tottenham saw United play particularly poorly, evidenced by the report in The Times: 'Venables had suffered the cruellest of twists during the pre-match warm-up when Nicky Barmby tore an Achilles tendon. Jacob Burns proved a lightweight, inadequate replacement, but it took Venables until the 37th minute to switch tactics, with Mark Viduka joining Alan Smith up front and Harry Kewell reverting to the left flank. Leeds were a mess, ragged at the back, weak in midfield and impotent up front. When a tame effort from Kewell was comfortably caught by Kasey Keller, it drew ironic cheers from the travelling fans. It was the 34th minute and it was Leeds' first attempt on goal.'
The Charlton defeat was the fifth successive home reverse in the Premiership, although a wonderful run and strike into the top corner by Harry Kewell in the 42nd minute gave Leeds a lead which they held for most of the second half. Kevin Lisbie hit an equaliser ten minutes from time, and that was the signal for Venables to throw on Michael Bridges for the ineffectual Stephen McPhail. In the 89th minute it looked like the decision had paid dividends but Bridges' shot came back out off the foot of the post and, with 90 seconds remaining of the three minutes of added time, a wonderful solo run by England midfield hopeful Scott Parker and a smart shot brought a winner for the Londoners.
The Fulham reverse on 7 December brought the danger of relegation clearly into focus for an under-performing side, which was growing used to the 'Terry, Terry, time to go' catcalls which marked their insipid performances. Venables himself spoke in worried terms: 'We are not playing well enough, and our position is not good enough. But there's nothing clever or tricky going on ... we are working hard to get out of a position that is uncomfortable. At the moment I don't think it's a relegation concern, but if we don't soon turn it around, it might become that.'
Venables was under intense pressure, and the sports pages were crammed with rumours of his impending dismissal.
The Sunday Times: 'The fall could be swift and violent. Should Leeds lose today (at home to Charlton), the fans' dissatisfaction with Terry Venables will increase to a point where even the worldly-wise manager will find it difficult to ignore.
Bottom of Premiership - 7 December 2002

Pos

P

F

A

Pts

15th

Aston Villa

17

15

17

19

16th

Leeds United

17

20

25

17

17th

West Bromwich Albion

16

11

22

15

18th

Bolton Wanderers

16

18

28

14

19th

Sunderland

16

8

20

14

20th

West Ham United

17

17

31

13
'Leeds fans were not excited by Venables' appointment, and five Premiership defeats at Elland Road pushed many to a conclusion that they were quick to embrace: this is not going to work.
'The difficult part for Venables is that while he may survive the immediate threat, it is difficult to see how he can move things significantly forward. Poor management of the club's finances means there is little money to spend on players, and the squad needs serious strengthening. They require a centre back, a left back and two central midfielders. Venables will do well to get one of the four.
'As daunting as the lack of cash is the expectation at the club. This is based on what David O'Leary achieved during his four-season reign. Fourth, third, fourth and fifth were the Premiership finishes, and during that time, Leeds made it to the last four of the Champions League and the UEFA Cup. Venables was appointed to take the team further than O'Leary. Although he has been in the job for just five months, he has not done well. The squad he inherited at Elland Road was unbalanced, and of course, there was little money available to him.
'Central to the unevenness of the squad was the presence of five high-class strikers - Mark Viduka, Alan Smith, Robbie Fowler, Robbie Keane and Michael Bridges. Fowler was injured, Keane was about to be sold and Bridges was not back to his best. But that still left Venables with the formidable partnership of Viduka and Smith. What did he do? He went along with Harry Kewell's desire to play up front, and so there were six strikers at Elland Road. Kewell has played up front all season, sometimes in a three-man attack, and on occasion Smith has played a more withdrawn role to accommodate Kewell's repositioning. It was an important mistake, and not just because Kewell would be of more use to the team as a left-sided midfielder. The greater significance was the perception among other Leeds players that Kewell had been able to bend the new manager round to his way of thinking. Viduka shed light on the atmosphere in the Leeds dressing room when he said that his Australia international team mate had not spoken to him for two years.
'There have been other questionable decisions. Venables handled the David Batty situation badly. At the beginning of this season, Batty had two years of his contract to run, and as a local Leeds man, he was not going to want to move. But Venables decided Batty had no more to give: he was cast aside and sent to train with the reserves. Given his popularity with Leeds fans, that was not an intelligent way to treat the former England player. Considering how much he has contributed to the team over the past four seasons, it was also unfair.
'It is clear that Batty's engine has run down, but far from clear that, introduced from the bench, he would not contribute as much as, say, Jacob Burns. Venables has also failed to get the best out of Olivier Dacourt. The French international is now injured, but he too was spurned during the early part of the season and made to feel he was not wanted. During Leeds' best days over the past three seasons, Dacourt had been a central figure. Part of the difficulty may relate to his proposed transfer to Juventus or Lazio. At first it appeared that Juventus were prepared to pay up to £11m for him, then it was reported that Lazio had made a better offer, but Dacourt was less keen to join the Rome club, as it has a racist element among its supporters. Both deals fell through and Dacourt has been in limbo ever since.
'There is a belief that when the transfer window opens, Dacourt will be flying south to Serie A. With Leeds so light in midfield, he should have been the main man through what was always going to be a difficult first half of the season. What will not be lost on the Leeds board is that players such as Batty, Dacourt and the reserve goalkeeper, Nigel Martyn, are on big contracts, yet their appearances for the first team have been few. With Paul Robinson doing well, Leeds are committed to the young man, who could be England's successor to David Seaman. The last thing a club wants is a reserve goalkeeper on big wages.
'There is no easy solution. Leeds are victims now of the handsome contracts to which club chairman Peter Ridsdale agreed over the past three seasons. Martyn might have gone to another club, but it would have meant a cut in salary, and it is understandable that he wants to remain at Elland Road and fight for his place. Leeds thought they had Kelly sold to Sunderland, but the full back would have had to take a significant cut in salary, so he said no. Similarly, Southampton found that when they enquired about Jason Wilcox, they could not come close to matching his Leeds salary.'
The Times: 'Venables' status has fallen from venerable to vulnerable in rapid time and a siege mentality has set in. Peter Ridsdale has hardly been a rock of support, criticising results, hurling brickbats at O'Leary and talking of offloading players. Venables is due to meet the chairman to discuss transfer policy, but the club's progress is being marred by a blame culture and the threat of another severed alliance. The natural bonhomie that characterises Venables has faded to a fixed grimace. He has been shocked by the speed of the backlash from supporters and said that he is at a loss to explain it.'
When Malaga came to Elland Road on 12 December and won 2-1 to put Leeds out of the UEFA Cup at the third round stage, it seemed that all that was left to look forward to in a wretched season was an unlikely struggle to avoid the drop. Added to that, Michael Bridges was stretchered from the field after 9 minutes and would miss the rest of the season, a dreadful blow to the young striker. It was lucky indeed that Robbie Fowler was finally back himself from injury and could replace Bridges, although his own performance confirmed that he was woefully short of match fitness.
Venables' experiments with 4-3-3 had long since been abandoned, and he had reverted to the more customary 4-4-2 formation with which
the players felt more comfortable, though it was no more successful, as even increased numbers did not remedy the side's weakness and lack of creativity in midfield.
Paul Okon had recovered from his own injury problems and Venables installed him as his holding player, but the fans were unimpressed, as they were with Jason Wilcox, now a fixture on the left flank. Alan Smith was often deployed on the right side, with Lee Bowyer consigned to the bench after disgracefully stamping on the head of one of the Malaga players in the game at Elland Road. Venables tactfully made no comment and refused to confirm that as the reason for his omission. It was not a promising midfield combination and did little to provide a sound platform from which to exert any control over play.
It was also clear that Venables was struggling to replace Rio Ferdinand. When Michael Duberry partnered Jonathan Woodgate for the away tie with Malaga, it was the ninth different centre back pairing of the season as Venables mixed and matched, with no combination proving entirely satisfactory.
This was becoming the most dismal of seasons and few connected with Leeds United could find smiles and optimism easy to come by.
There were a few happy moments - the side managed to string together some good results, a stunning 3-0 win at relegation rivals Bolton, a 2-1 victory at Sunderland with James Milner, still some weeks away from his 17th birthday, becoming the youngest ever scorer in the Premiership, then adding another goal in a sterling 2-0 triumph against Chelsea. But the other scorer against the Stamford Bridge club was Jonathan Woodgate, who was one of a clutch of internationals who departed Elland Road in January, despite endless protests from Peter Ridsdale that the 'crown jewels' would not be sold.
Lee Bowyer, disappearing for £300,000 to help West Ham in their bid to escape relegation, and Olivier Dacourt, loaned out to Roma to the end of the season, had been considered certain departures for weeks, but there was more grieving over the sales of Woodgate and Robbie Fowler.
Fowler's £6m sale to Manchester City was a farcical affair, with the move being shelved at the last minute and then resurrected a couple of weeks later, with Leeds accepting a £3m payment on account and continuing to stand £500,000 of Fowler's annual wage bill until 2006 as a sweetener for City.
The proposed sale of Seth Johnson for £3m to Middlesbrough collapsed at the medical stage, and despite endless denials, an offer of £10m from Newcastle United finally saw Woodgate, one of the country's premier defenders, on his way out of the club, prompting bitter protests from supporters, and calls for the head of Peter Ridsdale.
Terry Venables was becoming a forlorn and helpless figure, apparently unable even to express an opinion: 'It's always been a difficult job, but it's getting harder. It's frustrating, but I have to get on with it. I'm in a situation where I'm responsible for the comings and goings at the club but obviously that's been overruled on certain situations, because the club feels it has to, because they know their financial situation better than I do. I would be lying if I said I would not think about going. There comes a point when you get so frustrated you wonder what you should do. Do you ignore things and carry on or do something about it? I don't want any of my players to go but I don't think my views are being taken into account.
'At no time did I say I was going to be quitting. All I was saying was that sometimes when you get frustrations and get disappointed you think about where we are going to go from here. I will continue to fight for what I feel is the future of the club. We shouldn't sell Woodgate, we shouldn't sell any more first team players. I've thought about this a lot and I've made my stance clear to the directors. If it gets me in trouble so be it.'
It was the clearest hint yet that a parting of the ways (and another huge pay off) was in the offing.
Rumours were rife that the chairman would also be on his way out, but Peter Ridsdale was intent on arguing his case to the last, claiming that the sale of six internationals had not significantly reduced the strength of Venables' team: 'You go through Terry's first-choice XI and tell me who you would swap for anyone at any other football club?'
The Telegraph: 'Ridsdale argued that he could convince players to come to Elland Road simply by Terry Venables "showing them the first-team team sheet". The Leeds chairman added: "If you do not believe that the likes of Paul Robinson, Danny Mills, Alan Smith, Harry Kewell and Dominic Matteo are worth playing alongside then I'd be very surprised. We've a very, very good team."
'The Premiership table indicates otherwise. "It's not a top-four squad," commented Venables with the weary air of someone restating the blindingly obvious. "We've lost a half-dozen players that no club could lose without suffering in the league. I do agree we have some fine players but the squad is not strong enough to make a showing."
'Leeds' books did need to be balanced but the pendulum has swung too far from the spend, spend, spend extravagance of two years ago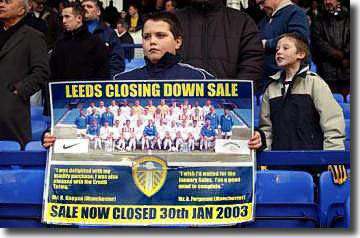 to the austerity of this season, from Vivian Nicholson to Stafford Cripps in 24 months. "We are ahead of a lot of other clubs now because we've got money in the bank," crowed Ridsdale. "In future months and years, you will be hearing from many clubs who you might think are big clubs but who are feeling the pinch."
'It cannot be a good idea to sell crown jewels such as Woodgate when the board admit there was no immediate pressing financial need. Sell, sell, sell is as bad a policy as spend, spend, spend.
'"I accept my share of the blame," added Ridsdale, "but to suggest it was uniquely down to me is fanciful." Agreed. Leeds' woes have manifold causes. Woodgate and Bowyer should not have gone to the Majestyk that night and David O'Leary should not have written his book on their subsequent trial. Both episodes harmed the club. But Ridsdale must shoulder overall responsibility. "I've a responsibility to the shareholders," he countered. "I'm appointed by the board as chairman, not by supporters." His arrogance was acknowledged by the fans in a placard hung over the outstretched arms of the Billy Bremner statue outside Elland Road. It read: "January Sale - 1 Set Of Loyal Fans. Worth Nowt To plc." As dusk fell, the sign was discreetly removed by a club official, plc 1, FC 0.'
Ridsdale's statement merely fed the growing anger of supporters, who could only see that for the right price any of the squad was available for sale.
'If Terry feels I let him down, that's probably fair,' conceded Ridsdale, who had told Venables that the sale of Robbie Fowler would allow Leeds to keep Woodgate. 'Terry probably feels I misled him - but not deliberately so. When I gave those assurances to Terry, it was in the belief and hopeful knowledge that we wouldn't have to sell any more players.'
Venables was patently unimpressed: 'I don't want to inflame a situation that's already very raw but I was assured that when Fowler went, Woodgate would not have to go. When I took the job I didn't know all these players would be sold, and the chairman knows that. Whatever our differences are they must remain private. But the bond of trust has been put to the test.' As for his own future, Venables added: 'The more I think about it, it would be irresponsible to do anything other than stay. The show must go on.'
Leeds could at least welcome one newcomer during the January transfer window when 21-year-old Spanish international left back Raul Bravo, Roberto Carlos' cover at Real Madrid, joined on loan until the end of the season. There was no suggestion of a permanent move, but the player brought some options at least for Terry Venables, and he made his debut on 9 February as United welcomed Lee Bowyer and his new West Ham team for a vital match at Elland Road.
Bowyer predictably faced a barrage of barracking from his former fans and received a booking for dissent, while Hammers striker Freddie Kanoute was dismissed after an altercation in the second half.
Seth Johnson proved what a good player he is by dominating midfield and settling the match with a powerful 20th minute strike with his weaker right foot to secure a vital Premiership double over West Ham. It was a significant win, hinting that Leeds were about to start climbing the table, but it proved another false dawn.
The previous four games had brought disappointing away defeats at Manchester City, Chelsea and Everton, with only a poor goalless draw at home against struggling West Ham to show for the run, and they now stumbled further, with Newcastle dissecting them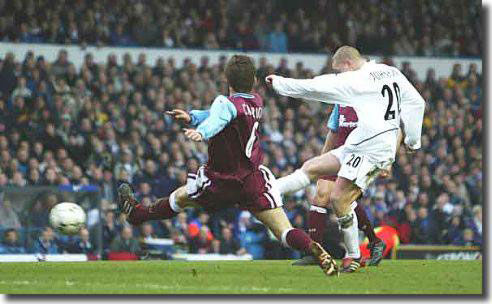 at Elland Road in a 3-0 win. A Mark Viduka header after 64 minutes brought Leeds temporarily back onto level terms with Manchester United at Old Trafford on 5 March, but Mikael Silvestre headed home the winner ten minutes from time to secure all three points.
Terry Venables could comfort himself with a decent cushion of points over the relegation zone, but Leeds had badly lost their way and were being sucked inexorably into a miserable relegation battle. Just as inexorably, the trapdoor was beckoning the manager.
For a time at least, a decent run in the FA Cup delayed the inevitable, as Leeds enjoyed favourable draws, all against opposition from the lower divisions, although they had to travel on each occasion. A professional performance saw Scunthorpe disposed of 2-0, but a replay was needed to see off Gillingham. Leeds took the lead in the first match in Kent, but lost their way when Mark Viduka was dismissed for an elbow in the head of Gills player manager Andy Hessenthaler after a clash a few minutes earlier.
United took the lead away to Crystal Palace in the fifth round with a smart free kick from Gary Kelly before the defence and keeper had settled themselves, but then saw Julian Gray equalise with a splendid left foot drive. What looked like a perfectly good goal from Palace was disallowed before Harry Kewell scored a wonderful individual goal from the edge of the penalty area to secure a place in the last eight. Expectation was high.
However, Sheffield United, Leeds' conquerors in the Worthington Cup, returned to haunt them in the sixth round and won by the only goal, deserving their win for the way they hustled and dominated their stricken opponents.
The following weekend saw Middlesbrough win 3-2 at Elland Road for only the second time in 20 attempts. The defeat dropped Leeds into 15th spot and within the week the manager's inevitable dismissal was confirmed, with the club making the following statement to the Stock Exchange on 21 March: 'Leeds United today announced that Terry Venables, manager of Leeds United Football Club, has left the company. The company expects to appoint a permanent successor in the summer, and intends to announce the appointment of an interim manager to supervise the first-team for the remaining games of the season. Leeds United would like to place on record its thanks to Terry for his contribution in difficult circumstances and to wish him success in the future.'
Within hours, former Sunderland manager Peter Reid was appointed caretaker manager until the end of the season, asked to preserve Leeds United's Premiership future, something which was looking increasingly tenuous, as Bolton Wanderers and West Ham were stirring themselves at the foot of the table.
Part 1 A new beginning? - Part 3 A great escape - Results and table