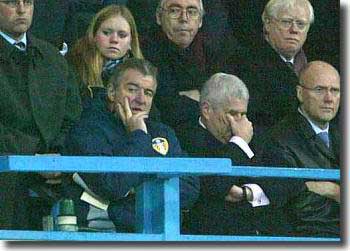 The newspaper headlines, telling the tale of Leeds United Football Club's descent into despair, had been screaming the news all season: 'Judgement Day', 'Venables future in doubt', 'Weakened Leeds now no match for the elite', 'Knives out for Leeds messiah', 'Venables exits as stricken Leeds left rudderless', 'Desperate Leeds', 'Player sales a final resort', 'Ridsdale exits as Leeds get legacy of £79m debt'. This was a club that had as recently as 2001 reached the final four of UEFA's Champion's League, but was now seemingly on the verge of bankruptcy. The 'dream ticket' of Terry Venables and Peter Ridsdale had been exposed as a marriage made in Heaven rather than Hell.
After a bright start to Venables' tenure at Elland Road, which encompassed a win at Newcastle and a defeat of Manchester United, things went badly for El Tel during the autumn and the shaky financial position facing the club was crystallised in the January transfer window as Lee Bowyer, Olivier Dacourt, Robbie Fowler and, most grievous of all, Jonathan Woodgate all departed the squad in what was popularly touted as a closing down sale. Having already seen Rio Ferdinand and Robbie Keane depart in the previous transfer window, Venables could find no way to inspire his remaining names and had seen them sink towards the bottom of the table, with First Division Sheffield United dumping them from both domestic Cup competitions.
Inevitably, Venables paid the price for failing to deliver against unrealistic expectations with his job, and shortly after, the man known as Publicity Pete had also been shown the door as Leeds announced dismal interim financial results.
On 21 March 2003 former England player and Sunderland manager Peter Reid took over as caretaker manager for Leeds United's final eight Premiership games in the desperate hope that he could revive a dying patient. As Reid took over Leeds were in 15th position, just seven points clear of the relegation zone and facing a run in which would test their resolve to the limit.
Reid had been out of football since being sacked by the Teesside club in October, and jumped at what many good judges felt was a poisoned chalice, saying: 'I got a phone call around about 9 o'clock and I snapped Mr Ridsdale's hand off. It was a pleasant surprise but I was just delighted. I want to go in there, enjoy the eight games and get as many good results as we can. We've got to get results, anybody who understands football will know that one team always gets sucked into the mire and I've got to make sure that it isn't Leeds.'
It quickly became very clear to Reid exactly how big a task he had taken on when Leeds lost his first match in charge 3-1 at Liverpool, falling to sixteenth in the table, with only five points separating them from Bolton Wanderers who had a game in hand.
The next match, on 5 April, offered no solace as they faced Alan Curbishley's exciting Charlton team, enjoying a remarkably good season, sitting in seventh position and just eight points below a Champions' League qualifying position. Charlton had already pulled off a shock win at Elland Road earlier in the season after a last minute goal from England hopeful Scott Parker, and were odds on to complete the league double over their under performing opponents.
Charlton's splendid form and steady ascent up the Premiership table might have been dented in the weeks preceding the game, but, with just four points out of the 27 available since they beat Birmingham 2-0 on New Year's Day, it was the shortfall in Leeds United's form which was much the more significant.
For his first game, Reid had kept faith for the most part with Terry Venables' selection, but now he chose to ring the changes, with five players dropped, including the former manager's four recruits, Teddy Lucic, Raul Bravo, Paul Okon and Nick Barmby. Defenders Gary Kelly and Dominic Matteo were recalled and deployed in midfield, alongside Eirik Bakke, while Alan Smith and Harry Kewell were given free rein to support Mark Viduka up front in a flexible 4-3-3 set up.
There was definitely something new about Leeds' performance, but it came down to something as simple as that quintessential British footballing quality - spirit. Viduka and Kewell's game may have been all about refinement and skill, but Bakke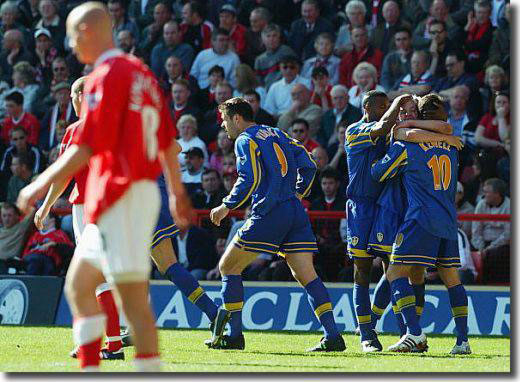 and Lucas Radebe competed like honorary Brits, and the seven others in the team originated from these shores. Good old fashioned fire and determination shone through in a display which hearkened back to the best days of Leeds United's glorious assault on the Champions League a couple of years earlier.
Gary Kelly was in the Charlton players' faces immediately from the off and soon an inspired Alan Smith was giving them further problems all over the park with a masterclass in how to mess up the opposition without resorting to violence. He was continually probing where it hurt the Addicks' defence most and gave them an uncomfortable afternoon.
The opening goal came in the 12th minute, rewarding United for their utter dominance. It had been fully nine minutes before Charlton managed to get out of their own half, so total was Leeds' command as they forced a series of early corners, pinning the Londoners back inside their own area.
The three United forwards combined skilfully to engineer the opening, with Kewell starting things off with a dangerous run from the left before laying the ball off to Viduka in the area. Instant control gave the striker time to find Smith who drifted to his left, found space and angled the ball cleverly across the face of goal. Kewell had drifted in after his run and had a simple sidefoot home with acres of space around him as the defence was attracted towards his attacking colleagues.
Leeds continued to hustle and harry and went 2-0 ahead in the 34th minute. They had already come close when Kewell's header on from an Ian Harte corner forced such panic that a Charlton defender knocked the ball goalwards before the outstanding Parker managed to head off the line. Goalkeeper Dean Kiely then blocked Viduka's rising drive and Kewell wasted the rebound, but the pressure soon told.
Again Smith was the architect. Gary Kelly played the ball to him in the area. With his back to goal, and closely policed by Richard Rufus, who seemed to be trying to share his shirt, Smith rolled around his assailant, whose instant reaction was to fling out an arm and a leg, sending the striker sprawling for a clear penalty.
Eagerness to make Charlton pay for the error saw Harte and Viduka bickering testily over who would take the spot kick, before the Irishman snatched the ball and fired it home. Viduka was clearly annoyed by Harte's actions and gave him a verbal roasting, continuing to show his displeasure with his team mate even after the goal.
It was unfortunate for Leeds that the Aussie did not get as riled as this every week because from that moment on he simply destroyed Charlton with some sharp movement and even sharper finishing.
Three minutes from the interval, Smith was at it again, beating Rufus in the air and nodding the ball on for Viduka to chest down and drive home a low shot from a sharp angle 20 yards out. The ball went across Kiely and its bounce beat him but there was no blame attached to the keeper because Viduka's effort was driven by a unique combination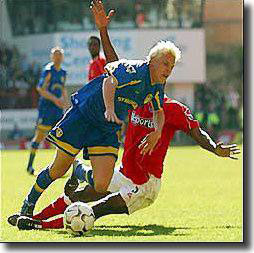 of irritability and class.
Moments later, Charlton somehow found a response and Parker stormed into the area, prompting Radebe to bring him down with a crude challenge. It was another easy penalty decision for referee Eddie Wolstenholme and Jason Euell gratefully converted with Charlton's first real attempt of the day, sending Paul Robinson the wrong way.
Coming as it did, on the stroke of half time, being pulled back to 3-1 could have set the Leeds nerves on edge, and Alan Curbishley did his best to press home any advantage by sending out fresh legs after the interval with Powell and Svensson replacing Kishishev and Lisbie. Parker and Euell combined well early on to threaten the goal but Robinson's instant reaction save denied them, and from then on normal service was resumed as United overran flagging opponents who could find no answers on the day.
Eight minutes after the interval, Smith was away again to set up Viduka's second and Leeds' fourth. He trapped a throw in on his chest, although Charlton felt his hand played a part, turned cleverly and wriggled away from two challenges. The defence retreated in disarray before his run and he slipped the ball sideways to Viduka, who steered the ball home with calm assurance from the edge of the box.
The away support, bemused by the turn of affairs broke into cries of 'What the f*** is going on?' with gleeful exuberance. The home fans' response was limited to sullen silence and some early departures.
Smith was destined not to make it onto the scoresheet, but he had a hand in everything that was best about the performance, giving a prominent dig in the ribs to the watching England manager, Sven Goran Eriksson, to remind him of his considerable assets when on form. It was no surprise when he secured another penalty after 56 minutes, slipping clear of the unfortunate Rufus to bear into the area only for Luke Young to send him flying.
Harte knew it would have been more than his life was worth to try to deprive Viduka a second time, and graciously withdrew, allowing the Australian to complete his hat trick, with a deft and impertinent chip after committing Kiely to the dive. It was the sign of a master at work.
Viduka nearly crowned his contribution with a smashing fourth when substitute Jason Wilcox played him clear in the middle, but his powerful drive thundered out after crashing against the crossbar. By then, however, Leeds were already 6-1 up. The predatory instincts of Harry Kewell allowed him to intercept a loose square pass from the replacement defender Tahar El Khalej and race through down the left channel before curling home his own second goal of the game.
Euell's effort was disallowed for a foul on Radebe, and Charlton had two penalty appeals refused, but in reality they were only irritations as a committed footballing display by Leeds United rolled them over. At times their play was as good as any side in the Premiership and there would have been few teams who could have lived with them on this particular day. The commitment and drive of Alan Smith had been the key factor which had made the difference but on this occasion it had been directed at punching holes in the penalty area rather than in fruitless exhibitions of thuggery. Peter Reid acknowledged as much afterwards: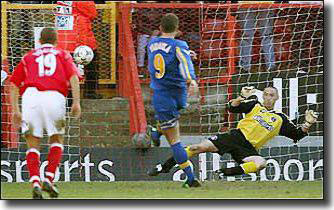 'I wouldn't like to play against him. He turns people, he brings people in to play.'
Reid gushed over with pleasure at the quality of the all round display, which saw Leeds rise to 14th and establish a six point cushion over the relegation zone. 'The players deserve all the credit. I couldn't have asked any more from them. Morale wasn't great at Anfield during the first half, but it's the players who have done a really good job here. They were in a difficult position but have set themselves some really good standards that they now need to keep up. The catalyst for our win was the work ethic. The players let their football do all the talking.
'When the whistle blew, Gary Kelly shut someone down almost immediately and, when we were 6-1 up in the last minute, there were still three of them shutting someone down. I would like to come away and win every week. We've played two games now and I've won one and lost one, so I need to improve that record. We've got six games left and let's try to win all of them.'
Clearly the job was not yet done and Leeds still required a decent return of points from their six remaining matches, but this was a morale boosting triumph, their most emphatic of the season, and the team's best result since they despatched Leicester 6-0 in the League Cup in October 2001.
One could only wonder what the departed Terry Venables was thinking if he were to compare this performance with the tepid displays served up by the same set of players under his leadership. Certainly, new chairman Professor John McKenzie sported a broad smile throughout the day, even before kick off, and must have considered professional football a very easy and enjoyable way to earn a living.