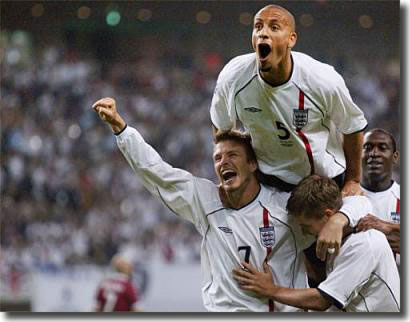 Matches between the two Uniteds of Leeds and Manchester have never been exactly lukewarm affairs. The antipathy between the rival sets of supporters is intense and the atmosphere awaiting the visitors is always very hostile. The two battles in the FA Cup semi-final of 1965, when Don Revie's brash young side emerged to rough up Matt Busby's classy big-timers, were possibly the nastiest clashes of all, but the passionate enmity between the fans is a constant.
However, there was a little more spice than usual when the Old Trafford club travelled to Elland Road for the Premiership fixture in September 2002, for the game represented the first return to his old club of England centre-back and former Leeds skipper Rio Ferdinand, who had crossed the Pennines in a record £30m deal during the close season.
Ferdinand had been voted player of the year by Whites supporters. He had enjoyed a good World Cup tournament with England in Japan and South Korea, and speculation about a potential move had started during the finals, with some predicting he would be on his way abroad.
However, it was Manchester United who were quickly installed as favourites for his signature, and the Reds in the England squad had plenty of time to persuade Ferdinand of the benefits of linking up with them.
The Londoner publicly denied the rumours, 'I'm happy at Leeds and that is where I want to stay,' but talk is always cheap. Chairman Peter Ridsdale also sought to quell the rumours: 'Let's make it perfectly clear I don't want to sell Rio Ferdinand. He has four years left on his contract and we bought him to be our captain and to build our team around him. We want to build a side capable of winning trophies, but we have already spent a lot of money to try to achieve this. If we want to continue to invest in the team we have to make judgments on the valuation of players we bring in and the offers we receive. As for Rio we have no offer so it is a hypothetical question.'
Manager David O'Leary was equally fixed in not wanting to lose his captain, but hinted at the reality of the situation: 'I will talk to him about his future now he has returned from the World Cup. I'll start by finding out what he wants to do. Because, let's be honest, he will know all about Manchester United.
'The bottom line is that if Rio tells me he thinks that Manchester United are a bigger club and that he wants to go on to another level, then what can you do? Keep an unhappy player - and an unhappy £30 million-rated player at that?
'Manchester United could have had Rio Ferdinand for £18 million but they didn't rate him. Now they will have to pay more than £30 million to get him second time around, if I have anything to do with it. Demanding that price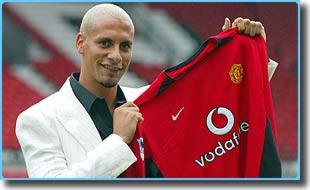 won't be much of a consolation if he is to leave Leeds. I don't want him to go, I am against the transfer. Ultimately, the decision rests with the Leeds plc.'
It was partly down to O'Leary's outspoken vehemence about the possible move that he was fired within the week, leaving the way clear for former England boss Terry Venables to be installed as manager a couple of weeks later, with speculation still rife about the Ferdinand deal.
In the end, of course, Peter Ridsdale's resolve visibly diluted as it became clear that Ferdinand wanted to leave and before the end of July, a £30m fee had been agreed and the move was completed.
Leeds United fans felt betrayed at the sight of another of their key players defecting to their rivals. The name of Ferdinand was added to a roll that included Jordan, McQueen and Cantona, although the reverse journeys of Giles and Strachan were as galling for Manchester fans. The Elland Road crowd were determined to make Rio's return visit an unpleasant one and Ridsdale did nothing to quell their anger by going public about his own feelings: 'When I first received an approach for Rio from the Manchester United chairman, Peter Kenyon, our resolve was not to sell him. All the speculation started after that but I can assure you that speculation was not prompted by Leeds United. I'll leave it up to you to decide who started it.
'I saw Rio when he came back from the World Cup. It was on the Monday before he went off on holiday and he told me he wanted to leave the club. That, by the way, was on the very same day he put his name to an article in a national newspaper saying he wanted to stay. When he got back from the holiday he then put in a written transfer request saying not just that he wanted to leave Leeds United but that he specifically wanted to join Manchester United. At that point we had not received an offer from them that we considered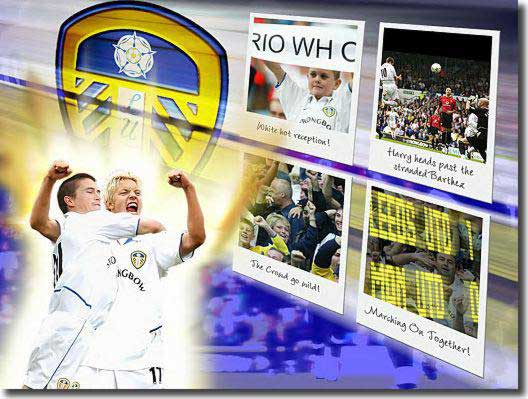 even close to being viable so it was all a bit puzzling.'
He also quickly remodelled his version of history by claiming that Leeds had only bought Ferdinand as an insurance policy: 'We actually bought Rio in the first place because Jonathan Woodgate's position was uncertain due to his involvement in what turned out to be two trials. Now Woodgate is back, Lucas Radebe is looking sharp again and we've got Dominic Matteo and Michael Duberry and Danny Mills who played in that position in some of the European games. People say we have sold our best player but you have to take a view on whether that is actually the case or not.' It was a shallow and ill-conceived attempt at self-justification and few gave much credibility to the claim, but it certainly increased the bad blood surrounding the forthcoming game.
For once, Leeds' form going into the game was better than their illustrious opponents. Despite losing two of their first five matches, they were on the crest of a wave after a stunning 2-0 victory at Newcastle and were lying third. By contrast, Manchester United had just lost 1-0 at home to Bolton, and were struggling to get going.
Terry Venables retained the eleven with which had started at Newcastle, with Alan Smith playing on the right side of midfield, Lee Bowyer and Olivier Dacourt in the centre, and Nick Barmby on the left. The Aussie duo of Mark Viduka and Harry Kewell played up front in an orthodox 4-4-2 formation. In goal, young Paul Robinson continued to be preferred to Nigel Martyn, while the first choice defence of Mills, Woodgate, Matteo and Harte were all present and correct.
Sir Alex Ferguson's midfield was missing Juan Sebastian Veron, Roy Keane and Paul Scholes, and chose to pair Nicky Butt and Phil Neville in the middle, with England captain David Beckham and Ryan Giggs on the flanks, while veteran French centre back Laurent Blanc partnered Ferdinand at the heart of defence.
There were the predictable range of banners and chants of 'One greedy bastard', and Ferdinand was booed every time he touched the ball. However, the cup of hatred that had been anticipated never quite brimmed over and the England defender showed little emotion in the face of the onslaught. However, it was clear for all to see that the form of Jonathan Woodgate was better, mainly because most of the first half action was at the Leeds end. Terry Venables knew as much and said so afterwards, 'I thought Woodgate was magnificent. In the first half he held us together. He was excellent at Newcastle, where he didn't give a single foul away all night, and he was great again today.'
It may have been one of the weakest Manchester midfields for years, but their quartet was still strong enough to outmuscle the Leeds combination, leaving them chasing shadows, with Venables admitting, 'They were much better than us in the first half. We took a battering.'
Indeed they did, giving Ryan Giggs the time and space to boss much of the game. However, the Whites were resolute under pressure and withstood the wave of assaults that engulfed them. There was even an example of the intelligence that Venables was trying to instil in his new charges, when they cleverly negated the threat of one of David Beckham's normally deadly free kicks. In an obviously prearranged tactic, as the England captain ran up to hit the dead ball, two defenders back-pedalled towards goal and into covering positions. Thus Ian Harte was in place to chest the goalbound effort down and clear it.
It was an example of El Tel's tactical nous and Leeds had to keep thinking on their feet as Manchester United continued to press. A corner from Beckham provided a chance for Silvestre, but he failed to connect effectively, and Paul Robinson saved well from a firm drive by Nicky Butt.
The Manchester camp felt they were hard done by, but Joe Lovejoy of The Times was more on the mark: 'Sir Alex Ferguson took a characteristically one-eyed view of events. His team deserved to have won and should have had two penalties, he said. Unsurprisingly, he was unsighted when David Beckham elbowed Lee Bowyer in the face after 22 minutes - an offence which caught the referee in myopic mode, too. Had Jeff Winter seen it clearly, the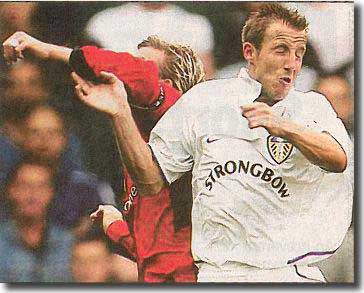 England captain had to be red-carded. The penalty claims? Woodgate was involved in both the incidents Ferguson had in mind. In one, Butt clearly ran into him, in the other the contact with Ole Gunnar Solskjaer was insubstantial. Certainly there was nothing in the game to support the United manager's contention that "referees seem afraid to make decisions". The ones they were giving against his paragons were "horrendous", he added.'
One wonders what the outcome would have been if it had been Bowyer caught elbowing Beckham rather than the other way round, because there was clear intent in the raised arm. The reputation of Golden Balls was probably what kept his name out of the referee's notebook.
Nick Townsend of The Independent: 'Mysteriously, Beckham did not receive a card of either hue, although Winter saw enough to award a free-kick. Predictably, neither manager witnessed the moment clearly. Ferguson declared "I'm sure David wouldn't do that," while Venables' contribution was: "I remember the incident, but I can't make a judgement on it."'
Leeds were fortunate in the first half, reprieved by the lack of sharpness in Ruud van Nistelrooy's finishing, and their only chance of any note came when Ferdinand headed wide of his own goal. They looked relieved to come in at the interval still on level terms and Terry Venables used the break to change things round.
The 4-4-2 formation depended on Kewell and Viduka buying time when the ball came forward to bring other players into the game, but Venables acknowledged that it was not functioning properly: 'Harry and Mark Viduka were so good against Newcastle, but in the first half they looked tired, and were unable to hold the ball up. So, I laid the team out differently in the second half to take the pressure off them.'
He brought on Lucas Radebe for the injured Dominic Matteo, but the key change was Eirik Bakke replacing the ineffectual Nick Barmby. He teamed the Norwegian up with Olivier Dacourt in the middle and pulled Kewell back into the left side of midfield. He then instructed Alan Smith and Lee Bowyer to push further forward in support of Viduka, allowing things to interchange between 4-3-3 and 4-5-1 as circumstances demanded.
The changes had the desired impact, and Leeds started the second half much better equipped to compete on equal terms, with Bowyer coming close in the opening seconds. Bakke's physical presence made a significant difference,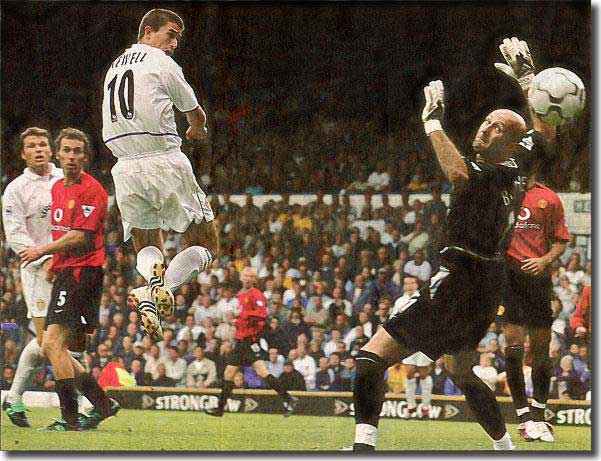 particularly after 63 minutes when he clashed with Butt, leading to the England midfielder having to be withdrawn due to a hip injury. Luke Chadwick replaced him, dropping into a right wing position and allowing Beckham to move into a central role.
The incident was crucial and just three minutes later Leeds took the lead which their improved play had hinted at. Chadwick moved out to challenge Ian Harte, 35 yards from goal on the left and prevented him going wide onto his favoured foot. Job done, Alex Ferguson might have thought, but the Irish left back moved in on his right and floated over a wonderful cross from his supposedly weaker side. Harry Kewell rose unmarked in the middle of the area, with neither Ferdinand nor Silvestre close enough to challenge, and flicked a clever header well clear of Fabien Barthez and into the far corner to stun the Mancunians.
It was the cue for exultant celebrations at the corner flag and excited cries of 'Rio, Rio, what's the score?' from the partisan crowd.
Leeds were determined to protect their hard won advantage and brought Stephen McPhail on for the flagging Viduka, pushing the tigerish Smith up front to fight a lone battle, which he did with aggression and no little skill. Alex Ferguson was more positive with his change, withdrawing the out of touch van Nistelrooy and throwing on Diego Forlan, although the Uruguayan could add no more bite to the attack than the Dutchman.
Smith, however, played like a man possessed and gave his opponents endless problems. He was in on the ribs of Ferdinand at every opportunity, giving a masterly demonstration of the art of the target man, predictably earning a booking for a second foul on Silvestre. His performance was marvellous to watch for the Leeds fans, and they got behind him, even forgetting for a while to bait Ferdinand in their excitement.
In the closing minutes, Ole Gunnar Solskjaer spitefully went in late on Kewell after the Australian had cleared his lines, provoking an ill tempered bout of pushing and shoving, which ended with Solskjaer and Ian Harte receiving yellow cards.
By now, though, Leeds were assured in their resistance of all that the Reds had to offer, and nearly doubled their lead in the dying seconds when Ferdinand's clearance went straight to Kewell. The Aussie took the opportunity to create a decent angle before firing marginally wide of the goal.
It would have possibly been unfair on Manchester United, but the home fans cheered nearly as loudly as they had when the goal went in. However, the noise when the final whistle went after four minutes of added time (Venables got up off the bench at one stage and shook hands with his staff, only to discover the whistle was for a free kick) was greater than ever as Leeds celebrated their first win over their Old Enemy since George Graham's days.
Venables was all smiles at the end, saying: 'I thought at half-time that we'd be looking for our first win against them in 11 in the next match because they played well and had us on the rack. But we turned it around in the second half. The boys were absolutely outstanding. I thought in the end we had them on the run and we deserved it. They were much better than us in the first half and we were the better side in the second half. After we took the lead we played the ball better and we played it earlier. In the first half we wanted too many touches of the ball and that allowed them to get at us.'
The early kick off, arranged to accommodate live television coverage by Sky, meant that for a few hours at least Leeds were on top of the table. What was even more satisfying was seeing their fiercest rivals and their former captain wallowing in the no man's land of ninth spot.
It was a rare moment of elation in a season that was ultimately to become one of the most depressing in the recent history of Elland Road. For a time at least, however, Terry Venables could bask in the reflected glory of his team seeing off Manchester United, knowing that it would buy him precious time with the demanding Leeds public.