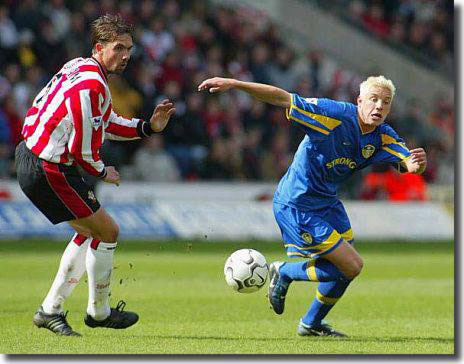 Despite a stunning 6-1 win at Charlton Athletic in only his second game in temporary charge, Leeds United were still giving caretaker manager Peter Reid sleepless nights in May 2003 with their haphazard and inconsistent displays leaving them teetering on the very edge of relegation, a fate which could have called the future of the entire club into question.
The Charlton triumph had been followed by an ill deserved 2-2 draw at home to Tottenham, while only two goals in the final ten minutes at Southampton had given the slightest semblance of competitiveness to a drab 3-2 defeat. Mark Viduka's two goals had eased fears of the drop by inspiring a strong showing to beat Fulham, but then Leeds had squandered Viduka's 21st minute lead at home to Blackburn to slump to another depressing defeat. Coupled with Bolton's battling draw with Arsenal and West Ham's spirited victory at Manchester City, the result left United in 16th spot, just one point above Wanderers and three above the Hammers. The final relegation spot rested between the three teams with two games left.
The form of both Bolton and West Ham had been good in recent weeks, and the first of Leeds' two remaining games was a daunting one, away to champions and Premiership contenders Arsenal, so confidence around Elland Road was low in those grim days.
The game was set for Sunday, 4 May, with Bolton and West Ham having the opportunity to turn the screw in their Saturday fixtures.
The Hammers were first off, facing a strong Chelsea side at Upton Park, and the match was fiercely contested with the Blues playing for a place in the Champions League. West Ham had much of the play, however, and secured the points with a late goal from Paulo Di Canio, to move ahead of Bolton and level on points with Leeds, although with by far the worst goal difference of the three sides.
Bolton were away to FA Cup finalists Southampton for a kick off in the late afternoon and settled for a goalless stalemate which left them on 41 points, the same as their rivals and splitting them on goal difference.
The stage was now set for the ultimate test for Leeds United, and the Sunday papers flowed over with dark premonitions.
Joe Lovejoy of The Sunday Times: 'Behind the scenes, the money men who had piled up debts of £79m and losses of £3m a month were heading for the hills, clutching their fat payoff cheques. Ridsdale went with £383,000 - 12 months' salary as severance payment - followed by Stephen Harrison, the chief operating officer, with £234,000. Leeds are now in the hands of non-football people, which is probably a good thing, if Ridsdale was the archetypal fan let loose in the boardroom.
'The consequences of relegation would make administration inevitable for a company already looking to raise a further £15m from the transfer market, and told to make savings of £5m a year. The loss of television money would be ruinous. Figures recently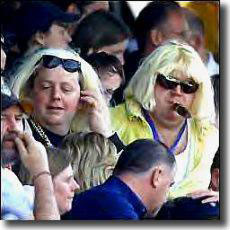 released by the Premier League show that in the 2001-2 season, Leeds received TV fees totalling £22.5m. Manchester City, who had been relegated, got only £3.95m as a First Division club. Such a shortfall would leave Leeds needing to sell.
'Some will be moving on in the summer, come what may. How did Reid feel about more stars leaving? Sanguine, apparently. "They're no use to us if they don't want to be here," he said. "There's no point worrying about it, I'm just delighted to be in work. It's a great football club that's had a nasty reality check. There's a need to rebuild, and I'd like to be part of that. I was brought in to do a specific job, and I've got to do that first. Things will take a lot of turning around, but I'm capable of that."'
David Bond of The Sunday Times: 'Saving Leeds from meltdown in the Premiership is proving difficult enough for directors at Elland Road. Trying to do it on the meagre sums available to clubs operating in the First Division would be impossible. While senior club sources talk privately about the contingency plans for each scenario, relegation is simply not an option.
'One insider predicted that relegation would be a "disaster". Parachute payments of £5m a year help to cushion the blow of relegation for Premiership sides going down. But the drop in income is still thought to be between £15m and £20m, caused mainly by the loss of revenue from the Premiership's contract with BSkyB.
'The first job for the administrators would be to sell the club's stars. Australia international Harry Kewell, who would have brought £18m two years ago, is now worth little more than £5m. Paul Robinson, Mark Viduka, Danny Mills, Olivier Dacourt and Alan Smith would all command decent fees despite the downturn. But the administrators would be forced to let other members of the squad go for free or next to nothing just to reduce the £50m wage bill.
'Professor John McKenzie has already cut £5m of costs in addition to the £8m of savings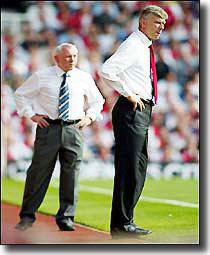 made after the sale of Jonathan Woodgate to Newcastle for £9m and Robbie Fowler to Manchester City for £6m. Loan deals for Lee Bowyer to West Ham and Olivier Dacourt to Roma also cut salary costs. These will make Leeds' end-of-year financial results look a good deal healthier than the half-year results announced in April, which revealed a staggering pre-tax loss of £17.2m. During that period Leeds' operating losses were £5.6m. That's £215,384 a week flowing out of the club.
'It wasn't only players' wages that were proving excessive. McKenzie has discovered a number of examples of largesse, including the fact that 75 employees had company cars. Not only must the club try to stem the flow of money, it must also raise new investment. Leeds are in talks with interested parties, but with a depressed share price of 3.5p, their options are limited. Restructuring the club's £79m debts would be aided by the legal protection that administration offers companies from their non-footballing creditors. The biggest chunk of that debt, a £60m syndication loan arranged in 2001, is spread over 23 years and costs the club £4m a year in interest. From 2004 however, Leeds must start paying back the capital, taking the repayments to £7m a year.
'The best option for Leeds, then, might be to follow the example of Leicester, who have just emerged from administration. They negotiated a deal with the bank that lent them £28m to build the Walkers stadium, giving the lender the ground in return for the right to lease it back over 25 years. The biggest problem would be how to pay debts to players and coaching staff who must be repaid in full. In addition, the Football League is considering tough penalties, including points deductions, for clubs that go into administration to gain an unfair commercial advantage. That would make Leeds' task of returning to the Premiership even harder.
'A win at Arsenal today really is a win at all costs.'
A draw would have been of little use to Leeds, but unsurprisingly Peter Reid sought to make his side difficult to beat by opting for a 4-4-1-1 formation with Mark Viduka asked to operate on his own up front, and Harry Kewell working from the left flank. Alan Smith was out through suspension, following his dismissal at Southampton. Lucas Radebe was his replacement, slotting in alongside Michael Duberry at the heart of defence, allowing Dominic Matteo to operate in midfield with Gary Kelly, Eirik Bakke and Jason Wilcox.
Arsenal had been suffering their own stutter in the Premiership of recent weeks, and their weakened side, missing Lauren and Sol Campbell at the back and Patrick Vieira in their engine room, started apprehensively, although
in the opening seconds Radebe had to be alert to deny Thierry Henry the space for a shot on goal at the expense of a corner. Robert Pires took it and Gilberto Silva was unlucky to see his header batter the United crossbar and run clear.
Leeds were less generous with their first chance when Wilcox launched a huge punt upfield towards Kewell on the left hand side in the fifth minute. The veteran pairing of Oleg Luzhny and Martin Keown simply could not get close to stopping the Australian as he collected the ball and without breaking stride lashed home a glorious left footed curler from fully 25 yards which David Seaman never came close to seeing, let alone saving.
Arsenal were stunned and their makeshift defence continued to rock with deputy right back Kolo Toure struggling to stay in position and the elderly centre backs pulled all over the place by clever forward play.
Kewell came close six minutes later after Viduka had held the ball up long enough to play him in on the right. He rounded Seaman but went too wide and was unable to pull his shot back far enough, firing instead into the side of the net. It was not the only time that Seaman was left with little protection in front of him, as Viduka threatened twice. Wilcox helped Kelly's cross on but Seaman gathered the Aussie's flick, while the striker later headed wide from a perfect free kick from Ian Harte.
It was not all United, however, and on the 15 minute mark Paul Robinson made a great save when Duberry deflected Henry's shot, before Mills cleared the loose ball, preventing Sylvain Wiltord from capitalising on it.
Arsenal were starting to click into gear now, inspired by a dynamic Ray Parlour performance. After 30 minutes the midfielder fired in a shot from outside the area which reared up on the bounce, forcing Robinson into a finger tip save onto the bar. As it dropped back into play, Henry was in the right place at the right home to head home the equaliser.
The goal came at the right time for the Gunners, encouraging them to greater effort with bags of time before the interval to make it pay off.
Parlour had another long range effort which Duberry blocked on the line with Robinson beaten. Then Wiltord thought he had given Arsenal the lead after he followed in to force home the ball when Henry hit the post, but an offside flag told him otherwise. Just before half time, Bakke gave away a free kick 25 yards from goal after blocking off Henry but Robinson collected well behind his wall.
It had been a testing period, but the pairing of Radebe and Duberry had stood up well, and Matteo had provided a sound barrier in front of them, absorbing much of Arsenal's increasingly frenetic approach play.
The interval came at just the right time for Leeds, breaking up the rhythm that the Gunners had started to create, and United struck even more quickly in the second half than they had the first.
With just three minutes gone Ashley Cole was adjudged to have committed a foul on Leeds' right wing and Ian Harte stepped up to take the free kick from 20 yards out. He had scored for two years running in this fixture with his hallmark free kicks, but Arsenal were either not concentrating, or judged that the ball was too far out, for their wall contained just two men.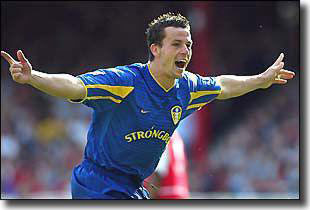 The Irishman needed no more bidding and looped over a great strike which beat Seaman at his far post, although slight deflections off Gilberto and Cole helped.
Minutes later, Harte was at it again, but this time his dead ball effort beat the top corner.
But once more Arsenal managed to work themselves up to regain the initiative despite their stretched resources, finally managing to get somewhere near their unstoppable form of the autumn. They had Leeds on the ropes for long stretches, but somehow United's phenomenal rearguard action managed to withstand one of the most dangerous attacking forces in Europe.
Nevertheless, the Gunners did manage to fashion a second equaliser just after the hour. Wiltord was guilty of squandering a free header at the far post, but then the Arsenal attacking machine clicked smoothly into action. Henry freed Pires on the left and he drove straight towards the penalty area, before turning inside away from Danny Mills, and cutting it back into the middle for Dennis Bergkamp to thrash eagerly into the roof of the net from close in.
A minute later the Dutchman went into the referee's notebook for a dangerous challenge on Ian Harte as Arsenal sought to up the tempo. Bergkamp nearly added a second shortly afterwards when his bending effort drifted wide, and then Henry struck the foot of the post. Leeds were on the ropes and increasingly stretched, with Kanu coming on for Toure and adding to the mayhem, but the Gunners were becoming more and more panic stricken as they saw their Premiership chances drifting away from them.
Kewell, in fact, came close to restoring the lead for the Yorkshiremen 15 minutes from time, but Seaman touched away his drive left handed. It was the Australian's final contribution of any note, and after 80 minutes Peter Reid brought on young Simon Johnson as replacement. The striker soon took a leaf out of Alan Smith's book by using his physical presence to unsettle the Arsenal defenders.
They were so disturbed in fact that they allowed Viduka to
go unmarked in the area as Mills' long free kick came over but the header was wide. And despite all the Londoners' frantic panic, they were looking less and less likely to manage a winner, as Leeds seemed to be willing to settle for a hard won draw. But Arsene Wenger's tinkering in search of a breakthrough was ultimately his side's undoing.
Bergkamp was forced back into midfield where he was less effective and young Jermaine Pennant was starved of the ball when he was introduced wide on the right. Consequently he was over eager to show what he could do when he did get possession and after 88 minutes he lost the ball when trying to take on the Leeds defence single handed. Matteo seized on the opportunity to set Leeds quickly onto a raking counter attack with a long ball to Viduka on the right flank.
It looked ominously like offside, but the Aussie did not wait for the whistle and killed the ball instinctively. His clever drag back through his own legs wrongfooted the static Luzhny completely and gave him space to advance into the area, before he steadied himself with amazing composure and swerved the ball unerringly with his left foot round Seaman and into the far corner for a quite splendid winning goal.
The Leeds bench and supporters went wild with jubilation at the sight, scenes which were repeated in Manchester as Old Trafford fans celebrated their own consequent Premiership triumph as Arsenal surrendered their crown.
Wenger turned and disappeared from view down the players' tunnel, while Reid stayed to bask in the glory of knowing his side were safe and he was almost certain to be given the manager's job on a long term basis. He brought a sense of perspective when he entered the dressing room, commenting 'I don't want to temper the celebrations, lads, because you were great today, but really when you look at the quality here you should never be in this position.'
He was rather more upbeat later, however: 'It is a great football club. It has still got great support, anyone at Highbury who has seen the reaction tells you this place is itching to get back into the big time and it is my job to do that.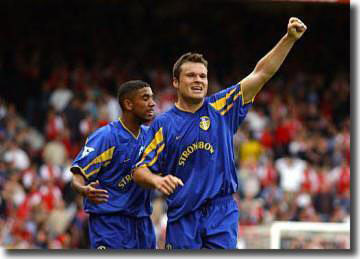 The result at Highbury was terrific for the club, myself and the players.'
Skipper Dominic Matteo was just glad it was all over: 'I thought the lads battled unbelievably today, we knew how important it was for the club. Everyone from the goalie to ... well everyone just got together and put in a fantastic performance. It's been a really difficult season, but we have got a lot of good players in the squad but not done ourselves justice. We've shown today what we can do and now we need to achieve that next season. Our home form has really been the problem, away from home we've been as good as anyone, so if we sort our home form out we'll be OK.'
Five days later Peter Reid was repaid for achieving what had seemed an impossible task when he had arrived by being offered a rolling 12-month incentive-based contract worth a basic £500,000 a year. He commented: 'Obviously I was brought in to do a specific job and thankfully that was achieved. Fortunately for myself I have managed to get the job on a permanent basis. When you are manager of a club like Leeds, with its traditions, you know what the bottom line is; you have to win football matches. It is a good challenge and one I am looking forward to. It's the beginning and, when you look at the table, we have to improve. The hard work starts with the summer and you have got to get back to basics; being a hard side to beat.'
They had certainly been that at Highbury in the most memorable of circumstances.