Part 1 A season from Hell - Part 2 What went wrong? - Part 4 End of an era - Results and table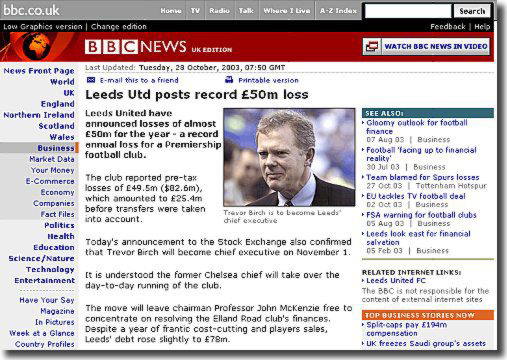 As Leeds' playing form dipped badly during the autumn of 2003, the club's financial fortunes also hit crisis point. The financial gamble of a headlong dash for growth and the golden egg of Champions' League rewards had been unwise in the extreme - the chickens were coming home to roost.
Incoming chairman Professor John McKenzie hinted at the magnitude of the challenge shortly after taking over the Elland Road hot seat:
'There's been irresponsibility and indulgent spending. This is unacceptable at any time, but especially at a time when the club was losing vast amounts of money. It's like an oil tanker that was heading straight for the rocks and the shareholders have put someone else on board to turn it around. The trouble with oil tankers is they're two miles long and they don't turn around in two minutes. But we will get back on a winning trail. I would ask the supporters to get behind us and be patient while we sort it out.'
The bungled sale of Harry Kewell and the aborted departure of Paul Robinson in the summer of 2003 were signs of desperation, but McKenzie had developed a rescue plan. A £10m rights issue was planned for October to generate some much-needed cash to tide the club over until stringent cost reduction measures began to bite.
The plans were quietly dropped as it became evident that the club's plight was worse than had been imagined and the likelihood of getting existing shareholders to dig deep in their pockets seemed slim indeed.
McKenzie and finance director Neil Robson were feverishly negotiating with the club's major creditors to agree a rescheduling of the massive debt, and hinted that unless an arrangement could be agreed, the club might slide into administration.
At the end of October, the stakes were raised considerably as the club announced its financial results. A pre-tax loss of £49.5m was a new record for a Premiership club, while the debt remained stubbornly around the £80m mark. McKenzie's positive spin on the matter was that the loss before player trading was 'only' £25.4m and that the club expected to be operating at a breakeven level within twelve months as costs came under control.
Tucked away in the accompanying notes were some paragraphs detailing the company's ability to continue as a going concern:
'In August 2003, the group commenced negotiations with its principal financial creditors designed to defer capital payments on its principal lending facilities and to permit new moneys to be introduced to the group. Discussions … have progressed well and the group is currently in the advanced stages of detailed and complex negotiations with these financial creditors and potential new financiers. These negotiations are expected to represent the first stage in the overall restructuring and refinancing of the group. Final negotiations … are in progress and the directors anticipate that they will be concluded shortly. Given the nature of these negotiations, there is uncertainty about their final outcome.
'Subsequent to the conclusion of these legal agreements, the group will enter into further negotiations with its financial creditors and seek to raise external funds from potential new financiers to establish a capital structure which will provide the flexibility to manage any significant under-performance of the business without having to undertake a fundamental restructuring of the group. This would include the consequences of the football team failing to maintain FA Premier League status. Again, given the nature of these negotiations and any fund raising, there is uncertainty about their final outcome. However, the directors expect that they will be concluded favourably and will provide them with the flexibility to manage the business over the long term and will provide the group with the necessary working capital through until at least 31 October 2004.
'Consequently, the directors continue to believe that the going concern basis is appropriate in the preparation of these accounts.'
On a more positive note, McKenzie was able to announce the appointment of former Chelsea supremo Trevor Birch as chief executive of Leeds United.
Birch had built himself a sound reputation as a deal maker and negotiator after retiring from professional football at just 23 following spells with Liverpool, Shrewsbury and Chester, where he replaced Ian Rush. He gave up what could have been a glittering career to become a chartered accountant, going to Liverpool Polytechnic before being taken on by Ernst & Young. There he developed as a respected insolvency practitioner, remaining with the firm for 18 years before joining Chelsea in April 2002 as chief executive.
Birch was instrumental in introducing Russian billionaire Roman Abramovich to Chelsea and played a key role in signing players during the summer, including Juan Sebastian Veron, Damien Duff and Adrian Mutu.
McKenzie was in no doubt as to Birch's quality:
'He brings an enormous number of things to Leeds United. He brings experience, he has worked on both sides of the fence as an accountant and as a director of a major football club who have had similar problems to Leeds. He has played football, so he's experienced on the field and his knowledge of the game is extremely high. He, together with my finance director Neil Robson, will be a very significant part of the new team which I said I would set up to manage Leeds United.
'We are not asking him to come in to find us a white knight. Obviously it would be useful if we find somebody who is prepared to inject significant amounts of capital, but that's not his primary aim - his primary aim is to run the business.'
Birch's appointment was well received by the financial institutions, with the city well aware of his excellent track record. Henk Potts from Barclays Brokers: 'Before the billionaire showed up at Chelsea they were in financial difficulty as well. He is a good deal maker, he can talk to financial institutions and does have a very strong track record. They are bringing in a very heavy hitter who knows how to deal with these types of situations. The management restructuring is certainly seen as a positive by the city, they will like his appointment.'
Birch was recruited specifically to handle debt-restructuring negotiations with creditors. It was hoped that this, coupled with a cash injection of £4.4m from deputy chairman Allan Leighton and the rights issue, would allow the club to go forward on a sounder financial footing.
However, the negotiations ran into difficulty and the club were forced to make a Stock Exchange announcement at the end of November.
'As announced on 28 October, the directors have been negotiating the first phase of a complex debt restructuring of the Group's finances with its principal finance creditors to provide the Group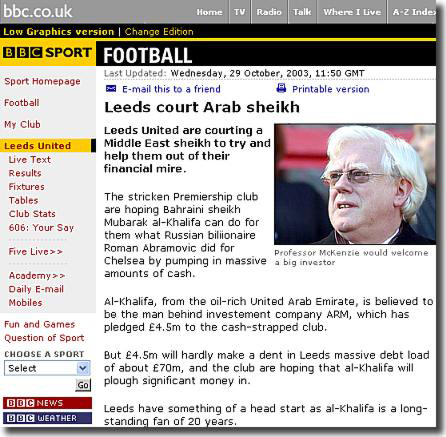 with additional working capital and to give it time to implement a more permanent restructuring plan. In the Preliminary Statement we also referred to a commitment through a share issue to inject £4.4 million in cash from Allan Leighton and ARM Holdings Group Ltd.
'Unfortunately, after a long period of constructive discussions, negotiations have failed to reach a satisfactory conclusion in time to issue a circular and obtain shareholder approval. As a result, it has been decided not to go ahead with the planned subscription for shares.
'Nevertheless, the Company continues to be in constructive discussions with its principal finance creditors and proposed investors with a view to providing the Group with additional working capital and to give it time to implement a more permanent restructuring plan. In addition, Allan Leighton has already confirmed that his funds remain available for investment in the Group.
'The directors are continuing to take steps to manage cash flows … and remain of the view that, if all of these negotiations are concluded successfully, they will provide adequate funding for at least three months in which to conclude arrangements designed to achieve a more permanent refinancing of the Group. But, if the negotiations referred to above are unsuccessful, the directors may be forced to seek the protection of an administration order.'
A week later, Professor McKenzie announced that the club had managed to agree a standstill arrangement with its creditors, staving off the imminent threat of becoming the first Premiership club to go into administration:
'Leeds United plc announces that it has signed a formal standstill agreement … for the period until 19 January 2004 to provide the Group with sufficient working capital … to allow it time to seek to identify parties who would be prepared to make a substantial investment in … the business as part of an overall financial and balance sheet restructuring.'
As part of the deal, the bondholders allowed a 'locked up' cash holding of £4.1m to be temporarily released to support the club's immediate cash flow needs. Further to this, REFF/Gerling agreed to defer £1.7m of capital and interest repayments due and the plc's bankers, HSBC, provided a new term loan facility.
All of this meant that Birch and McKenzie had around six weeks to try and negotiate a sale of the club.
Dr Bill Gerard, of Leeds University Business School, said the announcement provided hope for the fans:
'The bottom line is Leeds have payments coming up in the next few weeks which they don't have cash for and the only way they could have met them was to sell players or go into administration. This means the creditors are cutting them some slack and the standstill agreement means they will not ask for any payments before 19 January. The immediate threat of administration has receded and the club is not going to default in the next five to six weeks and that means the club does not have to sell players when the transfer window reopens.
'The positive element in this is that if the creditors - who stand to lose £90million - have been prepared to wait until 19 January they must have had a reasonable belief that a credible consortium was coming in. The stepping down of Allan Leighton is very, very significant. The only reason he has stepped down from the board is to put together a rescue package. Leeds United will definitely not be out of business at the end of the season and by February/March time Leeds United plc will have changed into a new company with new owners.'
In the end, it wasn't quite as simple as that, and there was a seemingly endless series of deadlines set for completion of negotiations, underlining the peril of the situation. On 12 January, a week before the first deadline passed, Leeds claimed they were in constructive discussions with a number of parties about asset sales or injection of funds. On 19 January, the club were given a one-week extension to find funding. On 26 January they were given a further four days to find a solution. That deadline was then pushed back again, first to 6 February and then 13 February, before a further fortnight's reprieve was granted. At 14.00 GMT on 27 February shares in the club were suspended with the standstill agreement scrapped, although creditors indicated they were still supportive of the club in their quest for a sale. It seemed that the saga would go on forever.
Trevor Birch was desperately seeking to secure enough savings and cash (£5m was the popular estimate of the required sum) to keep the club going while it could arrange a solution.
There was an ill-tempered spat with the players who initially refused to agree to a temporary 20% deferral of their wages, arguing instead that the club should sell one of them (rumoured to be Alan Smith or Mark Viduka) during the January transfer window. The fans reacted bitterly to the players' intransigence, and eventually Birch secured his deferral.
He also negotiated a deferral of severance payments owed to previous managers David O'Leary, Terry Venables and Peter Reid.
A £1m instalment due on the sale of Robbie Fowler was gratefully clawed out of Manchester City after the striker's 30th game for his new club. City's neighbours, United coughed up £1.5m as a final payment on the big money purchase of Rio Ferdinand, while Birch was also pursuing Professor McKenzie, now resigned form the board, for the repayment of £200,000 in consultancy fees.
Somehow, Birch managed to scrimp and save sufficient cash to tide Leeds over those dreadful weeks when it seemed that the club might actually go broke. That he should also stand firm during the transfer window and resist a cut-price offer from Tottenham for Paul Robinson and James Milner was testimony to the skills of a truly remarkable man, one who almost single-handedly steered an ailing club through treacherous seas.
Birch could finally breathe a sigh of satisfaction and relief when a financial deal formalising the sale of Leeds United was completed on Friday, 19 March, 2004, after months of protracted negotiation. The identity of the men behind the successful Yorkshire-based consortium had been kept a closely guarded secret throughout the period, while newspaper gossip had speculated about the intentions of alternative suitors with higher profiles.
The first, and most romantic, notion was that a member of Bahrain's royal family would bring a £60m investment to the club. Sheikh Abdul Rahman bin Mubarak al-Khalifa, chairman of Bahraini side Al-Najma, was a businessman who had been a lifelong fan of the club. He hinted strongly that he had the financial backing of a consortium from the Middle East, saying, 'I have been doing my best to put a bid together. There are signs of hope. The more talks I have, the more optimistic I become about a solution.' He also spoke of his 'passionate desire to re-awaken a sleeping giant. I fell in love with the club when I was 11 years old when Leeds played Chelsea in the 1970 FA Cup final. It was fated that I should love the club. Whether that fate will determine that I can save them 30 years later, I don't know. Leeds mean everything to me, I was born to support them. Those who are closest to me, my friends and my family, know what Leeds United mean to me.'
On two occasions, the Sheikh's consortium claimed they were ready to put an offer on the table, but no proof was forthcoming of their financial resources, and the United board dismissed their intentions as being without foundation.
John McKenzie resigned from the board to try and bring forward a package of support from the Far East, with one of China's richest men rumoured to be a backer. Xu Ming, 32, the president of Shide, a petrochemicals and housing materials group and owner of Dalian Shide, a Chinese first division club, spoke of wanting a joint venture with a leading European club. There was no evidence that the interest was ever more than conjecture.
Michael Ezra, a 30-year-old Ugandan property tycoon, claimed he had £90m of funding available but that a takeover was stymied by his proposals for an all-foreign board. Ezra was reportedly given a guided tour of Leeds' Thorp Arch training ground but said: 'The six-man board that I had presented doesn't have any Britons and Leeds don't find that acceptable. They also feel that my board lacks the technical expertise to bolster the club, but money is no longer the issue, that has been sorted. Leeds know that I have £60m, while my board would also spend an extra £30m to strengthen the team.' Ezra faded out of the picture almost as quickly as he had appeared.
Leeds United's former deputy chairman, Allan Leighton, resigned in order to put together a rescue package and his ARM Holdings Group were ready to inject £4.4m into the club as part of a refinancing deal. He was understood to have put forward a £15m package that was rejected out of hand by the club's directors, although there were continual hints that he was waiting in the wings to buy out the club if it should go into administration.
A local consortium, fronted by ex-Huddersfield Town chairman Terry Fisher, expressed a serious interest in rescuing the club. There were positive noises and, with former United favourite Trevor Cherry involved, fans looked favourably on their bid. But weeks of hope were ended when the consortium officially withdrew their interest after inspecting the club's books.
However, in the end a rescue deal was done. Another consortium,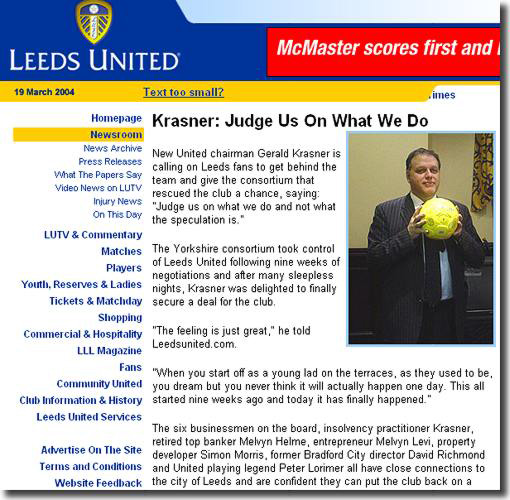 Adulant Force, fronted by local accountant and insolvency practitioner, Gerald Krasner, tabled an acceptable package and the threat of administration was stayed.
The full facts and details of the deal might never be known, but the substance was that the overall debt of the club, which was understood to be in excess of £100m, was slashed to the more manageable figure of just over £20m. Gerling Insurance, the credit insurers of player-leasing agents REFF, who were owed £21.3m, cut their losses and agreed a substantially lower one-off payment. The bondholders, M&G, Teachers and MetLife, agreed to take a lump sum to settle a liability of £60m, although they would receive further payments at a future date if Leeds United managed to recapture past glories. The other major creditors - the Inland Revenue and Customs & Excise, who between them were owed in the region of £10million - would be paid off over an extended period along with other minor debtors including former managers.
The men behind Adulant Force had put up £5m of their own money to provide much needed working capital, with further personal guarantees of £5, and borrowed another £15m from former Watford chairman Jack Petchey. Petchey's money was used to clear the club's debts. For weeks lawyers for the bondholders and Gerling argued over the division of the £15 million. The bondholders won in the end, getting 20p in the £1 (£12m), with Gerling settling for 10p (£2.13m).
As impressive as the bargain was, however, Elland Road fans remained uneasy for a number of reasons.
The first was the Petchey loan, and the secrecy that surrounded it.
A spokesman for Petchey (Holdings) Ltd said: 'It is company policy not to comment to the media.' Watford fans did not recall Petchey with affection as, when he left the club in 1994, he called in £3.5m of loans. That was not Petchey's first foray into football, and he also served on West Ham's board from 1979, leaving before his involvement in Watford. Petchey, 78, was a classic corporate-raider, using his Trefick and Richmount offshore investment vehicles to invest heavily in the equity of companies with undervalued property assets. He could then use his stake as a platform for a subsequent takeover bid or to influence outside interest.
Having left school at 14 to become an office boy in a firm of legal stationers, Petchey received a £39 demob payment after the second world war, which he invested in a taxi business, making a substantial return on a sale of the firm's real estate. It was in the car trade in the 1960s that Petchey's first brush with controversy occurred, when the church protested at his use of scantily clad models in advertisements. Such experiences persuaded Petchey to keep a low profile and he never gave interviews or made public pronouncements.
It was understood that the £15m was secured against the Elland Road ground and that the debt should be repaid within twelve months, otherwise Petchey would assume control of the property, causing concern that the club might be evicted.
The bigger issue in the eyes of the fans, however, was the involvement in the deal of former Bradford City chairman, Geoffrey Richmond.
David Conn in The Independent: 'At Bradford, whom he left in administration in August 2002 with debts of £36m, the club had the previous year sold a 25-year season ticket at a major discount. When Bradford went into administration, the nearly 1,000 fans who bought them were merely unsecured creditors.
'Bradford, taken out of administration by Richmond's former co-investors, the Rhodes family, did honour the long-term tickets, but this only means that a proportion of their most loyal fans will be coming in free for the next 22 years.
'Having explicitly denied earlier this year that he was involved with any consortium, Richmond admitted more recently that he was acting as an advisor. In fact, he told me: "Ninety-nine per cent of the deal was down to me."
'It is the tail end of that CV which has attracted intense hostility from Leeds fans, including the Supporters' Trust, to Richmond's involvement at Leeds. Richmond, who said he now wanted to rectify the mistakes he made, recounted that before his self-confessed "six weeks of madness" in summer 2000, signing players including Benito Carbone on crazy wages which ultimately forced the club into administration, he had been conspicuously successful, first steadying Scarborough, then from 1994 taking Bradford to the Premiership and rebuilding the club and its grounds.
'However, when Bradford were relegated in 2001, everything, from catering equipment to players, was on hire purchase or sold and leased back. The club went into administration owing £7.4m to REFF, £6.7m to Lombard Finance, £4.6m to the HSBC Bank, and laden with unsustainable players' contracts. Just one and two years earlier, he and his son David had shared with David Rhodes and his son Julian £8.125m in dividends, and Geoffrey Richmond was also paid a £250,000 consultancy fee in October 2001.
'Yet when money was then needed to keep the club alive, Richmond put nothing in. David Rhodes paid £400,000 to fund it through administration, and the Rhodes family have hardly stopped shovelling money in since. Gordon Gibb, the owner of the Flamingoland zoo and theme park, arrived, on Richmond's introduction, to invest £1.875m, and Richmond left, financially intact.
'Richmond told me he had wanted to stay, and believed he had an agreement to split ownership of the club in thirds with the Rhodeses and Gibb, but instead the Rhodeses decided they did not want him. Julian Rhodes told me they had indeed discussed various ideas, but had no concrete agreement: "In the end we told Geoffrey if he was not prepared to put money in, as we were doing, he could have no part in owning the club in the future."
'In May last year, Richmond's reason for being "unable" to do so was revealed; the Inland Revenue won a High Court case against him for £2.3m tax owed from when he had sold his Ronson lighters business for £10m nine years before. Richmond had not paid capital gains tax, but instead sought to "roll it over" into another venture. The judge, Mr Justice Etherton, ruled that it was not a valid new business: "Its only purpose was tax mitigation."
'Deciding that the £2.3m tax did have to be paid, the judge said Richmond and his former co-director, Martin Jones, "failed to satisfy the court that they acted in all respects honestly and reasonably." Richmond told me the tax bill is still not paid; he is hoping to settle it within a few weeks.
'His problems with the Inland Revenue, he said, were why he could not provide money to save Bradford, and is not a shareholder with the consortium at Leeds. He said he would, however, like to become the chief executive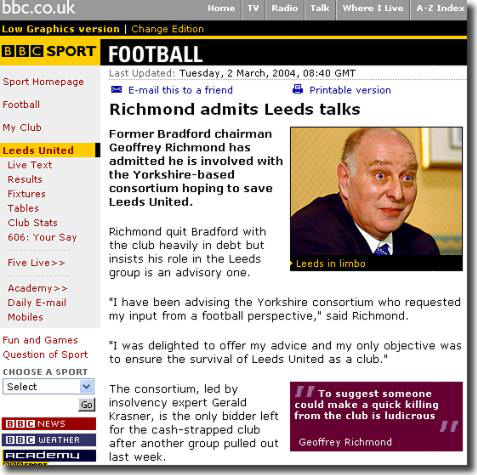 when Trevor Birch leaves in the summer. Richmond's son, David, who was also a director and shareholder at Bradford, and was paid proportionately £1.3m of the dividends, has become a paid commercial director at Elland Road.
'Richmond stressed that his football record overall was good: "I had 14 tremendous years with two clubs I took over in severe financial trouble. I made a horrendous mistake in the summer of 2000, for which I took responsibility. I have learned from that and will not be doing it again."
'Leeds, meanwhile, stagger into the future, advised by Richmond from his new office at Elland Road. He said that in three years the club will be healthy and the investors sitting on a fortune. Others who have looked believe Leeds cannot pay their way with borrowed money and will yet collapse. For Richmond, looking to rehabilitate his reputation, this is a high stakes game, with the world watching.'
The Leeds fans were understandably cautious about Richmond's involvement with Adulant Force, particularly as he had originally denied that he had anything to do with what was going on. A cynical Elland Road public had been badly stung by their experiences with Peter Ridsdale and were only too ready to look any gift horse in the mouth.
John Boocock, co-chairman of the Leeds United Supporters' Trust: 'This is typical of this group of people - they refuse to deal in an open and transparent way. They did not tell us the full story about Geoffrey Richmond's involvement so what else are they not telling us about? They have no reason to hide anything - unless they are doing something untoward.'
On the whole, however, Leeds fans had some reason to be cheerful, relieved at the rescue of their club, and the apparent decimation of the liabilities.
Supporters' club chairman Ray Fell in the Yorkshire Evening Post: 'It's been a nightmare couple of years but hopefully now the smiles will start coming back to Elland Road. We've had trials and tribulations, and there's been a lot of apprehension over the outcome of these negotiations. But we realise this consortium presents the best option for Leeds, and we're delighted someone's come along. We are not going to get Utopia overnight but with the debts cleared, the money coming in can now work for Leeds. The consortium have made the commitment and although there's a long road ahead, I'm happy. I hope that this will help to settle the players, and I'm hoping we can now avoid relegation. We do need to be cautious about this because the problems are still there. Everyone was worried about administration for a long time, and some spoke of liquidation, but with the debts gone I hope we can now look forward.'
Adulant Force consisted of five businessmen, who became the new board, along with former United forward Peter Lorimer, responsible for advising on football matters and liaising with the media. Lorimer's appointment smacked of tokenism, to generate goodwill with the fans and allay concerns about Petchey and Richmond.
The rest of the board was made up as follows:
Gerald Krasner (chairman) - Acted as consortium spokesman. Insolvency practioner at Leeds-based accountants Bartfields. 30-year association with United, was among a record crowd of 57,892 who watched Leeds draw 1-1 with Sunderland in 1967.
Melvyn Helme (corporate finance director) - Former senior manager at NatWest Bank. Helm, based in Southport, retired from high finance in 1999. Since made a name for himself in property development.
David Richmond - Lifelong fan, season ticket holder and son of former Bradford City chairman Geoffrey. Was a member of the Valley Parade board and was also responsible for overseeing the club's retail and marketing operation. A successful businessman in his own right.
Melvyn Levi - A successful entrepreneur, the son of the late Jack Levi, a successful solicitor from the Leeds area. Born in Leeds and lived in the city all his life. Former director of Bramley Rugby League club.
Simon Morris - Youngest member of the board at 26, already a highly successful property developer and seen as a go-ahead businessman.
Krasner had this to say in his first press conference after the deal was completed:
'I hope the supporters will judge, not just me but the whole board, by what we do. There's been a lot of speculation that we are asset-strippers, which I've denied on a number of occasions. We're here, we've saved the club, we're off life support and now we're going to go and try to stay in the Premiership
'When we got into this deal the debt was over £100m. As a result of the transaction we have done the club is solvent again. We've sorted out all the debt problems. Let's now go forward and get the club back on the football pages.
'There has been rumour and counter rumour regarding the future of both Elland Road and Thorp Arch and, once again, we can categorically reassure fans that Leeds United will not be moving from Elland Road. As for Thorp Arch, contracts were already in place to sell a tract of land at the training ground which isn't currently used by the club. But there are no further plans to sell the site or move the academy as it forms a crucial and integral part of our business strategy and the club's future.'
Administrators were appointed to handle the dissolution and winding up of Leeds United plc and Leeds United Holdings Ltd, effectively meaning that all the club's former shareholders would be left with nothing.
Chief executive Trevor Birch was off shortly after the takeover was secured, leaving for an ill fated period at Everton, while the club's connection with Geoffrey Richmond did not last all that long, with Leeds supporters breathing a sigh of relief as he departed.
The fans rightly acclaimed Birch's achievement in keeping their beloved club afloat and as he departed he spoke of how close the club had come to ruin.
'There was a genuine prospect that, if the club had gone into administration, liquidation would have followed. That would have meant the club folding completely. There were a number of times when I couldn't see a solution because of the enormity of the problems.
'My aim all along was to keep the squad intact because we had all seen that selling players had only made the problems worse. Premiership survival was always paramount and I would like to think that the team is going into the last couple of months with a fighting chance.
'I had a great relationship with Eddie Gray. He hugely impressed me with the way he conducted himself throughout a difficult time. With players like Mark Viduka, I believe the team can climb out of the bottom three. Mark has really set about galvanising the players in recent weeks. He is the one walking around the training pitch saying, "Come on, we aren't going down."
'I have been overwhelmed with the support and the thanks I have received. Seeing people with my name on their shirts is a very humbling experience. I tried my best to do the best job I could and hopefully I have left Leeds United in better shape than I found them.
'I have to say I am very optimistic for the future of the club and really do believe we will stay up this year. I will only feel my job at Elland Road has been completed when we stay up.
'The supporters have been fantastic in the way they have stood by the club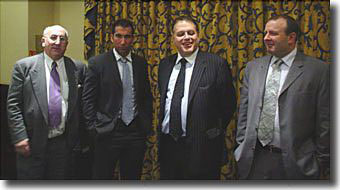 through what has been a very difficult time. I have to say they are a credit to the club and themselves - they deserve success and to stay up. They are the real Leeds United.'
The departure of Richmond was slightly less agreeable.
A statement from Elland Road on 22 April said that Geoffrey Richmond wanted to concentrate on his private life and was leaving for 'health and personal reasons'. The truth was more intriguing - there was a rift between Richmond and two of the club's directors. Morris and Levi were unhappy that Richmond was raising his profile and increasing his duties, despite investing no money in the takeover. A circular had been sent to all 92 clubs in the top four divisions saying that Richmond would be negotiating contracts and transfers on behalf of Leeds. He had also said that he would be keen to become the club's new chief executive in the summer.
It is believed that Morris, Levi and Krasner decided to sever all links. Only his son, David Richmond, balked at the move.
Krasner and Richmond declined to comment, but a club statement papered over the cracks: 'Geoffrey played an important role as adviser during the sale of Leeds United to the consortium and the board would like to thank him for his untiring support during that period.'
And so, the curtain fell on one of the most turbulent periods in the history of Leeds United Football Club. The team was still in the middle of a dire relegation struggle, there was the likelihood of a major clear out of players in the summer and a grim foreboding about the future, but a famous club had been pulled back from the brink of oblivion and would live to fight another day.
Part 1 A season from Hell - Part 2 What went wrong? - Part 4 End of an era - Results and table