Part 2 Champions' League marvels - Results and table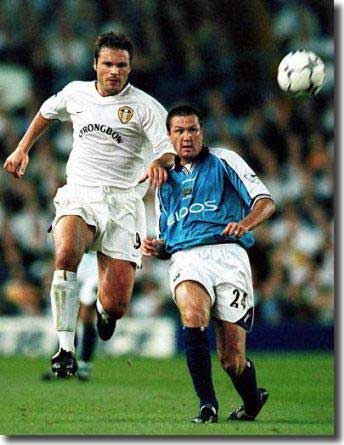 Following the achievements of 1999/2000, when David O'Leary's young squad surprised even Leeds United's most ardent admirers by qualifying for the Champions' League, the club approached 2000/01 in great heart. During the close season, O'Leary had enlisted two quality players in Lens' French midfielder, Olivier Dacourt, and Celtic's Australian international striker, Mark Viduka.
Dacourt was a tough tackling midfielder who had seen Premiership action a year previously with Everton, although he had been in hot water over the number of bookings he received. O'Leary invested a club record £7.2m to bring what he hoped was a reformed and very classy schemer to Elland Road.
Viduka's transfer was protracted by the need to get a work permit. He had failed to meet the criteria of playing in 75% of his country's internationals over the previous two years and it was not until the end of July that his appeal against the Department for Education and Employment's original decision was successful.
The Croat-born forward had been raised in Melbourne and had captained Australia's Under-20 team, but had been asked personally by the president of Croatia to play for Croatia Zagreb when he was 19. However, he was seen as the president's man and was barracked unmercifully by the club's supporters, so elected to join Celtic for £3.5m. After a poor start, the Aussie had an outstanding couple of years in Scotland but had been seeking a move for some time. He was voted the Scottish Premier League Player of the Year in 1999/2000 after scoring 27 goals in his first full season at Parkhead. Leeds paid £6m for his signature.
Despite the arrival of the two big name foreigners, the Leeds squad was depleted by the departure of Alfie Haaland, David Hopkin and Martin Hiden. In addition, the club faced such an injury crisis as it prepared for the new season, that it nearly called off a pre-season friendly at Nottingham Forest.
It was known that David Batty's injury, which had already kept him out of the game for almost a year, would rule him out for several more months, while Jason Wilcox, Harry Kewell, Matthew Jones, Stephen McPhail and Jonathan Woodgate were also on the treatment table. As if that was not enough, Viduka and Kewell (if fit) would be needed by Australia for their Olympics challenge during September and October. In August O'Leary responded by paying £4.75m to add Liverpool's versatile defender Dominic Matteo to the squad.
Despite the clouds, days before the Premiership kick off chairman Peter Ridsdale delightedly announced that O'Leary had agreed to a new six-year deal as manager, quashing rumours that the 42-year-old Irishman would be tempted away by other clubs. The deal was said to make O'Leary the highest-paid manager in English football. Reports suggested that Ridsdale was ready to offer O'Leary a staggering £10m over six years in an attempt to keep Premiership rivals - such as Manchester United and his former club Arsenal - from snatching him from Elland Road. O'Leary still had four years to run on his contract, but the players wanted reassurance as to his plans before they signed deals themselves.
Leeds' patched up team kicked off the year in good form, and Alan Smith was a particular early success. He had lengthy talks with O'Leary during the summer, with the manager emphasising to the youngster that he was letting his temperament get in the way of his talent and that he had not done himself justice in 1999/2000. Smith hit five goals in the first four games of the new season and was duly called into Kevin Keegan's full England squad for the friendly with France, although it was to be the end of the season before he won his first cap.
Among Smith's goals had been two against 1860 Munich in the qualifying games for the Champions' League as Leeds surprisingly won both legs. O'Leary later said: 'It may surprise you that I cite Munich as my personal highlight of the season. Given the players unavailable through injury and suspension and the fact that we held a slender 2-1 lead from the first leg, I thought we faced a massive task to overcome Munich 1860 in the Olympic Stadium. We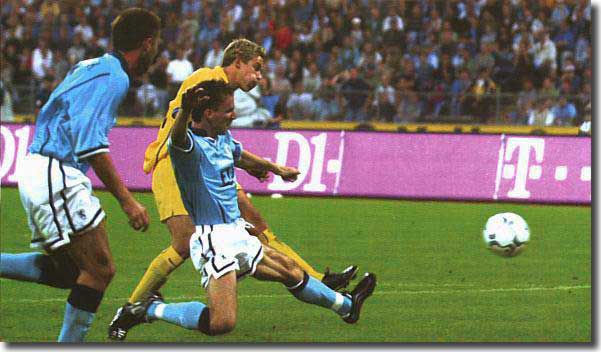 beat them in style thanks to Alan Smith's goal and that set us on course for some famous Champions' League nights at home and abroad.'
Leeds also won their opening two Premiership games. However, a midweek defeat at home to promoted Manchester City, followed by a 0-0 draw at Coventry, put a dampener on their opening burst.
The reward for the victory over Munich was a place in a group that included Barcelona, AC Milan and Besiktas of Turkey. The Spanish giants were among the pre tournament favourites and boasted world class internationals like the Brazilian Rivaldo and Dutchmen Cocu, Overmars, de Boer and Kluivert. Milan were always hard to beat and very gifted, while the games with Besiktas would involve a return trip to Istanbul, scene of the previous season's tragic events when two fans were killed.
O'Leary warned that it would take a miracle for Leeds to emerge from that company. He said: 'It's an unbelievable draw. At the start of the competition our main aim was just to qualify and then secondly to use Arsenal as a yardstick because they have never got out of the first phase.
'Our goal is to do so, but given the draw it will be a miracle if we do because we're not good enough for Barcelona or AC Milan. But lets see if we can prove people wrong because I believe in miracles and let's hope we get one. I would love to bring in not one, but two or three players, but at the moment I don't think it is going to happen. I'm all for it happening and maybe players could be more interested in coming here now we are in the Champions' League, although their clubs don't want to lose them and you can't go in and hijack them.'
The opening group game, in Barcelona's massive Nou Camp Stadium on September 13, was an absolute disaster. Jason Wilcox, who had just returned from injury, broke his ankle in a training session, Eirik Bakke was another addition to the injury list, and Leeds had to field a scratch side. Hopes were low and were soon dashed.
Leeds were given a harsh welcome to life in the Champions' League as they were simply outclassed by a team on fire. Two goals from Patrick Kluivert, a stunning free-kick from Frank de Boer and a classy finish and an imperious display from Rivaldo left David O'Leary's men chasing shadows amid the imposing backdrop of the Nou Camp.
Nigel Martyn had already had to claw away a curling Marc Overmars free-kick by the time Rivaldo set Barca on their way on the 10-minute mark. A swift break down the right from Portuguese flyer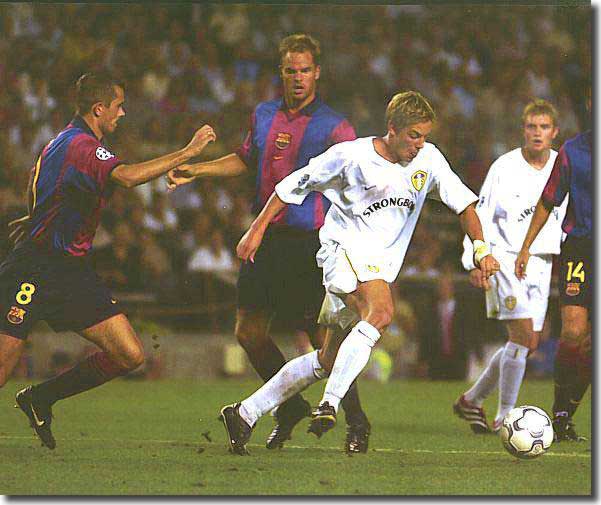 Simao Sabrosa and Kluivert had Leeds chasing back. After exchanging passes with Simao and sidestepping Michael Duberry's desperate attempt at a covering tackle, Rivaldo simply picked his spot low to Martyn's left.
Dani then blasted wastefully over from one of umpteen twisting runs from Overmars, before Rivaldo had a hand in the second. Drifting between the Leeds backline and midfield, he was hauled down by Olivier Dacourt some 25 yards from goal. All eyes - especially Martyn's - were on that famous Barca number ten shirt, but instead it was Frank de Boer's left foot that swung the ball up and over the wall and in off the underside of the Leeds bar for a commanding 2-0 lead.
There was little respite for Leeds in the second half and even after seeing Rivaldo make for the dugout, they saw Kluivert take over, latching onto a centre from Simao and slipping it inside Martyn's near post.
Another ten minutes on a pass from substitute Emmanuel Petit seemed to have escaped the Dutchman, but despite being forced wide Euro 2000's top scorer swivelled to smash past Martyn, with the help of a deflection off Mills.
That should have been the final nail in the Leeds coffin, but typically of a season that had already been plagued with injuries there was still one more to come. Lucas Radebe, who had tried his best to stem the Barca tide, won yet another header but in challenging for the second ball was clattered by Duberry and was stretched off in a neck brace - the final act of a night Leeds needed to put behind them ... and quickly.
David O'Leary chose to praise the Spanish side rather than bemoan his lot following the game, saying 'Barcelona are a fantastic team. We knew what to expect, having seen their players on television, but you have to actually play against these people to really know how good they are. I'm not looking for excuses and I'm not saying we would have won but with other players we might have done better. We simply had too many players back home. I'm proud to have had my first match as a manager in the Champions' League at Barcelona, which is a great club, and I hope to be back to give them a better game.'
Many Leeds fans wondered whether things could get any worse than they were right now. However, things started to improve noticeably, despite the continued absence of key men.
Leeds faced AC Milan at Elland Road in their next European game a week later. After the drubbing in Spain, there were few around Elland Road who expected them to get anything out of the game, but they were at least holding their own until an appalling error from goalkeeper Dida in the last minute got their campaign back on track with a superb victory. David O'Leary asked for divine intervention to help his injury-hit side through the clash - and he certainly got it when Lee Bowyer's simple shot slipped through the hands of the Brazilian stopper to hand the Whites a famous victory.
That was not the only miracle that O'Leary's injury-hit team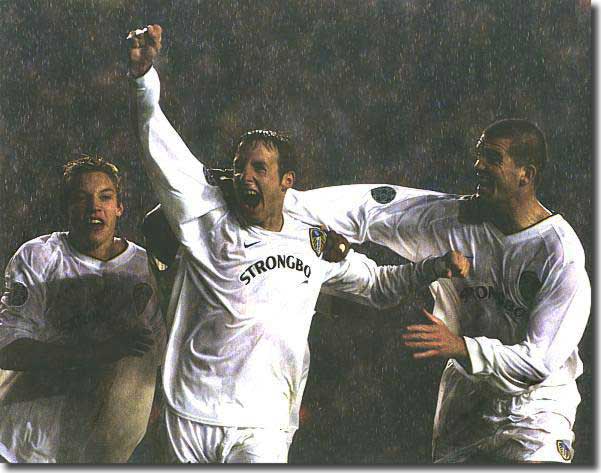 were given. Eirik Bakke and debutant Dominic Matteo were both unfit having only resumed training earlier in the week after lengthy lay-offs, yet neither stopped running as Leeds ran the midfield.
Even more incredible was the stunning performance of makeshift centre-back Danny Mills, who marshalled Andriy Shevchenko and Oliver Bierhoff, two of the world's top strikers superbly. The full-back, playing in the middle due to injuries to Woodgate and Radebe, produced a series of superb blocks and tackles, including one tremendous last-ditch effort. Shevchenko was just preparing to shoot after a mistake by Michael Duberry put him through, yet Mills' sliding tackle stopped him just in time.
Leeds seemed to be heading for a creditable goalless draw when Bowyer's speculative effort seconds from time squeezed through Dida's hands and ignited celebrations throughout Yorkshire.
What a difference a game makes! A week later, there was more joy as Leeds ran riot in another Elland Road night of European glory. Besiktas were given short shrift as Leeds swamped the Turks 6-0.
A rejuvenated Leeds team blew away their opponents and ended the night on top of the group. Lee Bowyer hit two goals to add to his rapidly growing collection of European memories and led the rout, while a perfect evening at Elland Road saw Mark Viduka and Dominic Matteo open their accounts for the club and Eirik Bakke and Darren Huckerby complete the one sided affair.
Ironically, the six-goal scoreline mattered little as the previous victory over AC Milan - who beat Barcelona - meant that any win would put David O'Leary's side ahead of the Italians at the top of the pile. But Leeds came out intent on showing they merited a place at club football's top table and served up a mouthwatering show in their most assured performance thus far.
Elsewhere results in the rest of the group were also going Leeds' way. After Barcelona had won their match with United, they surprisingly lost 3-0 away to Besiktas and AC Milan went to the Nou Camp and came away with a 2-0 win. The standings now read, Milan and Leeds 6 points each, Barcelona and Besiktas 3. Leeds surprisingly had a good chance of coming through a very testing group, although their last match would be a challenging trip to Milan.
While they waited for the group matches to continue, Leeds started to climb the Premiership table. A home defeat against promoted Ipswich between the Milan and Besiktas matches saw them drop to 9th, but Elland Road victories over Tottenham and Charlton moved them back up to 4th. Viduka and Smith were now gelling up front and it was the golden boy from 1999/2000, Michael Bridges, who was normally the one warming the subs' bench. In the two games against London opposition, Viduka got four and Smith three. Unfortunately, the Charlton game saw another bizarre injury when Nigel Martyn pulled a muscle when taking a goal kick and he now faced a lengthy injury lay-off.
Young keeper Paul Robinson came into the side in goal for a testing return match in Turkey with Besiktas and acquitted himself well in a United side that went there with the sole aim of avoiding defeat. Leeds edged toward the second phase of the Champions' League with a heroic display on their return to Istanbul.
Although David O'Leary's team managed just one effort on target, their defence ensured what was to prove a vital shut-out. Robinson was forced into a couple of routine stops but, although they were constantly pegged back, the Leeds defence kept their hosts well away from goal. Much of that was down to an imperious display at the heart of the defence from Jonathan Woodgate, who provided a steadying influence alongside Danny Mills. Woodgate showed few signs of his recent injury lay-off and superbly shackled the pint-sized threat of home skipper Mehmet, while Gary Kelly, Mills and Ian Harte all produced the perfect awayday performance.
Even a flurry of corners in the closing minutes could not deny Leeds, who marched off heads held high to find AC Milan and Barcelona had also drawn, 3-3, with a Rivaldo hat trick helping the Spanish side recover a 3-1 deficit at one stage. The group standings remained as before. With Barcelona still to visit Elland Road, it actually looked like the impossible might happen - a Leeds win over the Spaniards would put them through to the next stage.
The Besiktas game, however, also resulted in another long term injury. Michael Bridges had a thankless task all night, receiving little decent ball and given even less protection by the referee. He decided to take the law into his own hands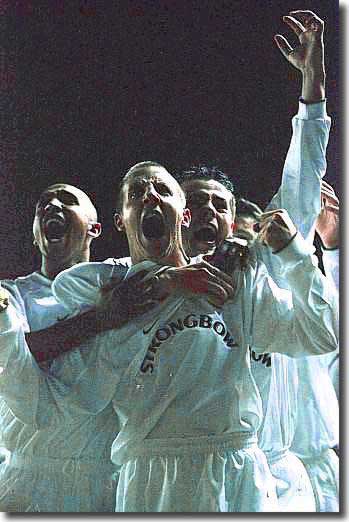 and, after appearing to retaliate against a Tayfur foul, collapsed in a heap and joined the eternal queue for the Elland Road treatment room. He was to be a long term casualty.
Captain Lucas Radebe had come back into the side following his scare in Barcelona, but sustained another head knock in the match with Spurs and Michael Duberry had also been written off for the season following a bad injury in a 1-1 draw at Derby in September. As Leeds faced the ultimate test of a Premiership visit to Old Trafford on 21 October, all the papers were listing the team that Leeds were unable to field because of injury: Martyn: Mills, Radebe, Duberry, Harte; Batty, Dacourt, Bakke, Wilcox; Bridges, Kewell. It all made very interesting reading, but meant that a badly understrength eleven had to go out to fight for points against Manchester United. Antipodean newcomers, defender Danny Hay and midfielder Jacob Burns, joined their compatriot Viduka in the side along with Matthew Jones, Robinson and Stephen McPhail, who had not fully recovered from his own problems and was shortly to be sidelined again.
Robinson had an outstanding match at Old Trafford, one of many while he was deputising for Martyn. In fact, he won a Player of the Month trophy and came to the early interest of new England boss Sven Goran Eriksson. All his athletics and last ditch reflex saves, however, came to nought as United simply brushed Leeds aside and emerged with a clear 3-0 victory which cemented their own Premiership challenge. It was a depressing performance and as it came just three games before Elland Road welcomed Barcelona for another big night of European action, there was apprehension in the air.
Dacourt, Mills, Bakke and Woodgate were back for the match and Leeds started well against the world class Spaniards, but the Yorkshire club were always up against it despite taking an unexpected lead after five minutes when Lee Bowyer curled in a free kick from fully 35 yards.
The pattern of play for the remaining 89 minutes was constant Barcelona pressure which eventually reaped its reward when World Footballer of the Year Rivaldo pounced after a header from substitute Gerard rebounded off the post. Just seconds earlier, Leeds boss David O'Leary could be seen pointing at his watch as Norwegian referee Terje Hauge allowed play to extend into the fourth minute of injury-time. The faces of dejection on the Leeds faces were evident at the final whistle as tempers got the better of some on both sides and a centre circle melee ensued.
Barcelona deserved their point as Leeds had Paul Robinson to thank for keeping them ahead for most of the match. He was called upon to make save after save, constantly frustrating Rivaldo who saw his free kick efforts superbly dealt with by the England Under-21 man all night.
Alan Smith and Mark Viduka worked hard in attack but failed to create anything clear cut. Smith's best chance came in the 86th minute following good work between Viduka and substitute Jacob Burns. But Smith's shot was well blocked by Phillip Cocu.
Robinson was finally beaten by Rivaldo in the 76th minute, but just as Barcelona started to celebrate their equaliser, the Leeds fans erupted in delight as a linesman raised his flag as Alfonso was standing in an offside position.
Barcelona upped the tempo still further in the final 15 minutes, pushing a weary Leeds side further and further back into their own half as they fought for an equaliser which would keep their vanishing hopes alive. Time drew on and the 90 minute mark was rapidly approaching. A win would put Leeds through and they looked like they were going to get it.
Leeds still held their slim lead as the assistant referee signalled that there would be four minutes of stoppage time. The seconds ticked on and frenetic attacking play looked like it would be in vain. Then in the closing seconds Cocu's cross from the left was met by substitute Gerard whose downward header smacked against the post, with the rebound falling directly into the path of Rivaldo who drilled the ball home from 10 yards. It was too late for any further action and the Leeds dejection was evident.
The point left Leeds still three clear of Barcelona, but things looked ominous. Barcelona's final match was at home to Besiktas, while Leeds would have to travel to Milan needing a point to secure qualification.
In between times, their form was patchy. They tumbled out of the Worthington Cup after extra time at Tranmere and could only manage a 1-1 draw at Bradford with troubled Stan Collymore scoring on his debut for the Valley Parade club. However, Leeds recovered from 3-1 down at home to Liverpool, with four goals from Viduka delivering an amazing 4-3 win in one of the most talked about matches of the season.
That match put them in good heart for their date with destiny. It quickly became evident that Besiktas would do Leeds no favours as the Barcelona goals showered in and by half time there would be only one winner at the Nou Camp.
Robinson continued his heroics and skipper Lucas Radebe was inspirational at the heart of the defence. They were always going to need a strong backbone to survive in a country where they had never won and ahead of Radebe, Olivier Dacourt was everywhere, while Alan Smith led the line superbly and showed that he can keep his cool on the biggest stage of all.
But after 26 minutes, things appeared to be going horribly wrong when referee Kim Nielsen - best-known for sending off David Beckham in the World Cup - awarded a harsh penalty against Gary Kelly. Brazilian winger Serginho, who caused Leeds problems with his pace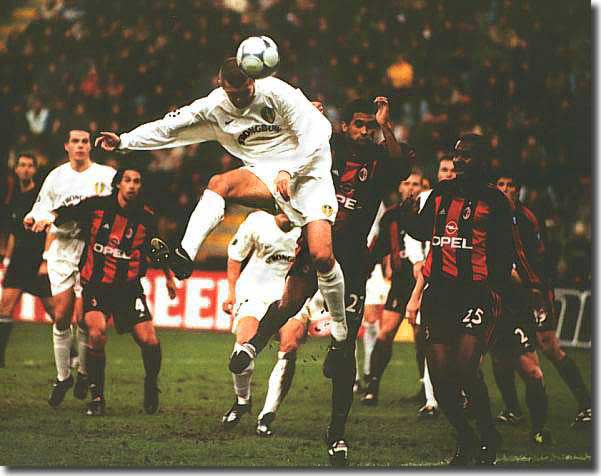 all evening, picked up a loose ball in the box and as Kelly charged down his cross-shot, the ball hit him on the arm from no more than a yard away. The Leeds players put their heads in their hands as Nielsen pointed to the spot, but the feeling it was going to be their night started to dawn as Shevchenko clipped the kick against the foot of the left post with Robinson going the wrong way.
Oliver Bierhoff then headed just over from a corner and Robinson did well to parry a low Serginho drive as Milan proved that although they were through, they still wanted to win.
But Leeds stunned the San Siro with a vital strike right on half-time. Viduka's trickery down the right forced a corner and as Bowyer drilled the ball in, Matteo powered a header home at an unguarded near post. It was the perfect way for the 26-year-old to celebrate his call-up to the Scotland squad and the perfect tonic for the half-time respite.
Yet the goal seemed to bring the best out of Milan and three times in the opening minutes of the second period, Shevchenko, Serginho and Leonardo all fizzed efforts in on goal. Milan squeezed Leeds back onto the edge of their box, but with Radebe and Mills just about containing Shevchenko and Bierhoff and Robinson turning a header from the German over the top, they edged towards that elusive point. In truth, the Italians seemed to lose some of the urgency and there was some suspicion that they would prefer Leeds to go through to the next round, rather than Barcelona.
But Serginho was proving hard to cope with and the Brazilian set up a frenetic finish when he skipped past Kelly - whose tackle was not helped by a bobble off the awful surface - and rifled an unerring left-foot effort past Robinson.
Smith came into his own in the closing minutes, holding off the physical attentions of Roque Junior and Jose Chamot to eat up valuable seconds with no shortage of skill and even more spirit. It did the trick. Milan still pressed but Leeds were able to break up the flow before the pressure built up and as the final whistle approached, Harte saw his effort blocked in a goalmouth scramble.
Perhaps a first-ever win in Italy would have been too much, but when referee Nielsen sounded the final whistle they had done enough to go through - and knock Barcelona out! What an achievement, against some of the premier teams in Europe!
However, when the draw for the next stage was made the following day, life was to get no easier - the other teams drawn out of the hat were the holders, Real Madrid, Lazio of Rome and Anderlecht. The group was unanimously rated the most difficult of the four and once again O'Leary's stated view was that qualification would be beyond them.
Chairman Peter Ridsdale said: 'We said it would be a miracle to get this far and coming back on the plane yesterday we were all dreaming about playing Real Madrid and going back to Rome again after playing in the Olympic Stadium in each of the last two seasons - so we have got our wish. I am very excited about this. I am sure all the Leeds United supporters and all the players will be as well. But I think there will be a few teams in Europe worried about coming to Elland Road after our performances this season.
'We've done well, particularly as we've had a number of players out. Of course quite a lot of them will be back for the later stages of this group because, after the first two games, there are no further matches until late February and who knows what could happen them. We had 6,000 fans in Milan the other night. They were outstanding and great ambassadors for their country and just think how many we will now be taking to Rome and Madrid? It would be great to have a Manchester United-Leeds final, but I think I am probably dreaming at the moment.'
There would be two group games played before the winter break and first up was another formidable test - Real Madrid at home on 22 November. Leeds played well enough but were always chasing shadows against one of the strongest teams in Europe and, with Steve McManaman back in favour and pulling the strings with Raul, a 2-0 defeat probably flattered an outclassed Leeds side.
The European champions gave Leeds a harsh Champions' League lesson at Elland Road. Two goals in three minutes midway through the second half clinched the victory, though it seemed merely a case of when Real would score, rather than if.
Luis Figo, the world's most expensive transfer had hardly had to break into top gear to orchestrate the Madrid midfield in which two of the lesser lights, Guti and Ivan Helguera, oozed class. The pace, cunning and stealth of the Spanish counter-attacks and the ease with which they kept possession were eye-opening, humbling and breathtaking.
So it would be infuriating to O'Leary that the opening goal was down to the sort of situation Leeds face every Saturday - a short corner and headed goal by Hierro.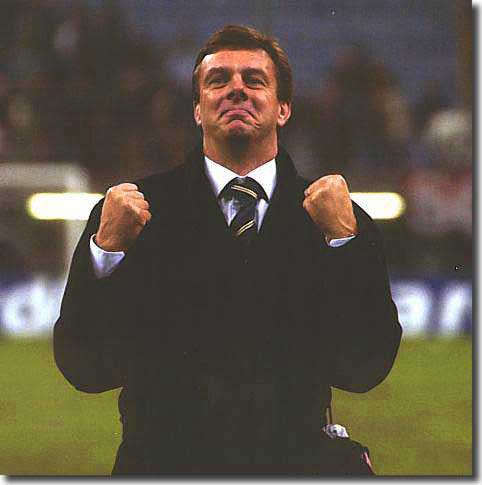 The cross from Figo was headed home at the back post by the veteran Spanish defender.
Two minutes later Raul, a menace with his movement all evening, slotted home from a typically quick breakaway after Guti's well-weighted pass. Body language and, more interestingly, the Leeds crowd gave away the truth that the game was over.
After the game, the media was quick to write off Leeds' chances of further progress in the competition. However, the resolve they had shown in the first stage was rediscovered when they travelled to meet Lazio in Rome on 5 December. Alan Smith scored his first goal in nearly two months late on as Leeds pulled off a shock win to give themselves some hope of a route to the quarter finals. It was a crucial result, earned on merit.
Part 2 Champions' League marvels - Results and table
Other Football Highlights from 2000/01
Chelsea claimed the last trophy to be won at Wembley before the Twin Towers came down as the red mist descended once again on Manchester United skipper Roy Keane. Keane was sent off after 73 minutes as Chelsea kicked off the season with a 2-0 win
Luis Figo became the world's most expensive footballer after he left Barcelona for Real Madrid for £37m
Arsenal sold Marc Overmars and Emmanuel Petit to Barcelona for a combined fee of more than £30m, replacing them with French internationals Robert Pires and Sylvain Wiltord, although Wiltord was only allowed to move after going on strike
Gianluca Vialli was sacked by Chelsea after just five games of the Premiership season. 'It is in our best interests to seek a change in direction,' said a club statement. The Italian had spent £24m in the summer on new players, including Jimmy Floyd Hasselbaink who returned to the Premiership after just one season in Spain. Fellow Italian Claudio Ranieri took over at Stamford Bridge
England said goodbye to Wembley in October amidst a chorus of boos and chants of 'What a load of rubbish'. A free kick from Liverpool's Dietmar Hamann which seemed to catch England unawares gave Germany the World Cup qualification points. Immediately after the game manager Kevin Keegan tendered his resignation. An emotional Keegan explained his decision by saying: 'I have no complaints. I have not been quite good enough. The Football Association tried to persuade me to stay but I feel it is the end of the road. I know it is not a good timing. I came in under difficult circumstances but absolutely no one is to blame but myself. I did it to be the best of my ability. I am not the man to take it that stage further. I have to be true to myself. I told the players I don't think I can find that little bit extra that you need at this level. I just want to go and spend some time with my family. I just feel I have given it my best shot. I have probably have had a longer run than expected...a lot of coaches who did a lot better than me in Euro 2000 went'
Former Leeds manager Howard Wilkinson took over the role for a boring 0-0 draw in Finland but eventually gave way to Swede Sven Goran Eriksson who was released by Lazio following their defeat at home to Leeds in the Champions' League. It was a controversial appointment, with Eriksson being the first foreigner to fill the role, but soon being adopted as an honorary Englander after reviving England's World Cup hopes. England began with a 3-0 win over Spain and remained unbeaten all season after Eriksson's arrival
For a long time former England boss Terry Venables had been tipped to return but eventually he joined Middlesbrough as head coach and guided the Teessiders to safety after a flirt with relegation. Bryan Robson had strangely remained in 'charge' during Venables' stay, but left at the end of the season after seven years at the club
Sacked Sheffield Wednesday boss Paul Jewell was dismissed after less than eight months in the Hillsborough hot-seat after a run of five straight defeats left them bottom of Division One. Jewell said: 'It's not nice getting the sack. I don't think I have been given enough time to turn things around, and it doesn't take too much common sense to realise that it was always going to be a difficult task to stay in this league.' Jewell had surprisingly quit Bradford City at the end of the previous season after keeping them in the Premiership
Jewell's old club were relegated along with Manchester City and Coventry City, who finally went down after 34 years in the top flight
For weeks the world transfer system had looked to be in danger after the European Commission had demanded its scrapping. UEFA and FIFA were finally able to come up with a formula to solve the crisis. FIFA's Sepp Blatter said: 'We are near a solution which would be beneficial for the whole world of football, and which would enhance the quality of the game. I am sure that this was an historic day today.'
Liverpool pulled off an amazing Cup treble, winning the UEFA Cup, FA Cup and Worthington Cup. The Worthington Cup had come first in February had come first when they beat unlucky Birmingham 5-4 on penalties after Purse had equalised Robbie Fowler's goal in the last minute. Michael Owen then produced a virtuoso late show to shatter Arsenal and give Liverpool the FA Cup. Liverpool's red-hot star struck twice in the last eight minutes to break Arsenal's hearts after Arsene Wenger's side had dominated for long periods. Arsenal were rewarded for incessant pressure when Freddie Ljungberg gave them the lead with 20 minutes left. But Liverpool somehow roused themselves from a lifeless performance - with Owen as a magnificent spearhead - to take the cup in the most dramatic fashion. The Anfield club then beat Alaves with a golden goal in extra time to take the trophy 5-4, after losing 2-0 and 3-1 leads
Manchester United strolled to an easy retention of their championship, for a third successive season, mauling runners up Arsenal 6-1 on the way. United clinched an amazing seventh Premiership title on 14 April as Fulham celebrated a return to the top flight for the first time since 1968