Part 2 Tragedy in Istanbul - Results and table
David O'Leary had taken over from his mentor George Graham as Leeds United manager towards the end of 1998 as the Scot accepted the job of reviving Tottenham Hotspur. The Irishman had made a good start to his time in the role, blooding a batch of superbly gifted youngsters and still guiding the team through to a fourth place finish and qualification for the UEFA Cup.
As he entered his first close season at the helm, O'Leary was faced with a much busier time of things than he had anticipated, with the main challenge being to try and persuade marksman supreme Jimmy Floyd Hasselbaink to sign up for an extension on his contract.
The Dutchman had been the club's leading scorer in each of his two seasons at Elland Road and settled in well to life in the Premiership after a sticky time of things earlier on. Graham had brought him to England in 1997 and his departure had clearly unsettled the striker.
Negotiations had been in progress since the spring and came to a head at the end of July as Hasselbaink handed in a written transfer request. He had been offered a new four-year contract which would have made him the highest paid player at the club, but had held out for a rise which would have seen him earning half as much again as any of the squad, in excess of £30,000 per week.
O'Leary and chairman Peter Ridsdale were reluctant to disrupt the amazing team spirit which had built up among a young squad during O'Leary's short time in charge and the club would not be held to ransom.
'The club cannot do any more, It's up to Jimmy,' said O'Leary. 'What he is looking for I don't think any club in the country could afford and I don't think there is anyone on that kind of money over here.'
Within a week, on the eve of the new season, Leeds had accepted a club record fee of £12m from Spanish club Atletico Madrid and Hasselbaink was on his way to a new life in Europe, insisting despite the move that he loved Leeds United, the supporters and always wanted to stay with the club he joined two years before.
O'Leary had other bitter disappointments that summer when Ipswich Town's exciting young midfielder Kieron Dyer opted to join Newcastle instead of Leeds, and then missed out on the signing of Dutchman Willem Korsten who had been on loan at Leeds for the second half of 1998/99. George Graham had intervened and persuaded Korsten that life at White Hart Lane would be a better bet and the affair caused a long running rift between the two men who had enjoyed such success together at Highbury in the late 80's and early 90's.
Sunderland's young forward Michael Bridges had also looked like opting for Tottenham rather than West Yorkshire when he went for discussions in London, but in the end he settled for Leeds and joined the club for £4.5m. O'Leary had splashed out almost £9m to bring in Charlton's England Under-21 right-back Danny Mills and Chelsea centre-back Michael Duberry, while it had taken another £1.75m to secure the services of unknown Norwegian midfielder Eirik Bakke, so the Hasselbaink windfall was a welcome bonus financially.
The defensive recruits were vital, because Gunnar Halle, Lee Sharpe and David Wetherall had all departed to Bradford City, while Gary Kelly, Robert Molenaar and Martin Hiden had all been unavailable through injury since before Christmas 1998.
The departure of Hasselbaink, now reviled as Judas Jimmy, left United fans wondering where the goals would come from as the new season approached. Bridges had been out of the Sunderland side more often than not, with Peter Reid normally preferring the Little and Large pairing of Niall Quinn and Kevin Phillips, and was not seen as the finished article, while young Alan Smith was still learning his trade. Clyde Wijnhard and Derek Lilley, who had been failures in their time at Elland Road, also left the club during the summer.
The side could still field internationals like Nigel Martyn, Ian Harte, Alfie Haaland, Lucas Radebe, David Hopkin, David Batty and Harry Kewell, while young centre-back Jonathan Woodgate had won his first cap for England in the close season after starting 1998/99 in the Leeds youth team, but huge doubts remained over the attack. An opening day scoreless draw at home against Derby County seemed to be confirmation of a struggle to come. Bridges bagged a hat trick in the 3-0 win at Southampton which followed, but that seemed to be a flash in the pan, when Leeds lost 2-0 at Old Trafford in the next game. They had countless scoring opportunities and really should have won, but their lack of punch in front of goal seemed to be a serious problem.
Even the arrival of Coventry's direct flank player, the speedy Darren Huckerby, in another multi-million pound move had made little difference and it was Kewell who looked the most dangerous Leeds player at Old Trafford. There was scant reward for David O'Leary's side, upset by an early injury to Bridges, who up until 15 minutes from the end had been worthy of a point and had a shot from Kewell in the second half not come back of the post and crept in instead, the finish could have gone Leeds' way.
A narrow win at home over Sunderland was followed by a depressing home defeat versus old rivals Liverpool despite an early lead, and the critics started to go for them. This team would struggle in the Premiership and have no chance in Europe. O'Leary was out of his depth and it was obvious that Leeds should have gone for a proven manager. The imports had made scant impact and looked to be poor buys by an immature manager.
But then something changed. On 28 August, Alan Smith scored his first goal of the season and then got sent off for a butt in a 2-1 win at Tottenham (a prelude to the war between the clubs later in the year). In some strange way, the aggression and will to win of Smith set off a powerful chain reaction.
Following on from the Tottenham victory, Leeds had a wonderful 4-3 win at Coventry when they were simply irresistible. That was good enough, but they then followed it up with a startling 3-1 triumph in the UEFA Cup away to Partizan Belgrade after going 1-0 down early on. The Elland Road faithful started sitting up and taking notice. Lee Bowyer scored twice in that game and was having a wonderful time in front of goal. By the end of October, the all-action midfielder had scored 7 goals in the first 15 games, including 4 in Europe. Leeds had entered a devastating spell of form ...
When they faced Everton at Goodison on 24 October, Leeds had won 10 games on the bounce in the space of 55 days, scoring 24 goals against just 9 conceded. They were on top of the table and poised for the third round of the UEFA Cup after a 4-1 home win over Locomotiv Moscow, who had looked a strong side. The Elland Road team were flying and winning over a lot of neutrals with their new brand of attacking football.
The game at Everton was an astonishing match. Leeds went behind early on when John Collins supplied Kevin Campbell who finished superbly from just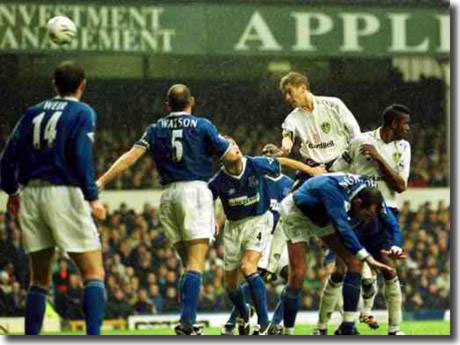 inside the area. Leeds equalised on the quarter of an hour mark after Kewell broke down the left flank and laid on a perfect cross. Michael Bridges slid home the ball after a miskick by Smith. Leeds then started to dominate but shortly afterwards Woodgate and Radebe were at fault when allowing Don Hutchinson to put Campbell through for his second goal, before Kewell's cross somehow evaded goalkeeper Gerrard after 35 minutes to draw Leeds level for a second time. Leeds were 3-2 down at the interval, however, when Hutchinson fired home. 23 minutes into the second half, Darren Huckerby unsettled the Everton defence before Bridges volleyed the ball home adroitly for his second goal. A late header by Woodgate from a corner looked like it had secured all three points, but an even later equaliser by Weir meant Leeds had to settle for a thrilling 4-4 draw, but this was scintillating stuff and a shock for fans who had got used to some pretty dull fare under George Graham and Howard Wilkinson. Could Leeds actually be in with a shout of the title?
The winning run was a new record for the club, which took some doing when one remembers exactly how good Don Revie's side of another generation was. In 1969, the first championship-winning side only lost two out of 42 games, conceding just 26 goals in the process, but they never managed to gain 10 straight victories.
In Moscow a couple of weeks later, Leeds finished off the job they had started against Locomotiv at Elland Road and booked their place in the third round of the UEFA Cup after their young guns turned on the style to dismantle the Russians 3-0 on the night to win 7-1 on aggregate. But it wasn't all Leeds as Locomotiv had the early pressure, with Sarkisan and Boulykin both having chances before Ian Harte set the ball rolling with a penalty on 16 minutes, after Harry Kewell had been brought down in the area following a Michael Bridges flick.
A midfield combination of Lee Bowyer, Eirik Bakke and Harry Kewell tore the Russian defence to shreds and they combined to let Bridges grab a brace to seal the match before half time. For his first, Harte's cross was headed back across the goal by Bowyer to Bridges, who lifted the ball over the onrushing Nigmatoulline and then, on the stroke of half-time, he ran onto a Bakke ball before toe-poking the ball past the hapless keeper to seal the victory.
The early superiority meant that in the second half Leeds could afford to go through the motions, with Bowyer being replaced to rest his injured groin.
David O'Leary was pleased with his side's performance and must now, secretly at least, have been beginning to believe in the quality of the team, though he continued publicly to doubt the staying power of his 'Babies'.
'In the end we ran out miles in front. Against a side like that I was very flattered. All credit to the players, they were fantastic,' said O'Leary afterwards. 'It's a young team who will only get better.'
Understandably, Leeds could not keep up that level of performance and they came back down to earth with a bang when they lost 2-0 at Wimbledon the weekend following the Moscow trip. They were still winning games in the Premiership after that, but they started to become tense and scrappy affairs with the side obviously starting to feel the pressure.
They continued to be among the pace setters in the title race, however, and on November 28, a last minute goal from Michael Bridges at Southampton gave Leeds the win to put them top of the Premiership. United's leading scorer took his tally to 12 for the season when he shot past Saints keeper Paul Jones with a sensational strike from outside the area in stoppage time, to seal victory and give United a two-point
lead at the top of the table.
Four days later, Leeds came away from another trip behind the Iron Curtain, this time against Locomotiv's Moscow rivals Spartak, with a 2-1 defeat, but knowing that a 1-0 victory would be enough to see them through to the last sixteen of the UEFA Cup. The match was played in Sofia in Bulgaria, because the Russian pitch was frozen.
The Russian champions, who had failed to make the latter stages of the Champions' League, proved much tougher opposition than their cross city neighbours. David O'Leary indeed had to be grateful after seeing his side take a 14th minute lead through Harry Kewell that United, who were under the cosh for the last hour of the game, escaped with the minimum margin of defeat. The United boss admitted after the game that his side had missed the calming experience of David Batty in the second period.
'It's disappointing, but 2 -1 is not by any means a bad result in the first leg, as I know we can play better. I thought we missed David Batty's influence in the second half and we gave away two silly goals, but the away goal stands us in good stead.'
Playing just one man up front, Leeds had started in positive fashion and had hit the woodwork before Kewell made the breakthrough on 14 minutes, but after that the Russians worked their way back into the game and netted a deserved equaliser seven minutes before the break, before dominating the second half. However, they managed only one more goal, though United were lucky to escape as Kelly's goal-line clearance and Martyn's fine save in the final minutes ensured the score remained unchanged.
All the travelling was starting to weary the young side and three days later Leeds looked decidedly off colour when they visited Derby. However, they managed to regain the top spot in the Premiership with another amazing late show, as Ian Harte's injury time penalty gave them a deserved 1-0 win over Derby at Pride Park.
Harte coolly converted the spot kick after the impressive Harry Kewell had been felled in the box by Horacio Carbonari. The penalty had been hotly disputed and Derby claimed that Kewell had dived, but no one from Elland Road was complaining and the three points put Leeds two ahead of Manchester United.
Manager O'Leary had refused to risk David Batty in the match because of an Achilles injury and indeed the all action midfielder did not play again all season and feared for a while that his career might be over.
His absence, however, was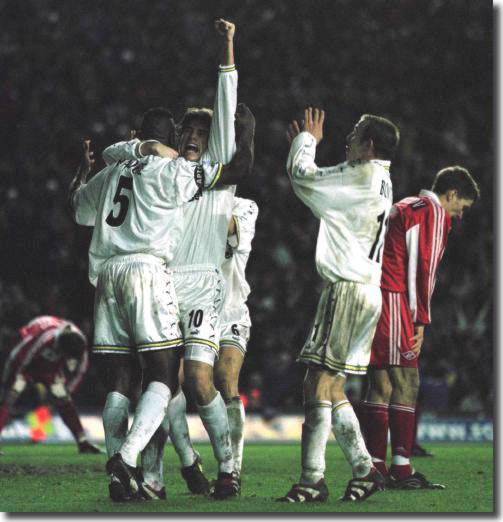 mitigated by the form of young midfielders Eirik Bakke and Irishman Stephen McPhail who seized their chance and made themselves regulars as the season drew on, impressing many with their contribution and self assurance.
The return with Spartak was a very tense affair which went without a goal right to the closing seconds. There were only six minutes remaining when a corner from McPhail found Radebe, who held off his marker and headed home from close range. Elland Road erupted and, although Leeds had still had to endure a nervous finale, the bedlam that greeted the final whistle was understandable.
South African international centre-back Radebe said afterwards: 'I don't score too many goals but it's one many people will talk about. I went in with the keeper, stuck my head in and there it was. It was a brilliant goal and I really enjoyed it. We knew we had nothing to lose. We had to get forward and get the first goal. We've been scoring late goals and today we knew we had to keep going until the whistle. We take each game as it comes. We've got a great bunch of lads and this season we set ourselves a target to do better than last year. We have taken a step up and we will take our chances.'
It was a night of great elation and David O'Leary's celebrations at the end were memorable. They also showed how badly he had taken the contention between the two sides. Spartak officials had accused Leeds of gamesmanship and trying to take advantage of the state of the Moscow club's pitch by arguing for a neutral venue.
A year into his managerial career, O'Leary was doing well. The team had progressed and were carrying his distinctive stamp. That pleased him, as did the general perception that he had taken the team forward. 'People may not believe it now but at the time of George leaving, quite a number of football people believed this club was going nowhere and I was taking a no-hoper job.'
The manager's own report on his year's work was favourable, too. 'I am pleased that I have put my team on the field, this is not simply a carry-on of what George had here. I've gone my own way, he has gone his. When George was manager here I would be saying, "Get Batty, he should have never left here." I was also saying, "Woodgate is ready, blood Woodgate." But George was his own man. He had got Derek Lilley, who was a nice lad, but I thought we were going nowhere with Derek. Alan Smith was the future. Then I got the job and I had the chance to do what I'd been saying. And I'm happy that I did exactly those things.
'When I took over they said here they hoped I stabilised things; I think we've done better than that. I have sold £16m worth of players, spent £23m on players, and for £7m, I feel I've not done badly. I think we're playing better football and the crowds have gone from 30,000 to 40,000. I want people to be sitting at home saying, "Oh, Leeds are on Sky today, they're worth watching."'
Suggesting that Leeds were missing Jimmy Floyd Hasselbaink offended him. Hasselbaink didn't want to be part of Leeds, he didn't behave properly and, ultimately, forfeited his right to respect. 'I don't think we've missed Jimmy, not remotely. He wasn't a bad lad but he wasn't a team player. He did score a lot of goals but after 17 Premiership games this season we've scored more goals than we had after 17 games last season. You couldn't dislike Jimmy but the way he went about leaving was a disgrace. He wouldn't kick a ball unless he got an obscene amount of money, more than anybody in this country is paid, including the latest Roy Keane deal. You ask any of the players; they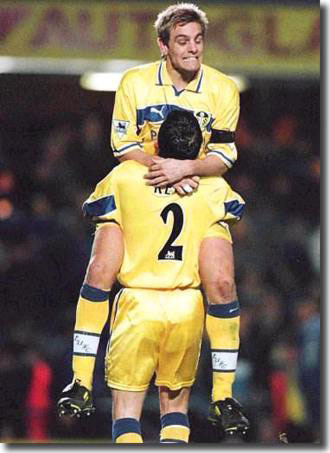 are delighted he is gone. They have become closer as a team since he left.'
The dignified approach of O'Leary and Chairman Peter Ridsdale throughout the Spartak episode, refusing to get drawn into a public slanging match, won the club a lot of friends. The Russian club had been whinging like mad throughout. Such sideshows, however, were starting to take their toll on the side.
Radebe had had lengthy periods out of the side while he was away with South Africa in the the African Nations Cup tournament and the form of Lee Bowyer and Jonathan Woodgate both dipped badly following their arrest, along with Michael Duberry and reserve striker Tony Hackworth, after drunken incidents in Leeds city centre in January when a student was beaten up. A malaise had descended on the players as they started to appreciate their lofty position.
The side's form now became inconsistent - they crashed out of the Worthington Cup on penalties to a robust Leicester side, but then pulled off a shock 2-0 win away to Chelsea with Stephen McPhail's first two goals for the club. Jason Wilcox had arrived from Blackburn and his presence on the left flank freed Kewell to play as an out and out striker for the rest of the season, which saw his level of performance reach new heights. It was a good move for Leeds, but things started to go quite badly in the Premiership and they went through a period between December and February when they lost 4 out of 6 games, including a 1-0 home defeat to Manchester United, and bad beatings at rivals Liverpool and Arsenal.
Leeds had been unlucky in the game against United and deserved at least a point against the Premiership favourites, but were unable to capitalise on their chances while the Reds seized their own opening with Andy Cole scoring the only goal of the game.
Disaster hit Leeds on 52 minutes after they had had the best of a tight first half. Radebe, who looked far from fully fit, missed a ball over the top and Cole got ahead to guide the ball over a back-peddling Nigel Martyn into the back of the Leeds net. A minute later Keane hit the post after the ball deflected off Nigel Martyn, a let-off for Leeds who were rocked by the Cole strike.
Goalkeeper Mark Bosnich kept an Ian Harte free kick out, palming away the ball as it seemed destined for the top right-hand corner and moments later Bakke's header hit the bar, with the Reds defenders rooted to the spot.
Then with just ten minutes remaining, Leeds missed a golden chance of an equaliser. Wilcox took advantage of a slip by Neville, drove the ball goalwards and as Bosnich spilled the ball, Alan Smith's shot hit the post, rebounded to Lee Bowyer six yards out with the goal at his mercy. The Leeds faithful waited for the ball to bulge the back of the net, but inexplicably Bowyer blazed over to the dismay of all the United side.
O'Leary refused to be downcast afterwards, despite seeing his side fail again against one of the top four teams. 'They are the team that I've made favourites from day one but we're not going to give up hope,' he vowed. 'We've got 13 games left and we're going to try to win those 13 games. We're a young emerging side learning our trade, playing against a great side and there wasn't much in the game. They got their chance and they took it. We got our chances and didn't take them. I know what my side is about. We've had our little setbacks but we're a young side doing marvellously well.'