Part 1 Leeds back in contention - Results and table
Leeds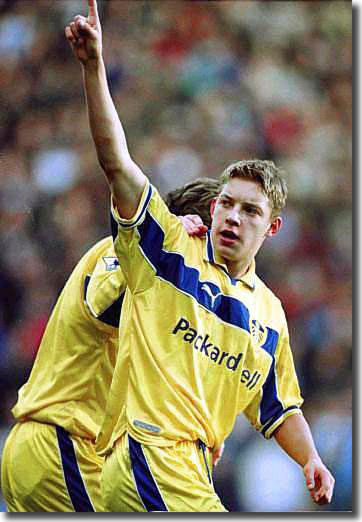 had looked a good bet in the FA Cup after beating Port Vale and then pulling off a breathtaking 5-2 win at Manchester City, but were then undone by a Benito Carbone hat trick in the fifth round at Aston Villa, losing 3-2 after twice taking the lead.
The end of February was a period of some concern for Leeds - they had surrendered top spot to Manchester United, who also had games in hand, they had gone out of both domestic Cup competitions and they were facing a mammoth UEFA Cup fourth round battle with AS Roma, who had put them to the sword a year before in the early days of O'Leary's reign. The future did not look promising and the critics started to predict a free fall into mid-table. Liverpool, Chelsea and Arsenal were all in good form and were starting to break down the gap below Leeds. March was obviously going to be a major test of character.
They had also had to face a disciplinary hearing at the FA after an ill tempered match at Elland Road against Tottenham a week before the battle with Manchester United. The ill feeling between O'Leary and George Graham seemed to affect the players who took no prisoners in a bruising encounter. The second half was barely five minutes old when a late challenge by Bowyer on Stephen Clemence sparked a mass brawl between players from both sides in the middle of the pitch, which ended with referee Gallagher giving Bowyer his tenth caution of the season.
March had always looked to be a decisive time for Leeds, with much of the season's success depending on how things went over a four week period. The big test began with a massive challenge against Roma in the fourth round of the UEFA Cup. The first leg in Italy saw Leeds played off the park, with Totti pulling all the strings. But Nigel Martyn was in superb form that night and Leeds came away with a priceless goalless draw.
Chairman Peter Ridsdale: 'The defence was superb and it was an unbelievable achievement to come out of a game like that without conceding a goal. The country seems to think that Nigel Martyn is not the number one at the moment, but perhaps after that performance Kevin Keegan will disagree. The tie is set up nicely for next week, but we know how difficult they are to break down, although the bonus is that this season we don't have to win by two clear goals.'
A week later, battle between the two sides was joined again at Elland Road, and a tense and exceptionally tight match looked difficult to call, reaching the interval without a goal.
The Italians dominated the early minutes following the break, but after 67 minutes the whole complexion of the game was altered by a dazzling moment of brilliance by Harry Kewell. He picked up the ball 25 yards out on the left, beat a defender on the inside and let fly from well outside the area. Goalkeeper Antonioli got a hand to it, but watched in despair as the ball flew into the back of the net off the underside of the bar.
With nine minutes left David O'Leary sent on Alan Smith for a tired Michael Bridges who had run himself into the ground. The fiery frontman instantly got involved in confrontations with defenders, disrupting their concentration badly and leading indirectly to two dismissals. Zago was sent off for a second yellow card after a challenge on Smith, sparking chaotic scenes which resulted in Candella also seeing red for a butt on Huckerby.
However, nothing could take the shine off things for O'Leary. Coming back a little more than a year after being outclassed by Roma was cause for great satisfaction.
A week later it was on to the quarter-finals against Slavia Prague and it was something of a formality after a 3-0 first leg win at Elland Road. In between times, Leeds had three good Premiership wins against Coventry, Bradford and Wimbledon and seemed to have steadied the ship. However, things went very badly in April and it was then that the season hit the lowest ebb for Leeds.
They lost the second leg against Slavia with the first of 6 straight defeats, which saw them tumble to fourth in the Premiership. There was also the disaster of their European semi-final pairing with Galatasaray of Turkey. The deaths of two fans during terrible scenes before the first leg brought a feeling of disbelief and grief over the club, the city and football in general. No-one felt much like football after that and the wind had been well taken out of their sails.
Violence erupted the night before the first leg in Istanbul, as the customary 'Welcome to Hell' greeting became starkly prophetic.
Christopher Loftus, from Holbeck, Leeds, was stabbed through the heart, as fighting broke out, and died shortly afterwards. Later, Kevin Speight, lost his life after three hours in intensive care in a critical condition.
After consultations with UEFA it was decided that the game would still take place as Peter Ridsdale explained, 'The game will definitely go ahead, UEFA have confirmed that to me tonight. The rationale is that the game has to be played at some stage and we accept that on balance under the circumstances it is a fair decision. Tomorrow we'll have a considered view, but if you're asking me for the way I feel now, I'd have to say it's in real doubt, but I need to contact David O'Leary and UEFA officials.
'There have been suggestions that Leeds fans were getting boisterous, but a group of Turkish fans arrived to confront them already equipped with knives.
'We had three options. Option one was for the match to never be played, because we would have withdrawn from the competition, if we'd pulled out of tonight's fixture. Option two was to reschedule the game, which would have lead to an impossible situation through heightened tension. Option three was to go ahead and play.
'The reaction of the club is one of numbness and the reality will sink in when we get back, but clearly you don't expect when you set off to watch a football match to be dealing with such a tragedy. I would ask our supporters to understand that to do anything other than stay calm would be abhorrent. Football is not about travelling to watch a match and not returning home. We have had confirmation that the two men travelled independently, but however one travels you don't expect to have the sort of events we've had here. Whatever decisions we made we were bound to come in for criticism from some people, but after considering the options, we think we have decided the most sensible one.'
After the nightmare of those events, the actual match became somewhat meaningless for club, players and supporters, making a total mockery of what should have been another night of European glory for David O'Leary's side.
The United supporters who did make their way into the Ali Sami Yen stadium showed what they thought of the frightening events, by turning their backs to the pitch in protest as the teams lined up for the kick off. After 12 minutes, the world class midfielder Hagi found Arif out on the left and his pinpoint cross was headed in by Hakan Sukur from six yards out, with the Leeds defence nowhere. The Turks doubled their advantage on the stroke of half-time, when a ball played into the United box wasn't cleared and Oliviera Capone took advantage of the hesitation to force the ball home from six yards,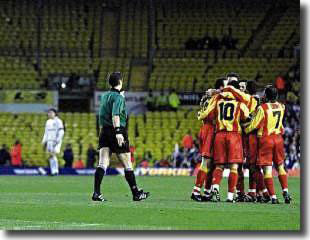 confirming an emphatic 2-0 win.
Afterwards O'Leary was critical of his defence. 'Both their goals were kids' mistakes. I don't think there was anything between the teams other than the two stupid goals we gave away. You cannot afford to give away goals like that and then miss chances like we did at the other end. The tie is redeemable, but not if we defend like that. If you look at their record they score goals away from home, which means the return will be difficult. But we never thought we would get as far as this, and we'll just keep battling and battling until the bitter end. Amazing things have happened in the past and I hope there's a few more to come.'
Jason Wilcox spoke of how difficult it was for the team to play the match: 'Our sympathy and deepest thoughts go out to the two families concerned. It is very sad and really there is not a lot we can say at the moment. It was an extremely difficult time for all of us to hear that two supporters had been killed. We were so disappointed that we couldn't get the result for the two people involved. But hopefully we can still go through and if we can get a good result at a packed Elland Road, we can dedicate the result to their memory.'
In the end UEFA decided that the Turkish club's fans should be excluded from the second leg at Elland Road and the match was played out in eerie surroundings.
After a frantic start with Harry Kewell twice threatening the Galatasaray defence and Michael Bridges clean through but thwarted by Taffarel's legs, the Turks rocked United on six minutes. Leeds had already had a warning when Arif shot over after a mistake by Ian Harte, but when Jonathon Woodgate brought down Hakan Sukur as he tried to round Nigel Martyn, Slovakian referee Lubos Michel pointed straight to the spot. Hagi's left foot did the rest despite Martyn guessing correctly, to leave Leeds with an even bigger mountain to climb.
Back came United and Kewell again went close as he forced Taffarel into another save, this time the Brazilian spilled the shot, but there was no Leeds player on hand to slot home the rebound.
Sixteen minutes in, Leeds equalised, when, after Wilcox had forced a corner on the left, his delivery was met by Erik Bakke, who glanced a header in off the right hand upright.
Disaster struck again four minutes before the break when a quick break by Galatasaray exposed a thin Leeds defence who were all pushed upfield and Hakan Sukur rounded Mills and Woodgate before beating Nigel Martyn.
If that wasn't bad enough, moments later Harry Kewell was sensationally and unjustly sent off for supposedly stamping on Georghe Popescu. Television replays proved that no contact had been made, but the Rumanian's play acting conned the referee into a dismissal.
However, after 68 minutes Leeds equalised for the second time. Galatasaray skipper Bulent nearly put through his own goal when he sliced an attempted clearance and from the resulting corner it was the old routine again, Bakke heading in from Wilcox's inswinger.
The second goal gave United new heart. Bowyer had a shot blocked and Bakke then went close to his hat-trick, but this time just failed to get his head to another Wilcox corner. Wilcox himself had an opening following a great run by Darren Huckerby, but the England international's shot was too close to Taffarel who saved comfortably. Chances late on fell to Bowyer and Huckerby, but neither could find a way past the Brazilian.
On a footballing front, the Turkish side had outclassed Leeds over both legs and were worthy winners. Undoubtedly, however, the shock of the incidents in Istanbul had sapped the will and resolve of everyone connected with the club. In those circumstances, a victory was highly unlikely.
A home defeat by Chelsea and a 4-0 thrashing by Arsenal at Elland Road (with Ian Harte sent off in the first half) rubbed salt in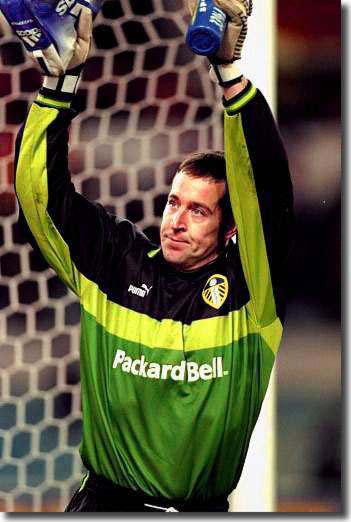 fresh wounds and left many at Elland Road wishing everyone would go away and leave them to their personal despair.
It is difficult to overstate exactly how badly the Turkish episode affected the club. The dignity of Ridsdale throughout this period was amazing and brought many admiring comments from outside the club.
But football goes on and there was no rest for a team which was looking tired, weary and emotional. Liverpool had already overtaken Leeds and Arsenal's win had pushed them up to third (and eventually second), but the Anfield club was now going through their own mini-collapse as the goals dried up. Leeds had two good wins against relegated Watford and Sheffield Wednesday, scoring three times in each, to move back into third place.
They could have been home and dry with a win at home to Everton and looked to be on their way when a Bridges goal gave them a lead, but were pegged back by Nicky Barmby when Martyn misjudged a bouncing ball and allowed it to go past him. The tension was there for all to see, but Leeds were still in the strongest position to take the last remaining spot in the Champions League for 2000/01.
Going in to the last day of the Premiership season, they were a point clear of Liverpool, but with a much inferior goal difference. Both clubs had away games to come, but Liverpool seemed to have the better chance, visiting Bradford City, who were in the dreaded relegation zone. Leeds had to go to West Ham.
As it turned out, Liverpool simply got swept aside by a tide of emotion at Valley Parade as former Leeds centre-back David Wetherall got the early power header that gave City the win they needed to keep them up. Leeds played out a sterile 0-0 draw at Upton Park and their dream was finalised - a place in the Champions League at the end of a long and testing season, which had seen them bridge the gap to the so called Big Three of United, Arsenal and Chelsea.
Euphoric David O'Leary hailed his side's efforts - after admitting he feared they had blown their chances of qualifying for the Champions' League. 'It's just reward for a young side,' O'Leary said. 'The goal was the Champions' League at the start of the year but I didn't think we'd make it and recently I thought we'd blown it. The last six weeks we've been like a ship that has got three quarters of the way across the ocean and then the engine has gone, but we managed to limp into port. We ran out of steam. Our own success in the UEFA Cup cost us, combined with the sad incidents in Istanbul. When I took the job people told me not to. They said the club was going nowhere but I think we've proven them wrong. I wanted to raise the profile of the club, make more people like us, get us playing attractive football and I think people now want to come here. I have to try and improve the quality of the squad but it's going to take time. We're not far away. We need a few more quality players and one or two older players will not do us any harm. That will go well with what we've got.
'The sparkle went out of us yet still we achieved our target. The fact that we're there can only help in our plans in the close season. What we have to do now is bring in one or two more experienced players to supplement the youngsters we have. People who before wouldn't come to Leeds may now think they are a good young side with a future. I have to now improve the quality of the squad which will take time. We're not far away and can only improve. We've got to go out and do well in the Champions' League and that means getting out of the first phase. That's our goal and that's what we have to try to achieve.'
The Leeds manager admitted he was a little jaded after a long hard season, but had learned so much from the arduous campaign. 'I'm the young manager in the pack. Try this job from the first day of July and you'll know what I mean. The experiences both on and off the field have had an effect and I'm now looking forward to a nice break.'
Despite the unhappy events in Turkey, 1999/2000 was in many ways the dawning of a fresh era for the Elland Road club. It was O'Leary's first full season in charge and he shook off once and for all the ghost of George Graham, in terms of both the team's style of play and his own standing in the game. There was many a Thursday evening which was reminiscent of the 60's and 70's, with this band of fresh faced youngsters disposing of classy European opposition seemingly as they wished.
They led the Premiership for weeks on end through the winter, flying in the face of the critics who kept forecasting that they would 'do a Villa' and go into free fall towards a mid-table finish. A poor late run destroyed any title ambitions they might have had, but they came back late on with enough good form to secure a spot in the Champions' League, when Liverpool looked like they had wrapped that one up.
In retrospect, the outcome would seem to be pretty much what could have been expected from a side which had finished fifth and fourth in the last couple of years, and was in line with David O'Leary's pre-season hopes. But that does not do full justice to the achievements of his young side over the season. They were deprived of Batty through injury from November, with David Hopkin also a long time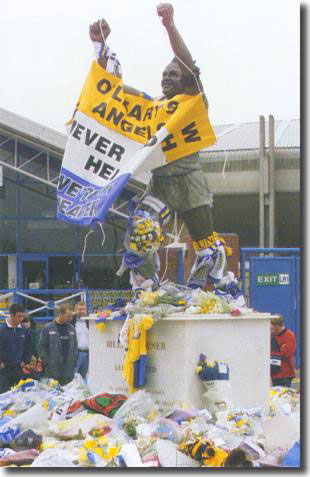 absentee. Radebe missed some key games mid-season while the African Nations Cup was in full swing. Lee Bowyer and Jonathan Woodgate had awful dips in form after their brush with the law.
But through all this, Leeds' band of youngsters held fast, with Bakke and McPhail stepping into the breech admirably. The mid-season purchase of Jason Wilcox brought new impetus and allowed the gifted Harry Kewell to really start delivering the goods up front. Nigel Martyn had an outstanding season in goal and Michael Bridges performed beyond all expectations.
The team as a whole had played at a level far beyond its tender years and looked forward to the new challenge of the Champions' League with excitement after a season in which they had won many new admirers.
Part 1 Leeds back in contention - Results and table
Other Football Highlights from 1999/2000
At the end of November, Roy Keane's goal helped Manchester United beat Palmeiras 1-0 in Tokyo to win the World Club Championship, but United did less well in the World Clubs Cup, losing out in the first stage, with David Beckham sent off. United missed the FA Cup to play in the tournament
Celtic dismissed John Barnes as their manager after less than a year in charge following a shock Scottish Cup defeat at the hands of Inverness Caledonian Thistle, who had only been formed six years previously. Director of football Kenny Dalglish took over until the end of the season. Former Arsenal striker Ian Wright left Celtic immediately afterwards, joining Burnley who won promotion to the First Division at the end of the season. Leicester City boss Martin O'Neill took over at Parkhead at the end of the season
One of England's greatest ever footballers, Sir Stanley Matthews, died at the age of 85 in February
Chairman Sam Hammam, the driving force behind football's greatest fairytale, left Wimbledon after 23 years during which he saw the club progress from Southern League to the Premiership and an FA Cup win
Defender Matt Elliott scored twice as Leicester beat First Division Tranmere 2-1 to win the Worthington Cup for the second time in four years
Maverick striker Stan Collymore scored a hat trick on his debut for Leicester in a 5-2 win over Sunderland In March Liverpool paid a club record fee of £11m to buy Leicester forward Emile Heskey
Barcelona beat Chelsea 5-1 and Real Madrid beat Manchester United 3-2 within a day of each other to end England's interest in the Champions' League at the quarter-final stage, but three days later, United won 3-1 at Southampton to win the Premiership for the sixth time in eight seasons, with four games still to play. They paid a British record fee for a keeper - £7.8m - to acquire Monaco's World Cup winner Fabien Barthez at the end of the season. United moved for Barthez in a bid to tighten up a defence which leaked 45 goals in the Premiership last season, 15 more than Chelsea, who finished fifth. During the season, three keepers had failed to replace Peter Schmeichel - Mark Bosnich, Raimond van der Gouw and Massimo Taibi
Real Madrid went on to win the Champions' League, beating compatriots Valencia 3-0 in a one sided final, with Steve McManaman among the scorers
Galatasaray beat Arsenal 4-1 on penalties after a goalless 90 minutes and extra time to win the UEFA Cup
Aston Villa goalkeeper David James gifted the FA Cup to Chelsea. The England international had striven for many years to rid himself of the 'Calamity James' tag. However, the cruel nomenclature came back to stare him full in the face as he made a terrible hash of Gianfranco Zola's 73rd minute free kick. He rose above a crowd of players, fumbled the ball into the back of Gareth Southgate, and presented Roberto Di Matteo with a simple opening from five yards, which he hooked home with glee. It was the only goal of the game, the last final to be staged at Wembley Stadium
Ipswich beat Barnsley 4-2 in the First Division Play-Off final to win a Premiership place
Dutch striker Jimmy Floyd Hasselbaink returned to the Premiership at the end of the season, with Chelsea paying a British record equalling fee of £15m to Atletico Madrid
England, under the leadership of Kevin Keegan, qualified for the European Championship finals after a lacklustre play off victory over Scotland. Keegan immediately tipped them for the title. England beat Germany with a goal from Alan Shearer, but lost to Portugal and Rumania after leading to go out at the first stage. Shearer quit international football after the tournament
France won Euro 2000, but for all their flair, the World Cup winners were just seconds away from failure against a defensive Italian team when substitute Sylvain Wiltord equalised with virtually the last kick of normal time. It was left to another sub, Juventus-bound David Trezeguet, to perform the final act - a tremendous shot from Robert Pires' pass for a truly golden goal
Germany snatched the rights to host the World Cup in 2006 from under the noses of South Africa in injury-time after 24 hours of high drama in Zurich. After the second round of voting, Germany and South Africa both polled 11 votes, with England getting only two votes. David Will of Scotland and Charles Dempsey of New Zealand - England's two backers in the second round - held the deciding vote in the crucial final round. Will backed Germany, and Dempsey abstained, so Germany secured a 12-11 victory