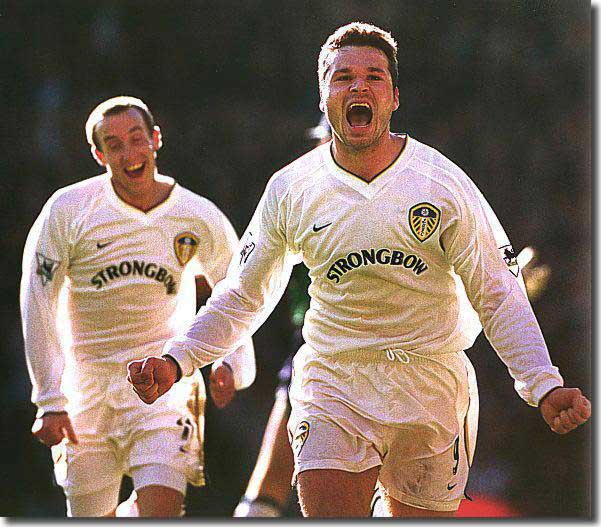 Burly Australian striker Mark Viduka wrote himself indelibly into the Elland Road folklore at the start of November 2000,with an amazing one-man destruction of a powerful Liverpool team, on the way to an end of season haul of three major trophies under the leadership of French manager Gerard Houllier.
The form of the two old rivals was in stark contrast as they approached the clash - Liverpool were sitting comfortably in third spot, while Leeds' stuttering form and long injury list had left them 10th. Of the five matches before the game, Liverpool had won the lot and Leeds none.
Neither did recent history between the two sides offer any crumbs of comfort. Alan Smith's goal on his debut and two from Jimmy Floyd Hasselbaink secured an unexpected win at Anfield in November 1998, but that was the only win Leeds had achieved over the Reds in the previous 11 encounters and one had to go back to the day of Tony Yeboah's magnificent volley in August 1995 to find Leeds' previous home victory.
David O'Leary had a complete team absent injured, the casualties including Nigel Martyn, Lucas Radebe, Harry Kewell, Danny Mills, Michael Duberry and Michael Bridges. O'Leary's options at the centre of defence were particularly scant and he switched former Anfield player Dominic Matteo to the back to partner Jonathan Woodgate.
Matteo's withdrawal from midfield meant a rare outing for Aussie Jacob Burns, while Olivier Dacourt and Lee Bowyer returned to bolster the side. Viduka was playing up front alongside Alan Smith, and had finally started winning round a critical Elland Road crowd after a slow start since moving from Celtic.
Leeds' injury list had been daunting all season and on this occasion O'Leary was only able to muster four fit subs. His Anfield counterpart was faced with an embarrassment of riches, however, and could afford to demote England forward Robbie Fowler to the bench, and he started with just £11m forward Emile Heskey up front, preferring to swamp midfield with five men, including former Elland Road favourite Gary McAllister. Surely, Leeds would be seen off by a superb looking Mersey combination in a match which kicked off at lunchtime in order to accommodate Sky's live TV coverage.
The early start looked to have caught Leeds unprepared and midway through the first half, Liverpool were odds-on to extend their hoodoo over the Elland Road side. In the second minute Patrik Berger swung in a left-footed free-kick from the right and Hyypia rose unchallenged to plant a firm header into the far corner. Markers were conspicuous by their absence, lessons remained unlearnt.
That wasn't the end of the defensive problems and after 17 minutes Jonathon Woodgate limped off, to be replaced by the inexperienced New Zealander Danny Hay. Before the defence could regroup, McAllister threw over a free kick from the left and the German defender, Christian Ziege, capitalised on the chance from the edge of the six yard box. His calmly taken header flashed past young keeper Paul Robinson to double the Reds' advantage.
With Woodgate gone and Matteo struggling to exert any control over the rampant Heskey, Liverpool looked as though they would score with every forward move,
while Bowyer's truculence was stretching the patience of referee David Elleray. Booked for a late tackle, Bowyer caught Heskey just below the knee with his studs and, on another day, might have seen red.
Alan Smith raised flagging Yorkshire spirits with a flashing header, narrowly wide, and Leeds forced their way back into the game after 25 minutes when the England hopeful was back again, persistent as a wasp in chasing Ziege down the right. He shut down the German and managed to block a weak clearance, leaving the ball careering invitingly towards Viduka in the area. He was cool and calculating as he flicked the ball over an onrushing Westerveld and in at the left hand post to put Leeds back in the game.
Leeds gained heart, but only a great save by Paul Robinson from Dietmar Hamann and Kelly's head, intercepting Heskey's goalbound header, saved the home side from heavier punishment.
Leeds had a good spell as the first half drew to a close and Dacourt shot fiercely from around 35 yards to call the best out of Westerveld. The ever confrontational Smith continued to niggle at the Liverpool defenders and a spat with Ziege led to the German picking up a yellow card. Bowyer took the free kick, only to see his shot blocked by Berger, who had not retreated the required distance. He followed Ziege into David Elleray's notebook and the ref decided that the retaken kick should be taken from ten yards on because of the offence. This was now within Ian Harte territory and he did not disappoint, although McAllister managed to deflect a goal bound effort against the foot of his own post.
After the interval, it took Leeds only a couple of minutes to get onto level terms. Full-back Gary Kelly stormed forward on the right flank to get into the danger area. The Irishman put over a measured cross which invited a deadly header from Viduka at the near post and Westerveld could do nothing about it.
Smith should have put Leeds ahead almost immediately but miscued horribly in front of an open goal, enabling Jamie Carragher to clear. Reprieved, Liverpool reasserted themselves, as Berger's cross was headed on by Markus Babbel but Kelly blocked his effort.
The Liverpool revival saw them start to dominate proceedings again and a period of sustained pressure led to another goal after 61 minutes. Hamann managed to free Berger on the left wing and the Czech's cross allowed his countryman, Smicer, to slip home, left footed from 10 yards to leave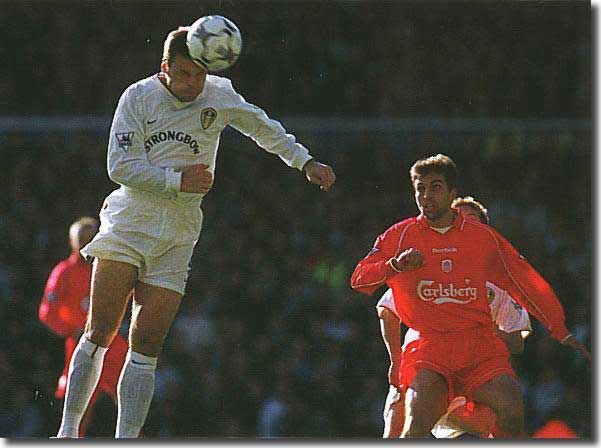 Leeds once more in arrears.
Surprisingly, however, far from wilting, Leeds weathered the storm and struck back with venom and menace. The all action Bowyer managed to work an opening, but saw his 20 yard lob clear the bar by a fraction.
Houllier took the opportunity to revive flagging fortunes and sent Fowler and Steven Gerrard on for Danny Murphy and McAllister, but the move backfired. The stage was set, enter the Aussie for a storming last twenty minutes.
Viduka brought the scores level again after 73 minutes with a goal that may not be bettered all season. Dacourt had again got in a goalbound effort which Ziege managed to block, but managed to feed the rebound back in to the striker on the right. He spun superbly to wrongfoot a stranded Liverpool defence with a classic move from quick and agile feet, then beat Westerveld coolly with a well directed drive to complete a sublime hat trick. It was a gem reminiscent of Cantona in his pomp.
He was not finished yet, however, and three minutes later added a fourth goal. There were suspicions of offside against both Viduka and Smith, but the Aussie didn't wait to see what happened and clipped the ball over the hapless Westerveld to ease Leeds into the lead for the first time that day.
Liverpool were stung into a last effort, and frenziedly fought for an unlikely equaliser. All they got was frustrated and bookings for Babbel and Gerrard as Leeds stonewalled some desperate efforts.
That last ten minutes saw Dacourt reduced to the level of passenger, but he refused to give way and exemplified some splendid resistence at the death to confirm one of the most outstanding and memorable of triumphs in recent seasons for this splendid Leeds side. They combined marvellously well as a unit to outmanoeuvre powerful opponents and nick three precious points against all the odds.
But the day belonged to their superb No 9. It was the first time a Leeds player had bagged four goals in a game since Allan Clarke against Burnley in 1971. But equally important, it gave Leeds a victory over one of their greatest rivals for a place in Europe.
Leeds manager David O'Leary was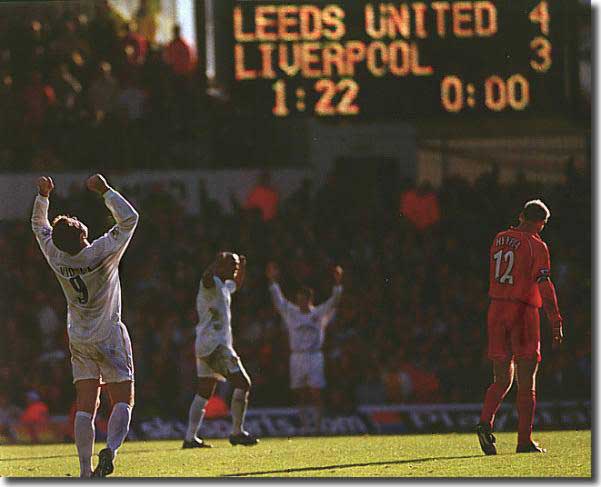 quick to praise his summer signing from Celtic: 'Mark's goals were superb. For £6m he is proving to be a real bargain. In Viduka and Smith we have two strikers who work really hard and that typifies this club which has a big heart and a great bunch of people.'
Acting skipper Gary Kelly was delighted with the result and also beamed over the performance of the Leeds number nine: "It was a great result and shows the character of the lads here at Leeds. Liverpool are a top class side and it is a big achievement to get a result against them, especially with so many of our squad out injured. Mark's goals were brilliant. He must take all the credit, but don't forget the work rate of Alan Smith. This will boost Mark's confidence no end and that's good news for him and good news for Leeds United."
Viduka himself had the last word as he looked forward to the crunch Champions' League tie against Milan on Wednesday: 'I got a couple of hat-tricks for Celtic but this is the first time I have scored four in a game at this level. I am getting fitter and stronger in every game, but there is still more to come from me when I fine tune all the aspects of my game. This was just one of those games when everything went for me. Hopefully there will be more to come starting in the San Siro on Wednesday. Mind you I would settle for just the one goal there if it is the one that gets us the win or the draw we need to get through to the next round.'
Not that David O'Leary was too bothered by the future at lunchtime. At the end, he bounded on to the pitch to enfold Viduka in a bear hug, shook hands with anyone in range and bounced through his press conference as if frightened that someone would tap him on the shoulder and wake him up. When he contemplates his diminishing defensive options for midweek against Andrei Shevchenko, the most lethal striker on the continent, the smile might wear thin but, for the moment, his side are surviving in the Premier League on a shoestring.
'At 2-0 down, I didn't think I'd be talking like this but with Viduka and Alan Smith, you've always got a chance to score goals,' the Leeds manager said, making a mental note to add the Liverpool defence to his Christmas card list. But it was not all Liverpool's incompetence. Viduka's goals varied from the merely efficient to the breathtakingly clinical, each one of them defying the clumsiness of some of his work and mocking the derision heaped upon him by some Leeds fans earlier in the season. The Olympics had revived the Australian, whose record of no goals in five games before Sydney and 10 in eight since, speaks volumes for the healing powers of home life. ;Superb goals,' O'Leary beamed, with a far away and twinkling look in his Irish eyes.