Part 1 A wonderful adventure - Results and table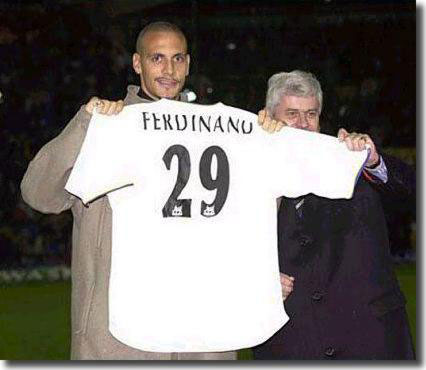 As the Champions League went on hold for a couple of months, attention switched back to the domestic challenge, but United's form started to fall apart. They drew at Chelsea and managed to squeeze a 1-0 win at Elland Road against title challengers Arsenal, but there was little else to celebrate apart from the arrival of a couple of big names.
David O'Leary had been trying to strengthen his squad further all season and progress in Europe brought new cash to the club. He had been chasing West Ham's classy England defender Rio Ferdinand for months, but it was still a shock when the clubs agreed an £18m deal, a world record for a defender. Ferdinand was given a hero's welcome by the Leeds crowd after being introduced to them before the game with Arsenal.
Ferdinand, who has spent his entire career to date with West Ham, said he had been won over by the ambition of Peter Ridsdale. 'It came as a big surprise when West Ham accepted the bid,' he said. 'But as soon as I spoke to the Leeds chairman, it was obvious they were a club which matched my ambitions. West Ham need to make money so it was a good deal for both parties. The Leeds manager David O'Leary was a world-class centre-half himself and that had a big effect on me. It doesn't bother me which formation I play as long as I am out on the pitch. The price tag doesn't concern me - it is made up by the money men like Mr Ridsdale and the chairman of West Ham.'
Ferdinand also became the most expensive British and Premiership player, passing the £15m Newcastle spent on Alan Shearer from Blackburn in 1996. Many were staggered by the size of the fee given that the very existence of the transfer market was uncertain. But Ridsdale said: 'We are in a market economy, when a rare commodity becomes available you have to pay a price. I don't think the transfer system will be abolished, it will be amended.'
Leeds were not yet finished in that market, and Ferdinand was soon joined in the squad by gifted young Irish striker Robbie Keane on an initial six month loan deal from Inter Milan. Keane had been frozen out since moving to Italy and was enthusiastic about a move to Leeds. Chairman Peter Ridsdale also secured an option to buy Keane for £12m in the close season if things worked out.
The striker chose the Elland Road club ahead of Chelsea, West Ham and Aston Villa when given the opportunity by his club. Ridsdale said: 'Talking to the lad, you can see his confidence hasn't suffered. He has an abundance of talent and we look forward to seeing it on the football pitch.
'We thank Inter Milan for their co-operation in this matter - there was a huge amount of interest in Robbie and it is to their credit that they asked him his preference and we are delighted he chose Leeds.'
United decided not to buy Keane outright following the purchase of Ferdinand. Ridsdale explained: 'After the £18m signing of Rio Ferdinand, we felt it imprudent to spend another £12m immediately - but by structuring a loan formula we have the player we want now without impacting on our financial position. As a plc, we have a duty to our shareholders to ensure that we manage our resources with maximum efficiency.'
Ridsdale stated that money would have to be sought to finance the purchase and there were three exits during the autumn as Robert Molenaar (to Bradford £500,000), Matthew Jones (Leicester £3.2m) and Darren Huckerby (Manchester City £3.2m) all left Elland Road. It was rumoured that left-back Ian Harte would follow them after losing his place to Dominic Matteo, but the Irishman fought his way back into the side.
Despite the arrival of two of the most gifted British players around, however, Leeds were struggling. Surprisingly, this coincided with the return from injury of a number of their crocks. Batty, Kewell, Wilcox, Woodgate, Martyn and Radebe were all now back in contention, but the side's form dipped badly. They had bad home defeats in the Premiership to West Ham, Aston Villa and Newcastle and could do nothing right on their travels. A scrappy 1-0 win at Elland Road in the Cup against Barnsley counted for nothing when two late goals by Liverpool at the same venue put them out in the next round.
It was a mystery and O'Leary sought in vain for the solution. He said that he thought some of it was down to the distraction of the upcoming trial of Woodgate and Bowyer for an alleged racist attack the previous season, but the two individuals (and particularly the dynamic midfielder) were in fine form and playing consistently well.
However, things started to settle down and despite both Viduka and Smith enduring a goal drought, Keane came into his own, at one time having a spell of five goals in five League games. Ferdinand was bedding in well at the back, although Radebe and Woodgate were having to share the other central defensive position after attempts to play with three centre backs went badly wrong. January was more promising and Leeds won 4-0 at Manchester City, 2-1 at Villa and beat Coventry 1-0. Newcastle managed a smash and grab 3-1 win at Elland Road, but it looked like the side had turned some sort of corner as they entered February.
Leeds won 2-1 at Ipswich in the Premiership on 3 February, and even though they were disappointed by the two draws which followed against Derby and Everton, they had by now climbed all the way back up to fifth place, within striking distance of qualification for Europe the following season.
The high profile trial of Bowyer, Woodgate, Duberry and reserve forward Tony Hackworth commenced during February and the players could have been forgiven for letting their minds wander, but Bowyer reached new heights, as if in defiance of what was happening around him. As in 1999/2000, he was in superb form in Europe and scored the winner as Leeds had to come from behind in the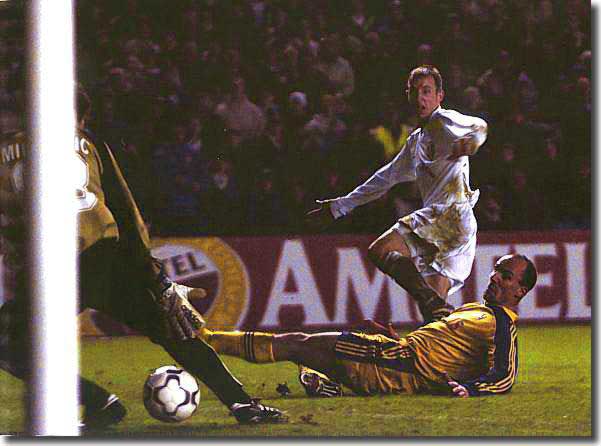 home game with Anderlecht as the Champions' League kicked off again. It was the midfielder's fifth European goal of the season, but he picked up a booking in that match and was suspended for the return a week later in Brussels.
In one of the greatest nights in the club's history Leeds devastated the Belgian team who had earlier beaten Manchester United and who had a long winning sequence on their own pitch. They were 3-0 up at half-ime as Smith and Viduka recovered the form in front of goal that had deserted them. Anderlecht pulled a goal back in the second half, but in the latter stages, the referee awarded Leeds a penalty for a foul on Viduka and Harte rocketed it home, to finish off a breathtaking 4-1 win. Like Bowyer, Smith was demonstrating an aptitude for unlocking European defences, and he had also now got five in the competition, with four of them coming in away matches.
Even better news was to follow as confirmation came through that Real Madrid and Lazio had drawn 2-2 at the Bernabeu Stadium. The result meant that Leeds could not be caught by either Anderlecht or Lazio, and that they had qualified for the last eight, along with Real, the first English club to do so that year. For a second time, Leeds had emerged from a so-called group of death, and bettered all expectations.
From there it was back to the Premiership and Leeds followed up their famous away victory in Belgium by putting paid to another club's lengthy unbeaten home run. It was doubly satisfying for manager O'Leary for the 2-1 victory came against his old mentor George Graham of Spurs. The White Hart Lane club were in disarray and it was soon afterwards that ENIC, the new owners at Tottenham, showed the Scot the door. Leeds showed no mercy in despatching the London club and Bowyer demonstrated that he could do it in British football as well when he cut across the area from the right to fire home the winner.
That set up the side for the major challenge of facing leaders and bitter rivals Manchester United at Elland Road on 3 March. The Old Trafford club were 16 points of second placed Arsenal and looked certain winners of the Premiership. Despite all the recent improvement in form, Leeds were still down in 6th and a victory looked beyond them, but the sight of those red shirts always brought out a determination in the Elland Road players and they set about the United defence with a relish.
It was a typically bad tempered encounter with few chances, but as half time approached, Leeds got a golden chance to take the lead when United keeper Fabien Barthez flicked out his foot at Ian Harte following a corner. The referee did not hesitate and awarded a penalty. The Elland Road faithful bayed for the dismissal of Barthez but he stayed to face Harte's penalty.
The Irishman was normally coolness personified at dead ball situations and was lethal from the spot, but on this occasion his shot was not as crisp as normal and the Frenchman saved it. Leeds went in at half-time badly deflated with nothing to show for their superiority.
Worse was to follow after 63 minutes when Nigel Martyn fumbled a long range United effort and substitute Luke Chadwick followed up quicker than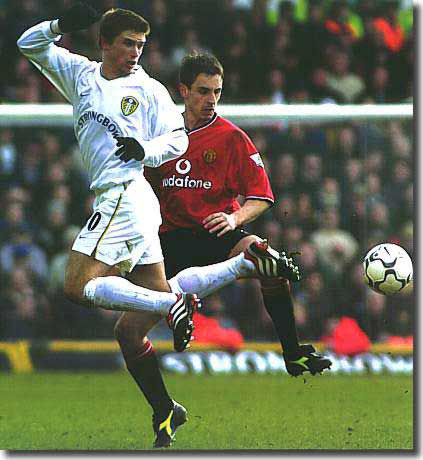 anybody else for an easy sidefoot into an empty net. Leeds looked devastated and it seemed that would be game, set and match.
However, O'Leary's men had discovered the old spirit and attitude of the Revie team of the Sixties and Seventies and they fought their way back in as the game wore on. With seven minutes to go, full back Danny Mills, in the middle of a purple patch of form, stormed up the right and dispossessed an unconvincing United defender. He raced to the byeline and pulled back a perfect cross. Alan Smith flicked the ball on with his head at the front post and Mark Viduka came flying in at the back to guide his header home and put Leeds back on terms.
In the closing minutes, Leeds pressed again on the right and Bowyer crossed into the area. United's young England defender Wes Brown panicked under pressure and stuck his boot out, deflecting the ball into his own net. The United ranks looked dishevelled and distraught as Leeds began to celebrate. But referee Graham Barber disallowed the goal for offside to tear away the gloss on what would have been a breathtaking win.
Leeds were devastated not to have won but had shown what they could do against a side that were easily the strongest around. Harry Kewell, now back from the injury which had kept him out for most of the season, had tortured United from the left wing and shown all his old tricks after coming on as sub for Dominic Matteo. They may have been disappointed, but Leeds were entering a period of excellent and irresistible form.
Brian Kidd had by now become O'Leary's assistant after a spell as Blackburn manager and years as Alex Ferguson's right-hand man at Old Trafford. The prospect of a clash with his old boss clearly delighted him.
It was already clear to people at Leeds that while Viduka, Ferdinand, Dacourt and Keane had all been good buys, Kidd may have been the cleverest. 'I don't believe I am an insecure person,' said O'Leary. 'If I had, I wouldn't have brought Brian on board. He did it as a player, he was a brilliant coach with Man United and he was a Premiership manager at Blackburn, but I wanted him to work with our players.
'When we played Man United at Elland Road, it was Brian's first match as head coach and I couldn't help noticing how United's players were so happy to see him again. They were all over him and I know our players feel the same.'
Kidd had sharpened up Leeds' act, working hard on their tactics and dead ball situations. He honed an already strong side and was at least partly instrumental in improving the side's form.
Viduka and Smith had started to recover their earlier scoring form and it was their goals which saw off Charlton and Sunderland, both battling for UEFA Cup spots, to lift Leeds to third spot in the Premiership by the end of March. Arsenal looked clear as runners up, but Leeds were locked in a desperate three way battle with Liverpool and surprise club Ipswich for the remaining Champions' League qualification spot.
| | | | | | |
| --- | --- | --- | --- | --- | --- |
| | Pos | | P | Pts | GD |
| | 1st | Manchester United | 31 | 70 | 47 |
| | 2nd | Arsenal | 31 | 57 | 20 |
| | 3rd | Leeds United | 31 | 50 | 8 |
| | 4th | Liverpool | 29 | 49 | 19 |
| | 5th | Ipswich Town | 30 | 49 | 8 |
| | 6th | Sunderland | 31 | 48 | 5 |
| | | | | | |
The Anfield club looked odds on favourites as they had by far the best goal difference and had matches in hand, but Leeds still had visits to Anfield and Highbury to come.
April saw Leeds hit a patch of amazing form which kicked off with a startling 3-0 win at Elland Road when they welcomed Spain's Deportivo La Coruna in the first leg of the Champions League quarter-finals. Rio Ferdinand had taken over as captain in the place of Lucas Radebe, who had sustained an injury against Real Madrid and was out for the rest of the season. Ferdinand had now formed a solid centre back partnership with Dominic Matteo and headed Leeds' third goal from a corner against Deportivo to wrap up the first leg and scored again a couple of weeks later to give Leeds the lead when the club played their vital match away to Liverpool, coming away with a shock 2-1 win.
The team was now on fire and much of the surge in form was down to the pairing in midfield of Olivier Dacourt and the restored Batty, who had brought a calming assurance and authority to the side. Many critics had felt that a Batty-Dacourt pairing would have been overly defensive, but the duo were complementing each other perfectly.
David Batty had his own doubts about the combination and described things thus in his autobiography:
'Against Boro [on New Year's Day] we were substandard again. It was the first time Olly Dacourt and I played together in central midfield, and it just didn't work. We were too similar, with me slipping instinctively into my role as the anchor man and Olly unable to free himself from the same job, which he had been doing for months in my absence. We were both playing too deep and I had instant misgivings about our ability to play together. Now, I've never been short on self-belief, but I admit that the thought flashed through my mind that one of us would have to go if we didn't sort this out - and that it might well be me.
'Me and Olly were paired together again for the trip to Ipswich early in February. Ipswich had stunned us with an early season win at Elland Road, but, by now, the promoted Suffolk outfit was recognised as the shock team of the season. So our win at Portman Road was a significant one and, with me and Olly gelling properly for the first time, the day was a turning point in our season.
'By the time of the Anderlecht matches me and Olly were getting better and better as a midfield pairing. We were starting to complement each other. Olly knew instinctively that I would be in position behind him if he moved forward, and I had similar confidence in him. We were working hard for each other, a crucial necessity in the centre of the park, which is always the hardest area of the pitch to control. If you get that control you usually win, and we were starting to do that. Yet it was something we never discussed, not even during our sluggish start in the side together. I think that good players have an innate ability to know what is required of them and to produce it. That is what happened with us.'
Leeds had now suddenly become the form side in England and favourites for third place. They were fast catching up Arsenal who had stumbled badly when losing 3-0 at home to Middlesbrough a day after Leeds' Good Friday triumph at Anfield.
During the week, however, matters had come to a head in the trial involving Bowyer and Woodgate in that the Sunday Mirror of 8 April had carried an inflammatory interview with the father of the victim of the alleged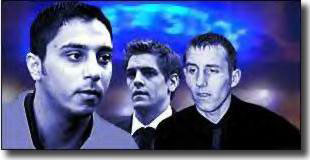 assault in which he repeated all sorts of accusations that there had been racial motivation. The following day, the judge presiding over the trial called a halt to proceedings when it was found that at least one member of the jury had seen the report over the weekend. He reasoned that a verdict would not have been safe in the circumstances and ordered that a retrial should be arranged for the following October.
An assault on an Asian student had taken place outside the Majestyk nightclub in Leeds in January 2000. Midfielder Lee Bowyer and defender Jonathan Woodgate, along with reserve forward Tony Hackworth had been charged with grievous bodily harm with intent, along with two friends. Michael Duberry was also charged with conspiracy to pervert the course of justice.
Duberry and Hackworth were acquitted, but while the jury were out considering their verdicts on Woodgate, Bowyer and the others, a number of them saw the article in the Sunday Mirror. Mr Justice Poole, presiding said, 'It is, to put it mildly, not at all desirable that a crime and therefore a suspect, should be labelled racist when it is the prosecution submission they are no such thing. The whole misleading issue of a racial motivation which the prosecution and defence have sought to exorcise has been revived and placed before the jury in highly emotive terms.' The judge said there was 'a clear and substantial risk of prejudice raised by the article', adding that justice would not be served if the trial continued.
It was an astonishing chain of events, which meant that the defendants would have the cloud hanging over them for another six months at least. It was bizarre and Peter Ridsdale spoke openly of his club's astonishment at the turn of events. That Bowyer could continue his excellent form and score at Anfield was testament to the fortitude of his character. It was also revealed that for the last few months Woodgate had not been missing through injury, but that the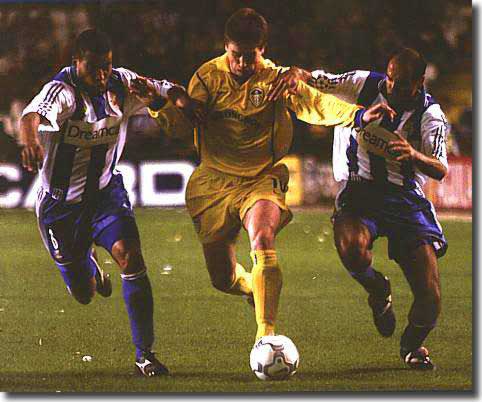 spectacle of the trial was proving too much for him to endure and he was being rested for other reasons.
The bombshell at least meant that both players were available for selection for the return leg against Deportivo, although Woodgate was not to play again before the end of the season. Leeds travelled to Spain with the security of a 3-0 lead behind them but were thrown into panic when Harry Kewell gave away a penalty early on following a push at a corner. A second goal went in before half-time to further reduce the arrears, but the beleaguered Leeds defence held on throughout the second half to progress after a 3-2 aggregate win.
There was more good news before the end of April, when striker Robbie Keane, who had been on loan since December, completed his £11m transfer from Inter Milan. Leeds came to an agreement with the Italians over payment and the Republic of Ireland striker signed a five-year deal.
Peter Ridsdale explained that the fee for the 20-year-old would be paid in instalments over a three-year period. 'The funds are in place and are part of a three-year deal," the United chairman said. "The money for the transfer fee of 11 million pounds has already been covered by guarantee. This means that we are not trying to sell players in the summer merely to find the money to pay for Robbie Keane, because that deal is done and, with it being a foreign transfer, we can pay the balance over a three-and-a-half year period.'
Keane himself was delighted with the move. 'It has been very frustrating but there is nothing I can do about it,' he said. 'I knew when I came here I wouldn't be able to play in the Champions' League games this season. But now we have put ourselves in a good position to qualify for the competition again next season. There are still some tough games between now and the end of the season, but we just have to keep going and try to finish it on a high after our good run since the turn of the year.'
Manchester United and Arsenal had been eliminated from the Champions' League, leaving the Yorkshiremen as England's sole representative in the Champions League, with a semi final battle against Valencia to come. The Spaniards had ousted Arsenal and in 1999/2000 had reached the final before losing to Real Madrid, so represented difficult opponents.
In the run in to that challenge, Leeds managed to continue their good form in the Premiership, with a 2-0 win at West Ham and a victory at Elland Road against Chelsea, thanks to two late goals from substitute Keane and Viduka, with a powerful drive after muscling his way past Marcel Desailly. David Batty had been sent off for an elbow on West Ham's Joe Cole in the first match and now faced suspension from the club's final three domestic matches, including the crucial trip to Arsenal.
Those vital and timely goals against Chelsea had preserved Leeds' third position, but their rivals were proving extremely resilient in maintaining their challenge. Liverpool, in particular, were making a habit of securing late wins and the form of Elland Road old boy Gary McAllister was galvanising the Anfield club. They had a far superior goal difference to both Ipswich and Leeds and looked ominously strong.
| | | | | | |
| --- | --- | --- | --- | --- | --- |
| | Pos | | P | Pts | GD |
| | 1st | Manchester United | 35 | 80 | 52 |
| | 2nd | Arsenal | 35 | 66 | 25 |
| | 3rd | Leeds United | 35 | 62 | 15 |
| | 4th | Ipswich Town | 36 | 62 | 14 |
| | 5th | Liverpool | 34 | 59 | 23 |
| | 6th | Chelsea | 35 | 54 | 21 |
| | | | | | |
The top of the table now read:
David O'Leary seemed to be writing off Leeds' chances of qualifying for the Champions' League through the Premiership, although many judges put that down to the Irishman playing psychological games. But when O'Leary promised that he would be resting players in the match at Highbury, it seemed he was serious. The Arsenal match came in between the two legs of the semi final with Valencia and O'Leary had unsuccessfully attempted to get the match postponed, but the Premiership were having none of it.
The first leg at home to Valencia on May 2 saw the Leeds side look very weary and strained and they carved out few openings against a side which were assured and confident, with Mendieta living up to his star billing on the right flank.
Ian Harte gave Leeds hope as early as the third minute with a trademark long-range shot that was turned over by Valencia keeper Canizares. But it was opposite number Martyn who took the honours with two brilliant first half saves. He denied Arsenal's quarter-final conqueror John Carew with a brilliant diving save to his left from an acrobatic overhead kick after a cross from Juan Sanchez. Martyn was powerless when Gaizka Mendieta put a header on target after 17 minutes, but he watched with relief as it rebounded to safety off the crossbar.
Leeds finally created a chance of their own seven minutes before half time when Harte's free kick was headed across the face of goal by Harry Kewell. Rio Ferdinand had the first telling touch, but Alan Smith somehow diverted the final header wide from only two yards.
O'Leary's side had Valencia rocking - and Bowyer was agonisingly denied by the woodwork after 69 minutes. Smith's chip left Canizares stranded, and when Viduka failed to make contact inside the six-yard area Bowyer looked certain to score only to head against the bar with the goalkeeper out of position.
However, Leeds could not make the breakthrough they craved and had to settle for a goalless draw. Things looked very ominous at the end and were to get worse.
In the second half Lee Bowyer was captured on TV cameras treading on the chest of a grounded Valencia player. It looked innocuous enough at the time and there were few protests from the Spaniards, but UEFA took a very hard line approach and banned the key midfielder from the return leg in Spain, much to O'Leary and Ridsdale's exasperation.
The Highbury match with Arsenal looked to be a bridge too far for Leeds when they went a couple of goals down early in the second half, even when a masterly Ian Harte free kick brought them back. Martin Keown went over the top in a couple of incidents and left Keane so injured that he missed the rest of the season. Tony Adams and Keown had been wound up in previous encounters with Alan Smith and even the absence of the young Yorkshireman didn't quell their fire. They were taking no prisoners and adopted rough house tactics to blunt any threat that Leeds might have posed.
The 2-1 victory left the Gunners certain of Champions League qualification and allowed Liverpool to slip into third. Ipswich's midweek defeat at Charlton had blunted their charge, but they remained level on points and goal difference with Leeds, although the two clubs were now effectively scrapping it out for fourth spot, as Liverpool were three points clear with only two matches to come.
The fire and determination that had inspired Leeds since Christmas had been seen only in flashes at Highbury and had disappeared altogether when they faced Valencia in the crucial Champions' League semi-final second leg. Mendieta led Ian Harte a merry dance and struck repeatedly at a dispirited team. A lucky goal in the first half, with more than the suspicion of a handball about it, had given Valencia the lead, but two early goals after the interval killed off the match as a contest and after that the win was a formality.
Frustration and despair were etched in the faces of the dispirited Leeds players as their dreams of glory ebbed away, but Alan Smith took retribution with virtually the last kick of the game when he launched into an ill judged two footed assault on a Spaniard and was instantly and rightly dismissed.
It was a sad and undignified end to what had been a marvellous European adventure, conjuring up glorious memories of thirty
years before when Leeds had been one of the most feared teams in Europe. Two European semi-finals in successive seasons had been unexpected and magnificent achievements, but in the final analysis all the spirit and fire in the world had been insufficient weaponry to create another upset.
The day before the Valencia match, Ipswich had stolen fourth spot when they ended Manchester City's fight for Premiership survival by winning 2-1 at Portman Road. Liverpool's 2-2 draw at home to Chelsea on the same night as Leeds were getting hammered in Spain had left them clear in third spot.
On Saturday, 12 May, Liverpool fought back from being a goal down to beat Arsenal in the FA Cup final. Most of the English programme had been postponed because of the game, but the following day, Leeds bounced back from the depths of a desperate week to hammer already relegated Bradford City 6-1.
Viduka, Harte, Bakke, Smith, Kewell and Bowyer scored the goals that emphasised the gap between the two sides. Leeds were 5-1 up at half-time, and seemed to drop a gear in the second half, but the win was a defiant message that Leeds were still a force to be reckoned with. They had drawn level on points with Ipswich, but now had a much superior goal difference to the Suffolk club. With one match left, at home to Leicester, while Liverpool and Ipswich had to travel to Charlton and Derby, any one of the three sides could still qualify for the remaining Champions' League spot. If Leeds could win, only a Liverpool victory could deny United the third place they had been chasing for weeks.
The pressure of the occasion clearly got to O'Leary's young side and they struggled to impose themselves on a Leicester team which was in a dire spell of form. Having led the Premiership table until the previous October, they had lost all shape and when they visited Elland Road were on a long run of consecutive defeats.
A mistake by Marshall on the left after 28 minutes allowed Kewell to pinch possession and his low cross across the face of goal saw Marshall and Alan Smith in a race for the ball, with the United striker just getting the final touch from four yards out.
But Leeds were rocked by a Leicester equaliser just four minutes later. Impey's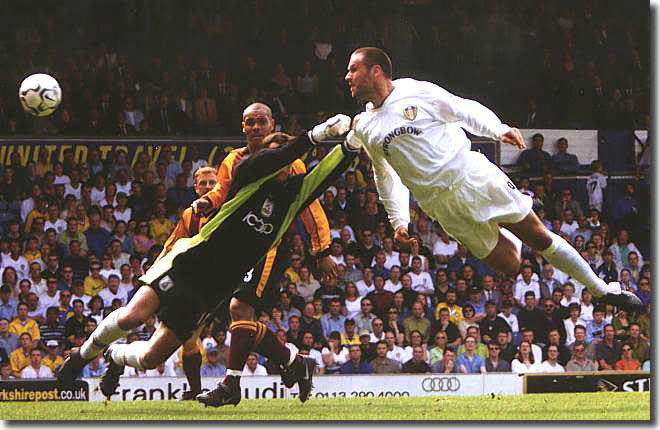 cross from the right was met by Lewis, whose header thumped against the bar and struck Rio Ferdinand who could do nothing as the ball bounced off his leg and over the line.
But four minutes before the break Leeds were a coat of paint away from restoring their lead, Viduka's deft touch past Flowers from a flick down by Smith rolling against the left post and allowing Leicester to clear to safety. United ended the half on the attack with Smith's cross deflected behind for a corner, but knowing they must score again to put pressure on Liverpool who were being held at Charlton.
When the news came through that Liverpool had taken a second half lead at Charlton, Elland Road began to take on an air of anxiety, summed up by Danny Mills shot from the edge of the area that flew well wide. Kewell headed over the bar from just three yards out after a great cross from the right by Mills, just as Liverpool went two up at The Valley. Then Viduka hit the angle of post and crossbar as Dacourt's brilliant run and cross was perfect for Leeds' leading scorer.
Akinbiyi's shot tested Martyn in a rare foray forward by Leicester, but Dacourt ended his season with a brilliant curling 20 effort that thumped against the bar. The French midfielder was replaced by Jason Wilcox moments later.
The United dominance finally paid off on 77 minutes. Danny Mills was fouled 30 yards out but as Leicester's wall failed to retreat the full distance referee David Elleray advanced the position ten yards and Ian Harte's trusty left foot did the rest, curling the ball into the top right corner of the goal.
Nigel Martyn and his defenders had to block one effort at the right post, Smith put a volley over at the other end, but then added a third goal two minutes before the end when he poked the ball past Flowers after great work by Viduka.
That sparked wild celebrations at Elland Road, despite the disappointment of not making it back to the Champions' League. United's hopes of grabbing third spot in the Premiership and the final qualifying spot were dashed by a comprehensive Liverpool win at Charlton. But United had ended their season on a high and ultimately it was the shaky first two months of their Premiership campaign that robbed them of the chance to compete on Europe's highest stage the following season.
It had been the most exciting season that Leeds fans had known since the championship win in 1992, and the most memorable European challenge since the ship of Bremner, Giles, Clarke, Lorimer and Jordan had run aground against the rocks of Bayern Munich in the ill-fated European Cup final of 1975.
David O'Leary had delivered a remarkable team and a remarkable season to an adoring set of fans, who could look back fondly on halcyon nights in Munich, Milan, Rome and Brussels in a way they had not known for 25 years.
Part 1 A wonderful adventure - Results and table
Other Football Highlights from 2000/01
George Graham was accused of 'verbally abusing' Tottenham executive vice-chairman David Buchler at the meeting which led to him being sacked as manager of the London giants. Graham threatened to take legal action over what he called the club's 'bizarre and inexplicable' decision to dismiss him after two-and-a-half years in charge at White Hart Lane. He also insisted the club's new owners ENIC always intended to replace him after buying the club from Sir Alan Sugar and moving in just 10 days before. Graham was sacked after a 15-minute meeting with Buchler, who claimed he was provoked into making the decision by the tough Scot's 'aggressive attitude'
Martin O'Neill led Celtic to a glorious Scottish Championship win. The 1-0 win at Parkhead against St Mirren on 7 April was enough to confirm only a second crown in 13 seasons, as a delighted Celtic Park crowd saluted their heroes - who won 19 of 22 unbeaten games to wrestle the championship from Rangers. There were still five games to go, and it is the earliest point in a season that a Scottish title has been won since 1975, coming even before the league splits into two after this round of fixtures
The Football League disciplinary panel recommended that Chesterfield should be deducted nine points and fined £20,000 following their three-day inquiry into illegal payments. The inquiry dealt with 90 separate allegations against the club and its former chairman Darren Brown. Most were found not proven, but the tribunal did conclude there had been a breach of regulations concerning the transfer of Luke Beckett and the under reporting of gate receipts. Inquiry chairman Gordon McKeag called for a transfer tribunal to be reconvened in order to determine a transfer fee or compensation payment to Chester City and Barnsley over the Beckett move
West Ham manager Harry Redknapp left the Premiership club by mutual consent. The move came after a season which saw the London club struggle in the league. West Ham only secured their top-flight status with victory against Southampton in the penultimate game of the campaign. They beat Manchester United in the FA Cup but that adventure came to an end with a quarter-final defeat by Tottenham. Former West Ham player Redknapp, 54, had been in charge since August 1994 and was the second longest-serving manager in the top-flight behind Sir Alex Ferguson. He said, 'I've had a chat with the chairman and just feel it's been a tough season. The last eight weeks or so of the season haven't been particularly enjoyable and I feel that, maybe, it's time for a change. I would like to thank the chairman and the board for all the support they've given me since I've been at the club.' Redknapp's assistant Frank Lampard senior also left the club and Glenn Roeder took over as caretaker manager for West Ham's final game of the season against Middlesbrough
Sacked Manchester City manager Joe Royle promised to return to the game. Royle, dismissed over 'fundamental differences' over the club's future, said he had already started planning for next season prior to his surprise dismissal. He told the official City website: 'I must admit I came in this morning with the idea of making plans for next season but I sensed immediately that it wasn't to be. It all ended amicably. I spoke to the chairman this morning. It was a three-minute meeting, I shook his hand and left.' Royle, who led City from Division Two to the Premiership in successive seasons, plans to return to management. Kevin Keegan was installed as new boss just days after Royle's departure