As Leeds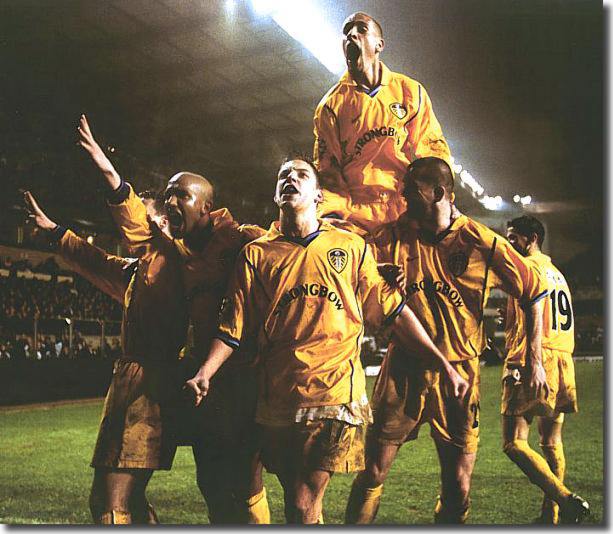 United prepared for their vastly important Champions League second phase group game on Thursday February 22, 2001, they were lying handily placed in the group, second behind leaders and holders Real Madrid. After losing 2-0 at home to Real, Leeds had won in Rome against Lazio and come from behind to beat Anderlecht a week previously at Elland Road, with goals from Ian Harte and Lee Bowyer.
They now faced a big test at Anderlecht's Stade Constant Vanden Stock, where the Belgian Champions had won 21 straight victories, as well as their last nine in Europe. Such an astonishing run had included the notable scalps of PSV Eindhoven, Dynamo Kiev, Lazio and Manchester United. If Leeds were to lose they would be back level on points with Anderlecht.
Leeds had been lucky to beat the Belgians at home and Aimé Anthenuis, Anderlecht Head Coach, had said: "The result was not, for me, a correct reflection on the game. It was more like a 1-1 result when you think of the chances that Leeds had, I think they had just three or four. Every game is difficult but on what I have seen tonight I think we will have our chance to win when we meet Leeds at home. I did not see Leeds as a strong side."
Those comments had the effect of geeing up a Leeds side who had a rare weekend off in between the games and prepared manager David O'Leary's motivational team talk for him. The players were well up for the game, determined to make the Belgian boss eat his words.
As the smoke cleared from a score of red flares which greeted the teams, it was the double act of Alan Smith and Mark Viduka who emerged to electrify the evening. Smith had not scored since netting the winner against Lazio in Rome on December 5, an 11 week goal drought, and had been forced into playing mainly as a substitute since the high-profile arrival of Robbie Keane at Elland Road, but with the Republic of Ireland international star ineligible for Champions League football, Smith had stepped back into the breach.
Leeds kicked off the match on a cool evening in the Belgian capital but Anderlecht dominated the early exchanges. A couple of set pieces by Harte early on came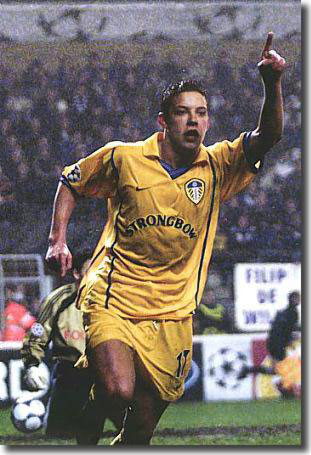 to nothing, but Smith and Viduka showed signs pretty much from the whistle that they would give the Belgian team problems.
After 13 minutes the pair combined to give Leeds a precious lead. From Harte's throw in on the left, Smith headed the ball on to Viduka who caught it before it reached the byeline, turned, looked up and pulled the ball back across the area. Eirik Bakke's dummy run threw the Anderlecht defence and Smith darted in to side-foot his shot past Zvonko Milojevic from 10 yards out.
The United bench erupted as the partisan Belgian crowd was stunned into silence. Having taken the advantage, Leeds showed they would not be prepared to settle for a defensive rearguard action and they more than held their own in the first 45 minutes.
Smith was in typically spiky mood and intent on making his presence felt, leading to a lecture from referee Pederson, but worse followed after 27 minutes when Danny Mills was booked for a foul on Radzinski, ruling him out of the next group game in Madrid. However, any disappointment felt by O'Leary was short lived as his young team tore Anderlecht apart, doubling their advantage six minutes later.
Leeds spread the ball from right to left, with Olivier Dacourt feeding Dominic Matteo, prompting a surge down the flank. He delivered a curving and lofted cross to the far post where Viduka beat his man to the ball. The Australian's looping header seemed to hang in the air for an age before dropping over the keeper into the net.
For the Australian international it ended a run of nine matches without a goal, and from that moment the confidence in the United camp soared to such an extent they sublimely carved open Anderlecht again in the 38th minute.
The home defence were still conducting their inquest when O'Leary and his coaching staff were cavorting on the touchline again. Smith picked the ball up just inside the Anderlecht half and there was a smart interplay between the Leeds midfield with a series of one touch passes leaving David Batty to play an inch perfect ball through to the edge of the area. Smith spied the advancing Milojevic coming to meet him and, with the home defence nowhere, he chose to lift an exquisite chip over the keeper, for one of the most masterly goals of United's amazing season.
Leeds fans with long memories could still remember the last time United played away to Anderlecht, in 1975 when Billy Bremner chipped the only goal of their European Cup quarter-final with such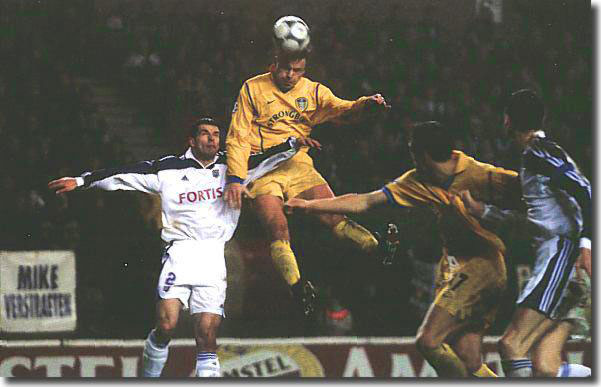 delicacy that Anderlecht's goalkeeper Leen Barth trotted upfield to shake his hand. No repeat here: poor old Milojevic could barely pull himself to his feet after Smith's masterful touch.
Anderlecht were effectively dead and buried from that moment on and on a playing surface resembling a potato field Smith and Viduka continued to weave their elaborate patterns after the restart and, rather than rest on their laurels, Leeds maintained the upper hand.
Moreover, Rio Ferdinand and Lucas Radebe stifled the Belgian attack so expertly that Nigel Martyn spent much of the second half as a spectator until the 76th minute when the giant striker Jan Koller beat Martyn's punch to head in Didier Dheedene's free-kick.
At the time Anderlecht were threatening an unlikely comeback during a 10-minute purple patch and either side of the goal Martyn produced superb saves to deny Bart Koor and Koller, before the game was finally killed off nine minutes from time when Ian Harte stroked home his fourth goal in eight matches from the penalty spot after Viduka had been brought down by Glen de Boeck.
All that remained after Norwegian referee Rune Pederson's final whistle on a night to remember for Leeds was an agonising wait for the score to come
through from the Olympic Stadium in Rome.
At least three minutes elapsed before a 2-2 draw was confirmed, ensuring Leeds' qualification as the first English team into the last eight ahead of Manchester United and Arsenal - and at their first attempt.
A delighted O'Leary said: "I am immensely proud of my players because there were a lot of things said after the game in Leeds and there were a lot of things written in the papers here before the game tonight. It was particularly useful that we have Olivier Dacourt in our side who was able to translate for us from the French. The motivation was in the players. They didn't need me. We showed it's not about talking in the papers, it's about going out and doing it on the pitch and shutting a few people up.
"We looked a lot fresher for having Saturday off - although I would have loved to have been in the FA Cup - and it was a combination of those things which gave us our win. I don't think we are a bad little team. I take great pride in coming to a great club like this, and with the record they have here, and beating them well. It has been said we are a bad team, or an average team, but our comfort comes in the words from people like Fabio Capello, Sven Goran Eriksson and Alberto Zaccheroni who have all said we are not a bad young side. All credit to the players because they earned this result."
On Alan Smith's super show he added: "Having Robbie Keane here is
not a bad thing because it has given us the chance to give Alan a bit of a breather. He went off a bit but he has come back in and done very well tonight."
O'Leary, however, did not feel Leeds could win the tournament outright and he added: "We will try and keep going. Nobody gave us a hope in the first group and nobody gave us a hope in this group, but now we are so proud to be in the quarter finals with two games still remaining. But we are not going to win this competition. I am just delighted to have reached this stage, so I am not fussed either whether we finish first or second in this group."
Coming after glorious evenings already in Munich, Milan and Rome, the win topped even those triumphs and Alan Mullery, commentating on the game for Sky Sports, described the performance as the best ever by an English side away in Europe. It certainly ranked alongside all those marvellous midweek occasions in Europe under Don Revie during the 60's and 70's. David O'Leary's babies were rapidly turning into battle hardened European warriors.