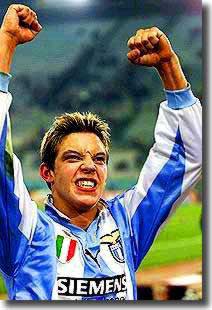 Leeds United had performed wonders and amazed even their staunchest supporters by qualifying from the first group stage of the Champions League and putting out mighty Barcelona. However, their reward for that amazing effort was another major challenge - they were pitched into a group which comprised holders Real Madrid, Lazio of Rome and Anderlecht, who had beaten Manchester United in the first stage.
Popular opinion was that Leeds would finish bottom of the group, especially when Real showed them a clean pair of heels and a touch of class in the first game of the group, winning 2-0 at Elland Road.
There seemed likely to be only one outcome as Leeds travelled to Rome for the second game, against Lazio, managed by England manager-elect Sven Goran Eriksson. The Italian side could field the second most expensive player in the world, £36m forward Hernan Crespo. They also boasted other world class stars in goalkeeper Peruzzi, the Italian international centre back Nesta, an all star international midfield in Simeone, Veron and Nedved and up front the Chielean Salas, while Fabrizio Ravanelli was left warming the bench.
Leeds went into the game off the back of a disastrous 3-1 defeat at Leicester City. They had given £18m record buy Rio Ferdinand his debut at Filbert Street, but the 3-5-2 formation had come badly unstuck and England international Jonathan Woodgate had been panned by manager David O'Leary after being taken off in the first half. Ferdinand was ineligible for the Lazio game, so Woodgate was retained in a back four alongside skipper Lucas Radebe as Leeds reverted to a standard 4-4-2 formation. Young keeper Paul Robinson continued to deputise for the injured Nigel Martyn while David Batty, Michael Bridges and Michael Duberry were also still unavailable. Aussie star Harry Kewell, however, was nearing fitness after a lengthy absence and was among the subs. Ian
Harte was also a sub and Dominic Matteo continued in his place at left back, with Jason Wilcox giving the side attacking options on the left.
Against all expectations, it was the Lazio backline which had more to worry about in the early stages as Leeds, aggressive in midfield and determined to carry the game to the Italian champions, began impressively. Twice in the first 10 minutes Lee Bowyer exposed weaknesses with free-kicks from the right as Peruzzi stayed on his line.
From the first moments, Woodgate looked determined to make up for his nightmare at the weekend, and almost redeemed himself with a header which was comfortably held by Peruzzi. Then Mark Viduka, with his head, and the unmarked Alan Smith, with his foot, were close to touching in a low centre.
If further encouragement were needed that set-pieces could prove a source of success for Leeds it arrived shortly after when Lombardo kicked an Eirik Bakke header off the line following Bowyer's corner. And with Lazio initially struggling to find any real fluency, and Viduka a handful up front with his touch and movement, Leeds were looking quite comfortable.
Gradually, though, Lazio found some momentum, looking particularly dangerous down their right flank as Juan Sebastian Veron wreaked havoc. Not long after Crespo had escaped his marker, Radebe, and found the side-netting, Pancaro headed against the bar from little more than a yard. Just after the half-hour an increasingly dominant Lazio were again left wondering how they had failed to score. Veron, playing despite a hairline fracture of the shin, sent Favalli scampering down the left wing and the full-back's excellent cross was sent back goalwards by the flying head of Salas, only for Woodgate to continue his outstanding performance by heading off the line.
Even so Leeds should have been ahead at half-time. Despite the pressure from the Italians, United so nearly sneaked ahead moments before the break, Lee Bowyer just failing to turn the ball in from a tight angle when Mark Viduka tricked the Lazio defenders and delivered a telling chipped cross to the far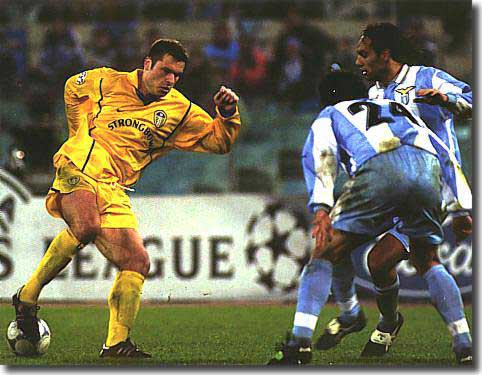 post.
The interval did not seem to disrupt Leeds's rhythm. They kept possession well, looked dangerous on the counter-attack and continued to repel the best Lazio could throw at them, though a reminder of how costly the smallest error could be arrived when a Bakke mistake culminated in Lombardo hitting the side netting from a Pavel Nedved cross.
The hard-working Olivier Dacourt shot just over from outside the area shortly before the hour with Peruzzi struggling and although Nedved, after a fine turn, and Simeone came close at the other end this was by no means one-way traffic.
Almost every time Leeds pressed they caused problems. It needed a fine tip-over by Peruzzi to keep out a close-range Viduka effort which took a deflection and Woodgate, up from the back, shot wide when given a clear sight of goal from around 16 yards out. Then Viduka went agonisingly close to giving Leeds the lead, but he was unlucky to see his powerful drive fly wide when Lazio failed to clear from a corner.
United were now enjoying their best spell, prompting Sven Goran Eriksson to bring off Veron and throw on an extra striker in Fabrizio Ravanelli in the 71st minute.
Once Alan Smith's shot flew over the bar, David O'Leary played his own trump card, sending on Harry Kewell for his first taste of the Champions League. But it was keeper Robinson who the Leeds manager had to thank when he saved from Crespo, racing off his line to block his shot.
Then came the moment of magic United's travelling 700 fans had waited for. Kewell on the left played the ball in to Smith, who slipped it across the face of the
area to Viduka. The Australian's outrageous backheel was inch perfect for the young striker to move onto the ball without checking his run and slip it under Peruzzi into the right corner of the net.
Despite a late effort by Lazio it was never going to be enough and it was United who were left celebrating another famous night in Rome, this time beating their previous two visits to Lazio's neighbours, Roma, with a memorable victory.
After the game, the Leeds fans had to wait for the stadium to clear before they could depart. They began chanting for the team and the victorious Leeds players came out after the game to thank their marvellous fans. Radio 5 Live called it "the best bit of team/fan bonding" they'd ever witnessed. Chairman Peter Ridsdale led the chorus on an unforgettable evening.
With Real Madrid thrashing Anderlecht in Spain, the win moved Leeds into second place behind the holders. Lazio were left bottom of the group and pointless. Leeds thus went into the winter break feeling they had every chance of holding onto Group D's second qualifying spot especially as players like David Batty and Harry Kewell should be fully fit, and Rio Ferdinand available, when the competition resumed in February.
Having said before the game that Lazio had to win, Eriksson admitted afterwards: "Results like this might make it impossible for me to stay but
that is a question for the president. Pressure from supporters will not decide if I will go on with Lazio, the president decides and I think I am going to stay until the end of the season."
In fact, Eriksson was released from his contract shortly afterwards to take up the England job and breathe new life into a seemingly dead World Cup campaign.
Eriksson admitted his players were "mentally and physically" inferior. In a team performance, two Leeds players stood out, Mark Viduka and Jonathan Woodgate. The Australian, despite having to tread carefully after being booked in the third minute as he wrestled with Alessandro Nesta, led the line superbly. He also played the crucial part in the build-up to the goal with that sublime back-heel to Smith. Woodgate gave a thoroughly assured performance, popping up time and time again with headers, interventions, blocks and tackles, at times seeming to hold Lazio's star forward line at bay on his own. His international credentials seemed to have been renewed.
After the game, David O'Leary said: "We've given ourselves a chance - we're back in the hunt. The tournament closes down now and we've got four games after Christmas. Hopefully we'll get some more players back and we'll be stronger. I'm full of hope. If you've got spirit like these lads have, the way they play for each other, you're always in with a chance."
It was also the perfect tonic after the miserable defeat at Leicester. O'Leary continued: "It was a great victory after we let ourselves down on Saturday. I'm delighted for them. They are the ones who've done it. We deserve it and I thought we may have scored some more. When you come to the Olympic Stadium and play one of the favourites for this competition, they're going to get chances. We rode our luck a little bit - but I thought overall we had the best chances and we took one of them.
"The team have got to learn. They're young people - they're going to have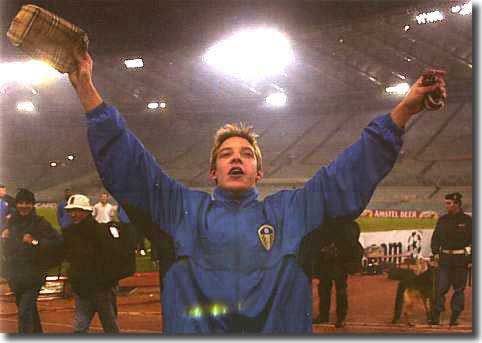 the good times and the bad times. I'm trying to get more consistency but it was nice to bounce back."
Jonathon Woodgate, substituted during the first half of Saturday's Filbert Street nightmare, won special praise. "He was outstanding," said O'Leary. "I know he's an outstanding player but I want that week in week out - I'm very greedy."
Goal hero Alan Smith was also praised by his manager, who added: "His performance level has been fantastic over the last few weeks but he's needed a goal and I'm delighted for him because his work-rate and his team play is tremendous."
Smith agreed the win was important given Saturday's poor performance. The 20-year-old striker said: "It was important to bounce back after Saturday's result and I thought we defended excellently tonight. We've come this far. We're looking on the positive side and taking each game as it comes. But we've got a great team spirit. We've showed we can do it on the big stage and when we get back in action in the Premiership we have got to do it there as well.
"Tonight I think we came of age. We grew up as people in Milan and Barcelona and have taken that on with our performance here. Jonathon Woodgate was superb after taking a lot of stick at Leicester on Saturday. He proved he is a world class defender. Mark Viduka was also brilliant. At time the ball was glued to his foot. A lot of people think he is just a big target man, but he has so much skill and one of the best pairs of feet at the club.
"Now we can put this on ice until the new year and concentrate on the league. We are capable of putting together a run and the Premiership is our priority."