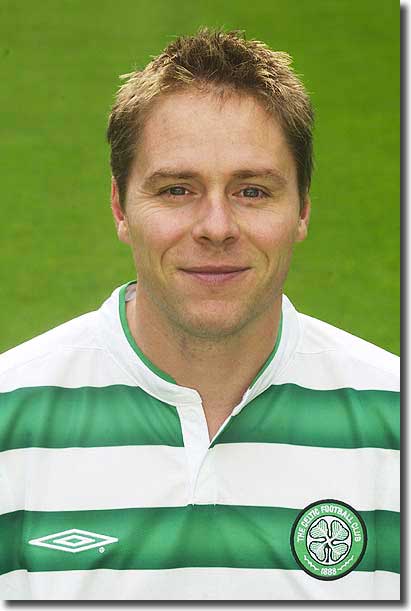 Born: Winchester, 29 March 1969
Steve Guppy had a brief stay at Elland Road in 2004 as United manager Kevin Blackwell sought to rebuild a squad decimated by the fire sale necessitated by the club's relegation from the Premiership.
Developing relatively late in the day for a professional footballer, Guppy was never gifted with blistering pace, but possessed great close control and at his peak was considered the best crosser of a ball in England.
While earning a living as a bricklayer, Guppy made a number of appearances in Southampton's reserve side in the spring of 1989 after playing for several of the town's pub teams. He joined non-league Wycombe Wanderers at the start of the 1989/90 season. The Wanderers boss, former Northern Ireland international Martin O'Neill, recognised Guppy's potential and gave him a professional contract in 1992.
Wycombe won promotion to the Football League in 1993, when they also captured the FA Trophy. He was the first Wycombe player to score in the Football League and at the end of the 1993/94 season they secured promotion to the Second Division via the Play-Offs, with Guppy a virtual ever present. He is fondly remembered as Wycombe's greatest ever talent by the club's fans.
In August 1994, he moved to Newcastle United in a £150,000 deal, but only made one first team appearance, in the League Cup against Manchester United.
Guppy recalls his Newcastle debut with typically wry humour. 'I came on as substitute against Manchester United in the Coca Cola Cup. It was 0-0 when I came on and we won 2-0 but I had nothing to do with either goal. I must have sensed that I'd never get another chance because when the goals went in I went mad, like it was me that had scored. I went running round waving at the crowd and milking their applause.'
Newcastle had scrapped their reserve side and Kevin Keegan's decision to build on proven talent led to Guppy being declared surplus to requirements. He consequently joined First Division newcomers Port Vale in November 1994 for £225,000.
The winger became a mainstay of a good Vale outfit and made a massive contribution to their FA Cup run in 1996. They beat Crystal Palace after a third round replay and were drawn to meet mighty Everton in the next round.
Wilf Jones from the Toffeeweb fans site: 'I had the misfortune of being there last night to witness the worst performance I have ever seen by an Everton team. Having also been at the first game, I was aware of the danger posed by Vale's wingers McCarthy and Guppy and assumed that Joe Royle would have a system worked out to combat their threat. Either he didn't have a system worked out or the players were totally unable to play to it, because once again Guppy and McCarthy ran us ragged.
'We could have gone one down inside a minute when Southall let a shot slip out of his hands and run just wide of the post, although he can't be blamed for the shot which did give Vale the lead. Ian Bogie (yes, him again) hit a shot from 25 yards, no deflection like last time, top corner: 1-0. Vale continued to attack down both flanks and should have been two up by the time we scored with our first chance - Stuart collected a lose ball and fired in, with a slight deflection off Aspin: 1-1. A huge sigh of relief from the Everton end, but Vale weren't put off.
'Tony Naylor consistently turned our defence inside out with his pace and ability to turn, but we were lucky that he couldn't finish any of his chances. At the start of the second half we played well, having long periods of possession and looking like we actually had some ideas. Stuart was making clever runs and Amokachi got himself into some good shooting positions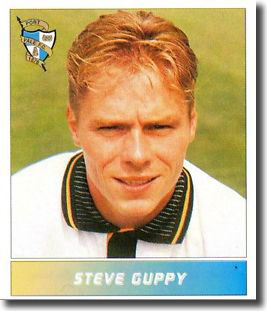 but decided to pass instead. Stuart had a volley well saved and Jackson had a near post flick-on cleared off the line, but Vale were still looking dangerous.
'Southall made great saves from Guppy and Bogie before Vale managed to score their second, Guppy beat Jackson for pace and knocked the ball across the goal (perhaps Hinchcliffe could have cut it out) and McCarthy smashed the ball home off the post. Jackson was taken off for Limpar and Ebrell moved to right-back, where he was immediately beaten by a perfectly executed Cryuff turn from Guppy. The final minutes were a mad scramble with Everton resorted to long-ball tactics which, without Ferguson, had no effect at all.
'Had Vale's finishing been better they could have had 4 or 5 and they probably deserved to.'
The Yorkshire Evening Post: 'Port Vale produced the shock of the tournament in 1996 by eliminating the holders during a memorable replay at Vale Park, and the reasons for Evertonís upset were amply displayed during a nervous fifth round tie in Leeds.
'Howard Wilkinson, Unitedís manager, cut a relieved figure after a 0-0 draw at Elland Road gave his squad a second opportunity to reach the quarter-finals. Wilkinson had no appetite for replay before Valeís arrival in Yorkshire but conceded that his players deserved nothing more after their awkward exchange with an inspired first division club.
'"We live to fight another day," said Wilkinson without his tongue in cheek. "We had enough of the ball but the players didnít show enough imagination, the didnít take the initiative and they didnít show sufficient courage to win the game. But itís still all there for us Ė provided we donít die of disappointment in the meantime."
'Vale manager, John Rudge, promised to throw caution to the wind at Elland Road Ė a strategy which worked perfectly against Everton Ė and he proved as good as his word. Steve Guppy, a player who would appear briefly for Leeds eight years later, came as close as any player to settling the tie at the first attempt when his shot from six yards climbed narrowly over John Lukicís crossbar.
'Even before that near-miss, memories of recent cup defeats to Mansfield Town, Sunderland and Oxford United were beginning to spread around Elland Road. Wilkinson fielded his strongest possible team but saw an unpromising situation worsen when a collision between Jon McCarthy and Gary Speed left the Welshman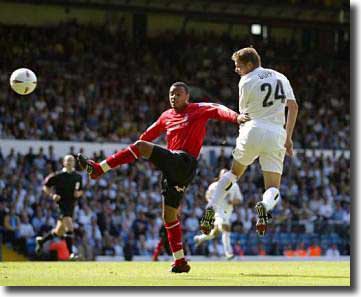 with a badly fractured cheekbone.
'McCarthy and Guppy were a constant menace on either wing and McCarthy wasted a fine chance laid on for him by his team-mate early in the second half.
'Lukic was later called upon to parry a shot from Ian Bogie as chances continued to present themselves around Unitedís goal.
'"I thought we were exceptional from one to 11," said Rudge. "But to win a cup-tie against Leeds United on their ground, you have to take your chances. We couldnít quite do that. Leeds are still the favourites without a doubt. Theyíre the Premiership side, theyíre full of internationals and theyíre a top team."
'Wilkinson had no more to talk about than an effort from Rod Wallace which Paul Musselwhite tipped over his net and a header from David Wetherall that flew straight at the keeper. It was not enough to tease any more than a damning verdict from the United boss.
'"We ended up hoping that things would happen for us," he said. "The players needed to take more responsibility."'
But for Lukicís reaction to attempts by Andy Porter and Ray Walker, United would have suffered the same fate as Everton. 'Perhaps our style is better suited to playing away from home in the cups,' said Wilkinson hopefully. 'You have to give Port Vale credit but we werenít anywhere near good enough.'
In February 1997, Martin O'Neill, now boss of Premier League Leicester City, sought Guppy out and signed him for a fee of £850,000. The move was a master stroke for both player and club as O'Neill led the Foxes through a very successful spell. They finished tenth in the Premiership in 1998, reached the Worthington Cup final in 1999 and won the trophy a year later.
Guppy was in the form of his life and was rewarded with an England cap against Belgium in October 1999, when Frank Lampard also made his debut. It was a surprise that he was never selected again, especially as there was a dearth of left-footed players around at the time.
Guppy: 'I think people forget that I didn't really make an impact in the Premiership till I was around 27, meaning I had quite a bit of catching up to do as most of the other lads had been established Premier League players since their late teens. I am very proud of myself for being able to get into the frame for the England squad at all and I look back upon my time within the set up with fond memories and no regrets. I was actually due to come on for the second half in the European Championship play off against Scotland at Wembley, but unfortunately for me Don Hutchison scored and the manager decided to change his plans! I was included in a few other squads afterwards but then I picked up a knee injury and that was it for me as far as England was concerned.'
Martin O'Neill quit Leicester for Celtic in 2000 and in August 2001, Guppy followed him to Parkhead in a £700,000 transfer deal. He had a starring role as the Glasgow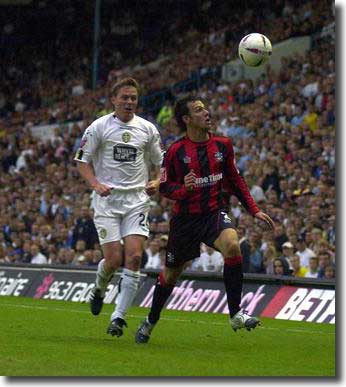 giants won the Scottish Premier League at the end of his first season.
In January 2004 Celtic released Guppy, now almost 35, and he returned to Leicester City for a few weeks. He had an abortive attempt to revive his career in the States, but then agreed to sign for Leeds United in August 2004 on a one-month contract as they began their first campaign in the Championship. After being an unused sub for the opening game against Derby, Guppy made his debut at Gillingham, coming on after 74 minutes for Simon Walton. He continued on the bench for the trip to Wolves on 14 August and replaced Frazer Richardson a minute from time.
He was given his first United start a week later at home to Forest and opened the scoring, heading home at the far post from a Richardson cross. In that same game he needlessly conceded a late penalty which was converted by Andy Reid and the game ended in a 1-1 draw.
Guppy's original contract ended after his appearance in the Carling Cup victory over Huddersfield, and United manager Kevin Blackwell had to decide whether to extend the deal. He chose not to offer a long-term deal and Guppy left Elland Road to sign on a month's contract for Stoke City.
Before the end of 2004 he was on the move again, returning to Wycombe for a year before spending a few months in the MLS in the United States with DC United. His time there was cut short by an Achilles injury and he made just five appearances. Guppy signed for Stevenage Borough in August 2006, helping them to win the FA Trophy in 2007. In the process, he became the first footballer to play at both the old and new Wembley stadiums.
He returned to the States in 2008, signing for Rochester Rhinos in the combined role of player and assistant coach. After one season at Rochester he joined Colorado Rapids as assistant coach and in September 2010 became manager of Crediton United in the South West Peninsula League.