In May 2001, Leeds United were to be found battling it out with Spain's Valencia for a place in the Champions League final - in November 2004, a 1-0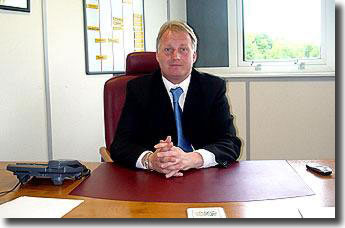 defeat against Ipswich Town left the West Yorkshire club languishing in the lower reaches of England's second tier - how the mighty had fallen!
Their on field decline was accelerated by a major financial implosion as Peter Ridsdale's well documented gamble on being able to sustain regular Champions League football left the club with a disastrous £100m debt burden. Relegation from the Premiership in May 2004 made wholesale player departures an inevitability and manager Kevin Blackwell knew the summer would bring the need for massive change.
Blackwell: "Twenty-seven players have gone since the end of last season. In June I sat in this office and looked at that board. I had two players, Gary Kelly and Michael Duberry. Doncaster Rovers have the record for having 30 debutants the year they went bust and the fireman and the cat played. We've already had 23. The amount of players who've turned up to training with suitcases because they were living out of hotels - it was like a bloody coach station.
"The full extent of the financial mess is only now coming home to roost. Everyone said the debt was £100m, but I think it was more like £120m. Black holes have appeared left, right and centre. One Monday, James Milner was the new face of Leeds, on the Thursday a bill came out of nowhere and on Friday he went to Newcastle."
Many critics had predicted that Leeds would slump to a second successive relegation and early season results were not promising. The defeat at Ipswich was the seventh in 18 games, although the recent arrivals of right winger John Oster and Northern Ireland's record goalscorer David Healy had pepped up the attack. Even veteran target man Brian Deane had got on the score sheet after labouring unproductively for most of the season.
36-year-old Deane had returned to Elland Road in a shock deal during the summer after his contract ended at West Ham. The Leeds-born striker had first moved to his hometown club in a £2.9m deal in 1993 after making his name at Sheffield United. After 32 goals in 138 League games, George Graham sold Deane back to his former club in 1997 and he went on to play for Benfica, Middlesbrough and Leicester before joining the Hammers.
Blackwell signed Deane with the intention of using him primarily as a second half substitute, but the dismal form of Julian Joachim and Michael Ricketts meant that the striker became a regular choice. However, it was October before he ended his goal drought, in a Carling Cup defeat against Portsmouth.
Blackwell had pursued Healy, a former Manchester United forward, for weeks before managing to secure him in a £650,000 deal from Preston North End, while Welsh international Oster was recruited on loan from Sunderland.
United had actually done quite well at Ipswich and were a little unlucky to return to Yorkshire without a point. They had performed even more splendidly in their previous away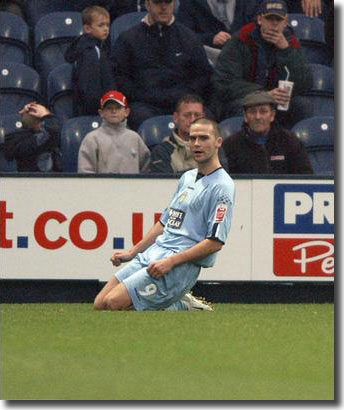 game, emerging 4-2 winners from a trip to Preston North End. Deane opened the scoring, Healy grabbed a brace on his return to his old club and Oster impressed everyone with a sparkling debut. Teenager Simon Walton was the other scorer.
That game signalled a remarkable upturn in United's fortunes, as Leeds stormed into a three-goal lead at the interval with some sharp football, inspired by the clever movement of Oster and Healy. The win came on the back of four straight defeats, the last of which, by 2-1 at home to Burnley, had been particularly depressing.
Midfielder Sean Gregan: "The fans have been fantastic this season but they turned against us at Burnley and they were right to do so. It would be nice to put together a performance and first and foremost a result for them to cheer about. The only way is up from the Burnley game because that's about as bad a game I've been involved in in my career."
The same eleven players that featured at Preston were on duty again at Ipswich, and the team was unchanged for a third successive game as they welcomed Queens Park Rangers to Elland Road in November 2004.
Neil Sullivan, a former Scottish cap, had been in outstanding form all season in goal, and Gary Kelly, Paul Butler, Clarke Carlisle and Danny Pugh were starting to gel well in front of him. Simon Walton, former Ipswich player Jermaine Wright and Sean Gregan (who could boast extensive experience at this level with Preston and West Brom) were a functional if prosaic midfield combination, and that was exactly what football in the newly rebadged Coca Cola Championship demanded. United were becoming nice and solid as a unit and the arrival of Oster and Healy had allowed Kevin Blackwell to successfully adopt a 4-3-3 formation with Deane as the spearhead. The intelligence and flexibility of the two new men allowed for things to switch to 4-5-1 or even 4-4-2 as the circumstances demanded and gave United a sharper edge to their attacking play.
QPR, having secured promotion in the spring under the management of the eccentric and outspoken Ian Holloway, were making an excellent fist of their return to the division. They were surprisingly well placed in fifth, 12 points and 10 places ahead of Leeds, having earlier been considered among the favourites for relegation.
Their best known players were fans' favourite Kevin Gallen and the veteran Paul Furlong, whom Kevin Blackwell knew well from his time with Neil Warnock at Sheffield United: "Paul is in an absolutely rich vein in the twilight of his career. He is someone we had at Sheffield United for a while and I know he is a great professional. He had a string of injuries and literally had three years taken out of his career. He went to Sheffield looking to get games under his belt, showed good intelligent movement and a good understanding but then he went and tore his thigh. In the last two years he has regained his fitness, he is banging goals in and we know he's going to be a major threat."
Rangers, fresh from a shock win over high flying Wigan Athletic, started confidently and it looked like the game would reinforce the points gap between the two teams when the Londoners took the lead after just 97 seconds. Gallen fed former Wimbledon man Gareth Ainsworth five yards outside the area. He brought the ball under control and fooled Danny Pugh into coming inside before moving wide to let fly from 20 yards out. His right footed drive screamed into the top corner of the net with Neil Sullivan diving in vain.
It was a stunning goal, and you could sense the crowd readying itself for another afternoon of disappointment and frustration. Despite their recent improvement, United were still a brittle force - lack of confidence often led to outright panic whenever they conceded a goal. For once, however, Leeds responded calmly to falling behind and they began playing with uncharacteristic self assurance, confidently working their way back into the contest.
Two minutes after the goal, Clarke Carlisle came close to netting against his old club after Deane nodded on Jermaine Wright's
free kick but QPR defender Danny Shittu intercepted the ball in the nick of time. Wright then tried to lob keeper Chris Day, but saw his shot tipped over, before Deane wasted a chance after doing the difficult part by pulling down a cross from Danny Pugh.
Such profligacy was symbolic of United's season so far, but this time it did not prove too expensive, and served merely as an appetiser for an astonishing feast of sharp shooting as Leeds swept the challenge of Rangers aside.
The Whites were on level terms after nine minutes with a classy goal. Gary Kelly, who was a threat all afternoon with his surging forays down the right flank, launched the ball optimistically for Deane to back head on. Healy saw the chance before anyone and, without breaking stride, the Irishman chipped exquisitely on the half volley from the edge of the area. He left goalkeeper Day stranded with as precise a lob as you could wish to see, registering his third goal in five games for the club.
Within seconds, Rangers left-back Matthew Rose was forced off with a hamstring injury, to be replaced by Gino Padula, as Leeds assumed control of proceedings.
After 13 minutes, United took the lead. Kelly took a throw on the right and found Walton, who clipped the ball into the area. A weak clearance from George Santos was picked up by Kelly who chipped forward to Walton. The teenager cushioned the pass and backheeled the ball sweetly into the area to cut out two defenders and give Wright acres of room. He surged forward and sent a low ball arcing invitingly to the far post for a diving Brian Deane to clip home left footed.
Wright's form had been an enormous disappointment to Leeds fans since his move from Ipswich, but the arrival of Oster seemed to spark a revival in his form. He had done well at Preston and was making an even stronger contribution here, adding a third goal himself in the 23rd minute.
United had already had a goal disallowed six minutes earlier with Deane in an offside position as he tapped home when Day spilled a drive from Oster. It was only a temporary respite for QPR - Butler's free kick from halfway was met by Deane on the left hand corner of the area and he looped his header towards the penalty spot. Defender George Santos misjudged his header, sending it invitingly across the area. Wright was in space in the middle and fired in a low shot. Keeper Day made a decent one handed stop but Wright was not to be denied, following in to sidefoot the ball home with ease.
The Rangers rearguard was shell shocked and seemed to have forgotten even the basics of defending. Every time Leeds went forward they looked dangerous, having the Londoners'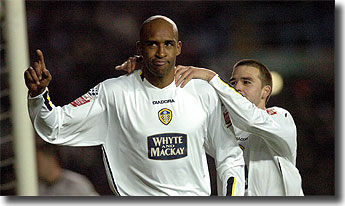 back four in a constant state of high anxiety. The Elland Road crowd had learnt since 2001 to dampen down any expectations of entertaining football, and this performance came as a real tonic. It seemed, though, that United would settle for a comfortable 3-1 lead at the interval as things started to calm down.
There was more excitement to come, however, and the lead widened in the three minutes before the break. The fourth goal was wonderfully worked. Oster manufactured an opening with some canny play, fooling the Rangers defence by facing infield and feinting to cut in from the right. His disguised pass, played with the outside of his boot, deftly sent Wright in behind the defence on the right. The former Ipswich man slid another low ball across the area with six Rangers defenders caught square in a line, but still leaving space at the far post. Deane got there before his marker - this time Marcus Bignot - to apply the required touch.
Leeds United's official website: "It was comedy defending by the visitors and they were nearly punished again straight from the kick-off when Leeds won back possession and Healy broke free, but his shot was just tipped away by the keeper as the crowd were off their seat ready to celebrate a fifth goal."
They didn't have long to wait, though, and Gary Kelly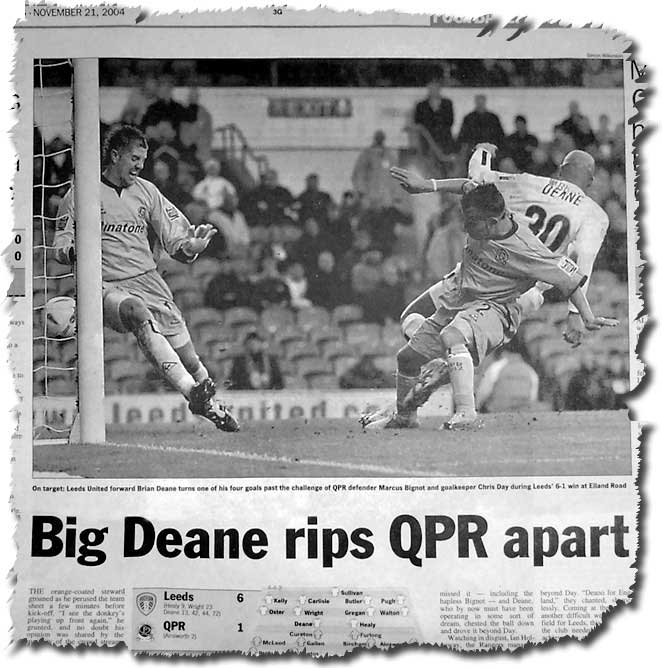 again exploited the space down United's right flank. Two Rangers defenders missed the ball, leaving Deane to chest it down before driving home, completing his first hat trick for Leeds and the first for any club in 12 years.
Ian Holloway had every right to go off the deep end at half time, and he really tore a strip off his team. He also chose to use both his remaining substitutions, Jamie Cureton and Kevin McLeod for Marcus Bean and Lee Cook respectively, in an attempt to freshen things up and bring a more solid approach. For a while, the manager's actions seemed to stem the white tide, as Leeds settled back into a long ball game. It was difficult to understand why United abandoned their tactics of playing down the flanks after enjoying such success with the strategy in the first half. Wright, Oster, Walton and Kelly had exploited the space with gusto, using it to play in killer balls that the Rangers defence simply could not handle.
It was but a temporary aberration, though, and United stirred themselves from their torpor after the hour.
They were awarded a dubious penalty in the 67th minute when Walton threw himself to the ground after a marginal touch from a defender, but Day saved Healy's placed penalty.
United fans had been chanting, "We want six," for a while and eighteen minutes from time their pleas were answered. Danny Shittu messed up yet another clearance in the area and the ball looped up invitingly. Deane simply stood his ground and nodded the ball into the net for his fourth goal, provoking massed cries of "Deano for England".
The striker was withdrawn four minutes from time to allow him to milk the applause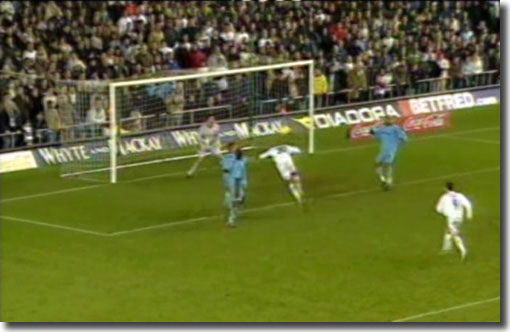 of adoring fans. Their cheers were as much in astonishment as in admiration. The Sunday Times: "The orange-coated steward groaned as he perused the team sheet a few minutes before kick-off. 'I see the donkey's playing up front again,' he grunted, and no doubt his opinion was shared by the majority of the crowd streaming into Elland Road. It is fair to say that up to 3.13pm yesterday, big Brian Deane's second spell leading the line for his hometown club had not been going well. One League goal in 13 starts cannot have been the return he had hoped for, but it is a fact that at Championship level, every donkey - oh alright, big, awkward old-fashioned British centre-forward - can still have his day, and yesterday was Deane's."
Kevin Blackwell: "I'm pleased for Brian Deane. His professionalism is an example for all the young players at this club to follow. This just shows what can be achieved when players get the right service. Our wide men were excellent today.
"I brought Brian here to play a specific role. Unfortunately one or two things happened and I couldn't bring anybody else in and Brian Deane has had to pick up the mantle and carry the load. At his age I wanted to use him a little bit more sparingly but he also put in a massive performance at Preston and when he played we played. He played today and we played again.
"People had a go at him last week for missing a chance against Ipswich, but knowing what he has had to do here and what he's had to carry, I can't moan at Deano. His attitude is fantastic and what he brings to the youngsters here is professionalism. Not only does he have to play, it's what he does off the pitch as well that counts. Our youngsters have to learn from people who have that work ethic."
Deane: "I've got a few match balls at home but this one takes pride of place now. People see you get to a certain age and think you are too old. But I have looked after myself and it is nice to show people I still have this in my game. I have scored hat tricks elsewhere but it's nice to come back here at this stage of my career and show everybody that I still have it in the bag.
"People have always said I'm a big centre-forward but I haven't really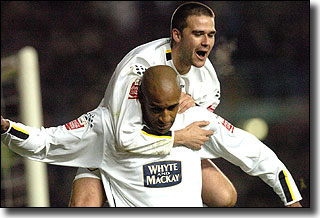 played in that many teams where the ball is knocked up to me, it's always been with movement and that suits me. We are starting to put the ball in the right areas now, we are playing through the midfield which helps and the goals were the fruit of what we have been doing."
Unsurprisingly, Deane hogged the headlines for his goalscoring masterclass, but the whole team had given an outstanding display of attacking football. Paul Dews of the Yorkshire Evening Post was keen to pay tribute to the target man's inspired colleagues:
"After building from the back and establishing a solid defence, Blackwell has now been able to recruit a midfield and attack that is capable of displaying the cutting edge that the club has lacked for three years. In the current side there is quality in abundance and, while consistency will be the key, Blackwell's side have now strung three performances together where they looked lively, inventive and, above all, creative.
"Quite rightly Deane will take the plaudits for his extraordinary goal-scoring feat, but the other men on target, David Healy and Jermaine Wright, also turned in high-quality performances. Healy's finish for the opening goal was pure class and the Northern Ireland international has that rare ability to put supporters bums on the edge of seats when he has possession. Wright's goal was reward for his tenacity. After struggling at Ipswich last weekend in the face of a barrage from the home fans, he simply revelled in the wide-open spaces of Elland Road on Saturday and, with his neat touches and quick thinking, the Leeds fans saw him at his best.
"But there were a few unsung heroes out there who didn't manage to join in the goal fest.
"In winger John Oster, Blackwell appears to have stumbled upon a real gem. Despite being just 270 minutes into his Leeds career, albeit on loan, the flying winger has made an unbelievable impression and his presence has given United width and enabled Blackwell to play with a three-pronged attack. Oster has that rare ability to beat a man for pace and skill, and, on the evidence of his first few games for the club, calls of 'sign him up' aren't too far away.
"Simon Walton and Sean Gregan were also key men as Leeds battered high-flying QPR into a painful submission. Walton is an intelligent footballer who likes nothing more than pushing forward and causing problems in the danger zone while Gregan, who has the responsibility of sitting in front of the back four, is starting to show why Blackwell chased him for three months. Gregan's role is easily underplayed, but his ability to win the tackle
and break up play is invaluable and, now he has some serious forward options, his ability to distribute in a positive manner is coming to the fore.
"It would be unfair to omit the defence, and goalkeeper Neil Sullivan, from the plaudits, but the truth is they had little to do. Gary Kelly was the pick, simply because he was allowed the space to attack and his delivery from the right flank was reminiscent of the trip to Portsmouth three weeks ago when his crossing caused all manner of problems.
"Complete team performances are rare, but this was just about as good as it gets from a side."
It was certainly United's most outstanding performance for months and brought immense cheer to the Elland Road crowd. They had remained steadfastly loyal to the club despite suffering so badly during the prolonged decline of the last three years. There was a new spirit being shown by the players representing Leeds United and this back to basics display had thrilled everybody who saw it, hinting that the Whites might still have it in them to mount a late promotion challenge.