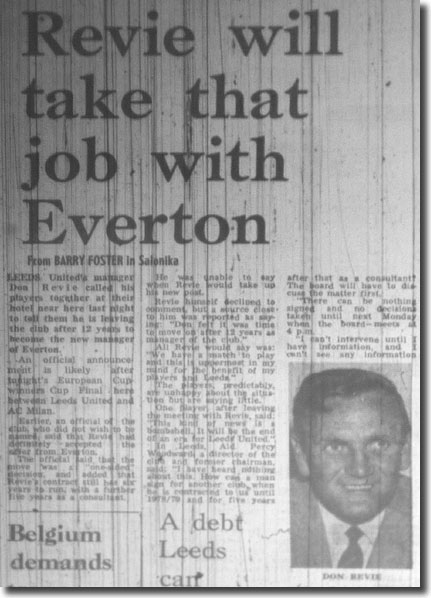 Part 2 An attack of nerves - Results and table
Leeds United had been left in complete disarray by the happenings of May 1973: Cup final defeats against Sunderland and AC Milan sandwiched Don Revie's decision to pursue his career away from Elland Road when Everton came calling with a money-fuelled offer.
In the event, Revie rejected the overtures, telling Arthur Haddock of the Yorkshire Evening Post, 'When these offers come along and you have the chance to secure the future of your own family, you just have to give them a bit of thought. But I feel my future is resolved and I am completely happy. I never wanted to leave Leeds. They gave me my chance in the first place and they let me manage. The players and the fans gave me their loyalty. After 12 years as a manager with a club like ours it would be terribly difficult to break away, and I'm certainly staying at Elland Road.'
After meeting a number of the other directors, United chairman Manny Cussins said he was delighted with the manager's change of heart, adding: 'Mr Revie wants to stay and we want him to stay, but Sam Bolton, our other director, is with the England party in Eastern Europe and we will have to wait for his return before a final decision is made.'
It was expected that Revie's position would be a key item of business when the full board met on 18 June. But shortly after the two and a half hour private session, Cussins said curtly: 'The board meeting is closed and there is nothing to report.'
Revie claimed his future had not been under discussion, adding, 'Everything is as it was before. I am happy to stay with Leeds United.
'During all the talks I have had recently with Leeds, I have not asked for a penny extra - and I don't want anything… I would like to put it clearly on record that I am not getting anything and I don't want anything.'
Revie's future resolved, attention turned to other matters. At the end of July, an FA Disciplinary Commission hauled the club over the coals for the 'above average misconduct' of its players during 1971/72. The hearing, originally arranged for a year earlier, had been delayed for a number of reasons including the poor health of Cussins.
The club was found to have 'persistently violated the laws of the game and brought the game into disrepute', receiving a suspended fine of £3,000 as punishment. The FA promised to waive the sanction if United's record were to show 'a substantial improvement'.
Brian Clough bridled at the outcome, claiming the FA should have demoted United to Division Two. One-eyed as the Derby manager was, United's record was unquestionably poor; in December 1972 five United players were booked at Arsenal and by the following March Norman Hunter and Trevor Cherry had each amassed eight cautions. Cherry would be suspended, alongside Joe Jordan and Terry Yorath, for the opening two fixtures of 1973/74.
Revie accepted the need for action and launched a charm offensive. He was supported by newly appointed Public Relations Officer Peter Fay, according to Andrew Mourant, 'a man in his twenties with many good ideas about how to make visits to Elland Road more agreeable. The practice of kicking plastic footballs into the crowd and giving away the fancy little stocking tags

… would continue.' There was also an iconic new look to the pristine white kit, with the arrival of the legendary LU Smiley badge.
At a press conference, Revie claimed, 'We have been among the top two or three of the leading scorers in the First Division for the past few years. On occasions we have been credited as an exciting football side but whenever possible people have tagged us as a methodical, well-drilled, hard side.
'I only hope after all this publicity, referees, opposing supporters … and the press and television will give us a fair crack of the whip, and judge us on how we perform this season and not on what they have read… I hope our players will not have to live under a lot of provocation from other teams. We get all kinds of taunts thrown at us from opposing crowds when we play away from home. I hope that if our players go into a fair tackle and the crowd puts up a tremendous roar referees will not be influenced.
'I have already told our players that it is up to myself and them to help the referee from now on and in every way we can by not talking to them or the linesmen and by not getting any unnecessary bookings.'
Jack Charlton and Chris Galvin departed Elland Road in the close season but Revie kept his cheque book closed, content with the way that Gordon McQueen, Trevor Cherry, Joe Jordan, Frank Gray and Terry Yorath had been integrated into the team.
He set his sights high for the new season, taking even his experienced players by surprise at their pre-season gathering. 'Right lads,' he told them, 'We've been the best team for the last decade. I know we haven't won as much as we should have, but that's in the past. Now I've had a thought this close season - can we go through the whole campaign unbeaten?'
Richard Sutcliffe in Revie: Revered and Reviled: 'Trevor Cherry, the defender Revie had planned on taking to Everton before performing a U turn and rejecting the Merseysiders, recalls: "After Don had asked, 'Can we get through the whole campaign unbeaten?' we all just looked at each other as if to say, 'Did he really just say that?' But, soon, he had us believing it was possible and we were determined to give it a good go."
'The initial omens, however, were not good, as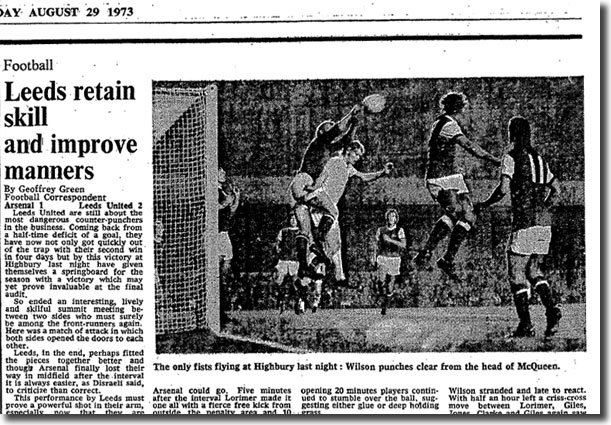 Trevor Cherry admits: "We played a couple of friendlies in pre-season against Bradford and Huddersfield and were awful. We drew one and lost one, and I remember saying to my wife Sue, 'Maybe they aren't the players they used to be any more?'" Cherry needn't have worried as, once the real action got under way, Leeds hit the ground running.'
With Gordon McQueen filling the void left by Charlton's retirement, United opened with a flourish, beating Everton 3-1 and winning at Arsenal and Spurs. Without any victory in the capital for two and a half years, United now won two on the bounce.
Gunners centre-half Jeff Blockley opened the scoring in the first minute at Highbury but United equalised five minutes into the second half, Peter Lorimer hammering home a free kick from 25 yards. Ten minutes later Paul Madeley added a second after good combination work between Lorimer, Johnny Giles, Mick Jones and Allan Clarke. United never looked in the remotest danger of relinquishing the 2-1 lead.
They were even more impressive at White Hart Lane on 1 September, three first half goals securing a comprehensive victory. The Yorkshire Post gushed, 'With Billy Bremner looking like a new man and the new image of being the gentlemen of the League already accepted in most quarters, Leeds United sit politely at the top of Division One, not only having demolished Tottenham Hotspur but having won over their most critical observers in recent times - the London spectators.'
John Wray: 'There was always an edge to the games in London, not least because the press down there didn't like Leeds and Don knew it. He was so focused for every trip, and even a traffic jam would not be allowed to cause problems. On the rare occasions when the team bus did not have any police out-riders, Don would always be concerned about the heavy traffic. Because he was rarely off the BBC in those days, he would lean out of the front door and bellow, "BBC coming through" at nonplussed drivers as the team bus did a nifty piece of queue-jumping. The ploy always succeeded.'
Richard Sutcliffe: 'Crowds in the capital - and journalists, for that matter - had a notoriously poor view of Leeds, leading to a siege mentality being adopted by Revie and his men. Nothing would be allowed to disrupt the players during their trips to London.
'Referee Roger Kirkpatrick sought out the United manager after the Spurs game to congratulate him on how well behaved Bremner, Hunter, Giles et al had been. Leeds, it seemed, had put long held feuds with bitter rivals aside and, most unbelievably of all to their arch-critics, stopped haranguing the officials throughout the entire 90 minutes. In Its place, was a return to the free-flowing football of two seasons earlier when United had won not only the FA Cup but also many friends. Leeds … were in danger of eclipsing the whole First Division.'
Four days after beating Spurs, with Elland Road's new £125,000 floodlighting system being utilised
for the first time, a crowd of 39,946 watched United hammer Wolves 4-1.
Unchanged for the fourth successive game, the Whites started urgently. With two minutes gone Mick Jones burst past Derek Jefferson and Frank Munro but he was felled by Phil Parkes as he sought to round the goalkeeper. Peter Lorimer converted the penalty confidently and Jones added a second goal in the twelfth minute, accepting a pass from Allan Clarke.
Derek Dougan pulled one back for Wolves but five minutes into the second half Bremner scored his fourth goal of the campaign to make it 3-1.
Wanderers full-back Derek Parkin was booked for fouling Lorimer in the 72nd minute and when he impeded Eddie Gray six minutes later he received his marching orders. That ended any chance of a fight back and within two minutes Lorimer added United's fourth.
The comprehensive nature of the victory hinted that Leeds might equal Tottenham's famous eleven successive wins of 1960. A 3-0 trouncing of Birmingham City increased the hype, with Blues manager Freddie Goodwin claiming, 'They have been together so long and have such a wonderful understanding I think they are a better side than England in many ways.'
Peter Lorimer was delighted with the new approach: 'I don't honestly think Don believed in us until that last year or so… Everything was geared towards making sure we didn't lose. It was only when he was thinking of moving on that he said, "Get out there and show everyone what a great team you are." It must have been quite a wrench to let us off the leash like that because, deep down, he would have been worried it might all go wrong.'
Lorimer scored all three goals against Birmingham, the first a 35-yard thunderbolt after fifteen minutes, the second a penalty on the stroke of half-time; Lorimer had injured his knee moments after his first goal and went for accuracy from the spot rather than power. Two minutes after the restart he netted his third, completing his third league hat trick in 18 months.
Lorimer limped off twenty minutes from time, the injury keeping him out of the midweek trip to Wolves. Paul Reaney and Eddie Gray were also unavailable with thigh injuries and Trevor Cherry, Joe Jordan and Terry Yorath were brought in.
Two goals inside the first 26 minutes settled the contest, as reported by Michael Carey in The Guardian: 'Goals by Jones and Clarke did the trick, the one as untidy as the other was majestic, and throughout it all Leeds played in their new, cleansed and relaxed style, like men fresh from the confessional.
'One of Leeds' secrets in recent years has been their ability to carry a number of players below their best and still come through. When, as last night, at least half the team produced superlative performances, there appears to be no answer, at least not at the moment. Suffice it to say that Madeley, Bremner, Hunter, Giles and Clarke were outstanding.
'Even so, it took that curious first goal by Jones to set things moving. It happened in the twelfth minute and at that stage Leeds had been content to stroke the ball about, gauging both the pace of the pitch and the capabilities of their opponents. Then, when Yorath crossed from the left, Jones headed goalwards and Jordan and Jefferson challenged in mid-air for the ball. Neither touched it, but Parkes, the goalkeeper, appeared to have committed himself in one direction and when he tried to check his stride he lost his balance and the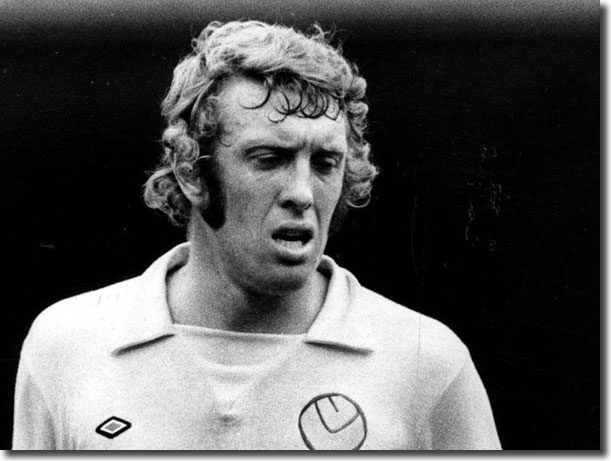 ball bobbled across him and into the net, an unsatisfactory bit of defending from Wolverhampton's point of view.
'In the twenty-seventh minute, Clarke sealed Leeds' win with a glorious goal. The ball broke to him after Bremner had been tackled by Munro. He advanced to within some 25 yards, no doubt weighing up all the options open to him as he did so, and then he produced a fierce, dipping shot which gave Parkes no chance'
Two further goals from Clarke brought a seventh straight victory on 15 September at Southampton, with the Saints netting an injury time consolation.
Barry Foster in the Yorkshire Post: 'Clarke's 99th and 100th goals for Leeds made the difference in the scoreline, but the difference in class between the two sides was far greater than one goal … Giles was missed, but once Madeley settled into a midfield role and snuffed out the threat from Southampton's wily captain, Paine, Leeds never looked back. Their running off the ball and their running for each other, beside individual skills, put them in a different class to Southampton.
'The goal that broke the deadlock came in the 32nd minute as Leeds gave the appearance of hypnotising the Southampton defence with a long sequence of midfield passing. When they moved in for the kill, the first cross was partially cleared but only to Gray, on the edge of the penalty area, who headed into the path of Clarke. Clarke had long since lost his marker to leave himself with, for him, the easiest of scoring chances from 12 yards. He underlined his superior finishing by putting the match out of Southampton's reach in the 77th minute. Again, he had broken clear of markers, and this time Bremner, with a pinpoint pass from the left, opened the way for Clarke to run the ball in and score from his second shot, his first effort hitting a defender.'
Vernon Stokes, chairman of the FA Disciplinary Committee, told the players: 'You are setting a wonderful example to everyone connected with English football.' Don Revie said that the comment 'has given everyone at Leeds as much satisfaction as seven opening wins.'
United opened their UEFA Cup campaign against Norwegian amateurs Stroemsgodset on 19 September. With a clutch of injuries and Hunter and Jordan suspended, Don Revie rang the changes. Gary Sprake, Terry Yorath, Frank Gray, Gary Liddell and Mick Bates started, while John Shaw, Billy McGinley and Roy Ellam were on the bench. Madeley captained the side in the absence of Bremner and Giles.
Accused of regarding the competition as an unnecessary distraction, Revie promised, 'We hope to have another good run in Europe. It may be not the most ideal situation to be involved in too many competitions, but it does give players valuable experience and we need the money to go on improving our ground.'
Stroemsgodset switched the fixture from the Marielyst Stadium in Drammen to the larger Ullevaal Stadium, allowing a crowd twice as large as normal to attend.
United failed to achieve the anticipated easy win, as reported by Don Warters in the Evening Post: 'Allan Clarke demonstrated his lethal finishing in the 15th minute to give United the lead, chesting down a left wing centre from Eddie Gray, teeing the ball up with his right foot and firing a left foot shot past 5ft 7in goalkeeper Inge Thun. But this setback did not deter the Norwegians and Oddmar Amundsen scored a great equaliser ten minutes later.
'Gary Sprake … was given no chance of stopping Amundsen's angled shot, which was struck hard into the far corner of the net through a heavily-populated penalty area, after Eddie Gray had headed out a free kick.
'United, with the Gray brothers, Eddie and Frank, forming a midfield partnership with Mick Bates, and 19-year-old Scot Gary Liddell joining the spearhead of Mick Jones and Allan Clarke, were never able to claim complete command. They spent virtually all the second half in Norwegian territory but had trouble in opening up a blanket defence.'
Revie hoped that United would be back on song against Manchester United at Elland Road on 22 September. Before kick off the United manager was presented with August's manager of the month award by comedian and Luton Town chairman Eric Morecambe.
Lorimer and Reaney were absent, but Harvey, Bremner, Giles, Hunter and Jordan returned to the side, given a rapturous welcome by a crowd of 47,058, their best thus far.
With manager Tommy Docherty looking to rebuild, Manchester United came to Elland Road with a containing game. The display with which they forced a drab goalless draw brought fierce criticism.
Don Warters wrote in the Evening Post: 'Such boring, ungainly and unimaginative tactics as those used to hold Leeds United to a goalless draw at Elland Road suggest that their reign as soccer's top attraction in this country is now at an end. Docherty also pointed out that he had a relatively inexperienced side and that he had a team to build gradually. But this is a lame attempt to explain away ultra-defensive tactics which can only turn people away from soccer. The Manchester team on view at Elland Road contained eight internationals - including a £200,000 striker in former Celtic favourite Lou Macari.
'Though some of Manchester's defensive methods were crude, Leeds found it difficult against a blanket defence for the second time in four days … Leeds had Billy Bremner and Johnny Giles back in midfield, but they had to contend with close marking and some rather dubious tackling, too.
'Bremner appeared to be the main target for Manchester's attempt to provoke Leeds, but the Scottish international and the rest of the Leeds players did enough under stress to emphasise their efforts to improve their conduct. Joe Jordan became the first Leeds man to be booked in a League match this season when he tackled Kidd a few minutes after he himself had been the victim of a hard tackle.'
Tommy Docherty made no apologies for his tactics, insisting, 'I am not really bothered about the match as a spectacle; we have a young side who are not equipped to play an open sort of game, so we have to adopt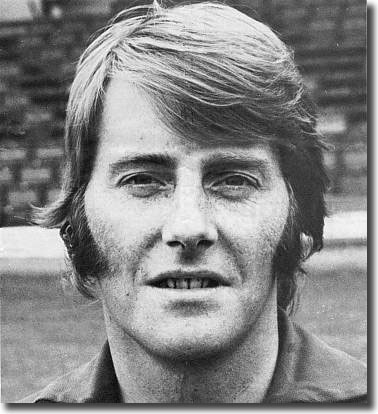 tactics to suit. After all, I have a family to keep, a living to earn. If we had come here and lost 6-2 everybody would have said what a great game it was, sure … then we go into the Second Division and I get the sack.
'Today's result is just a little slip as far as they are concerned, I'm sure they will go on and win the League. If you come to Elland Road thinking you are going to take this side on you are kidding yourself. They are a world class side and they will take you apart.'
United returned to winning ways the following week at Norwich, Johnny Giles scoring the only goal of the game with a viciously swerving shot from 20 yards after 14 minutes.
Two days later, Welsh international keeper Gary Sprake ended a thirteen-year United career, moving to Birmingham City, the £100,000 fee a world record for a goalkeeper.
Don Revie: 'When a player has been with you since the age of 15 like Gary it is sad when he leaves… I can understand his position. When you have played eight or nine years in internationals and all over Europe with a top club it is not good to be out of the first team.'
With Sprake so frustrated with reserve team football (he had played more times for Wales than the United first team since losing his place to David Harvey in April 1972), a move had become inevitable. Sprake claimed he would have accepted a pay cut if it had been necessary to secure first team football.
Revie wasted no time in securing a replacement. He signed Ayr United's Scottish Under-23 keeper David Stewart, 25, in a £30,000 deal, commenting, 'I have seen David play once, but our chief scout, Tony Collins, had watched him on several occasions this season. He is a good goalkeeper and we are pleased he is joining us.'
With Stewart signing too late to be available for the second leg of United's UEFA Cup-tie against Stroemsgodset on 3 October, John Shaw was on the bench.
The Norwegians started brightly but fell behind in the eleventh minute after a poor back pass to goalkeeper Inge Thun presented Allan Clarke with the sort of chance he thrived on.
Steiner Pettersen equalised for the Norwegians after eighteen minutes but Mick Jones restored United's lead two minutes later and they scored at regular intervals thereafter to secure a 6-1 victory.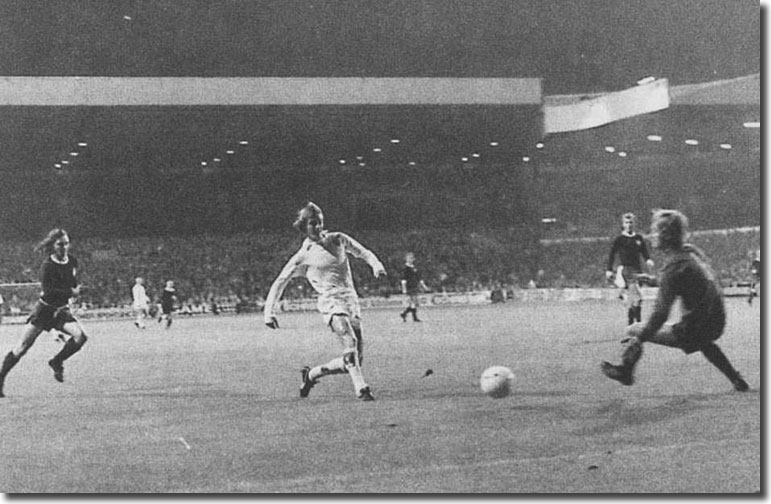 Clarke added his second after 37 minutes and Frank Gray made it 4-1 in the 57th minute. Six minutes later Mick Bates hammered home the evening's finest goal with a powerful rising shot from 20 yards as he cut into the area. Bates might easily have had a second goal after 78 minutes when another power drive beat the keeper only to cannon against the bar.
Billy McGinley and Sean O'Neill came off the bench in the final quarter of an hour before Jones completed the rout after more good work from Lorimer on the right flank.
Three days later, Jones gave United a 41st-minute lead United at home to Stoke City but they struggled to find any rhythm and conceded a goal and a point with a minute of the game remaining.
On 8 October Norman Hunter made his 600th first team appearance in the League Cup at Ipswich. Revie paid tribute to one of his favourite sons, saying: 'I do not think he has been given anything like sufficient credit for the ability he possesses and his great dedication and will to win. No manager could wish to have a better player on his books … I think he has missed only about 13 or 14 matches because of injury in the 11 years he has been playing.'
A weakened team, shorn of Jordan, McQueen, Lorimer, Clarke, Giles and Eddie Gray, lost 2-0, but Revie shed few tears, his aim focused exclusively on the League.
United recovered from falling two behind within nineteen minutes to draw at Leicester on 13 October, but their lead in the table was down to two points. A home match against champions Liverpool on 20 October promised to be a stern test of their title credentials.
The game was as closely fought as customary between the two sides, the only goal coming from Mick Jones, who earned this tribute from Don Warters in the Yorkshire Evening Post: 'No one, not even zestful Leeds United skipper Billy Bremner, is enjoying his football as much as striker Mick Jones… Jones is much more penetrative and eager than he was towards the end of last season. He is quicker to the ball, more direct when in possession, and is prepared to take on defenders.
'Jones, perhaps more than most because of the very nature of his play, is the type of player who draws heavily on energy and takes a regular buffeting from defenders yet still pounds away in uncomplaining fashion. This season, however, he is gaining the kind of reward his endeavours deserve. At Leicester just over a week ago, he scored his 100th goal for United since joining them from Sheffield United.
'Few of those goals can have given him greater delight than the one he scored to bring United victory … over Shankly's men. It was a brilliant goal, skilfully engineered and very crisply executed. Allan Clarke began the move near the halfway line on the left, found Bremner, who stroked a pass into the path of Peter Lorimer. The United winger made ground quickly and, as the Liverpool defence closed in, sent over a swerving centre to the near post for Jones to run on and head firmly into the net, despite challenges from goalkeeper Ray Clemence and defender Tommy Smith.
'I always look forward to games between these two highly competitive sides, but the most refreshing thing about this latest clash was that 44,911 spectators saw two sides playing the game as it should be played - to win.'
Don Revie rested McQueen, Hunter, Giles and Eddie Gray for the UEFA Cup-tie with Hibernian four days later. United were below par, outplayed by attack-minded opponents, but snatched a goalless draw, a relieved Revie admitting, 'We have no excuses tonight.'
A similar outcome seemed likely in the following game, away to Manchester City on 27 October, until Mick Bates scored after 76 minutes. Tommy Booth's headed clearance fell nicely for the midfielder on the edge of the area and, though his first time shot was scuffed, City keeper Keith MacRae was distracted by McQueen jumping over the ball and it bobbled on, almost apologetically, into the net.
City argued bitterly that they were denied a clear penalty for handball against Paul Madeley just before half-time. Paul Fitzpatrick in The Guardian: 'Some City players also felt that Mr Jones missed another handling offence in the second half when Hunter stopped Booth's shot on the goal line. But as television later showed, Hunter almost certainly did not handle the ball - Mr Jones, in any case, could not possibly have seen the incident from his position at the back of the goal - and the action replays did not prove beyond question that Madeley's handling was deliberate.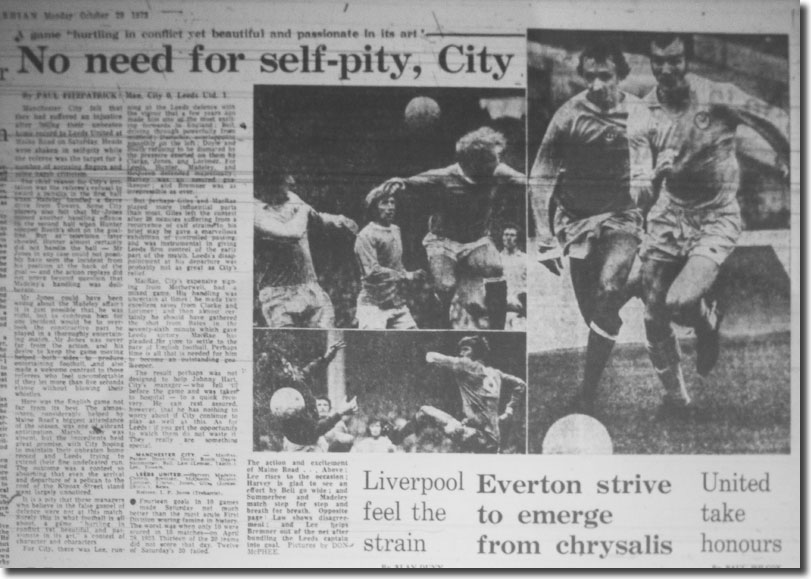 'Here was the English game not far from its best. The atmosphere, considerably helped by Maine Road's biggest attendance of the season, was one of vibrant anticipation… It is a pity that those managers who believe in the false gospel of defence were not at this match.
'For Leeds, Hunter, Madeley and McQueen defended majestically; Harvey was an assured goalkeeper; and Bremner was as irrepressible as ever … Giles left the contest after 28 minutes suffering from a recurrence of calf strains. In his brief stay he gave a marvellous exhibition of controlled passing and was instrumental in giving Leeds firm control of the early part of the match. Leeds' disappointment at his departure was probably not as great as City's relief.'
Fitzpatrick added: 'If you get the opportunity to watch (Leeds) do not waste it. They really are something special.'
Trevor Cherry recalls: 'We had gone 12 games unbeaten and nine of those had been won, including a 1-0 victory at Liverpool a week earlier. But because we had drawn two of the last three, Don was not happy. He sat us all down at Manchester City and launched into us. He said, "I want to go unbeaten this season and win the league but if you lads are not going to do it for me then I'll go out and get someone who will." We were unbeaten and just looked at each other stunned. But we did step it up, went out and beat Manchester City, and remained unbeaten right through until February.'
A disappointing run was brought emphatically to an end by the 4-1 defeat of West Ham on 3 November, secured by goals from Bates, Jones (2) and Clarke.
A number of first teamers were rested for the UEFA Cup return with Hibs but Billy Bremner had an outstanding game in the unaccustomed role of sweeper. The game reached the end of extra time without a goal, sending the tie to penalties. Bremner scored the decisive spot kick to send United through to a third round clash with Portugal's Vitoria Setubal.
The Whites had to be resilient to hold Burnley to a goalless draw at Turf Moor on 10 November. According to Tom German in The Times: 'Leeds United had to summon more determination and hard toil to sustain their unbeaten sequence than probably on any other occasion this season, while seldom seeming in danger of forfeiting their distinction. Burnley, among the more persistent pursuers, pounded them with scarcely a pause for breath throughout the second half of a goalless match, but the Yorkshiremen applied the now instinctive disciplines and drills, developed over successive seasons of shot and shell, so that Burnley were denied the chance to take telling aim.
'It was by no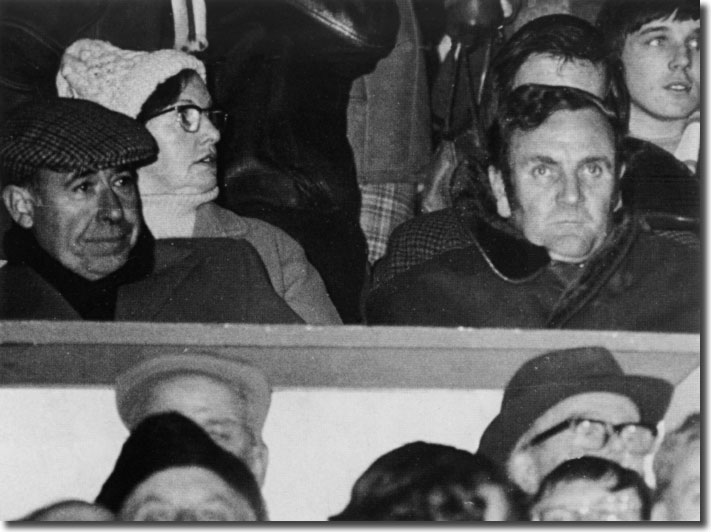 means all calm and orderly… It needed a good deal of shrewd positioning by Hunter and a lot of running by Bremner to weld Leeds together and there were moments when their self-adjusted halo tilted to a rakish angle. Bookings for Clarke and Bates of Leeds and Collins of Burnley reflected the directness which sometimes crept in. But for all the hubbub around the fringe of Leeds' penalty area in the second half, Harvey was rarely directly taxed.'
After goals by Clarke, Jordan and Bremner saw Coventry defeated 3-0, Don Revie commented, 'The last fifteen minutes of the game were sheer poetry, and the third goal was one of the finest I have seen. It began with David Harvey and ten men touched the ball before it went in.' Revie singled out Mick Bates for praise: 'I don't think there are many better midfield players in the country … he is playing well enough for Sir Alf Ramsey to have a look at him.'
Tom German echoed the words in The Times, saying, 'Bates has perhaps not yet developed the breadth of vision of Giles but here, filling the role the jogging little Irishman normally occupies, he had a major part in shaping events. Bremner was his ally, but he took it upon himself to pop up propitiously on both flanks and expressed himself admirably with some close control on the ball, deft feints which created gaps for him to go through, and accurate passing which was crucial to all three goals.'
United played out a 0-0 draw on 24 November at Derby, now under the management of Dave Mackay following the controversial dismissal of Brian Clough. Don Revie insisted: 'It was a tremendous point for us. We caught the backlash of all the troubles at Derby. I don't think I have seen a team run and chase as Derby did for the final twenty minutes.'
Four days later, Revie watched the UEFA Cup-tie against Vitoria Setubal from the directors' box after UEFA's Control and Disciplinary Committee banned him from the touchline and dressing room, upholding Hibernian's protest that he and Les Cocker had entered the field of play at Easter Road without the referee's permission.
Setubal flourished in the unfamiliar conditions of a pitch blanketed in snow, their ball control keeping them in contention despite the dismissal of their centre-forward six minutes before half-time for striking Terry Yorath. It was thought that the player was the Brazilian, Vincente, though Vitoria maintained that it was a Paraguayan reserve, Henrique Campora.
Despite besieging the Portuguese goal, United had to be satisfied with a 71st minute goal from Cherry. Five minutes later, Mendes pulled Lorimer down in the penalty area, but the Scot fired the spot kick against the legs of the goalkeeper and then put the rebound wide.
The Elland Road pitch was again treacherous with snow and frost the following Saturday when Queens Park Rangers were the visitors. Both managers wanted the match called off, but the referee declared the pitch playable after it had been worked on by ground staff.
Rangers, London's highest placed side, came as close as anyone thus far to ending United's unbeaten run, adapting more quickly to the difficult conditions and taking the lead after 35 minutes. After a free kick by Terry Venables, Don Givens and Stan Bowles made an opening for winger Dave Thomas to beat Harvey with a shot from 18 yards.
Gerry Francis had the ball in the Leeds net seconds before the break only for the effort to be ruled out for offside. The decision clearly upset Rangers and Venables and Frank McLintock protested furiously to the referee as the teams went off.
Rangers were even more annoyed two minutes after the resumption when Leeds equalised, Bremner scoring his seventh goal of the campaign from 18 yards. Confidence restored, United went ahead after 52 minutes via a beautifully judged looping header from Jones.
The Londoners made it 2-2 with eight minutes remaining, United defenders undone by the treacherous surface as Bowles ran in to tap home past an unsighted Harvey.
Tom Freeman in The Times: 'On a pitch slippery enough to make the mere act of walking a dangerous exercise, Rangers came nearer than any team to destroying Leeds' unbeaten record. They would have succeeded, I am sure, had the referee not disallowed for offside a goal by Francis just on half-time. Rangers were already one up, Thomas having scored ten minutes earlier, and a second goal would have given them such a great psychological advantage that even Leeds would have succumbed.
'As it happened, Leeds were utterly transformed by a wonderful Bremner goal immediately after half time. Bremner, having done little in the first half, suddenly emerged from a ruck of players, left a couple of opponents standing and let fly a carefully aimed shot that left Parkes helpless. For 20 minutes afterwards, Leeds, with Bremner urging them on, played unreasonably good football on the hopeless surface.
'Leeds, who had to substitute Jordan for the injured Bates in the first half, certainly had a fright but there was nothing remotely to suggest that they had lost their touch. Bremner is as good as ever, so is Clarke,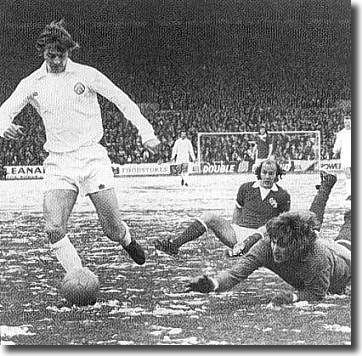 who produced two marvellous shots, and Jones made a successful return after his recent absence.'
The game left Bates with a knee injury serious enough to sideline him until August, adding to a midfield casualty list that included Giles, Madeley and Gray. Revie said the injury 'just happened. There was no one near him but he knew instantly something was wrong.'
Madeley returned the following weekend at Ipswich, a game which ended with United impressive 3-0 victors.
Barry Foster in the Yorkshire Post: 'Leeds United not only won well at Ipswich, they seldom allowed the home side, one of the best in the League, a constructive kick of the ball.
'Leeds' finest performance so far this season came in the game expected to be their toughest, but they took Ipswich in their stride to equal Liverpool's post-war record start of 19 league games without defeat … Their victory was so full of good things by Leeds that on reflection it is a great credit to the Ipswich defence that they hung on so long. But once Terry Yorath made the vital breakthrough in the 51st minute, the result was set to make the perfect birthday present for the Leeds captain, Billy Bremner, who was 31 yesterday.
'Although they did not score in the first half, it was then that the Leeds victory was fashioned. They marshalled the game almost from the first kick, using Allan Clarke and Mick Jones in attacking positions. Bremner, Yorath, Paul Madeley and Peter Lorimer were in charge in midfield, making the most of a strong wind at their backs.
'Having made it clear they had come for two points, Leeds then went out and took them after the interval, first with Yorath's first goal since September 1971, then with Jones' 12th goal of the season and finally with Clarke's 100th goal in first class matches for Leeds.
'The only sour note for Leeds came 90 seconds after Clarke's 87th minute goal when the striker badly twisted his right ankle and knee in a tackle.
'The 27,110 spectators had just seen him score a typical Clarke goal - weaving past three defenders from the right to hit a great left footed drive into the net from the edge of the penalty area. It was a fine goal to round off a majestic display, but Yorath's goal was the most important. He clipped a shot towards goal, also from the edge of the penalty area, after an indirect free kick on the left. The shot hit a defender, cannoning into the top corner of the net.
'Seven minutes later, Yorath made space for himself on the left and floated over a perfect centre for Jones to find the opposite corner of the net with a firm header.'
The Times' Norman Fox commented: 'In ten years, perhaps more, I cannot recall seeing a team maintain such skilful pressure for so long in any match in Britain or Europe. There have been days when Leeds have needed to spend 20 minutes in complete domination in order to overcome passing crises; here they rode a crest that rolled on and on, and to watch them made 90 minutes seem like nine and eleven men move like one. Understanding, perception, support, hard tackling, delicate touch and a goal by Clarke that was superb even by his standards, all of this stirred an intoxicating brew that at the end inspired not the ovation one would have expected but a standing silence.'
When the players departed for their UEFA Cup-tie with Vitoria Setubal, many took advantage of the warm weather, enjoying the hospitality of the nearby Estoril Golf Club in the days before the game.
Peter Lorimer: 'Don told us we could take our golf clubs to Portugal and that definitely wasn't him. We were even out on the course the day before the game. Don had realised by then that because we were getting involved in every competition, we were constantly coming up short. Don's one aim was to win the League that season and nothing else mattered. Personally, I wish he had done it sooner as I am sure we would have won more trophies.'
Madeley, Bremner, Hunter, Clarke, Giles, Jones and Eddie Gray sat the game out and Revie deployed 19-year-old full-back Peter Hampton in midfield and Frank Gray at sweeper.
The match was goalless at the break, but Setubal were in a different class thereafter, taking the lead via Duda's diving header after 52 minutes. Ten minutes later Portuguese international Jose Torres gave his side an aggregate lead and in the 74th minute Duda beat Ellam on the edge of the penalty area to score from ten yards.
With eight minutes remaining, substitute Gary Liddell scored his first senior goal from the edge of the area and Hampton almost secured an unlikely away goals win with a volley two minutes from the end.
United had to withstand some early pressure at Chelsea on 15 December before securing a 2-1 victory. Geoffrey Green in The Times: 'As the light went out of the freezing day a 40,000 crowd … streamed home knowing that in Leeds they had seen the best team in the land. Winning a handsome match by 2-1, Leeds have now set a new high water mark in the championship for the period since the First Division was enlarged to 22 clubs in 1919. Surpassing Liverpool's run of 19 games from the opening day of the 1949/50 season, Leeds have now gone undefeated in 20 matches and done it in style.
'Leeds, experts at riding punches, also play percentage football. When they make their own chances they take them. So it was that they came back from the ropes to dominate the last hour of a very fine match that was the best possible advertisement for the English game.
'Having already softened up Bonetti in the air two or three times as Jones challenged for high crosses - conceding free kicks in the process - Leeds duly made this tactic pay off. On the very stroke of the interval Bonetti lost Bremner's swirling corner kick under pressure (again from Jones) and there was the hungry, powerful Jordan - Clarke's understudy - to bang home the loose ball. It was a vital lead snatched at the psychological moment.
'However, when the talented Osgood headed in Houseman's corner finely for the equaliser early in the second half, Chelsea for a spell threatened to take control. It was now that Leeds unveiled their power. Full of accurate passing angles and imaginative running, they proceeded to move the ball eloquently to every corner of the field. Suddenly Chelsea were chasing yellow shadows and with 25 minutes left, the blow fell. Jordan cleverly headed Lorimer's precise centre at the far post square to Jones and the centre-forward's shot from some 12 yards went past Bonetti like a dream.'
On 22 December Billy Bremner made his 500th league appearance as United beat Norwich 1-0, the players carrying placards pre-match to wish the Elland Road crowd Merry Christmas.
Barry Foster in the Yorkshire Post: 'Leeds United signed off for the year at Elland Road on

Saturday, unbeaten this season and establishing two other important points besides the ones they took at Norwich City's expense.
'First, the importance to the side of men like Terry Yorath, who has had to make do with the sidelines so long while others have taken the limelight; second, the underlining of their breakthrough in support.
'Where would Leeds have been without Yorath on Saturday? With Billy Bremner only 50 per cent fit and Leeds lacking three other midfield men because of injury there was a call to be answered - and Yorath had the answer. It was not that he looked a world beater… but he was able to do more than an adequate job and the goal was his reward.
'Saturday saw the side return home after three difficult away games and with an unbeaten League record in the bag. To welcome them was a crowd of 34,747… It represented what could be the big breakthrough for Leeds in supporter drawing power, for although they have done well at the gate all season, Saturday was, perhaps, the truest test of their appeal.'
A single goal from Madeley at Newcastle on Boxing Day extended United's unbeaten run to 22 games while Liverpool's 2-1 defeat at Burnley cut them nine points adrift.
United almost came a cropper at relegation-threatened Birmingham on 29 December as Gary Sprake faced his former Elland Road colleagues for the first time.
Leeds struggled all afternoon to deal with Bob Latchford, the striker opening the scoring after 22 minutes, unmarked in the centre of the area. A minute later he had the ball in the net again, though the goal was disallowed for a foul on David Harvey.
United were staring anxiously down the barrel of their first League defeat until four minutes from the end when Joe Jordan shot firmly past Sprake from six yards after being found by Lorimer's cut back.
The result left United eight points clear with 39 points from 23 games as the year closed, in a strong position to regain the championship.
The Times' Geoffrey Green penned this tribute 'Within the past decade, Leeds, by their achievements, have grown to be the aristocrats of the English game. But more importantly this season … they have made a conscious effort to change their former image of being a hard, greedy, ruthless side up to every act of gamesmanship in the professional book where the Corinthian ethos of old has scarcely survived. They have succeeded so far in taking a duster to the slate with the happy result that they are now not only a better side, but have also achieved a new stature that is attracting the attention of a selective public.
'Already this season they have been watched by more than a million spectators; their average home League gate stands at 39,404; away from home their figure is 39,692 - the best in the land. Suddenly, they have become fashionable, and the reason, I suspect, is their new code of ethics and entertainment value.'
Part 2 An attack of nerves - Results and table