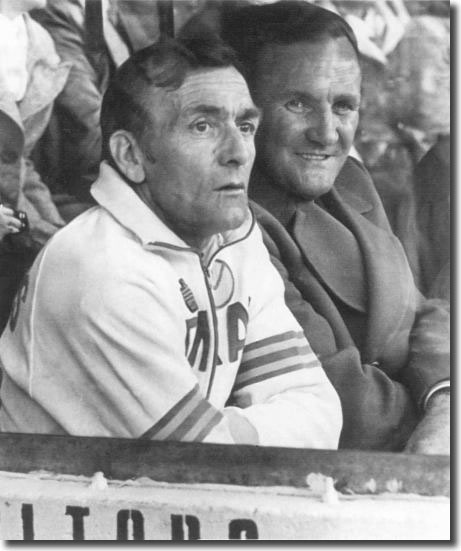 For informed observers, it could not have been clearer that the sights of Leeds United manager Don Revie were set on just one aim in the 1973/74 season: regaining the League championship title the club had won for the first time in 1969.
United had finished runners up three times in the four seasons since then and Revie was determined that their pursuit would be successful this time.
When the Whites faced Ipswich Town in the League Cup in October, Revie sent out a team missing six internationals (Eddie Gray, Allan Clarke, Peter Lorimer, Johnny Giles, Joe Jordan and Terry Cooper) and two other regular first team men in Mick Bates and Gordon McQueen. It was clear that trophies other than the big one were just a distraction for the manager.
Revie would not openly admit such a view, publicly maintaining: "There is no question of us not being interested. We have always tried to stay in all competitions because of financial reasons. Tonight's match is no exception. We shall be trying hard to win. Most of the players we have had to leave behind were injured before Saturday's game against Stoke."
Norman Hunter made his 600th first team appearance against Ipswich, and was as combative as ever, but could not prevent the Portman Road outfit running out 2-0 winners.
It was a similar story in the UEFA Cup. After a 1-1 draw in Norway against the office workers, draughtsmen, mechanics, lumberjack and postman-goalkeeper of part timers Stroemgodset, United fielded a number of reserves in the second leg as Revie sought to keep his men fresh for their title chase. Nevertheless they won the game at a canter, ending 6-1 victors.
That left United paired with Hibernian of Scotland in the second round. Again Revie omitted five first teamers for the first leg at Elland Road on 24 October.
Gerry Harrison reported the game thus in the Times: "Leeds, the pride of England, playing their 76th cup-tie in European competition, were shown a thing or two by the invading Scots at Elland Road last night. Hibernian, the pioneers of European football in Britain, should be taking into the second leg at Easter Road a clear two- or three-goal lead. Only poor finishing and tiredness let them down as they controlled most of the initiative in a match where national and club loyalties were strangely interwoven in the pattern of conflict.
"Against a Leeds side clearly missing the contributions of Hunter, Giles and McQueen, Hibernian played their natural attacking game. It is not often this speck of Yorkshire sees opponents use two orthodox wingers and provide plenty of men to support them.
"Within a quarter of an hour, the 2,000 or so followers of the Edinburgh green and white were confident enough to break out in choruses of 'Hibees' and 'You're all a load of rubbish,' without arousing a murmur of denial from the massed ranks of 27,000 Yorkshiremen. Although Jones had a good chance from Clarke's back header in the second minute, it was soon obvious that Leeds were going to have problems in midfield, where Bates and Bremner were being outrun and outplayed by Stanton, Cropley and Higgins.
"Hibernian were playing on the wings with the songs of their supporters to back them as well as passing with greater accuracy than Leeds. Two swinging left foot passes from Cropley to Smith on the right touchline gave a clear warning of what the Scots had up their sleeves. Yorath flattened Gordon as they challenged for Smith's cross; the giant Higgins drifted past Ellam after an error by Bates had set them in motion again, only for Harvey to save well. By the half hour, with Black and Blackley winning most of the defensive aerial contests, even the nobs in the stands had let off a few boos and groans of disappointment.
"From Hibernian's first corner in the 39th minute, the young Cropley, born in Aldershot, should have scored from ten yards, but Harvey saved well low down. The Yorkshire-born Scottish goalkeeper saved well again from Cropley on the stroke of half time, by which time Clarke and Schaedler had been shown the yellow card for kicking at each other, and the visiting patrons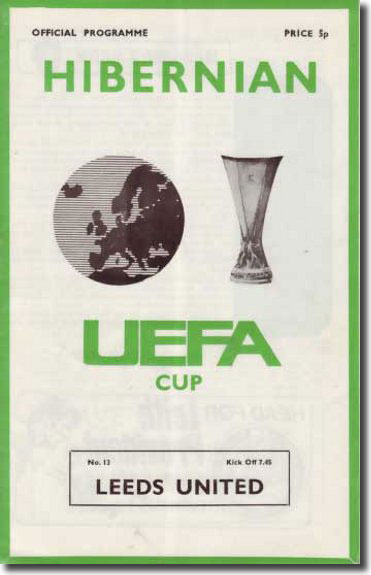 at the Elland Road end had been given so much to sing about that their repertoire had been aired two or three times.
"Leeds began the second half with more aggression, but precious little more cohesion. Jordan, the Scot whose goal against Czechoslovakia put Scotland in the World Cup finals, substituted for the injured Jones. Within ten minutes we had already seen Hibernian pushing forward again and Leeds lost Gray with a shoulder injury.
"But although Cropley and company were willing enough to play their football there were signs that Hibernian were tiring, not only in defence, where Leeds were allowed more space, but also in attack, where Gordon, master of arts and now accountancy student, had a fine opportunity of putting his side in credit, but shot weakly.
"Higgins also ran out of steam when he tricked Yorath, but could not test Harvey. Then, ten minutes from the end, Higgins made a Pygmalion mess of an easy header five yards out from Duncan's cross. It must have been depressing viewing for his goalkeeper, McArthur, who had saved two Lorimer thunderbolts brilliantly and then stopped a Bremner snapshot in a brief spell of Leeds ascendancy."
Don Revie remained optimistic about the prospects of success in the second leg, saying, "Naturally, we would have liked a goal or two. But we have gone away in tight situations before in European football. We have no excuses tonight even though we had so many players out. Hibernian are a great side… One goal for Leeds up there could be worth double, and if we have our full strength side out next time, I'm sure it will be a great game."
Behind the scenes, the manager was less bothered about the outcome, clearly seeing the tournament as an unnecessary distraction while United sailed serenely on in the First Division.
A 4-1 win against West Ham a few days earlier extended their unbeaten run in the League to fourteen games; it did, however, leave Revie bemoaning a host of injuries with David Harvey, Gordon McQueen, Norman Hunter, Johnny Giles, Paul Madeley and Mick Jones unavailable to travel to Edinburgh, along with long-term injury victims Eddie Gray and Terry Cooper.
With Gary Sprake now in Birmingham's ranks, and newly-signed David Stewart unavailable under UEFA's rules, Revie selected 19-year-old John Shaw in goal with rookie Glan Letheren, 17, as back up.
Shaw's only other first team appearance had come in the same competition in September 1971, when he conceded three goals in the first half at Elland Road against Lierse. United had won the first leg in Belgium by 2-0, and Revie rested a number of players for the return. He brought Gary Sprake on at half time for Shaw, but Lierse added a late goal to win the tie 4-2 on aggregate.
Also called into the party for the Easter Road clash were Jimmy Mann, a 20-year-old forward with two appearances to his name, midfield player Sean O'Neill, 21, full-back Peter Hampton, 18 (two appearances) and forward Gary Liddell, 18 (one appearance). In the eventuality, none of the four made it onto the pitch, but Roy Ellam, Terry Yorath, Joe Jordan, Mick Bates and Frank Gray started in the stead of some of their more illustrious colleagues.
Terry Brindle in the Yorkshire Post: "Such is the depth of reserve strength at Elland Road that despite recurrent injuries Revie can still field a formidable side. His team tomorrow will include five regular first team players and experienced reserves like Yorath, Jordan and Bates, so it should be no push over for Hibernian.
"Indeed, the breadth of ability is such that Leeds are fast reaching a situation where they can virtually produce two teams. Revie is no longer obliged to risk players with minor injuries; he can blend established players with experienced reserves and talented newcomers and still come up with a formidable side.
"It means that when Revie has decided on his priorities - and there can be little doubt that the League championship is his prime target - he can conserve his players without actually surrendering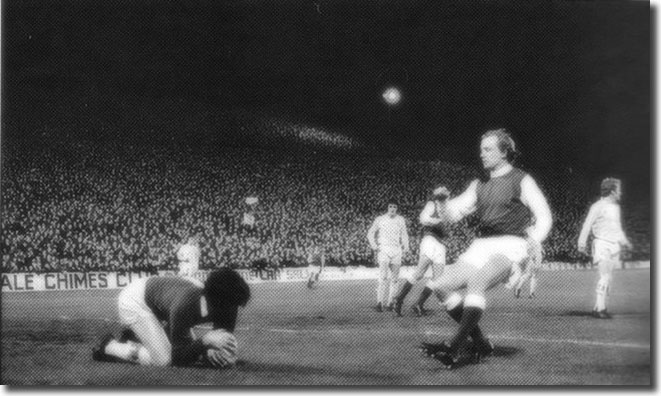 in any other competition.
"Leeds have overburdened their best players by involvement in too many competitions before and failed in each; now the absence of six stars does not automatically suggest failure.
"The team which Revie fields tomorrow will not be his strongest but it will nevertheless be an appreciable force, a team which properly motivated could put Leeds through to the next round. And meanwhile his injured stars have time to recover for next Saturday's League match."
Among all the chopping and changing, Revie made one master stroke, opting to play Billy Bremner as sweeper. He forsook his captain's renowned attacking abilities for the coolness and confidence he could bring to the rearguard. It was to prove the wisest of tactical adjustments.
With the Hibernian strip featuring large elements of white alongside the green, United took the field sporting an all-yellow kit. They were first to make an attacking move though there were no direct threats to Hibs keeper Jim McArthur in their opening forays.
Indeed, the Edinburgh side quickly got their act together and pressed United back deep into their own territory. Hibs skipper and midfielder Pat Stanton, scorer of a hat trick in their previous game, led the assault on John Shaw's goal.
Centre-half Jim Black came close with a shot on the run and then gifted midfielder Alex Cropley also went perilously near to a goal. In the tenth minute, Hibs were unfortunate not to open the scoring when defender John Blackley tore through the middle to unleash a tremendous swerving effort. Goalkeeper Shaw was equal to it, saving brilliantly and substantially boosting his confidence in the process.
After twenty-five minutes United came the nearest yet to breaking the deadlock from their first corner of the night. Frank Gray swung a low ball into the centre for Terry Yorath to flick on. Centre-half Roy Ellam was swiftly onto the opening and hammered in a shot only to see it come back off the underside of the bar for Hibernian to scramble away.
Leeds were now starting to come into their own, performing far more impressively than in the first leg and when Joe Jordan met a free kick by Bremner Hibs keeper McArthur was forced to save in fine style.
But the Edinburgh side were not on their heels for long and when they broke out of defence, midfielder Alex Edwards swung a telling ball out to Arthur Duncan on the wing. The move broke down when the winger failed to control the pass.
A few minutes later Austrian referee Paul Schiller handed out the game's first caution, booking home striker Alan Gordon for fouling Yorath, much to the annoyance of the Easter Road crowd.
They were soon baying their frustration again as their favourites pressed for goal. The impressive Cropley raced forty yards before hammering in a spectacular effort which Trevor Cherry was able to chest off the line. Tony Higgins latched on to the rebound but the back-pedalling Peter Lorimer was well placed to save United with a smart goal line clearance and then Cropley offered some relief when he headed narrowly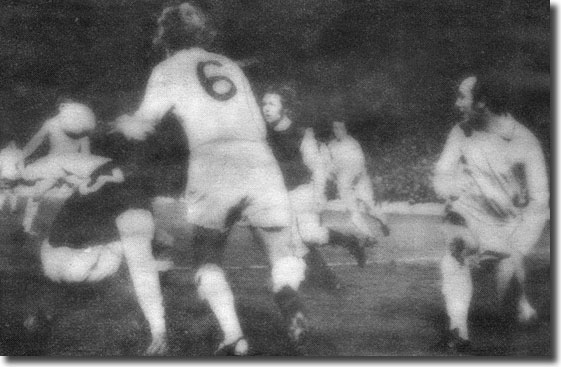 over.
The game was hotting up now, with the pressure on John Shaw and his defence intensifying, but the young Scottish keeper was enjoying the game of his life. However, he sustained a hand injury just before the interval and was withdrawn with Don Revie sending on the untried Glan Letheren as replacement at the start of the second half.
There are differences of opinion about Shaw's removal. It was claimed in some quarters that broken fingers in his right hand required strapping up, though more cynical commentators maintained that it was a cynical ploy by Revie, intended to give an advantage to the home team.
Another half-time substitution brought John Hazel on to replace Higgins in the Hibernian ranks.
There were fears that the inexperienced Letheren might be found wanting under pressure, but he was soon performing heroics and Bremner marshalled the defence superbly, denying Hibs many clear opportunities of testing the young Welshman.
Bremner was lauded afterwards for what many, including the home fans, acclaimed as the best defensive display ever seen at Easter Road. In one memorable incident he back heeled the ball along his own goal line with two home forwards bearing down on him, demonstrating supreme confidence in his abilities. This was a man at the top of his game, who said later that he found the role of sweeper incredibly easy.
Terry Yorath: "Billy played sweeper and I remember him being in a very cheeky mood that night. After chipping the ball over their centre-forward back to David Harvey, he later took up his usual position on the line for a Hibs corner. When the ball was headed towards goal, Billy stopped it on the line and then back heeled it across the goal to Frankie Gray - much to Frankie's horror!"
When the Leeds goal was threatened again, Reaney headed a Stanton header clear as Hibs pressed. Then it was the home side's turn to sweat when Black mistimed a clearance but Allan Clarke was slow to size up the situation and his shot flew harmlessly across the face of the open goal.
Gordon had the ball in the net for Hibs from a Stanton pass, but the effort was disallowed for offside. Then Letheren was penalised for taking too many steps but the indirect free kick was repelled with some ease.
The young Welsh keeper soon forgot his somewhat shaky start and made two excellent saves from Cropley.
Hibs were finishing the game the stronger but clever defensive play by Bremner and Reaney extracted United from bother as the Scots threatened to take complete control. Bremner headed a Black header off the line before a 30-yard drive by Cropley skimmed the bar.
Despite many near things, the game failed to produce a goal for either side, even after 30 minutes' extra time. In the extra period, United had come close to settling things when Ellam put the ball in the net from a centre by Clarke, but the referee decided he had used his hand to control the ball in the act.
The result mirrored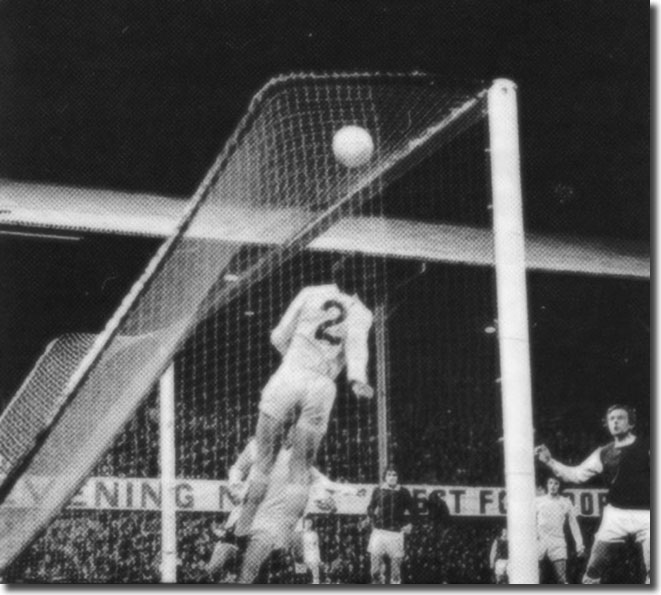 that of the first leg at Elland Road, leaving the outcome to be settled by the drama of a penalty shoot out.
Hibernian won the toss to determine the order and it was their captain, Pat Stanton, an admirable performer in both legs, who was the first to try his luck.
Billy Bremner knew Stanton well from playing with him for the Scottish national side and as he stepped up to take the first spot kick, Bremner chipped away at him, sniping, "You do realise that the whole of Scotland is looking at you now?"
The mind games worked: Stanton crashed his effort against the post with Letheren beaten as he dived the wrong way.
Peter Lorimer followed for Leeds and made no mistake. Neither, in fact, did the seven men who followed, with Alex Cropley, John Blackley, Des Bremner and John Hazel converting successfully for Hibs and Frank Gray, Mick Bates and Allan Clarke doing likewise for United. That left Billy Bremner with the final spot kick to settle the contest.
The Scotland captain was never going to miss the opportunity after the performance he had given. He held his nerve superbly, slotting home off the underside of the crossbar to decide an enthralling tie.
Geoffrey Green in the Times: "Somehow it was appropriate that Bremner, Scotland's captain, should settle the affair. This had been a golden night for him with a performance of cool, deadly skill, spiced with arrogance which, as it were, thumbed a nose at all his brothers north of the border. So Hibernian, who were the first British club into Europe in 1955, had departed the scene in this home of Rugby football.
"It was whispered before the start that Leeds did not particularly want to win - keeping their energies primarily for the League title - they certainly disguised it pretty well. But such is the spirit of this club, and the depth of its playing reserves, they were prepared certainly to go out with dignity since now they were without Harvey, the goalkeeper, McQueen, Hunter, Giles, Jones, E Gray and Madeley from their full strength team. Now, too, they were served by two novice goalkeepers - the first, Shaw, who retired at half time and whose fingers of his right hand were later strapped together and may well have been broken.
"In his place came Letheren, and he was the second hero of the night behind Bremner, with at least four dazzling saves as Hibernian threw everything into attack. Leeds, however, playing 4-4-2 with only Clarke and Jordan upfield, soaked up attack like a sponge all night and if Hibernian should now say that they themselves were unlucky when five of their shots were either headed or blocked off the Leeds line, then, as one has said before, this is all part of legitimate defence. Reaney twice and Bremner twice (once with an arrogant touch) were the heroes.
"Hibernian started with a forward line, all five of whose Christian names began with the letter A. That, no doubt, stood for attack. And attack they did for long periods throughout the second half and during extra time. But they were denied by the deep trap set by Leeds' defence, with Bremner playing right at the back and playing brilliantly at varying paces, and with delicate flicks out of trouble in every direction to make himself the master of the night.
"Beyond that, two goals were disallowed, one for offside against Gordon, ten minutes into the second half, and once by Ellam in extra time, when he was adjudged to have handled the ball as he turned in Clarke's cross. Each post also was hit - once by Ellam, again after only twenty minutes, and then by Stanton on the stroke of half time. Stanton, no doubt, would have heard timber crashing in his dreams last night. But really the story of the night was Leeds' clever defence and the command performance given by Bremner. If he is allowed to play like this in the World Cup, then Scotland may still have something to say in Germany next summer."
Michael Carey in the Guardian: "A bizarre evening at Easter Road last night ended with Leeds United, against all odds and against the pattern of play, eliminating Hibernian in their UEFA Cup second round second leg tie by 5-4 on penalty kicks after the teams had remained locked in a goalless struggle after extra time. Appropriately, the final word was left with Bremner, whose penalty it was that sent Leeds through. He had a magnificent game at the heart of Leeds' defence, yet the expression on his face at the end was not the joyous one of a man who had just won his team another profitable joust in Europe.
"That was not the only curious moment of the night. Leeds were pinned back on defence for most of the match, yet escaped, helped by four goal line clearances and actually struck the crossbar themselves, and the final impression was that Hibernian, for all their huffing and puffing, were not good enough to overwhelm opponents who were missing seven familiar faces.
"Leeds, in fact, had a defensive looking line up from the start, with Lorimer, of all people, playing in midfield, Gray pulled back to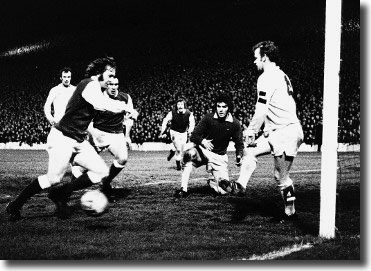 mark the skilful Stanton, and Bremner operating so deep that at times he was behind his own back four, but almost everything he did was etched with gold.
"Not surprisingly, with so many of their players disorientated, Leeds were pushed back. But a lot of Hibernian's attacking was school playground stuff, with the ball being chased enthusiastically, and they lacked the mature premeditation to prise Leeds open, even though there was any amount of goalmouth action.
"Ironically, Leeds themselves might have gone ahead in the twentieth minute when Ellam struck the underside of the crossbar after Hibernian had failed to clear a corner by Bates. Soon afterwards Gordon was booked for a foul on Yorath and Leeds ended the first half with a remarkable escape, Cropley hitting the body of Shaw, Higgins then striking a post and Gordon seeing his shot cleared off the line by Reaney.
"As if Leeds did not have problems enough, Shaw injured a hand and Letheren, aged 17, was thrown in the deep end at the start of the second half. How well he played, how he dominated his penalty area - but even so, Leeds were indebted to Reaney, who cleared off the line once more, this time from a header by Stanton, and not long after that Bremner himself cleared a header by Black off the line.
"And so to the final penalty drama. It was as good as settled with the first kick, for Stanton, the Hibernian captain, struck a post and, of course, there was no second bite. All the others were duly converted and Leeds march on in Europe, unless the Hibernian objection is upheld, although it must be said that at times last night some of their players, always excepting the splendid Bremner, did not seem over worried about their destiny."
"I have been proud of my players many times in the previous 76 matches we have played in Europe, but I don't think I have ever been more proud of them than I was last night," Don Revie told the Evening Post's Don Warters after the game. "I don't think I have seen a better exhibition from 12 players over a two-hour period than I saw from my side. They were magnificent, and showed themselves willing to run until they dropped for Leeds United. I cannot ask for more than that. We were without so many good players, but we still managed to show them a thing or two. We made it clear that we were not quitting - that is simply not our style."
It was not Revie's custom to mention individual players, but he made an exception this time, singling out Bremner for special mention. He later cited the match as his captain's finest in Leeds colours.
"It is not a thing I normally do, but Billy was absolutely superb. He gave one of the finest exhibitions I think I have ever seen from an individual player. He played a sweeper role and that was only the second time in his career that he has been in that position, yet he was unbelievably confident - just magic.
"I was not really worried when the game went to penalties. Peter Lorimer is our No 1 penalty taker, Clarke takes them for England, Bremner for Scotland and Frank Gray for our reserve team. Only Mick Bates is not a regular penalty taker, and I was perhaps just a little more apprehensive when he went up to take his kick, but I needn't have been."
Bremner accepted the plaudits with typical modesty: "I thought the team played really well. My penalty, being the last of the five, I knew everything hinged on it, but that did not worry me. I felt confident all the time."
17-year-old Letheren returned to the usual Thursday training routine at Elland Road after his sparkling debut and confessed that he had an attack of nerves when he ran out at the start of the second half.
"At first I thought my legs would not take it. The first ten minutes were nerve-wracking, but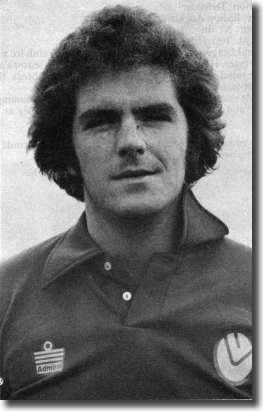 when I got over that I became confident and as the game went on I really enjoyed it.
"John got injured and at half time Les Cocker instructed me to go out and get warmed up, I would be coming on for my first team debut. There wasn't any time for me to get nervous although Paul Reaney made two headed clearances off my line before I'd even touched the ball.
"I was back in the youth team on the Saturday, playing in front of five men and a dog against Sheffield United."
Letheren, who had joined United's ground staff from Llanelli Football Club two seasons earlier, also revealed that the game had nearly brought a personal disappointment for he almost lost the signet ring given to him by his girlfriend.
"I took it off at the start of the second half and placed it inside the goal," he said. "In the excitement at the end of the game I forgot all about my ring. It was only after I had dressed that I realised what I had done. When I got out on to the pitch again the ring had gone but fortunately a policemen had seen it lying there and picked it up."
Peter Lorimer claimed in later years that United had banked on going out of the competition and, with Hibs quoted at odds of 3-1, the Leeds players had clubbed together to put £500 on their hosts. Terry Yorath disputed Lorimer's version of events, but the Scot was forthright.
"Don wanted us to get knocked out but Hibs were so incompetent we still went through on penalties. We drew 0-0 at home and then Don rested a lot of the lads and played the rest out of position, such as Billy at sweeper, in the return. Don dressed it up to the press as wanting to give the Scottish lads a chance to play in their own country but he told the senior lads he wanted out.
"He told me before kick off, 'Keep out of any tackles, I don't want you getting injured.' Billy was playing sweeper, that's how seriously Don was taking it, and he was back heeling it here, messing about there and joking his way through the game.
"John Shaw, who was still only a teenager, played in goal but, unfortunately for Don, had a blinder. Hibs just couldn't get past him, no matter what they tried… Young John in goal was wanting to make a name for himself. He was not in on the scam and was flinging himself about left and right, making fabulous saves… John saw it as his chance to really impress and was taking it. Thanks to him, there was still no score at half time. We returned to the dressing room and it was almost comical to watch Don shake John's hand and say, 'I've never seen a performance like that, John. Brilliant. But I'm taking you off, son, so get in the bath.'
"He was replaced by an even younger lad, a Welsh kid called Glan Letheren, and we thought, 'We are in here, Glan will be nervous'. Sure enough he was just as agile as John had been and, come what may, Hibs could not get the ball in the net until, with ten minutes to go, they broke clear down the right, the cross came over and their inside-forward headed home. We gave each other a knowing look, winked and whispered, 'Thank God for that'. But the linesman had put his flag up and, despite our protestations that it was all right, the goal was disallowed. At full time, with the scores level, we had done our money. All bets are settled, of course, on ninety minutes. It went to penalties and Don's view was that, having come so far, we might as well do our best now to win it. Damned right! We needed to win the match to collect the bonuses to cover the bet!"
The game was not without its other controversies as reported by Mike Casey in the Evening Post: "Leeds United will go into tomorrow's third round UEFA Cup draw in Zurich despite the official protest by angry Hibs directors that United manager Don Revie and trainer Les Cocker were on the pitch while the penalty kick decider was taking place.
"Two Hibs officials - Mr Tom Hurst, the club's managing director, and director Tommy Younger, the former Leeds and Scottish international goalkeeper - were flying to Switzerland this afternoon with a dossier of evidence which they hope will be sufficient to have last night's result reversed.
"A UEFA spokesman said today that the complaint will go before the seven-man Control and Disciplinary Committee next Thursday and United have been called to attend. United director Bob Roberts and club PRO Peter Fay will also attend tomorrow's draw having heard of Hibs' plans.
"Hibernian claim that Revie and Cocker broke the competition rules by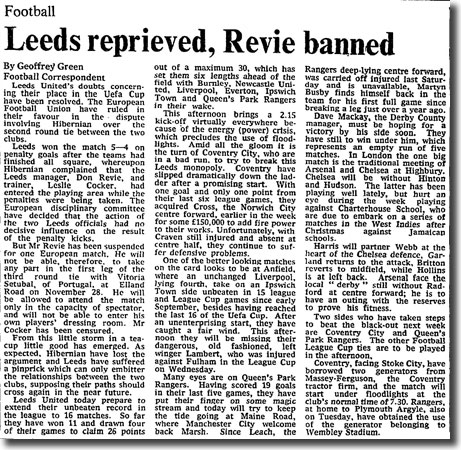 standing on the pitch coaching their players during the penalty session. UEFA representative Albert Gudmundsson (Iceland) said afterwards that 'the referee was wrong to allow them to stay on the pitch.' But the feeling in soccer circles is that the Scots are clutching at straws.
"They are basing their case on section 5 of UEFA article 11 which states: 'Only the players who are on the field at the end of the match shall be eligible to take part in penalty kicks. Other players (apart from the penalty takers and the goalkeepers) must remain in the centre circle.' The rule was introduced to prevent clubs substituting fresh players for the penalty competition. There is nothing in the UEFA rule book which bars officials from the field.
"So despite Mr Hart's optimistic comment today that 'we are going to claim the tie and we are confident of success,' the matter seems likely to have been conclusively closed with Billy Bremner's successful penalty kick - his side's fifth."
Revie would not discuss the controversy, saying curtly, "I don't know what all the fuss is about. I thought it was a good performance by Leeds. If we had complained all the times we have been upset in cup-ties we would still be crying."
On Friday, 16 November, UEFA announced their verdict, coming down in United's favour. The committee decided that the action of Revie and Cocker had no decisive influence on the result of the penalty kicks, though they decided to suspend the manager for one European match, meaning that he could not take any part in the first leg of the third round tie with Vitoria Setubal at Elland Road. He could attend the match only as spectator, watching the game from the directors' box, and was unable to enter the dressing rooms.
"I am saddened to think that I shall not be allowed in the trainer's box," Revie told Warters. "It will be the first time I have not watched a match from there since I became team manager at Elland Road 12 years ago."
He added that it "will be very disappointing. I have sat in snow, rain, burning sunshine, the lot, on touchlines in places as far apart as Oslo and Ankara, yet never sat in the directors' box. That is where I will be tomorrow. I never felt I could be part of the team sat there. I spend every day of my life with the players training and preparing for matches and I like to be in close contact on match days."
Revie dismissed suggestions that he might use some kind of radio contact with the trainer's box or even a telephone. "I thought about things like that but I think I have got to abide by UEFA's decision and that is just what I shall be doing."
Les Cocker was censured for having entered the field of play without the referee's permission, but was free to take charge for the Setubal game, with Revie saying, "I'm sure Les will be able to motivate and prepare the team successfully, he knows all the phrases."
UEFA decided that the Hibernian protest was frivolous and declined to return their deposit of £87.
It was clear that United were disappointed that Hibs had sought to make such a major issue of the matter.
Don Warters: "It was a pity that United's fine performance against the odds should be marred by a childish complaint from Hibs born out of the bitter disappointment of defeat. As Revie said at the time, Hibs were beaten fairly and squarely.
"They could not manage a goal in 120 minutes of action against a seriously-depleted side whose first line of defence for the first 45 minutes was a 19-year-old making only his second first team appearance and for the rest of the game a 17-year-old thrown in at the deep end for his first team debut.
"Hibs' complaint had done little to enhance relationships between Scottish and English clubs, and in some ways it was a pity that the UEFA Committee saw fit to even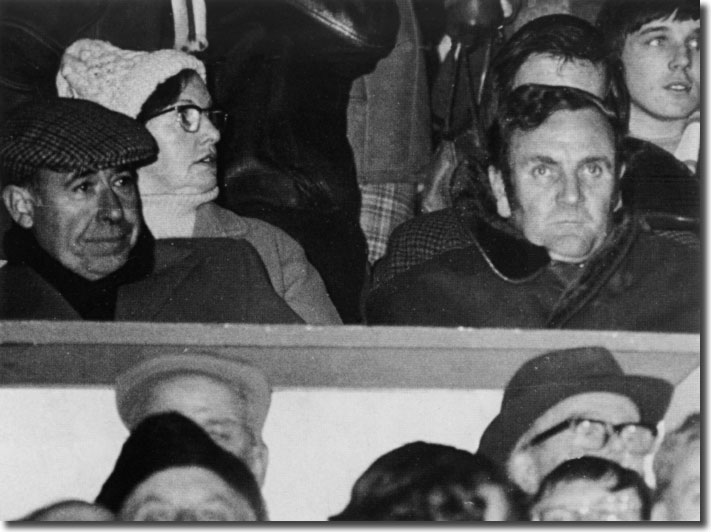 afford Hibs the courtesy of discussing the protest. Football should be played on the field - not in committee rooms.
"United chairman Mr Manny Cussins hit the nail on the head when he said at the time that he had never seen anyone become such bad losers as Hibs. Mr Cussins today pointed out that Hibs manager Eddie Turnbull was on the field as well as Revie. 'It was only after the first penalty that he went off,' he added. He said that if United had been allowed to defend themselves at the hearing they would have pointed this out.
"Mr Cussins said that the referee was with the United team in the middle of the field and saw nothing wrong. 'In my opinion Don Revie did not commit any obvious offence, but UEFA have made their decision and we will abide by that decision,' he said."