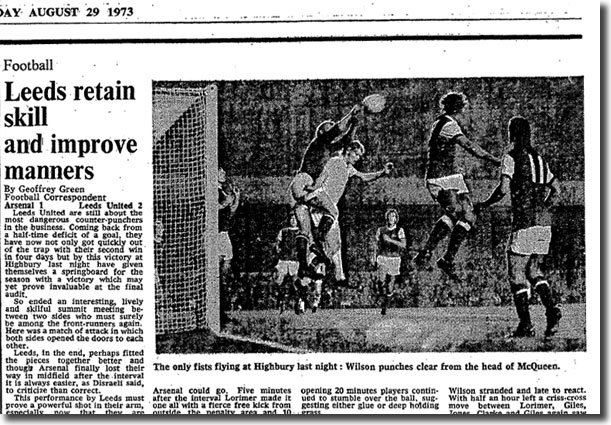 It was in a mood of burgeoning self-confidence that Don Revie's Leeds United arrived at Tottenham's White Hart Lane at the beginning of September 1973. The Whites had won their opening two games, defeating Everton 3-1 at Elland Road and following up with their first Division One victory in London since January 1971 by beating Arsenal 2-1 at Highbury in midweek.
After a disastrous end to the 1972/73 season with two Cup final defeats, Revie had been on the verge of leaving the club for a big money contract at Everton. Following his decision to stay at Leeds, Revie had urged his players to go through the whole season unbeaten and they had made a tremendous start to that challenge.
United had been pushed hard by Arsenal, having to recover from the shock of falling behind to a first minute goal from Jeff Blockley. The score by the £200,000 former Coventry City defender lifted the Gunners to such an extent that they looked set to run away with the game.
"That early goal gave them a lift and for a time they had us going," Billy Bremner, admitted afterwards. "But we stuck at it, strung our game together and played some fine stuff in the second half. Arsenal played really well in those first 30 minutes or so. They moved the ball well, but we never gave up and we attacked up to the end. Naturally I was delighted to win - it's always great to beat a side like Arsenal - but I was more pleased with the way we won. Even some of the Arsenal players said we were in a different class towards the end."
United had grown accustomed to hostile receptions in the capital with the London press stoking up anti-Leeds feeling with snide accusations of gamesmanship. Revie was understandably delighted by his side's display, saying, "Hearing the London supporters applauding us in the second half at Highbury was like music to my ears. Anything we get on Saturday at Tottenham will be a bonus now after this magnificent start. I have been saying for years we have players in our side with world class footballing skills. People have refused to believe me, but I think we proved at Arsenal that we have some tremendous players of true skill in the team."
In addition to his aim of an unbeaten season, the United manager had promised that his team would improve their onfield behaviour after being handed out a suspended £3,000 fine by an FA Disciplinary Commission which ruled they had "persistently violated the laws of the game and brought the game into disrepute."
Revie responded by setting out his plans: "I am very personally concerned, along with our directors, about our conduct record, and as manager am going to do everything in my power to make sure that this record is vastly improved by the end of the 1973/74 season.
"We have a great record for being the most consistent side over the last nine or ten years, and in my opinion we have tremendous footballing talent which entertains crowds both at home and away, and we have been among the top two or three of the leading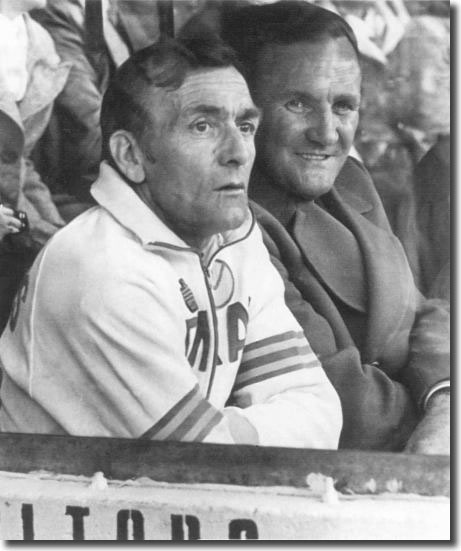 scorers in the First Division for the past few years.
"On occasions we have been credited as an exciting football side but whenever possible people have tagged us as a methodical, well-drilled, hard side.
"In my opinion, our players have not had the full credit publicity-wise that their tremendous talents deserve.
"I only hope after all this publicity, referees, opposing supporters, when we play away from home, and the press and television will give us a fair crack of the whip, and judge us on how we perform this season and not on what they have read over the past two months.
"I hope our players will not have to live under a lot of provocation from other teams. We get all kinds of taunts thrown at us from opposing crowds when we play away from home. I hope that if our players go into a fair tackle and the crowd puts up a tremendous roar referees will not be influenced by this in any way.
"I have already told our players that it is up to myself and them to help the referee from now on and in every way we can by not talking to them or the linesmen and by not getting any unnecessary bookings. We are going to try to help the referee in his very difficult job in every way possible. I think we have a responsibility to the game in general and I hope all players, managers and coaches will set this example of good behaviour and good conduct on the field.
"Football will become a lot more exciting to watch if we can do this. If good conduct on the field spreads to the terraces we will have done football a great service in two departments."
Thus far, United had lived up to Revie's words by avoiding any disciplinary issues, even in pre-season games. While the Arsenal game had been keenly competitive, there had been none of the bitterness which had characterised the previous clash between the two sides at Highbury.
Bournemouth referee Derek Nippard had to speak to two players - Billy Bremner and Arsenal's Peter Storey. Bremner explained afterwards: "I asked the referee about a penalty. He gave me a little lecture and I just stood there and listened to what he had to say."
Tottenham were unchanged for the clash at White Hart Lane after Scottish striker Alan Gilzean passed a fitness test. They retained the eleven that had won 2-1 at Birmingham in midweek, with 20-year-old Mike Dillon continuing to deputise for injured Welsh international Mike England in the centre of defence. The victory at St Andrews made up for an opening day reverse at Coventry.
Leeds were also unchanged, after Bremner (gashed shin), Paul Reaney (ankle) and Allan Clarke (knee) recovered from injuries sustained at Highbury. Trevor Cherry, Terry Yorath and Joe Jordan were available for selection after missing the first two games through suspension and Revie named Cherry as substitute.
Following the retirement of Jack Charlton and the deployment of Paul Madeley at left-back in Cherry's absence, Revie had given young Scottish giant Gordon McQueen the opportunity to reinforce his claims to be Charlton's long term replacement in the No 5 shirt.
The Scot had impressed greatly in the Everton and Arsenal victories, as reported by Don Warters for the Yorkshire Evening Post. "Gordon McQueen's determined bid to establish himself as automatic choice as Leeds United's centre-half has already - in the short space of a week - brought him up against three of the most lethal attackers in the First Division. On the opening day of the season it was the well-built, bustling Everton striker Joe Royle. On Tuesday he faced the menacing aerial threat of Arsenal's twin strike force - John Radford and Ray Kennedy.
"On each occasion, the eager to learn McQueen came through the exacting tests satisfactorily, and tomorrow England centre-forward Martin Chivers, who, on his day, has few equals, provides the opposition. Chivers, Spurs' leading marksman last season with 25 League and Cup goals, was one of the few strikers to regularly trouble Jack Charlton. Their duels were always a feature of Spurs-United matches.
"McQueen, bought from Scottish club St Mirren eleven months ago for around £30,000, is under no illusion about his present standing at Elland Road. 'I don't even know whether I shall be playing at Tottenham tomorrow,' the 20-year-old Scot said. 'But if I do, then I shall be looking forward to playing against Chivers. I know he can be brilliant but Norman Hunter has already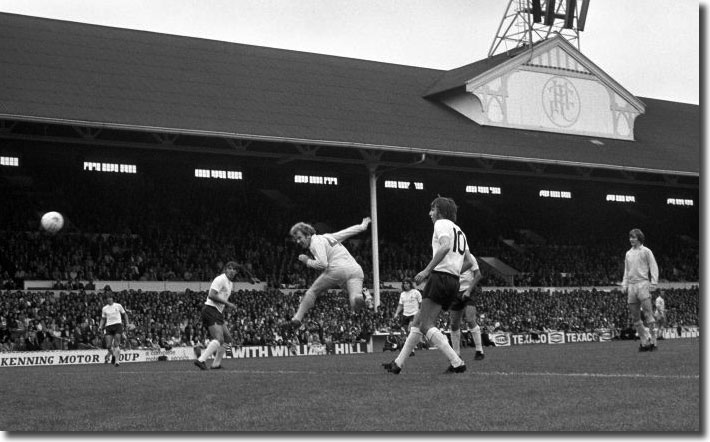 given me plenty of information about Chivers,' he added."
United, playing in a yellow strip because of the colour clash, were quickly into their stride and opened the scoring in the fourth minute. A week earlier United skipper Billy Bremner had netted in the same fourth minute against Everton and now repeated the feat, striking at the heart of the Spurs defence.
It was a central thrust of the plan for an increased attacking threat that the Scot should feature further upfield than normal and he quickly demonstrated the value he could offer in and around the opposition box.
United had worked an attacking position round the right hand corner of the Tottenham penalty area and when Allan Clarke sought to control the ball with his back to goal, defender Phil Beal bundled into him to concede a cheap free kick out on the right touchline. Peter Lorimer drove the dead ball, head high, to the edge of the six-yard box. Spurs full-back Ray Evans and his skipper Martin Peters, each thinking the other was marking Bremner, left a yawning chasm between them.
Barry Foster in the Yorkshire Post: "He might have been invisible as he moved in to firmly head Lorimer's fourth-minute free kick into the net, so much room did he find as his team mates made dummy runs taking all the defenders with them."
Evans misjudged the flight of the ball, allowing it to clear his leap, and there was no danger that Bremner would fail to take full advantage. He powered home the inviting cross, giving Pat Jennings no chance as it flew over his upturned hands and into the net at the near post.
"It was a great cross, Peter hit it just right and I was able to meet it perfectly," said the Scot.
The visitors threatened again a few moments later, Eddie Gray firing a dangerous shot high over the bar, but United went close to conceding a goal shortly afterwards following a corner kick.
The flag kick was cut back and when the cross flew into the area, Dillon dived to get in a good effort. Leeds keeper David Harvey dived to his right and managed to get a hand to the ball and Reaney completed the clearance from the line.
As if to reprimand Spurs for their impertinence in assailing Harvey's area, United quickly snapped back to double their advantage after 14 minutes.
There was a spell of untidy head tennis deep in the Leeds half after a long kick forward from Jennings before Mick Jones tenaciously outfought three Spurs defenders to win the ball and slipped a pass short to Clarke at half way. He fed on to Johnny Giles who swept an instant lobbed ball out to Lorimer on the right flank.
Tottenham sensed no danger as Lorimer carried forward, anticipating that he would build slowly with a pass to the overlapping Paul Reaney. Instead, the wide man drove a low ball through the Spurs defence towards Bremner running through to the edge of their area. It was a perfectly weighted through ball and the Scot did not have to check his stride as he caught it first time to stroke a curling effort wide of the vain dive of Jennings and into the corner of the net.
That two-goal salvo visibly shook the home ranks but they retained at least a modicum of fight and managed to exert some pressure of their own as Peters fired narrowly wide of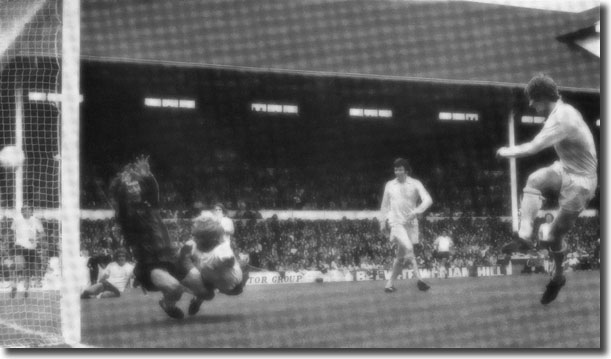 Harvey's goal.
But the result seemed a foregone conclusion when Clarke opened his account for the season in the 28th minute.
After being fed by McQueen, Giles toyed with Cyril Knowles on the right flank, feinting a couple of times before artfully curling a pass down the touchline for Bremner in an advanced role. The United captain combined in splendid style with Lorimer to create an opportunity, setting things up by cushioning the ball back for the wide man. There was a smart give and go and Bremner's accurate reverse pass sent Lorimer away down the line and he exploited the space to fire a cross through the heart of the Spurs box. Jones dived and missed but the ball ran on to the back post where Clarke gathered and coolly swivelled to hammer into the roof of the unguarded net, an imperious finish with the Tottenham defence in disarray.
United's finishing had been cool and merciless and the quality of their football left the home support open-mouthed in admiration.
They threatened again when Giles found a way through on the left and, with Jennings racing out to meet him, the Irish schemer lobbed the ball goalwards but saw his effort finish in the side netting.
Tottenham had shown little as an attacking force but they had a couple of opportunities shortly before half time. Dillon saw his effort scooped off the line by the ever watchful Reaney and then supplied the cross for Alan Gilzean, in the right place close in. The Scottish veteran rarely figured on a disappointing afternoon and provided more evidence that this was not to be his day when he fluffed the opportunity, heading wide.
United might have been excused for sitting on their lead after the break, but they restarted in urgent fashion. Giles forced a corner in the opening minute and then Lorimer tried his luck with a 30-yard drive which was comfortably pulled down by Jennings despite its power.
Spurs replied by forcing Reaney into conceding a corner at the other end and Dillon's subsequent header flew narrowly wide of the Leeds goal.
Tottenham appeared a little more dangerous than they had been in the first period and when Chivers took a long throw in from the right, Peters shot just wide.
United came again, however, and when Hunter crossed a high ball from the left, Clarke headed straight into the hands of Jennings.
The game lacked much of its first half sparkle with United now playing within themselves, but they had to survive a tense moment. When Harvey was penalised for carrying the ball too far, Spurs were awarded a free kick a yard inside United's penalty area. The Londoners' effort rebounded harmlessly off the Leeds wall.
A corner for Spurs followed but the ball floated aimlessly across the goalmouth to Gray who turned it back to Harvey.
As the game entered its closing stages, United were content to absorb what pressure Spurs could muster and relied on intermittent breakaways to keep Jennings occupied.
For the Spurs forwards, it was a frustrating afternoon. When they pushed forward they found United's defence in resolute mood and difficult to find a way through.
Twelve minutes from the end, Clarke was injured in a challenge with Ralph Coates and the game was held up for several minutes while the England striker was attended to before being carried off on a stretcher. His injury was later reported to be strained ligaments of the left knee.
Paul Madeley and Norman Hunter did sterling work in United's defence, but when Spurs made their late bid for consolation goals no one was more to be praised than Paul Reaney and David Harvey.
Reaney, an expert in goal line clearances, demonstrated his attributes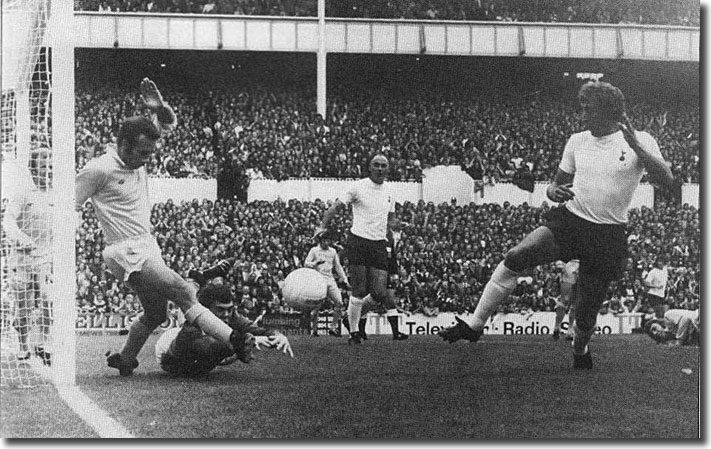 on several occasions and Harvey showed his class with some brilliant saves. One in particular to a Martin Peters header was brilliant.
There were no further goals at either end and United secured an impressive 3-0 triumph. With Burnley, Derby, Coventry and Wolves all dropping their first points of the campaign, the victory left the Whites a point clear at the top of the First Division table.
After the game, Don Revie was called for an audience in the dressing rooms with Leicester referee Roger Kirkpatrick. It was not, however, a negative experience, as recalled by Revie: "The referee was there with his linesmen and he told me it had been a pleasure to be on the same field as Leeds United. Mr Kirkpatrick also said that he had never had any trouble from us but wanted to point out that he thought my players had been the model of good behaviour and were a credit to the game.
"It was big of him to take the trouble to tell me, and I was so impressed that I asked him if he would mind coming into the dressing room to repeat what he had said to the players and he did so willingly."
Kirkpatrick, the bewhiskered official who resembled the title character from Charles Dickens' Pickwick Papers, commented, "I had to say something. If this is what Leeds intend to do in every game, on behalf of my fellow referees I just had to say thank you in advance. I wish all matches were played in the same spirit."
Barry Foster in the Yorkshire Post: "With Billy Bremner looking like a new man and the new image of being the gentlemen of the League already accepted in most quarters, Leeds United sit politely at the top of Division One this morning, not only having demolished Tottenham Hotspur last Saturday but having won over their most critical observers in recent times - the London spectators.
"In fact everything is going well just now for Leeds. They aimed to let their middle men give even more support to the strikers and Bremner, showing the zest and speed of their title year five seasons ago, has responded with three goals in as many games. They wanted to show they can still be the most attractive of teams and not get involved in trouble and twice in London last week, where previously they had found little success and a great deal of abuse, they produced faultless displays.
"'We are getting on with the game and not getting involved in incidents,' said Bremner, who a week earlier had started the downfall of Everton with a quick goal. On Saturday he was at it again… Two goals in ten minutes on a ground on which they had not found the net for over three years, and both from Bremner, who nearly lost his vital right boot just before the kick off.
"'It split wide open during the pre-kick off kick about so I was going to wear Mick Bates' boots because he was not playing. But we decided to strap the boot - and it worked well,' said Bremner, who must have been thinking he might get his first ever hat trick when that right boot struck that second goal so cleanly. But instead he was to play a major part in the third goal from out on the right wing.
"It was the goal of the game with Giles and Lorimer and Bremner plotting it and Jones just failing to finish it off cleanly. Yet with Leeds having so many men spare, Clarke had all the time in the world to mop up at the far side of the goal for his first success of the season.
"So, in a little over 25 minutes, Spurs were a beaten side and Leeds had their second successive win in London games in the bag, a feat they last managed in their championship year.
"So well did Leeds find their men it was just as though they had radar in their boots. Every player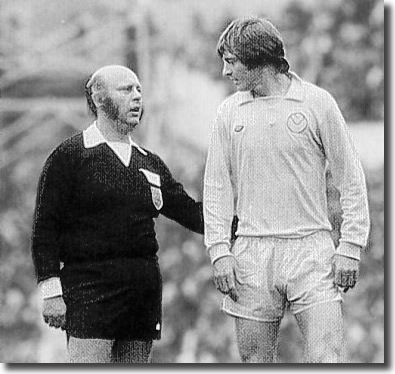 hit his game, though there were interesting little duels within the match itself that made the game even more attractive to watch for the 42,801 spectators. The battle for supremacy on the wing between Gray and Coates ebbed and flowed all the match, one of the major successes for Leeds was once more their promising young centre-half McQueen, who, without showing any concern at all, kept the England leader Chivers quiet all afternoon while Giles came within inches of crowning a great display with a Pele-like shot from 50 yards which dropped over Jennings to hit the side netting.
"Tottenham, despite the scoreline, did the majority of the attacking but for the most part they were not decisive enough. They had their moments though with Reaney (twice), McQueen and Bremner all stopping the ball on the line and with Harvey making at least three fine saves, the crucial one coming soon after Leeds' first goal when Dillon's header looked a goal all over."
David Lacey in the Guardian: "Leeds United continue to wear their white hats at a jaunty angle and their second success in North London within five days confirmed the impressions left by the first. The side are playing their best football since a series of emphatic victories in February and March 1972 led to their being compared favourably, albeit prematurely, with the Real Madrid of Di Stefano and Puskas. Leeds still have some way to go before they reach that level, but if this form continues there will be a few neutrals who will wish that Don Revie's team were representing England in the European Cup this season.
"Throughout the game Tottenham blustered away in attack, lacking blend and rhythm but, oddly enough, bringing Harvey into more consistent and urgent action than their own goalkeeper, Jennings, whose role in the proceedings was largely that of innocent bystander. To continue the paradox, Harvey's best save was from a diving header by Dillon, though late in the game he came close to emulating this by blocking a close shot from Coates and stopping a couple of headers from Peters."
Geoffrey Green in the Times: "Bremner and Giles as usual were the Leeds puppet masters. They designed the schemes and put them into effect, backed by a team who were complete in their instinctive understanding. Just when they ought to be growing a little rusty - in terms of time and heavy commitments over recent seasons - they are playing better than ever.
"Up till half time, Leeds provided a flawless exhibition. Bremner, quickly spotting the holes left by Dillon, constantly made advanced forays; Giles put his subtle stamp on the overall pattern, a little man with apparent endless time and space in which to work; while Lorimer recalled the great Wolverhampton days of the 1950s with his wide, sweeping passes that caught unguarded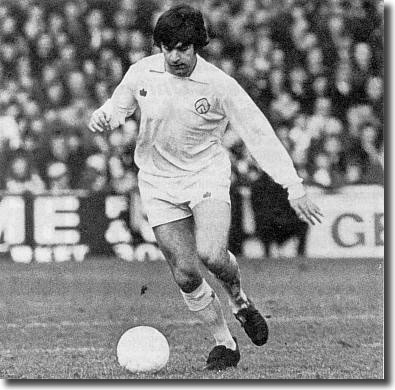 Tottenham on the wrong foot.
"If Bremner and Clarke proved the executioners it was Lorimer who helped to sharpen the blade. It was his free kick which Bremner headed in after only four minutes; it was his swift, long through pass which Bremner next swept in off a post near the quarter hour; and it was his centre after a dazzling move with Giles and Bremner which Clarke flashed home."
Under the headline, "Polished Leeds shine the halo," the Daily Mail said of United's win: "Spurs manager Bill Nicholson applauded Don Revie's Leeds United as the best team in the country and admitted that his own once great Spurs have now declined to the point where they are three star players away from challenging this supremacy."
The Sun's Peter Batt reported: "I have been saying for years that Leeds are the greatest and the two goals from Billy Bremner and one from Allan Clarke merely underlines the fact."
Even with just three games gone of the 42-match season, it was abundantly clear that the team to beat in the battle for the League championship in 1973/74 would be this slick and authoritative Leeds United eleven.