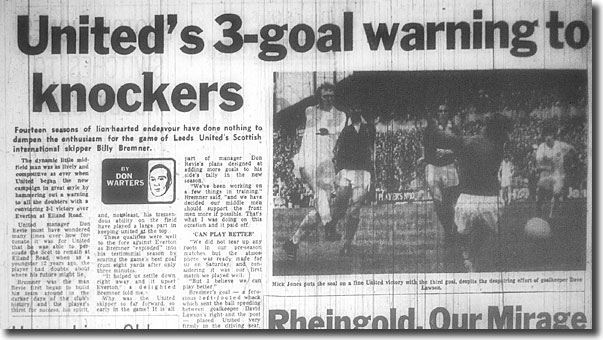 The opening day of the 1973/74 season brought an intriguing pairing with Leeds United hosting Everton at Elland Road. In the closing days of the previous campaign, the Merseyside club had made United manager Don Revie an offer that he seemingly could not refuse when they settled on him as the man to revive their sagging fortunes.
After winning the League title in 1970, the Goodison Park outfit's stock had plummeted and by 1973 they were toiling away in a mid-table morass. Manager Harry Catterick had recovered from the heart attack he suffered in January 1972 but concerns about his health persisted. On 12 April 1973 he assumed the less demanding role of general manager with Everton in the market for a new man to take the helm.
They ended 1972/73 a lowly 17th, fully twenty-seven points behind bitter Merseyside rivals Liverpool, whose title triumph rubbed salt in their wounds. Desperate times call for desperate measures and Everton chairman John Moores set off in pursuit of his quarry with a king's ransom on offer.
The Yorkshire Evening Post reported that Everton offered Revie a contract worth £250,000, including a tax free £50,000 golden hello. Such sums represented a small fortune when set against Revie's basic Elland Road package of £17,500 per annum.
The news broke in the days prior to Leeds facing AC Milan in an ill-fated European Cup Winners Cup final. Revie's players fell into a state of deep depression when it became clear that their mentor had decided to accept Everton's offer.
Revie eventually changed his mind and decided to stay at Elland Road, turning down other lavish offers from Panathinaikos and the Greek FA.
Richard Sutcliffe in Revie: Revered and Reviled: "United fans prepared themselves for the worst as Revie vowed not to comment until his return from holiday with wife Elsie. What few in Leeds realised, however, was that a bizarre twist lay just around the corner in the form of controversial MP Dennis Skinner. The previous year, the Government had brought in strict legislation designed to curb inflation which by then had soared to ten per cent en route to a peak of 25 per cent in 1975. Passed by a majority of 79 votes in the House of Commons, the anti-inflation White Paper stated that no new recruit to an existing job could be paid more than his predecessor in the role. Millions of workers would be affected by the new law, though by far the most high profile would turn out to be Revie.
"Skinner, the MP for Bolsover, chose to raise the matter of Everton's offer in the House of Commons on May 24 by asking if the Pay Board were investigating. The matter soon escalated beyond the control of either Revie, Leeds or Everton. Whitehall moved quickly following Skinner's question in the House to announce a probe was now under way, an official statement later the same day adding that 'both clubs have been reminded of the Pay and Prices Code'. By 9am the following morning, Revie had telephoned Leeds secretary Keith Archer from his holiday near Athens to reveal he would be staying at Elland Road after all.
"Publicly, it was claimed a desire to finish the job had kept Revie at Leeds though many on Merseyside or in West Yorkshire suspected what had been the real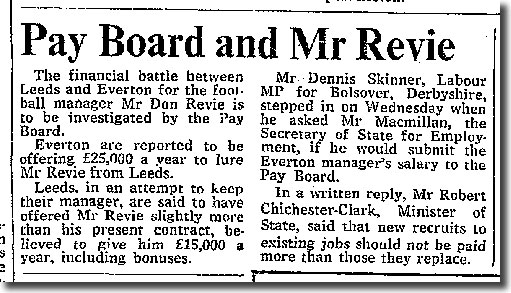 deciding factor in the move breaking down. Whatever the truth behind the about turn - and maybe part of it was, after all, a desire to stay at Elland Road as later that same summer he would turn down another big money offer, this time to manage the Greek national side - the players were delighted. Even those Revie rated so highly that he had been planning to take them with him to Goodison Park. 'We never mentioned it again,' says Trevor Cherry. 'It was nice to know he had been happy with my first season, but just like the rest of the lads I was pleased the gaffer was staying. We had not won anything in my first year but I still fancied our chances the following season.' Cherry's optimism would prove well placed."
Now, as United set off on a new campaign, determined to prove they were not the spent force that many critics had eagerly claimed, the vagaries of the fixture lists brought Everton to face Leeds at Elland Road.
Following Revie's rejection of their offer, Everton moved for Billy Bingham, who had been Revie's team mate at Sunderland in the 1950s.
The Irishman had latterly spent two years as manager of the Greek national side (one of the positions that Revie turned down) after earlier spells in charge of Southport, Northern Ireland, Plymouth Argyle and Linfield. He had been quick to accept Everton's money, although he could not command the same rewards that had been on offer to Revie.
The side that Bingham brought to Elland Road in August was a pale shadow of the outfit that had seen off United to win the League championship in 1970, but Howard Kendall, Colin Harvey and Joe Royle still provided links with the glory days. With Royle passing a late fitness test on his injured ribs, there was no place for former Leeds front runner Rod Belfitt, but among the Toffees' ranks were other big money signings, Joe Harper (£180,000), John Connolly (£75,000) and David Lawson, for whom Catterick had paid Huddersfield £80,000, a British record fee for a goalkeeper.
United welcomed back the gifted Eddie Gray, dogged the previous season by a chronic thigh injury. An operation had been required to release a trapped nerve and in June, the Scot had told the Yorkshire Evening Post's Don Warters that his dearest wish was for an injury-free campaign: "Just for a change it would be great to play in all our 42 League games… I am hoping for the best this time - a season completely free of injury. It seems as though I've been saying that to myself for the past three or four seasons but I'm only 25 and have plenty of time in front of me as a player. Last season I never really had a lot of time in which to get over the operation on my thigh. I played but still felt some pain."
The Scottish international had trained throughout summer in a bid to get over the injury in time for the big kick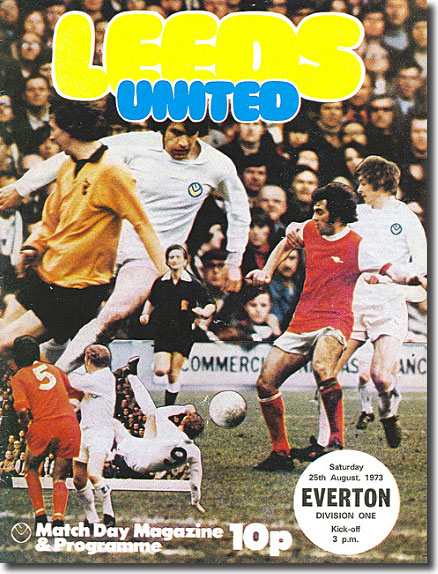 off, and though he missed all three of United's pre-season matches with a slight strain in his other thigh, Don Revie had little hesitation in selecting him for the starting line up.
Paul Madeley had recovered from injuring a knee in the first pre-season game against Bradford City and was selected at left-back with Trevor Cherry suspended, along with Terry Yorath and Joe Jordan.
Following Jack Charlton's retirement, the giant Scot Gordon McQueen was given the opportunity to stake a claim as his successor in the No 5 jersey.
The new corner stand at Elland Road was in full use for the first time and there was a crowd of 39,325 to watch as United began their tenth successive season in the First Division in a kit given a slick new look with the introduction of the iconic LU Smiley badge.
Gray gave early notice that he intended to make the most of his recovery by contributing strongly to United's first thrust; he set Mick Jones free down the left flank and then raced forward to take the return, the raid ending in a corner to the home side.
It was an early hint of Leeds' intent and only three minutes and 42 seconds had gone when they received material reward with Billy Bremner opening the scoring, a splendid finish crowning some nice build-up play.
Paul Madeley and Johnny Giles brought the ball forward smoothly out of their own half with a series of interchanges before Giles slipped the ball to Allan Clarke. The lanky striker made twenty yards before feeding a well advanced Bremner, thirty yards from goal in the left channel. The Scot tried to return to Clarke, but the ball ran loose off an Everton block and the move seemed to have foundered as Bremner stumbled when he tried to beat two men on the edge of the penalty area. But, refusing to give way, he was much too fast for the Everton rearguard and as Clarke played the loose ball into space Bremner was back up as quickly as he went down. He artfully flicked his way free to the left of three Everton defenders and unerringly thundered the ball left footed past the Everton keeper from twelve yards. It was a tremendous goal, born of his determined will to win.
"The goal helped settle us down and it upset Everton," a delighted Bremner told Evening Post reporter Don Warters, who asked, "Why was the United skipper so far forward so early in the game? It is all part of manager Don Revie's plans designed at adding more goals to his side's tally in the new season."
"We've been working on a few things in training," Bremner said, "and we have decided our middle men should support the front men more if possible. That's what I was doing on this occasion and it paid off."
Leeds were eager to press home their advantage, continuing to push at the Everton defence and Peter Lorimer was adjudged fractionally offside when he ran through on the right to take a ball after another promising move.
McQueen got the better of Royle when the visitors had their first real effort, and followed up to clear when goalkeeper David Harvey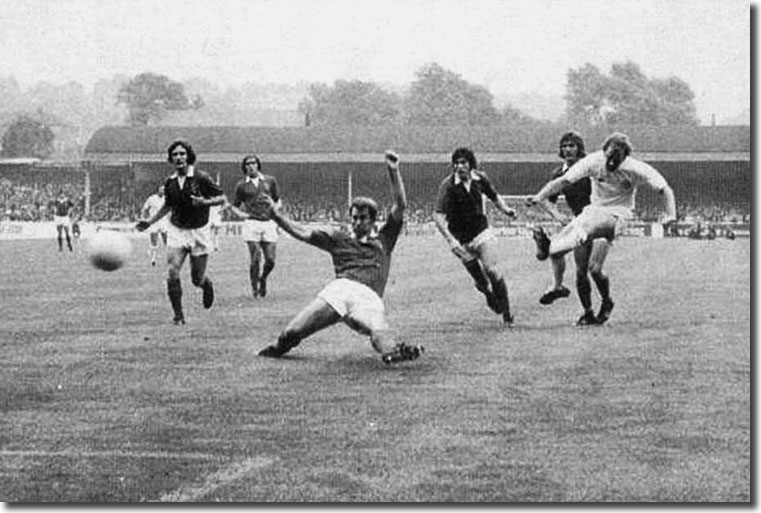 failed to hold on to a right wing cross from Terry Darracott.
It was a temporary halt to the one way traffic and United were soon back, threatening from a free kick just outside the Everton penalty area. When the Everton keeper fumbled Lorimer's powerful dead ball effort, Bremner lunged for the free ball, but Lawson recovered to gather under pressure, requiring treatment before continuing.
The United pressure intensified with Lawson saving bravely at Lorimer's feet and then gathering a shot from Mick Jones. There was another close thing after twenty-four minutes when Madeley drew the Everton keeper well out of his station, took the ball round him and pulled a cross back across goal. Clarke sped in to take advantage, but Colin Harvey beat him to the ball and cleared.
This pattern continued unabated to the break, though there were no further goals. For all their first half dominance, United's advantage was slender. There was thus a touch of anxiety when Everton showed that some promise at the start of the second period. McQueen and Hunter had to work hard to keep them at bay, with the Merseysiders having three corners in rapid succession and then Harper shot over the bar from 18 yards.
But Leeds now got their second wind, doubling their advantage on the hour mark.
They were given a free kick out on the left flank, forty yards from goal. Hunter tapped the ball to Gray, who took the ball inside before laying it back for Giles, thirty yards out. The Irishman launched himself into a first time strike with the outside of his right foot; the ball arced beneath Lawson's despairing drive and just inside his right hand post.
Five minutes later, it was 3-0.
Bremner, forty yards out, on the right flank, swept a low ball through to Clarke just outside the Everton area. The England front man sidefooted it on first time to strike partner Jones, who took immediate advantage. He showed brilliant footwork to flick the back inside, over the head of his marker, and stab it past the advancing Lawson. It was another outstanding goal, clear evidence of the understanding and interplay of the two strike men.
The score ended the game as a contest, despite Everton's refusal to give in. Thirteen minutes from time they gained some consolation. McQueen dived to head clear a cross from Kendall. The ball fell to Harper on the D of the area and the Scot fired past Harvey's left hand to make it 3-1.
There was never a hint of anything like a revival and United saw out the game with their 3-1 lead intact.
"Considering it was our first match, we played well," Bremner said. "We did not tear up any roots in our pre-season matches, but the atmosphere was ready made for us on Saturday, and considering it was our first match we played well. But I believe we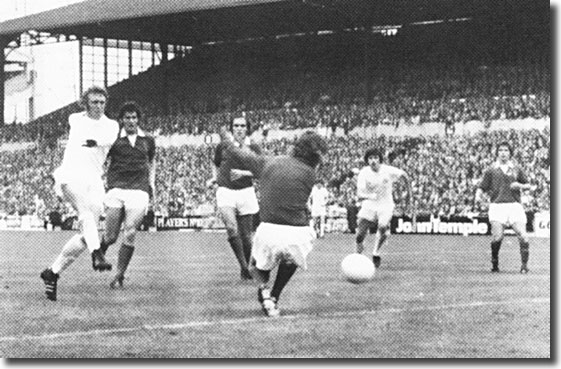 can play better."
Barry Foster in the Yorkshire Post: "If Leeds United's manager Don Revie had any lingering doubts about the wisdom of not moving on three months ago to a new challenge at Everton, they must have melted away in the first half hour of the new season at Elland Road on Saturday.
"It was during this spell that Leeds United turned on the style to show how much more they have to offer than Everton. It may be an academic point now, but it is interesting to speculate what Revie's feelings would have been had he been in charge of Everton as Bremner ripped apart their defence after only three minutes; as Eddie Gray produced glimpses of that special sparkle which can be so devastating; as Jones and Clarke played the ball off for each other so well that one might have thought it was November and not the first minutes of the new season; and not least as Bremner and Giles hit that uncanny understanding from the first kick of the match.
"Unfortunately for the 39,325 spectators, the champagne stuff did not last. Having done more than enough to show their authority Leeds had their lapses and the game had tired spells, but it also had four of the best goals one could wish to see, especially the two that put the game beyond Everton's reach in a five minute spell around the hour."
Eric Todd in the Guardian: "Everton, whom Billy Bingham admitted 'still have a long way to go', were given short shrift by Leeds United, who arrived some years ago. Over-elaboration and downright arrogance restricted the margin of victory to 3-1, but it was an adequate start to the new campaign.
"It must be some comfort to a visiting side, especially one with a new manager, to get a visit to Leeds out of their system early on. 'If it were done when tis done, then twere well it were done quickly,' said Macbeth and he never went to Elland Road. He proceeded to talk about assassination, another shrewd piece of anticipation. Bingham and his men departed with the knowledge that Leeds again will be there or thereabouts, and that Everton need to shore up one or two weak spots, especially in defence.
"Everton, nevertheless, made a fair contribution to the entertainment. If they had to go down they would go down carrying the fight to the enemy. Kendall was in a class of his own; Harper and Colin Harvey did the work of four men; and Royle, after an apprehensive start, had some great tussles with McQueen and did not lose them all.
"For all their persistence, however, Everton could not match the overall quality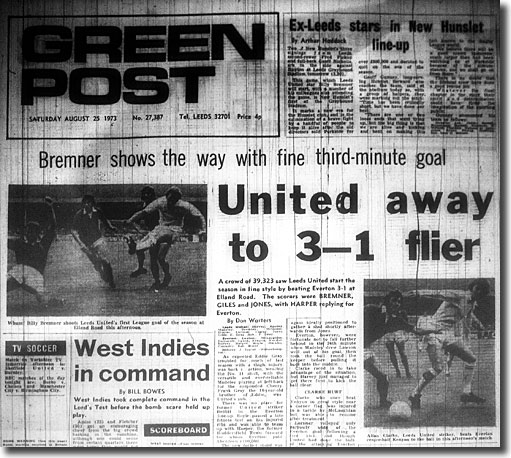 of United's play. The fact that Lorimer surprisingly was a slower starter than most of his colleagues was offset by the artistry of Clarke, and the brilliance of Bremner and Giles. Will they ever be too old to scheme? Eddie Gray, like Royle, has been plagued with injuries, but, like Royle again, he did well enough, and it was good to welcome them back. The Leeds defence was flexible and dependable, and the only indications of fallibility were isolated selfishness and aberration in front of both goals."
The game was devoid of bookings, a heartening start to Revie's quest to improve United's disciplinary behaviour. Don Warters: "In keeping with their avowed intention, United accepted decisions from referee Jack Taylor without question, and when Allan Clarke was the victim of a couple of hard - and unfair - tackles from a hard pressed Everton defence there was not the slightest hint of retaliation."
However, what most delighted Don Revie was the way his players put a lie to the claims of the critics that they were in decline, over the hill and washed up. Their performance had been refreshing and vibrant; they played their opponents off the park from first to last, hitting the ground running and proving themselves ready to recapture the League title they had lost out on too often.