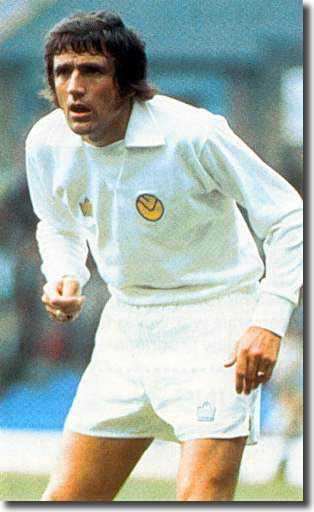 Part 1 Unbeatables - Results and table
Eight points clear … 19 matches to go … As 1974 opened, Leeds United were set fair to regain the League championship after five years of gallant failures.
The year opened in drab fashion at home to Spurs. Tom German in The Times: 'Tottenham Hotspur held them with the aid of three goal line clearances; that is part of the basic role of the modern defender, though, and there were tense moments in the last quarter of an hour, after Spurs equalised, when it seemed they might even blemish Leeds' remarkable record.
'Tottenham came prepared to play football, with Perryman, Pratt and Beal all contributing splendidly. Moreover, they were too well organised at the back for a Leeds attack which needed reinforcement from behind to give it momentum and direction; Jones had a particularly barren afternoon against England, though it was Jones who scored Leeds' goal after 22 minutes. It was offered as a formality, as Cherry's enterprising excursion up the left flank took him clear for a shot which struck a post and bobbed out obligingly to Jones' foot.
'It would be a novelty however, if Leeds found themselves without commanding figures. Whatever harsh words are applied from time to time to Hunter's forthrightness, he really is a sustaining pillar; his skill in reaching out a toe to bring the dropping ball under control, the accuracy of his forward chips, and the way he moves into strategic positions are of immeasurable value to Leeds. McQueen, too, seems to develop his technique with every match. For a big man he shows a surprising control of the ball and several forward spurts yesterday promised to open a gap in a way his forwards might usefully have observed.
'It was especially unfortunate that it should be a blunder by McQueen which led to Tottenham's goal; he had enough colleagues in position to take a pass but lost the ball to McGrath's tackle; the winger had the legs of a defence by now badly positioned and ran on to steer beneath Harvey's dive.'
Four days later, United's FA Cup campaign commenced with a third round tie at Molineux against Wolves. The home side enjoyed lengthy periods of pressure and opened the scoring ten minutes into the second period with a freakish goal. When Alan Sunderland's mishit effort deflected off John Richards' shoulder, David Harvey, covering the path of the original effort, was left stranded as the ball ballooned into the net.
Missing Johnny Giles and Allan Clarke, Leeds required the reprieve of a penalty seven minutes from time, earned when Billy Bremner made the most of a clumsy foul by Wolves teenager Barry Powell. He did enough to persuade Leicester referee Roger Kirkpatrick and Peter Lorimer converted to earn a replay.
It took another late goal to settle the tie with Mick Jones heading home after 85 minutes at Elland Road. Reserve goalkeeper David Stewart made his United debut in the game, deputising for the injured Harvey.
Leeds had more reasons to be grateful to referee Kirkpatrick for turning down handball appeals against Jones with two minutes remaining. The official was adamant: 'The ball popped up and hit the hand. For a penalty to be awarded, the hand must strike the ball, not the ball strike the hand … In any case, my linesman and myself had already noticed a Wolves player committing a foul behind Jones and I would have given a free kick against that player. But as the ball was cleared, the advantage rule was applied.'
Gordon McQueen was stretchered off with strained ankle ligaments and was missing when United hosted Southampton on 12 January.
Before the game Don Revie, voted manager of the month for December, was presented with a gallon bottle of whisky. Each United player received a bouquet of flowers from their opponents in recognition of their long unbeaten run. Billy Bremner reacted with a dainty curtsey when he received his gift from Saints skipper Terry Paine.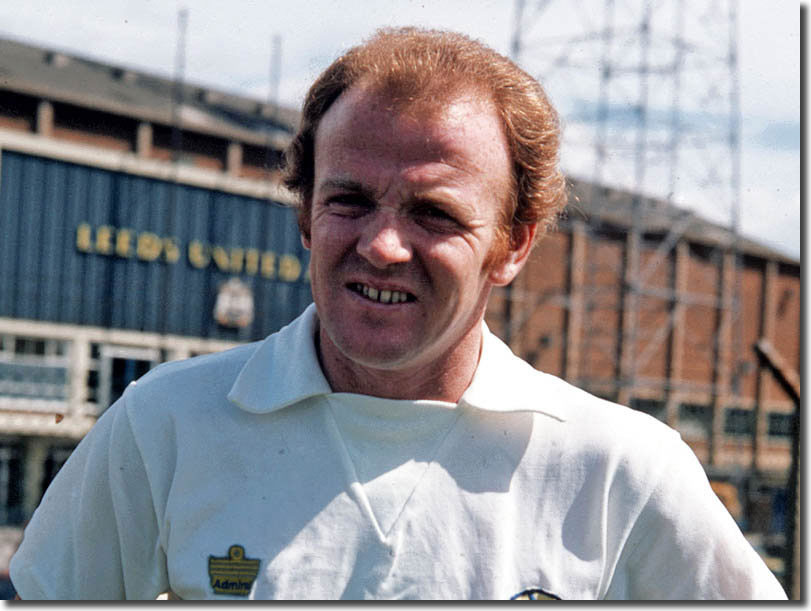 Tom German in The Times: 'One consequence of all the reshuffling has been the extra load thrust on Bremner in the cockpit. Shorn first of his intuitive partner, Giles, and then of Bates, he remains a crucial influence. Southampton often found their defence turned by his piercing passes, measured to the inch, and he was just as likely to be awaiting a pass out on the touchline or challenging near his own goal.
'Other factors to satisfy Leeds in a match which came to life in patches were Reaney's speedy supporting bursts up the right, the easy grace with which Frank Gray showed he could flit past an opponent or flight his passes on an accurate length, and Jordan's continuing development as an attacker, able both to beat his man and score goals. It was Jordan who strode purposefully past both full-back and goalkeeper to turn the ball into the goalmouth for Jones to score for Leeds after 21 minutes, and Jordan himself scored the second when Jones returned the compliment ten minutes into the second half.
'Southampton were resolute - making effective use of offside tactics - but rarely enlightened. An exception was Channon, who always looked for a chance to take the ball to the opposition; he clipped a post in the first half and gave Harvey his one important test with a sizzling shot in the second before giving Southampton some return by heading in Paine's cross from the left after three Leeds defenders had dallied.'
Over at Anfield Liverpool struggled to secure a 3-2 defeat of Birmingham and remained eight points behind United. A week later both teams figured in draws, United being goalless at Everton and Liverpool 1-1 away to Stoke City.
The Yorkshire Post's Terry Brindle wrote of the air of anxiety surrounding United: 'They would not admit it, of course, but one suspects that Leeds United will not be too distraught when somebody takes their unbeaten League record and puts it out of its growing misery. Because misery is fast becoming the name of the game away from Elland Road.
'Leeds have been one of the team others love to beat for several seasons, their path in the championship is overgrown with the thorns and thickets of a reputation which rouses special ambition in opponents. It has long been so and Leeds have learned to live with it.
'The demands on Leeds this season have suddenly become even more intense, accentuated by an unbeaten record which offers unexpected glory and glamour to teams who otherwise have few prospects. Teams with little chance of winning anything in the wash of United's surge to the title can still earn a special place in history simply by being the team which finally beat Leeds in 1974.
'Old men with watery eyes will recount the victory in tedious detail, studiously omitting the fact that Leeds then went on to win the championship. "It's true," said Don Revie after Saturday's 26th instalment of the unbeaten saga, "our matches are getting more and more like Cup-ties away from home. The pressure seems to be building up on other teams, who are making a special effort to beat us."
'Special effort - the kind which draws 55,000 spectators and then involved them in every kick - almost broke United's resistance at Goodison. Everton ran hard, struck swiftly and boldly from midfield, maintained attacking pressure which seemed bound to pay off in the end. Yet although they outmatched Leeds on scoring chances, outran them and sometimes threatened to overrun them, Everton never outclassed them. Leeds have an extraordinary aura of class which is never stronger than when the tide is running against them.
'It is fashionable to talk about Leeds nowadays in terms of work rate, of endeavour, or honest toil as though this was somehow a denial of their skill and finesse. But Leeds were built on guts and graft and when they revert to basics they radiate a feeling of sheer impregnability.
'Their best player on Saturday - and not by chance but because Leeds needed a player of unswerving combativeness - was Norman Hunter. He covered, chased and tackled with the intimidating sureness that makes strong men quail and in doing so typified real professionalism, the aggressive spirit which meets adversity with bared teeth.
'Leeds - still the best defensive team in the land when they have to be - absorbed Everton's pressure and repulsed their almost frantic attacks. Harvey was in great form, saving superbly from Gary Jones, Bernard and Buckley, and frustration mounted to the extent that Leeds were reviled when the referee penalised Everton and Harper was booked for a shoulder charge on the referee after he refused a penalty.
'Leeds rode into town as a team demanding respect if not exactly affection and left with a police escort - and simply because they had refused to be beaten. They must sometimes wonder if a record - an already magnificent one at that - is worth all the aggro.'
Revie echoed the theme: 'There isn't a team in the world who could produce their best football under the type of pressure to which Leeds United have been subjected recently. It is disappointing that Leeds haven't been playing as well as we did earlier in the season … but understandable in my view. Leeds have long been looked upon as the team everyone most wants to beat. Yet it seems that almost every side we face nowadays, especially away from home, have allowed their natural determination to beat us to become an obsession.
'For this reason, I cannot visualise Leeds remaining unbeaten in the League for the rest of the season.
'When Leeds won the championship in 1968/69, I went on record as saying that our record of only two league defeats throughout the season would never be broken … and still hold this view. Certainly, I think it will be a miracle if Leeds reach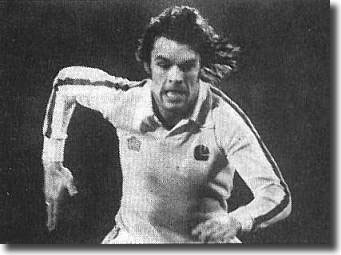 the end of the current League campaign without losing any games.
'In matches against Leeds, opposing sides are now running and chasing like men possessed. By allowing us no scope to settle on the ball and express our creative ability, they are to a large extent sacrificing their own chances of doing so. Over the last few months, only three teams have been prepared to try and match us for skill on their own ground … Chelsea, Ipswich and Newcastle United.'
Bill Bridge, former sports editor of the Yorkshire Post, recalls: 'It was my first season at the paper and Don would always phone up at 11.15pm if there had been any midweek Division One games to find out the results. I could sense his nerves every time as he worried over how even teams in mid-table such as Spurs and Newcastle had got on. To me, it smacked of insecurity. Leeds were comfortably clear at the top and unbeaten but Revie was still afraid it would all go wrong.'
Frank Gray denied any feeling of tension, saying, 'Funnily enough, the team wasn't feeling the pressure in terms of remaining unbeaten because it wasn't something that was being talked about by the players. We left that to others outside the club. Our only incentive was to get the points that would keep us clear at the top. All the rest didn't matter and was only something the lads thought we might look back on at the end of the season.'
A 4-1 FA Cup victory against Fourth Division pacesetters Peterborough on 26 January was notable only for the first team return of Terry Cooper and two headed goals from the rapidly maturing Joe Jordan.
Before the game Posh manager Noel Cantwell had described Jordan as just 'an ordinary player'. It provoked a match winning display from the striker, who said: 'I read what Cantwell had to say about me before the match and it gave me immense satisfaction to score those two goals … It made me very determined to prove him wrong.'
While Jordan produced the cutting edge, Peter Lorimer made a telling contribution, his pace and control posing problems from the start. He opened the scoring in the 16th minute when his deflected free kick from outside the penalty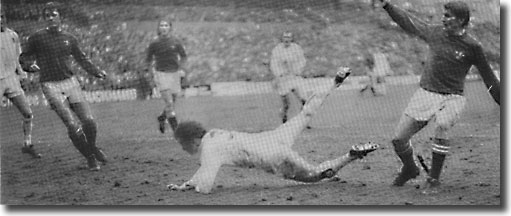 area beat stranded keeper Mick Drewery.
Jordan's two headers both came from Lorimer crosses and when Terry Yorath drove the fourth goal low past Drewery in the 34th minute it was Lorimer who got the ball to him.
Terry Cooper, playing on the left wing, showed much of his old skill and finesse while understandably lacking a little sharpness. The former England defender wore the No 10 shirt and was given a fine reception by the Elland Road fans when United were back in First Division action on 2 February. They played out their fourth draw in five League games, 1-1 against Chelsea, their lead in the table reduced to seven points with 27 games played.
Chelsea's Bill Garner opened the scoring after forty minutes and United nerves were fraying by the time Trevor Cherry scored his first League goal of the season after 67 minutes.
A midweek clash with Arsenal at Elland Road brought United a valuable victory, the success owing much to their tenacity. The Gunners looked set to spring an upset, fiercely protecting a 25th minute lead given them by Alan Ball.
Jordan led the fight back almost singlehandedly, first, sending in a header from 14 yards after 65 minutes, which Peter Simpson diverted into his own net. Then the Scot headed in off an upright and finally made it three in the 69th minute, charging almost half the length of the pitch with the ball before hammering low past Bob Wilson from 15 yards.
The 3-1 victory was a massive relief to Don Revie, who said: 'If we go a goal down everyone thinks it's the end of the world, but we were patient and kept on making chances. I think it was a test of temperament. Sometimes you don't get a reward, today we did.'
United followed up with a 2-0 win at Old Trafford against Manchester United and Jordan was once again among the goals, adding the second after Mick Jones' 57th minute opener. Jordan started on the bench, coming on with five minutes remaining. Two minutes later he took a pass from Hunter to beat Stewart Houston and goalkeeper Alex Stepney with a clipped shot that slipped just inside the post.
The goal, Jordan's sixth in as many games, won him a start in the FA Cup fifth round tie at Bristol City on 16 February, with Allan Clarke dropping to substitute. Also back for his first appearance since the end of October was Johnny Giles.
United caught the Second Division outfit in determined mood and were fortunate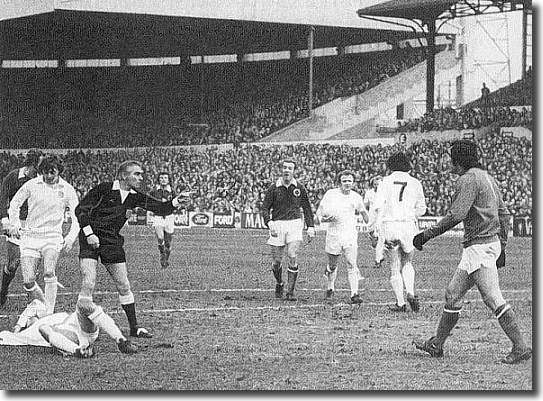 to escape Ashton Gate with a 1-1 draw. Strongly fancied to beat them in the Elland Road replay three days later, they lost to a second half effort from Donny Gillies.
Though the championship had always been the priority, the shock chipped away at United's fault line; four days later Stoke City blew it wide open.
When United took a two goals lead after 18 minutes, a 30th game without defeat beckoned. But then Stoke fought back with some passion to score three times.
'Perhaps in the long run this will prove to be a good result for us,' said Billy Bremner after the 3-2 defeat, but not a bit of it as United drew their next two games, both 1-1 at Elland Road, against Leicester and Newcastle.
Reserve goalkeeper David Stewart made his League debut against Leicester but was unable to keep out a second half equaliser from Len Glover after Peter Lorimer's first half penalty had given United the lead. Bremner: 'I don't know whether tension has anything to do with it. The lads told me before the game they were not tense. But we are not stroking it about as we did.'
Don Warters captured the mood in the Evening Post, declaring, 'These are anxious days for Leeds United. This was apparent in their display against Newcastle United at Elland Road when the Yorkshiremen dropped their fourth point out of the last six.
'After their recent slump in fortune, Don Revie's men really needed a victory, and with Liverpool clipping another point off the once impressive lead of nine points anxiety will not have diminished any by the result at Anfield. Liverpool might well have left it late again - about 60 seconds from the end to get their victory over Burnley - but the fact remains that they managed it.
'As a result, the race for the League championship has become that little bit more open - with Leeds still leading by six points.
'Leeds began in a spirited fashion which suggested they would bounce back to winning ways. Frank Gray, in for his first full league game since mid-January, figured prominently in much of Leeds' first half work, and full-back Paul Reaney was to be seen frequently overlapping on the right.
'Dave Stewart … showed up well and brought off a brilliant save to a Macdonald header of tremendous power - a save which amazed the Newcastle goal ace… Stewart's save, as he dived almost backwards to clutch the ball inches from the line, was undoubtedly brilliant, but the worrying feature was how Macdonald came to be in such an advantageous position seven yards out without anyone marking him closely. Perhaps the fact that McQueen may have been slightly hampered by his thigh, and the usually reliable Norman Hunter was not having one of his most rewarding games might have had something to do with it.
'It was the unfortunate Hunter who gave away the ball which led to Barrowclough hitting a 51st-minute equaliser five minutes after Allan Clarke had sent Leeds' victory hopes soaring with a tremendous piece of individual brilliance. Hunter's mistimed pass to Terry Yorath gave Jimmy Smith possession. A short pass into the Leeds penalty area and a fortunate bounce of the ball enabled Barrowclough to hit a low shot into the far corner of the net.
'Clarke's goal came in the first minute of the second half when he won possession then lost it to Smith and won it back to turn through the Newcastle defence before hitting a low shot past goalkeeper Iam McFaul.'
The following evening brought cause for celebration with Norman Hunter elected by fellow professionals as inaugural winner of the PFA's Player of the Year award, vindication for a man frequently slated for his uncompromising style. Many sporting functions had been regaled with the tale of how Hunter's wife told her neighbour: 'Our Norman came home with a terrible leg last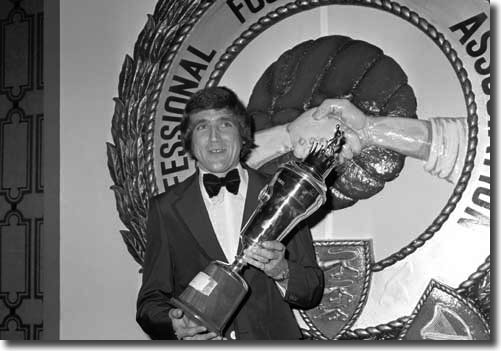 night - all bruised and bleeding. The trouble is he doesn't know who it belongs to.'
A Lorimer penalty brought a much-needed 1-0 victory over Manchester City at Elland Road on 9 March, though there was controversy over the award of the spot kick.
Terry Brindle in the Yorkshire Post: 'The charge facing Billy Bremner, Leeds United's collapsible captain, in the whitewashed witness box outside Manchester City's dressing room ranged from simple dishonesty to downright duplicity. Nobody taxed him with infringement of copyright.
'And that, considering the nature of his accusers, was rather surprising. Manchester City, violent in their condemnation of his supposed dive and the referee's implied gullibility, showed all the outrage of biters suddenly bitten. Having done as much as any team to legitimise this now prevalent form of deviousness, City seem to resent its use against them.
'A dive is a disgrace, no matter who makes it, but City really have no room for complaint. Perhaps men like Francis Lee and Mike Summerbee simply could not believe that somebody else could have their luck. If they try to make their own rules as professional footballers, they should at least be prepared to live by them.
'Leeds were clearly superior - aggressive and fast-moving in the first half, committed and hard-working in the second when the pace if not the passion slackened. "Our best performance this year," smiled Don Revie afterwards.
'Above all, Leeds seemed to have the will to win, a superbly competitive approach that overrides supposed deficiencies of flair and freedom … Terry Yorath, who spent three days out of training with a poisoned thigh, gave himself a fitness test on Saturday morning and insisted on playing. If this is how Yorath plays under disadvantage, Revie will probably give him a shot of curare before every match. He was superb.'
After the game, Bremner tipped Manchester City winger Mike Summerbee the wink that United were about to sign him. With the City captain all set to complete the move, it broke down when City's own attempt to sign Hull striker Stuart Pearson collapsed.
Next up for United, on 16 March, was the big one, against Liverpool at Anfield, the date a special one for Don Revie, marking the 13th anniversary of his appointment as manager.
Skipper Billy Bremner pronounced confidently, 'We are very confident and Liverpool will have to pull out everything to have a chance of beating us. There is no doubt it will be a hard game, but we are not going there with the intention of looking for just one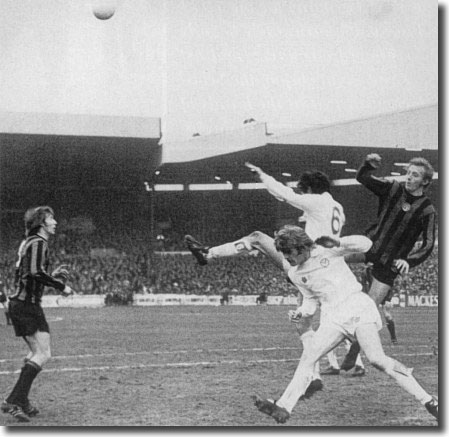 point.'
The Anfielders won a closely fought game, as reported by Geoffrey Green in The Times: 'Only a few crowded weeks ago Leeds wallowed in the comfort of a nine points lead at the top. Now that gap has been eroded to six and Liverpool, in addition, hold two games in hand with the chance to cut it even finer. Leeds, their goalscoring thrust recently misplaced, are now looking anxiously over their shoulders, remembering no doubt how they conceded a seven points advantage to Arsenal for the title of 1971.
'Liverpool, the reigning champions, are not yet disposed to surrender their throne. Unbeaten since Boxing Day in a run of 16 games, once more they are proving themselves the strongest finishers in the business at a time when their main rivals have won only three of their last eight matches. And further to underline Liverpool's patient hunt, it may be added that this was the thirteenth occasion this season they had won a match inside the last ten minutes. Here lies the character of a side who have conceded only one goal in the last nine games.
'Here was a stirring battle of wills and wits that helped to keep the race still open. All too often these summit meetings provide anti-climax. Not so on this occasion. With courage and sportsmanship uppermost, this was British football at its best.
'With queues already forming soon after breakfast - the gates shut on a 56,000 crowd an hour and a half before the kick off - the expectation inside Anfield was sweet and giddy. The flags of the stadium stood starched in the wind as Liverpool thundered into attack with a gusty energy for most of the afternoon. But Leeds, quick as a serpent, time and again slid out of danger with subtle defensive covering.
'The battle flashed and winked like a prism and just as Leeds, at last able to slow the withering pace with possession play, began to suggest they might weather the rattling storm, the decisive blow was struck. We were already clockwatching when Lindsay hoisted a tall lob into the Leeds goalmouth; first Keegan and then Toshack nodded on the ball instantly as if baton changing and there was Heighway, quickest of a forest of feet, to slot in the winner. So a match of electric energy and narrow escapes ended with the heaving Kop awash with red banners and scarves, like some Technicolor sunset.
'They had much to look back on - the probing Callaghan, Cormack and Hughes of Liverpool, and Hunter, the warhorse of Leeds, as the outstanding medal winners of 22 heroes; a couple of breathtaking goal line saves, first by Hunter from Toshack and then Hughes from Lorimer, when all seemed lost.'
Barry Foster in the Yorkshire Post: 'It was a cat and mouse type of game with Liverpool doing the chasing and Leeds the waiting. Despite a monumental display by Hunter, the pounding they took was just too much for Leeds in the end.
'Leeds missed a man like Giles who could slow and frustrate the non-stop action of Liverpool - led by their magnificent midfield trio of Callaghan, Hall and Cormack. Leeds usually looked more skilful when they got the ball, but Liverpool worked so fast and hard that they managed to keep the ball almost all afternoon… But Leeds stood firm and even managed a good breakaway through Jordan.
'Hunter managed to boot a header from Toshack off the goal line and Hughes must have broken the world speed record over six yards when he managed to hook Lorimer's lob out of Liverpool's net after Clemence had been beaten soon afterwards. Then, just when it was beginning to look as though Leeds' back to the wall effort was winning the day, Liverpool produced yet another late winner.
'It was a scrappy goal, started by a long downfield pass from Lindsay. Keegan and Toshack managed to move the ball down the centre of the penalty area and Heighway, getting the best of the bounce, was quick enough and brave enough to billiard cue the ball home.'
'I think they deserved to win,' said Revie. 'They kept up the pressure for 75 minutes and while we are disappointed it is no disgrace to lose to Liverpool.
'I'm still confident of winning the title … Anyone who looks at it sensibly will see that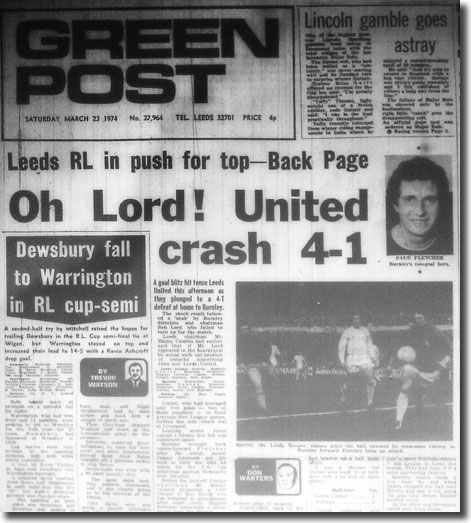 Liverpool have got to take maximum points from their games in hand and they will still be two points behind - and our goal average is so much better. Look at the two positions and decide which you would sooner be in.
'I have said all along that you have got to be consistent over 42 matches - now we have to be consistent over the last eight.'
Revie's pleas fell on deaf ears; United crashed 4-1 at home to Burnley on 23 March, ending the game in fractious style, their discipline in shreds. Norman Hunter handed his head on a platter to critics after an ugly foul on Frank Casper which ended the striker's career.
United seemed to have recovered their composure when they took the lead at West Ham a week later but they then conceded three goals and crashed to a third successive defeat.
John Samuel in The Guardian: 'If some of the Leeds players cannot master their temperament better than they did in the last 20 minutes then they lack the requisite qualities of champions and their supporters must prepare themselves for the worst… It should be possible, in strict terms of ability, for Leeds to gather themselves in their remaining six games and fight off Liverpool's challenge. The rose has developed black spot and a touch of mildew but it is still capable of splendid late blooms.
'Clarke, who scored a fine goal and played with high skill in the first half, now starts a two-match suspension, but from his silly reaction to disappointment and frustration in the second half a cooling off spell may do him and Leeds no harm. His goading of Day, McGiven and Bonds seemed only counter-productive. McQueen, tackled by Lampard, turned and chased back towards the West Ham player so aggressively that Bremner had to charge his own man off his feet to stop him doing anything irrevocable.
'Other Leeds players, Madeley, Reaney, Hunter and Bremner himself, in spite of the tensions, kept control of themselves, though Bremner's protests are sometimes too expressive, a match to a highly explosive trail. Leeds' emotions live close to the surface, their character constantly under stress from their own creativity, despond the aftermath to their highest peaks… Their persistent injury problems are symptomatic, not of damaged muscles, but over stressed minds. Madeley and Hunter are out of the England squad apparently because of physical injury from this match, though there was little sign of it. Just as easily they might report rude psyches. If ever a team needs to experiment with a psychiatrist it is Leeds.
'The good signs, even in this defeat, were the return of Giles and the soothing effect of his cool and balanced presence. He can be caught in possession, overtaken from behind and robbed on occasion, as West Ham did. But his anticipation is a marvellous instinctive mechanism, beyond price in the last desperate stage. Jones, too, coming on for Jordan in the 75th minute, did some quick, resourceful things; Lorimer, dropped for the first time this season, might well rediscover his confidence in the renewal of this old understanding and relationship.
'Leeds were the first to draw blood, Clarke in the 32nd minute leaving Day on the seat of his pants with a header, deft and deadly, from Giles' chipped centre. The rejoinder, different in style, alike in skill and enterprise, came in the 55th minute … Best got inside Reaney, round McQueen and squeezed in his shot before Hunter could quite reach him, and a crowd of 37,360 - the gates were shut well before the kick off - exploded.
'Clarke had a goal first given, then disallowed by Mr Yates, whose linesman had flagged unhesitatingly for offside. It was a tight decision, for Clarke moves so quickly to this type of lob from Bremner, and Mr Yates could have saved some heartburn if he had checked at once with his linesman. It was just the sort of incident to rattle Leeds, and West Ham ground in their advantage with a superbly-timed leap and header into the far corner by Robson after Brooking had duped McQueen out on the left.
'Yorath missed a good chance of an equaliser, Jones came on for Jordan, then in the 84th minute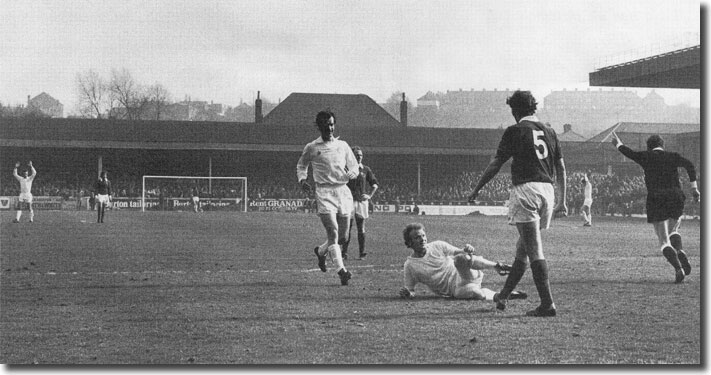 Best broke away again and forced a corner. The same player was in possession on the far side of his goal when West Ham got the ball over, and Brooking scooped his header into goal.
'A great game faded into a desultory and, on the part of one or two Leeds players, ill-tempered finish. Clarke secured himself a quite gratuitous booking, apparently for words offered within the hearing of the referee. Leeds' greatest need now is to summon their self-discipline.'
The defeat gave Liverpool, though still four points adrift, the driving seat. United had six matches to play but the Reds had nine, their fate in their own hands for the first time.
United steadied their nerves by beating Derby 2-0 at Elland Road on 6 April. Liverpool were fortunate to take both points from QPR at Anfield, having to come back from a goal down, but were less fortunate two days later, going down by a single goal at Sheffield United. That ended a run of 9 wins and 3 draws from 12 League games played since Boxing Day. Liverpool hotly disputed the Blades' fiftieth minute goal, claiming offside against Terry Nicholl, but had been fortunate when Keith Eddy was unable to convert a first half penalty and The Times' Gerry Harrison described their performance as 'surprisingly undistinguished … full of power and threat but ponderous and unimaginative.'
On Good Friday, 12 April, the Merseysiders dropped another point, in a 1-1 draw at Manchester City, leaving them three points behind United with one game in hand.
In between those two setbacks for Liverpool, Allan Clarke's successful appeal against his booking at West Ham left him available for Leeds' 15 April clash with Sheffield United at Elland Road.
Clarke was already in the middle of a two-match suspension, completing his punishment on 13 April when Leeds visited Coventry, hanging on in the closing stages to earn a goalless draw after dominating most of the game. Liverpool came back from a goal down at Ipswich after 24 minutes to keep pace with a 1-1 draw.
The tide had started to run the way of Leeds, but they missed a real opportunity when they played out a goalless draw with Sheffield United at Elland Road on Easter Monday.
Tom German in The Times: 'Thrusting a disruptive spoke into the fluctuating tussle for the League championship is becoming a habit for modestly placed Sheffield United. It was Liverpool who were pegged back a stride last week; yesterday … it was Leeds United's turn to learn how disciplined Sheffield can be.
'Sheffield showed that they could organise their defence shrewdly and underlined the extent to which a once sleek and efficient team had lost their sureness of touch since they swept all aside in that undefeated run of 29 matches. Sheffield made no bones about their intentions. They moved back collectively whenever Leeds hinted at initiative. Flynn attached himself to Clarke and contained him superbly, Colquhoun was a match for Jones, and Salmons a discerning element in midfield. The rest of the Leeds front line could make little imprint. Nor did it help that Bremner and Giles, though seeing plenty of the ball, could not find a way to pierce the screen.
'All too often Leeds channelled the ball high, but it was more in hope and frustration than in a considered attempt to exploit a weakness. Yet they did get the ball in the net twice. Jones was flagged offside just after the half hour, and then Leeds disputed a judgement which cancelled Lorimer's strike shortly after the hour … The referee's explanation after the match was that Clarke was standing in an offside position.
Top of Division One - 15 April 1974

Pos

P

W

D

L

F

A

Pts

1st

Leeds United

39

21

14

4

60

29

66

2nd

Liverpool

37

21

10

6

45

27

52

3rd

Ipswich Town

40

18

11

11

65

54

47

4th

Derby County

40

16

14

10

50

40

46

5th

Burnley

38

15

12

11

50

49

42
'Leeds pushed forward, confident that Hunter and McQueen would safely pull up the drawbridge behind them if ever the need arose … Strangely, for all their pounding at Sheffield's door, Leeds could point to few moments of ripe opportunities. One gloriously flighted lob by Clarke in the opening minutes seemed to be descending under the bar when Brown chased back to fist away at the last second; and a breach was almost forced in the final seconds as Bremner's corner allowed McQueen to use his long reach for a header which Brown pushed aside to Clarke, whose shot flew into the side netting.'
Three bookings for United men - Lorimer (for disputing the decision to disallow his goal), Cherry and Hunter (for fouls) - emphasised that the improved discipline of autumn had evaporated under the pressure of spring.
Easter Tuesday, 16 April, brought crucial fixtures. Liverpool seemed to have the easier task, at Anfield against Manchester City, while United faced Sheffield United at Bramall Lane and the early signs were ominous: while a dour Yorkshire derby remained goalless at the break, Liverpool were three ahead by the sixteenth minute, and added a fourth after 35 minutes.
In contrast United began anxiously, 'tight with fear' according to Geoffrey Green in The Times, and nerves showed when Yorath missed a sitter after three minutes. However, they had control with the Blades offering only a token threat. They kept at their task, convinced that the goals would come, and got their reward in the final half hour.
The opener fell to Peter Lorimer, coming storming in to fire home from a narrow angle after Flynn hooked Mick Jones' goalbound effort off the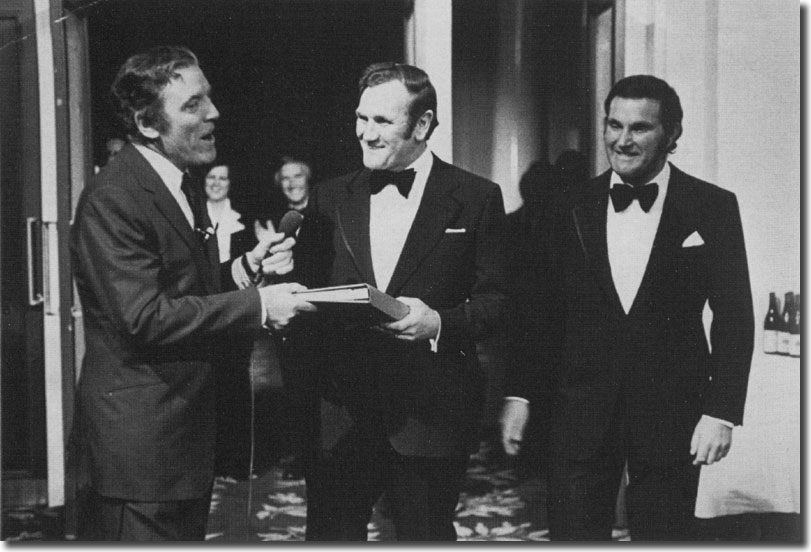 line. After 69 minutes they were awarded a penalty for Speight's foul on Jones. Again it was Lorimer, hammering home forcefully.
United had two games left to Liverpool's four, but maintained a critical four-point advantage and a superior goal average. Both sides had home games on Saturday, 20 April, United against third-placed Ipswich Town and Liverpool facing Merseyside rivals Everton.
United won a breathtaking context by three goals to two, content to waste time over the final minutes. Few outside Merseyside would blame them, for victory was crucial, all the more so as Liverpool played out a goalless draw with Everton. The results left United five points clear. Liverpool had three games to play, but a superior goal average meant that a single point at Queens Park Rangers on 27 April would be enough for Leeds.
Don Revie refused to count his chickens, protesting, 'It's a bit premature to call us champions yet. I'll not really breathe easily until I see the trophy is in Billy Bremner's hands.'
Bill Shankly: 'There is still a mathematical chance and while that is so we will not give up hope. That's the trouble with the world today, people give up too easily. A squirt of Gaelic blood, that's what you all need. Then you might not make remarks about giving up.'
Nevertheless, the balance of power had clearly shifted to Yorkshire. United faced the terrors of the final day, but surely even the perennial bridesmaids could not fail this time.
In the event, they were spared the challenge. On Wednesday, 24 April, Liverpool faced Arsenal at Anfield. The same evening ITV was broadcasting a This Is Your Life tribute to Revie. Eamon Andrews had sprung the surprise on Revie four days earlier when he had been attending a Variety Club dinner at the Queens Hotel in Leeds city centre. While Revie enjoyed the moment, Arsenal paid their own respects, pulling off a victory.
Gerry Harrison in The Times: 'Arsenal, the last team to achieve the double, the last team to beat Liverpool at home in the League, did it again in Liverpool's last home game… Arsenal certainly defended well, but no side with an eye on the double, and not even a side which had dropped only two points at home previously, could afford the luxury of throwing their riches far and wide so indiscriminately.
'Traffic was understandably mostly in one direction, but it came to a halt 18 yards from Rimmer, the former Manchester United goalkeeper, brought in to replace Wilson, who retires at the end of the season. Rimmer did save well from Keegan, and also from Toshack, and Keegan was unlucky when his shot was deflected wide by Rice. Clemence, however, made the save of the first half in the thirty-third minute when he arched backwards to palm away a looping Radford header.
'Keegan missed a simply-worked chance from a Heighway throw five minutes into the second half. Then Simpson came on as substitute for the injured Blockley, immediately found Toshack and Smith clobbered the crossbar with a powerful free kick. Away came Arsenal, with Ball floating a pass out to the right which Lindsay failed to intercept. Kelly, from the goal line, pulled his centre back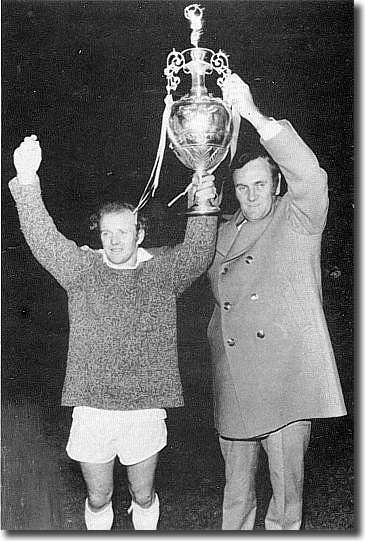 skilfully into Kennedy's path and Clemence was left helpless.
'Brady almost scored another six minutes later and even at this stage, despite regular injections of corners to boost the blood flow. Liverpool's chances of scoring the two goals they now needed to remain in the race seemed highly unlikely, particularly as Rimmer was thoroughly enjoying himself and Simpson and Storey had come to grips with the thrashing action in the middle.
'Toshack made it even easier for Arsenal - and Leeds - by missing a 75th minute chance from close in. Heighway was equally guilty eight minutes from the end, by which time Keegan, Hughes and Hall were still soldiering on but clearly showing that this was neither their night, nor, it seems, their season.'
An overjoyed Revie beamed: 'I feel as though someone had come along and lifted six tons of coal off my back. It's a great feeling. I feel as though I am walking on air… Tonight I am going to go out and have a good time at last.'
He was true to his words as the new champions threw an all-night party.
There was still business to do with one final game, away to Queens Park Rangers on 27 April. The pressure off, United were determined to go out in style with a victory.
They were sorely pressed by Rangers, but won the game by an Allan Clarke goal after 57 minutes.
The championship trophy and medals were presented to the players before Billy Bremner's testimonial game at Elland Road against Sunderland on 6 May.
Barry Foster in the Yorkshire Post: 'Over 37,700 spectators, who had bought 38,300 tickets for the game, turned up for an eventful night. It started when Bremner was presented with the League championship trophy by Mr Len Shipman, the president of the Football League. Mr Shipman said: "This year has been wonderful for you. I know a month ago we were all worried after the club's wonderful start, but it came out right for you."
'Bremner thanked the Leeds supporters and particularly the Kop. "We feel you have helped us tremendously, not only here but away from home… You have conducted yourselves with dignity and you are a credit to yourselves."
'Mr Shipman also presented the League title winners' medals to members of the first team squad and Don Revie, the Leeds manager, gave the club's backroom staff a gift to mark their work.
'The goalless game was always competitive and Sunderland went near to snatching a dramatic victory … in the last minute, when Tueart cracked an unstoppable shot against an upright. The Second Division side did more than hold the champions, they gave them a hard fight.
'Though the fans had been denied a goal, they still produced the cheer of the night for Bremner when the Leeds captain went on a lone lap of honour with the championship trophy after the final whistle.'
It was a fitting finale to a wonderful season for the Elland Road club, and a fitting farewell to manager Don Revie, who would depart for the England manager's job a few weeks later. Revie had revolutionised the club in his thirteen years at the helm and now finally received the adulation that he craved, though he remained studiously modest.
Daily Express football reporter Mike Morgan recalls: 'I interviewed Don after the 1974 title win and all he wanted to do was talk about the players and his staff. He said, 'Those lads are the ones who won the championship, not me. Them and people like Syd Owen, Maurice Lindley and Les Cocker - I am just the figurehead.' It was typical Don, who was such a modest man.'
At that stage, few could have anticipated the upheaval that would follow Revie's departure from Elland Road and how much the club would come to regret his decision.
Part 1 Unbeatables - Results and table