After months spent as overwhelming favourites to win the league title, Don Revie's Leeds United saw their form collapse over the space of six short weeks in February and March 1974. In that time a confident and purposeful fighting force degenerated into a dispirited rabble that was struggling to see from where its next win was coming.
A shock FA Cup exit at the hands of Second Division Bristol City on 19 February was just the prelude to Stoke City's destruction of a 29-game unbeaten League run; subsequently Liverpool, Burnley and West Ham United inflicted three defeats in succession, by a goal aggregate of 2-8, to bring March to a desperate end. United's advantage over Liverpool was now four scant points, with the Merseysiders having three games in hand.
After the 4-1 defeat at home to Burnley on 23 March, Barry Foster reported in the Yorkshire Post: 'The chips are down, there is no room for manoeuvre, no more room for disastrous displays like the one against Burnley on Saturday which represented Leeds United's heaviest home league defeat since returning to the First Division ten years ago. If Leeds are going to take the title that looked as good as theirs just over a month ago when they were nine points clear at the top, then the dithering will have to stop and they will have to go out and play like champions - just as they did for the first five months of the season … And the ragged way in which Leeds eventually fell to Burnley did not leave the more discerning of their followers in the 39,335 crowd with hope of a quick return to top form.'
A week later, The Times' Tom German wrote: 'There must now be serious doubts whether Leeds United are capable of winning the Football League championship. Their 3-1 defeat at West Ham on Saturday was final proof that the decline which set in a few weeks ago is not a temporary ailment. Leeds, with only six matches left, are now in the position of having to rely on Liverpool being too exhausted by their other commitments to make up the necessary points. It seems a forlorn hope in view of Liverpool's present form.
'At the end of Saturday's first half Leeds seemed to be well on the way to one of those clinically efficient victories for which they have become renowned. A typically well thought out goal, involving Bremner placing a short corner for Giles to flick the ball up for Clarke to head in, had given them an interval lead, and there seemed no reason why they should not hold on to it.
'Then Best, who had caused some worry to the Leeds defence earlier, finally managed to get past McQueen and Reaney to shoot past Harvey. The goal could not have come at a better time, for West Ham were showing increasing signs of frustration at the way things were going.
'Leeds' deterioration began shortly afterwards when Clarke lobbed the ball over Day's head into the net. The linesman had his flag up for offside in advance. Yet Clarke stumped around in anger, obviously nettled by the referee's decision to allow, then refuse, a goal, and the incident seemed to affect the rest of the team. Certainly, when Robson headed West Ham into the lead they had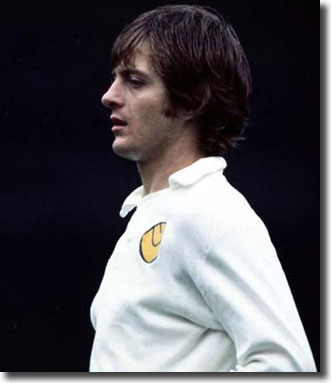 become a thoroughly demoralised lot.
'In the old days Leeds would have responded well to the challenge. This time their play became more and more desperate, and the number of fouls increased until Brooking scored West Ham's third goal near the end to complete their misery.
'It is sad to say of Leeds that they are looking more and more like an ordinary team, and that Bremner, still one of the finest players in Europe, is becoming increasingly like the captain, not perhaps of a sinking ship, but of one which has lost its way.'
That crushing defeat left United six games with which to rescue their season. Liverpool's strong run of form had finally put them in a position where they could overtake Leeds under their own steam. Revie's surface demeanour was at the same time sanguine and optimistic: 'I had the feeling that we turned the corner at Upton Park. We gave one of our best performances of the season, particularly in the first half, and we had only ourselves to blame for the goals we conceded.'
Rob Bagchi and Paul Rogerson in The Unforgiven: 'It was a shrewd observation, but Revie was taking no chances. Paul Madeley and Norman Hunter were withdrawn from an England international against Portugal, much to the chagrin of Alf Ramsey. The FA claimed they had not been notified in time that the players were injured. Suspiciously, both men returned for the visit of Derby.'
Old rivals Derby County offered Revie little in the way of potential respite in the Elland Road clash on 6 April. The Rams were no longer under the colourful management of the acerbic Brian Clough, but the appointment of Dave Mackay had revived their fortunes. Derby's inspirational former skipper had presided over a run of two defeats in 17 games that saw them ascend to third place in the table, though they were ten points behind United.
Their record at Elland Road was brittle, but Mackay was upbeat, warning, 'Derby are playing better than at any time since 1972, Leeds havc something of an inferiority complex because of missing out on so many trophies in the final weeks of the season, and I think we can win.'
Geoffrey Green previewed the clash for The Times. 'Although Leeds are drifting - almost rudderless, it would seem with three successive defeats behind them - their supporters may take some encouragement from three little (yet maybe vital) facts - Leeds have got the points, Liverpool have yet to pick them up; Leeds possess the better goal average; Liverpool, beginning today, must face a finishing run of nine fixtures in 24 days. That will test their physical and mental stamina to the Nth degree. It is a fascinating situation.
'The two Leeds men, Hunter and Madeley, who were unable to join England in Portugal during midweek, are reported fit, as is Bates, who last appeared in December before undergoing a cartilage operation. Having lost their confidence and rhythm,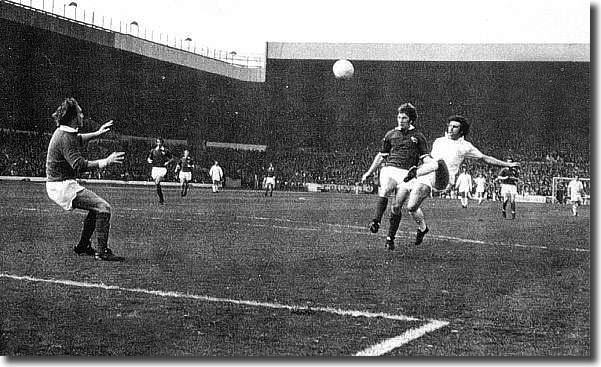 much of the old Leeds hardness has returned to their game. The leopard, it appears, when cornered has not changed its spots.
'Today is a critical moment for everyone who has helped to keep Leeds in the foreground for the past ten seasons. Another defeat now and their demolition could be complete. This has happened before in both league and Cup and it is hard to put one's finger on the precise reason for it. Don Revie, the manager, has won universal acclaim for lifting the club from the shadows and making them a power in the land. But maybe it is he who lacks something at a crisis.
'Certainly Derby County, who are keen to secure a place in Europe again next season, will be giving nothing away. Even though McFarland is unlikely to be fit for centre-half, men like Nish, Rioch, Todd, Gemmill, Davies, Hector and company could take a bit of silencing.'
If United were to regain the championship that Revie coveted so jealously, it was essential that they not only resisted Derby's strike threat but were able to rediscover their own prowess in front of goal. They would have to do so in the absence of their normal strike duo, Mick Jones (knee injury) and Allan Clarke (suspended). Revie's solution was to deploy Billy Bremner alongside Joe Jordan, choosing to leave Yorath, Giles and Madeley to patrol midfield with Peter Lorimer recalled on the right flank after being rested against West Ham.
Lorimer had been struggling for form, without a First Division goal from open play since his hat trick against Birmingham on 8 September. But he had earned a reputation as a thorn in Derby's flesh, having scored ten times in his previous ten appearances against the Rams, and Don Revie had no hesitation in recalling him when the chips were down.
A crowd of almost 38,000 packed into Elland Road, along with the television cameras, to see whether United could banish their title jitters. With only four points from the previous seven games, another slip up might well be terminal.
Kicking off from the Elland Road end with the sun behind them, Derby were quickly onto the front foot, Paul Madeley happy to relieve the pressure with a pass back to David Harvey.
Norman Hunter's fine crossfield pass almost got United away but Giles' flick to Bremner was intercepted and the move petered out.
After these initial hints, the first genuine opportunity of the contest came from a Derby free kick on the edge of the Leeds area and Harvey had to be alert to turn David Nish's long floating ball over the United bar.
Gordon McQueen had been closely shadowing Derby striker Roger Davies thus far, but when the lanky striker managed to work himself some space it was defensive colleague Hunter who was on hand to block his shot.
At the Derby end, Joe Jordan rose imperiously to lay the ball back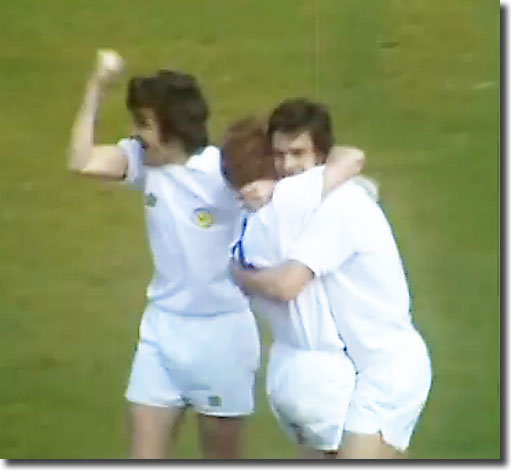 for Terry Yorath following a Lorimer free kick. Unfortunately, the Welshman's effort was tame and failed to trouble Derby keeper Colin Boulton.
Wrexham referee John Williamson had a quiet word with Bremner after the United skipper sent Davies crashing to the turf. The incident was a sign of the home eleven's fierce determination; they were desperate for the goal that would settle their nerves and the breakthrough duly came after seventeen minutes,the lovel move a tribute to the quick thinking of Bremner and Lorimer.
When the ball was thrown deep into the United half for the lone Davies to chase, McQueen ended the threat with a quick intervention. The centre-half then fed Trevor Cherry, who passed back to Norman Hunter. Looking up to see what was on, the United hard man flighted the ball for an unchallenged Joe Jordan to cleverly cushion a header sideways to Bremner, 35 yards out.
The Leeds captain had spotted a defensive gap and swept the ball on instantly with an inch-perfect chip. As it dropped just into the area, Lorimer, racing through the inside-left channel, beat Rioch and, as the back four appealed vainly for offside, clipped a cool left-footed lob over the advancing Boulton and just under the bar to open the scoring.
Knowing exactly how important the goal was to their cause, United players celebrated ecstatically, led by an exuberantly waving Lorimer, who acknowledged afterwards that 'It came at just the right time for the team.'
There was no surrender yet from Derby, striker Jeff Bourne lashing in a fearsome shot which brought Harvey to his knees to palm it round the post. But United's confidence was burgeoning with Giles, Madeley and Yorath taking a grip in midfield.
Jordan threatened twice, a fine Davies tackle being necessary when he bore down on goal and then a long ball from Yorath sending him speeding past Nish's desperate attempted tackle, though the Scottish target man spoilt his fine work by misfiring wildly.
Derby, while having to withstand concerted United pressure, were living up to Dave Mackay's pre-match vow that his team would play an attacking game. Rams midfielder Bruce Rioch, a £200,000 buy from Aston Villa, was creating regular openings but it was his defensive colleague Colin Todd who put Davies in on goal, though the lanky striker shot hopelessly wide.
When Bremner clashed in midfield with Scotland colleague Archie Gemmill, the referee awarded a free kick to Derby. McQueen headed it away in commanding style when it came into the United box.
Bremner went close to increasing United's lead on the stroke of half-time, but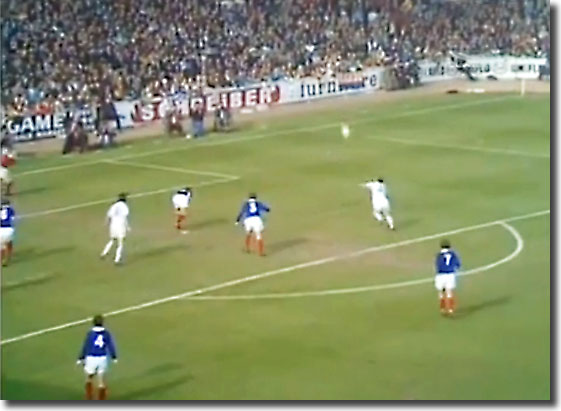 they had to be satisfied with a single goal advantage at the break, though it was well-merited.
Derby were quickly onto the offensive when play restarted, but Harvey ended the threat, coming out quickly to dispossess Davies.
United refused to sit back on their lead and McQueen looked dangerous when he set off on a strong 60-yard run. Unfortunately, the move fizzled out as the defender's control let him down when the ball ran badly and Derby keeper Boulton gathered.
Bourne shot wide when the Rams had a turn at the other end and then McQueen shepherded Hector into no man's land, earning the goal kick. The Whites' defence gave clear evidence of its resilience under pressure and any momentum that Derby could develop was interrupted as petty refereeing resulted in the game becoming scrappy, much to the frustration of the home crowd.
Around the hour mark, Hunter was left limping after a melee in the United goalmouth. He struggled on for a minute or two but then admitted defeat and slumped to the turf in obvious pain. After receiving treatment, he was able to play on but did so under handicap.
Rioch and Gemmill had taken a degree of control in midfield and Bourne, Davies and Hector threatened Harvey's goal as Derby strove valiantly to get back on terms. Davies had United's defence in a tangle before the ball was scrambled away for a corner and Harvey showed excellent judgement when he darted to the edge of his penalty area to collect at the feet of Hector.
United, though, managed to create some breathing space after 69 minutes when Bremner made it 2-0.
Cherry's free kick from just inside the Derby half on the left dropped invitingly to the edge of the box. Jordan could not get to it, but Nish's header was poor and only succeeded in teeing things up for United. Billy Bremner, anticipating smartly, ran around the dropping ball and was in perfect position to slide coolly home from 15 yards. His accurate strike slipped comfortably below the diving Boulton and nestled beautifully into the corner of the net.
It was a masterly goal, and the gleeful United skipper lay there to receive the acclaim of his team mates.
On the touchline, Don Revie beckoned Terry Yorath to his side to give instructions, demanding that United protect their hard-won advantage; there was to be no collapse this time, demanded Revie, recalling the disappointment of February's defeat at Stoke.
With no option other than to go for goals,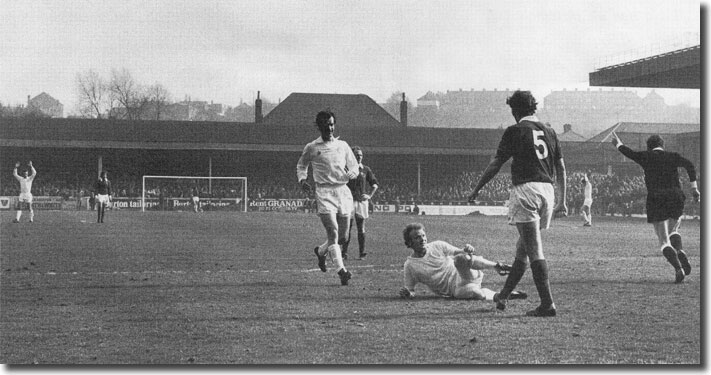 Derby immediately sent on Alan Hinton as substitute for Rioch; the switch almost brought immediate dividends when Hinton's free kick was headed just wide by Bourne. However, United resolutely safeguarded their clean sheet. With McQueen and the limping Hunter oozing steely defiance, they ran down the clock to secure a much-needed victory, just their second since 9 February. The relief in the stadium was palpable at the final whistle.
Geoffrey Green in The Times: 'With three successive league defeats behind them, Leeds United's match against Derby County at Elland Road on Saturday was crucial. Another loss and their season - splendidly fashioned without a defeat in the championship until the end of February - may well have been laid to ashes at their feet. But they beat Derby 2-0 and, in the nick of time, may have halted their slide.
'Where once the white sails of Leeds were set fair for the title, the skipper's eyes scanning only the far horizon ahead, the crew are now having to look two ways at once, forwards and backwards, as the Liverpool charge grows closer.
'Though they won, understandably this was not the Leeds of early season. The old command and flair came only in fleeting spasms, almost shyly; much of their former confidence and accuracy seemed blunted at times. Yet they were good enough to beat a good side also intent on returning to Europe and clearly not disposed to do anyone any favours.
'However, men like Hunter, Reaney, McQueen and even Giles too often gave the ball away gratuitously on a day when one could hear the nerve ends of the Leeds players and their supporters twanging in the spring sunshine. But, with this psychological gap bridged, they should feel better.
'In spite of all the tension, it was a flowing match, with Derby playing a full part and amply suggesting that they will be a major force next season. But for the unfortunate hiatus earlier, when they lost six matches and their former manager, Brian Clough, they might well have been going for the title at this moment.
'Derby made one thing clear. They have discarded their safety first methods away from home. The arrival of the stylish Rioch from Aston Villa has given their midfield work a new creative dimension and, until he limped from the scene midway through the second half, he and the little Gemmill, in particular, watched closely by William Ormond, the Scotland manager, may find himself in their World Cup party.
'The delicate footwork of Davies and the drive of Hector up front, together with the authority of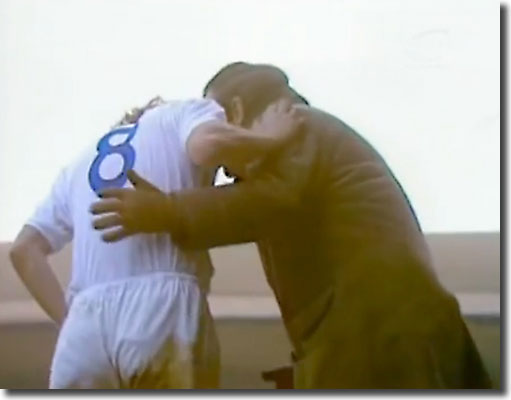 Todd at the back, added to a Derby challenge that could have unseated a worried foe. But Leeds survived two anxious periods in the opening quarter of an hour of each half, finally to emerge with heads high again.
'What first ironed out their wrinkles was a goal in the 17th minute as good as any they have scored all season. A long clearance by Hunter, a flicked header by Jordan, Bremner's perfect first time chip over the Derby defence, and Lorimer, going at express speed, lobbed the ball beyond the advancing Boulton. It was Bremner's characteristic brushstroke that really made the picture.
'Employed as target man and central striker at Jordan's side in the absence of Clarke and Jones, Bremner's presence was missed in midfield. But since he made the first goal, and scored the second 20 minutes from the end with a searing volley after Nish had misheaded a free kick from Cherry, on balance the bold decision showed an important profit.'
Alan Dunn in The Guardian: 'Leeds United's current anxiety is apparent and natural and their nerve ends were exposed starkly at the start of their match against Derby County at Elland Road on Saturday. Had Derby scored an early goal, Leeds might well have cracked under the strain. Instead it was Leeds who scored after quarter of an hour and from then on they began to relax and build their confidence anew and by the end they were much more like the Leeds of old.
'The fact that it was Derby, third in the table, who they had beaten added enormously to their sense of satisfaction, for Derby played with considerable grace, intelligence and spirit and could well feel disappointed at having not even a goal to show for their attractive labours. Gemmill maintained a high level of enthusiasm throughout; Davies made constructive use of the through passes and his lazy dribbles confused even Hunter on occasion, and Rioch and Todd were sharp in midfield, with Nish prepared to come through. It all looked good but almost inevitably fell short of expectation in the goal area.
'In a sense Derby are typical of many teams in their lack of a man greedy or selfish enough to take the ball through himself willy nilly and accept the responsibility of shooting. Too often Hector, Davies, Bourne and Gemmill worked into a possible shooting position then looked for someone to pass to - and the ball was inevitably worked back even into the Derby territory for fear of one man failing with a shot.
'Even so, Derby had their chances, as when a free kick from Nish troubled Harvey, who also dived stunningly to save a drive from Bourne, and in the last minute Hector had a shot rebound from a post. Leeds in contrast had fewer chances yet made the most of them.
'Lorimer scored the first, lobbing the ball over Boulton after Bremner had changed the direction of the attack in feeding on Jordan's pass. Bremner, persistently annoying the defenders but otherwise not always at ease in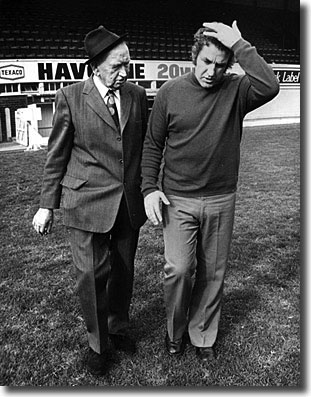 his temporary role as striker, got the second by being in close attendance when Nish's attempted headed clearance of a free kick came down to him and he swept the ball home unceremoniously.
'Injuries and suspension had of course robbed Leeds of Jones and Clarke in attack, where Jordan and Lorimer were not too effective. Madeley was always toweringly calm and Hunter a formidable barrier - in fact the defence as a whole played soundly - but on the day individuals counted less than the need for a collective raising of the spirits. And on that count alone Leeds could be well satisfied.'
Mike Casey in the Yorkshire Evening Post: 'Although in recent seasons Leeds United have blossomed into one of Europe's most attractive sides, the club's reputation has been built mainly on their tremendous team spirit. Any team seeking success in that soccer rat race which is the overcrowded, fiercely competitive English First Division must have that priceless asset.
'The willingness of United's players to run and work unselfishly for one another was the main difference between two skilful teams in an entertaining, hard-fought match with Derby County before a 37,838 crowd at Elland Road, a match which brought Don Revie's championship chasers two invaluable points with a 2-0 victory and ended a dismal run of three successive defeats.
'Derby manager Dave Mackay, now happily in command of a team which at last seems to have learned to live without their erstwhile hero Brian Clough, is committed to bright, attacking football. "It's the only way a small town like Derby can support a First Division club," he said. "We have to attract support from a whole area."
'With the nippy, high-scoring Kevin Hector, who learned his soccer with Leeds Schoolboys, the lanky and dangerous Roger Davies and young Jeff Bourne spearheading his attack, and their fine midfield partnership of £200,000 Bruce Rioch and the veteran Scot Archie Gemmill supplying plenty of ammunition, Mackay's team is well-equipped to play attacking football.
'Unhappily for them, United's back four - Paul Reaney, Gordon McQueen, Trevor Cherry and Norman Hunter - operated with their old deadly efficiency. Gone were the bouts of anxiety and hesitancy which marred previous recent performances and cast clouds over Elland Road title hopes.
'Derby's front runners were eager for the fight, quick to spot openings and looked sharp enough to collect a few goals - provided they could get their target lined up.
'But so well did Hunter and Co man the barricades, Derby's frustrated strikers had only a handful of real chances. And each time the alert, dependable David Harvey was equal to the challenge, although even he must have been relieved when Hector's last minute shot hit the post.
'United's attack, on the other hand, although lacking the suspended Allan Clarke and injured Mick Jones, looked the more dangerous.
'Their three Scottish World Cup hopefuls, Peter Lorimer, Joe Jordan and the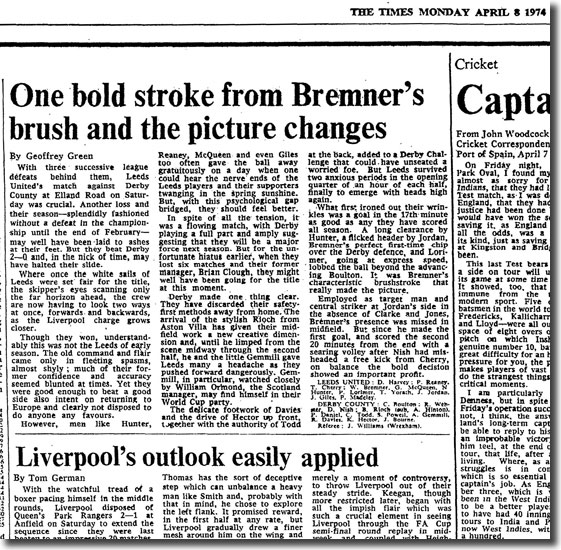 versatile Billy Bremner, caused all sorts of trouble for the visitors' defence and combined for the first goal after 17 minutes, which tore a hole in Derby's resistance.
'A splendid pass upfield by Hunter - who said he is only a ball winner? - found Jordan's head. The ball was flicked on to Bremner, who casually but devastatingly found the gap in the rearguard for the quick-thinking Lorimer to pounce past leaden-footed defenders and lob the ball over keeper Boulton's head into an empty net.
'Lorimer, who has never stopped trying during a difficult, demanding but mostly unrewarding season for him, took the chance well and now that he has ended a long goalless spell his confidence surely must be restored.
'Incredibly, his last previous goal, other than from penalties and a free kick, was as long ago as September 8, when he scored three against Birmingham at Elland Road.
'Bremner, tireless and skilful as ever, slapped in the other goal - his 11th of the season - in the 69th minute at a time when Derby threatened to force their way back into the game.
'The way he snapped up the chance was a fair imitation of that lethal finisher, Allan Clarke, who was watching from the stand.
'The goals were superbly thought out and executed, but they should not be allowed to overshadow the excellent, all-round work of a United team which seems to have shaken off the self-doubt which has proved so costly since they lost that splendid unbeaten record at Stoke in late February.
'Johnny Giles, whose constructive performance did not look like that of a man just back in the side after a length lay off, shone in his midfield work with the trusty Paul Madeley and that willing workhorse, Terry Yorath. Without their efforts Derby might not have gone unrewarded.'
The gap at the top remained unchanged that Saturday evening thanks to Liverpool beating QPR 2-1 at Anfield; the Reds had to come back from a goal down and needed a penalty and an own goal to do the trick against a QPR eleven that battled fiercely to the close but to no avail. However, the two points taken against Derby were like life blood for United, reviving what had started to seem a lost cause.
They were by no means home and dry and the next two games brought disappointing goalless draws. Nevertheless, the Derby result represented a turning point, ending United's dramatic slide. It was a sometimes nervy affair, the players' spirit still fragile, but victory did them the world of good, breathing new life into a faltering sprint to the finish. A trumpeting message of defiance had been sent across the Pennines to Bill Shankly's troops.