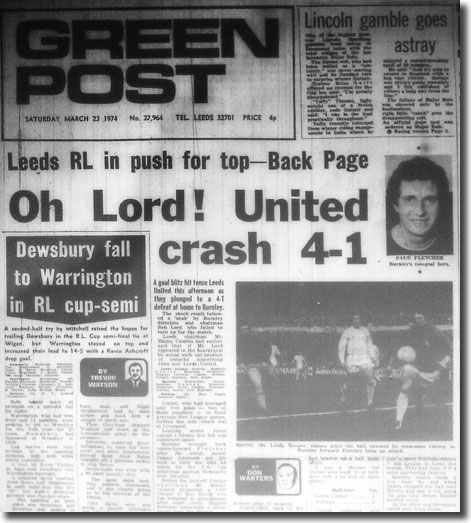 The dire run of results that preceded Leeds United's home game with Burnley in March 1974 had left their once unassailable lead at the top of the First Division looking distinctly brittle.
On 9 February, the Whites' 2-0 beating of Manchester United at Old Trafford extended their advantage over second-placed Liverpool to nine points with thirteen games left to play; at that stage, Leeds appeared certain to reclaim the league title they had won for the first time in 1969.
In the six chaotic weeks that followed, Leeds had crashed out of the FA Cup at the hands of Second Division Bristol City, seen their 29-game unbeaten run in the First Division destroyed at Stoke and taken just four points from five games.
Their previous game had brought possibly the most damaging result of all. A week before the Burnley fixture, they slipped to a dispiriting single-goal defeat at Anfield, with Liverpool seizing a psychological advantage as they continued to build their momentum. The Reds were coming up on the rails with a surge which had seen them drop just three points from nine games.
Frayed nerves jangled at Elland Road; Don Revie's men looked as if they were going to suffer another of the bitter disappointments that had characterised the decade since their return to the top flight in 1964.
Against Liverpool, United had come close to securing the point they had sought, the only goal coming in the closing minutes.
Geoffrey Green in The Times: 'When Heighway slid home the ball eight minutes from the end at bulging Anfield on Saturday for Liverpool's crucial 1-0 victory over Leeds United, the race for the league championship began more and more to resemble the fable of the hare and the tortoise.
'Only a few crowded weeks ago Leeds wallowed in the comfort of a nine points lead at the top. Now that gap has been eroded to six and Liverpool, in addition, hold two games in hand with the chance to cut it even finer. Leeds, their goalscoring thrust recently misplaced, are now looking anxiously over their shoulders, remembering no doubt how they conceded a seven points advantage to Arsenal for the title of 1971.
'Liverpool, the reigning champions, are not yet disposed to surrender their throne. Unbeaten since Boxing Day in a run of 16 games, once more they are proving themselves the strongest finishers in the business at a time when their main rivals have won only three of their last eight matches. And further to underline Liverpool's patient hunt, it may be added that this was the thirteenth occasion this season they had won a match inside the last ten minutes. Here lies the character of a side who have conceded only one goal in the last nine games.
'Yet certain facts could tell against them before it is all over. For instance, they are still involved in the semi-final round of the FA Cup; Leeds possess by far the superior goal average; and the single month of April will see Liverpool involved in all their final nine League matches (most of them away from Merseyside), a stern enough test even for one of their strength and determination. Fixture congestion could well be the final arbiter.
'All that lies in the future. Meanwhile, here was a stirring battle of wills and wits that helped to keep the race still open. All too often these summit meetings provide anti-climax. Not so on this occasion. With courage and sportsmanship uppermost, this was British football at its best.
'Bill Shankly, the Liverpool manager, said it all at the end: "Never mind the championship. Here was a great match, something the public wanted after recent sad events." To which Don Revie, his Leeds counterpart, added: "It was a first class advertisement for football." How pleasant to be able to endorse such opinion.
'With queues already forming soon after breakfast - the gates shut on a 56,000 crowd an hour and a half before the kick off - the expectation inside Anfield was sweet and giddy. The flags of the stadium stood starched in the wind as Liverpool thundered into attack with a gusty energy for most of the afternoon. But Leeds, quick as a serpent, time and again slid out of danger with subtle defensive covering.
'The battle flashed and winked like a prism and just as Leeds, at last able to slow the withering pace with possession play, began to suggest they might weather the rattling storm, the decisive blow was struck. We were already clockwatching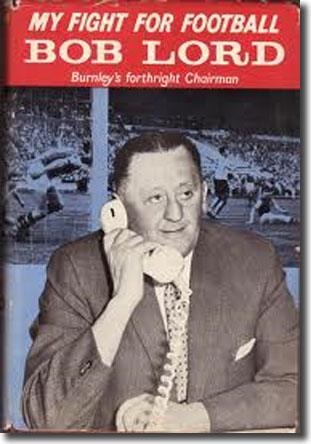 when Lindsay hoisted a tall lob into the Leeds goalmouth; first Keegan and then Toshack nodded on the ball instantly as if baton changing and there was Heighway, quickest of a forest of feet, to slot in the winner. So a match of electric energy and narrow escapes ended with the heaving Kop awash with red banners and scarves, like some Technicolor sunset.
'They had much to look back on - the probing Callaghan, Cormack and Hughes of Liverpool, and Hunter, the warhorse of Leeds, as the outstanding medal winners of 22 heroes; a couple of breathtaking goal line saves, first by Hunter from Toshack and then Hughes from Lorimer, when all seemed lost.
'There was a clear cut chance five minutes from the interval when Toshack, unmarked close in, headed over from a short corner worked by Heighway and Cormack. That went west but in the end persistence rightly won the match.'
'I think they deserved to win,' admitted Don Revie afterwards. 'They kept up the pressure for 75 minutes and while we are disappointed, it is no disgrace to lose to Liverpool. But after the troubles in the game lately, for two teams to go and compete so honestly I think was tremendous.
'Yes, I'm still confident of winning the title … Anyone who looks at it sensibly will see that Liverpool have got to take maximum points from their games in hand and they will still be two points behind - and our goal average is so much better. Look at the two positions and decide which you would sooner be in.
'People said before Saturday's match at Anfield that it would decide the title but I didn't. I have said all along that you have got to be consistent over 42 matches - now we have to be consistent over the last eight.'
To lose such a crucial game so late in the day was demoralising. For Revie's men, then, the visit of Burnley to Elland Road on 23 March was of the utmost importance.
The Turf Moor outfit themselves had promised much earlier in the campaign, being among the front runners, buoyed by double silverware in the form of the Second Division championship trophy and the Charity Shield after defeating Manchester City at Maine Road. Now, though, they were sitting eighth in the table, distracted by an FA Cup run that had taken them to the semi-finals where they would face Newcastle United the following week.
Relations between United and Burnley had long been strained, with the Elland Road club incensed by remarks made by Turf Moor chairman Bob Lord,
Rob Bagchi in The Guardian: 'The chairman known to Arthur Hopcraft in The Football Man as "the Khrushchev of Burnley", ran the club in such a belligerent fashion that he became arguably the first club owner to have a truly national profile. Fans of Arsenal would know all about Denis Hill-Wood and Tottenham supporters would recognise Sidney Wale but Lord's outspokenness about the Football Association and penchant for banning reporters from the Turf Moor press box gave him a notoriety in the 60s and 70s that still endures.
'Such was his "I say what I like and I like what I bloody well say" style that he became the epitome of the Lancashire self-made businessman - to the extent that it would be no surprise to hear that Timothy West used him as an inspiration for his portrayal of Bradley Hardacre in the sitcom Brass. Presiding over the club and his butchery business from his office at his Lowerhouse meat factory, he orchestrated feuds with the governing bodies, newspapers, supporters' clubs, television companies, other teams and even the Clarets' greatest player.
'He first made his mark when he described Manchester United's players as behaving like Teddy Boys after Burnley beat them 3-0 in March 1958 only weeks after the Munich Disaster. The remark caused outrage but he never apologised, instead embarking on an orgy of hair-splitting before blaming a journalist "trespasser" for having the temerity to record his rebuke. Burnley fans could forgive him that but the way in 1963 he got rid of Jimmy McIlroy, the radiant star of the championship-winning side, would have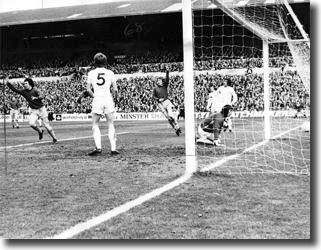 led to a boycott of Lord's sausages in the town had it not been covered up for more than three decades.
'It took McIlroy until 1999 to break his silence and reveal that his friendship with the Burnley director Reg Cooke turned the chairman against him. His captain, Jimmy Adamson, McIlroy said, cautioned him that Lord would be put out by the closeness of his relationship with another board member and shortly after the warning the Northern Ireland inside-forward, says the manager, Harry Potts, was summoned to the factory on a Sunday morning and told "McIlroy has to go."
'When Potts protested, he was informed that he would be out too unless he agreed to put his best player on the transfer list. And so the team shrewdly put together by Potts, bolstered by raids on the North East talent pool led by the scout and British Rail clerk Jack Hixon, who later took Alan Shearer to Southampton, began to break up and the catalyst was the chairman's pique.
'After relegation, a decade later another fine Burnley team won promotion in 1973 with Martin Dobson, Colin Waldron and Leighton James to the fore. At the end of the 70s Terry Venables' young Crystal Palace side were ludicrously described as "the team of the 80s" but the phrase had a history - Adamson, the manager who took Burnley up, had said nine years earlier that he was going to make the Clarets "the team of the 70s". Unsurprisingly, he failed, but not before Lord had made an intervention during their first season back in the top flight that ought to have turned him into a pariah.
'Having argued throughout his time at Turf Moor that TV coverage was a threat to the game's survival, he chose his speech at a Variety Club function to address his concerns. "We have to stand up against a move to get soccer on the cheap by the Jews who run television," he said.
'Obviously, it caused great offence but the most remarkable thing was Lord's umbrage at the reaction of Leeds' Jewish chairman Manny Cussins, who said he would walk out of the Elland Road boardroom if Lord came to Burnley's match there. Lord was indignant that Cussins had been critical of him and ordered his board to stay away from the game. It was a neat trick, turning the offended into the offender, and, astonishingly, he managed to get away with it.'
For the game, United selected the same eleven that had been on duty at Anfield. Leading scorer Mick Jones passed a fitness test, but was named once more as substitute. Joe Jordan continued to lead the forward line and Terry Yorath sported Johnny Giles' No 10 shirt with the Irishman unavailable because of the hamstring injury he had sustained against Stoke a month earlier.
Burnley recalled centre-forward Paul Fletcher after two matches out with a bout of flu and Jimmy Adamson named the eleven he expected to face Newcastle the following week in the Cup semi-final.
Before the action commenced, Manny Cussins presented a £100 cheque to Ray Hardy, who had recently resigned from the role of groundsman he had filled for eight years. Billy Bremner presented Hardy with a silver salver on behalf of the United players.
Burnley were the first team to show in attack, and first Norman Hunter and then Gordon McQueen had to intervene to counter their thrusts. Almost immediately, Welsh international winger Leighton James swung over a dangerous-looking centre which United were grateful to clear. James then showed skill and pace to get the better of Yorath and when he put the ball in Fletcher shot over the bar as he came under pressure from Paul Madeley.
After weathering that early storm, Leeds managed to exert some pressure of their own when Jordan combined with Bremner in a forward move, but Yorath's shot from the edge of the area came to nothing.
Paul Reaney found Bremner making good ground down the right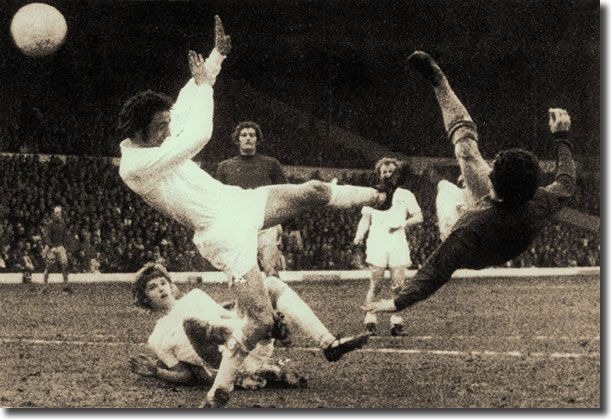 and the United captain's cross was headed back by Jordan for Allan Clarke to round Burnley defender Waldron but he fired wide.
As they strove to settle their nerves with an early goal, United looked defensively suspect. After Peter Lorimer saw former England full-back Keith Newton deflect his goalbound effort so that it found only the Burnley woodwork, at the other end United keeper David Harvey had to gather a long range effort from Frank Casper. It was a prelude to the breakthrough and Leeds fell into arrears after 17 minutes.
Burnley were awarded a free kick out on their left, around forty yards from goal. Midfielder Doug Collins swung a lob deep into the heart of the area and Fletcher rose above Hunter to meet it, the ball dropping near the byline. Casper cut it back to the six-yard line and Fletcher calmly stabbed home, Harvey's weak block insufficient to prevent the ball finding the net off the base of the upright.
Don Revie wriggled angrily in his seat, bitterly complaining about his rearguard's lack of concentration.
United did their best to lift Revie's mood, but Trevor Cherry shot wide and Lorimer continued to bemoan his luck, coming in for some penalty area buffeting and seeing spread-eagled goalkeeper Stevenson blocking a shot with his legs. Stevenson then dived to block a close range shot from Clarke.
Strong challenges were coming thick and fast now from both teams; Fletcher required treatment to his ankle after a Cherry tackle and then Yorath was felled from behind by Peter Noble.
The home side pressed Burnley back and earned a corner after Stevenson kicked clear. When Bremner sent the flag kick over, McQueen struggled to get in a header and Noble blocked away, but a diving Clarke was at hand to nod the rebound goalwards. Newton managed to dig the ball out with his head but referee Roy Capey declared that it had already crossed the line and awarded the goal to bring United level after 36 minutes.
The home crowd's celebrations had hardly died away before Burnley reclaimed the lead five minutes later with a spectacular goal, later lauded by Turf Moor fans as the goal of the decade.
When a high ball from Noble dropped into the heart of the United defence, Nulty risked life and limb to beat McQueen and nod it on. Fletcher shifted his position under the falling ball and launched himself into an acrobatic overhead kick, ignoring the incoming challenge from Hunter. His strike was perfect and flew past Harvey into the net.
Coming so close to the interval, the goal was a devastating blow. The air in the dressing room was blue as Don Revie sought to revive flagging spirits. He sent Mick Jones on as replacement for an out of touch Lorimer, but there was no immediate improvement with Burnley quickly back on the attack. Harvey had to dive full length to palm away a cross from Newton which shaved the head of Fletcher.
When United did force Burnley onto the defensive, Madeley came close with a fierce shot before Jones sent a back header just wide and Stevenson brought off a fine save from Cherry. Waldron kicked a Yorath shot off the line though the whistle had already sounded for a foul on the goalkeeper. United stayed on attack with Jones and Jordan battling away but Harvey had to be alert when Burnley broke quickly and James got in an angled shot.
Despite there being plenty of time for United to get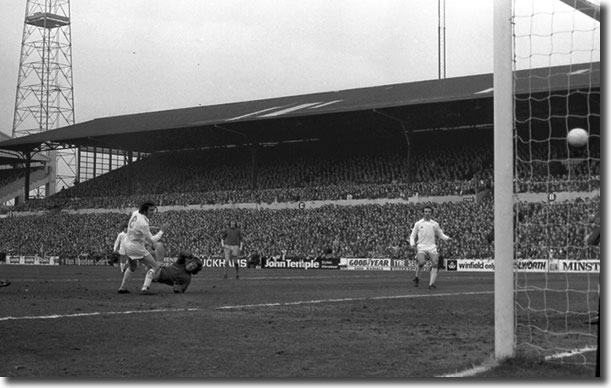 back on terms, the home team, feeling the strain and tension of recent weeks, left themselves open by pouring forward in search of a goal.
Billy Bremner acknowledged as much. 'Everybody seemed obsessed with charging forward. There did not seem any way of stopping it. That's why there was no cover and that's why it was so easy for Burnley to break and score against us,' he said afterwards.
United struggled manfully but found the greatest difficulty in fashioning a clear opportunity against spirited opponents and their task was made even harder when Burnley added a third goal in the 62nd minute.
Madeley lost the ball to Nulty who conspired with Dobson, Casper and Fletcher to leave Collins, unattended in the middle outside the box, with the space and time to send an inch perfect chip over Harvey and into the net off the far post.
United responded instantly, but Bremner was disappointed when Stevenson denied him from range with another fine save.
Burnley stunned the home defence again in the 69th minute, taking a commanding 4-1 lead. Collins' free kick was headed down by Waldron and Nulty, scrabbling around on his knees, used the only other available part of his body to score a fourth, heading home from close range.
Burnley manager Jimmy Adamson immediately brought on midfielder Billy Ingham for Collins.
Ten minutes from time there was an ugly moment when Casper was injured in a tackle by Hunter. The Burnley man had to be stretchered off and Turf Moor fans never forgave Hunter, accusing him of cowardice and being a sore loser.
Casper was a fans' favourite and had just returned from the knee injury he sustained against Tottenham in September.
Casper recalls: 'I got injured on the running track behind the goal. I'd gone past Norman Hunter down the flank, left him for speed and crossed the ball. Fletch headed the ball and it hit the crossbar and came out. I carried on running but Norman Hunter followed me off the field and gave me a big kick. Unfortunately it was behind my bad knee. If it had been my other knee I would probably have been all right.'
The tackle effectively ended Casper's career. He injudiciously but understandably chose to hobble into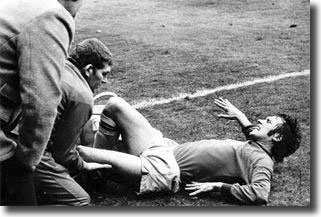 the Cup semi-final a week later but was a passenger. He made a brief attempt at a comeback 16 months later, but retired soon afterwards.
In the remaining minutes of the game, Leeds pushed hard, Jordan and McQueen receiving cautions for overly zealous interventions, but Burnley had the game in their pockets and nearly added a fifth near the end. James chipped the ball over Harvey and saw it roll along the goal line before Hunter hooked clear. It would have been mere icing on the cake, for at the finish they were comfortable victors.
Tom German in The Times: 'Not only the fringes are a little frayed at Elland Road; the fabric itself is beginning to look a bit forlorn. The strands of total composure and intuitive skills which Leeds United drew together so successfully for so long, seem at last to have been tugged awry by the constant tension so that the side so comprehensively beaten 4-1 by Burnley on Saturday was barely identifiable as that which once so imperiously dismissed all who dared tilt at them.
'It is an inadequate explanation for Leeds' first home defeat in the championship that almost everything Burnley touched near goal turned to gold while the Yorkshiremen's best chance found an obstruction in the way either fortuitously or because Stevenson was in such splendid form in the Burnley goal. Leeds had so much more of the ball.
'The attack knew that their function was to move forward but were not quite sure which direction to take; a fully fit Giles, had he been playing, could perhaps have corrected their course. It was at the back, though, where they are usually so secure, that Leeds floundered.
'Once there was invariably someone moving into position to cover indiscretions; now,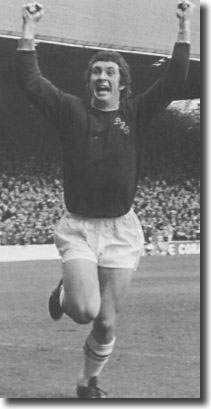 with the side less assured, gaps are appearing and Burnley exploited them with cruel efficiency. McQueen, a player with such a long reach that he is hard to beat when he chooses to assert himself, found Fletcher too much of a handful and the hard work of Hunter and Bremner could not influence the tide once it had begun to ebb for Leeds.
'Burnley showed those qualities of calculated method and an unerring eye for a chance which took Leeds along their record run.'
Eric Todd in The Guardian: 'Leeds, not for the first time, now look like being left at the altar, so to say. Not for the first time either, Liverpool are proving themselves to be the just impediment why Leeds should not win the championship. Only by a miracle will Leeds achieve their ambition; only another one will deny Liverpool the league and Cup double.
'Leeds have been hit severely by injuries and, as against Burnley, they have not always enjoyed the best of luck. Lorimer hit a post - nothing new for him - and Stevenson made reflex saves from Clarke and Lorimer. He also saved brilliantly from Clarke, Madeley, Cherry and Jones, who replaced the injured Lorimer at half time. But it needs something extra special to beat this splendid Burnley goalkeeper, and these days Leeds cannot find that something. The sight of Madeley and Hunter succumbing to human error told its own sad tale of a slump which once seemed unthinkable.
'In short and having made allowances for tension, frustration, bad luck and injuries, Leeds are not playing well. The forwards, Jordan again excepted, are nondescript, and against Burnley the defence, which for weeks has carried the side on its shoulders, leaked like an old tub. They say that Don Revie should buy some new players. Before doing that, however, he should find out what is the matter with those he already has, and do something about it. A wallowing ship cannot afford to carry a seasick crew.
'All of which must not minimise the merit of Burnley's performance. They had four clear cut chances of scoring and they took the lot. Furthermore, they moved with a precision and discipline which Leeds never matched and, with Fletcher casting blight on McQueen, the Burnley forwards enjoyed themselves and gave enjoyment. Dobson, Waldron and Thomson excelled in defence during the first half when Leeds made some semblance of a fight; in the second, these three stalwarts might as well have joined their absent directors for all the work they were required to do.
'While this was a triumph for teamwork - something with which Leeds were acquainted way back - Burnley's determination was illustrated by James. When everyone else expected the ball to run out of play, he chased and stopped it inches from the touchline. He slipped, recovered, regained possession, beat Yorath twice, and centred into the Leeds goalmouth and Fletcher nearly scored.'
Down in Wolverhampton, Liverpool beat Wolves 1-0 at Molineux to increase the heat on Leeds. While United were still four points clear, Liverpool had two games in hand on their rivals. Reds midfielder Brian Hall: 'In the first half, we could have had two or three goals if the ball had run kindly for us. Then we sat back a bit and Wolves put on more pressure without creating real chances. Although Leeds kicked off half an hour before us we hadn't heard how they were doing against Burnley at half time. But it is the sort of information the boss would use to motivate us when he can get it. Then during the second half one or two of us heard a shout from the crowd that Leeds were losing 1-3 and it spread round the town. But, quite frankly, we've been given such a lot of wrong information about Leeds during matches lately that I decided to take no notice of this one. We were all surprised when it turned out to be true.'
Don Revie confessed after the Burnley game to feeling 'terrible', complaining that the ball just wasn't rolling for United. He defiantly snapped that it was better to have a slim and reducing chance than none at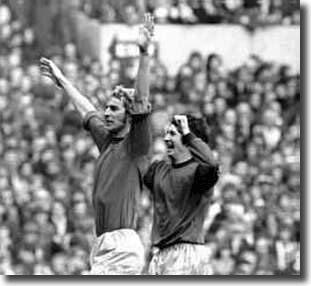 all. 'It will be very tight now, but Liverpool have still to win their two away games in hand. It is up to us to make the most of our last seven games,' he said. 'My players are honest enough to know where they are going wrong. They have been honest with themselves for the past ten years when disappointments have come along. We have got to forget that Burnley match and get our heads down and work even harder to change the trend of results.'
Revie refused to let criticism of his side by Paul Fletcher cloud the issue. The striker had accused United of trying to fool people into believing that they had turned over a new leaf. 'They've conned the public, referees, everybody. Against us they were spitting in our faces, thumping, elbowing us in the ribs and getting niggly,' Fletcher was reported to have said after the game.
The United boss refused to be drawn into a slanging match other than to deny the accusations. 'This is really baby talk. My players would never spit at other players. We lost at Liverpool a week ago and were praised for the way we accepted defeat,' he said.
Others were critical of the actions of a number of Burnley players who walked towards the Elland Road Kop with arms held high in victory salute, goading the disappointed home fans.
Several supporters voiced concern, one saying: 'Casper came towards us with his arms raised and his fists clenched. So too did Fletcher and Waldron. They were trying to rub it in, this is not a thing they should do. It should be made plain to them by their club.'
Revie emphasised what an achievement it was for his team to still be topping the table given the crippling injury list facing them. 'We have juggled players about in different positions because we have had three, four or five players out injured almost every match. I am not making excuses. We feel we have done a remarkable job in the circumstances,' he said. He admitted that United had gone through a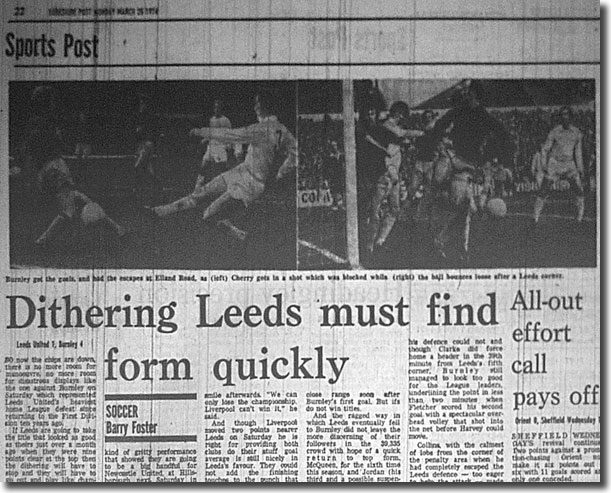 sticky patch, but hoped they would go on to clinch the championship.
'I never said we would win the title this year, even when we were nine points ahead and everyone was saying we had it won,' he said. 'Leeds United have no divine right, even though we play in all-white, to be in the position we are. The main thing is to be involved every year. If you are never in a position to knock on the door you will never win anything. If you keep on knocking, one day the door opens and you go through to win something.'
Trevor Cherry recalls: 'The Stoke defeat had been put down to being nothing more than a bad day at the office, the sort of which can happen in football even to the best teams. What was far more worrying, though, was losing 4-1 at home to Burnley. I was coming off the field afterwards and Mick Jones said, "I can't remember us losing two in a row before." He looked stunned, as if he could not take in what had just happened. So, you can imagine what the mood was like when we went to London for our next game and lost that as well to West Ham United.'
The West Ham defeat left United's title challenge in tatters. Somehow, though, they scraped together a revival, taking ten out of the last twelve points on offer to secure the League title. Such a triumph had seemed far-fetched in the extreme on the afternoon when Burnley were putting them to the sword, a result which prompted Brian James to write in the Sunday Times, 'Leeds were haunted by doubt, undermined by misunderstandings … their reputation was on the verge of destruction.'
Richard Sutcliffe: 'Revie's nightmare scenario was unfolding in front of his very eyes and something had to be done. He knew all his powers of inspiration and persuasion were going to be needed to turn round the slump in form that was threatening to bring yet more heartache to a season's end for Leeds. Thankfully for United, they had a master in the art of man-management at the helm.'
Peter Lorimer: 'There was no-one better in coaxing a performance out of his team than Don. He had proved that time and time again in getting us to bounce back from setbacks in the past. His great trick was not to launch into the players after a game, Don felt conflict achieved little in the immediate aftermath. So, he would just come in and bang the table before saying, "Get off for the weekend because on Monday morning we will be having a meeting about this - so think about what went wrong." It would ruin our weekend because, inevitably, it would mean the lads mulling over in their minds what they could have done differently. But it was clever man-management as, often, anything said in the heat of the moment straight after a match is forgotten by the following game. Don's way was to get us all together on the Monday and let everyone have their say. He wouldn't shout us down, he would instead listen to what the lads had to say. It meant the meeting was constructive and we all left it determined to make amends the following game. He was a very clever man.'