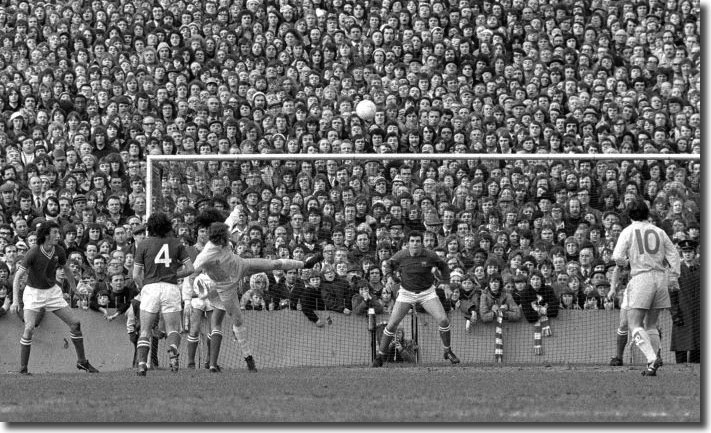 Facing Second Division Bristol City in the fifth round of the FA Cup in February 1974, Leeds United were enjoying a healthy advantage at the summit of the First Division, still unbeaten and nine points clear of second-placed Liverpool with 29 games played.
That said, their superlative displays of the autumn months had dissipated to be replaced by a series of increasingly scratchy performances, punctuated far too frequently by draws. Though they won the two games immediately prior to the Cup-tie, against Arsenal and Manchester United, five of their previous seven fixtures had seen them drop a point.
After a drab goalless draw at Everton on 19 January, The Guardian's Paul Wilcox wrote: 'The days when Leeds United have to be content to stand and endure seem to be becoming more frequent as their unbeaten record continues … United are becoming more reserved in their outlook. And the fault surely lies in the maintaining of their run.
'While not wishing Leeds any harm, it seems about time, in their interests as well as football and the spectators, that they get that record burden off their backs. Don Revie insists that his players never discuss the possibility of going through a season undefeated. But the thought must be on their minds, with a consequent lessening of the adventure which typified their play in the first few months of the term.
'What is obvious is that their opponents certainly discuss ending the run - although it is difficult to name a team capable of doing so - so that matches which should be examples of skill and technique flounder in the highly-charged atmosphere. Saturday was a good example. Everton were too furiously eager, and Leeds' enforced defending and fast clearances brought about a situation in which neither side was able to settle or stand back.'
United's progress to the fifth round of the Cup saw them overcome Wolves after a replay before hammering Fourth Division Peterborough 4-1. Their challenge there seemed straightforward enough, a tie at Bristol City, struggling in the bottom half of Division Two.
City's 3-1 defeat at Sheffield Wednesday on Sunday, 10 February, left them fifteenth, seven points above the relegation zone and casting anxious glances over their shoulders.
The previous day, City manager Alan Dicks had been at Old Trafford to observe 'Leeds in the flesh', as he put it; he watched United beat Manchester United 2-0 with goals from Mick Jones and the ever-improving Joe Jordan, scorer of two a week earlier against Arsenal.
There was nevertheless a degree of shock when Don Revie selected the young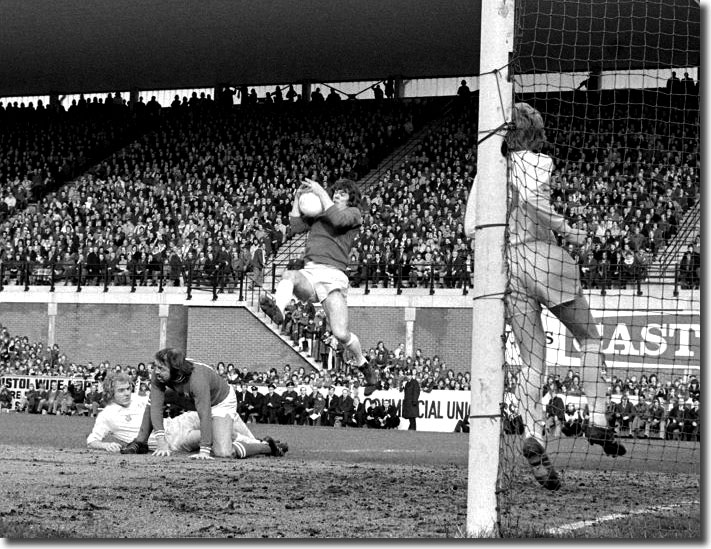 Scottish striker ahead of the fit again Allan Clarke for Ashton Gate, intent on capitalising on the twin aerial threat of Jordan and Jones. Clarke was named sub, with Johnny Giles given his first start since the end of October after a successful outing with the reserves. Norman Hunter was also available for selection and played after an appeal against his latest booking delayed a potential suspension.
Dicks: 'We have a high respect for them, but we are certainly not afraid of them. We shall be going all out to win, and Leeds can be beaten, as was shown when Colchester knocked them out of the Cup a few years ago.'
When it was revealed that all 37,000 tickets were sold for Ashton Gate, Dicks commented, 'We would have needed to hire Wembley to house all the people from the West Country who want to see this game. There were three people clamouring for every ticket we sold.' The crowd included 9,000-plus who had travelled from Yorkshire.
With Giles contributing little, Leeds failed to impose themselves on well-motivated opponents. Nevertheless, they survived City's frenetic early pressure and everything seemed well set when Billy Bremner gave them the lead four minutes before the interval. His right footed strike from 25 yards capped a tremendous individual display by the Scotland captain, one of the few by a United man on the day.
Tom Freeman in The Times: 'Leeds were saved from ignominy by Bremner. Better writers than I have long ago run out of superlatives to describe the little man. I daresay he has played more spectacular games but never, I venture to suggest, a more valuable one. If he occasionally found himself in trouble with the referee, with the Bristol players, and with the crowd, it was understandable, for there were times when he seemed to be carrying the whole of Leeds' burden on his narrow shoulders, covering up weaknesses in the middle, the front and the back. Apart from this, Bremner produced the one decisive strike in the first half, a wonderful shot from 25 yards out that ended plumb in the corner of the net and put Leeds halfway along the road to victory.
'Not the least of Bremner's problems was having alongside him Giles, a man struggling to regain his form after a long lay off. There was also the lack of thrust in front, where Jones had a poor day. If Clarke, who surprisingly made only a brief appearance as substitute ten minutes from the end, had been there all the time, it might have been different.'
A spirited performance by the home side saw them take most of the plaudits from a 1-1 draw. The replay was secured for them by the transfer-listed Keith Fear when he equalised with a tremendous lob from the edge of the area after being put away through the yawning gulf between the United centre-backs. From then on it was the home side which enjoyed the better of things.
The Robins were denied what would have been a deserved victory by the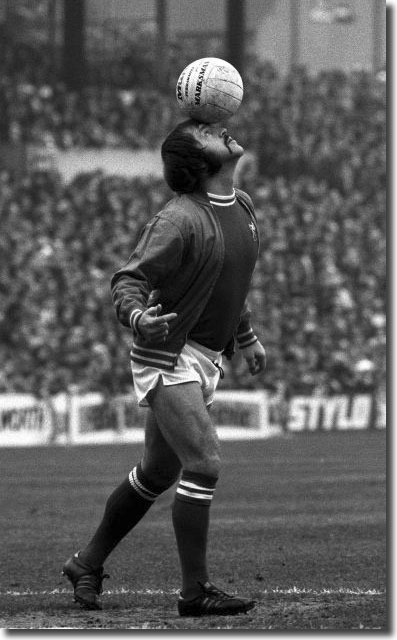 save of a lifetime after 68 minutes when Harvey somehow got a hand to a header from Don Gillies, four yards out.
'That kept them in the tie,' commented Alan Dicks, while Don Revie claimed, 'It was one of the best saves I have seen in my life. He read it well but had no right to save it.'
'I don't know what made me go that way but I could see Gillies was going to get the header in as the move built up,' said Harvey.
Conceding that Bristol's performance was 'wonderful', Revie continued, 'You can take nothing away from them.'
The Robins' success was built on their dominance of midfield, as reported by Barry Foster in the Yorkshire Post: 'Leeds had Madeley out of touch, Giles back after four months and in need of the game, and the tireless Bremner possibly Leeds' best player but with too much to do.
'Gow was Bristol's tiger, winning almost everything he went for and Ritchie made the most of the space Bristol won. With Hunt and Tainton supplementing their efforts in midfield and Fear and Gillies a striking spearhead, Bristol looked a lot better than a struggling Second Division side.'
David Lacey in The Guardian: 'Sweeney's diligence, Tainton's pace and Hunt's podgy cunning opened up a store of riches for Bristol on the wings. The game in consequence remained open and entertaining throughout.
'At half-time the pattern of events had accorded to the usual Leeds plan. They appeared to have survived the best that their opponents' attack could offer, a marvellous pivoting shot by Fear that rebounded from the bar, and had taken the lead in the forty-first minute with a stunning goal by Bremner, the ball struck perfectly from some 25 yards.
'In these circumstances the losing side often fall victims to their own desperation, allowing Leeds to retain possession and control the rhythm and flow of a game. But Bristol never lost their accuracy and to the last retained the ability to take the ball past defenders in and around the penalty area.
'They went extremely close to winning the match. In the sixty-fifth minute, Gow, snapping up the ball once more near the centre circle, sent an excellent pass through the Leeds defence and Fear chipped the coolest of shots past Harvey. Three minutes later Fear drew McQueen to the right of goal and centred cleanly. Hunt headed the ball back first bounce and Gillies' short sharp header was punched up and over by the Leeds goalkeeper; afterwards someone asked Revie whether this save was comparable to the one made by Montgomery for Sunderland in last year's Cup final. Revie thought it was - but he appeared to be wincing at the memory.
'In between Bristol's goal and Harvey's save, McQueen kept a brief painful appointment with Fear, and both players were cautioned as a result. But this was the only sign of retaliation in a hard match, though the Bremner of five years ago might not have taken some of the treatment he received with such stoicism.'
Alan Dicks was buoyant after the game, quickly announcing an unchanged side for the Elland Road replay the following Tuesday. 'The boys must be full of confidence but when they name Allan Clarke as substitute you start to wonder what kind of side you are playing … We took the game to Leeds and I see no reason to change our style just because we are playing away from home,' he said. 'The lads are full of confidence, and if we can raise our game to the level we achieved on Saturday then we must be in with a good chance.'
For Leeds, Clarke was restored to the starting eleven and Don Revie gave Terry Cooper a run out in his old left-back slot, the first time he had worn the No 3 shirt since breaking his leg in April 1972. Roy Ellam replaced the injured Gordon McQueen at centre-half and, with Paul Reaney failing a fitness test on a hamstring injury, Trevor Cherry filled in at right-back.
The game attracted a crowd of 47,182, Elland Road's highest of the campaign.
Bristol City began the match exactly where they had left off at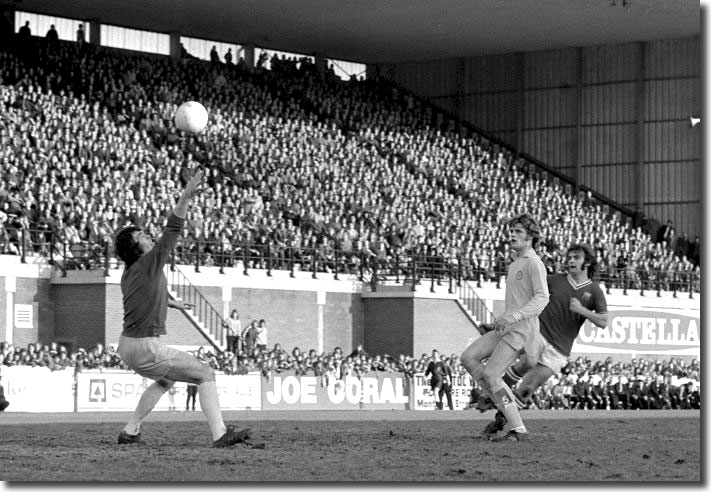 Ashton Gate, playing with the same fiery aggression and determination, disputing every single ball and snapping quickly into the tackle as United sought to attack the Elland Road Kop.
When Lorimer put Clarke away on the right, the England striker showed a fine turn of pace to get past Drysdale. But as the lanky front man cut in on goal City captain Merrick came swooping in with a fierce challenge and Clarke's hurried effort ballooned high over the bar.
At the other end, Ritchie's first time effort flew wide and when Bremner and Lorimer drove United forward, City keeper Cashley did well to gather the wide man's driven centre at full stretch.
United continued to press and Jones saw an effort deflected over the crossbar, but the City defence refused to buckle. Cashley gathered the corner kick and when United won another corner shortly afterwards a foul on the keeper relieved the pressure.
The Second Division outfit were giving a committed performance and denied Leeds any real time and space. Even so, Giles and Bremner sprayed the ball all about with cunning and intelligence, forcing Bristol to do a lot of chasing on a soft pitch, heavily sanded in a number of areas to make it playable. It seemed it would only be a matter of time before United's undoubted class would force a chink in the armour of Bristol's hard-working gladiators.
A partial clearance by the City defence dropped at Clarke's feet five yards outside the penalty area. With the visitors anticipating a first time strike, Clarke turned the ball out to the overlapping Cooper who quickly slung the ball in from the left. Bremner met it with a header which soared high over the bar when he would have been better advised to leave it to Lorimer, running in and in a better position to make use of the centre.
Jones required treatment for a leg injury after coming out second from a hard challenge with Merrick. Almost at the same time, Bristol's Ritchie went down with a similar injury but both forwards were able to resume after attention.
Four minutes from half-time Giles fired directly in from just outside the City penalty area but Cashley was equal to the effort. Despite all their huffing and puffing, it was telling that this was United's first strike on target. Bristol were giving the lie to their lowly ranking and their resilience kept them right in the contest. Merrick and his 18-year-old colleague at centre-back, Collier, were displaying considerable poise despite playing before a crowd significantly more populous and fervent than they were used to.
The game reached its mid-point without a goal for either side; that represented just desserts for Bristol who had fought like tigers throughout the first period.
City marked the start of the second half with a spell of attacking play, but Fear's progress was halted by Ellam's timely tackle after Tainton had got the ball through to the City striker.
Gerry Harrison in The Times: 'As the second half started, ominous clouds peeped over the far stand. So far, Bristol had shown no sharpness in Harvey's penalty area. Raids down both flanks from aggressive full-backs had produced nothing but the odd murmur from the frustrated crowd. Then within ten minutes of the restart Gillies had a good snap right foot shot saved at a post by Harvey, and the game began to take on another aspect.
'Cooper was still running well down the left,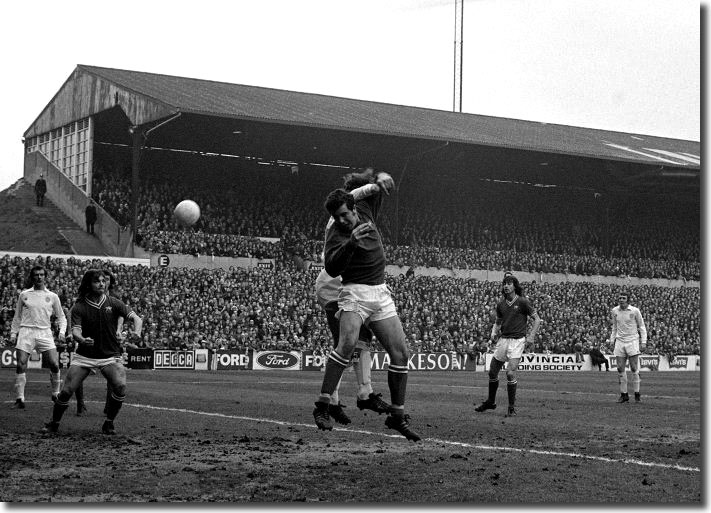 but his forays often left Hunter with too much responsibility at the back. Just before Leeds' best chance, Gillies was played onside by slackness in the home defence, and only just did Ellam and Harvey close the gap.
'Then Leeds seemed to come to life. Lorimer, contained so well throughout by Drysdale, shot through a ruck of players to beat Cashley for his shot to hit the inside of the far post before Drysdale cleared to safety. Then Ellam poked a shot straight into the goalkeeper's arms, and the crowd roared hopefully. But it was Bristol who came back.'
United found making progress against a spirited Bristol defence immensely difficult but Lorimer's persistence on the right flank earned them a corner. Giles' downward header to the Scotland international's flag kick passed the wrong side of Cashley's left hand post. At the other end Harvey had to be alert when he dived to the right to pounce on a shot from Gillies.
Fortune favoured brave City on the hour when a swift build up from United caught them out at the back. Lorimer raced away again on the right, cut in and sent in a low, raking drive which beat Cashley all ends up but found the far post and bounced out to be cleared. It was the nearest the game had come to a goal.
The ball was in the City net after 65 minutes but Wolverhampton referee Jack Taylor ruled it out. Jones challenged Cashley as the goalkeeper gathered a high ball from Ellam and when he surrendered possession Jones touched the ball home, but the official decided that Cashley had been unfairly impeded.
United continued to plug away but struggled to create any clear opportunities. Their body language was starting to betray genuine anxiety even before Bristol took a shock lead in the 73rd minute.
Gow robbed Bremner deep in the Bristol half and found Fear with a long, accurate pass out of defence. The striker turned and sent the ball through for Gillies to run onto. He had to fend off the fearsome challenge of Hunter but was able to slide the ball underneath Harvey and in by the near post, silencing the packed crowd.
Almost immediately, Don Revie sent on Jordan in place of Giles to bolster the home attack. United threw everything they had into a late onslaught but City were in no mood to surrender, pulling men deep and defending with tenacity and courage.
There were close late calls for the visitors as they were pressed back into desperate defence deep inside their own penalty area. Jordan had a header cleared off the line by Drysdale and moments later keeper Cashley performed miracles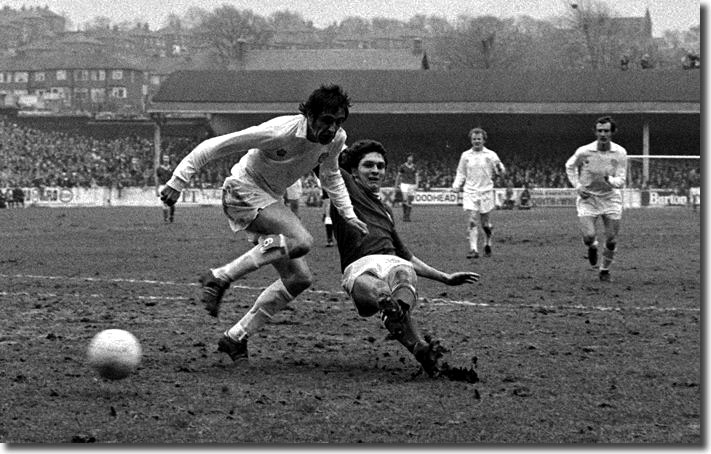 to touch a Clarke header over his bar. It was all Bristol hands to the pumps in these closing seconds, but they resisted all that an out of touch United could manufacture. Few would deny that valiant City were well worth the 1-0 victory they secured.
Gerry Harrison in The Times: 'In front of their biggest crowd of the season, Leeds United's dreams of the FA Cup and League double were torn to shreds. Twenty-nine times First Division sides have failed to knock them off their unbeaten perch in the league. At Elland Road yesterday, Bristol City, nowhere in the Second Division, knocked them out of the FA Cup. In almost awed silence, 47,182 watched the dirty deed done with skill, magnificent application and a 73rd minute goal.
'On a stage dominated by internationals and players of considerable pedigree, the spotlight shone at tea time yesterday on a former Scottish Merchant Navy deckhand and papermill worker by the name of Donny Gillies, brought down from Clachnacuddin and the Highlands of Scotland a year ago and now a West Country hero with his first FA Cup goal.
'His description is slightly more matter of fact than the end result: "I was moving across the face of the penalty area, from right to left, when Keith Fear, our centre-forward, gave me a pinpoint pass. I was just goalside of Norman Hunter, who had hold of my shirt. I pushed it forward with my right foot, and screwed my shot round with my left. I didn't see it go in, because Hunter had hit me by then and I was flat on my face." So much for the personal tale behind a little bit of history. Gillies has been a full time professional for only two years and regained his place in the Bristol City side when Bobby Gould was sold to West Ham United.
'The cold facts of the game, which reserved its emotion and tension for the last quarter and the post-match dressing room scenes, were that Leeds had five shots on target, Bristol City two. As Cashley, the Bristol City goalkeeper, put it afterwards: "I was surprised the Leeds attack got through to me so seldom. The lads in front of me played very well, but you expect more pressure than that. We contained them till half time, then started to play a bit."
'Leeds' first problems showed themselves when the teams were declared before the kick off. McQueen, Yorath and Reaney were declared unfit, and Clarke was preferred to Jordan up front, a talking point as the teams took the field. Cooper came in at left-back, Ellam at centre-half, with Giles in midfield. It was sad to see Cooper, skilful in attack, short of a yard or two in defence; and Giles was just another player in midfield, thoroughly out of character.
'Immediately, Bristol showed the space of their game with some highly intelligent running and marking, and good passing when they were in possession. Gow, in midfield was everywhere, and long before the end had outrun and outfought the leading Leeds warrior, Bremner. Not many players can claim such distinction.'
Don Revie seemed strangely unmoved by the defeat: 'I thought they played very well and deserved to win. I wish them luck in the next round. I said it would be a hard game before the tie and it was. They
never gave up fighting but also played with skill.
'It will be a hard game for Liverpool. All I can do is to congratulate them - but obviously we are very disappointed.
'They have a fair amount of skill in the side, and Gillies took his goal very well. They played just as well on Saturday. We had one or two things that might have gone in, but that's Cup football.'
Bristol City manager Alan Dicks: 'This is very much the high point of my career. I cannot get over it. It was magnificent.
'I thought we had missed the chance of winning last Saturday. We contained them for the first 30 minutes of the game and we grew in stature as time went on.
'I am going to celebrate this in champagne. I think we must have a good chance against Liverpool in the next round.
'We did what we set out to do, contain and then push forward. This is a young side which has lost its way in the League through inconsistency. Against Leeds we strung two good performances together, but I think we did it with good football.
'When we had scored we weren't foolish enough to look for another against players of Leeds' quality. We came here to put on a performance, and we certainly couldn't have performed better.
'Really, it was just a matter of playing football. To talk about individuals is wrong. It was a magnificent team effort.'
The more optimistic members of the Elland Road camp spouted well-worn clichés about exit from the Cup allowing the players to concentrate on the league, but the defeat was a shattering psychological blow and sparked a debilitating collapse of form; the 29-game undefeated run in the First Division came to a shuddering halt four days later against Stoke City. That was the first of four defeats suffered in seven games which yielded just four points.
That dismal run seriously dented their championship challenge but when they returned to some kind of telling form with ten points from the final twelve available it was enough for United to claim their second league title in five years.