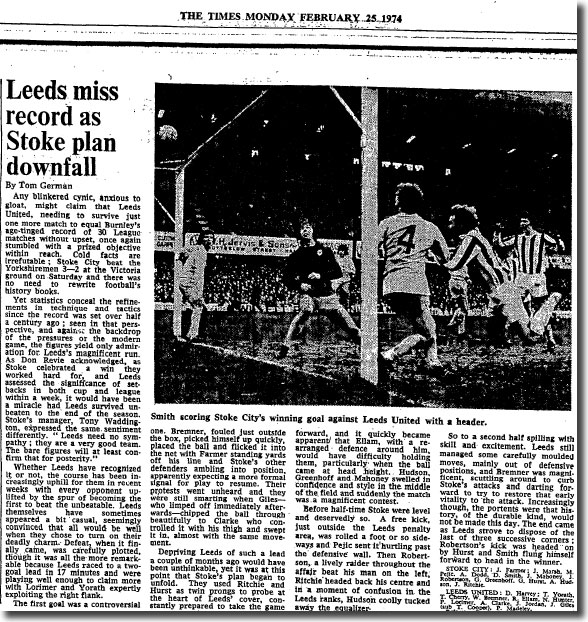 At the start of the 1973/74 campaign, Leeds United manager Don Revie challenged his players to go through the league season unbeaten. By the end of February, what had once seemed a fanciful pipe dream promised to become reality as the Whites continued to resist all comers. It now looked a decent evens bet that Leeds might convert Revie's grand aspiration into glorious reality.
By the time they arrived for their fixture with Stoke City in the Potteries on 23 February, United had played twenty-nine First Division games without seeing their colours lowered. If they could just avoid defeat at the Victoria Ground, a record established by Burnley during the 1920/21 season would be equalled.
At the time Stoke were sixteen places below Revie's men in the table, though a mere six points behind third-placed Derby County, so tight was the running beneath Leeds in the table; City had themselves gone nine matches unbeaten.
The Leeds rearguard was forced to take the field without both Paul Reaney and Gordon McQueen, as had been the case a few days earlier when Second Division Bristol City put United out of the FA Cup in a fifth round replay at Elland Road. Terry Yorath and Roy Ellam deputised against Stoke, while Joe Jordan led the front line with Mick Jones also unavailable through injury. Otherwise, United's first choice line-up was on duty with Johnny Giles making his third successive start after returning from injuries sustained the previous October.
Terry Cooper, now also fully restored to fitness, was named substitute. The England international had missed almost two years of first team action after sustaining a broken leg at the same venue on 8 April 1972.
For the Potters, Alan Hudson, signed a few weeks earlier from Chelsea for £240,000, was paired in midfield with the gifted Welshman, John Mahoney, while former United striker Jimmy Greenhoff partnered John Ritchie and World Cup winner Geoff Hurst up front.
A packed 39,598 crowd, which included England manager Sir Alf Ramsey among its number, looked on as United made the game's first offensive foray. Paul Madeley sent Yorath away on the right, and the Welsh international cut inside to get in a shot but his low drive lacked pace and was easily gathered by Stoke keeper John Farmer.
Most of the early exchanges were fought out in the middle third of the field with both sides eager to contest possession and there were a number of wholehearted challenges.
United were on the attack again when Peter Lorimer opened up the City defence with a well-placed cross from the right. Billy Bremner came running in to meet it but was an inch or so underneath its flight and the ball sailed on harmlessly to safety.
Madeley had a shot blocked before Hurst drove over David Harvey's bar down the other end after Jimmy Robertson's cross came in from the right.
United gained material reward for their early dominance when they broke the deadlock after fourteen minutes with a goal which provoked fierce protest from the home side and their supporters.
City centre-back Denis Smith brought Bremner down just outside the Stoke penalty area. As the home defence lazily readied themselves to repel the free kick, the United captain seized the initiative. He caught Stoke completely on the hop, spotting the ball quickly and lobbing a shot directly into the unguarded net with goalkeeper Farmer barely making a move.
Referee John Homewood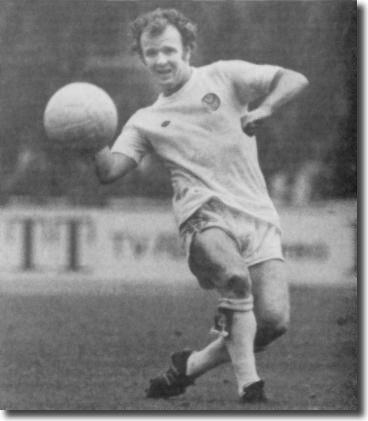 was content to award the goal despite the angry remonstrations of the City players, who vigorously insisted that the kick had been taken too quickly.
Their rage was doubled four minutes later when United increased their advantage with a goal from Allan Clarke.
Johnny Giles manufactured the opening, lobbing the ball forward to Clarke, in space with only the goalkeeper to beat. The striker cushioned the pass with his thigh and swept the ball home, almost in the same movement.
It was the final act of the Irish schemer's afternoon, for he pulled his hamstring in the process and was forced to leave the field before play restarted. Terry Cooper came off the bench to take Giles' place in midfield.
United prided themselves on being able to hang onto a lead, and their advantage was a commanding one, but they were found wanting on the day as Stoke City launched themselves into a spirited revival.
After 27 minutes the Staffordshire outfit had halved the arrears. Norman Hunter fouled John Mahoney just outside the United penalty area on City's right and defender Mike Pejic stepped up to take the free kick. He hammered in a fierce rising drive which appeared to take a slight deflection off a Leeds defender as it flew past the diving Harvey and inside the far post.
Alan Hudson: 'I remember thinking how the stadium was buzzing as I picked up the ball and had a look at the situation. Their wall was being organised, with Hunter, Bremner, Giles, Lorimer and Gray, I think it was. Not a bad line up here, I thought to myself, and my mind flashed back to the wall Chelsea set up in that 1967 semi-final at Villa Park, when Peter Lorimer hit one of the hardest free kicks I've ever seen past Peter Bonetti, only for it to be disallowed. That was in the final minute, and if it had not been Leeds I could have felt sorry for them.
'As I was weighing this up, our left-back Micky Pejic came storming up and grabbed my arm. 'Let me give it a go,' was his way of telling me that he would not take no for an answer. How pleased I was that he felt that way, for he truly lashed a left footed shot out of the reach of the Scottish international keeper once again. This really was now Game On!'
It was exactly what the home side required to get their teeth into the game and they stormed into a full-blooded assault on Harvey's area, with the United defence stretched to the limit to keep them at bay.
Under fierce physical pressure from Smith, the United goalkeeper did well to gather a high right wing cross from right-back John Marsh.
When Leeds were able to break, Jordan worked himself a chance on the left but he fired wide after coming under challenge from the City rearguard.
But the momentum was almost exclusively with the Potters now and by the 34th minute the game was back on level terms. Ritchie headed the ball back from deep inside the United area to Hudson who gave Harvey no chance with a shot low past his right hand from around 12 yards. It was the cultured schemer's first goal for Stoke.
The Potters pressed hard for the remainder of the half, assuming complete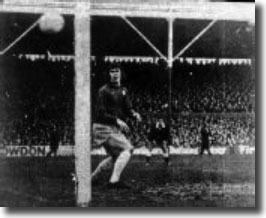 control. Harvey was forced to tip one close range header from Ritchie over his bar to keep the sides on level terms at the interval.
When the sides came back on for the second period, Harvey's left foot and ankle were heavily strapped. He was clearly struggling for mobility as a confident looking home outfit subjected his defence to the most telling of cross examinations in the early minutes of the half. Ritchie headed powerfully against the bar, though a free kick was awarded with the referee adjudging that the United keeper had been unfairly blocked off.
Leeds did pose the occasional threat going forward with Cooper, Clarke and Jordan showing up well. When the latter worked his way past Smith on the left, he gave Cooper the opportunity for a shot, though it never looked likely to trouble goalkeeper Farmer.
City continued to be the more aggressive and United's defensive fortitude was sorely tested. They struggled to plant a foot in the opposition half, let alone mounting a serious attack. A threatening low drive from Stoke winger Robertson brought some anxiety as it flew across the goalmouth until Ellam managed to clear his lines.
John Farmer could have hired a deck chair to watch the game in comfort from the City penalty area such was the lack of action around his station. The only surprise when Stoke took the lead was that it took until the 68th minute for the breakthrough to come.
The goal was the result of the pressure built up by a succession of corners. Yorath's headed clearance to the third flag kick was rushed and looped invitingly to the edge of the six-yard box. Hurst nodded the ball back towards the far post and centre-back Smith came hurtling through to head home powerfully.
The ecstatic home fans erupted gleefully, bating the opposition with chants of 'We want four, we want four.'
United did their best to rally in the face of what looked a lost cause. Hunter powered forward in a determined run down the left flank but when his cross found Clarke, the subsequent shot flew wide of its target.
Bremner and Madeley made ground on the right to give Lorimer the opportunity for an angled shot, though Farmer saved without difficulty. The Stoke goalkeeper was in action again moments later when he gathered a close range header from Jordan, but in truth Leeds never truly seemed to believe that they could get back on terms.
They did, though, show plenty of fighting spirit. With six minutes to go, over keen protests by Bremner and Clarke saw them both booked for disputing the award of a goal kick to the home side. They were also involved in unseemly scuffles with Stoke's Robertson and had a furious row with referee Homewood after the game, with the official threatening to report the incident along with the cautions.
All the passion failed to bring a single clear cut opportunity, and Leeds were well beaten at the finish. Their proud record was left in tatters by a 3-2 victory which was thoroughly merited by a determined City team.
Paul Wilcox in The Guardian: 'Stoke's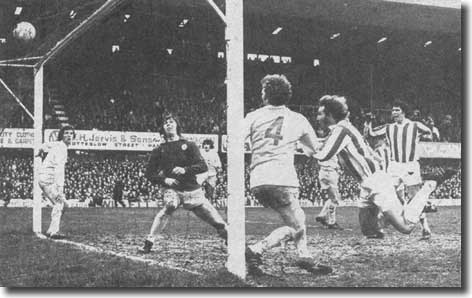 win was deserved but if Hudson, blending superbly with the tireless Mahoney, was their inspiration, the downfall of a Leeds team already missing Jones, McQueen and Reaney surely started with the recurrence of Giles' groin injury which robbed United of their control in midfield. Cooper may arguably have been the best left-back in the world before suffering the broken leg which halted his career for 21 months; but although as usual he gave his best, his midfield duties went no way towards achieving what Giles' contributions had done before his removal in the 19th minute.
'Depriving Leeds of such a lead a couple of months ago would have been unthinkable, yet it was at this point that Stoke's plan began to unfold. They used Ritchie and Hurst as twin prongs to probe at the heart of Leeds' cover, consistently prepared to take the game forward, and it quickly became apparent that Ellam, with a rearranged defence around him, would have difficulty holding them, particularly when the ball came at head height. Hudson, Greenhoff and Mahoney swelled in confidence and style in the middle of the field and suddenly the match was a magnificent contest.
'Before half-time Stoke were level and deservedly so. A free kick, just outside the Leeds penalty area, was rolled a foot or so sideways and Pejic sent it hurtling past the defensive wall. Then Robertson, a lively raider throughout the affair, beat his man on the left, Ritchie headed back his centre and in a moment of confusion in the Leeds ranks, Hudson coolly tucked away the equaliser.
'So to a second half spilling with skill and excitement. Leeds still managed some carefully moulded moves, mainly out of defensive positions, and Bremner was magnificent, scuttling around to curb Stoke's attacks and darting forward to try to restore that early vitality to attack. Increasingly though, the portents were that history, of the durable kind, would not be made this day. The end came as Leeds strove to dispose of the last of three successive corners; Robertson's kick was headed on by Hurst and Smith flung himself forward to head in the winner.'
It was a famous day for Stoke City, long spoken of in glowing terms by their fans, and made Alan Hudson an instant hero with the Boothen Enders. He recalled later: 'It turned out to be an afternoon to remember. A packed house had just settled in to their seats when Leeds went one in front with a bizarre goal from their brilliant skipper Billy Bremner, who cheekily put a free kick down and chipped our keeper John Farmer before Paul Daniels could have got his pack out of his pocket. Only a player of Bremner's vision could have done such a thing. This caused pandemonium, as the referee let the goal stand.
'Two-nil up, and the record safely in their hands - or so they thought. Little did they know that we had our very own fighting spirit in the Potteries, and it was time to use it. We were now incensed, and they were trying to put on that great show of keep ball and take the proverbial at the same time.
'The second half started like a real Cup-tie, with a little bit more added to it. This was truly the best of English football, with two teams fully committed to victory. The big boys who had thought they had it won and now had to win it again, and the underdogs who had come back from two down against the best team in the land and were now sniffing the blood of victory.
'Our half-time team talk was one of "let's finish the job" and get at them, while theirs must have been one of "what the hell went wrong?" Their plans were being torn apart by a team who, fully
wound up, could compete with any team, anywhere. They had their players in Giles, Bremner and Lorimer; and we had ours: Greenhoff, Mahoney and yours truly. They had their kickers in Hunter, Reaney and Giles once more; and we had ours in the shape of Smith, Marsh and Pejic. So this would never be a one-sided affair, whichever way they wanted to play it.
'That second half was nothing short of thunderous, with both sides flat out at each other's throats. Like any other game against Leeds, there was no love lost and no quarter given. We now had the advantage for two reasons: we did not want them to extend that record, and having come from behind we had the bit between our teeth. They had tried it on in the first half, the way only Leeds could do, but now it was our turn.
'The atmosphere at the Victoria Ground that day was electric, and the whole country was by now getting the news that this game was becoming a classic. They had seen the score go 0-1, 0-2, 1-2 and now 2-2. I knew deep down, leaving the tunnel for the second half, that it was going to be us who would stop Revie's team. For me, it was going to be a little like the Cup final replay where they had led Chelsea on three occasions but, once pegged back, did not like it.
'They were not liking this too much either, as Mahoney and Hudson were now the masters in the middle of the field instead of Giles and Bremner. We had taken the initiative, and it was soon to pay dividends. A right wing corner was swung in … Geoff Hurst headed it across the face of the Boothen End goalmouth where, diving in between all those flying Leeds boots, was the figure of our very own Captain Marvel, Denis Smith: 3-2. The whole ground erupted, as the Leeds bench jumped up with fists flying everywhere.
'Jimmy Robertson was now showing the Leeds defenders a clean pair of heels, and also his fiery Scottish temperament. He and Wee Billy were about to have it out in the tunnel at the final whistle. We had given the best team in the country a two-goal start then a right pasting, a day that started as a nightmare and finished jubilantly. Not only the victory but the way it was achieved is what I always take great satisfaction in, and there could be no greater satisfaction than when putting one over on Don Revie and his not-so-merry men.'
Revie had always feared that somewhere along the line United would meet a team in sufficient form and with enough spirit to compete with them. Stoke did precisely that. He was asked afterwards, 'Is it going to happen again, will Leeds falter when so near to the big prize?'
'Who knows?' he said. 'I think if we get everyone fit, we have a chance to win the title. It is a tremendous run and would have been a miracle if we had been able to go through the entire 42-match programme without defeat.'
He still maintained that United's record in 1968/69 of only two league defeats in a season would never be beaten. 'After our defeat at Stoke, it is appropriate for me to congratulate all my players on their magnificent run in the league. It is all the more remarkable when you consider we have been hit so terribly hard by injuries almost all season. I cannot speak too highly of my players.'
Reacting to Alan Hudson labelling his side as 'robots' and 'spoilers', Revie angrily retorted: 'If that is the case, how is it we have scored more goals in the division than any other side and keep attracting big crowds wherever we play?'
He also denied that Bremner and Clarke had been involved in an after match argument with the referee and that Bremner had been in a scuffle with Jimmy Robertson. 'It simply is not true,' he maintained.
Publicly, Revie was magnanimous in defeat, but behind closed doors he was beside himself with anger. He made a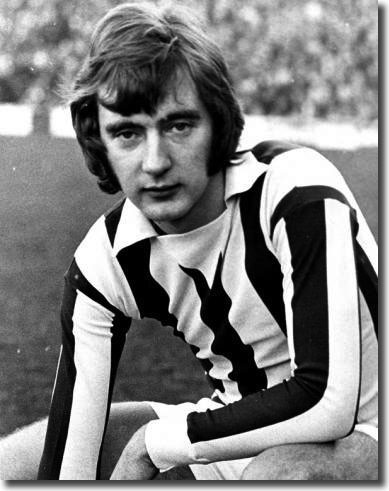 point after the game of allowing the United players to overhear his conversation with Les Cocker. 'Time to get the chequebook out and sign some new players.' It was a customary tactic used by the manager to gee up his men, but this time it was born out of fury and rage.
Alan Hudson: 'Everyone hated Leeds then, no matter what club you were playing for at the time. So, whenever you beat them, it was party time … They were the team everyone wanted to beat that season, even more than usual… After the game, we were celebrating in the dressing room when one of the apprentices came in and said, "Leeds are smashing up their dressing room." He would then keep us updated with things like, "The door is damaged now," and, "The table's gone over." But all we did was cheer that bit louder. That day at Stoke proved Alex Ferguson and his tea cup smashing had nothing on Leeds under Revie.'
In his Evening Post column the following Saturday, Revie wrote: 'I am pleased Leeds United have lost their unbeaten league record. Generally, the Leeds players and myself hate losing, even a pre-season friendly match.
'On reflection, our 3-2 defeat at Stoke will help rather than hinder our prospects of winning the championship. Leeds have long been the team everyone has wanted to beat, yet in the last three months this type of pressure has been more intense than ever. This is the penalty unbeaten teams must expect, and another example came with the midweek draw against Leicester. Every match has been like an FA Cup final, with opponents showing more determination against us than against other teams.
'I am inclined to believe another important factor has come from the bookmakers offering special odds against Leeds being beaten before every game.
'Before the clash with Chelsea at Stamford Bridge, their defender David Webb said on TV that members of his family, together with close friends and business associates, had put a fair bit of money on Chelsea to win. I am sure this has helped to motivate many of our opponents.
'The problems which Leeds have faced were summed up by Liverpool manager Bill Shankly after watching our FA Cup fifth round defeat by Bristol City. He told me: 'These sides must have their feet up for most of a season.'
'Let's face it - if sides like Bristol City and Stoke played the way they did against Leeds consistently they would have the Second and First Division championships sewn up by now!
'Without wishing to appear conceited, I feel the main reason why Leeds have failed to maintain the form they produced during the early part of the season is that a number of opposing teams have not been prepared to try and match us for skill.
'Stoke's midfield star Alan Hudson, however, considers the reverse is closer to the truth. "It's impossible to play good football against them because their game is built on strength and they smother you," he said after Saturday's match. "They will go on to win the league, but that shows up our game for what it's becoming because, apart from Bremner, they're a team of robots. I'd rather be lower down the league, trying to play the game than up at the top the way they're playing it."
'I was absolutely staggered by these comments. I don't want to become involved in a slanging match with Hudson, but it's worth noting that his summing up of United's approach to the game is in sharp contrast to that of most players, coaches and managers in this country.
'The fans, too, clearly consider we have something special to offer as Leeds have taken over from Manchester United as England's biggest crowd-pullers. Stoke became the 14th club this season to have their highest attendance for the visit of Leeds. The only exceptions are Arsenal (Manchester United) and Everton (Liverpool).
'Each week, a national newspaper publishes an Entertainment Table. When I looked at it this week, Leeds were at the top and Stoke were sixth from the bottom.
'As far as the defeat at Stoke was concerned, I cannot help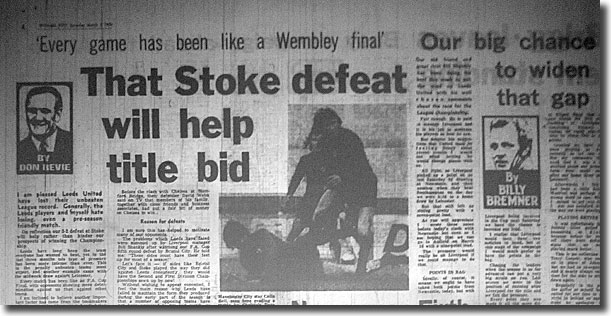 thinking that the result might have been different if Johnny Giles had played the whole match.
'John, who recently returned to the team following a three-month injury absence, played a big part in helping Leeds take a firm grip on the game in the opening 20 minutes. Unfortunately, after laying on the goal which gave us a 2-0 lead, he had to go off with a pulled hamstring, and this affected our rhythm.
'Obviously, I am still confident that Leeds will win the championship, although one cannot take anything for granted in view of Liverpool's challenge.
'It is typical of Liverpool that they have refused to admit defeat. They show the same application in every match, no matter who they're up against, and that's why we at Leeds always look upon them as the team to beat.'
On the back of the FA Cup shock at the hands of Second Division Bristol City, the Stoke defeat came as a real blow to United's confidence. It would be several weeks before they were able to rid themselves of the psychological impact, losing three further games in a matter of a few weeks. It came right in the end, of course, but at the end of a momentous day in the Potteries, Leeds were in a real trough of despair.