As the battle for the 1974 League championship came down to the wire, long term front runners Leeds United were facing the severest pressure from arch rivals Liverpool.
On 9 February, the Whites' 2-0 defeat of Manchester United 2-0 at Old Trafford took them nine points clear with thirteen games left to play. But then an astonishing decline set in, with Leeds suffering four League defeats in the space of five weeks; their once-impregnable lead crumbled as Liverpool turned up the heat, winning match after match in an unbeaten run that began after they went down 2-1 at Burnley on Boxing Day.
By the time United lost 3-1 at West Ham on 30 March, they had amassed 52 points from 36 games; Liverpool had four points fewer, but three games in hand.
At that crucial, fraught moment, Don Revie's men finally stumbled into something of a revival, conjuring up a 2-0 defeat of Derby on 6 April. When Liverpool's unbeaten run ended by virtue of a single goal at Sheffield United two days later, the advantage edged back towards Leeds.
In the following weeks, the two teams fell foul of the jitters with a succession of draws, before they both registered convincing victories on 16 April, Liverpool thrashing Manchester City 4-0 at Anfield and Leeds winning 2-0 at Sheffield United. Those results left the Whites four points clear with two games to play. Liverpool still had four fixtures remaining, but crucially the Whites enjoyed a superior goal average.
Saturday, 20 April, brought home fixtures for both clubs, United against third-placed Ipswich Town and Liverpool pitted against Merseyside rivals Everton. The bookmakers were clear about the destination of the title, quoting Leeds at odds of 9-2 on, while Liverpool were 7-2.
Neither manager accepted that it was so clear cut, with a defiant Bill Shankly claiming, "It is not finished yet, not by any means."
Don Revie offered a cautious perspective on the Ipswich game, saying, "We could not have picked a more difficult match than this is likely to be. Ipswich are one of the most entertaining sides in the country. They have a very sound defence and in Kevin Beattie they possess one of the best sweepers in the country. David Johnson is one of the liveliest strikers in the business."
The Portman Road side went into the game without free-scoring striker Trevor Whymark (cut heel), while first choice goalkeeper Laurie Sivell was also injured and Paul Cooper, on loan from Birmingham, took over between the sticks.
The Sheffield United game had saddled Leeds with a testing legacy; Jordan (ankle and knee), McQueen (ankle), Clarke (Achilles tendon) and Hunter (thigh) were struggling to be ready, though Bremner (severe leg bruising), Jones (knee), Yorath (ankle) and Giles (calf) were considered likely to play. "They will all be in the squad for the Ipswich game," said Revie. "They have to be, there would be no team without them. But the injuries are coming all at once again."
In the end, McQueen, Clarke, Hunter, Bremner and Jones were all declared fit and in the starting eleven; there was also a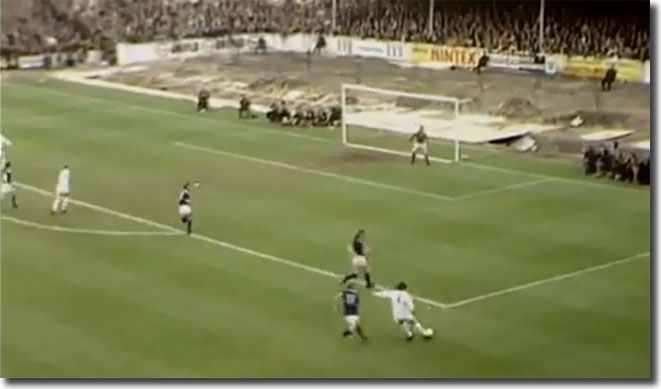 welcome boost in the form of the return of long term injury victim Eddie Gray, selected for the first time since September.
From the whistle, United came under severe pressure and David Harvey's goal was fortunate to emerge unscathed from a fourth minute scare. Roger Osborne, the 24-year-old replacement for Whymark, seized on a poor back pass by Paul Madeley and slipped the ball to David Johnson. The striker's low shot was parried by Harvey, and Trevor Cherry came in to tidy up as the ball rolled along the goal line. The full-back's clearance deflected off Harvey to the oncoming Osborne, but the youngster betrayed his inexperience, fluffing an outstanding opportunity with a rushed effort.
Ipswich remained on the offensive, penning United in until the eighth minute when the home side finally managed to fashion an attack. Mick Jones was a prominent figure in the build-up, which ended with Peter Lorimer's cross from the right flank being headed out for a corner.
Gordon McQueen got up well to nod the resultant flag kick past Ipswich keeper Paul Cooper but his effort was chalked off by referee Baker for a foul.
Soon after that the official spoke at length to Norman Hunter for a challenge on Osborne and was then subject to jeers from the home support when he lectured McQueen following a foul on Johnson.
The reprimands were quickly forgotten when United opened the scoring after 16 minutes.
Paul Reaney ended one Ipswich thrust by clearing the ball downfield but Town centre-back Kevin Beattie nodded the ball back coolly to his skipper Mick Mills. However, the left-back's crossfield pass to full-back partner George Burley was horribly misplaced and was picked up deep on the left touch by Eddie Gray.
The winger danced inside before feeding Allan Clarke on the edge of the Ipswich area. He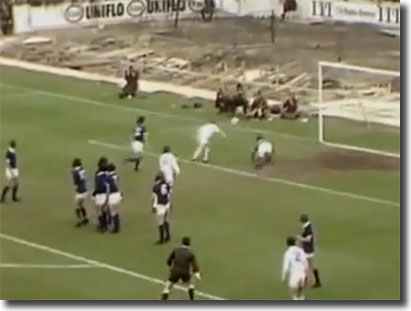 slipped the ball back to Paul Madeley but when the midfielder tried to find Billy Bremner Brian Talbot intercepted. His attempted one-two with Clive Woods was ended by a forceful Gordon McQueen intervention which flew out to Peter Lorimer on the right wing.
Clarke and Jones were both waiting unmarked in the middle for a cross that never came, for Lorimer had eyes only for goal. He swerved a fiercely rising effort which flew past goalkeeper Cooper and into the net just inside the nearside angle. It was a classic example of the wide man's outstanding shooting prowess.
The goal gave United impetus and they showed renewed confidence and fluency as Billy Bremner drove them forward. Some direct running from Ipswich's front men continued to cause concern at the other end, but Leeds had the bit between their teeth and it was 2-0 after 22 minutes.
After Kevin Beattie nodded out a lofted free kick from Norman Hunter, Brian Talbot was adjudged to have handled the dropping ball a few yards outside his own penalty area as he sought to clear. From the resultant free kick Lorimer stepped up to crack in another tremendous drive. The keeper managed to block the effort, low at his right hand post, but when it ballooned up, the onrushing Bremner dived forward to nod the ball home.
There were subsequent Ipswich protests that the United skipper had been in an offside position when Lorimer took the free kick but little argument by the players at the time and the referee confirmed the goal.
That sparked a vigorous response from the visitors and they forced United back, pulling a goal back five minutes later. David Johnson picked the ball up in midfield to feed Mills on the left and the move continued with Woods in the inside-left channel 30 yards from goal. An attempted one-two with Osborne foundered but the ball fell loose to Talbot who fired home from near the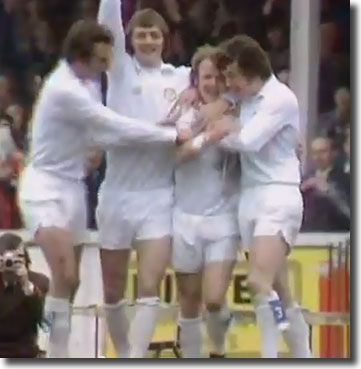 penalty spot.
Ipswich continued to press forward in search of an equaliser and demonstrated how good an attacking outfit they were with Johnson and Woods figuring strongly and Talbot getting a hold of play in the middle of the park.
When Norman Hunter was content to concede a corner to stop Bryan Hamilton's thrust, namesake Allan Hunter, the Northern Ireland centre-back, headed wide from the resultant dead ball situation.
The same player got in a good tackle to stop Lorimer's advance after an overhead kick by Allan Clarke and then goalkeeper Cooper did well to gather Gray's cross from the left as United sought to restore their two-goal cushion.
They had to be alert at the other end, though, in the final two minutes of the half as Town enjoyed a couple of good opportunities. Woods wasted the first by firing wildly across goal and then Harvey saved a scuffed Talbot effort which had little pace to it.
United were well satisfied with their performance thus far, though they would have preferred more than the 2-1 lead they had at the interval.
Ipswich began the second half on the attack and it needed some good defensive play by McQueen, Cherry and Hunter to keep them at bay.
There were then a couple of flashes of the old Eddie Gray magic, though he ended one promising move by watching his cross fade tamely for a goal kick. There was more of a threat shortly after when the winger's fine through ball found Lorimer running well, but Cooper saved bravely at his feet on the edge of his box.
Just as Leeds were getting on top they were rocked when Ipswich drew level after 54 minutes.
Town midfielder Peter Morris played the ball out to Clive Woods, but his run was ended by a fearsome foot up challenge from Paul Reaney and Ipswich were awarded the free kick. Morris played the ball to Mick Mills on the left and when Osborne fired in a shot cum cross, Hamilton got onto it to flick low past Harvey into the net.
Far from settling for a point, Bobby Robson's team pushed on and full-back Mills ran 60 yards down the left to set up another attack which resulted in a corner. The kick was cleared but Ipswich still had the momentum, Osborne
rounding McQueen on the left to threaten, though Norman Hunter intercepted his centre.
But Leeds had come too far in this, their penultimate game of the campaign, to pass up their opportunity and they regained the lead after 70 minutes.
A period of good United possession in midfield saw the ball fall to an advanced Reaney on the right and his looped cross was nodded on by Lorimer, not a notable header of the ball. This time, though, his flick was perfect and Clarke got onto the ball, controlled it well under pressure from Burley and hammered into the roof of the net from close range.
The defenders appealed fiercely that Clarke had handled the ball during the move, but the referee ignored their protests and signalled the goal was good.
Clarke claimed later that he went to head the ball and it hit him on the shoulder: "The referee could not see much because I had my back to him, but the linesman was in a very good position to see everything and he had no doubts that it was a good goal. At first I tried to head the ball, it hit me on the shoulder then bounced down. The referee cannot award a free kick for that."
The home crowd roared United on as they looked for a fourth, but they were content to preserve their hard-won advantage in the final quarter of an hour, intent on running down the clock. Twelve minutes from time Clarke was booked for refusing to retreat ten yards from an Ipswich free kick and then the names of Bremner and Cherry followed into the official's notebook after dallying unnecessarily over a United free kick.
The points from the 3-2 victory were vital, made doubly valuable by the news from Anfield that Liverpool had been held to a goalless draw by Everton. Defiant Reds supremo Bill Shankly thundered, "There is still a mathematical chance and while that is so we will not give up hope. That's the trouble with the world today, people give up too easily. A squirt of Gaelic blood, that's what you all need. Then you might not make remarks about giving up… We shall have to win our matches and then hope QPR do us a favour against Leeds on Saturday. It's not beyond them, they are a very good side. Nothing is beyond them at home and Leeds must have had a shaking today by the sound of it."
Norman Fox in the Times: "In one breath Don Revie,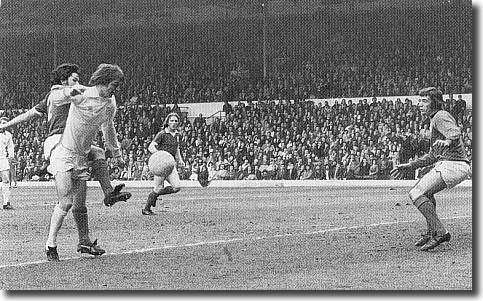 the Leeds United manager, praises the 'hard work, dedication and effort' that has qualified his team for their tenth successive year in European competition - whether in the European Cup or UEFA Cup we will not know for a few more days - and in the next describes the League championship as the 'major trophy in world club football'. It is as if he is preparing the Elland Road crowds for disappointment - the acceptance, perhaps, that a decade is a lifetime for both a footballer and a team. Next season will bring the culmination of a short lifetime's work or the end of a remarkable era.
"Their last home match of the season, against Ipswich Town on Saturday, was a powerful example of Leeds operating Revie's 'simple facts'. It brought them a 3-2 victory - eventually. Nothing came easily: every move seemed to require a major overhaul before it could reach a conclusion, and for a substantial part of the game Ipswich drew all of the patterns while Leeds traced the outline of their past with a blunt pencil.
"Leeds are ending their season as a contradiction - leaders chasing after form, struggling out of difficulties that come with ailing confidence. On Saturday they had the fillip of Eddie Gray's reappearance after seven months and the incentive of confronting a team always prepared to attack. But in the end the roars in favour of the prospective champions could only deafen our ears, not blind us to the fact that it was Beattie, Burley, Allan Hunter and Morris, all of Ipswich, who personified the 'simple facts' of football but added another more significant quality - vision. Hunter, Reaney, Bremner and Cherry matched them in effort yet not in imagination.
"Had Ipswich scored in the first three minutes, as they should, a draw would almost certainly have been the outcome. A desperate clearance by Cherry nearly rebounded into his own goal and only impressive dedication by Bremner kept Leeds from collapsing. Suddenly, the trend changed dramatically as McQueen placed a fine through pass for Lorimer on the right. Shaping to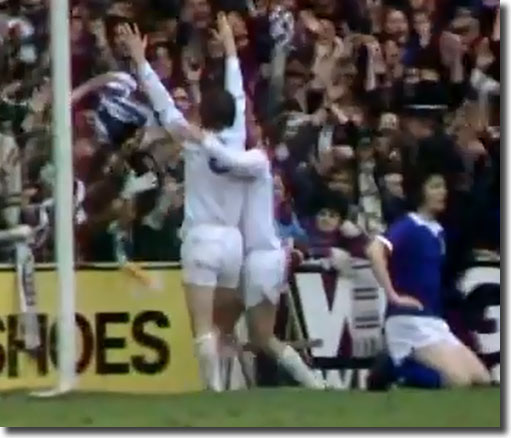 centre, Lorimer confused the deputy Ipswich goalkeeper, Cooper, who moved off his line by no more than two short paces. Lorimer blasted his shot high into the nearside of the goal - that was a moment to symbolise the Leeds we remembered with affection.
"Lorimer added more danger by hitting a low free kick that Cooper could only deflect upwards to where Bremner dived and headed a goal that should have been decisive. It was at that point that the Leeds of the past would have consolidated and denied Ipswich possession. Instead, they made gestures that had no conviction and left Jones without support. A defensive mistake allowed Talbot to score and Hamilton, given free movement on the left, deflected a cross shot by Osborne for the equaliser.
"For Leeds, the title had been in their hand, snatched away and was now in no man's land. The crowd spread a wild rumour that Liverpool were losing 2-0; the noise thundered, everything seemed to vibrate, and Leeds attacked from their hearts. Reaney played the ball along the right wing, centred, Lorimer headed to turn the Ipswich defence on their heels and Clarke pushed the ball into goal. And that is how English titles are won - Europe can be another story."
Barry Foster in the Yorkshire Post: "Almost there. That is how Leeds United must feel this morning, although Don Revie, their manager, is still saying: 'It's a bit premature to call us champions yet. I'll not really breathe easily until I see the trophy is in Billy Bremner's hands.'
"It has been a particularly long and winding road to the title these past weeks, but on Saturday when Everton took a point at Anfield, the odds on Leeds taking their second League title swung heavily towards Elland Road.
"There, for Leeds' last home League appearance of the season, over 44,000 saw a blood tingling match - a match big enough in every way to match the occasion. Leeds won, but Ipswich were almost always at least their equal. 'You have to give them credit for the way they played,' said Peter Lorimer.
"Lorimer, in fact, should take most of the credit but Leeds had other unsung heroes, players who defied injuries to play, like Allan Clarke, who had a painkilling injection in an Achilles tendon injury just before the kick off and then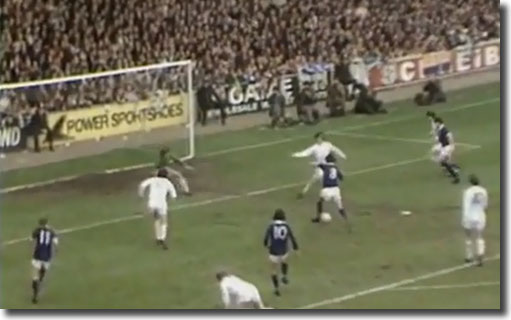 hit the priceless winner, like Mick Jones, Gordon McQueen, Norman Hunter and Bremner, who had fought injuries all week.
"But without Lorimer's goals, April would have been a sad month for a side which had swept all before them during the opening 29 games of the season to build up a nine-point lead. Lorimer found his appetite for hitting the net just in time for Leeds, and probably for Scotland's World Cup hopes. After his efforts against Derby County and Sheffield United, he had a hand in all three Leeds scored against Ipswich.
"He smashed the first from the right hand edge of the penalty area in the 16th minute and six minutes later Bremner, following up Lorimer's fierce free kick, was able to dive and head home after Cooper had failed to hold the drive.
"It was just the kind of start Leeds wanted but Ipswich, one of the sweetest sides to watch in action at the moment, turned on their power and a flowing move left Brian Talbot in a great position to pull a goal back in the 27th minute. He made no mistake and his side continued to press home their aggressive advantage with Roger Osborne, playing for the injured Trevor Whymark, proving to be a real handful for the jittery Leeds defenders.
"Just after half time Osborne moved onto a free kick from Mick Mills and cracked in a shot from the left. Bryan Hamilton followed through and got a vital touch to give David Harvey little hope and Leeds' two-goal lead was gone.
"'I thought, Oh no, it's going to happen to us again,' said Revie afterwards, remembering the times that things have slipped from Leeds' grasp, and Leeds did not look good enough to pull it out of the bag at that point. But that is when Leeds are at their most dangerous and 21 minutes from time, when Ipswich had lost some of their momentum, Clarke struck.
"A cross from Paul Reaney was flicked on by Lorimer and despite appeals for hands Clarke's effort stood… He was cautioned, along with Bremner and Cherry,
towards the end of the game when Leeds marred a great afternoon by wasting time, but with the title so near which other club would have done differently? Nevertheless, Clarke has now been cautioned seven times this season while his club's disciplinary record has gone downhill since the season's halfway mark.
"Robson has much to be proud of in his side. They had five men out on Saturday and still gave Leeds, with Eddie Gray back for the first time since last September, a fright. They may even turn out to be next year's champions, but in the meantime they have left a lot of people with great memories for the summer months… like the hair raising escape the Leeds goal had in the third minute, the goal McQueen headed only to have it disallowed after 15 minutes and the five-man attack by Ipswich just before Clarke scored which summed up why they are the division's leading scorers at the moment."
It was a breathtaking contest and United had been pressed sorely, but they had done the necessary. Don Revie was left on the brink of regaining the League title he coveted so dearly, an outcome that was confirmed four days later without his men even needing to take the field when Liverpool lost at home to Arsenal.