The Leeds United party that took the train down to London for the final game of the 1973/74 campaign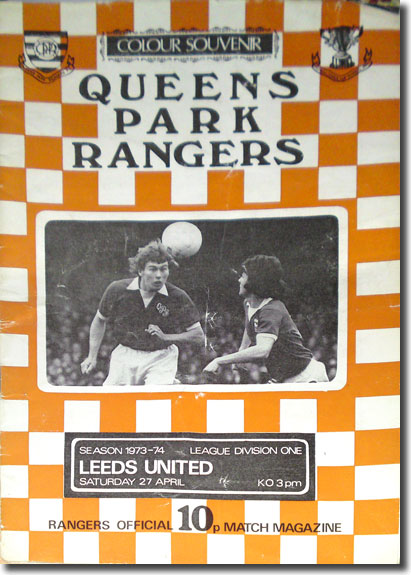 did do so secure in the knowledge that the First Division title was en route to Elland Road whatever the result of the match. Liverpool's defeat at home to Arsenal a couple of days earlier had put an end to the Merseysiders' dogged pursuit of the Whites.
Leeds' result against Ipswich the previous Saturday had given them vital breathing space; the Whites' 3-2 victory meant that Liverpool would have to secure every point from their remaining three games and score eight goals without reply in doing so. Even then, a goalless draw at Loftus Road would be enough for Leeds. Arsenal's 1-0 victory at Anfield on 24 April put an end to all the speculation, ensuring there would be no last day nerves for Don Revie in Shepherds Bush.
After hearing the Liverpool result on the Wednesday evening, the United manager had set out from a friend's home to celebrate, saying: "When I look back on this season with all its injuries and setbacks, I honestly believe this is the greatest achievement of Leeds United in the last 13 years. When we lost at home against Burnley and then drew with Sheffield United, it was possible Liverpool would catch us but we took the points that mattered. Tonight I am going to go out and have a good time at last.
"I am absolutely delighted for all the players and staff because they have earned it. We have lost only four games out of 41 and after the first seven matches we have never been free of injury problems.
"When we were going through the shaky patch of losing against Liverpool, Burnley and West Ham, I thought we had lost it, but the players' tremendous application, character and ability showed over the Easter period when we didn't concede a goal in four games and got right back in it. Now on Saturday they can go out at Queens Park Rangers with no pressures on them and show the country that they are worthy champions.
"I feel as though someone had come along and lifted six tons of coal off my back. It's a great feeling. I feel as though I am walking on air.
"This gives us a second chance to have a crack at winning the European Cup. I've made no secret of the fact that it is my biggest ambition to see Leeds United win the greatest of the European trophies. It is a dream I have had ever since I became a manager, and now the possibilities of that being realised have opened up to us again."
Revie recalled one crucial period in the season: "After we lost at Stoke and Liverpool, at home to Burnley and down at West Ham, everyone said we were cracking up. I thought then that there was a chance of Liverpool being able to catch us.
"But the players got their heads down, put their heart and soul into their play and in the period around Easter we managed to take six points out of eight available. At the same time we did not concede one goal. That to me showed the tremendous ability and character of the players we have at Elland Road. Never was the test greater than it was at that game. But they came through it well."
One of the first calls Revie received in his office the following day was from his great friend and rival, Bill Shankly, manager of Liverpool.
Swallowing his disappointment, Shankly told Revie: "Leeds United are truly great champions. My congratulations to you, your team, and to everyone at Elland Road. I know Leeds care about everyone, from the cleaning ladies right through, and that is how it should be."
Trainer Les Cocker had been watching television when son David telephoned with the Liverpool result.
"I rang up the boss and found that he had gone out to dinner," said Cocker. "Then Don rang me and asked me to a party at his house. It has been a grand week for Don - the championship, a great match last Saturday, This Is Your Life, and he even beat Val Doonican at golf.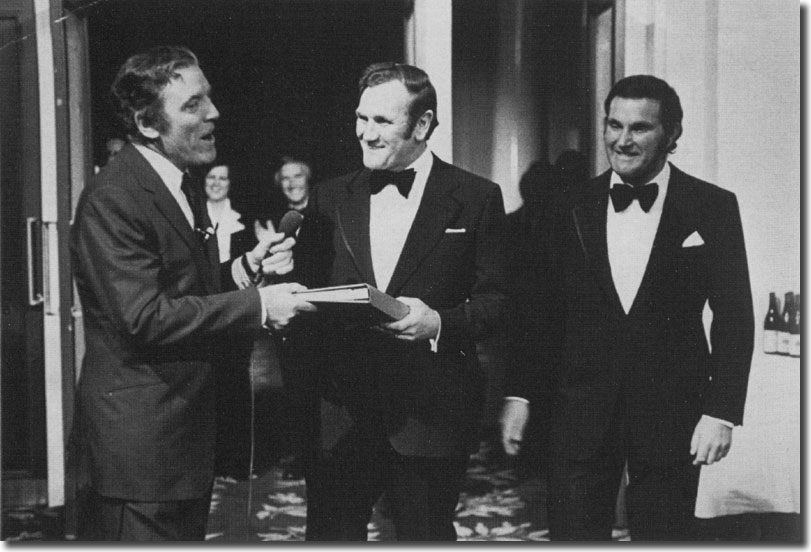 "I am really looking forward to the Queens Park Rangers match on Saturday. The pressure is off and I just know they will all play a great game."
United striker Peter Lorimer: "Secretly all the players were praying that Arsenal would do it because otherwise the tension at Queens Park Rangers on Saturday would have been unbearable. Now the crowd will see a much better game as a result. With the pressure off we will have the confidence to go out and show everyone just how well we can play."
The day before the game at Loftus Road, QPR scrapped plans to broadcast the game live on closed circuit television. Only hours earlier London Weekend TV had dropped the match from their schedule after falling out with Rangers over the financial arrangements.
Rangers secretary Ron Phillips announced that there were only 1,000 terrace tickets remaining for the game and strongly advised United supporters not to travel to London unless they had a ticket.
While the League trophy and medals would be presented to the United players before Billy Bremner's testimonial match against Sunderland at Elland Road on May 6, there was set to be a celebration of United's title triumph as they stepped out at Loftus Road to face Queens Park Rangers on April 27.
There were 7,000 Whites fans among a record crowd of 35,353 that had Loftus Road bulging at the seams. Rangers rolled out the red carpet to welcome the new League champions to Shepherds Bush, presenting the United players with bottles of champagne and giving them a guard of honour, lining up to applaud them onto the pitch. They also said a thankyou to their own supporters by having QPR players kick several dozen footballs into the crowd.
Rangers were determined to end their own season in style by dethroning the new champions but would have to do so without former Arsenal defender Frank McLintock.
For United, with Mick Jones unfit to play, Joe Jordan returned to lead the forward line and Johnny Giles was recalled in the middle of the park. The rest of the eleven were as expected, meaning that Billy Bremner and Norman Hunter completed an ever-present season in the League. Welsh international Terry Yorath was named substitute.
According to the Yorkshire Post's Barry Foster, "Leeds set off as though they were going to run away with the game in the first 15 minutes but once Rangers settled down it was their exciting attack that took the initiative. Harvey was brilliant at times, saving well-hit close range efforts from Bowles, Francis and Mancini.
"It was a fast, open and good natured game with both sides rising to the occasion despite the hard, bumpy pitch."
There was a lively start with United first to look dangerous, developing a promising move on the right. Lorimer's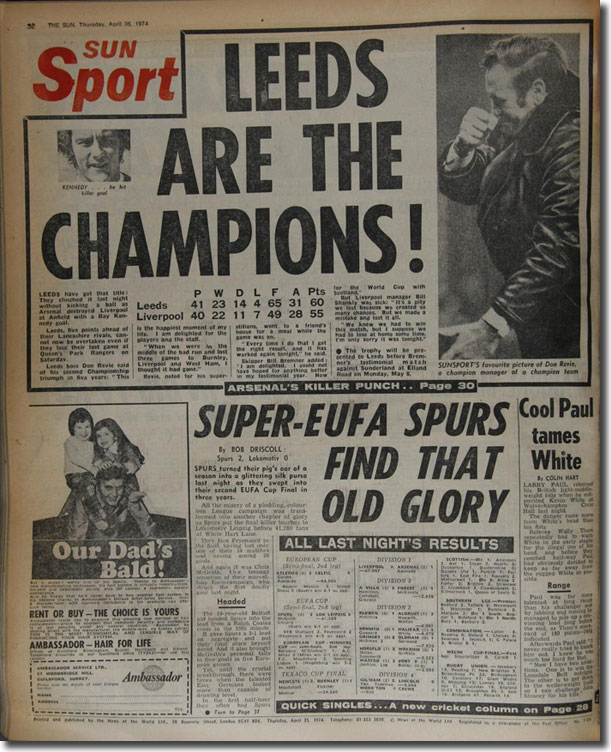 cross found Jordan, but the Scot's header was just over the bar.
The pitch was bone hard with an unpredictable bounce in parts and it was maybe down to this that when Rangers came out of defence Gerry Francis mishit a shot from just outside the United penalty area.
The Rangers defence was split wide open by Hunter's canny through ball but Jordan shot over.
The West Londoners replied with a spell of pressure but failed to trouble David Harvey and when Francis had the chance of another shot, he hammered the ball well wide.
The home side had their best chance thus far after 15 minutes when tricky winger Dave Thomas created space and time for Mick Leach but the striker shot wide with Harvey scurrying across his goal.
Thomas, who counted Don Revie among his greatest admirers and would later be a regular in his England team, was involved in another good move, giving Don Givens a chance at the far post, but the Irishman's header flew wide. Givens went close again with another header soon afterwards as Rangers moved quickly and fluently in attack, and then Francis shot wide from the edge of the United penalty area as Rangers upped the ante.
Giles stemmed the tide for a moment when he got United moving forward with a high ball down the middle. Jordan made a valiant effort to gain possession but Terry Mancini held him at bay to allow goalkeeper Phil Parkes to gather.
Rangers were relentless in their attacking game, and a flick from Givens gave Francis a running chance. Once more, though, poor finishing spoiled it for Rangers.
United's goal came under threat again following a free kick, when a shot from Terry Venables was deflected by a United defender. It wrongfooted Harvey but flew for a corner.
After a recent spell of indifferent form, Rangers were putting their moves together in assured and aggressive style, but there was still a threat from United when Lorimer unleashed a fierce shot which Parkes required two attempts to gather.
Stan Bowles put Francis through at the Leeds end after 40 minutes only for the midfielder to be brought down by Reaney just outside the penalty area. From the resultant free kick Bowles hit a curving shot over the bar.
A corner just before half time almost brought a goal for United. Gordon McQueen's header from Lorimer's flag kick found Bremner but the United captain's close range shot struck the upright.
United were relieved to see the game reach the break without a goal as the interval came with Rangers on the attack again.
There was no let up after the resumption and the West Londoners began the second period with a move involving Busby, Thomas and Givens, which ended with Bowles bringing a fine reflex save from Harvey. Bowles fell foul of the bone hard surface in front of the goal and needed treatment for a leg injury after falling.
Two raids by Lorimer finally brought an attacking threat from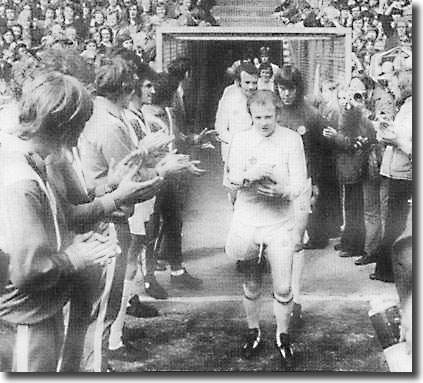 United, hinting that they would still have a say in the game's outcome. They were the prelude to a breakthrough in the 57th minute as Allan Clarke, showing his trademark coolness and precision in front of goal, demonstrated the folly of wasting so many goalscoring opportunities.
The Times: "Above all, Leeds showed their champion class in the way they snatched their goal. Under severe pressure at one moment, they suddenly turned the tables at the other end. From Bremner the ball flowed swiftly downfield by way of Giles to Jordan. The centre-forward held his hand cleverly until he saw Clarke streaming clear through the middle between Mancini and Gillard. The central pass was perfectly timed; Clarke took it in his stride and the next second it was in the back of the net. That was football as it should be played."
The goal, Clarke's 16th of the season, came from a lethal finish by the most reliable of poachers. Jordan's simple lay off was all that was required following Clarke's perfectly timed run in from the right away from the shadowing Gillard. He outpaced the full-back, went past a leaden footed Mancini as if he wasn't there and drew Parkes out as he reached the penalty area. It was a perfect set up for him to then casually slide the ball left footed low inside the right hand post with defender and goalkeeper helpless. They never had a chance.
Shortly before the goal, United had lost Reaney with an ankle injury and Yorath replaced him at right-back.
Only the brilliance of Harvey prevented Rangers from equalising on the hour. United had conceded a free kick just outside the penalty area and when Venables took it the ball rebounded to Mancini whose shot was saved by Harvey at full stretch.
Rangers must have thought an equaliser was theirs when Harvey, coming out of goal, palmed a cross from Gillard to Thomas. The winger had a clear sight of goal and, though he beat the stranded Harvey with his shot, Madeley flicked it over the bar for a corner.
Harvey was quickly in action again, frustrating Francis with another good save.
Twelve minutes from the end, Rangers had a great chance to equalise, but Givens pulled his shot across the goal and Harvey was kept busy again, diving bravely at the feet of Francis to save a long shot from Leach.
The game ended in a narrow 1-0 victory for Leeds, the honours of the day going to the superb Harvey. It was an outstanding display of goalkeeping, something he would duplicate weeks later for Scotland during the World Cup finals in West Germany.
At the finish, the United fans poured onto the pitch in front of the main stand chanting, "Champions, Champions."
When the United players arrived at Kings Cross later to catch their train, the station was crowded with happy cheering supporters and it was the same when the United party reached Elland Road later in the evening. About 600 fans were there to welcome home their heroes.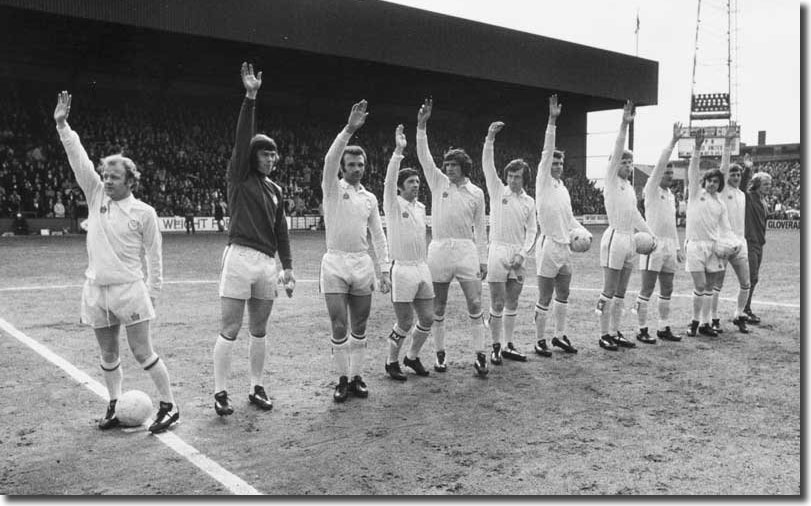 United's capture of the points had been clinical and Rangers manager Gordon Jago summed up perfectly: "We produced some fine chances but Harvey was equal to it all; we gave them one chance and Allan Clarke says 'Thanks, pick that one out of the net' and it's all over. That is the stuff champions are made of."
The Times: "Rangers may have lost on paper, but in so many other ways they were victorious. They provided the stage for the final act of the new champions; and they played their full part in an expressive match free from all tension. Indeed, it was an exhibition of all that is best in the game, a contest in which both sides led with their minds rather than their bodies.
"In the last analysis, however, it was Harvey, Scotland's goalkeeper, under the Leeds crossbar, who kept the victory won for his side with three world class diving saves from Mancini, Francis and Leach in the second half. Yet a goalkeeper, like a wicketkeeper in the summer game, is very much part of a team, a specialist whose role in many ways is all important. This Rangers finally had to concede.
"The pity now is that Rangers have missed the bus for a place in European competition next season… They are the only ones in the championship to have kept their heads high in London, giving a lead to others like Arsenal, Chelsea and company in the matter of entertainment. For this they have much to thank players like Venables, Bowles, Thomas, Francis and Leach, all of whom measured up closely on this occasion to the likes of Bremner, Giles, Lorimer, Madeley and Clarke.
"You cannot fool the electorate all the time and it was significant that, with nothing at stake, Loftus Road should now house its record crowd of over 35,000 on a cold, blustery afternoon. No doubt they rolled up in their thousands in part to pay their respects to Leeds, the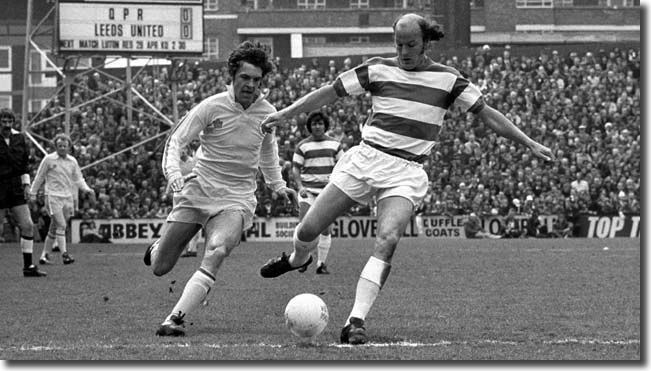 new champions; in part also in the expectation of seeing some entertaining football. In this they were not disappointed.
"From the start there was a sense of carnival in the air. Rangers, providing a guard of honour, applauded their opponents on to the field; at the toss up Venables, Rangers' captain, presented his opposite number, Bremner, with a magnum of champagne which both sides later sipped happily in company.
"The match sparkled as Bremner unveiled his full repertoire, setting an example quickly followed by Leach, Venables, Francis and the elusive Thomas. But at rock bottom it was Leeds who provided lessons of teamwork as Harvey, Madeley, Hunter and others played their respective parts in a well-honed performance."
David Lacey in the Guardian: "By their very nature encores lack surprise, and those who still expected a full-blooded contest at Shepherds Bush on Saturday were disappointed. Even so, there was much to enjoy as Leeds United, the championship won, ran through the repertoire of skills which had taken them to it in a friendly, at times almost avuncular manner. Queens Park Rangers seldom matched them for ease and fluency of movement but their persistence was ill rewarded by defeat; they deserved to draw.
"Though the result was academic, an afternoon of Giles and Bremner at their best could hardly be called wasted. One would willingly sacrifice half a dozen hair raising shots at goal for the pleasure of watching Giles measure a pass, the ball stroked rather than struck, floating haughtily past defenders, who always seem to be just a half stride away then dropping, as if by its master's distant command, into a colleague's path.
"Bremner dominated the first hour, using the combined difficulties of a blustery wind and bumpy pitch to demonstrate his marvellous control of the bouncing ball. He faded slightly after a harsh tackle by Leach, whose forceful presence in midfield helped QPR to get more of a grip of the game in the second half, but the most lasting memory is of the Scottish captain's delight in at least being able to play football free from the claustrophobia of impending success.
"QPR were not quite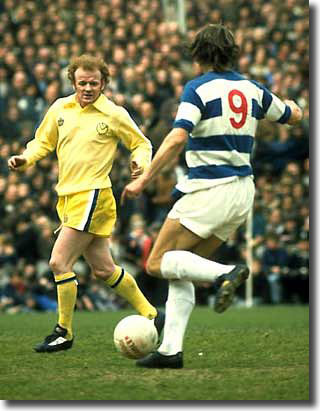 themselves, largely because they could not retain possession long enough to create the sort of situations near goal that Bowles relishes. Eventually Thomas found a likely avenue to explore when Reaney limped off ten minutes after half time to be replaced at right-back by the equally willing but less formidable Yorath. Ignoring the less than erudite bellows 'Get it over' from the stands, Thomas insisted on getting near to the goal line before he centred, and QPR's attacks achieved much more penetration as a result.
"But they seldom looked like equalling the movement that brought Leeds their goal in the 57th minute. Bremner broke up an opposition attack and the QPR defence was strung across the field as Jordan's through pass sent Clarke striding clear to score. QPR then proceeded to create numerous chances as Leeds, wrapped up in their new honours, began to play with careless abandon. All that is except Harvey who stopped every shot except the one from Thomas which hit Madeley and flew over the bar. In this instance, certainly, QPR could count themselves unlucky."
Whatever the degree of fortune about the win, it was fitting that Don Revie should see his men top off a magnificent season with victory in the capital. Their remarkable football of the autumn months was fading from the memory by the end of April but it had made an indelible mark on a season that United had dominated. They had made the pace from first to last to recover the championship title they had won for the first time in 1969. In the intervening years they had been runners up three times and finished third on the other occasion, a remarkable show of consistency.
After so many years of heartbreaks, they had won the 1974 championship by a clear five points. It was the most heart-warming of triumphs.