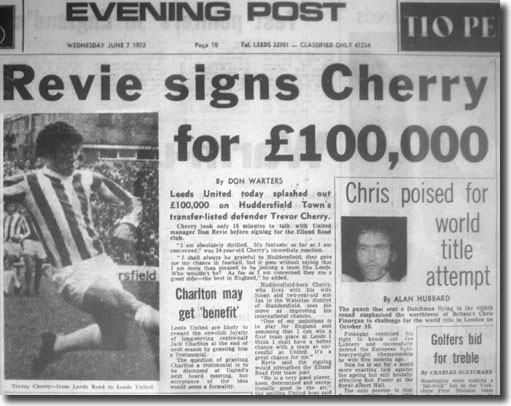 Part 2 Defending the Cup - Part 3 The Revie-Clough wrangle - Part 4 The Revie for Everton affair - Results and table - printer friendly version
Learning to cope with the stinging disappointment of finishing First Division runners up for a third successive year was not the only issue testing Leeds United manager Don Revie in the summer of 1972; he also had to contend with the knotty problem of replacing two England international defenders. Terry Cooper fractured a leg during United's run in and would be missing for some time, whilst 37-year-old Jack Charlton was clearly in the late autumn of his playing days. One of the most renowned back fours in Europe badly required replenishment.
In the first week of June, Revie made his first move. He claimed the £100,000 purchase of 24-year-old Huddersfield Town captain Trevor Cherry was an idea that came to him while he was on a 10-day family holiday in Majorca. Revie set the wheels in motion as soon as he got back to his office, telephoning Terriers boss Ian Greaves to agree a fee for the transfer-listed defender.
Cherry: "Don sat me down and explained how he saw me initially as a full-back, which was a position I had never played, and then as a long-term replacement for Norman Hunter. I wasn't sure about the full-back part but, I reasoned if Don Revie thinks I can play there then maybe I can? The deal took two minutes to sort out."
The hunt for a centre-half was a rather more drawn out affair.
United scouts spent months trailing St Mirren youngster Gordon McQueen. The Saints' purchase of the experienced Ian Ure from Manchester United seemed to have paved the way for a deal, but the £80,000 fee demanded for McQueen was too rich for Revie's taste.
Sheffield United captain Eddie Colquhoun was rumoured to be another target, but by the first week of August, there was still no signing. Then Revie moved for the other Huddersfield centre-back, 29-year-old Roy Ellam, agreeing a £30,000 deal.
Revie had made a tentative inquiry about Ellam when signing Cherry, but considered the £60,000 price asked at the time to be exorbitant.
The manager indicated that Ellam would go straight into the first team with Jack Charlton taking a backroom role. Revie: "I want to make it perfectly clear that Jack is still very much a member of the first team squad, but he has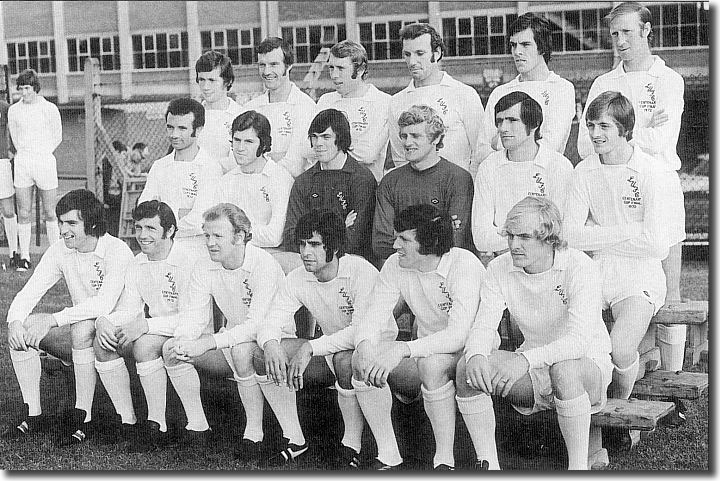 known for some time … that the odds were he would not begin the season in the first team. He has taken it very well, and if I know Jack he will have a real go at getting his first team place back."
With Hunter and Allan Clarke suspended, there were debuts for both newcomers on the opening day against Chelsea, Cherry in the No 3 shirt but partnering Ellam in the centre, with Paul Reaney and Paul Madeley filling the full-back berths. Revie continued to prefer David Harvey to Gary Sprake in goal, and fielded a midfield four of Billy Bremner, Mick Bates, Johnny Giles and Eddie Gray with Peter Lorimer and Mick Jones up front.
After 25 minutes United suffered a double whammy, with both Jones and Harvey sustaining injuries. Terry Yorath came on for the striker and Lorimer took up the goalkeeper's gloves.
The Scot deputised admirably between the sticks and it was the stroke of half time before Chelsea could beat him. It was a different matter in the second half, however, with the Blues running in three goals without reply to inflict United's heaviest away defeat for four years.
The 4-0 hiding was an embarrassment, and United's local derby at Sheffield United on 15 August later promised another severe test. Ellam was unceremoniously dropped and Charlton recalled while the young Scot, Joe Jordan, came in for the unfit Jones. Harvey recovered from concussion to return between the posts.
Barry Foster reported a return to form in the Yorkshire Post, claiming that Charlton "strode Bramall Lane like a giant. He had one of his best games, was booked but, thanks to an own goal from Colquhoun and a penalty by Giles, went home, deservedly, on the winning side."
United took the lead after 15 minutes in a moment of tragi-comedy; Giles' hopeful chip to the edge of the Blades' area brought Sheffield keeper Tom McAllister off his line only to see the harried Colquhoun flick a header back towards his own goal. The two stood and watched in horror as the ball found the unguarded net.
After Lorimer was fouled by the keeper in the 75th minute, Giles made no mistake from the spot to tie up the points.
Charlton retained his place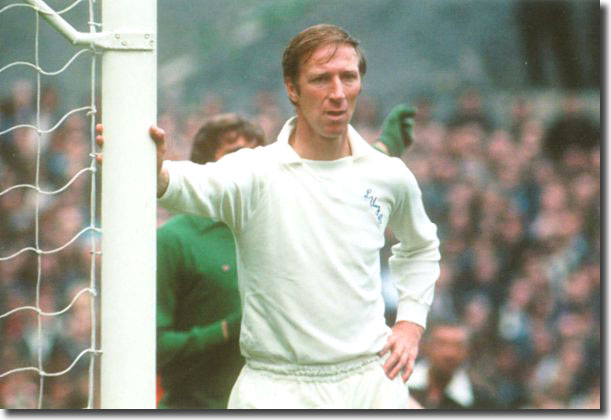 for Elland Road's first fixture of the season, on 19 August against West Bromwich Albion. The return of Clarke and Hunter was facilitated when Gray pulled out shortly before kick off with a thigh injury; Cherry dropped onto the subs' bench, allowing Madeley to switch to left-back.
United won 2-0 but were made to fight all the way by a spirited Albion side as reported by Paul Wilcox in the Guardian. "Leeds United were never in any danger of defeat at Elland Road on Saturday; which was why the manner of their victory 2-0 over West Bromwich Albion left much to be desired. If they had not been playing a side so totally devoid of striking power, they could have been made to rue the inconsistency of their work rate and the slowness and the squareness of their build ups.
"Admittedly Leeds were without Jones and Gray, whose contrasting skills might have provided some urgency for the proceedings. Gray at least could not have failed to enjoy himself at the expense of a dour Albion defence, who must take the initial blame for the lack of entertainment. But with the return of Hunter to promote confidence at the back, Leeds could have scored ten if they had applied themselves to the task of humiliating Albion as the Midland club deserved to be. United seemed to have lost the killer instinct.
"Not to deepen the gloom too much, however, there were some performances to be admired if one searched out the individual bright spots in the collective mediocrity. Giles, as usual, was the master of the accurate pass, Jordan had improved immeasurably in his role as replacement battering ram for Jones, and Charlton belied his years with a frisky display obviously aimed at keeping Ellam in the reserves.
"Charlton, in fact, provided Lorimer with the chance of the shot which led to the first goal in the twenty-eighth minute. Smith could only parry the ball and Clarke sidefooted it home. The other goal was scored after 83 minutes by Giles from the penalty spot after Jordan had been brought down by Wile and Nisbet. But although Lorimer tested Smith with several fierce shots, and Clarke hit a post as Leeds went through their best paces towards the end, their supporters' dissatisfaction was evident in the huge spaces which appeared on the terracing long before that patch."
Gray was back in place of Bates on 23 August when United hosted Ipswich Town. The game was a real thriller: three times Leeds took the lead, and three times Ipswich got back on terms. It was breathtaking stuff and Ipswich exhibited far more confidence than was habitual with most visitors to Elland Road. They spent long periods holding United at bay but did so admirably.
Things looked bright after 17 minutes when Jordan opened the scoring with his maiden League goal for United, nodding home a Madeley cross. After Hamilton's equaliser on the half hour, Clarke had a goal disallowed for offside before earning a penalty when he was brought down by Derek Jefferson; Giles smoothly converted. A minute before the break Beattie slotted home the rebound after Harvey had saved his first effort.
And so it continued: Jordan sidefooted home a volley from Clarke's header six minutes into the second period and for 17 minutes it seemed that United might finally have broken the Ipswich resistance. But then the visitors equalised for a third time, with neither an aerial challenge by Harvey nor Hunter's handball on the line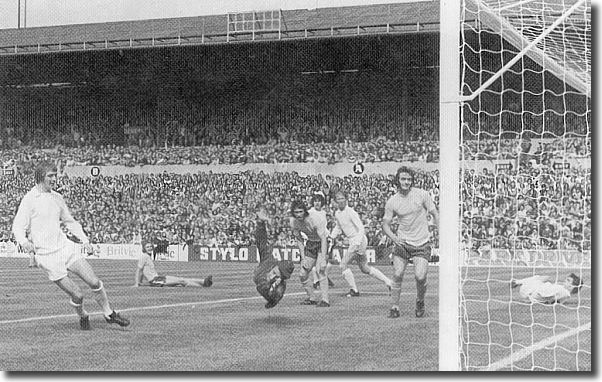 sufficient to deny Belfitt's headed effort.
United were stung into determined attack and Giles fired home through a packed defence, but referee Ken Burns had already awarded a free kick to Ipswich. Minutes from time Charlton shot inches wide with Best beaten and the game was up, finishing a breathless 3-3.
A strong defensive display brought United a goalless draw at Tottenham three days later but they then required an 86th minute effort by Billy Bremner to avoid the same result against Southampton.
First half efforts by Jordan and Charlton settled the home game with Norwich on 2 September and then first goals of the campaign for Lorimer (2), Jones and Cherry saw off Burnley in the League Cup.
Just as it seemed United might be finding some sort of form, they allowed Stoke City to come back from two goals down to earn a 2-2 draw at the Victoria Ground on 9 September. It could have been worse: with five seconds remaining, City's Welsh international schemer John Mahoney crashed a fierce drive off Harvey's crossbar. A Potters victory had seemed highly improbable after 52 minutes when Clarke added a second goal to Lorimer's first half strike.
The early season rush of midweek fixtures continued apace as United made their European Cup Winners Cup debut, in Turkey against the unknowns of Ankaragucu.
With Jones, Clarke, Sprake, Charlton, Cooper and Eddie Gray unavailable, the latter's 17-year-old brother Frank and 18-year-old reserve goalkeeper John Shaw travelled, while Roy Ellam was given his first start since the opening day disaster at Chelsea. Neither Shaw nor Gray saw any action but Chris Galvin wore the No 8 shirt.
United had to withstand a strong opening burst from the Turks, a fourth minute effort striking Harvey's bar. That was a rare scare and Leeds soon settled into their work.
Lorimer missed an open goal from seven yards after twenty minutes, but two minutes before the break Jordan opened the scoring, volleying home from Cherry's header.
The Turks levelled the score from a dubious penalty in the 50th minute, Mujdat hammering home the spot kick awarded when Cherry and Bremner impeded Coskun.
Surprisingly, Ankara did not build on that breakthrough and lost their way somewhat, the game petering out to a 1-1 draw which seemed enough to satisfy United.
Albert Barham in the Guardian: "From this niggling, dour match, played at the slowest possible pace, and with the referee blowing a tuneless tirade on his whistle, there is little to suppose other than that Leeds will win the second leg at Elland Road in a fortnight's time… Leeds, with Madeley's elegance and the shrewdness in passing of Bremner and Giles, dominated the midfield, even though, as Don Revie said afterwards, the state of the pitch - bumpy and patchy ground - made good football impossible to play… A lot of the tackling as the game ground on was niggling rather than severe, though Bremner and Giles had harsh words with Metin, beginning when the
Ankara midfield man's studs grazed Bremner's thigh in one wild tackle."
Bremner was scathing in his criticism, complaining, "Every time we won the ball in the air the whistle went. I ask you, how can players avoid physical contact when two or more jump at the same time to head a ball? It would have not been so bad, but one or two of the Turkish players got away with quite a few hard tackles. I got a whack early in the game which went unpunished."
The United captain went on, "I had not kicked a ball right for Leeds this season until the match in Turkey. The more I tried to put things right they worse they were getting."
Half the problem, he said, had emanated from his performance during the summer for Scotland in Brazil and being described as the best midfield player of the competition. "So I was trying to do things that were too difficult instead of keeping it simple," said Bremner. "With me struggling, Johnny Giles has not been having an easy time and so Leeds have not really hit it off… In Turkey I had a bit more room and things started to come off for me."
With the Jones-Clarke spearhead on duty for the first time in the home game with Leicester City on 16 September, United recovered from falling behind to a Len Glover goal after 25 minutes to secure a 3-1 victory via second half goals by the two forwards and a third from Bates.
A few days later, the club came under attack in a high profile media campaign with the Sunday People accusing United of attempting to fix their League title decider at Wolverhampton in May.
Three Wolves players, David Wagstaffe, Frank Munro and Bernard Shaw, told the People that bribes had been made to influence the game. Shaw said of a telephone call on May 7, "The caller is not connected with Leeds and, in fact, has no connections in football. I am not prepared to say what offer was made." Shaw's first instinct, he said, had been to inform Wolves manager Bill McGarry.
McGarry: "I immediately called the players together to inform them that someone had telephoned him, asking him to sell the game. With this in mind I warned all the team that they, too, might be approached during the day… I got the lads together to warn them about this sort of thing. Before the match I told my players to take no notice of offers or rumours and give me 100 per cent. I didn't get 100 per cent, I got 300 per cent."
The allegations were furiously denounced by Revie. "I have never heard anything so ridiculous in my life," he said.
The Yorkshire Evening Post slammed the story as "a wicked smear", continuing, "Within the 1,000 words of venomous invective … is not one fact that would stand up in a court of law… Nowhere does there appear any evidence at all that the Leeds club are in any way connected with the headline, 'Soccer Bribe Sensation'. Such 'evidence' as is presented by the People amounts to Wolves players saying that approaches were made before the game, by unnamed persons, and during the game there were similar shouts from different parts of the ground. The cleverly presented innuendo half hidden in the verbal shadows for supposed protection from the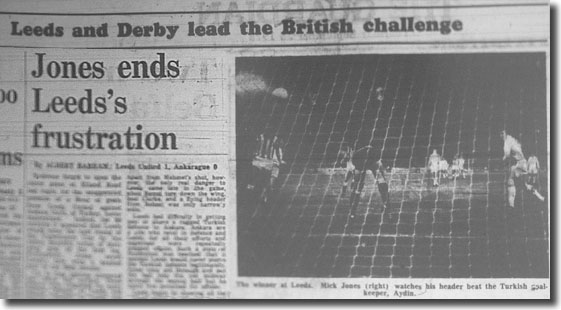 law is that some unnamed but recognisable person shouted the offer of a bribe in public."
Speculation rumbled on for months, but in April the FA announced that on the advice of the Director of Public Prosecutions, they considered no useful purpose would be served by holding an inquiry into the allegations of bribery, effectively concluding the matter.
Back on the football field, United lost 3-2 in a thrilling encounter at Newcastle on 23 September. Don Revie: "Naturally we are disappointed at being beaten, but it was a privilege to see the game. This type of football must bring the crowds back… Yet while I am convinced teams must go after more goals, we, as managers, must strike a happy medium. Directors and fans of Leeds United would, I am sure, not take kindly to the side losing 4-3 or 3-2 most weeks, even if every game happened to be a thriller. Great entertainers or not, I would soon be out of a job if we kept losing."
Though David Harvey had kept a clean sheet in six of the 12 games played thus far, United had conceded 14 goals. It was just as well, therefore, that Clarke and Jones were in action again to keep the goals ticking over and they were again in action in midweek as Leeds hosted Ankaragucu in the Cup Winners Cup.
Ellam in for Charlton was the only change to the starting eleven and there were few who predicted anything other than an easy United win. But they were to be surprised.
Brian James in the Times: "The sophistication and elegance that has marked Leeds' football in the past year or so, in effect the mature middle age of this present side, fell away last night. Leeds beat Ankaragucu of Turkey 2-1 on aggregate, with the testy, vinegary football of their misspent youth.
"A mere scratch of a goal by Jones, blandly heading in a pass from Bremner in the 70th minute, put Leeds into the next round of the European Cup Winners Cup. There can be but limited pride in the achievement, and less in the performance.
"One can only hazard that awful wrongs were done to Leeds in the first leg in Turkey two weeks ago, for the meanness was there from the first moment… As early as the eighth minute a tackle by Giles sent Metin to the touchline, not to return. That should have satisfied vengeful feelings for the night, instead it served to feed them. The Turks, striped yellow and black like hornets, were not to be put upon easily, and some of their subsequent tackling then became so late as to have a greater relevance to the next match.
"All in all it was like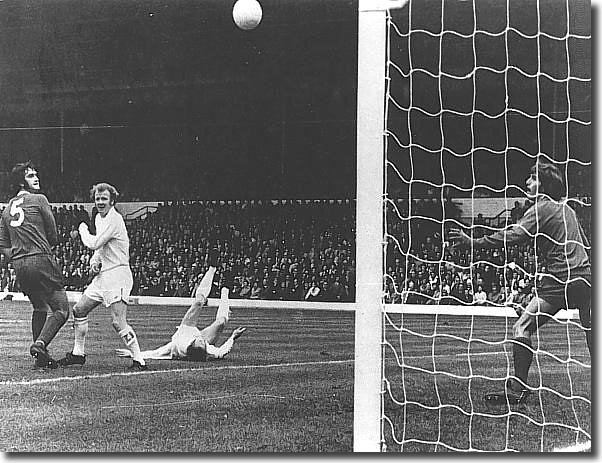 watching a flashback to those early ugly confrontations between Britons and the Rest; before the nation struggled to find an accommodation between the differing rules, when sheer ignorance provoked trouble. Last night, however, everyone knew only too well what they were about. Four men booked, Erman, Behzat and Ismail for Ankaragucu, Reaney for Leeds, says more about the German referee's tolerance than the match's temper.
"Bremner deserved his part in the making of that deciding goal, for his had been the dominant talent of the game. Like Giles, he had the delicacy of touch with his passing to keep the Turks feeling confidently oppressed. And Ellam, making his first home appearance for Leeds, gave enough of an impersonation of Charlton in defence to encourage optimism about Leeds' future."
If it was a little unappetising, it was still job done. There was more business concluded a couple of days later, when Don Revie secured the signature of 20-year-old Scottish centre-half Gordon McQueen from St Mirren. The agreed fee was £30,000, a far cry from the £80,000 demanded when Leeds had first enquired during the summer.
Revie, in describing the signing as insurance for the future, said: "We have watched him for about 12 months and although Jack Charlton and Roy Ellam are our experienced centre-halves, this move is a long term policy. Gordon is only 20 and there are one or two aspects of his game to work on, but we are pleased to have him on our books."
As September ended, United faced one of their sternest tests thus far, at Elland Road against First Division leaders Liverpool.
Geoffrey Green in the Times: "When Jones struck, few of us would have given Merseyside much chance of survival, even less of the match itself finding some dignity. Both sides then resembled roadhogs wearing L plates, or as the forthright manager of Liverpool, Mr Shankly, put it: 'For the opening half hour it all resembled tribal welfare.'
"Leeds are still short of their game, with Bremner and Giles not yet exerting their old control in midfield and the side as a whole lacking their former accuracy. The pressure is still there, but something is missing. Perhaps it is the continued absence of the injured Cooper and Gray down the left flank, a broken marriage of aggression and penetration. Hunter, too, now retired into strange anonymity in the second half though that frenetic opening was very much up his street.
"The early thunder and lightning thankfully died in due course and waste gave way to order earmarked by the goals. First came that tumbler's act by Jones from a clever back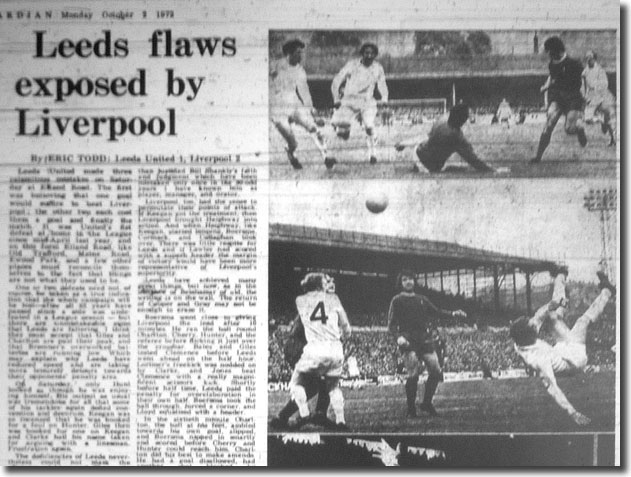 header by Clarke; then an equaliser for Liverpool near half time when Lloyd rose like a colossus to head in Boersma's corner. Jones, deputed to neutralise the centre-half at these set pieces, was caught flatfooted.
"The decider midway through the second half was a tragedy for Charlton. Trying to control a long pass by Lindsay on the rich, well watered surface, he slipped fatally. Boersma was on him in a trice to gain possession, slip the ball through Hunter's desperate covering tackle, and shoot home as Harvey advanced.
"It was an error cruelly magnified at the end when Leeds in desperation switched Charlton to centre-forward. He had a goal disallowed for blatant offside against Clarke; saw a shot finely diverted over the bar by Clemence; and in injury time headed Bremner's close range cross inches outside instead of inside the post."
Suitably chastened, United visited Aston Villa in the League Cup with Don Revie admitting, "I will be satisfied if we can bring them back to Elland Road for a replay."
His caution was well-advised, for Villa put United under pressure from the off: Chico Hamilton discomfited Trevor Cherry, David Harvey had to race out to punch away from John Gidman and Bruce Rioch fired one dangerous effort low across the face of goal.
It was United who took the lead, however, when Jack Charlton dispossessed Andy Lochhead on the halfway line and made his way unopposed to the Villa area. Charlton beat goalkeeper Jimmy Cumbes with a shot that never seemed powerful enough to find the net, but did so, low into the left hand corner.
Encouraged by the vociferous backing of their supporters, Villa surged back in response and were unlucky not to be awarded a penalty when Bates and Cherry combined to send Rioch crashing. They continued to press forward and after 68 minutes Rioch brought the scores level. The Villa captain began the move with a long pass down the right flank to Hamilton, who danced his way through two tackles. He returned the ball for Rioch to glide past Hunter and Cherry and lash home from 20 yards.
United put up the shutters thereafter to protect the draw.
The Whites had things more to their liking a few days later when they entertained reigning champions Derby County, hammering them 5-0 with some spectacular long range shooting.
That set them up nicely for the replay with Villa and there was never any chance of a second shock. United had already squandered half a dozen opportunities before they took the lead with a fortuitous goal on the half hour. Mick Bates, deputising for the injured Giles, hammered a speculative long ball into the Villa area. Cumbes came out but misjudged his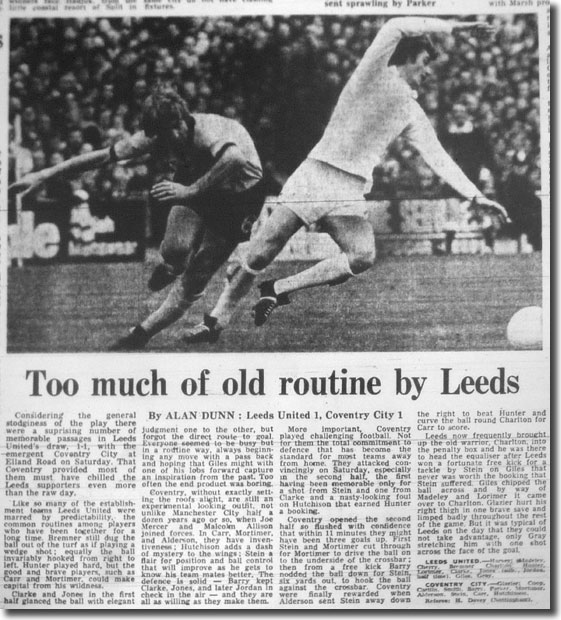 catch as the wind caught the cross and could only touch the ball onto the bar. As it dropped, the unfortunate Chris Nicholl put it into his own net. Four minutes later a soaring Mick Jones nodded Madeley's inch perfect cross into the top corner to knock the stuffing out of Villa.
After a month on the sidelines with a nagging thigh problem, Eddie Gray had returned against Derby, and his presence undoubtedly brought a greater threat on the left flank. He continued to show just how valuable a player he had become against Villa. United immediately looked a much better balanced outfit than they had done for some time.
Gray was on duty once more when United visited Everton on 14 October. He began the move which brought the opening goal after half an hour, feeding Lorimer, whose low cross from the right was turned home by Jones.
Leeds were the better side throughout, but had to wait until nine minutes from time to add to their lead, with Jordan scoring from another Lorimer centre.
Alan Whittle netted a consolation goal three minutes later, but the men from Goodison could not spring a revival and Leeds registered their third successive victory.
They stumbled to an unimpressive 1-1 draw a week later at home to Coventry, requiring a headed equaliser from Jack Charlton to scrape a point that they were grateful to secure.
A few days later, they were even more relieved to return with a goalless draw from East Germany after facing Carl Zeiss Jena in the Cup Winners Cup second round first leg.
Don Revie was apprehensive before the trip, his anxieties intensified by the scouting reports of Maurice Lindley and Syd Owen.
The manager was relieved that the game was not as physical as he had anticipated. Nevertheless, Jena's attacking prowess stretched his men, even though United came closest to a goal, Jordan and Lorimer both striking the woodwork.
On 28 October Roy Ellam was recalled for his first game for four weeks and United earned a smooth victory over Wolves.
Geoffrey Green in the Times: "Following a recent run of eight unbeaten matches, Wolverhampton Wanderers on Saturday lost their home record at Molineux and did so with scarcely a murmur or a quibble,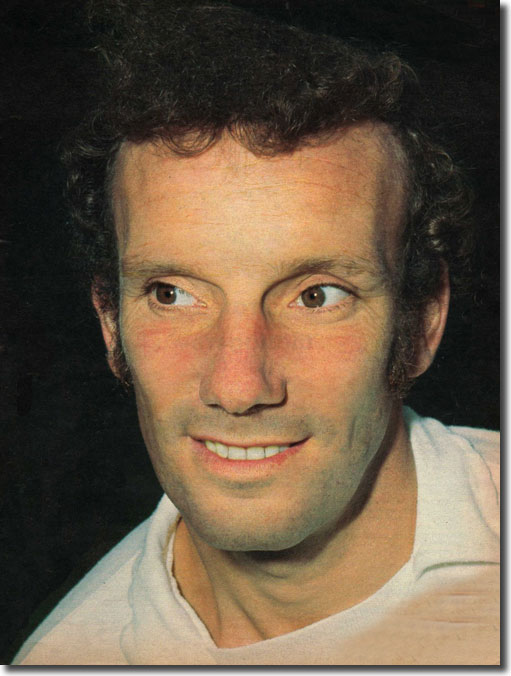 thoroughly outclassed by Leeds United. The score, 2-0, might easily have been doubled.
"It was assassination in broad daylight. It must be said, however, that four of their first team men were absent from the sorry scene - Dougan, Wagstaff, Hibbitt and Taylor, all of them unfit. But to promote this as an excuse for a performance so inept as to be almost an embarrassment really holds little water. Leeds, too, were shorn of full length without Giles, Jack Charlton, Jones or even Jordan, which forced them to experiment with Yorath - normally a midfield operator - at centre-forward.
"For Leeds, it proved a gentle stroll in the autumn sunshine. How they must have wished it had been like this on that traumatic, controversial night at Molineux last May when they lost the Double at the last stride as Wolverhampton's victory let Derby County in for the title.
"Two goals by the opening half hour now settled things. The first, in 18 minutes, belonged to Gray, whose footwork and swerve were always turning his opponents inside out. Taking Clarke's sideways header to a dextrous move between Lorimer and Bates down the right flank, Gray picked his spot precisely with a low cross shot. The next was handed to Lorimer on a silver platter. Intercepting Jefferson's forward pass near the centre line, the winger was left with the freedom of the Midlands to sprint forward unattended for his 99th League goal. There could have been others, but either generosity or the absence of Jones and Giles let them slip away.
"Still, the man on the Yorkshire Post, who follows every step faithfully and objectively, was moved at one point to say that he had not seen Leeds play better so far this season, in spite of the continued absence of the aggressive Cooper at left-back and some loss of Hunter's former biting precision. The return of Gray from injury, however, had done much to redress the balance down that flank."
United's unbeaten run was extended to eight with a 2-2 draw from their League Cup clash with Liverpool on 31 October. It also left them unbeaten in seven visits to Anfield.
Eric Todd in the Guardian: "Liverpool did enough in the first half to suggest that they would win against a Leeds side which lacked the services of Charlton and Giles. They should have scored more than once, but surprisingly perhaps they were betrayed by over eagerness or hesitation and Leeds seldom give anyone a chance for second thoughts of recovery.
"In spite of four goals there was some magnificent work by the respective defenders, Bremner and Hunter excelling for Leeds and Lindsay and Hughes for Liverpool. Generally, the Liverpool forwards were more incisive than United's - only Bates distinguished himself for Leeds in the first half - but after their equaliser Leeds showed Liverpool a trick or two in the art of co-ordinated attack.
"Toshack and Keegan both went close for Liverpool before Keegan gave them the lead in the thirty-first minute. Heighway beat Cherry brilliantly on the right, centred and Keegan, racing in, headed a brilliant goal.
"Leeds equalised a minute before half time and there was a mystery about it. After a corner by Gray, Jones and Clemence went up for the ball together before it entered the net. After the game Liverpool said that Clemence had turned
the ball into his own net. The Leeds view was that it had gone in off Jones' head. Anyway, it was an equaliser.
"In the fifty-eighth minute, Leeds took the lead and this time there was no doubt about the identity of the scorer. Gray left Lawler stranded on the left and turned the ball inside. Clarke jumped over the ball and Lorimer, after beating three would be challengers, drove it low and hard into the far corner of the net.
"In the next few minutes, Toshack and Clarke missed easy chances, Lawler shot wide and Harvey made a superb save from Toshack. But with ten minutes to go Liverpool's pressure was rewarded. Hughes and Lindsay started the movement on the left and as Leeds fell back Toshack away on the right forced a way through and beat Harvey from close in."
United took the lead at Ipswich on 4 November through Jack Charlton, but had to settle for a 2-2 draw, with Peter Lorimer scoring his 100th League goal to tie the game up in the second half.
Four days later, the Whites reached the quarter final stage of the Cup Winners Cup when they defeated Carl Zeiss Jena 2-0 at Elland Road.
It was something of a struggle and it took until the 55th minute for United to open the scoring. Lorimer lofted over a deep corner from United's right but Jones couldn't win it cleanly. It ran out nicely, though, for Cherry lurking on the edge of the box. The defender hammered it first time with his left foot into the roof of the net to register his first United goal.
Ten minutes later they made the result safe. Goalkeeper Blochwitz could not hold Lorimer's thunderbolt 30-yard free kick and Jones stooped to head home the rebound.
Their place in the last eight of the competition secured, United turned their attention back to the struggle for League points with what seemed relatively straightforward games over the next fortnight, at home to Sheffield United on 11 November and a trip a week later to bottom club Crystal Palace.
The Blades match was a dour affair, with two Clarke goals enough to secure a 2-1 victory, bur the game with Palace proved far more challenging.
By half time at Selhurst Park, Leeds were two goals down as a revitalised Palace side, inspired by new signings Don Rogers (Swindon) and Charlie Cooke (Chelsea), tore them apart.
Leeds thought they had taken the lead after four minutes, but Jones' header was disallowed when referee Bob Matthewson ruled that he had fouled Mel Blyth as he climbed above him to meet a cross from Giles.
United looked strong in those early moments, and were further disappointed when Matthewson waved away penalty claims after Palace centre-back Blyth appeared to handle a cross.
By then, though, the Londoners were a goal ahead. Home centre-forward John Craven seemed to have conceded possession to Ellam, recalled for his sixth appearance of the season, but the defender slipped and Craven recovered well to fire home from 20 yards.
With two minutes of the half remaining, Craven struck again to double the advantage. Cooke launched a swift counter attack to take Palace upfield and Craven was well positioned to turn in Payne's diagonal pass.
Seconds later, an overwrought Hunter exacted some cold eyed revenge when he hacked down Craven. He was fortunate to escape with a booking. Geoffrey Green in the Times: "The one black spot was a disgraceful tackle by Hunter on Craven a moment after the Palace centre-forward had collected his second goal of the afternoon. It earned the Leeds man his fifth booking of the season and he was lucky the sentence was so lenient. He should have been sent off. Football can well do without such thuggery, especially in one who should regard it as a privilege and a responsibility to wear an England shirt."
Hunter later apologised for his indiscretion, saying, "It was done in the heat of the moment. I should not have done it. It was a very silly thing for me to do. I do not like doing things like that, and all I can say is that at that particular period of the game I was het up. We had just lost a second goal. I was sorry as soon as I had done it."
United were rocked on their heels by finding themselves two down, but Don Revie told his players at half time, "Carry on playing like that and you cannot lose."
He was proven right, with Leeds fighting back strongly in the second period to take a point from a 2-2 draw.
They pulled one goal back on the hour after Lorimer struck the ball into the right hand corner of Palace's penalty area. Clarke challenged Taylor for possession and the ball ran loose to Jones who hammered home from 20
yards.
United had now found some flow and Cherry was unfortunate to see a header go wide off the upright and after 70 minutes his team were on an equality.
Bates' corner was punched away by Palace keeper Jackson from deep in the heart of a crowded goal area, but when Cooke tried to get it clear Clarke again exhibited great determination in harrying the Scot to recover possession. Having secured the ball in the right hand corner of the Palace penalty area, he laid it back intelligently to Giles just outside the area. The Irishman controlled it instantly and fired a quite splendid goal in off Jackson's right hand post with the diving keeper helpless.
The point left Leeds third in the title race, two points behind leaders Liverpool and one behind Arsenal. A twelve-match unbeaten run left them nicely poised after eighteen games, in with a genuine shout of finally going one better than the runners up spot that had been their lot for three seasons in succession.
Part 2 Defending the Cup - Part 3 The Revie-Clough wrangle - Part 4 The Revie for Everton affair - Results and table - printer friendly version