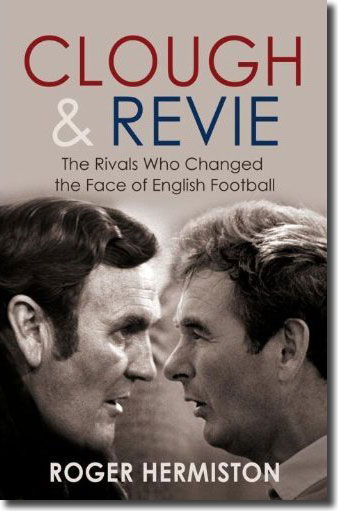 Part 1 Rebuilding from the back - Part 2 Defending the Cup - Part 4 The Revie for Everton affair - Results and table
The early months of 1973 in English football were dominated by irritable bickering between the managers of Leeds United and Derby County.
The degree of ill feeling between Don Revie and Brian Clough had been painfully clear for some time, but in those few weeks the bitterness of the public slanging matches between the two men plumbed new depths, piquing the interest of the football press.
Before the year was even a month old, the sparks were flying in earnest, as related by Roger Hermiston in Clough & Revie: The Rivals Who Changed the Face of English Football: 'On Sunday, 28 January 1973, Clough travelled up to Leeds to be one of the special guests at an evening event at the Queens Hotel. Hosted by Yorkshire Television with the Variety Club of Great Britain, it was designed to celebrate the very best of international sport and for the county to select a sports personality of the year.
'Five hundred guests took their seats in the elegant, art deco building. With speakers of the quality of Harold Wilson (former prime minister, then leader of the opposition), comedian Leslie Crowther and Clough himself, all was set fair for an entertaining evening.
'Peter Lorimer had been forewarned that he'd won the coveted top award. Leeds had an FA Cup replay against Norwich City the following evening in Birmingham, but Revie was happy for Lorimer to stay and receive the trophy as long as a car was standing by to whisk him off to the Midlands straight afterwards.
'Harold Wilson presented Lorimer with his award, the pictures were taken and the Leeds winger, thrilled to have followed in the footsteps of Jackie Stewart, left the room and headed for Birmingham. He never heard what followed.
'Clough stood up to speak and promptly told his audience: "I have sat here now for approximately two and a half hours, and I am not replying to anything or anybody until I have had a wee. And I'm being very serious - you get on your bloody feet and go to the toilet, you get a beer, and then if you've not got to get up early in the morning, get back and listen."
'Eleven minutes elapsed before Clough returned. He then launched into an astonishing tirade against the Leeds team. First of all, he informed the absent award winner that he'd won "despite the fact that he falls when he hasn't been kicked, and despite the fact that he protests when he has nothing to protest about".
'Then he turned his fire on others, as John Helm, who covered the event for BBC Radio Leeds, recalls: "He absolutely tore the Leeds players to shreds. This is where he first came out with his famous statement about Eddie Gray, that if he'd been a racehorse he would have been shot. He said Bremner was a little cheat. He said the side should be deducted ten points and relegated for all the cheating and cynical football they'd put on. Of course, everyone in the audience was just absolutely gobsmacked, because these players were idols to the Yorkshire public and here was someone lambasting them in front of them, when they didn't think he was a manager to lace Revie's boots anyway."
'Clough's outburst was greeted with shouts of "get off" and "sit down", but he merely responded to the hecklers by saying, "I was not particularly glad with the idea of speaking to you lot. I have to stand up here, but you are sitting in the crowd, which hides you." He then described one complaining member of the audience as a "mumbler", adding, "We are becoming a nation of mumblers. Stand on your feet if you have anything to say. Come up here and make the speech if you think you could do better than me."
'Eventually, he realised he had gone too far and told the crowd, "If I have made a mockery of Yorkshire sport, I apologise. I was told before I came that no matter what I made of my speech, the dignity of the occasion would prevail."
'There had been little dignity in Clough's performance. He sat down to boos, then signed some autographs, while many guests decided they'd had enough and left the room.
'When Yorkshire TV aired the programme, Clough was cut out of it. Lawrie Higgins, YTV's head of sport, explained, "I wouldn't give this man a minute of our time. He was insulting to many people. It is always a gamble when you invite someone to speak - but responsible people don't usually act in this way."
'Clough was unrepentant in the following days. He told the Daily Mirror: "They didn't tell me beforehand it was being filmed. They didn't brief me on what I could and could not say. And if in future they want a puppet to get up and say something to please everybody in the room, I suggest they invite Basil Brush, instead of asking a football manager to give up his only day off of the week."
'Clough suggested that the Leeds supporters in the audience had behaved as they did "because they still haven't forgiven Derby for winning the championship". Observers at the dinner noted that Clough had been annoyed because his name on the toast line was "Brian Clough, manager of Derby County", when he felt it should have read "Brian Clough, manager of Derby County, First Division champions".
'Later on, Clough would acknowledge that his behaviour that night left something to be desired. The apology he offered, however, was to Harold and Mary Wilson, not to anyone at Leeds United: "I wrote to the Wilsons, sending flowers to Mary and telling them that my rudeness in Leeds all those years ago had been 'on my conscience for too long'. They wrote back, a kind letter as always, and I'm glad I got it off my mind."'
It was an astonishing turn of events and shocked many people, but initially, at least, no one from United rose to Clough's bait, though Don Revie was growing increasingly frustrated at the continual sniping at his club.
He used his Saturday column in the Yorkshire Evening Post on 10 March to snap back, also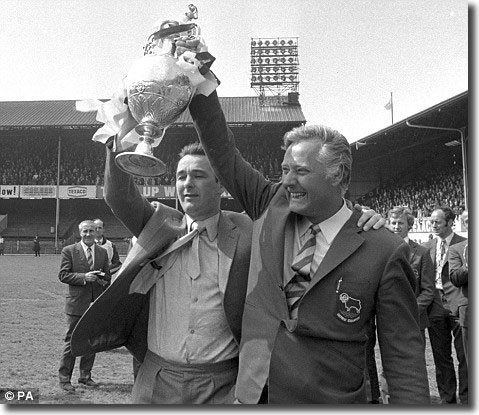 commenting on his side's 3-2 victory at the Baseball Ground a week earlier.
'It must be abundantly clear to most soccer followers that Derby County manager Brian Clough and myself are not exactly the best of friends. As our relationship stands at the moment, he is the last person with whom I would wish to be stranded on a desert island, and no doubt he feels the same way about me.
'Why? From my point of view it all boils down to the fact that I dislike the way Clough repeatedly knocks other personalities in the game - especially rival managers. I think it is wrong to criticise your colleagues as Clough does because the job is difficult enough without any of us slitting each other's throats.
'Sir Matt Busby, Sir Alf Ramsey, Malcolm Allison and Alan Brown before he lost his job at Sunderland have all had verbal lashings from him.
'Generally, there is a tremendous spirit of good fellowship among the League's managers, but that wouldn't be the case if we were all like Brian Clough.
'I find it surprising that he should appear to be so indignant about teams going in hard for the ball. No matter what he might say to the contrary, you can take it from me that Derby are as physically intimidating as anyone when the need arises. This was shown last Saturday when Leeds overcame Derby 3-2 at the Baseball Ground in a match littered by no less than 55 fouls - 26 of them by Derby players. Therefore, Derby can be classed as one of the most rugged and fiercely combative sides Leeds have met this season.
'In all fairness, I must say that the poor condition of the pitch made a lot of the fouls on either side look worse than they really were. The pitch was so muddy that once a player had committed himself in the tackle, it was virtually impossible for him to pull out.
'I don't go along with Clough's view that Leeds were lucky to win.
'Although our first two goals came from penalties, and the third from a rare bad back pass by Colin Todd, I thought we still created the better chances throughout the match.'
Revie and Clough had crossed verbal swords prior to the match. Following Eddie Gray's successful return to first team action, the United boss pleaded with referees to give him some protection from the game's hatchet men.
Clough retorted acidly: 'I have read in our local paper that Don Revie has come out and appealed for the opposition to let Eddie Gray play for the rest of the season now he is over his injury troubles. Everybody knows my standpoint - I want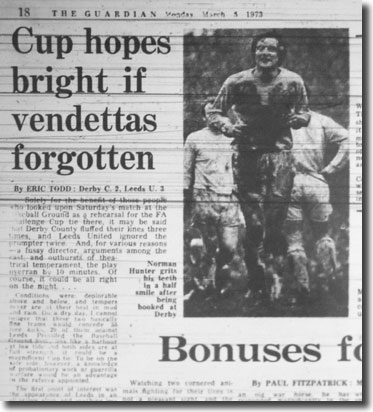 everybody to be allowed to play football and that is why I just can't resist a reply. All I want to say is this - I hope Eddie Gray gets as much chance to play football as the players who come up against Norman Hunter.'
In the eventuality, Gray was not risked after bruising a toe in training; Revie sprang a shock by giving 20-year-old Scottish centre-half Gordon McQueen his first team debut. The Scot wore Gray's No 11 shirt but partnered Hunter at the back.
The game was played on a mudbath at the Baseball Ground, the notoriously poor pitch in appalling condition after heavy rain. The weather did little to cool the tempers as the teams engaged in trench warfare. There was a stream of badly timed challenges, McQueen sending John McGovern clattering into the pitchside hoardings with one forthright challenge.
With 25 minutes on the clock, Derby opened the scoring when midfielder Alan Durban floated a free kick past United's defensive wall, but Leeds were soon back on level terms. Young Rams striker Roger Davies unwisely chose to try and find his keeper with a back pass on the unpredictable surface and the ball only found the unmarked Lorimer. Goalkeeper Colin Boulton was alert enough to reach the ball but in doing so he brought the Leeds man crashing to the ground. Referee Ron Challis had an easy decision to make, awarding the penalty, and Lorimer calmly sent the keeper the wrong way from the spot.
In the 54th minute, Bates came on for the limping Reaney and three minutes later Derby reclaimed the lead. Kevin Hector nodded home Durban's curling free kick to score his 90th League goal for the Rams despite Bremner's attempt to handle the ball as it crossed the line.
Hunter had a busy time over the following ten minutes: first he received his eighth booking of the season for tripping Archie Gemmill; then he cleared a dangerous situation in his own area. Within minutes he was down the other end, earning a second United spot kick when he was barged to the turf by Todd. The pace of Lorimer's strike was checked by the clogging surface but the effort beat Boulton to bring the sides level.
Clarke settled the game after 71 minutes when he fastened onto another poor back pass, this time from Todd, and slipped the ball past Boulton.
It was just desserts for United and they gleefully celebrated their 3-2 victory.
For the whole of the second half, young McQueen played under the burden of injured ribs, and the defender did extraordinarily well to last out the game. With the sub already on, he had little alternative but to play through the pain. Don Revie was full of praise for the way he had performed in his first senior United outing.
Mike Casey in the Evening Post: 'Critics will argue that the tally of 50-odd fouls - incidentally these were almost equally shared - was excessive. Yet only two or three fouls were vicious. Most were the result of over enthusiasm.
'When things were going wrong, particularly in that hectic first half hour as Derby threatened to overrun them, United's defence worked heroically to weather the storm. While the champions were having all their own way, United's two pocket sized schemers, Billy Bremner and Johnny Giles, seemed to be concentrating on physical survival in the quagmire which threatened to engulf them.
'Not surprisingly, with Derby dominating the midfield and determined to strike the first blow, United's defence took a battering. But they had the men for the occasion. Norman Hunter and Paul Madeley, those tireless destroyers, chased, harried and finally flung back the Derby menace. How these two giants worked in appalling conditions! With first class support from full-backs Paul Reaney and Trevor Cherry, United came through.'
Buoyed by their sixth win in eight games, United went in to the first leg of their Cup Winners' Cup quarter-final, at Elland Road against the Rumanians, Rapid Bucharest, in great heart.
Don Revie claimed that Rapid had 'the most remarkable goalkeeper in the world - Necula Raducanu, whom Jack Charlton once described as "a kind of Len Shackleton between the sticks". Charlton played for England against Rumania at Wembley in 1969 and still talks about the way the flamboyant Raducanu played to the crowd. It is not unusual for him to bounce the ball off the inside of a post, or juggle it on his foot, thigh, head and chest. I am all for players trying to express themselves … but that's ridiculous!'
There were widespread predictions that the Rumanians would attempt to kick Leeds out of the contest and they were every bit as physical as feared. However, United never looked back once Giles had given them the lead after fifteen minutes and duly secured a 5-0 victory, which Revie described as 'one of our best performances in Europe'.
United kept up their title challenge with a 2-1 victory over Everton, prompting Goodison boss Harry Catterick to describe them as the 'best side by a mile' in the First Division.
A couple of days later, a United party travelled to London to appeal the bookings received at Arsenal in December. Allan Clarke and Trevor Cherry were unsuccessful and given two-match suspensions. Peter Lorimer also failed, but had not yet totted up enough penalty points to face a ban. Billy Bremner won his appeal, while a fifth player, Mick Jones, was unable to appear because of a stomach upset.
Don Revie attended the hearings and was clearly becoming concerned at the club's growing disciplinary problems: Norman Hunter had yet to hear the outcome of his own appeal against the booking he received at Derby, and was on the verge of his third suspension of the season; Terry Yorath, Jack Charlton and Joe Jordan were all within four points of their own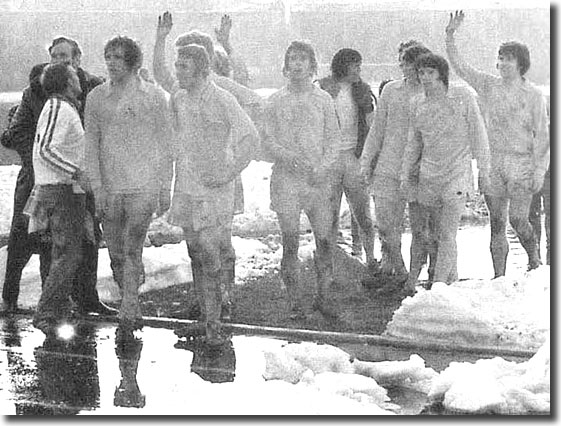 bans.
It boded ill for the forthcoming FA Cup sixth round clash with Derby, which was expected to be another fiery encounter. Feelings were intensified when Revie urged Brian Clough to end his serial undermining of Hunter: 'I feel that all this criticism of Norman - and not only by Clough - affects the judgement of referees. When they read or hear other managers accusing the player of unfair tactics - and worse - they are bound to be influenced to some extent when they see him go hard into a tackle. We know he's a tough player, but he isn't dirty. Clough has called Norman some disgraceful things recently. Before he condemns him he ought to count the number of bookings one of his own top defenders has had this season. Roy McFarland has been cautioned five times and served a two-match suspension. Clough ought to put his own house in order before he starts criticising others.'
Despite speculation that the game would be a bloodbath, there was none of the expected thuggery; United were in fine form and secured a routine victory by virtue of a first half strike from Lorimer.
The outcome was the best response possible to Clough and put to bed for the time being the question of which was the better side; it was United's third successive victory against the Rams, a run which had started in October when they won 5-0 at Elland Road.
Nevertheless, Clough refused to let matters lie, as recalled by Roger Hermiston: 'With the summer break nearly over, it might have been expected that Clough would concentrate his thoughts and efforts on a fresh attempt to win back the championship title. Instead, he chose to go back into print with his fiercest attack yet on Revie's Leeds. The back page lead story in the Sunday Express on 5 August was headlined, "I Would Put Leeds in Division Two - Brian Clough lashes Soccer's bosses for letting off Don Revie's 'bad boys'."
'What had angered the Derby manager was a Football Association disciplinary commission hearing the previous week. Leeds had been let off relatively lightly over their record of conduct on the pitch for the 1972/73 campaign. The punishment of a £3,000 fine had been handed down - but it was effectively suspended, as it wouldn't be collected from the Elland Road side if they showed a "substantial improvement" in the coming season. Clough was apoplectic with rage: "Leeds United should be starting the new season in the Second Division. The Football Association should have instantly relegated Don Revie's team after branding them one of the dirtiest clubs in Britain. As it is, the befuddled minds of the men who run the game have missed the most marvellous chance of cleaning up soccer in one swoop. No wonder Don Revie was smiling broadly as he left the disciplinary commission hearing in London. I looked at his happy face staring at me out of my newspaper in Spain. It just about spoiled my holiday to read that the £3,000 fine has been suspended until the end of the coming season."
'Clough went on to liken the punishment to "breathalysing a drunken driver, getting a positive reading, giving him the keys back and telling him to watch it on his way home".
'Revie's response came quickly, and in language unusually blunt - at least in public - from him: "We all know that he can walk on water. If he is not criticising Sir Alf Ramsey it has to be somebody else. This time he has chosen Leeds United. I think it is time he shut his mouth."'
Relations would continue to be fraught, but Revie had the satisfaction of knowing his men had proven themselves conclusively the superior side.
The Cup victory at the Baseball Ground was United's fifth straight success and on 21 March they stretched the run to six with a comfortable 3-1 triumph in the second leg of their Cup Winners' Cup clash with Rapid Bucharest.
Bremner (calf injury), Cherry and Clarke (both suspensions) were all unavailable for the game and the 16-man squad included Roy Ellam and young Frank Gray.
Revie indicated that Leeds did not intend to rest on their laurels: 'We have a five-goal lead from the first leg, but this does not mean we shall be going all defensive. We are
treating it as a normal game which means we shall be playing as if the scoreline was 0-0.'
The Rumanians had few expectations of overturning the result: when United arrived in Bucharest they were told the match had been switched to a smaller stadium, officially because it was clear of snow which fell heavily over the weekend. More cynical commentators suggested it was actually because local interest had waned after Leeds' five-goal flourish in the first leg.
The game started spectacularly with a goal and a penalty miss inside two minutes.
After Paul Reaney broke up a Rapid attack, play moved swiftly downfield for Mick Bates to open the scoring when he forced the ball home off an Eddie Gray cross.
Almost immediately, Rapid had a golden chance of equalising when Madeley was judged to have handled in the United area. Neagu sent Harvey the wrong way from the spot, but his shot flew wide of the other post.
Yorath came on as substitute for an injured Bates and set up a chance for Jones after 20 minutes. The striker's header was chalked off for offside. Three minutes later, though, he did make it 2-0, heading home Madeley's cross.
Rapid pulled one goal back in the 58th minute when substitute Constantin Dumitriu, who had replaced brother Emil at the break, forced the ball into the net; but the game was long over as a contest by the time Joe Jordan scored United's third with fifteen minutes remaining. It was a noteworthy score, resulting from a header from 40 yards. Keeper Raducanu came out to collect the ball but was distracted by the onrushing Jones and the ball evaded both men and trickled over the line.
United's winning run came to an end when they were held to a goalless draw on 24 March by Wolves at Elland Road and they dropped another point when they failed to win at West Bromwich four days later despite taking the lead through a brilliant Allan Clarke solo effort. Albion's equaliser was a little controversial, with David Shaw flagged offside only for the referee to rule that the effort should stand … echoes of 1971 and the despised Ray Tinkler.
Top of Division One - 28 March 1973

Pos

P

W

D

L

F

A

Pts

1st

Liverpool

35

22

8

5

64

36

52

2nd

Arsenal

36

22

8

6

51

32

52

3rd

Leeds United

33

18

10

5

57

34

46

4th

Ipswich Town

34

16

10

8

48

34

42

5th

Newcastle United

35

15

10

10

54

42

40
Worse was to follow when United visited Maine Road on 31 March for Manchester City's first game since the departure of manager Malcolm Allison for a £13,000-a-year contract at Crystal Palace. 'Our best performance for many weeks, if not for the whole season,' declared one delighted Maine Road season ticket holder after the game.
Tom German in The Times: 'The black crepe, or the gay streamers, which unfurled at Malcolm Allison's sudden departure from Maine Road for Crystal Palace - depending on whether one saw him as an enlightened tactician or a voluble embarrassment - were quickly put aside. "Forget all about him; he's gone now," urged a voice over the loudspeaker system before Saturday's game with Leeds United. Outwardly, at least, Manchester City seemed to respond to the exhortation; as if to demonstrate their ability to dance a lively jig without the puppeteer pulling the strings. It proved too much for Leeds and City won 1-0.
'When they put their mind to it, City are a highly mobile, determined side. They were just that on Saturday; without finding their rapier thrust they were eager to work and run to win the ball… The single goal, which decided the match seven minutes from the end, was inadequate return.
'Still, Leeds contained them coolly and methodically, working their way out of difficulties with a neat and disciplined understanding which underlined their considerable experience of hothouse conditions. None did better than Yorath and McQueen, who steadied and matured as the match developed; already the tall No 5 shows signs of donning Jack Charlton's mantle, even to the extent of taking up position beneath the opposition's crossbar when Leeds take a corner kick.
'The Yorkshiremen seldom found opportunity to show they had teeth, however. Yet they made the best opening of the match as Bremner sent Madeley away down the right to put a pass right to Jones' feet only a stride or two from goal; Jones' tread was clumsy, though, but the chance persisted as the ball ran free to Clarke who could do no better than strike the outside of a post.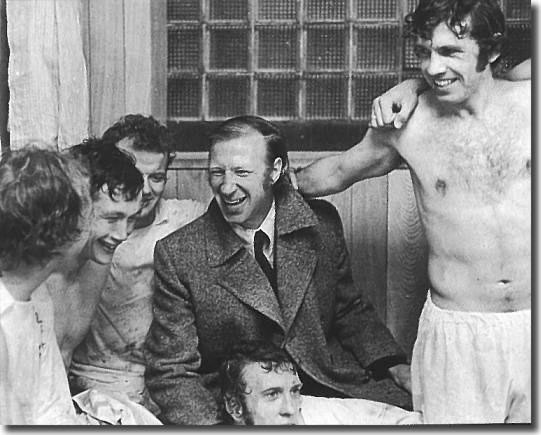 The championship itself might well hinge on those errors of aim.
'Just when Leeds seemed about to collect the point they coveted, Manchester scored; Towers shot into a confusion of players from 30 yards, Marsh skipped over the flight of the ball and it clipped the inside of a post and went in. City had proved they could pull their own strings.'
Surprisingly, the defeat was not mortal with Arsenal losing at home to Derby and Liverpool dropping a point at Anfield against Tottenham, but it was essential that United started maximising the haul from their games in hand if their title hopes were not to disintegrate.
Their first opportunity came on Monday, 2 April, when Jack Charlton was given a shock recall for the trip to Coventry. It was the first time that the veteran, a month shy of his 38th birthday, had featured in the first team since 22 November. A hamstring injury ruled out McQueen, with Hunter, Bates and Gray also on the injured list.
Charlton gave an assured display, but it was Paul Reaney who was the surprise match winner, netting his first goal since the opening home match of the 1968/69 season.
Charlton's impressive return gave Don Revie a selection headache for the FA Cup semi-final with Wolves. The World Cup winner was clearly delighted as he commented after the game, 'I would love to play in the semi-final, but at the same time I would not be disappointed if I was left out. I can understand the position facing the boss. He cannot turn the clock back and neither can I. We have an understanding and I appreciate the difficult job he has to do.
'It felt great to be back, but I don't think I have been as nervous since I was 16 and playing my first games for the club. After playing in the reserves it is a tremendous feeling to run out with the first team in front of a big crowd again. It was wonderful to be back and nice to feel wanted again.
'I have tried to keep myself fit because there was always the chance I might be needed towards the end of the season, but I must confess I really thought I had played my last first team game. My selection came completely out of the blue. It was most unexpected.'
Revie kept faith with the old war horse for the semi-final. Tragically, Charlton pulled a hamstring on the half hour and he had to be replaced by Joe Jordan.
A second half strike by Billy Bremner was sufficient to settle an exciting game and secure United a fourth FA Cup final appearance in nine seasons. A goal from Bremner had proven crucial on three of those occasions.
The big games were coming thick and fast now for United as their chase for honours continued on three fronts: four days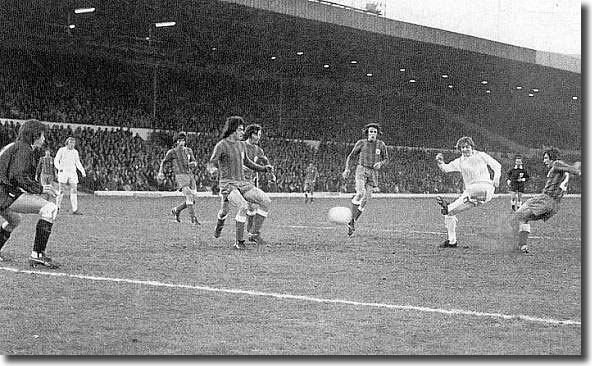 following the Wolves game came the first leg of the Cup Winners' Cup semi-final against Yugoslavia's Hajduk Split at Elland Road.
With McQueen, Madeley and Charlton all unavailable, Don Revie was relieved to have Norman Hunter available again and deployed him alongside Terry Yorath at the heart of his defence.
There was little to choose between the two sides in a closely fought contest. Hajduk playmaker Jerkovic had an outstanding evening, dominating midfield despite the presence of the Giles-Bremner axis.
Norman Fox in The Times: 'Leeds United abandoned themselves to the worst traits of rude European football at Elland Road last night and in spite of a goal by Allan Clarke, who was later sent off, probably lost their chance of reaching this year's final of the Cup Winners' Cup.
'Faced with the massed defences of Hajduk in this semi-final round home tie, Leeds were unable to draw on their considerable experience to find effective paths to goal and it was their personal annoyance that, more than anything, provoked a theme of violence that Hajduk so aggressively took up.
'Hajduk came with a reputation of not worrying overmuch about conceding a few goals in first leg matches away from home. They had lost 4-2 to Hibernian in the third round and won the tie with a 3-0 home victory, and in the previous round Wrexham won 3-1 in Wales and then lost 2-0 in Yugoslavia for an away goals defeat. Predictably then, Hajduk held themselves in defensive check, awaiting the occasional opportunity to move the ball out to those two, or, in daring moments, three forwards left at the outposts.
'Leeds spurned their own easily won domination, making some uncharacteristically basic errors. Admittedly, they got their relatively early goal, but how much more respect they might have won had they relied more on their great skill and vast knowledge. When will this magnificent team learn to turn the other cheek in European football, however difficult that may be? Unnecessarily, they became involved in meaningless petulance that wasted their own time in a game that, for safety, needed to be won by several clear goals.
'Tactically, by their quick interception in midfield, Leeds controlled the pattern of the game and their goal after 20 minutes was only surprising in that it took so long to obtain.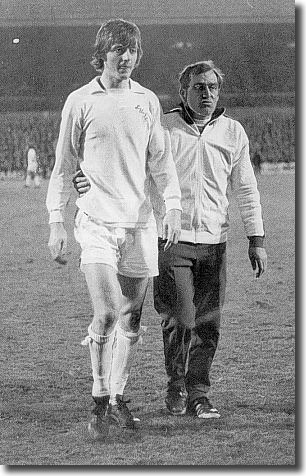 Lorimer had been trying to align himself for a clear shot for most of that time, but in the end the snatching ability of Clarke was needed. Jones fed Clarke with the ball with a back header. Two men were in between Clarke and the goal; he evaded them both as if he was stepping on and off a pavement. His shot went low into the net.
'Despite this goal and all of their possession, Leeds failed to crown their play with forthright striking. Slowly as the first half wore on, Hajduk widened their vision, not much, but just enough to suggest that what could be interpreted as fear was sensible caution with a hint of interesting flair from Jovanic and good shooting by Jerkovic, who could also turn a pass as cleverly as Bates.
'When all the driving power of Bremner and Hunter came to nothing against a five- or six- man defence, Leeds became frustrated. That was understandable, but the crowd's furore when Clarke was sent off was not really justified. Clarke had been one of the most provocative players, always ready to leap into situations that were not always his concern. When he retaliated after being badly fouled, the referee was well within his rights to send him off. Clarke automatically misses the return in Yugoslavia.
'The lesson for Leeds was probably that if their patience can be exhausted before their skill, there is little point in competing in these European competitions.'
On 14 April United met West Ham at Upton Park; there was little to choose between the sides until Hammers keeper Bobby Ferguson had to go off with concussion following a collision with full-back John McDowell on the hour.
Powerfully built Bermudan striker Clyde Best took over between the posts and performed commendably. Nevertheless, Clarke headed home a Giles cross in the 83rd minute, and it seemed that United would gain the two points; such delusions were rudely shattered when Pat Holland popped up with an injury time equaliser.
The point surrendered left Leeds six shy of leaders Liverpool, though they had two games in hand. The gap widened on Tuesday, 17 April when Liverpool won 2-1 at Coventry. It was essential, therefore, that United should secure both points against Manchester United at Elland Road the following evening.
With Paul Madeley injured and Norman Hunter suspended, United had to rely on the nascent centre-back pairing of Gordon McQueen and Terry Yorath and were simply not at the races on the night. They lost out to a 74th minute goal, scored by Trevor Anderson, an unknown £40,000 signing from Portadown.
Barry Foster described Leeds in the Yorkshire Post as 'a pale shadow of the side that had put the club in with a chance of three trophies … The longer the game lasted, the more out of touch Leeds seemed. Their attack spluttered into aggression occasionally, usually with Clarke leading the way, but it could not keep up a sustained effort.'
Trailing Liverpool by eight points and having only ten left to play for left United's chances of the championship hanging by the slenderest of threads, though their remaining matches included fixtures against both Arsenal and Liverpool.
Top of Division One - 18 April 1973

Pos

P

W

D

L

F

A

Pts

1st

Liverpool

39

24

9

6

69

40

57

2nd

Arsenal

38

22

9

7

52

34

53

3rd

Leeds United

37

19

11

7

59

37

49

4th

Ipswich Town

38

16

12

10

51

39

44

5th

West Ham United

38

16

10

12

61

47

42
Don Revie: 'We are disappointed, but this is how it goes. It was an exciting match and we don't have any grumbles. Liverpool are now in the enviable position at the top, but we'll have to press on and hope for the best. One defeat doesn't mean the bottom has fallen out of the season for us. Don't forget that we are in the FA Cup final, the European Cup Winners' Cup semi-final and have an excellent chance of making the final in that competition.'
Hopes were revived somewhat on 21 April when results went United's way.
They faced relegation-haunted Crystal Palace at Elland Road. Gordon McQueen and Paul Reaney were out injured and Norman Hunter was suspended, so Revie brought back Paul Madeley at right-back and recalled Roy Ellam for his first game since 18 November, when he had played in the League match at Palace. He also gave 18-year-old Frank Gray his first start in the No 11 shirt so often graced by brother Eddie.
United had already been pressing hard when they opened the scoring after five minutes. From their fourth corner kick of the contest Jones headed on Lorimer's flag kick and Bremner was well placed to score with an overhead kick from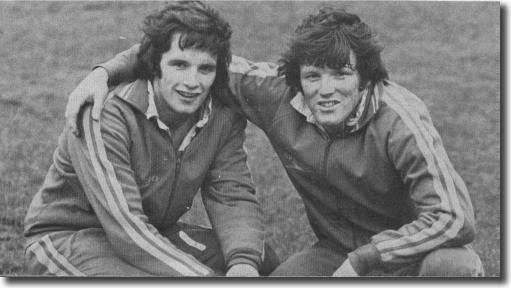 six yards.
On 25 minutes, Gray scored an impressive debut goal, firing home after goalkeeper John Jackson misjudged the flight of a Lorimer centre.
Twelve minutes later, United went further ahead. Giles, near the edge of the Palace box, fed Lorimer who hammered home from 12 yards.
That seemed to slake the Leeds thirst for there were no further goals until the 77th minute, when United added their fourth. Giles began the move with a pass to Bremner, and the United skipper pushed forward before chipping to Clarke. The England striker crashed home a shot off the underside of the bar to register his 26th goal of a remarkable personal season.
Barry Foster in the Yorkshire Post: 'The topsy-turvy finale of this year's chase for the championship can still fall Leeds United's way - and if they take it by attacking their way to it in the fashion in which they beat Crystal Palace at Elland Road on Saturday it will be a thrilling climax to the season.
'Their four goals more than doubled their goal haul in their previous six League matches and gave them a better goal average than the leaders Liverpool, the side they meet this afternoon in the match that has the makings of the game of the season.
'It was the kind of free attacking play that Leeds were playing in that purple patch last season when they hit seven goals past Southampton and five past Manchester United. Overall the side did not look as good as it did then but at this stage in the season and in the middle of a run of six matches in 13 days it was a fine performance, well worth remembering even though the defence was not always sure.
'Remembering for the way Bremner and Giles controlled things from midfield, for the way the whole side played open, easy on the eye football and for the confident start Frank Gray made in the big time.
'In his first full league game, the 18-year-old brother of the Leeds international winger, Eddie, did all the right things and sensibly Leeds did not ask too much of him - they just gave him his head at the right times and he strode through the Palace defence in much the way his brother might have done.'
Elsewhere, Liverpool were beaten 2-1 at Newcastle United, while Arsenal had to be content with a goalless draw at Everton.
That combination of results set Leeds up nicely for their crucial Easter Monday tussle with Liverpool at Anfield; victory would take them within four points of the Reds with two games in hand on the League leaders.
Reaney and Hunter returned to reinforce the defence and, with Roy Ellam continuing at centre-back, Paul Madeley was used to bolster a midfield that was missing Giles, absent with a calf injury.
It was a classic Liverpool-Leeds contest, fiercely contested with few clear openings.
Barry Foster: 'The first half was a fascinating study in the balance of power. Liverpool, as ever, went for goals from the start but Leeds absorbed the pressure for ten minutes then hit back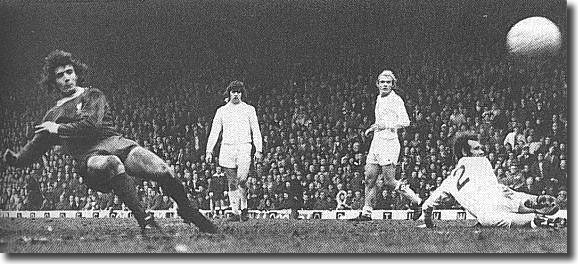 to dominate the middle of the half, only to concede ground again as the break approached. It was undoubtedly the best part of the game.
'It saw a duel within the duel with Keegan often getting the best of Hunter; it saw Reaney producing a fine performance in defence and Madeley dominant in midfield; it also saw the power of Hughes breaking from Liverpool's back four and the persistence of Callaghan and Cormack in midfield.'
Eric Todd in The Guardian: 'Liverpool nevertheless must have despaired of breaking down the superb Leeds defence in the first half. The cool, almost insolent, manner in which Leeds broke up the Liverpool raids, and then switched to the offensive, had the Kop itself roaring its approval. Sadly, however, the Leeds attack again was deficient in shooting and finishing power. The absence because of injury of Jones and Giles no doubt was partly responsible, and Clarke, without his customary support, seldom had a look in against Lloyd, who marked him with scrupulous fairness. And when Lloyd was occupied elsewhere, Clarke got little change out of Lawler, who had a great game on his five hundredth appearance for Liverpool.
'Lorimer once more was a big disappointment, and Yorath is not yet equipped for the forward line. And when Lorimer missed a chance of getting Leeds the lead in the first half, it seemed inevitable that if Liverpool could hold out a little longer, they would win. And it was so, although Madeley, Bremner and Reaney never were short of outright brilliance.
'Liverpool's work in the second half carried the hallmark of champions. Urged on by Smith, they applied such tremendous pressure that Leeds just had to give ground. Keegan and Cormack were the chief agents of destruction, but special mention needs to be made of Phil Thompson. This teenage deputy for the injured Lindsay never faltered, never showed signs of nerves on this most exacting of occasions, and his all-round performance indicated that Shankly's only problem is where to accommodate this outstanding young player when Lindsay is able to resume.
'At the end, the Leeds players, remembering their own reception four years ago, lined up and applauded the Liverpool men off the field. And they will be the first to congratulate Liverpool when, as it is almost inevitable, they finish off the job on Saturday.
'Liverpool were the first to attack, and after Heighway had fired the ball across the face of the Leeds goal, Smith tested Harvey with a fine shot from 35 yards. An up and under by Thompson caused Leeds further trouble, and it took them nearly 20 minutes to launch their own first major assault.
'And while still on the warpath Leeds should have scored. Clemence failed to hold the ball after a shot by Lorimer, Clarke turned it back away from the goalkeeper, but Lorimer, who never used to miss such opportunities, shot wide. Lorimer did better with a left foot shot, but Clemence saved the ball and then Clemence saved from Jordan. After that Clemence had very little to embarrass him.
'In the forty-seventh minute, Harvey tipped the ball over the crossbar after another tremendous shot by Smith from 25 yards. After Hall's corner, Thompson headed the ball back, Keegan headed it on, and Cormack, with his left foot, drove it into the near corner of the net. Four minutes from time Cormack centred, Harvey and Reaney for once left the clearance to each other, and while they were still deliberating, Keegan nipped in and scored.'
The 2-0 defeat formally ended United's slim championship hopes and all but confirmed Liverpool's coronation. Afterwards Don Revie congratulated old friend Bill Shankly, saying: 'I am delighted for Liverpool. If there was one side after us that we would like to see win the title it is them. I said at the beginning of the season that Liverpool would be the team other sides would have to beat if they wanted to win something.'
United had little time to feel sorry for themselves, for the next day they flew out to Yugoslavia for the second leg of their Cup Winners' Cup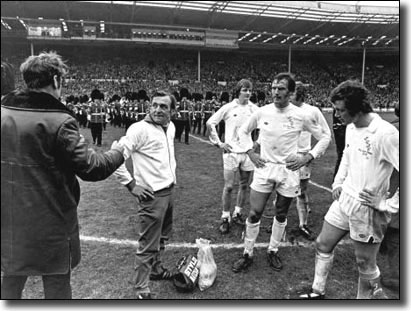 semi-final with Hajduk Split.
It was a classic European away performance from United against impressive opponents and they got the goalless draw they sought to secure their place in the final.
The gratifying performance renewed United's spirits after the disappointment of Anfield.
They had two meaningless league fixtures to complete prior to their FA Cup final appearance against Sunderland and took the opportunity to give experience to some of their second string players. Gary Sprake, Chris Galvin, Frank Gray, Peter Hampton, Garry Liddell, Jimmy Mann and Billy McGinley all got rare opportunities for first team action. Jack Charlton made his final league appearance at the Dell, though he had to go off with a recurrence of his hamstring injury and gave way to Roy Ellam.
Both games were lost but mattered little in the grand scheme of things as Don Revie's mind was focused on the Wembley date with Sunderland. Trevor Cherry got a knock on the head at Southampton and there were fears that he would be out of the final, but he recovered in time. His concussion also meant that the defender was able to avoid a potential suspension when his appeal against a caution received at Derby on March 17 had to be postponed.
The FA Cup final clash with the Wearsiders went down as one of the most disappointing days in United's history - they were outplayed by spirited opponents who won with a first half goal from Ian Porterfield.
It was a bitter disappointment for Don Revie, especially given the intensity of ill feeling between him and Sunderland counterpart, Bob Stokoe. It left him in emotional torment and the result must have been a factor in a decision which Revie took shortly afterwards which threw the entire club into turmoil.
Part 1 Rebuilding from the back - Part 2 Defending the Cup - Part 4 The Revie for Everton affair - Results and table