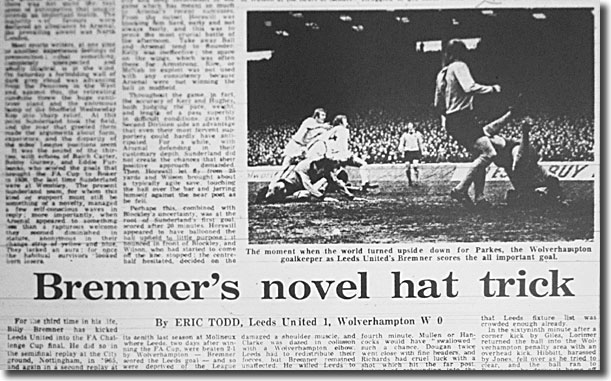 For Leeds United, their FA Cup semi-final against Wolverhampton Wanderers in April 1973 was the sixth time they had progressed to that stage in the nine seasons since they returned to the First Division in 1964. It was an extraordinary feat of consistency that has rarely been equalled and was absolutely unique in the ultra-competitive Sixties and Seventies.
In contrast, it was Wolves' first appearance in the last four since 1960, when they beat Aston Villa and went on to win the trophy by beating Blackburn Rovers in the final. That was also the last time that Manchester City's Maine Road had staged a semi-final.
When the draw was made, United manager Don Revie commented, 'It does not matter who you play. When you are only 90 minutes away from the final at Wembley, it is always a hard game. It is simply a matter of the side playing the better football on the day going through. I can only say that we shall do our best.'
Revie's Molineux counterpart, Bill McGarry, said: 'It is not the one I would have chosen, but you cannot pick and choose anyway. We have just got to get on with it and with the right attitude of mind there is nothing we cannot achieve … If ours is right we have the ability to beat them. We don't see ourselves as no hopers. We can reach Wembley.'
A couple of weeks prior to the game, the two sides met in the League and played out a goalless draw which put a serious dent in United's pursuit of the championship.
Tom German in The Times: 'As a sensitive gauge of the likely course of events two weeks hence when they joust for a place in the FA Cup final, Saturday's meeting of Leeds United and Wolverhampton Wanderers at Elland Road was clouded, and rendered unreadable, by what it omitted rather than what it contained.
'Wolves lined up without some significant names, Bailey, McCalliog and Hibbitt to mention just three; Leeds were shorn of Cherry and Clarke and any predictions from a match that ended goalless would be no more than a dip in a bran tub.
'Without Clarke to dart at the defence and provide variety and point, Leeds' attack leaned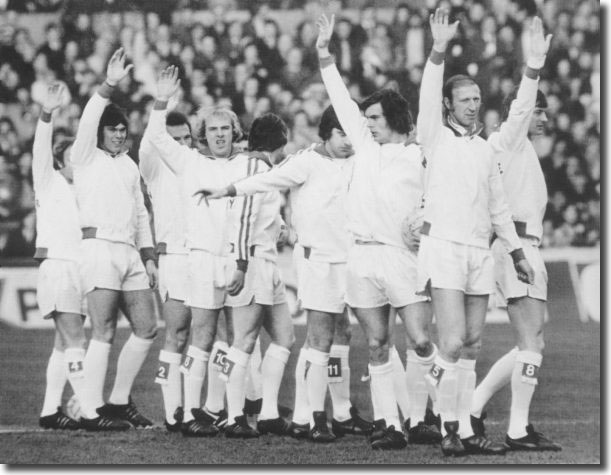 too heavily on the elusiveness of Gray, with shrewd promptings from Bremner coming from behind. Gray responded in the second half with searching excursions up the left wing, which drew two and sometimes three opponents, but there was only a muted challenge in the middle where Jones and Jordan sometimes challenged each other for the same high ball.
'Wolverhampton left an impression of a side properly versed in organising itself in effective defence. Apart from a solid core, Parkin gave Lorimer the sort of attention which denied him a recognisable shot and Shaw was in the thick of a lot of activity around the centre of the field. There was little to allow measure of the attacking understanding between Dougan and Richards. Like many other partnerships of repute, they could make little headway against Madeley and Hunter.
'There were a couple of tense moments for Harvey as Richards suddenly aimed in a shot which skimmed the post and again in the second half when the young forward missed his kick completely as Wagstaffe's trickery set up a promising opening - but there was hardly more than that to Wolverhampton's intrusions. Though Leeds could not fan their usual spark in attack, the argument always revolved around whether they would score. They made chances enough to have won.
'Jones twice got too far beneath accurate centres from Lorimer and Gray to put headers over the top. Twice Parkes stretched himself to turn aside shots from Gray and when the winger was spreading anxiety in the second half, the goalkeeper was more than content to see a couple of efforts by the Scot deflected at a crucial moment.
'So it was stalemate - but the semi-final in Manchester in a fortnight's time gained an extra touch of piquancy.'
Both clubs were still nursing injury worries in the days leading up to the game, and Norman Hunter, Eddie Gray, Mick Bates and Gordon McQueen were all in United's treatment room.
'Progress is being made but they will not train with the first team. They will continue to do light work under the guidance of our club physiotherapist, Bob English,' Revie reported.
In the event, none of the four were available for selection, though Revie left it until the latest possible moment before naming his eleven, and the veteran Jack Charlton, a month shy of his 38th birthday, retained his place at the heart of the Leeds rearguard alongside Paul Madeley.
In Wolves' camp, midfielders Jim McCalliog, who spent four months on United's books as an amateur in 1963, and Mike Bailey were struggling. McCalliog did not make it, but Bailey was named sub. To fill the void, McGarry selected 19-year-old Barry Powell, with just 300 minutes' of first team football behind him. Centre-half Frank Munro passed a fitness test on a pulled hamstring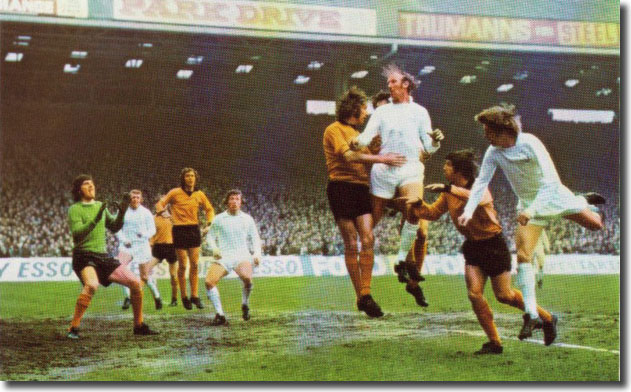 and duly took his place in defence. Up front, 35-year-old Northern Irish international Derek Dougan partnered John Richards, 22, who would make his England debut a month later. The pair formed an effective combination at the time, scoring 53 goals between them in all competitions that season. Don Revie once said of the pair: 'We know exactly how they will play and exactly how they will work it, but we just cannot cope with them.'
The Maine Road pitch looked in good condition for the game, which commenced under steady rain in front of a crowd of 52,505, paying receipts of £70,000.
The contest began predictably enough, with both teams determined to deny their opponents space. It was clear that while they had the breeze at their backs Wolves would use the swift long ball forward to Dougan and Richards whenever they could. The ball was pinged forward from their kick off and when Charlton headed it clear, Wanderers full-back Derek Parkin hurled it up again, but too lustily and it ran out for a United free kick.
Minutes later Trevor Cherry's forward run led to a United free kick when John McAlle obstructed Billy Bremner in the centre just outside the Wolves penalty area. That gave Peter Lorimer the chance of an early strike at goal, but his shot cannoned off a wall that did its job admirably.
Wolves almost took the lead after four minutes. Kenny Hibbitt, brother of former Leeds midfielder Terry, split the United defence with a through ball for Powell. The teenager had to hit the ball first time and David Harvey, quickly off his line, dived to smother the effort competently enough.
Munro was the first player to be spoken to by the referee after he brought down Allan Clarke twice in the first quarter of an hour, but Giles' floated free kick into the Wolves box was easily cleared.
Leeds were starting to build some forward momentum and Terry Yorath, wearing No 6 but playing in midfield, showed some uncommonly nimble footwork down the left. Munro tried a short pass out of defence to Hibbitt but it wrongfooted the midfielder and Yorath was in swiftly to nick the ball away. He rounded the desperate sliding tackle of Munro and flicked the ball past Hibbitt on the very touchline. While Yorath's mind was on crossing the ball, the Wolves man had clearly decided that enough was enough and carried on into a lunging foul with his studs up. He caught Yorath on the shin and sent him writhing in agony. Referee Pat Partridge had little option other than to dish out the game's first caution.
Giles drove the resultant free kick in towards the heart of the Wolves area. Clarke flicked it on but as Jones sought to meet the dropping ball, goalkeeper Parkes touched it away. It fell nicely for Bremner, in space on the six-yard line, to fire goalwards, but McAlle blocked it. Jones tried but failed to get to it and when Clarke struck at the loose ball it was blocked once more and hoofed away.
There was not a Wolves man in the Leeds half and the ball came back again, with Yorath and then Bremner setting Jones up for a shot from the edge of the box, but Parkes gathered cleanly.
United kept up the pace - Jones had another shot saved by Parkes, who followed up with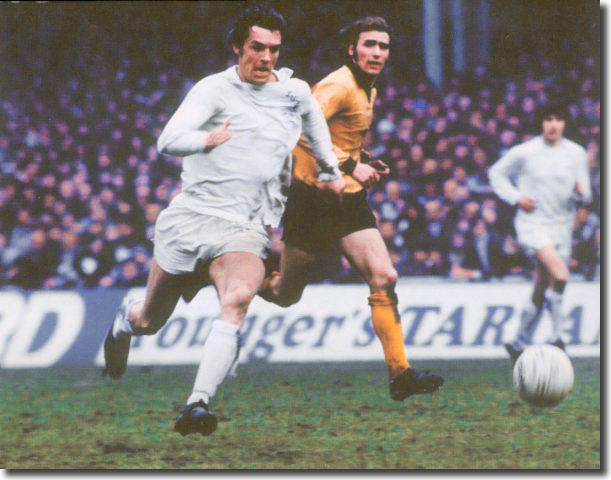 another good stop at the near post from Lorimer.
Just after the half hour, Parkin was raiding at pace down the left and fired a ball through for Wagstaffe to chase. The winger got to it just as it reached the byline, but his cut back was easily cleared by Madeley at the near post. Unfortunately, the move brought tragedy for Jack Charlton, who pulled up in pain as he sought to catch Wagstaffe.
The centre-half was in agony with a pulled hamstring and despite lengthy treatment had to go off. Joe Jordan came on to play up front, and in a tactical reshuffle, Yorath took Charlton's place at centre-back while Lorimer came deep to strengthen midfield.
Wolves sought to cash in on the disruption, pressing strongly as Leeds sought to settle into their new formation but Yorath showed his defensive abilities when he cut out two dangerous attacks. He was penalised for holding Dougan just outside the penalty area but the free kick was wasted.
Jordan's first contribution of note brought a Leeds corner and more mayhem in the Wolves box, ending when Parkes touched a Jordan piledriver just wide of his goal. The verdict, however, was a free kick to Wolves for a foul in the build up.
The keeper's dead ball clearance was poor, only finding Bremner 30 yards away, but the half time whistle blew before the Leeds skipper could make anything of the opportunity.
Leeds had enjoyed the best of a fast-moving first half and carved out what chances there were, but the game was still anybody's as the teams kicked off after the interval.
The half time break seemed to have rekindled Wolves' spirits and the Midlands side made a concerted effort to raise their game.
Paul Madeley had hurt his shoulder in an incident inside the game's first ten minutes and was playing in great discomfort; with a substitution already made he was forced to soldier on. He carried his arm gingerly throughout, telling Yorath to look after Dougan so he could protect his limb. He manfully stood his ground to the very end, never bemoaning his lot.
United continued to press strongly, determined to get the opening goal that Don Revie believed would be sufficient to win the game.
Wolves had little answer to the waves of United attacks at this stage of the game and were starting to grow frustrated at being penned back. As the needle started to creep in, Clarke caught a knock in the face off Wagstaffe and then Dougan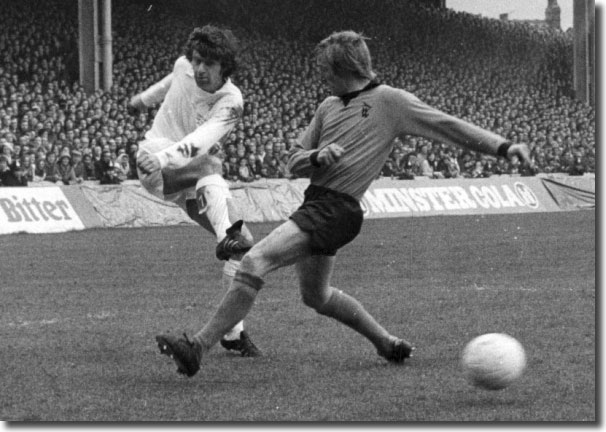 became the second Wanderers player to have his name taken when he kicked out carelessly in a packed Leeds penalty area.
Bremner was playing a captain's game and was at the heart of everything United did in midfield. A determined 40-yard run saw him shrug off a number of fierce tackles before the move broke down as it neared goal.
A rare Wolves thrust, manufactured by Hibbitt, ended when young Powell headed wide of Harvey's left hand post. Then Dougan tried a speculative drive from 30 yards but Harvey dived to gather the effort.
Bremner earned a free kick when he crashed into Wagstaffe on the right touchline and Lorimer lofted the dead ball to the edge of the area. Jordan got to it but his header seemed to be drifting harmlessly behind for a goal kick until Clarke took it upon himself to chase and catch it on the goal line. He sent it back to Cherry and the full-back drove the ball low towards the penalty spot. Jones collected the ball as it ran loose off a Wolves clearance and fed back to Giles. The Irishman clipped it into the box and Bremner teed up a chance with a back header. Jordan was moving in nicely and looped a header from eight yards narrowly over Parkes' crossbar.
Wagstaffe brought the ball out for Wolves on their left and he found Richards on the far edge of the United penalty area in space. He had time to steady himself but Madeley managed to deflect his effort narrowly wide of Harvey's left hand upright.
United were quickly back on the attack and Jones challenged for a ball downfield. It came off a defender to set Lorimer free for a run at a retreating and outnumbered Wolves defence. He squared Munro up, dropped his shoulder and ran past the defender's challenge to make his way for goal. Seeing the danger, Parkes came racing out to narrow the angle, but Lorimer managed to flick the ball past him. Right-back Gerry Taylor was covering and came across to clear up the danger as Clarke waited for the chance.
Lorimer protested that he had been fouled by Parkes, but he had to be content with the corner. Lorimer took it and the ball found its way to Jones at the far post. He shot hard from the six-yard line only for Parkes to block it away at point blank range for another corner.
United were not to be denied, however, and took the lead following that 69th minute corner. Giles' inswinger was headed away but Lorimer hooked it over his head and back in from 30 yards. The falling ball was misjudged by both Hibbitt and Jones and dropped into space in the middle of the box. Bremner was lurking with intent and was on the chance in a trice, flashing in a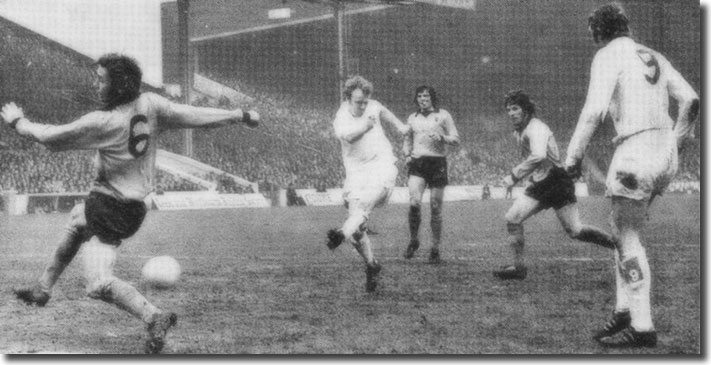 fierce left-footed shot. It beat Parkes' dive and billowed the net.
Bremner's extraordinary knack of bagging vital semi-final goals had served United well once again; his goals had also been decisive in 1965 and 1970. There were joyous celebrations behind the Wolves goal as Leeds players mobbed their delighted leader in front of their cheering followers.
It was the first goal Wolves had conceded in their Cup run and they were not ready to throw in the towel just yet. The shock of the goal seemed to kick them into fresh life. They certainly looked more dangerous as an attacking unit and when Parkin fired the ball to the feet of Richards in the United area, the young striker wriggled smartly round Madeley to fire low past Harvey. Unfortunately for Wolves, the ball trundled against the inside of the far post and bounced back kindly to Harvey.
With 15 minutes left, Wolves boss Bill McGarry brought Mike Bailey on for Hibbitt as his final throw of the dice.
In the closing stages Yorath's clearing long ball allowed Jordan to burst between tiring Wolves defenders and race into the penalty area. He seemed to have taken it too far as Parkes came out to face him down, but the ball ran on and from virtually on the byline, Jordan cut it back low right across the face of goal. It ran inches off the line and beyond the far post with Wolves defenders desperately trying to reach it. The Scot hung his head in frustration.
Still there was sufficient time remaining for a dangerous free kick from Wolves, taken by Bailey from near the right touchline. It came down perfectly for Dougan, horribly unmarked and in an acre of space just outside the six-yard box. The striker met the ball perfectly with a flicked header, but it crept fractionally around Harvey's left hand post as the keeper stood flat footed, his heart in his mouth.
But that was enough; the Wanderers had no more time and referee Partridge blew his whistle to signal that Leeds had reached their third FA Cup final in four seasons.
Don Revie described the semi-final as 'the best of the mix we have been in so far. I thought it was a tremendous match, much better than semi-finals usually are. All our experience in Europe stood us in good stead because of the tension involved, and once we settled down,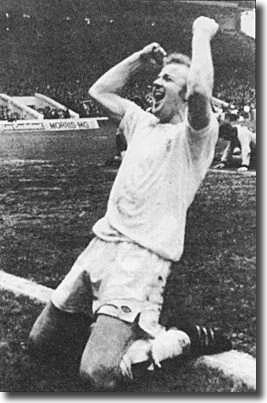 we played a lot of really attractive football.
'I was a bit worried when Jack Charlton came off because Wolves can be so dangerous in the air through Dougan and Richards, but I moved Terry Yorath and Paul Madeley back and both did a fantastic job.
'The winner was a long time coming, despite a lot of pressure and I must admit it seemed we were never going to get a break. When Bremner's shot was blocked on the line, then Lorimer had a shot booted away, we thought it was going to be one of those days when the ball simply will not go in.
'But it was typical of the lads that they stuck to it. They never give up. Wolves had their chances, of course, when Richards hit a post and Dougan was very close with a header, but overall I think we played more constructive stuff and had more chances.
'When you consider that we played without three of the best left sided players in Europe - Hunter, Cooper and Gray - and that we lost Charlton early on, I consider it a truly fantastic performance to win.'
Jack Charlton: 'I knew as soon as it went that it was a hamstring. I have pulled one before, in the other leg. It's impossible to describe the pain to anyone who hasn't actually had an injury like this.
'Watching is ten times worse than playing. Still, we're back at Wembley and that's what matters. I thought the lads played magnificently and although the goal was a long time coming I never thought we wouldn't win. When the whistle went I was so excited I jumped off the bench and pulled my hamstring again.'
Billy Bremner: 'We've played together for so long that we take everything in our stride… When Big Jack Charlton went off after half an hour, we didn't even have to look for instructions to the trainer's box, we all knew instinctively what could be done and we did it. You get this by playing together and there's no doubt our experience served us well against Wolves.
'We never really worried during the game but we went so near on so many occasions that I was beginning to think a goal would never come. When it did, I was over the moon. It was a fantastic feeling but my only thought after scoring was that we must settle down again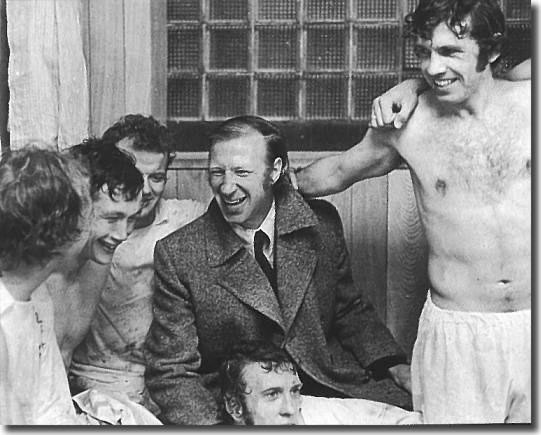 and not ease off.
'We did that at Wembley and Chelsea came back to equalise. I was determined not to let that happen on this occasion.
'But I don't mind admitting my heart was in my mouth when Richards hit the post. I was on my knees practically nibbling at the grass.'
Geoffrey Green in The Times: 'With Wembley so close on the brow of the hill, a semi-final is always the most tense moment of the whole competition. Leeds were determined to get there again; Wolves, last seen at a climax in 1960, were equally keen to play a part in the final pageant of the season. In the event, Leeds deserved their narrow victory. Yet they needed all their deep experience, expertise and courage - plus a little luck - to hold off a courageous final rally by a Wolverhampton side that burnt itself down to the wick.
'Leeds, however, played the neater, more controlled game. They were driven on by the tempestuous Bremner, whose temperament at times slipped the reins. Their moves were held together and threaded by the wily little Giles. These two were the generals of midfield, given invaluable support by Yorath all through, a reserve now forced to play two different roles and play them well.
'Leeds, indeed, have to be admired. Not only did they take the field without Hunter and Gray, with McQueen and Bates, other members of their team pool, also injured, but now after only half an hour the 37-year-old Jack Charlton, recalled to centre-half, pulled a thigh muscle and had to be replaced by Jordan, a lively centre-forward. As the old warrior limped painfully away one felt it to be the last curtain on a long and faithful career, forcing Leeds to rejig their formation.
'Madeley switched to centre-half, Yorath fell back into the rear four and Lorimer withdrew to midfield. And, of everyone, the proudest perhaps could be Madeley. A badly winged bird, his right arm held across his chest, he produced a calm, stylish, even majestic performance amid all the thunder as he kept a close watch on the Wolves spearhead of Dougan and Richards. Clarke also ended with a depressed cheekbone so that Leeds limped home triumphant from the wars.'