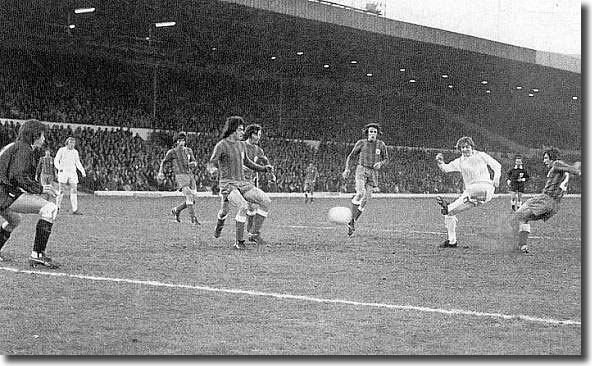 The European Cup Winners' Cup semi-final tie between Leeds United and Hajduk Split of Yugoslavia was finely balanced as the two sides met in the second leg in Split, an ancient Mediterranean city based on the shores of the Adriatic Sea.
It had been thought from the moment the draw was made that there would be little to choose between the two sides.
The Slav side had already put Wrexham and Hibernian out of the competition and were determined to complete a British hat trick.
United manager Don Revie: 'We are fortunate that we took the trouble to watch them play Wrexham and Hibernian in case we found ourselves playing them. Even so, we have written to UEFA, the club and the British Embassy in Belgrade for fixtures and details so we can send Maurice Lindley, the assistant manager, and Syd Owen, the chief coach, to have a look at them again. And we intend to see both Wrexham and Hibernian about them, too.'
Split were managed by Branko Zebec, an experienced coach who had come up against United in earlier years. He was the manager of Dinamo Zagreb when they beat Leeds in the Fairs Cup final in 1967.
United were favourites for the Cup Winners' Cup-tie, mainly because their opponents had failed to win a League game since the winter break and were only two points off the bottom of the table in their domestic competition.
The first leg was staged at Elland Road on 11 April and Don Revie was desperate for his men to build the insurance of a decent advantage to sustain them in the return leg.
It did not turn out that way and United could manage no more than an Allan Clarke goal, netted after 21 minutes. Receiving the ball just outside the penalty area, Clarke resisted an attempt from Holcer to pull him down, worked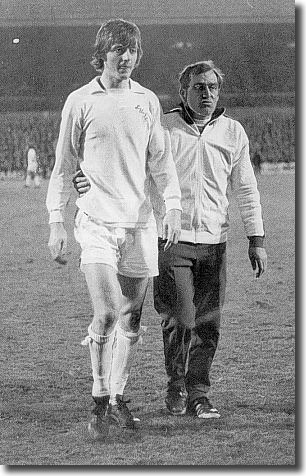 his way past Buljan and Peruzovic, stumbled, recovered and fired home left footed past goalkeeper Vukcevic.
He had the ball in the net again a minute later but the effort was chalked off for offside.
It was a rare goalscoring opportunity in an ill-tempered match, which saw Clarke dismissed in the 72nd minute. He had been taking heavy punishment all evening from his marker, Boljat, and when he went down after being tackled from behind by the defender, he saw red and kicked out at his opponent. Hungarian referee Gyula Emsberger immediately dismissed the England striker. At first, Clarke believed that his opponent was the player dismissed and it was in a state of disbelief that he had to be led from the field by trainer Les Cocker.
That was the most fractious moment of a fearsome battle. The referee had earlier missed a spiteful clash between Giles and Buljan, while Jones and Surjak were booked after another tangle.
Eric Todd in The Guardian: 'It was an untidy game, often too physical - and to be fair Leeds these days do not lean towards the unsavoury tactics which earned them such a reputation a few years ago. Last night, however, they were betrayed by frustrations when their early superiority availed them nothing, and after Reaney had flattened Jovanic Leeds sadly became as involved in the rough and tumble as did the Yugoslavs.
'Bremner fought himself to a standstill, but once again the Leeds forwards were deficient in finishing power and Lorimer's decline is as mystifying as it is regrettable. Yorath and Cherry also distinguished themselves and Giles as always stroked the ball about with his customary delicacy and accuracy. But having failed to score in that opening spell Leeds must have realised that there was going to be no repeat of their performance against Rapid of Bucharest whom they beat out of sight.
'Hajduk, who are near the bottom of their League and who in the second round scraped home against Wrexham on the away goals rule, had every reason to be delighted. There were times when they were almost lazy, others when they were contemptuous and others when they were quite dangerous. None did better than Hlevnjac, a speedy outside-right, whose pass gave Jerkovic the chance to bring Harvey to the save of the night. And Hlevnjac himself just missed with a wicked swerving shot.
'Jerkovic also posed many problems in the second half, when Hajduk actually had most of the play. When Leeds attempted to rally they found Holcer and Dzoni in determined mood. If only Hajduk had not elected to mix it, the Leeds supporters would have given them credit for their commendable performance. As it was, the Yugoslavs were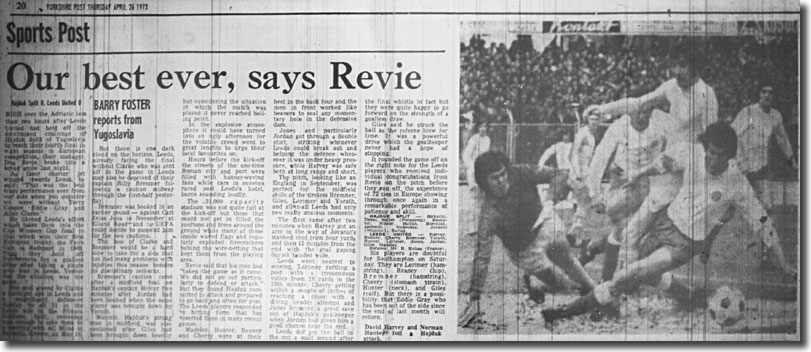 booed off the field, but they did not look worried in the least.'
Clarke's dismissal meant that he would be suspended both from the second leg and the final should United qualify.
As United prepared to fly out to Yugoslavia for the second leg, Don Revie admitted, 'We would have liked to be taking a bigger lead with us naturally,' before going on to say, 'We have gone into Europe in a similar position many times in the past and come through successfully … We shall just have to play our normal game … The main thing is to be patient and wait for the breaks.'
Revie had a special word for the Split skipper, Dragan Holcer, describing him as 'the best sweeper I've ever seen. He can really read a game.'
Two days before the game, United lost 2-0 to Liverpool at Anfield in a game that ended their fading championship hopes and virtually guaranteed that the Reds would claim the League title. Revie said that he would have liked his side to be completely fresh for the match against Split, but went on, 'I thought about resting one or two players from the Liverpool match, but decided that we had a duty to ourselves, to Arsenal and to Liverpool and their supporters to play our strongest side. And that is what I did.'
Split were confident that they could overturn United in the second leg and Branko Zebec confidently declared, 'As far as I am concerned, we are home and dry in the semi-finals and able to win the cup despite that one goal advantage of Leeds … Nobody gave us much of a chance against Hibs after our performance in Edinburgh, but it was a different story here.'
On the day of the game, the atmosphere in the city was electric; hours before the kick off the streets were brimming with banner-waving fans, while cars raced past United's hotel in convoys, their horns blaring. The 31,000 capacity stadium was not quite full when the game began, but there was a sea of waving flags and firecrackers exploding all around the arena behind the wire fences that kept the crowd from the pitch. The rooftops and trees surrounding the stadium were laden with fans seeking to get a view of the game without paying for the privilege.
United had fitness doubts regarding Billy Bremner (thigh), Johnny Giles (calf), Paul Reaney (hip) and Mick Jones (foot), but the eleven selected by Revie showed only two changes from the one that did service at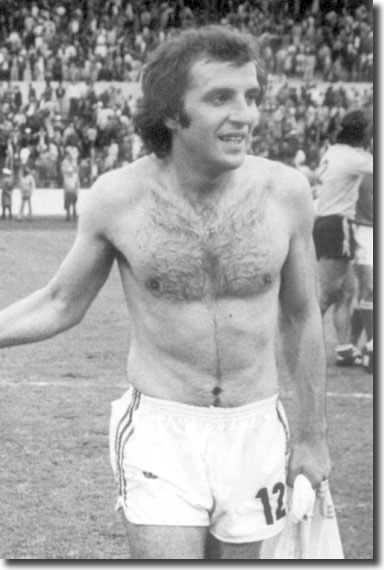 Anfield, with Jones and Giles returning in place of Roy Ellam and the suspended Clarke. David Harvey continued in goal behind a back four consisting of Reaney, Paul Madeley, Norman Hunter and Trevor Cherry. The midfield combination was Peter Lorimer, Bremner, Giles and Terry Yorath with Jones partnering Joe Jordan up front.
Yorath's commitment to the cause was such that he missed the birth of his daughter, Gabby, to take part in the trip. United's flight left Leeds Bradford Airport the same day she was born. Gabby went on to become a celebrated gymnast and sports broadcaster and married the Scottish international Rugby Union player, Kenny Logan.
The pitch was in perfect condition for the game, true and firm, and suited United perfectly. They had been led to believe that the stadium left much to be desired when judged against general European and English First Division standards. Don Revie visited the ground as soon as United arrived in the city to see it at first hand and was clearly delighted, though there was no covering for spectators and the stadium was very compact. But the playing surface itself was excellent, prompting Revie to comment, 'It is certainly to our liking. There can be no complaints about this pitch. It should suit us.'
Revie said later that his men had 'taken the game as it came. We did not go out particularly to defend or attack.' He had, however, noted before the match that should his men get a goal then Split would have to score three times to eliminate his men because of the way goals rule. But they found Hajduk committed to attack and prepared to go hard and often for goal. The Leeds players rose to the challenge in commendable form, however, finding a level of performance that had evaded them over the previous month.
Madeley, wearing the No 11 shirt, but operating as centre-half, gave an impressive display, and with Hunter back to his best alongside him, United were able to safely absorb all the pressure Hajduk could muster. The traffic was largely one way, as one expected, but the rearguard was at its resilient best and the men in front worked like beavers to seal any momentary hole in the defensive dam. Jones and particularly Jordan got through a double stint, striking whenever Leeds could break out and helping the defence whenever it was under heavy pressure, while Harvey was safe both at long range and short. There was the occasional hefty clearance downfield or an anxious kick into touch by United midway through the second half, but generally they had matters very firmly under control.
On their own ground in front of their wildly enthusiastic supporters, Split were even more determined than they had been at Elland Road. The effects of the gruelling defeat at Anfield were expected to have taken a great deal out of Revie's troops. However, it quickly became apparent that United were not lacking in resolve and would pull something out of the bag, as they had on so many other challenging European occasions.
There was an early threat for the visitors and they nearly conceded in the first two minutes. Harvey had to go full length but managed to get an arm in the way of Jovanic's stabbed shot from four yards. Boskovic had a header just wide soon afterwards as Leeds found difficulty in keeping their footing on the greasy pitch.
John Hennessy in The Times: 'This was merely a foretaste, as Jerkovic spun a web of confusion, to borrow a phrase of the moment, with the willing help of Jovanic and Boskovic, but Hajduk had a serious failing - they were too intent on walking the ball in and prepared to let fly only from ranges that caused Harvey no concern. Thus the match developed into a series of episodes of last ditch defence with someone, usually Hunter or Madeley (masquerading in a No 11 shirt), achieving the final saving tackle.'
Leeds went nearest to scoring. Following a corner from the left by Giles in the 19th minute, Lorimer's tremendous hip high volley from 18 yards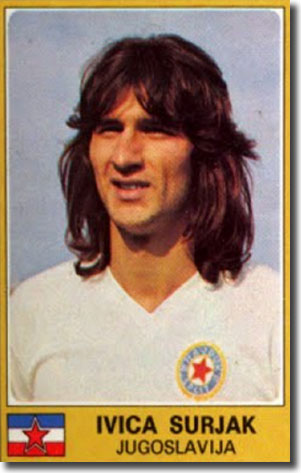 thudded against the foot of a post with goalkeeper Sirkovic rooted to his line.
Cherry was within a couple of inches of reaching a cross from Jordan with an attempted diving header soon afterwards.
In the second half Hajduk brought on Muzinic for the injured Jovanic, which undermined some of their attacking threat and then introduced a midfield man, Peruzovic, to replace a full-back, Boljat. This was a show of desperation as they sought the goal that would offer them an extra 30 minutes but, although Leeds continued to live dangerously, they never lost their heads. 'It was,' Don Revie said later, 'a fine defensive performance.'
Jordan, who put in fantastic effort all evening, in both attack and defence, paved the way for Jones to have an unchallenged shot, but Sirkovic, diving to his right, managed to palm the ball behind for a corner.
Split grew desperate as the clock ticked down and they tried everything they knew. They pumped high balls into the United penalty area, they tried long range shots, and they endeavoured to work a way through with short, sharp passing.
But all their efforts fell harmlessly on the rock of United's magnificent rearguard, whose unwavering teamwork and determined spirit ranked amongst their most impressive in 72 European games.
15 minutes from the end with the goal gaping Surjak headed wide, but the Split storm by then had all but blown itself out.
United were all but home and dry when they actually managed to get the ball into the net a split second after the final whistle, but they were more than happy to progress to the final in Salonika on the strength of a goalless draw.
Giles confirmed that he struck the ball as referee Robert Helies blew for time. It was a powerful drive which the goalkeeper never had a hope of stopping. 'I was not upset,' Giles said afterwards. 'At that stage of the game, I was happy enough to hear the final whistle. Hajduk are one of the best sides I have played against in Europe.' According to John Hennessy, Giles 'was otherwise an anonymous figure'.
It rounded the game off on the right note for the United players who received individual congratulations from Revie on the pitch before they ran off, their experience in European football showing through once again in a remarkable performance of patience and skill.
Bremner's booking, for a Rugby tackle on Holcer, was his second in the competition after one against Carl Zeiss Jena and brought a suspension which would keep him out of the final. Jordan, too, was cautioned for dissent and Muzinic was shown the yellow card after bringing down Giles.
Captain Bremner, who had shrugged his shoulders and smiled when he arrived at the ground to be taunted by Hajduk fans predicting a 5-0 hammering for United, was again in great form and, in tandem with Giles, succeeded in slowing down the game. United played the more composed game, maintaining cool heads throughout. And at the end Don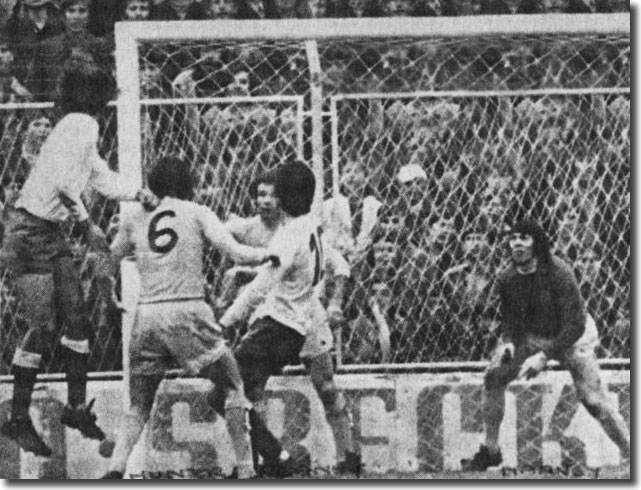 Revie was bubbling with pride and praise for his players.
'Fantastic, absolutely fantastic,' he said. 'To reach two Cup finals in one season and at a time when many people are once again trying to write us of is proof of the tremendous character and ability in the side. I have no hesitation in saying that this ranks alongside our display against Ferencvaros in the 1968 Fairs Cup final as our best in Europe. It was only our vast experience in Europe that enabled us to withstand the sort of pressure we faced today. Yet we had several good chances.'
Paul Wilcox in The Guardian: 'Leeds United did not take the pretty route to Greece and the European Cup Winners' Cup final against AC Milan on 16 May here this afternoon. They spoiled the carnival atmosphere in Hajduk Split's compact stadium in the second leg of their semi-final with a performance which was calculated to depress anyone who still believes that football should have joy and feeling, and freedom of expression.
'Leeds, of course, could hardly be blamed for opting for a defensive display under the circumstances of their lead of one goal gained at Elland Road. But they were never quite fully in command of the situation and if they had been playing a side who had not tried to walk the ball into the net they could have been in difficulty.
'It is true that the Yugoslavs were able to show their talents only in the midfield which Leeds surrendered to them; but United's rearguard action could not be numbered among their most impressive. They looked like a team who had had a long, hard season.
'Hajduk should have had more to show for their efforts than the midfield dominance which the skills of Jerkovic gained for them. Time and again they made one pass too many when in sight of the target, and Leeds were able to hoof the ball upfield without thought or any other consideration than to clear their lines.
'The settling period for Leeds towards the end of the first half offered some promise, but the renewed vigour of Hajduk's efforts after the interval pushed United back again. Even Jones and Jordan were called on to work in defence, but they did manage to break and combine for the only time in the match 17 minutes from the end, when Jordan set up Jones for a shot which Sirkovic did well to push for a corner. Waiting that long for a comparatively successful attacking move should just about have convinced everybody that Leeds had not come to Yugoslavia to entertain. Just to reach the final.'