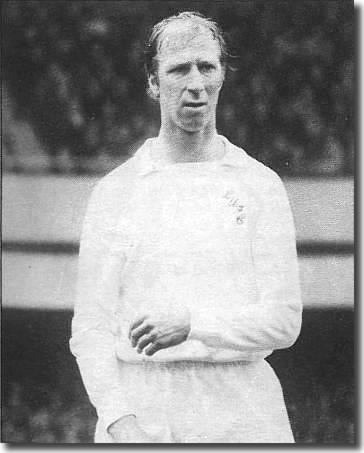 Part 1 Rebuilding from the back - Part 3 The Revie-Clough wrangle - Part 4 The Revie for Everton affair - Results and table
Fighting back from a two-goal deficit at Crystal Palace on 18 November to earn a well-merited draw left a sense more of a point gained than one lost. The fightback lightened the mood at Elland Road as the Leeds United players prepared for their League Cup replay against Liverpool four days later.
The game was originally set for two days after the Palace game, with the winners set to face Tottenham in the fifth round later the same week. The timescale brought criticism from both United and Liverpool, but their irritability was assuaged a little when heavy rain on the day of the game left Elland Road waterlogged. Referee John Homewood had no option but to call off the match.
It was just two hours before kick off when the official took his final decision after inspecting a pitch on which nearly £40,000 had been spent on a new drainage system and underground heating over the previous three seasons.
'He found two inches of water lying on it,' United manager Don Revie said. 'He tried kicking a ball but it was just no good. No ground could have taken the rain we have had this afternoon.
'We wanted to get this match over and out of the way. We trained on the practice pitch this morning and it was perfect. Then the rain started at lunch time and it hammered down. The underground heating was used during the weekend but that has made no difference for no ground could have taken this downpour.'
Liverpool manager Bill Shankly: 'It would have been farcical if we had played. There was nothing anyone could do about it.'
The game was rescheduled for the Wednesday evening, when the two sides played out a thrilling contest.
Eric Todd in The Guardian: 'Nothing seemed more certain than extra-time and a second replay last night. Then, with everyone on the ground, except possibly the players, looking forward to an additional half hour's hard slog, Charlton, passing back, failed narrowly to put the ball into his own net. Leeds were still shaken visibly when Heighway took the corner, a wicked one at that as the ball curled in, and Keegan, leaping higher than anyone else, headed a superb goal. The whistle was blown for the last time seconds later.
'Any side which misses a penalty in a first class match or on a public park scarcely deserves to win. When the kick is taken by Giles, of all people, a miss becomes something of a phenomenon. On the other hand, it should never have been a penalty in the first place and Liverpool rightly protested against the award in the fifty-fourth minute.
'Smith did no more than obstruct Bremner, for which an indirect free kick should have been awarded. The referee consulted a linesman but stuck to his decision. Giles hit the crossbar with his kick and soon afterwards he was carried off with a knee injury. Troubles indeed never come as single spies but in battalions.
'Leeds nevertheless were rather unfortunate to lose. They did nearly all the attacking and combined more quickly and to better purpose than did Liverpool. Bremner and Hunter were generous providers and frequently took part in United's attacks.
'But Liverpool defended magnificently, none doing better than Lindsay and Hughes, the latter of whom was booked for a foul on Bremner. Smith also had his name taken for questioning one of the referee's decisions.
'In the second half, Leeds pressed harder than they had done in the first, and it seemed to be inevitable that they would score. It appeared to be no less obvious that they could even afford to miss a penalty. Jones drove the ball over the crossbar after a perfect pass by Giles; Lorimer missed by inches, Jones headed over the bar from Lorimer's centre; and Clarke wove clever patterns in the Liverpool penalty area and reduced his opponents to something near embarrassment which was an achievement in itself.
'But the ball would not go in the net at either end - until those last seconds. It was not to be estimated to what extent the Leeds rhythm was affected by Giles' retirement 15 minutes from the end (Jordan took his place), but the feeling persisted that Giles might have inspired Leeds to score a goal. Certainly he would not have slackened his attempts to compensate for his lapse.'
It was a bitter disappointment for Leeds, especially as Giles' calf strain kept him out of action for a month.
He joined Eddie Gray on the sidelines, for a medical specialist had decided the skilful Scottish winger should have an operation on the chronic thigh problems that had dogged him all season.
Don Revie: 'Eddie has been troubled by this injury for a long time and we have been advised that an operation is necessary… It is a major operation and he will be in hospital for about a week. I couldn't say how long he will be out of action.
'It is most unfortunate for Eddie. Had it not been for his injuries, I am convinced he would already have been a much bigger name in football. I am still sure that if this operation does the trick he can still become a bigger name than George Best.
'Eddie's injury, along with that of Terry Cooper, deprives us of two world class players and two players who are naturally left-footed.'
The unavailability of Giles and Gray offered Mick Bates a way back into the side, and United rose to the occasion with a 3-0 demolition of Manchester City on 25 November. It was never as one-sided a game as the scoreline hinted, however, with all three goals coming in the final twenty minutes.
The Guardian's Eric Todd: 'In the absence of Charlton, Gray and Giles, Leeds seldom gave the impression that they will dislodge Liverpool from the top of the championship table … they exasperated their supporters by making three or four moves when one would have done perfectly well. Repeatedly, they arrived in the vicinity of the City penalty area, and then stopped rather like a man who, having lost his way, decides to return to the point of departure and start all over again … While Leeds took their goals well, they were flattered.
'A cheeky free kick by Bremner nearly gave Leeds the lead in the sixty-third minute and City were still dithering when seven minutes later Lorimer took a free kick and Cherry, unmarked, headed a good goal. With five minutes to go, Bremner gave Jones the best pass of the match, and although Barrett and Donachie forced Jones to lose possession, the ball ran to Lorimer who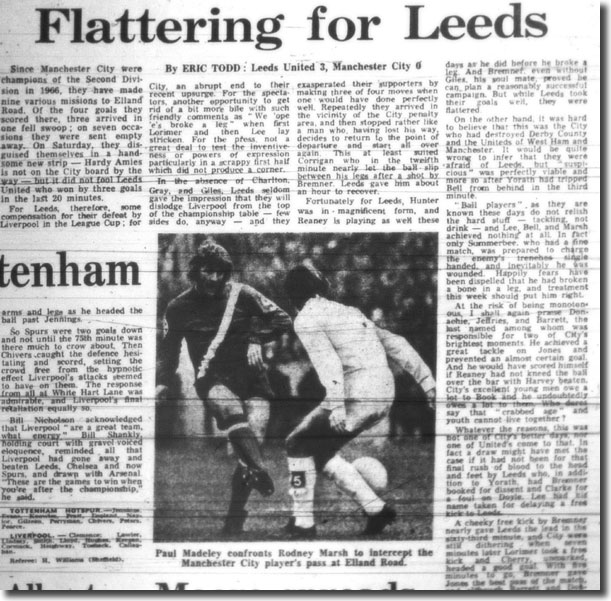 beat Corrigan from an acute angle. In the last minute after another free kick by Bremner, Clarke completed City's discomfiture with a back header.'
United's steady advance in the First Division was stayed on 2 December when they lost 2-1 in a bad tempered clash at Arsenal; in the process the Gunners swapped positions in the table with their opponents.
United took the lead through a penalty from Lorimer after 19 minutes but a spot kick by Alan Ball brought the Gunners level with fifteen minutes remaining and in the 81st minute a Radford centre was palmed into goal by David Harvey to settle the affair. Referee Clive Thomas booked five Leeds players plus Arsenal's Ball which, according to Don Warters of the Evening Post, 'left the game with the false appearance of having been a rough and unsavoury contest. Nothing could be further from the truth. This was an absorbing contest, fought determinedly by both sides but without niggle. I cannot recall one real incident in the whole of the 90 minutes.'
The Leeds players were annoyed by the cautions, arguing that referee Thomas had been book happy, but their disciplinary problems were becoming a major concern. Warters: 'Norman Hunter, who has 16 penalty points from five bookings, appears before a Disciplinary Commission on Thursday to appeal against one decision, but even if he is successful he will still have 12 points against him. That means an automatic suspension for two matches and in Hunter's case this will put him out of action for the home game against Birmingham City on December 16 and the away match against Manchester United on 23 December.
'Revie and most of the United players were upset about the bookings received at Highbury - and not without some justification. Billy Bremner, Peter Lorimer, Mick Jones, Trevor Cherry and Allan Clarke were the names to go into Mr Thomas' black book, but in at least two of the cases the referee's decision seemed a trifle hasty.
'The cautions picked up by Bremner and Cherry - after Arsenal had been awarded their penalty in the 75th minute - were the ones I believe were unkind.
'Bremner, who is captain of the side, did not jostle the referee and said afterwards that all he did was to ask the official to have a word with a linesman who had flagged momentarily for an earlier infringement.
'I did not see Cherry get himself involved, and the player was at a loss afterwards to see just why or for what he had been booked.
'Cherry's booking, coming so soon after he had won appeals against two bookings to reduce his points total to nine, must now be over the mark again, while another player facing the possibility of suspension is skipper Billy Bremner, who now has three four-pointers for dissent and one caution in a European match.'
Don Revie in his weekly column in the Yorkshire Evening Post: 'The number of Leeds United players booked for dissent has become critical … Five of our players had their names taken at Arsenal recently - three for disputing the referee's decisions. The offence carries a four-point penalty under the new disciplinary code and our inability to avoid it has resulted in Billy Bremner, Trevor Cherry and Allan Clarke facing two-match bans.
'I have mixed feelings about this business of punishing players for appealing against decisions which they believe are wrong. For one thing, dissent is a relatively minor offence and I feel it is wrong that the penalty is the same as that meted out to a player who commits a deliberate foul. In addition, I believe all referees should be prepared to listen to a protest by a team's skipper, providing it is made in a constructive manner. In fact, we are going to write to the FA, the League and the Referees' Association suggesting a rule to this effect … I have now invoked a rule whereby only Bremner is allowed to approach the referee. Anyone who disobeys will be disciplined by the club.'
The move cut little ice with the authorities - the FA's Vernon Stokes later proclaimed that the captain had 'no more right to dispute a decision than any other player'.
On a more positive note, Revie was delighted when he heard the news that Welsh international keeper Gary Sprake had asked to be taken off the transfer list.
Sprake had lost his place to long time understudy David Harvey at the end of the previous season and was transfer listed at his own request in August when he couldn't regain his place.
'It is a little early to be receiving Christmas presents, but this is a very pleasant one,' Revie said. 'I do not like to see anyone leaving Elland Road, especially when it happens to be a player who has been with us since he left school. It was a sad day for me when Gary asked to go, but the lad wanted first-team football and I agreed reluctantly to his request. His decision to stay is great news.'
Harvey had kept Sprake out of the team with some impressive form and had broken into the full Scotland side during the season. Being forced to dangle his heels in the reserves prompted Sprake to request a move in search of first team football.
The Welshman now told the Evening Post that the main reason he had decided to stay at Elland Road was the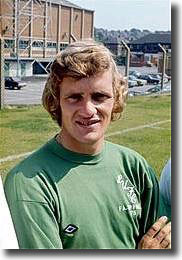 number of times he had been asked to have second thoughts.
'I have been surprised how many fans have told me they hoped I would not leave,' Sprake said. 'After talking the matter over with my wife at the weekend I decided that the best thing to do was to ask to be taken off the list. United are a great club and I have had nothing but the best treatment from them. I never really wanted to leave and I think now that I may have been a little hasty in going on the list.
'Obviously I still want first team-football and I shall make an even more determined effort now to win back my place.
'My wife is from Leeds, our daughter Julia has just started going to school and we are nicely settled in the district. Moving would have been a big wrench for us all,' added Sprake, who still had five years to run of a six-year contract.
The next fortnight brought comfortable home victories for United, 1-0 against West Ham and then by four clear goals against Birmingham, as they remained hot on the heels of Liverpool and Arsenal in the table. Their progress was derailed on 23 December, though, when they were given a stern test by Manchester United at Old Trafford.
The Reds had recently sacked manager Frank O'Farrell after a dismal season and Scotland boss Tommy Docherty had taken his place. The game with Leeds was Docherty's first in charge and clearly represented a major challenge for a team that lost 5-0 at Crystal Palace a week earlier.
Docherty was a United admirer, saying later, 'They were all great players … They were so good that I was able to pick four of them straight away when I became manager of Scotland: Billy Bremner, Eddie Gray, Peter Lorimer and David Harvey in goal. It was thanks to Don Revie and Leeds that I had the foundation of the team almost picking itself.'
Docherty had clearly been exploiting his motivational gifts: the Reds played like men possessed.
Manchester took the lead in the first half through Ted MacDougall and were fully worth their advantage. But Leeds refused to surrender and secured a point when Allan Clarke hammered home in injury-time following a free kick from Johnny Giles, skippering the side in the absence of flu-stricken Billy Bremner and the suspended Norman Hunter.
Clarke's late goal preserved an unbeaten League run that now stretched back 12 games to 30 September, when they had lost at home to Liverpool. The sequence continued on Boxing Day when they beat Newcastle at Elland Road.
The only goal came after 46 minutes, when Leeds were awarded a penalty for a foul on Cherry. Newcastle keeper Iam McFaul saved Giles' spot kick, but the linesman indicated that the keeper had moved too early and Giles was given a second opportunity. On this occasion, his effort struck the crossbar, but as it bounced down, Jordan, who had come on at the break as replacement for Bates, followed up to head home the rebound.
Joe Harvey, Newcastle's manager, was furious with the referee, saying afterwards: 'All right, the referee gave a penalty although all Craig did was slide in for the ball. But the other decision was nonsense. How can a referee allow himself to be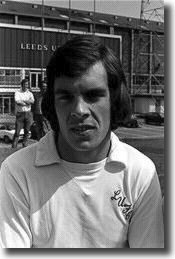 overruled this way when he was nearer the situation than the linesman? McFaul said it was a perfectly legitimate save. He moved for the ball after Giles had shot. Every time we come here we seem to be robbed by a penalty decision. I don't know how referees can sleep at night when they give decisions like this.'
Don Revie was convinced that the keeper had moved, but Giles was more equivocal, saying: 'I couldn't see whether he had moved or not. I never look at the keeper when I am running forward to take a penalty. I don't think the ball was over the line when Joe moved in to head it into the net.'
Leeds should have ended 1972 with a trip to West Bromwich on 30 December, but the club was hit by an epidemic of flu: ten first teamers, three reserves and a junior came down with high temperatures, as did Revie.
The Football League gave permission for a postponement, which offered Liverpool and Arsenal the opportunity to edge further clear of Leeds. The Anfield outfit beat Crystal Palace at home to move onto 38 points, while Arsenal's goalless draw at Stoke took them to 35. United ended the year third on 33 points, enjoying games in hand on both of their rivals and looking likely to press their claims strongly in the New Year. But Bill Shankly's Reds looked in ominously good form, with a single defeat from eighteen matches.
The Whites' first game of 1973 saw them entertaining Tottenham Hotspur at Elland Road on 6 January hoping to build on an impressive run that had seen them secure 20 league points from the previous 26 available.
Peter Lorimer and Johnny Giles had already enjoyed an early start to the New Year, featuring in a match to celebrate the entry of the United Kingdom, the Republic of Ireland and Denmark into an extended European Economic Community. The United forwards were selected by Sir Alf Ramsey to line up for The Three against The Six at Wembley and contributed well in a 2-0 victory against an all-star team that included Franz Beckenbauer, Berti Vogts, Gunter Netzer, Johan Neeskens and Gerd Muller.
Both men were on duty against Tottenham, but the flu epidemic brought some selection worries for Don Revie. Nevertheless, Billy Bremner, Trevor Cherry, Mick Jones and Mick Bates all recovered well enough to take the field.
United belied any residual effects of the virus, easing to a comfortable 2-1 victory, as reported by Tom German in The Times. 'Leeds United, despite the aftermath of flu, privations through injury and, in one or two instances, the almost imperceptible erosions of passing years, still store within handy reach the elegant style which will deny even a momentary breather to Liverpool and Arsenal, just above them in the championship.
'It was also a setting in which Leeds could harness all their skills. Here there was no need for systematic, crossfield movement, probing a wall to test where it might crumble, and Clarke, for one, revelled in the invitation to dart forward and match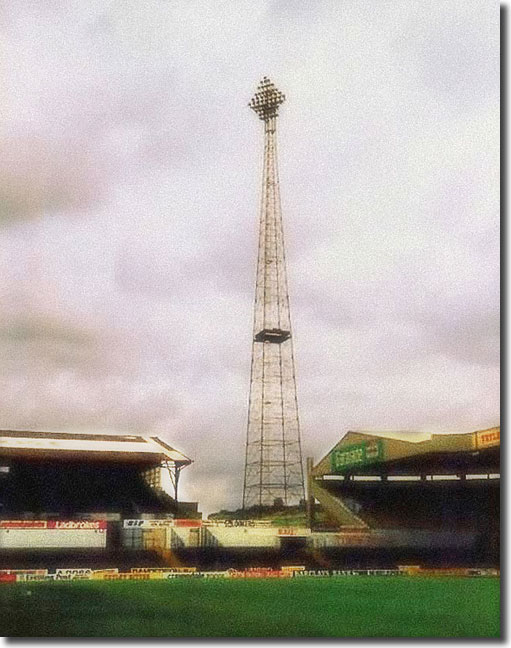 talent against talent, rather than against sheer weight of numbers.
'Giles and Bremner do not always seek each other out these days to apply the mortar to the bricks but they have a crucial part in Leeds' building process, nevertheless. Giles had a magnificent first half, flitting around effortlessly, perceptively lifting passes from one flank to the other, plopping them immaculately on a length as accurate as any of those slow left handers Yorkshire has produced in that other, more leisurely, game so dear to them. Bremner, for his part, excelled at the pass struck swiftly through the heart of Spurs' defence.
'Leeds' two first half goals were to prove enough. The first came after a quarter of an hour as Lorimer, winning a corner, placed his kick just short of the near post where Clarke's delicate headed glance left the way open for Jones. The second came from a penalty thumped home by Lorimer after Giles had been in collision with Gilzean, although it looked less offensive than the nudge Jones had received from England shortly before.
'All looked secure, but there was an uncomfortable last 20 minutes in store for Leeds as Perryman's continued hard work began to bear fruit and Peters and Gilzean duly freed themselves more. Knowles flighted a centre perfectly for Gilzean to head past Harvey only to clip the outside of a post. Two minutes later, with Hunter stretched out and shortly to hobble off, the formula was repeated and this time Gilzean found his target. There the intrusion ended, though; Leeds had earned the full reward.'
A couple of days later, at the club's 52nd annual general meeting, chairman Manny Cussins revealed plans to introduce 'the biggest and best floodlights in the country'. Ground director Bob Roberts told the Yorkshire Post, 'We have approved a scheme for spending just over £100,000 to provide entirely new floodlighting for our ground. We shall be erecting four new pylons 250 feet high, complete with 55 lights per tower. The pylons will be erected outside the ground in a line with the goal areas and not at the corners of the ground. Three will be erected immediately, and there will be 10 additional lights along the West Stand. The fourth pylon will not be erected until demolition has taken place at the corner of the Lowfield Road and Elland Road part of the ground.' During the close season, he added, they 'would be taking down the existing pylons which should please spectators who have grumbled about sitting behind pylons'.
The meeting was also told that the successful FA Cup campaign had helped increase match receipts by £70,000 to £225,478 and produced a profit of £20,972 for the year to 31 July, up from £9,499 in 1971.
The benefits of winning the Cup were evident and United launched their bid to retain the trophy on 13 January, with a trip to face promoted Norwich City, who had battled their way through to the League Cup final where they would face Tottenham on 3 March.
Despite an ultra-competitive display from the Canaries, United had the edge throughout the contest. The game was marred by 34 fouls with Norwich, recognising the visitors' superior skills, endeavouring to unsettle them with strong arm tactics.
United took the lead around the half hour, Lorimer scoring after Jones had robbed Norwich defender Stringer. City equalised three minutes before the break; centre-forward David Cross nodded the ball goalwards, only for Reaney to head the ball out from under the bar. However, referee Gordon Hill ruled that it had already crossed the line and awarded the score.
Popular opinion had it that United would hammer Norwich in the Elland Road replay and, indeed, they were all over them, but they struggled to beat Calcutta-born goalkeeper Kevin Keelan, who enjoyed the game of a lifetime.
As is often the case with such one-sided affairs, the team that was under the cosh broke away against the run of play to open the scoring. Just before half time Norwich responded to all the pressure by coming out to snatch the unlikeliest of goals with Cross again the scorer.
There was the whiff of a shock, but Giles managed to equalise with twenty minutes remaining. It was a relief to everyone at Elland Road, but Leeds should have won the game at a canter for they dominated affairs from the first minute.
The two teams faced each other yet again the following Saturday, in a League encounter at Carrow Road. This time, United were in fine form, 2-0 ahead before the break through Jordan and Clarke and in complete control. Cross scored once more for Norwich, after 84 minutes, but there was to be no comeback and Leeds emerged with two points safely in the bag.
On 27 January, United faced Stoke City at Elland Road. It was a closely-fought encounter, with the only goal coming after 56 minutes courtesy of Allan Clarke, meeting Yorath's cross to place an accurate header past keeper John Farmer.
In the closing seconds of the game, David Harvey made a remarkable reflex save from Potters full-back Mike Pejic. The defender was so irritated that he inexplicably sought to headbutt Harvey, though thankfully he was unsuccessful. Referee Harold Davey had little option but to dismiss Pejic. He had already been booked, but the incident probably merited a sending off in its own right.
With Liverpool going down 2-1 at Wolves and Arsenal held at home by Newcastle, the two points enabled United to narrow the gap at the top of the table.
Top of Division One - 27 January 1973

Pos

P

W

D

L

F

A

Pts

1st

Liverpool

28

17

7

4

52

25

41

2nd

Arsenal

29

16

8

5

40

27

40

3rd

Leeds United

27

16

7

4

50

27

39

4th

Ipswich Town

28

13

10

5

39

28

36

5th

Derby County

28

13

6

9

36

38

32
Two days later, the Cup marathon with Norwich was settled at the third time of asking. This time the result was never in any doubt: Clarke netted a hat trick in the first twenty minutes and Leeds went on to complete a 5-0 victory with some of their best football of the season.
That saw United through to face lowly Plymouth Argyle in the fourth round five days later. They struggled to an untidy win, as reported in The Guardian.
'If Leeds United are to continue to justify their ranking as FA Cup favourites, they will need to improve on their below form display in defeating Plymouth Argyle 2-1 in the fourth round at Elland Road on Saturday. The match showed how unpredictable Cup football can be; Leeds had to struggle to overcome Third Division opponents only five days after crushing Norwich City 5-0 in a third round replay.
'The refusal of Plymouth to be overawed by the occasion and their willingness to contest everything accounted partly for the way the game went. The absence of such players as Bremner and Gray from the Leeds side was another factor. Without the lead of these talented midfield players, Leeds were struggling for much of the time, even though they always looked likely winners.
'Plymouth had done their homework well. They had noticed, for example,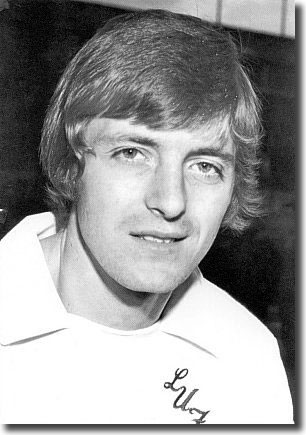 that Hunter, the iron man of the Leeds defence, prefers to have the ball on his left side, and so they kept it to the right of him. As a result Hunter was strangely ineffective, and contributed little to the game. With some of his colleagues also below par it was perhaps not surprising that Leeds had a harder struggle than the crowd of 38,374 had anticipated.
'It took them 61 minutes to pierce the Plymouth defence, in which Furnell, a former Arsenal goalkeeper, Provan and Saxton were commanding figures. Then Clarke, Leeds' most progressive and menacing forward, scored with a hard shot which Furnell touched but could not keep out. If Leeds thought that this would open the floodgates, they were speedily disillusioned. Only five minutes later Plymouth were level through Rickard, who headed home a centre from Provan on the right as the defence faltered in both tackling and close marking.
'Another two minutes and the issue was settled. A shot by Lorimer was charged down and the ball went to Bates, who beat Furnell with a fierce, low drive.'
The malaise continued a week later at Leicester with a dismal 2-0 defeat. United clearly missed the direction and drive of suspended skipper Billy Bremner and had no answer to a spirited display from Leicester.
That same afternoon the League's top two met at Anfield and Arsenal emerged with a stunning 2-0 victory over Liverpool, thus slipping past them at the head of the table.
An outstanding performance at Elland Road on 17 February by Chelsea's reserve keeper, John Phillips, was mainly responsible for United being held to a 1-1 draw. It was an opportunity lost as United's pursuit of the title continued to stutter.
The only positive note on a dismal day was a 15-minute cameo appearance from Eddie Gray after 14 weeks in the treatment room. United had badly missed his presence on the left flank, so it was good news when he reported fit for the FA Cup fifth round clash with West Bromwich Albion on 24 February.
Revie counselled his men not to be complacent against struggling Albion, saying, 'They have some first class players and just because they are bottom of the League, I certainly do not underrate them. Neither must you.'
In the event, Revie need not have worried for United never gave Albion a look in.
The Midlanders made a fight of matters in the first twenty minutes, but did little of note thereafter and were never at the races once United took a 28th minute lead.
Terry Brindle in the Yorkshire Post: 'Spare a thought for Peter Latchford, West Brom's goalkeeper. He contributed directly to his team's downfall with two costly errors. But he will make bigger ones that matter less. Against a team less aggressive and a striker less nimble-witted, Latchford would probably have got away with it.
'Clarke, in one of those rapier moods when he looks as though he could wriggle through a millionaire's wallet, did his damage in a two-minute spell and spent the rest of the match picking his way nimbly through the wreckage in deference to calf and ankle strains. 'It is a talent that genuine goal scorers are born with. While others are watching, they go in and score,' said Don Revie afterwards.
'Latchford blocked Clarke's header after 28 minutes but let the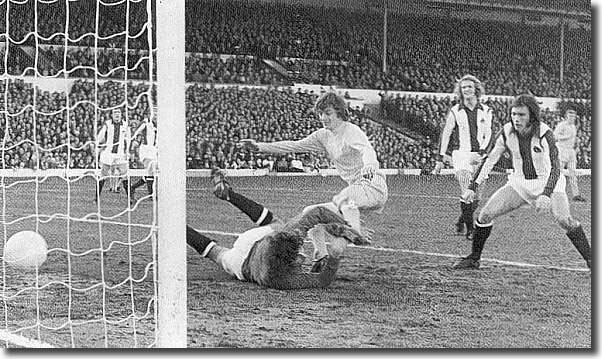 ball escape his grasp and Clarke hooked it in; he fumbled Lorimer's blistering shot two minutes later and Clarke bundled in the second. It was all over bar the exhibition.
'That was provided by one Eddie Gray, back in the Leeds side after injury, recuperating it seems by watching opponents decline into screaming fits of indecision and impotence.
'It was no small tribute to Gray that the Elland Road crowd, so often impatient with any but an obvious attacking move, were happy to savour his bold skills in awed silence. Perhaps it was a mark of respect for the bewildered Nisbet, who must have been the most relieved man in Leeds when he was replaced towards the end.
'Nisbet had the red-faced embarrassment of a child confronted by an exam paper he knows full well he cannot hope to answer. Trapped with his problem, unable to escape it, powerless to solve it.
'The match stood still as the ethereal Gray taunted and teased West Brom down the left flank. Possession was all that was required and Gray never gave the ball away, unless with the slightly bored air of one condescending to let a team mate have a kick. Sudden burst of speed to the byline and searching crosses almost brought goals for Reaney and the ever-industrious Jones.
'Gray and Clarke, quite a combination. Light the blue touch paper, and stand clear …'
Part 1 Rebuilding from the back - Part 3 The Revie-Clough wrangle - Part 4 The Revie for Everton affair - Results and table