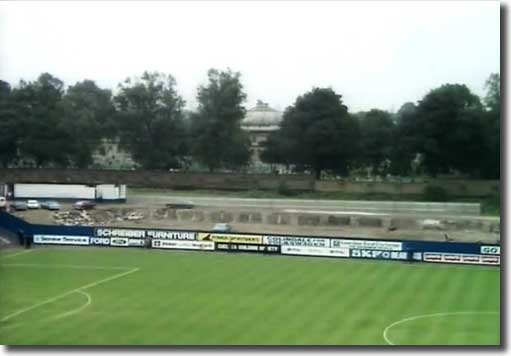 printer friendly version
United's opening game of the 1972/73 season, at Stamford Bridge against old rivals Chelsea, left an unfamiliar set of players enduring the most miserable of afternoons.
Although 24-year-old David Harvey had proved a few months earlier that he was one of the most outstanding young keepers in the game as he helped United win the FA Cup for the first time, Leeds fans were still coming to terms with Harvey's promotion over long time first choice, Gary Sprake.
That same afternoon Sprake was playing for United reserves against West Bromwich Albion at Elland Road; joining him was former England centre-half, Jack Charlton, now 37, and nearing the end of a 20-year career with Leeds.
Terry Cooper, one of the world's best left-backs, also missed the Chelsea trip, nursing the fractured leg he sustained against Stoke City four months earlier.
Completing the list of absentees were Norman Hunter and Allan Clarke, both unavailable through suspension.
During the close season, Whites manager Don Revie had recruited defensive reinforcements, signing the two Huddersfield Town centre-backs, Trevor Cherry and Roy Ellam, and both men made their United debuts at Stamford Bridge. Though Cherry wore Cooper's No 3 shirt, he partnered Ellam at the heart of the back four, with Paul Madeley playing left-back. Of the customary rearguard, right-back Paul Reaney was the only member on show.
Mick Bates lined up alongside Billy Bremner and Johnny Giles in a midfield three with Peter Lorimer and Eddie Gray supporting spearhead Mick Jones. Terry Yorath was named substitute.
If United's team had an unfamiliar ring to it, the West London surroundings were every bit as alien. Brian Woolnough in the Yorkshire Evening Post: "The massive redevelopment project at Stamford Bridge means that Leeds United players will change in portable changing rooms and receive treatment in a caravan when they open their League programme against Chelsea on Saturday. The whole of the East Stand has been knocked down, leaving the popular side of Chelsea's ground a mass of rubble and bricks.
"Chelsea have spent £30,000 on portable accommodation for the players, who will also have to walk 75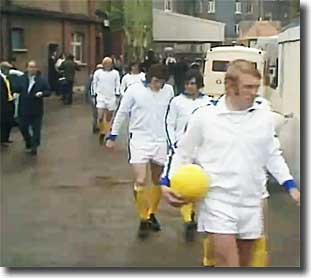 yards through the crowd to get on to the pitch.
"Directors, the Press and season ticket holders have been switched to the North Stand, the stand closed last season because of shuddering reports… 'We have told the season ticket holders who will use that stand that they will be refused admission if they are not in their seats 15 minutes before the start,' said Chelsea secretary Tony Green today. 'We just couldn't have them walking along the pitch when the game was about to start or even in progress.'
"Stamford Bridge still looks a complete shambles and Green admitted: 'There is a lot of work to be done before Saturday. Another headache is getting the public used to the new site and entrances.'
"Chelsea are expecting a 50,000 crowd for the visit of United. It will be a severe test of their temporary arrangements but a good guide for the rest of the season.
"This is the first stage of Chelsea's £5,500,000 new look plan. The new East Stand - a two-tier cantilever stand costing £1m - will not be in operation until the beginning of next season. So all clubs face changing in portable accommodation this season."
There were more than 50,000 people packed into the Bridge for the game, and many of the younger supporters spilled out onto the old greyhound track after a barrier buckled in the Shed End. This doubtlessly averted potential problems on the terracing later in the day. Chelsea were pilloried by the Press for the chaos before and during the game. The club subsequently cut the standing capacity of Stamford Bridge by 7,000 and during the reconstruction period the crowd limit was set at 44,000.
The club's plans for the transformation of Stamford Bridge were almost fatally ambitious, comprising the development of a 60,000 all seater circular stadium. The project was described as the "most ambitious ever undertaken in Britain" and the timing could hardly have been worse. The project coincided with a global economic crisis and was hit by delays, a builders' strike and shortage of materials, all of which sent the costs spiralling viciously, to the extent that the club were £3.4m in debt by 1976. Between August 1974 and June 1978, Chelsea were unable to fund any transfers and had to sell their own star players to support the huge financial drain.
In August 1972, though, Don Revie was understandably cautious about the threat posed by Chelsea, considered by many as potential champions. The United boss warned, "They have a first class squad of players and the experience to do well. We know we start with a difficult match."
The Blues had added two forwards, Chris Garland and Steve Kember, since they beat United in the 1970 FA Cup final, but the rest of their starting eleven had been regulars for the preceding two or three seasons and were very much a force to be reckoned with in their own stadium.
After a fine sunny morning in West London, the match began in steadily falling rain. United kicked off wearing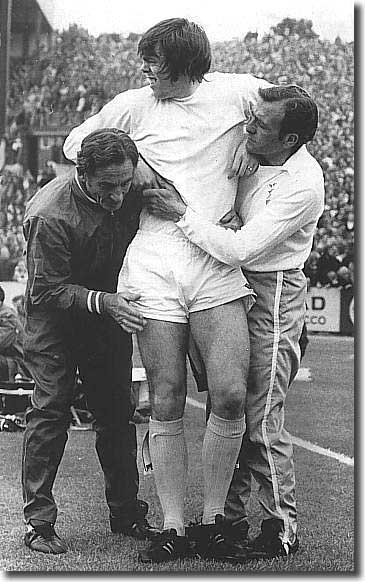 yellow socks rather than their customary white.
Chelsea were the first to show any attacking intent, with Kember feeding Charlie Cooke out on their left, but Reaney alertly intervened to halt the move in its tracks and United were soon pressing forward. They had a free kick in the Chelsea half after four minutes which Lorimer swung high towards Peter Bonetti's goal, but the keeper came out to gather confidently.
Chelsea continued to enjoy the best of the play, with Alan Hudson exerting some early influence. The midfielder fired over one cross from the right, only for Cooke to chip wide, and then worked his way cleverly to the edge of the United area before hammering in a shot which Harvey had to punch away.
The Leeds keeper had to save smartly thereafter from two corners and was clearly winded following the second of these incidents. However, he resumed following treatment from Les Cocker and seemed able to cope with whatever handicap he was suffering, plucking a high cross out of the air as Peter Osgood went up with Reaney to challenge.
In the 25th minute the game turned fatefully against United. Mick Jones injured an ankle in a tackle and, as reported by Albert Barham in the Guardian, "Yorath, the substitute, flexed his muscles but was waved back by Bremner, for, at the moment Yorath was about to come on to the pitch for Jones, Harvey, the goalkeeper, was being carried off for attention behind the goal. He had earlier in the game been heavily buffeted at a couple of corners when he appeared to collide with Ellam. Eventually he was wheeled away on a stretcher to spend the night in Fulham Hospital with concussion.
"In fact, the attempt to get Jones to walk proved that he could not continue either, so it made no odds which of them Yorath was substitute for. Lorimer wore Harvey's jersey and at one stroke Leeds had lost a goalkeeper and two aggressive forwards. Small wonder they are the most superstitious team in the country; ill luck seems to hover over them."
In such adverse circumstances, Yorath was forced to take up the cudgels in the unaccustomed role of lone striker, a position for which he was ill suited.
There was no chance of Lorimer being shielded from the thrust and slash of the Chelsea forward line and he was soon under the severest of examinations. He showed a remarkable aptitude for life between the posts, diving to save at Cooke's feet,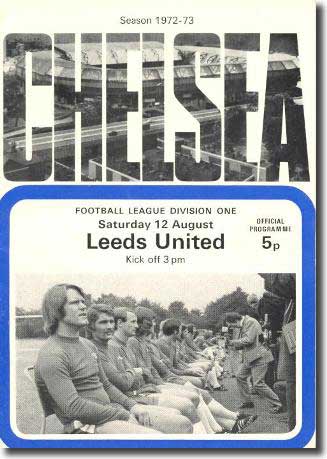 punching away a cross from John Hollins and once again denying Cooke.
Chelsea continued to pile the pressure on, provoking some moments of tetchy ill temper. Kember clashed fiercely with Bremner, prompting stern words for both men from Swansea referee Tommy Reynolds, though only the Chelsea man had his name taken; then Giles received a lecture for a stiff challenge on Hollins. That was enough for the referee who called the two captains together in order to lay down the law, stressing the importance of cool heads.
Just when it seemed that United would make it to the interval without conceding, Chelsea opened the scoring. As the match ticked into time added on, Garland was given the freedom of United's penalty area and took the opportunity to make his way across the face of goal before attempting the shot. His effort was bravely blocked at point blank range by Lorimer but Peter Osgood was on hand to slip home the rebound.
It had been a long time coming and United had done exceptionally well to hold out for twenty minutes with ten men and a substitute keeper; it was inevitable, though, that the home side would make their advantage count and they were straight back at Leeds when the game restarted.
Hollins made space for himself but fired high over the bar in his over eagerness to shoot, and then Lorimer came out with some assurance to gather a high cross from Kember. The Scot continued to surprise the onlookers with a sound display of goalkeeping, turning an Osgood shot round the post and then saving a low shot from Hollins. However, he could not sustain such heroics indefinitely.
As the harassed United defence struggled to keep their heads above water, debut man Cherry was booked for scything down McCreadie after 50 minutes as the Chelsea captain was going full tilt down the flank.
A minute before the hour, the Blues registered the long expected second goal. Hudson got hold of the ball in his own half and then freed Cooke down the left with an astute long ball. The Scottish wing man headed goalwards and hammered an angled shot low past the helpless Lorimer.
The game was now being played out almost exclusively in the United half, but the men in white made a rare excursion upfield which ended with Giles getting in a shot. It would have been understandable had Bonetti, for so long an isolated spectator at the feast, been undone by a lack of concentration, but he was alert to the danger and saved the effort.
That kind of respite for the Leeds defence was now all too rare and Garland added Chelsea's third goal after 68 minutes. Cooke fired a low pass across the face of goal, Osgood feinted to accept it, deceiving and wrongfooting Ellam, and Garland accepted the opportunity coolly, sliding home his shot.
Three minutes later, Yorath became the second United player to have his name taken, going into the book for a foul on the effervescent Cooke. It was more frustration than any genuine malice that prompted the Welshman's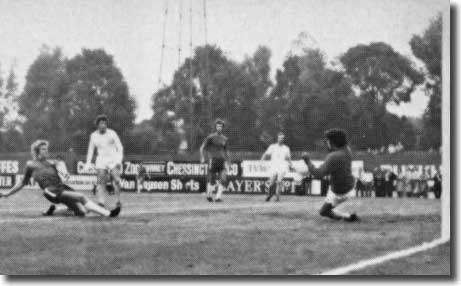 action.
Five minutes from the end, Garland got his second goal and Chelsea's fourth. The former Bristol City striker headed home after some long crossfield passing between Cooke on the left and Ron Harris on the right gave the Chelsea full-back the opportunity to swing over a telling cross.
It was like the last fatal strike of a matador ending the misery of a bull; minutes later United trooped off the pitch a well-beaten and dishevelled outfit.
As Barry Foster observed in his report for the Yorkshire Post, it might have been a very different outcome but for United's early misadventures. "The match was finely balanced until midway through the first half. Then Leeds received a double blow that, despite a brave effort, they could not weather. One minute they were holding their own, although already hit by injuries and suspensions to top players, the next they had lost their centre-forward and goalkeeper - and not even a side with the depth of talent of Leeds United can take that kind of medicine.
"The two new boys from Huddersfield, Ellam and Cherry, had made a cautious start and were just beginning to settle down when first Jones went off with a twisted ankle and then, in the same minute, Harvey followed him, leaving Leeds, with their substitute on, down to ten men. Harvey had received attention after a heavy goalmouth collision in the 11th minute but another heavy fall had left him dizzy and a stretcher was called in.
"For the two injured it meant an unhappy start to the season, for Ellam and Cherry it meant a nightmare debut situation and for Leeds as a team it left a task to test the most gallant hearts. They rose to it well, with Madeley and Reaney giving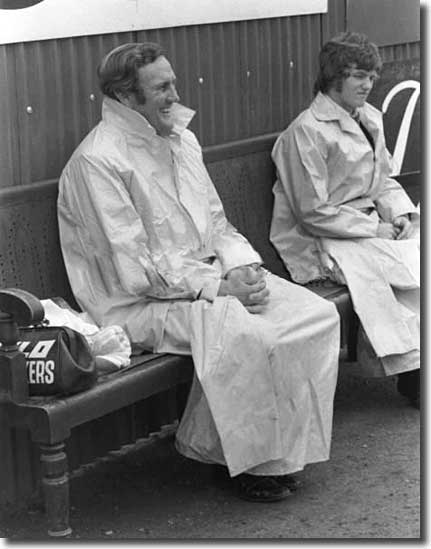 tremendous performances but without Harvey, Lorimer had to go into goal and without Lorimer and Jones the Leeds attack was completely torpedoed.
"Until the setback Leeds had shown the class, Chelsea a lot of skill. After it, one sat back and waited for the goal cloud to burst and reflected that matches between these two sides almost always produce the unusual incident with Leeds not often the beneficiaries.
"Lorimer set about his task well. Ironically he had been practicing hard during the week for just such an emergency and he showed the value of that effort but Chelsea, particularly in the second half, tested him from all distances and of the 16 attempts they got on target two by Garland and one each from Osgood and Cooke provided goals. He could be blamed for only one, which, on a day when Chelsea, all told, outgunned Leeds on goal attempts by 26 to six, was an achievement in itself.
"Twice Leeds might have had a consolation goal but Bonetti, who can seldom have had less to do in a match, foiled Giles and Yorath - a tireless and for the most part one-man forward line.
"The game had its share of hard play and Cherry and Yorath of Leeds and Kember of Chelsea had their names taken for what appeared to be four-point offences under the new disciplinary code. Leeds at least won on free kicks awarded for fouls - they got 17 against Chelsea's 16. They may like to reflect, too, that the last time they were beaten by a margin of four goals in the League was in October 1968 - their title winning season."
Don Warters in the Yorkshire Evening Post: "Although one could have only the highest possible praise for the brave way the depleted side fought on there was only one conceivable outcome.
"Chelsea, who are being freely tipped to become London's strongest and most successful side this season, were in luck. You could almost see a sparkle come into their eyes as they pressed forward eagerly and incessantly with the intention - and no one can blame them for it - of taking the fullest possible advantage of United's misfortune.
"In the circumstances, it was difficult to judge the value of United's two new signings - £100,000 defender Trevor Cherry and £30,000 centre-half Roy Ellam - from Huddersfield Town. Both performed reasonably well in new surroundings and under the inevitable extra strain which was placed on the whole side.
"United were virtually finished as an attacking force after the 24th minute as they had to concentrate their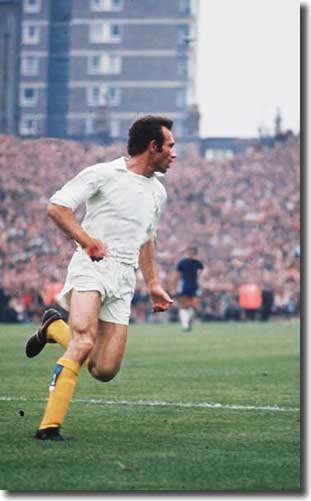 efforts on keeping out Chelsea. Paul Madeley did as much as anyone in this respect, absorbing plenty of pressure and covering a lot of ground. Lorimer, too, did as well as could be expected between the posts and brought off several creditable saves. Reaney was another player to stand out under the heavy pressure."
Norman Fox in the Times: "The rebuilding that Leeds are doing is not guaranteed by a contractor. Their replacement of Charlton is inevitable but only at the right time, and with the right man. Undoubtedly, the confidence of the whole team was broken.
"Ellam had none of Charlton's commanding character and was never master of Osgood. His former Huddersfield colleague, Cherry, was not much better.
"It is fairer to view this as Chelsea's success, not Leeds United's failure. Chelsea were Chelsea, except that they scored more than their usual number of goals. Their play alternated between such inspired adventure that it seemed to be showing the path of imagination and skill to the rest of British football, and such lethargy that one wondered if they could score more than twice."
After the extraordinary heights reached by United earlier in 1972, this opening day defeat was a sad wake up call for Don Revie, hinting at a challenging season to come. The defeat could not be laid solely at the feet of Roy Ellam, but the former Huddersfield men had been dreadfully uncertain in his play and seemed to be like a rabbit caught in the headlights as he was asked to perform in such exalted company. It was very early days but he certainly convinced nobody that he was the solution to the vexing question of who would be the long term successor to Jack Charlton at the heart of the United defence.