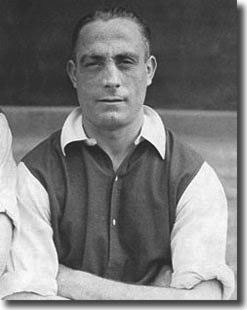 Wilf Copping was the original hard man of English football, paving the way for the likes of Norman Hunter, Ron Harris, Peter Storey, Tommy Smith and Graeme Souness in later decades. However, it is highly debatable whether any of them looked and played the part as well as Copping, with his boxer's nose and build, his unshaven appearance on match days and the bone shaking charges and tackles which were his trademark.
Copping, at left half, was liable to unnerve the opposition with just one fixed stare from his craggy face. The harder the going, the more Copping liked it. Had football been war, he would have been first out of the trenches, bayonet fixed.
Yet Copping (his motto was 'Get stuck in') was more than just a bruiser. When he won the ball, he could deliver precise constructive passes that turned defence into attack. For all his infamy, he was always scrupulously fair, earned respect for his excellent use of the ball when in possession and had a useful long throw in his repertoire.
He was born in Middlecliffe, Barnsley, on 17 August 1909, and attended Houghton Council School. He went for trials as a youth at Barnsley, then a moderate Second Division side, but couldn't earn a place, so he went to work as a miner, playing on a part time basis for Dearne Valley Old Boys. He eventually attracted the attention of First Division Leeds United and they signed him from Middlecliffe Rovers in March 1929 as a 19-year-old.
Copping had to wait more than a year to make his breakthrough into the Leeds side as they had a marvellous 1929/30 and achieved a notable fifth place finish. A damaged knee put left-half George Reed, a mainstay for three-and-a-half years, out of the side before the season had started. Manager Dick Ray called Copping into the side to replace him.
He made an inauspicious start that gave little hint of the fearsome, indomitable defender that he was to become. The new half-back line of Willis Edwards, Ernie Hart and Copping that played in the first match of 1930/31, a 2-2 home draw with Portsmouth, were all to play for England and became one of the most celebrated half-back combinations of the Thirties. 'Copping, whilst displaying latent talent, has something to learn,' observed the Yorkshire Post, reflecting on the left-half's debut. He may have had a quiet start but he didn't miss a game that season and became absolutely outstanding, despite playing in a side that ended 21st and were relegated.
He missed just two matches in the next season, 1931/32, as Leeds bounced straight back as runners-up to Wolves, then followed up with 39 games in the First Division as they secured a creditable 8th place finish. Copping was rewarded for three seasons of high consistency and quality when he won his first England cap in May 1933 in a 1-1 draw with Italy. His Elland Road teammate Billy Furness was also making his debut, but, unlike Copping, that was his sole international.
Copping kept his place for the next match, a 4-0 defeat of Switzerland at the end of May, and played in the first four England matches of 1933/34, all of which ended in impressive victories. In the last one, a 3-0 victory over Scotland in April 1934, he partnered another Elland Road half-back, Ernie Hart, who was recalled after a year out of the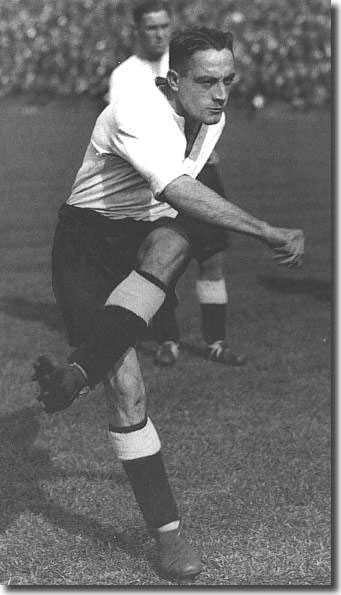 England side.
His form continued to be of the highest calibre throughout 1933/34 when Leeds finished 9th and he was an England regular, as he was resolutely pursued by the legendary Arsenal manager, Herbert Chapman.
Champions Arsenal were on the way to a second league title in succession but needed to replace Bob John, now in his mid-30's. Chapman had targeted 24 year old Copping as the man for the job. 'That's the man for me,' he is said to have remarked. The managerial supremo had already started negotiations with hard up Leeds before his untimely death on 6th January 1934. It was his replacement George Alison who eventually completed the deal in June 1934, paying out a sizeable £8,000 to secure one of the most valued talents in English football.
Copping was badly missed. In 1934/35 Leeds sank to 18th place, they were all over the place at the back, having no answer without their Iron Man to steady the ship.
Copping went straight into the Gunners side for the opening day of the season on 24 August, making his debut as with Leeds in a drawn game with Portsmouth, this time 3-3 at Fratton Park.
Given his no nonsense style, it was no surprise that Copping was a regular visitor to trainer Tom Whittaker's treatment room during that season, but he had only missed two games up until March, when he suffered a serious knee injury at Goodison Park against Everton.
Arsenal were on the way to a third successive title, but desperately needed to get at least a point from the game. The Arsenal keeper, Frank Moss, had injured his shoulder and, with no substitutes allowed, had switched to the left wing with full-back Eddie Hapgood replacing him in the net. Copping then picked up his injury, but for the good of the team soldiered on with a tightly bandaged knee. Amazingly the walking wounded of Arsenal won the match 2-0 with Moss one of the scorers, but Copping nearly fainted with pain at the end of the match when the bandage was removed. He was out of action for the rest of the season, but the points helped Arsenal secure the title by a four-point margin.
The injury also put a temporary halt to an international career which was burgeoning. In November 1934, Copping was one of an unprecedented seven Arsenal players who lined up for England in a 'friendly' match against world champions Italy, appropriately enough at Highbury. The match became infamously known as 'The Battle of Highbury' and was Copping's finest hour as England pulled off a hard fought 3-2 victory in a bad tempered scrap of a match. At times it looked like Copping was playing the world champions on his own.
For Hapgood, the sight of Copping dispensing his unique medicine during the fearsome battle with Italy was completely unforgettable: 'Wilf Copping enjoyed himself that afternoon. For the first time in their lives, the Italians were given a sample of real honest shoulder charging, and Wilf's famous double-footed tackle was causing them furiously to think.'
He obviously revelled in the heat of battle, and this one saw Italy play in what was somewhat politely reported as an 'over vigorous' manner. Eddie Hapgood, rather more bluntly, described the game as the dirtiest match he'd ever played in. Such a game was tailor made for Wilf who was known as 'The Iron Man' due to his legendary toughness. Copping played in a February victory over Northern Ireland, but missed the six international games that followed his injury with Arsenal.
Copping played 33 league games in 1935/36 and was a member of the side that beat Sheffield United in the FA Cup final. He also forced his way back into the England reckoning and played in two matches in May 1936. Unfortunately, England lost both of them, to Austria and Belgium.
He only missed four matches of the 1936/37 season which saw Arsenal finish third, and repeated that record when they won the title again in 1937/38. Throughout this period, he was a key member of the international side.
He had also played in all four successive Charity Shield matches since he arrived at Highbury, with two of them ending in victories.
Then, after almost five years at the top with the Gunners, in March 1939 Copping was on his way back to Yorkshire. He told Tom Whittaker 'I'm going to ask for a transfer … I feel war is coming and I want to get my wife and kids back up North before I join the Army.' It was thus that the legendary Copping and a phenomenally successful team went their separate ways.
He played in 12 of the last 13 matches of the 1938/39 season for Leeds, prompting them to six welcome wins and a solid 13th place finish after poor form earlier in the season. He won his twentieth and final cap for England as a Leeds United player, in the 2-0 defeat of Rumania at the end of May 1939.
His prophecy about the war was borne out and that was the last of official football for seven dark years. Copping did indeed join up and reached the rank of Company Sergeant Major, serving in North Africa. During the war, he managed to fit in 24 games for Leeds, scattered over three seasons when he could get leave from the Army, before retiring in 1942.
He became trainer to the Army XI in Dusseldorf in 1945, then coached in Antwerp, became trainer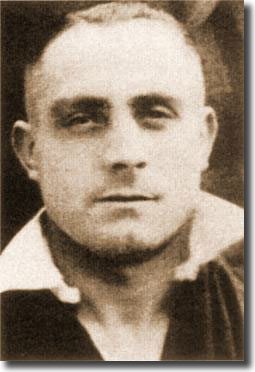 at Southend United (summer 1946), Bristol City (July 1954) and Coventry City (from November 1956 to May 1959). A keen wireless enthusiast, he retired to Southend where he died in June 1980, aged 70
Copping was the first to admit that he could be temperamental and fiery. Yet despite this and his well earned reputation for bone jarring tackles the indications are that they were generally perfectly timed and fair. He looked harder than he was, possibly intentionally, and his image was enhanced by the sinister looking blue stubble that he invariably wore on matchdays. Copping was famously quoted as saying, 'The first man in a tackle never gets hurt.'
Copping was inclined to be very volatile in the dressing room, blowing up for no good reason if anyone spoke to him before a game. He was extremely superstitious, always putting his left boot on first and insisting on being sixth man out of the dressing room.
During his time at Highbury, Wilf was the best of friends with Jack Crayston, who manager Alison bought within weeks of Copping. The two were as different as chalk and cheese, both on the pitch and off. But not only did they train together, they also paired up on away trips, often a train journey, to play a peculiar form of Chinese whist in order to pass the time.
Long remembered for his powerful, crunching tackles, he was without doubt a hard player but a fair one. He played 340 league games over 10 years with Leeds and Arsenal and wasn't once booked or sent off. He won 20 England caps (including 14 victories) and played twice for the Football League, to put alongside his Cup winners, league championship and Charity Shield medals. If the war had not cut short his official football career at the age of 29, who knows what heights he would have scaled?
Quite simply, he is a legend and will always be so to those that watched him in the Thirties. Recently he was nominated as one of the Top 100 British footballers of all time, placing him in very distinguished company, but it was a well deserved accolade.