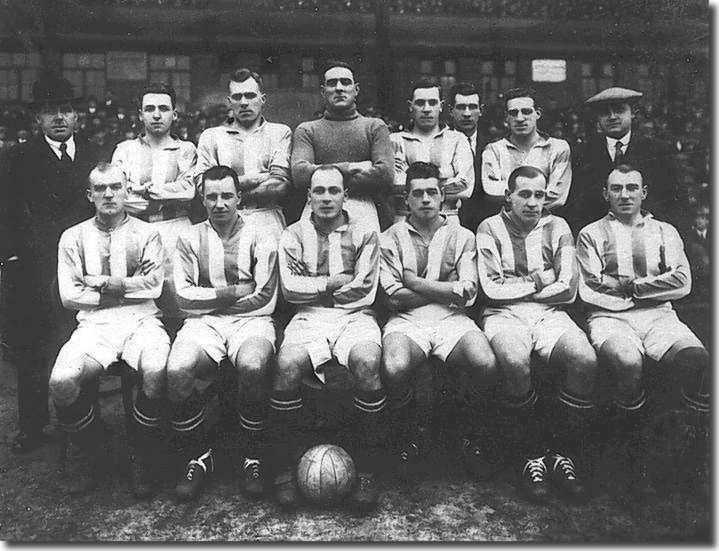 After achieving mid table security in their first season back in the First Division, Leeds United had much to look forward to in 1929/30. They went into the new season with much the same squad in place as during their march to promotion in 1928, only now they were a couple of years older and more powerful. Over the previous year they had started building up their strength in depth and a number of youngsters were signed from junior football: the two Milburn brothers, Jack and George, brothers-in-law to keeper Jimmy Potts, and Wilf Copping had arrived at Elland Road. They were to give sterling service to the club over the next decade, but for now they were just fresh faced reserves …
The previous year had seen a surging start fade away into a disappointing end of season run. When they went off at pace again in the new season, there was concern that a similar fate was awaiting them, but it never happened.
They kicked off with a disappointing 4-0 defeat at Arsenal, who the previous season had also finished mid table, but then bounced back with an equally one sided 4-1 trouncing of Aston Villa, who had been third in 1928/29. They picked up just one point from their visits to Everton and Huddersfield, but then hit a rich vein of form, coinciding with the introduction of Jack Milburn into the team at left-back, replacing the experienced Bill Menzies.
Harry Roberts had now regained the right-back spot from Tom Townsley, but the half-back line of Willis Edwards, Ernie Hart and George Reed was as dominant as ever. Bobby Turnbull, John White, Tom Jennings, Russell Wainscoat and Tom Mitchell were a strong attacking line-up.
Dave Mangnall and Charlie Keetley were able deputies for Jennings on the occasions when his blood poisoning problems prevented him from playing, and it was generally this body of players who saw United through the whole season. Potts was displaced for more than half the season by Bill Johnson, who spent most of his eight years at Elland Road in the reserves. Mangnall, a young centre-forward and prolific scorer in the Midland League, scored ten goals for Leedsin a Northern Midweek League game against Stockport in a 13-0 win on September 25 1929, made his league debut four days later, scored six times in nine consecutive league appearances, but was then allowed to join Huddersfield two months later - prematurely, some felt - where he continued to plunder defences.
Following a 2-1 home victory over Everton on 16 September, United won seven of their next 8 matches, culminating in a 6-0 trouncing of Grimsby on 2 November. They were sitting at the top of the league with 20 points out of a maximum 26. On the way, they had defeated champions Sheffield Wednesday, along with the rest of the previous year's top four. There was a buzz going round Elland Road that had never been known before. The defence was being very miserly and the forwards were carrying all before them, with Turnbull and Wainscoat already hitting six and Mangnall five.
The old instability soon set in, however, and Leeds had a tough winter, losing five on the bounce in November and December. However, they had wins around the New Year period against Arsenal and at Villa Park, before trouncing Crystal Palace of the Third Division (South) 8-1 in the FA Cup third round. They were clearly not going to be as soft a touch as in previous seasons and, even though they lost their fourth round tie 4-1 at West Ham and had another three straight defeats in February and March, they remained in contention right through to the end of the season.
Sheffield Wednesday ran away with things to retain their title with 60 points, but Leeds were among a clutch of other clubs in the top six separated by just five points. They gave Wednesday a bloody nose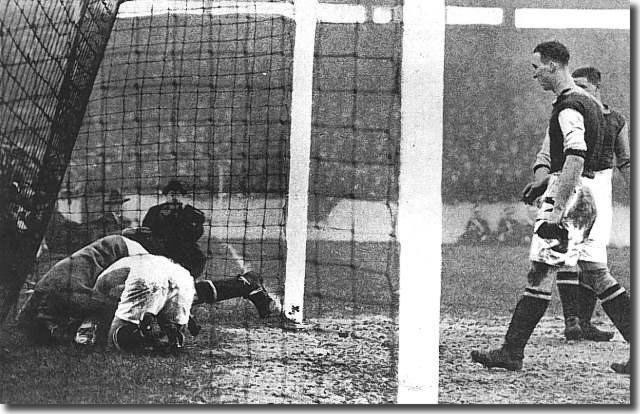 on the way to the title, completing the league double over them with a 3-0 victory on 9 April. Keetley scored all three as he came into the side strongly at the death, hitting ten goals in the last eight matches. United beat Manchester City, who finished third, on the run-in, but had to settle for fifth place, far and away the best finish by a United team before the coming of Don Revie in the 1960's. A win away to mid-table Portsmouth in the final match would have seen them third, but they could only manage a goalless draw. It was disappointing, but there was a rosy glow around Elland Road.
Manager Dick Ray had clearly put together a side strong enough to compete with the best and one that was now setting its sights even higher.
Other Football Highlights from 1929/30
The 1930 FA Cup final between Arsenal and Huddersfield was a memorable occasion with Gunners boss Herbert Chapman seeing his current club beating one of his former charges 2-0 to win their first major honour and set up a golden decade for the Gunners. The Graf Zeppelin flew over Wembley during the first half of the contest
Sheffield Wednesday retained the league title with Jimmy Seed again captain and manager. When he joined the Hillsborough club from Spurs in 1928 they were struggling against relegation
England avenged their 5-1 defeat at the hands of the Wembley Wizards in 1928 by beating Scotland 5-2 to win all three Home Internationals and secure the championship outright for the first time since the War
The first World Cup competition was held during the summer of 1930 in Uruguay. The hosts beat deadly rivals Argentina 4-2 in the final on 17 July after being 2-1 down at half-time. There were no British entries, the home countries having left FIFA in 1928, and the only European teams competing were France, Belgium and Rumania