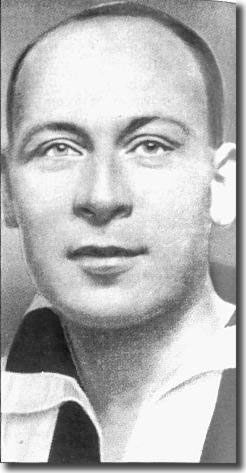 After their first short taste of the big time, Leeds United were relegated back to the Second Division at the end of 1926/27. Manager Arthur Fairclough immediately resigned his post. The Leeds board were desperate for an early return to Division One and they sought a replacement who would be good enough to satisfy their needs.
Dick Ray was the easy solution to their problem, having already had a relationship of twenty years with Elland Road, starting when as a left back he followed his manager Gilbert Gillies from Chesterfield to Leeds City for their first season of League football back in 1905. He had been the first United manager and had been assistant to Arthur Fairclough until he went his own way in the close season of 1923. He had moved on to Doncaster Rovers but was happy to return to Elland Road when the call came.
Despite the relegation, Fairclough had left a strong side behind him: Jimmy Potts was an ever present in 1926/27 and on his way to being United's outstanding keeper between the wars; Willis Edwards, Tom Townsley and George Reed were a dependable half-back line, while Tom Jennings and Russell Wainscoat were threatening up front.
One of Fairclough's last acts at Leeds had been to fork out a then massive £5,600 to secure the services of Scottish international schemer John White, who was to be a star of the team for the next three seasons. Leeds could have turned a quick profit on White when First Division Sheffield United offered them £6,000 for him in November. The board turned down the offer and stuck with White, who was taking a while to settle in the English game.
Clearly, the Elland Road ship was not sinking, but it needed someone to make the best of the potential and Ray was that man. He shipped out a number of players in the close season, including Percy Whipp and Billy Jackson, but strengthened the squad with the capture of forwards Charlie Keetley and Joe Firth. He went on to add others throughout the rest of his first season in charge, including Alex Stacey and George Milburn, who were both signed for the future.
Dick Ray was determined to cling on to his star players. With all mainstays present at the start of 1927/28, the Yorkshire Post sensed optimism at Elland Road. 'The enforced return of Leeds United to the Second Division has awakened a new spirit among the management and players alike. There is a feeling that United's setback is only temporary ... the utmost confidence is felt that a team which includes players of such outstanding merit as Townsley, Edwards, Jennings and White will make a bold strike for a return to the higher status.'
With the left flank strengthened by Tom Mitchell, whose direct surging runs ruffled many defences, Leeds announced their intentions on the first day of the season as they ripped apart South Shields in a 5-1 away win, with White hitting two of them. 'The effect on morale of such a victory is incalculable. With confidence restored, Leeds should stand out in the Second Division,' predicted the Yorkshire Post. White added another to his tally in the 2-2 home draw with Barnsley. Two further home wins followed against Southampton (2-0) and Nottingham Forest (4-0). The goals were flowing freely with White, Jennings and Wainscoat all on the way to wonderful seasons.
The club were losing the odd match here and there, but by the beginning of December had won half of their 16 matches, scoring 38 goals in the process. They had stuffed five past Swansea and won 6-2 at home to Reading.
It was about this time that Ray pulled off a tactical masterstroke by moving Townsley into the problem position of right-back and recalling Ernie Hart to the team at centre-half. He had tried the move temporarily in September when right-back Harry Roberts was injured, but he now made the switch permanent, with immediate rewards. In December and January, the side won seven straight victories with the goals flowing freely. Tom Jennings inspired that run with four goals in the first victory, by 5-0 at home to Chelsea. He hit another two in the 5-1 victory over Stoke and was having a massive impact on Second Division defences.
Although Jennings was laid low intermittently through the effects of blood poisoning, Dick Ray maintained his team's momentum with the mid-season acquisition from non-league football of centre-forward Charlie Keetley. Keetley was one of five footballing brothers, the rest of whom played at various times for Doncaster Rovers under Ray. For Keetley, the higher standard in league football made no difference to his habits - he continued scoring as if for fun, running in 18 goals during Leeds' final 16 matches.
A 3-2 win at Stamford Bridge against promotion rivals Chelsea, delivered by two goals from Keetley and one from White, ensured United's immediate return to the First Division. The match drew a crowd of 47,562 and was worthy of the occasion. The Yorkshire Post: 'The exchanges were extraordinarily fast and keen and reached a high standard of cleverness." On their return to Midland Station in Leeds that night, United were greeted as heroes by hordes of supporters including the Lord Mayor and Mayoress.'
But Jennings was struggling with a bout of blood poisoning and Ray brought Charlie Keetley in as replacement. He repaid Ray's faith by scoring in both of his first two games, a 3-0 win at home to South Shields and a 4-1 away victory at Southampton. Leeds lost their next game, the FA Cup Third Round tie away to Manchester City, who they were vying closely with at the top of the Second Division table, but then Keetley scored again in the 2-2 draw at Forest and hit all three goals in the 3-2 win over Bristol City. A new hero had been found and formed a deadly forward line along with Wainscoat, Bobby Turnbull, White and Tom Mitchell. Keetley was proving a more than capable substitute for Jennings and was now a main man. The two didn't play in the same side until the following season.
Leeds struggled through February, suffering a couple of defeats, but came back strongly at the end of the month. They beat Fulham, drew the next match and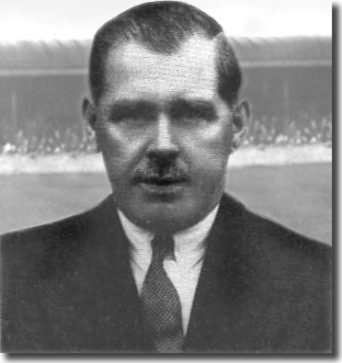 then won eight of the next 9, with the only goals against coming at the end in a 3-2 win away to promotion rivals Chelsea. During that run Keetley really came good, scoring 12 times, with hat tricks in the 6-0 thumping of Notts County and the 4-0 win over Clapton Orient.
With two games left, Leeds were on 57 points and were already certain of promotion. They still had to face their closest rivals for the title, Manchester City, along with another team in the shake up for promotion, Stoke City. Unfortunately, Leeds lost both matches, with the last seeing them going down 5-1 at Stoke. A win in either match would have given Leeds the title, but as it turned out City won the Championship by a clear two points. City's 1-0 win at Elland Road before a record attendance at the ground of 49,799 had been crucial.
For all that stumble at the death, it had still been a magnificent season for the club, bouncing back up to Division One at the first attempt and hitting a club record 98 goals in the process. Jennings and White were joint top scorers with 21 apiece and Wainscoat and Keetley each hit 18, with Charlie's haul coming in just 16 matches, a remarkable haul. The wingers, Bobby Turnbull and Tom Mitchell, also contributed 8 each.
They were older and wiser after a year back in Division Two and could look forward with some hope to another shot at the big time.
Other Football Highlights from 1927/28
A year after George Camsell had torn up the goalscoring record books, Dixie Dean shredded them again when he overhauled Camsell's 59 league goals in the last match of the season. But with three matches to go the 21 year old Everton and England centre-forward was nine short of the record. Dean scored two against Aston Villa, four against Burnley and required a hat trick against Arsenal to reach 60. Although Everton had already won the championship, more than 48,000 packed Goodison on 5 May to see if he could pull it off. He got two in the first half but had to wait until the 82nd minute to smash the record when he soared above the Gunners defence to score his 40th header of the season from a corner
When Huddersfield lost 3-1 to Blackburn in the FA Cup final they became the first team since Barnsley in 1910 to score in a final and fail to win the trophy
Tottenham were relegated from the First Division with 38 points, the highest total for a club going down. The seven teams that finished immediately above Spurs all had 39 points, and only four points separated bottom of the table Middlesbrough (37 points) and tenth-placed Arsenal
Scotland came to Wembley at the end of March and, in the pouring rain and in front of 80,000 people, proceeded to give England a lesson in how football should be played. The 'Wee Blue Devils' - hat trick hero Alex Jackson was the tallest of the forwards at 5ft 7in - turned on an exhibition of ball skill and artistry to run out 5-1 winners and were forever after known as the 'Wembley Wizards'