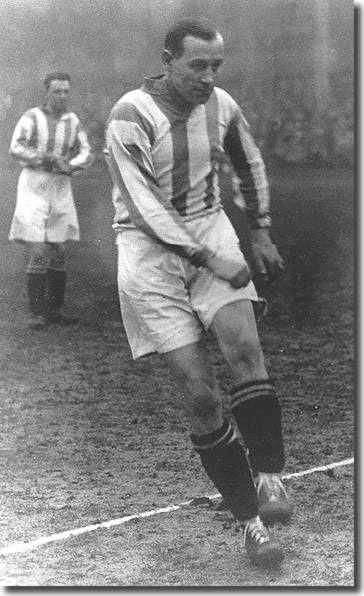 The last time Leeds United had made it into the First Division, they had faced a battle against relegation in each of their three seasons, but they were stronger and wiser as they prepared to return to in 1928/29. They had kept most of the side together while they were out of the limelight and had taken steps to strengthen their staff.
Scottish international inside-forward John White had joined from Hearts during the previous battle against the drop and the year in the Second Division had allowed him to come to terms with life in England. Charlie Keetley had been another useful addition to the side, and they still had big name stars such as Jimmy Potts, Tom Townsley, George Reed, Willis Edwards, Ernie Hart, Bobby Turnbull, Russell Wainscoat and Tom Jennings.
Dick Ray was building a powerful new outfit - the best ever seen at Elland Road - and they now feared little.
They started off like they were born to be in the top flight. Keetley hit a first day hat trick in a 4-1 win over Aston Villa and Leeds then beat Bury 3-1. They had an exciting 4-4 draw with Leicester City and beat Manchester United 3-2. A 6-1 reverse at high flying Huddersfield was a big eye opener, but by the beginning of November Leeds were sitting pretty as potential and very shocking contenders for the title with 8 wins from their 12 games and they had taken to the big time like ducks to water. The impetus of promotion seemed to propel Leeds forward. It was a big difference from their previous experience of life at the top, when they had continually struggled so badly. In the event this fruitful start became insurance against relegation, for the team's form went haywire in mid-season.
They couldn't keep up that start, understandably, but more than held their own for the rest of the season. They lost more often than they won, especially away from their Elland Road stronghold, but were finding it easy enough to consolidate around mid table security. Tom Jennings missed most of the season with a recurrence of the blood poisoning that had ruined 1927-28 for him, but he still got nine goals in his 17 games, a total that was equalled by White. Keetley and Wainscoat were the pick of the bunch, however, with 20 and 18 goals respectively, highly respectable returns, as United had another good season in front of goal, totalling 71.
They struggled at the back, conceding 84, with 8 of those coming in a thrashing at West Ham in February and another five in the next game, at Burnley.
They went out of the FA Cup in the Fourth Round, going down 3-0 away to Huddersfield Town after overcoming Exeter City 5-1 in a Third Round replay.
It was a satisfactory second coming to the top flight, with Leeds finishing a comfortable 13th. At one stage, it even looked like there would be a top six placing, but an appalling late run, when they won just five points from their last ten matches, put paid to that. But mid table had been the aspiration at the start of the season and it represented an excellent platform for Dick Ray's side to chase better things for the future.
There were international call-ups for Ernie Hart in November 1928 and Russell Wainscoat in April 1929. Willis Edwards was an England ever-present and had only missed three since his debut in March 1926.
Other Football Highlights from 1928/29
Arsenal manager Herbert Chapman doubled the British transfer record in October 1928 when he splashed out £10,890 to secure cultured England inside forward David Jack whose goals had previously helped Bolton to win two FA Cups. He spent another £9,000 in securing Preston schemer Alex James in June 1929
The departure of Jack didn't prevent Bolton from winning the FA Cup for a third time in seven seasons by beating Portsmouth 2-0
33-year-old former Spurs inside-right Jimmy Seed inspired Sheffield Wednesday to take the league title by a point from Leicester City. The Yorkshire club led the table from the beginning of December
England lost for the first time to a foreign side when they went down 4-3 to Spain in Madrid on 15 May. England had been 2-0 and 3-2 ahead earlier in the game, but tired during their third match in a week after easy victories over France and Belgium