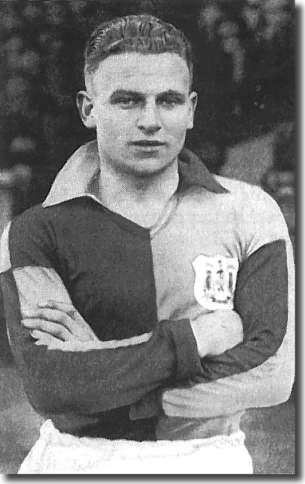 Just as mighty Arsenal had descended on Elland Road in the summer of 1934 to steal away a major talent (Wilf Copping), so their North London neighbours Tottenham Hotspur did in June 1938. Spurs came a-calling for Leeds' England right-back, Bert Sproston, and £9,500 was enough to persuade the Elland Road board to part with one of its prize assets. The record fee at that time was still the £10,890 that Arsenal had spent a decade earlier to buy inside-forward David Jack from Bolton and the money on offer was all too readily grabbed by a club that was still financially struggling. Two months later, Arsenal broke the transfer record again by signing Bryn Jones from Wolves for £14,000.
A few weeks earlier, Leeds had also released centre-forward Arthur Hydes to Newport County; Hydes had missed the whole of the previous season and he had suffered significant injury problems throughout his period at Elland Road, although his return of 74 goals in 127 league games was notable. South African centre-forward Gordon Hodgson was still going strong and, despite being 34 years old, showed no signs of wanting to retire, so Hydes upped sticks for Wales.
Leeds drafted 22-year-old Ken Gadsby in to replace Sproston. The full-back had joined the club in October 1934 from Wilf Copping's first club, Middlecliffe Rovers, but had only played once so far for the first-team. The rest of the side was much as it had been the previous season, although the return of 35-year-old Willis Edwards, now a veteran of almost 400 league games, lifted the average age of a youthful outfit.
David Cochrane on the right and Jack Hargreaves at outside-left had youth, pace and potential, but the forwards, save for Hodgson, often toiled vainly for goals.
They had started strongly in previous years and did so again. Indeed, they won 9 of the first 15 matches and the visit of Leicester to Elland Road on 1 October saw Hodgson run riot, scoring five times in an 8-2 win. Two games later on 15 October, Willis Edwards made his 400th appearance in a 1-0 home win over Wolves. However, following Hodgson's 13th goal of the season, in a 2-1 win at Blackpool on 19 November, there was a distinct change of fortunes. At that point Leeds were outdoing themselves in third place.
United went through an appalling spell of form, winning just once in 15 games and descending at a rate of knots down the table. An FA Cup third round win at Elland Road against Bournemouth and a 2-1 home defeat of Charlton were the only successes. Huddersfield Town, now only a shadow of the glorious club of the Twenties, were the opposition in the fourth round. Town had only picked up two draws on their travels in the league and had already lost to Leeds on their own turf, so they looked easy meat. Leeds were 2-0 up by half-time with goals from Hodgson and David Cochrane and looked to be coasting. The first 25 minutes of the second half overturned all the good work, however. Huddersfield centre-forward Bill Price hit a hat trick as the Terriers won 4-2 at Elland Road to leave United with nothing to play for but their pride. They were well clear of relegation (although if their slide had continued they would have been drawn into a battle), but were equally distant from a tilt at the title.
They ended their depressing sequence and showed what they were still capable of by beating champions Arsenal 4-2 at Elland Road on 11 March with Eric Stephenson (with a penalty), Aubrey Powell, Hodgson and Jack Hargreaves scoring the goals. Arsenal were about to surrender their title to Everton, but were still a class outfit, and the triumph was particularly satisfying as it enabled Leeds to complete the double over the Gunners, having won 3-2 at Highbury at the beginning of November, with two goals from Stephenson and another from Arthur Buckley.
Notably, the Elland Road victory over Arsenal was the second game back in Leeds colours for Wilf Copping. He had returned from a five-year stay at Highbury and he obviously relished the thrill of putting one over his former club, although he had only left them to return to Yorkshire as the threat of war hung heavy on the air. The return of Copping signalled a mini-revival in United's fortunes. Around the same time Leeds splashed out £3,750 to buy centre-forward Len Dunderdale from Watford. Dunderdale played three matches as cover for the injured Hodgson, but didn't get on the scoresheet. In fact, the goals had more or less dried up for Leeds after Christmas and their attack looked distinctly jaded.
With Copping rallying the troops, there was more bite about the team and in the left-half's 12 matches at the end of the season they conceded just 9 goals. Four of those came in one match against Birmingham, whose easy win couldn't stave off relegation for them. Clearly, the England hard man had made a significant difference, although the imminent threat of war prevented there being too much optimism. The late improvement in form helped Leeds finish in a comfortable mid-table position, nine points below third, but also a crucial nine points clear of relegation.
Average attendances at Elland Road remained only a fraction below 20,000, despite the spectre of war and the Boxing Day defeat against Derby County drew more than 34,000.
If the war had not intervened at that point, Leeds United may have gone on to bigger and better things: they had a good young team that was capable of brilliance on its day and would surely have got better. Copping, at 29, may have been past his very best but could have brought out the best in the youngsters, but sadly, it was not to be; there were to be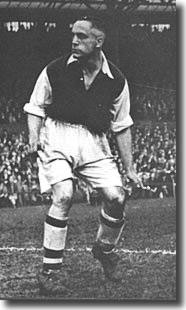 six long and dark years of battle and seven lost seasons before official football competition resumed. Young players like Eric Stephenson (who lost his life during the war), Jim Twomey, Jim Makinson, George Ainsley and Arthur Buckley saw their best playing years ripped away from them by the European conflict and were never the same after the resumption of official football competition in 1946.
Other Football Highlights from 1938/39
Arsenal needed a replacement for Alex James, who had recently retired, and manager George Allison was convinced that Bryn Jones was the man he wanted. So, at the start of the season, he broke the transfer record, paying £14,000 in four instalments to Wolves to bring the Welsh inside-forward to Highbury
Wolves only conceded 39 goals in 42 matches, a First Division record since the introduction of the revised offside law in 1925, but still finished four points behind champions Everton. Barnsley did even better, only conceding 34 goals on their way to the Third Division North title
In the FA Cup final, Wolves, who had been challenging for the championship, were 5-1 on to beat Portsmouth, who had spent most of the season fighting to avoid relegation. However, in front of the biggest crowd (99,730) since the White Horse final of 1923, Wolverhampton simply froze on the day and allowed Portsmouth to finish comfortable 4-1 winners
England faced World Cup holders Italy in Milan on 14 May and drew 2-2. The Italians' second goal was clearly the result of a handball, but England were satisfied with a draw in their first match against Italy since the Battle of Highbury in 1934
Willie Hall equalled the England scoring record when he got five goals in the 7-0 defeat of Northern Ireland on 16 November. Despite that result, England finished in a three way tie with Scotland and Wales in the Home International Championships following a 4-2 defeat in Cardiff
The match fee paid to internationals players by the FA was raised from £6 to £10