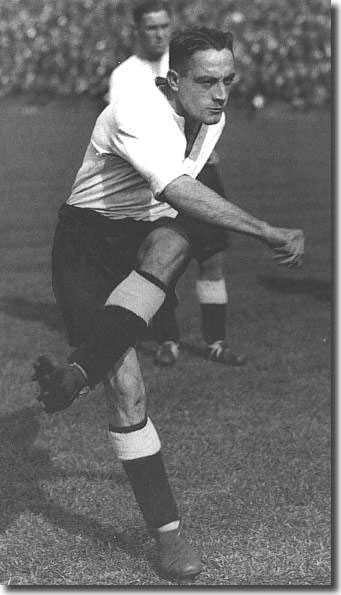 It was evident at the end of the 1938/39 season that war was a distinct possibility, but arrangements went ahead anyway for the new season. Three matches in, Blackpool topped the First Division with three wins and Leeds were rock bottom, having lost three times, each by 1-0. 24 hours after the match against neighbouring Sheffield United on 1 September 1939, Prime Minister Neville Chamberlain declared war against Hitler's Germany. All sport in the country was stopped, because emergency regulations forbade the assembly of large crowds.
A joint meeting of the League and the FA decided to halt play for the time being and suspend players' contracts. Within weeks, however, permission had been granted for the resumption of matches, subject to the approval of the local police and strict crowd limits, providing that they did not hamper the war effort. Clubs were restricted to paying a maximum of 30 shillings per player and were allowed to use guests to replace men who were on National Service. Many clubs had already volunteered en bloc and some teams decided to close down for the duration of the war.
Those clubs who wished to continue playing were organised into ten regional leagues because travelling to away matches was restricted to journeys that could be completed on the day of the game. A Cup competition was staged in the last two months of the season, with guest players excluded.
Leeds were one of the teams who chose to carry on and spent 1939/40 in the North East Division, playing teams like the two Bradford clubs, Darlington, Hartlepools, York and Newcastle. Elland Road had been taken over by the Army, and the club were only allowed to use it on match days. Leeds finished 5th out of 11 teams, winning half of their games. Many of their pre-war squad were still in action, albeit intermittently, including Les Goldberg, Ken Gadsby, Jim Makinson, Wilf Copping, Tom Holley, Jack and Jim Milburn, Gordon Hodgson and Eric Stephenson.
That was the most organised of the seasons during the war and also the most successful one for Leeds. As the years drew on, things became chaotic and Leeds' performances deteriorated. Crowds rarely got above the 5,000 mark and it was often necessary for the team to remain undecided until they were about to kick off as it was never certain who would be available. Leeds were by no means unique in this respect. On Christmas morning 1940, Brighton travelled to Norwich with only five players, hoping to recruit more on the way - they made up their team with some Norwich reserves and soldiers from the crowd of 1,419, but were beaten 18-0.
1940/41 saw 38 players turn out for Leeds. Jack and Jim Milburn alternated the right-back spot between them, but the star of the show was Eric Stephenson, who was at his peak. Wilf Copping played most of the second half of the season whilst on leave from the Army and 36-year-old Gordon Hodgson was still going strong, although he was now figuring occasionally at centre-half. Strangely, the Northern Division that season was decided solely on goal average and Leeds finished 15th out of 36 clubs, although they only played 30 games. Half-back Jim Makinson was the only ever present.
1941/42 was even more bizarre with two championships in the Northern Division. The first consisted of 38 teams and Leeds ended up 26th with 7 wins and 1 draw from 18 games. The second championship, which ran from the end of December, resulted in a final table of 22 clubs, while a further 29 teams - Leeds United amongst them - failed to qualify because they played fewer than 18 games. This time, United lost ten of their 17 matches. Team selection had become particularly haphazard, although Tom Holley, Jim Makinson, Aubrey Powell and Gerry Henry all played more than 30 games. Altogether more than 50 players turned out in the Leeds team that season.
As time drew on, matters got more and more disorganised and desperate. 1942/43 saw competition again split into two championships and Leeds finished 43rd and 47th, using 70 different players, including 39-year-old Willis Edwards in one particular emergency. They only won 8 out of 34 matches and conceded almost 100 goals, losing 7-1 at home to Newcastle and 9-0 away to the same side later in the season. There was a slight upturn in 1943/44, but Leeds were still well outside the top 20 and there was worse news for the club in September 1944 when Eric Stephenson, who had become a Major in the Ghurka Rifles in Burma, died while on active service. Stephenson was still only 30 and could have looked forward to some good years after the war. Alan Fowler, who played 15 games at centre forward in the 1933/34 season, also died, in France in June 1944. Jim Milburn was wounded in action in Belgium that same year, though he recovered and returned to the Leeds side when the war ended.
1944/45 was the last year of the two championship format and once again Leeds performed poorly, although the promise of an end to the conflict made the problems on the football pitch seem irrelevant. Tom Hindle and Gerry Henry had outstanding seasons, netting 26 and 20 goals respectively out of a total of exactly 100. Hindle was 24 and had joined Leeds on a permanent basis from Keighley Town in September 1943. Henry was also 24 and had been at Elland Road since he was 17. He made 186 wartime appearances and scored 94 goals for Leeds - both club records - and also guested for Doncaster.
Following the declaration of peace in the summer of 1945, there were still a lot of problems facing the football world before normal activities could resume. Many players were still engaged on National Service, grounds were bomb damaged and petrol rationing restricted transport. So the League was divided into regional sections to reduce travel, clubs in the top two divisions in the season before the war were split into a Northern section and a Southern section and there were four regionally split Third Divisions. Promotion and relegation were abandoned for the time being, the FA Cup was played on a two leg home and away basis and clubs were allowed to continue using guest players.
Leeds manager Billy Hampson, now almost 63, pulled together a squad including many of the players he had before the war, such as Jim Milburn (his 37-year-old brother Jack figured as a guest in 3 games, having been transferred to Norwich before the war), Tom Holley, Billy Heaton, George Ainsley, Gerry Henry and Aubrey Powell, and supplemented them with newer arrivals such as goalkeepers John Hodgson and Harry Fearnley, Hindle and Dennis Grainger, who cost £1,000 from Southport in October 1945.
Hampson thought he had a good combination in the circumstances, but that illusion was quickly dispelled as Leeds took their place in the 22-team Northern Section. Leeds lost their first five games and only managed to win 9 games all year. They took some dreadful beatings, 9-4 at Bradford, 8-2 at Preston, 6-0 at Bolton, 6-1 at Manchester United, 6-2 at Sheffield United, 5-1 at Sunderland and Manchester City and conceded 118 goals. The story was just as bad in the FA Cup, as they crashed 7-2 at Middlesbrough.
Not surprisingly, Leeds finished rock bottom of the division, grateful for the abandonment of relegation for the year. Despite the fact that things were starting to get a bit more organised generally, Hampson used 50 players in all that year as the team never got going. Leeds United had become a joke and the Elland Road supporters were extremely apprehensive of what dire consequences the resumption of official league competition would bring.
Other Football Highlights from 1939-46
With many footballers as physical training instructors it was hardly surprising that wherever the British armed forces went football was played. Before the retreat from Dunkirk, an Army XI, captained by Stan Cullis and with Denis Compton, Wilf Copping, Tommy Lawton, Joe Mercer and Bert Sproston in the team, played three matches against a French international team
In Cairo, the nerve centre of the North African campaign, there were so many players that a full-blown league was organised. Each team represented an Army or Air Force unit, and adopted the name of a famous English club
Football was so popular at Stalag Luft I that there were 60 teams organised into five leagues. The only problem was that the pitch was surrounded by barbed wire, which regularly punctured the ball
Unofficial international matches continued and 75,000 people saw England draw 1-1 with Scotland at Hampden Park in May 1940
Players earned their money wherever they could. Tommy Lawton appeared for Morton while he was on his honeymoon in Scotland and played twice on Christmas Day - for Everton in the morning and then scoring twice for Tranmere in their 2-2 draw at Crewe in the afternoon. One Bradford City player said that he played for eight different clubs in nine weeks and Notts County used 132 players in a season
The FA Cup was played for officially in the spring of 1946, following the declaration of peace in 1945 and Derby's Raich Carter (bought from Sunderland for £6,000 in December 1945) inspired his new team to a 4-1 win in the final against Charlton Athletic
In 1945/46 the FA persuaded all the British associations to rejoin FIFA