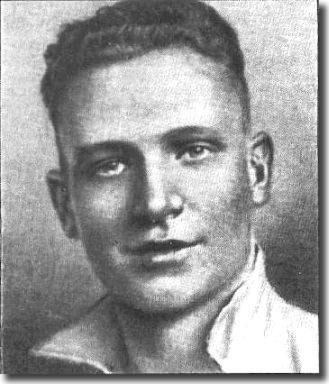 Leeds United had managed to consolidate their First Division position in 1932/33, mainly thanks to a strong early run. Their form had dipped badly in the second half of the season. Manager Dick Ray was not too perturbed, however, and again made few adjustments to his squad in the summer. He secured three young players from junior football, forward Mick Kelly, centre-half Charlie Turner and right-back Bert Sproston, who was later to play for England. Sproston signed as a 17-year-old from Sandbach and made his debut just before Christmas. The only departure of note was left-back Bill Menzies, who joined Goole Town in September after nearly 250 games for Leeds. Menzies had lost his place to George Milburn in 1932 and was now over 30.
The Leeds side was very stable during 1933/34. Goalkeeper Stan Moore (who took over from Jimmy Potts the previous March), George and Jack Milburn, Wilf Copping, Billy Furness and Tom Cochrane missed just twelve games between them all season.
Ernie Hart missed the first five games of the season after being banned for a month when he was sent off for swearing at the referee in the West Riding Senior Cup Final against Huddersfield, held in April 1933. The FA also axed him from an England tour to Italy and Switzerland in May. His problems didn't prevent Hart from passing 400 league games for the club on New Year's Day 1934 as they lost 2-1 at Middlesbrough. He had long since passed the previous appearance record of 203, set by full-ack Bert Duffield in 1925.
Willis Edwards, too, missed large chunks of the season through injury and only figured in 15 games. His half-back partners' problems did not impact on Wilf Copping, though, fresh from making his England debut in May 1933 - he had another great season. Centre-forward Arthur Hydes was another long-term absentee, missing completely from the beginning of January.
The absences of key men gave some of the reserves the chance to take centre stage and Alex Stacey (until his November move to Sheffield United), Alan Fowler, Joe Firth, Johnny Mahon and Cyril Hornby were called on for cover.
The changes were unsettling but the side coped admirably in the early weeks of teh campaign - they won five of the first ten games, with Hydes in excellent form, scoring nine timesin seven appearances. He went on to finish top scorer with 16 goals in 19 matches, but missed the whole of October and didn't play at all after 6 January. In his absence, Fowler hit six in seven matches in October and November. The team were starting to struggle, however, and only had two victories between the end of October and the end of January. During that period, they also tumbled out of the Cup, losing 1-0 at home in the third round to Second Division Preston.
Just as in 1933, they faced the powerful Arsenal side on Boxing Day, but while the champions were flying, Leeds were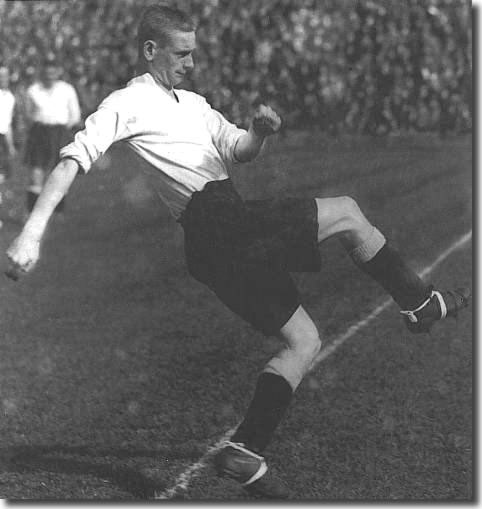 languishing in 17th place and lost 2-0, 'the score no indication as to the superiority of Arsenal,' commented The Times.
For a time their league position looked decidedly vulnerable, but Leeds won all four of February's games and had a couple of good wins in March. They welcomed back Willis Edwards after a three-month absence for a mid-table clash on 7 April with FA Cup semi-finalists Leicester City. Harry Duggan, Mahon, Furness and Firth got two goals apiece as they hammered the Foxes 8-0, United's best ever league win.
The high scoring emphasised the contributions of Duggan, Firth and Mahon, who enjoyed decent runs in the absence of Hydes and Charlie Keetley. They finished with respectable totals of 11, 8 and 7 goals respectively.
United's notable spring revival saw them finish ninth, well off a challenge for the title but comfortably clear of relegation. It wasn't thrilling stuff for the fans (the average gate at Elland Road was just over 16,000 despite the First Division opposition and the last game of the season, against Chelsea, drew only 6,092), but Leeds were starting to establish themselves in the top flight. They had now been in Division One for eight of the previous ten years.
Manager Dick Ray's abilities were officially recognised when the Football League appointed him to manage a representative team. Under his guidance a League selection drew 2-2 with their Scottish counterparts at Ibrox in February.
Other Football Highlights from 1933/34
Herbert Chapman, the greatest manager since the war, died suddenly in the early hours of Saturday 6 January. Chapman had gone to watch a player he was interested in at Bury the week before and then went to watch Arsenal's title rivals Sheffield Wednesday. He developed a heavy cold and against the club doctor's advice then went to watch the Gunners' third team. After seemingly improving on the Friday, the cold developed into pneumonia and by 3am on the Saturday morning Chapman was dead, shocking the football world.
After the death of Chapman, Arsenal, the league leaders, went to pieces, drawing one and losing three of their next four games, but they recovered and came back strongly to win the championship for a second year running
Frank Swift, Manchester City's 19-year-old goalkeeper, was so overcome at the end of the Cup final that he collapsed under his crossbar and had to be helped to the Royal Box to collect his winner's medal after City came back from a goal down to beat Portsmouth 2-1
Rangers won the Scottish league and Cup Double
Newcastle were relegated from Division One for the first time after four championships and three Cup wins
The second World Cup competition was held in Italy and the hosts won it at the first attempt, beating Czechoslovakia 2-1 in the final after extra-time. Holders Uruguay, in a petulant protest at the European boycott of the 1930 tournament, did not compete, and the only South American entrants were Argentina who sent a weakened squad in protest at what they saw as poaching of their best players by Italy