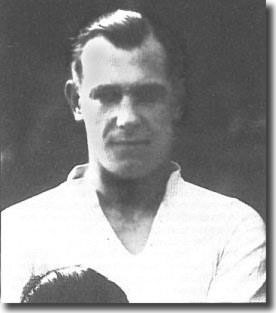 As the 1932/33 season dawned, Leeds United were getting something of a reputation for being a yo yo team. After being elected to the Second Division in 1920, they were promoted in 1924, relegated in 1927, promoted 1928, relegated again 1931, only to win immediate promotion once again in 1932. As with many clubs over the years, they were proving too strong for Division Two, yet not good enough to have more than a temporary stay in the top flight.
They had reached the dizzy heights of fifth in 1930, and still had some outstanding individuals such as their brilliant Edwards-Hart-Copping half back line and Geordie forwards Tom Cochrane and Billy Furness. But would a collection of good individuals be good enough to keep them up this time? Manager Dick Ray certainly thought so, and there were few personnel changes during the summer, although 36 year old Bobby Turnbull departed for Rhyl in September, choosing to retire a year later.
The only voluntary change in positions 1-6 was George Milburn coming in at right-back with brother Jack switching to the left flank. Jimmy Potts continued in goal and only injury to Willis Edwards on the opening day led to any change at half-back. Edwards only played one more game before Christmas, and Alex Stacey took his opportunity, coming in to support Ernie Hart and Wilf Copping. Up front Arthur Hydes was the new spearhead, missing just 3 League games, alongside Furness who was ever present. The other forward positions were usually filled by any three from Johnny Mahon, Cochrane, Charlie Keetley and Harry Duggan.
Apart from the loss of Edwards, the opening day saw a 2-0 home defeat at the hands of Derby County. The second game, away to Blackpool, also ended in defeat, but United then went on a 14-match unbeaten run. Charlie Keetley came in to partner Hydes, replacing Joe Firth, after the two opening defeats, and they struck up a promising partnership, although Keetley was in and out of the side for most of the year.
The unbeaten run ended with a 3-1 defeat at Newcastle on December 3, but they didn't lose again until New Year's Eve, going down 5-1 at Derby. The run had optimists dreaming of the league championship - all the more so when on Boxing Day, Leeds excelled themselves by winning 2-1 against former Leeds City manager Herbert Chapman's Arsenal side at Highbury.
The next day Leeds was seized by football fever. Every train, every tram, every taxi was overflowing and seemingly every soul from miles around descended on Elland Road as United and Arsenal squared up for the return fixture. Spectators began arriving four hours before kick off. Once, an influx of such a huge number of supporters would have caused bedlam, but the ground was bigger now and despite the intense crush as thousands were locked out, a semblance of order was maintained.
The game attracted 56,988, much the biggest crowd in Leeds' history, but, the Yorkshire Post observed that the ground was not uncomfortably full. 'Had proper packing been possible, it could have held many more especially behind the goal at the Gelderd Road end.' Elsewhere however, 'the crowd overflowed onto the roof of the newly covered part of the popular side ... scores were seen watching from the roof of an inn ... so great was the crush that gates had to be opened to relieve some of the pressure.' The match was a 0-0 draw but no damp squib: 'a game worthy of the occasion, fought at a tremendous pace'. The Times reported that Leeds 'were only kept from success by the familiar concentration under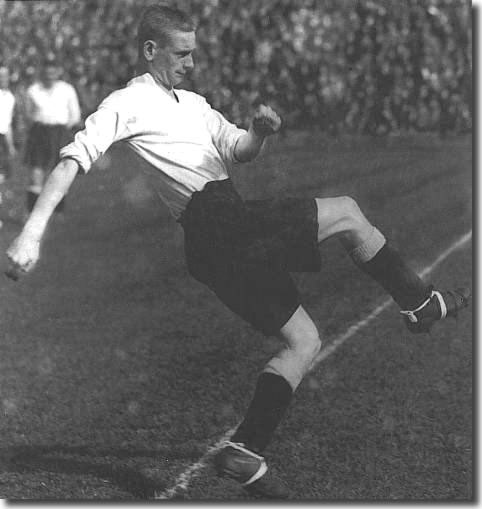 pressure of eight members of the Arsenal side within or near their penalty area ... the tackling of Hart and the brothers Milburn was too strong for the Arsenal men'.
But both the team and the city of Leeds soon sobered up. On 31 December, Dick Ray's men lost 5-1 at Derby County and for United's next home match against Blackburn Rovers on 7 January there was no crushing stampede but an orderly trickle. The crowd was only 14,043: 42,000 football fans had vanished, many never to be seen again.
Leeds' great potential was underlined when United returned to FA Cup holders Newcastle in the third round of the competition on 14 January and came away 3-0 winners thanks to a Hydes hat trick.
They needed a replay before seeing off Tranmere 4-0 in the fourth round, but went down 2-0 in the fifth at Everton. While their Cup run lasted, Leeds struggled in the league, failing to win a match after the 3-1 defeat of Blackburn on January 7 until they came back to form by hammering Liverpool 5-0 on 18 March.
That run ruined any chance of a high finish and the rest of the season was something of a non-event. They hammered Newcastle again, by 6-1 on 15 April, but suffered heavy defeats at the hands of Chelsea (6-0) and Bolton (5-0) on the closing day, resulting in an 8th place finish on 44 points. They were at the head of a host of eleven clubs covered by just seven points. Five points more would have left them fourth, while dropping nine would have seen them plummet to 20th. In the circumstances, it was a satisfactory season and Leeds had achieved what they really needed, consolidation in the top flight. Hydes was top scorer with 19 League and Cup goals, but Keetley ran him a close second, with 14 in just 24 matches.
Wilf Copping won his first England cap, along with Billy Furness, in the 1-1 draw with Italy. Copping kept his place for the 4-0 trouncing of Switzerland, but Furness never played again.
Other Football Highlights from 1932/33
Walsall 2 Arsenal 0. The third round defeat of the champions-elect by Third Division fodder was the greatest Cup upset of all time, a result that caused the nation to rejoice. Arsenal were not a popular side: their players were costly imports and their style was seen as breakaway smash and grab. And they were a privileged London side when much of the North and Midlands was experiencing severe unemployment. The match had been built up by the press as the Bank of England team versus the little team that cost £69. The tiny Black Country outfit overturned all the form books and ended the run of the previous season's Cup finalists at the first stage
Tottenham, like Arsenal, went out of the FA Cup to a Third Division side, Luton. West Ham, who just avoided relegation from the Second Division, were left to carry the standard for London, beating two First Division sides on their way to the semi finals
Arsenal's Cup disaster didn't affect their league form and the Gunners won their second title in three seasons, finishing four points clear of second-placed Aston Villa
Numbered shirts were worn for the first time in the FA Cup Final, winners Everton being numbered from 1 to 11 and Manchester City from 12 to 22. Everton won 3-0 with goals from Stein, Dean and Dunn, to complete a hat trick of successes - the Second Division championship in 1931, the First Division crown in 1932 and now the Cup
England won the long awaited showdown at Stamford Bridge on 7 December with the much vaunted 'Wunderteam', but were given a fright by the skillful Austrians before they emerged 4-3 victors. Previously Austria had a number of outstanding wins: versus Scotland 5-0, Germany 6-0, Switzerland 8-1 and Hungary 8-2