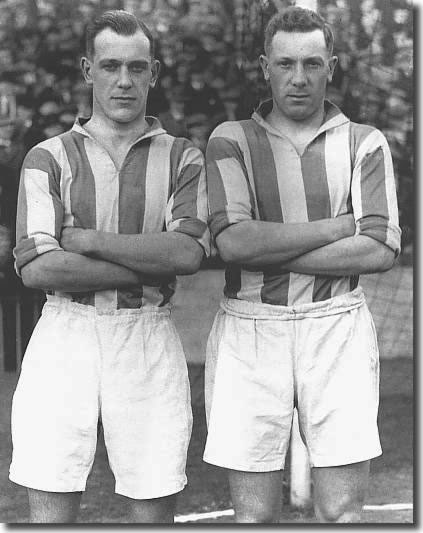 The performances and outcome in 1929/30 had been beyond the wildest dreams of even the most committed Leeds United fan - they had come in fifth and more than held their own with the big boys. Now they started to wonder, could they actually challenge for the big one, the league championship? Dick Ray certainly had high hopes as he readied his charges for 1930/31.
John White returned to Hearts and Scotland during August 1930, but Leeds were surely strong enough to challenge for the top honours. There was to be a rude awakening, however, for all at Elland Road.
They kicked off with a 2-2 draw at home to Portsmouth, but then lost twice, 4-1 at Derby and 3-1 at Arsenal (under former Leeds City manager Herbert Chapman, on the way to the league title and supremacy of English football). They bounced back immediately to beat Manchester City and Blackburn, scoring four goals in each game against teams that were top six the previous year. The victories calmed the early anxieties - the club had had slow starts before and now, surely, they would be launching a bid for honours?
Jack Milburn had retained his place at left-back and Wilf Copping had been blooded at left-half in the absence of the injured George Reed. He was not to miss a match all season. Willis Edwards and Ernie Hart were as powerful as ever and helped the youthful Copping bed in. Left winger Tom Cochrane had broken through at the end of the previous season and was preferred to the popular Tom Mitchell, despite crowd unrest. Milburn's brother George was starting to establish himself at right-back and Jimmy Potts regained the goalkeeping position. Charlie Keetley, Bobby Turnbull, Russell Wainscoat, Tom Jennings and Billy Furness (signed for £50 from non-League Usworth in 1928) were terrorising defences. All looked well with the world.
A reversal in the return at Manchester City was soon forgotten when they won their next match by 7-3 away to Blackpool. It was a record away win for the club and put them in good heart. The four straight defeats, with just one goal to their credit, which followed were a setback, sure, but the 7-0 win which followed against Middlesbrough with Duggan, Wainscoat and Jennings all scoring twice stilled fears again. However, Wainscoat was the only one of three who made anything like a significant contribution and Duggan and Jennings only managed 20 games and 9 goals between them.
The stop-start fluctuations were to continue throughout an amazingly inconsistent season. The defence could not be relied upon and the forwards were unreliable, swinging wildly between brilliance and anonymity. Leeds would have a heavy win, then go five or six games before another one came along. They won just twelve games in the league all season, but in those games returned a goals record of 45 for and only 10 against. The position was equally stark in their 23 league defeats, where the position was 16 for but 64 against. Inconsistency was certainly the word. Even more annoying was the fact that nine of the 23 defeats were by the margin of a single goal.
The crowds were starting to drift away from Elland Road as well. They had hit an average 23,000 during 1924/25, their First Division debut year, a record for the club, and had remained above the 20,000 level even when United had dropped back down to Division Two, but now they had plummetted to below 16,000. The home game with Bolton on 6 December saw just 7,595 fans in attendance.
Leeds beat First Division sides Huddersfield (2-0) and Newcastle (4-1) in the FA Cup Third and Fourth Rounds, with Elland Road attracting more than 40,000 fans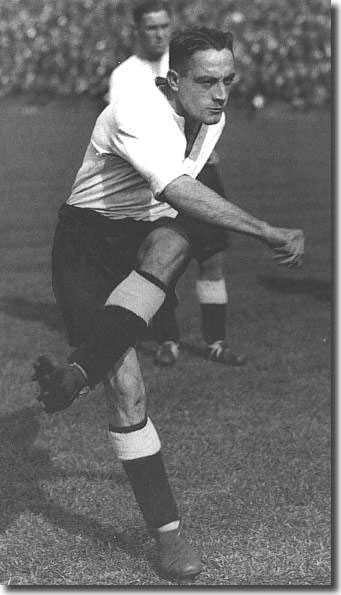 on each occasion. Then they inexplicably crashed 3-1 away to Exeter City from Division Three (South) just as they looked like they might be able to go all the way to Wembley. It was the furthest that they or Leeds City had as yet progressed in the competition.
As April 1931 dawned, Leeds were down among the dead men, battling for their First Division lives. A 4-0 win over Sheffield United on 7 April was a welcome boost, but United were in trouble. Manchester United had been in bottom spot for some time and as good as relegated, but Leeds and Blackpool, the team United had earlier savaged by 7-3, were now fighting to avoid the remaining relegation spot. Two 2-0 defeats on 11 and 18 April, at Bolton and in the home match with Villa, were massive body blows for Leeds and put Blackpool in the driving seat.
As the last day of the season dawned, on 2 May, Leeds had 29 points. Blackpool were on 31, but with a much inferior goal average. The equation was simple - Leeds had to defeat top six side Derby County at Elland Road and pray that Manchester City would be able to beat Blackpool at Maine Road. Blackpool had an abysmal defensive record, conceding 125 goals that season, ten more than bottom placed Manchester United. Surely City would see them off?
Leeds had one of their better days and achieved their part of the task by beating Derby 3-1, with two goals from Keetley. However, Blackpool fought back at Maine Road to snatch a late equaliser and secure the point they needed to survive. After being tipped for the title, the Elland Road club were sent tumbling back down to Division Two! Everyone connected with Leeds United was devastated.
Other Football Highlights from 1930/31
Arsenal became the first southern club to win the league championship and did so with a record 66 points to finish seven clear of runners-up Aston Villa. The Gunners' 127 goals would also have been a new record had Villa not managed that by scoring 128
The Midlands came into their own at Wembley in the wettest Cup final seen for years, when Second Division West Bromwich Albion beat their First Division neighbours Birmingham 2-1. Albion became the first side to win the Cup and promotion in the same season
Buoyed by a victory in France in 1930, Scotland staged their first full overseas tour in May. This time they were less successful, losing 5-0 to Austria and 3-0 to Italy before regaining some pride by beating Switzerland 3-2. England also came unstuck on their travels, going down 5-2 in France in May before bouncing back to win 4-1 in Belgium. The old rivals shared the Home International Championship although the Scots won the annual match between the two sides 2-0