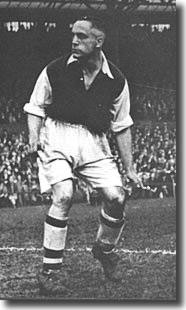 League champions Arsenal were known as the Bank of England Club during their heyday in the 1930's and they swooped on Elland Road in June 1934 to spirit away iron man Wilf Copping for £6,000. It was a sad day for Leeds as one of their key players departed, never to be adequately replaced. Former Leeds City boss Herbert Chapman had coveted the fearsome No 6 for months, but it was not until after his unexpected death that the Gunners finally got their man in the close season.
That summer saw a number of other departures, the main one being goalkeeper Jimmy Potts off to Port Vale after nearly 250 games for Leeds. Manager Dick Ray generally sought to replace from junior football, with full-back Les Goldberg, wing-half Fred Mills, winger Jack Hargreaves and inside-forward John Thomson arriving. Eric Stephenson was the most successful of these discoveries, going on to play for England. During the winter, Ray also bought a couple of established stars, paying Sunderland £6,000 for 33 year old centre-half Jock McDougall and Newcastle £1,150 for centre-forward Jack Kelly.
Leeds had managed mid-table finishes over the previous two seasons, but Copping was badly missed. Leeds sank to 18th place, though they only gained four points fewer than the previous campaign. Defensively, however, there were some dreadful embarrassments: Middlesbrough won 4-2 at Elland Road on the opening day, followed immediately by an 8-1 defeat at Stoke, a 6-3 defeat at West Bromwich in November and a 7-1 thrashing at Chelsea in March - despite Leeds having taken a 10th minute lead in the latter.
Leading striker Arthur Hydes was out until mid-October and in the first two games Ray experimented with Mills at centre-forward. He got both goals against Middlesbrough (his only ones for the club), but he soon reverted to his more customary right-half position, having to cover for England international Willis Edwards, who was again struggling with injuries.
Young Bert Sproston got a good run in the side at right-back in place of George Milburn, but the other Milburn brother, Jack, had a better season, now club penalty taker and slotting home six. Jack had been on England's summer tour of Czechoslovakia and Hungary, though he never appeared for his country, despite a decade of great consistency at Elland Road.
Leeds had a couple of wins in September, but it was not until Hydes returned to the team on 20 October that they started hitting anything like real form. Hydes got five goals in his first three games, two of which were won, and his form continued with 22 goals in 30 league games and another three in the Cup. Billy Furness was an excellent foil for Hydes, hitting 16 goals in 34 appearances, with seven in the last six matches. The two proved a real handful for defences, but the defence was found badly wanting, conceding 8 at Stoke, 7 at Chelsea, 6 at West Bromwich Albion, and 4 against Middlesbrough, Sunderland, Liverpool and Everton.
It was a difficult winter at Elland Road with wins few and far between. The best came on 5 January with a hat trick from Hydes the highlight of a 5-1 win over Blackburn. FA Cup defeat at the hands of inferior opposition was the norm between the wars for Leeds and this year was no different. They lost 2-1 in a fourth round replay at home to Second Division Norwich.
On 5 March Dick Ray ended his 30-year association with Elland Road, resigning his £1,000-a-week job as manager, joining Second Division Bradford Park Avenue a month later. The board cast around desperately for a successor and quickly appointed 52-year-old Ashington boss Billy Hampson. Hampson had guested for Leeds City during the First World War and had a ten-year run as a full-back at Newcastle, winning an FA Cup medal in 1924, aged 41. He had managed Third Division (North) side Carlisle for a few years before moving to Ashington.
It was a baptism of fire for Hampson. By the time Leeds lost 7-1 at Chelsea's Stamford Bridge on 16 March, they were starting to get dragged into a fight against relegation. They looked comfortable enough, but they were on the fringe of quite a scrap for survival, with Huddersfield, Wolves, Birmingham, Middlesbrough, Leicester and Tottenham all involved. Leeds still had to play a number of those sides at Elland Road and their path to survival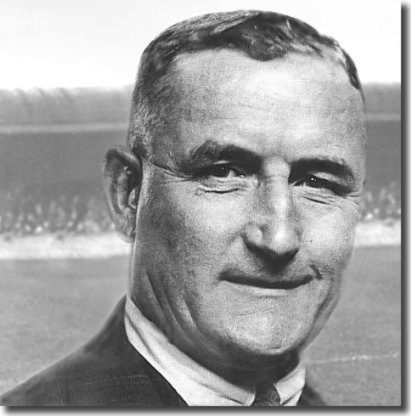 was in their own hands.
However, after the Chelsea defeat, they drew with Wolves, and Leicester came away from Elland Road with a 2-0 win. There was another home draw with Birmingham and then they lost the return at St Andrews by 3-1. Their position looked precarious, but they ensured safety with a 2-0 win at Preston. They 'celebrated' by struggling on the last day against bottom club Spurs at Elland Road. They came through a stiff challenge to win 4-3 and finish 18th, ive points clear ofrelegation. It had been a worrying time, but in the end points in the bag had been enough to cushion against that shaky run-in. Billy Hampson breathed a huge sigh of relief and prepared for a summer of change.
Other Football Highlights from 1934/35
It wasn't so much a football match, more a pitched battle, when England beat world champions Italy 3-2 at Highbury. Seven Arsenal players, including former Leeds man Wilf Copping, were in the England side for a game that will be forever known as the Battle of Highbury, as a clash of cultures and styles resulted in misunderstandings and open warfare
Arsenal built another monument to the late Herbert Chapman when they tied up their third consecutive championship, emulating Huddersfield's feat in the 1920's, which was also inspired by the great man. The Gunners finished a clear four points above Sunderland
In one of the most exciting finals in years, Ellis Rimmer scored twice in the last three minutes to give Sheffield Wednesday their first Cup victory since 1907 after a 4-2 win over West Bromwich Albion
Rangers won the Scottish league and Cup Double for the second year running