Part 2 - Into the abyss - Results and table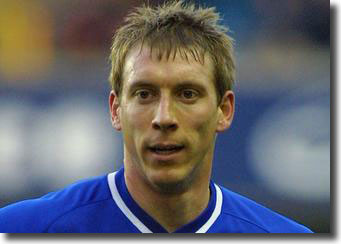 Despite tumbling to ignominious defeat in the Play-Off final against Watford in May 2006, Leeds United fully expected the setback to act as a launching pad for a fresh promotion challenge. Irascible chairman Ken Bates spoke to the players after the game. 'I thanked them for all their efforts and I repeated what I said to the Chelsea players in 1988. I said that tomorrow is the first day of our Championship season. They have to get over the disappointment of losing, have a good summer and come back again. I also told them not to be late for the first day back in training or we would fine them!'
Manager Kevin Blackwell's first task of the close season was a spell of jury service, something that had been delayed by United's involvement in the Play-Offs. When he returned to the club, he said: 'As far as the squad is concerned, we're about 75% of the way to having what we want. I have to generate more cash if I want to spend, but we've also got £9m to pay in wages to players who aren't here any more. To keep the club going forward on no money, I have to wheel and deal.
'I'm favourite for the sack, aren't I? But then I don't think people have ever appreciated the situation at Leeds United. We're in the last year of paying all our former players and this, plus the loss of our parachute money, means we're basically £16m worse off.
'I know that this time next year, financially the club will be in good shape and then we can move forward. It was always our target this season to give it a real good go, but the year after will be the one when we can make significant strides.'
There were some fairly extensive comings and goings during the summer months, with the loan spells of Jonathan Douglas and Liam Miller coming to an end, and Danny Pugh, Michael Ricketts, Jermaine Wright, Ian Bennett, Joel Griffths and Simon Walton all moving on. The biggest departure was that of Rob Hulse to promoted Sheffield United for £2.2m. The striker had been United's most potent force and, while they still had David Healy, Richard Cresswell and Robbie Blake, Hulse would be badly missed.
Blackwell: 'In an ideal world, you always keep your best players and then add to them. But it isn't an ideal world. My track record here has seen people come in for a lot less than what they have left for. We have doubled our money on Rob Hulse. Matthew Spring and Clarke Carlisle came in for nothing, as did Danny Cadamarteri. Simon Walton did not cost us a penny and he brought in around £1m. My responsibility is to look after the finances of this club and not just the football. When a situation comes along where I can help the club financially, then I have to do it.'
There were several new men, with £700,000 Luton midfielder Kevin Nicholls the most notable. Speedy French winger Seb Carole was signed on a free transfer from Brighton and midfielder Ian Westlake came from Ipswich with Dan Harding used as makeweight. Former West Ham and Portsmouth defender Hayden Foxe joined on a short term contract and Sheffield United striker Geoff Horsfield and Fulham keeper Tony Warner arrived on loan.
Millwall captain Dave Livermore was bought for £400,000 on 16 July. Two weeks later he was sold to Hull City for a fee of around £250,000. The club claimed that the arrivals of Nicholls and Westlake had meant that 'with everyone fit [Livermore] is unlikely to play. He's an honest professional and when the opportunity came up for him to talk to Hull we gave him that choice.' With Nicholls badly injuring a knee in his first training session and sidelined for months, the sale of Livermore was more than a little surprising.
There was further controversy when Chelsea poached two youth players, Michael Woods and Tom Taiwo. Ken Bates reported his former club to the FA, demanding that they be docked points. Chelsea reacted bitterly, accusing Bates of racial discrimination for describing Chelsea directors as 'a bunch of shysters from Siberia'. Bates was typically dismissive in his response, claiming, 'I haven't laughed so much since Ma caught her tits in the mangle.'
It was the end of October before the matter was settled, with Leeds dropping their claim after Chelsea agreed compensation, thought to be almost £5m.
Despite positive noises about the forthcoming season, there was anxiety behind the scenes, as revealed by Stuart James in The Guardian several months later: 'Two days before the season started Leeds United's coaching staff told Ken Bates that the club could be facing a relegation battle. Kevin Blackwell, Dave Hancock, Neil Thompson, Gwyn Williams, David Geddis, John Carver, Martin Hodge and Dean Riddle were all present when the chairman invited their thoughts at an Elland Road meeting. When Bates heard their responses he got up and left.
'The days when the club reached the Champions' League semi-final and challenged for the Premiership continue to cast a shadow over Elland Road, with former players still being paid courtesy of Peter Ridsdale's crass generosity. That financial burden weighed heavily even before the parachute payments came to an end. Some 13 players departed in the wake of the Watford defeat, including the club's talisman, Rob Hulse. It was that exodus, together with the lack of replacements, which prompted Blackwell's backroom team to express concerns about this season.'
United's campaign began with a home game against Norwich and Blackwell gave first team debuts to Tony Warner and Geoff Horsfield. The manager started with the back four he had favoured through the spring: Kelly, Butler, Kilgallon and Crainey. He welcomed veteran Steve Stone back on the right of midfield in a quartet with Eirik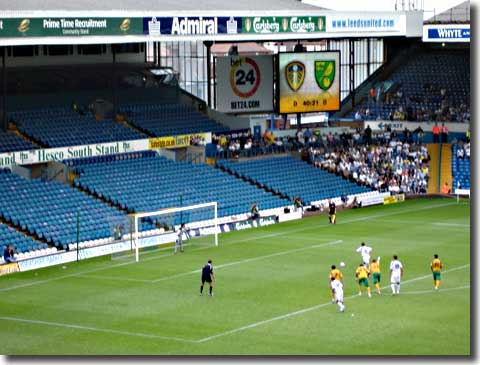 Bakke, Shaun Derry and Eddie Lewis. David Healy partnered Horsfield up front.
The Canaries made the running in the first half, creating four decent chances for Welsh international striker Robert Earnshaw. He squandered them all and, as so often happens, hard pressed opponents broke away to score. Four minutes before the break, Bakke was brought down in the box when he was going nowhere, and David Healy scored from the penalty.
Norwich continued to press after the interval, but could find no way through as Tony Warner gave a splendid performance in goal.
A relieved Kevin Blackwell said afterwards: 'I've got to say I'm pleased with the lads because that's the first time that team has played together. There were five new lads basically. It was Steve Stone's first real game for Leeds United, Tony Warner's first game, Geoff Horsfield's first game. Stephen Crainey ruptured his Achilles first day in training and he's only just played on Saturday and done this week's training. Shaun Derry's missed the whole of pre-season and he had to play today.
'It's always important to win your first three points. We're all aware that the team that loses in the Play Off final tends to have a hangover and we know if we're not careful it could be a tough season, so we want to start brightly and I thought we did that. What this win does is refocus the lads on this season. We're up and running now.'
Jon Wilson in the Telegraph was more critical: 'Leeds had the third-best defensive record in the Championship last season, but were let down by a lack of goals; it is hard to see how the loss of Rob Hulse will ease that. Geoff Horsfield has been brought in on loan, but he is hardly a long-term solution. He has always looked old for his years, but at 32 he seems positively ancient, moving with all the freedom of the Tin Man's arthritic older brother. The service to him yesterday was admittedly not ideal; he demonstrated what his game thrives on to Eddie Lewis just before half-time. Mimicking a ball being crossed into the box with an arc of his hand, he met the imaginary cross with a thumping header. The virtual version looked great, but a concrete equivalent never arrived. Much the same could have been said of Leeds all afternoon.'
Blackwell chose the same eleven for a visit to QPR the following Monday and they rewarded him with a strong display. Lewis gave United a 64th minute lead after Healy's header had bounced out off the bar. Leeds bossed the game after that and seemed to be cruising to a comfortable win until a crazy final ten minutes.
Stephen Crainey committed a clumsy foul in the area during a rare break by Rangers and Martin Rowlands equalised from the spot. United were ahead again a minute later when Horsfield capitalised on Stone's through ball to score.
The goal seemed decisive, but in the final seconds substitute Shabazz Baidoo turned
in Gareth Ainsworth's near-post cross from two yards after a break down the right to tie up the scores.
It was hard to take. Kevin Blackwell was furious, saying, 'I've given the players a tongue-lashing after the game because the performance in the last few minutes was just unacceptable. A few of them had better buck their ideas up because they might not be around long enough to find out what I will do to them. If people make mistakes and they are genuine ones then fair enough but if it is something I think they can control then they are in danger of losing their place and if they lose their place it is going to be difficult to get it back.'
United were in London again on Sunday, 13 August, for the live Sky match at Crystal Palace and Blackwell gave his men another chance, the only change being Ian Westlake coming in for the injured Bakke.
All plans were thrown up in the air when Geoff Horsfield was dismissed after 14 minutes for an off the ball clash with Palace defender Mark Hudson. Horsfield lost his cool after the pair had tangled and he lashed out, leaving referee Rob Styles with little alternative but to dismiss him. The incident changed the shape of the game, with David Healy left to play the lone front runner.
Strangely, United's new shape proved remarkably effective, with Healy filling the role to perfection and Stone, Derry and Westlake bringing much needed shape and composure to midfield. For long periods, Leeds dominated the game and even threatened to take the lead. Lewis volleyed a cross against the post, and Healy saw his shot off the rebound blocked by Palace keeper Kiraly's legs.
Dougie Freedman came on for Palace at half time and gave the Leeds defence some anxious moments, but gradually they regained control and seemed likely to secure the point their football deserved. After 74 minutes, with United showing signs of weariness, Blackwell freshened up things by bringing on Ian Moore and Frazer Richardson for Healy and Lewis.
In an attempt to run down the clock, the manager sent Seb Carole on for Stone in the final minute of injury-time. The former England international was clearly unhappy about being withdrawn, particularly as United were defending a free kick. Kennedy's floated ball was nodded into the path of Morrison by Cort and he turned sharply to deceive Kilgallon before firing home to win the points.
When they faced a strong Cardiff City side at Elland Road a week later, Leeds struggled to make chances, and looked like they would have to settle for a goalless draw. Again, a late lapse of concentration ruined the afternoon when City's Willo Flood grabbed the only goal of the game in the 83rd minute.
A Bakke goal was enough to beat Chester City in the Carling Cup and Healy's 70th minute penalty earned all three Championship points at Sheffield Wednesday, but there was more disappointment when Jay Bothroyd scored for Wolves in the final minute at Elland Road to bring another narrow defeat. United were slipping down the table and, when they entertained a Sunderland side revived by the appointment of Roy Keane as manager, their fall from grace was confirmed as the Black Cats won 3-0 at a canter. Former United midfielder Liam Miller opened the scoring after 28 minutes and Leeds were three-down by the 48th minute.
Bakke left the club before the end of August to join Brann Bergen in his native Norway. He had been dropped for financial reasons, as explained in a club statement: 'It is in the club's best interests for Eirik to move on. He is in the final year of a contract, which in any shape or form, would not be renewed at the end of the season. While the level of his salary is in no way his fault, it is preventing the club from moving forward as quickly as we would like. Apart from Gary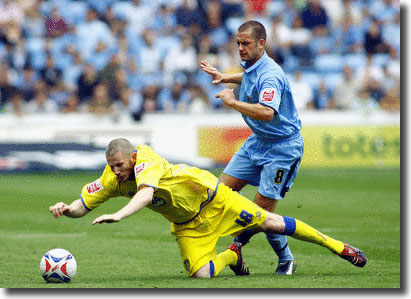 Kelly, Eirik is the last of the players from the Ridsdale era when players were remunerated very, very well.
'We have a contract with Eirik which, if he does not find another club, we will have to honour but there are certain parts of it, in particular some appearance-related payments which now, effectively, will prohibit him from playing for us in the long run.'
Bakke's replacement was a former loanee, Blackburn's Jonathan Douglas, who returned to the club on a three-year deal.
Another 1-0 defeat, at Coventry on 16 September, left Leeds second bottom. By now rumours were rife that Kevin Blackwell would be sacked. He got the dreaded vote of confidence from Ken Bates after a number of 'Time to go' chants from the Leeds faithful, and seemed a haunted character as he spoke to the press.
'I am doing the best job I can and it is disappointing when things do not go my way. I want to win every game, just like the fans do. I cannot go on and head the ball, can I? I cannot play in midfield and I cannot play at the back. This isn't about Kevin Blackwell; this is about the safety of Leeds United Football Club. Every manager is gauged on results, and right now I have to say that the results haven't been good enough. I have to accept that.'
Two goals from Ian Moore brought a timely 3-1 Carling Cup victory against Barnet on 19 September, but the next day long expected news came.
Ken Bates sacked Blackwell, writing in the match day programme, 'In the course of a 40-year career in football administration I've had to dispense with the services of a lot of managers and believe me, it doesn't get any easier. Kevin is a thoroughly nice guy, but it was time for him to go. To those fans who said he should have been sacked after Cardiff, I would say you don't make fundamental decisions after one bad game. Kevin did as good a job as he could and we should always be grateful for that, but it is time to move on.'
Assistant-manager John Carver was installed as caretaker boss and enjoyed some early success with a thrilling 3-2 victory against high flying Birmingham City. United threw off all the cares and woes and played some entertaining football, although they looked vulnerable at the back.
Twice they took the lead with David Healy goals before being pegged back, and the second equaliser, by Nicklas Bendtner after 74 minutes, seemed to have ended a brave fight. But Leeds were not finished yet and five minutes from time they settled matters. A rejuvenated Steve Stone broke clear down the right and his cross was put into his own net by Olivier Tebily, under pressure from Ian Moore.
It was a breathtaking victory and the fans were chanting John Carver's name by the end. He was delighted, saying, 'There's some good characters in the dressing room … I sat down with them and tried to get in their heads. It wasn't just about football, but everything else. I wanted to know how they were feeling and I found out a bit about them. We got a reaction and I was pleased with that, but you have to remember that we have some good players here.
'I want to apologise to the Leeds fans. They were singing my name and asking me to wave but I stay focused on the game and that is my style. I am delighted with our start, but it is only one game.'
Carver was right to be cautious, for United then lost five games on the bounce. They were a little unlucky in going down 4-2 at West Brom, with the fourth Baggies goal coming in injury-time. Leeds had clawed back two goals in the final eight minutes after looking dead and buried when Kevin Phillips' 79th minute goal made it 3-0. They were chasing an unlikely equaliser when Albion broke clear to add a fourth in the last minute.
But there was no doubt when the Whites crashed 4-0 at home to Stoke and then Leicester won 2-1 at Elland Road. Worst of all was a humiliating 5-1 hammering at Luton on 21 October. John Carver all but wrote off his chances of getting the job after the Luton debacle.
There was speculation in the press about a whole range of contenders to replace him, including Glenn Hoddle, Brian Kerr, Alan Curbishley, Gary McAllister, Graeme Souness, Alan Pardew, Graham Taylor and Claudio Ranieri, but there was little surprise when Dennis Wise was named as the new man on 24 October.
Ken Bates had worked with Wise before, at Chelsea where the former England international had been captain, and the chairman was godfather to Wise's son. United agreed to pay compensation running into six figures to Swindon Town to secure the services of Wise and his assistant, the Uruguayan Gus Poyet, another former Chelsea man.
There had been rumours ever since Bates took over that Wise would be installed as manager, but the initial reaction of the United fans was not positive. They had already been heard chanting, 'You can stick Dennis Wise up your arse,' even before his appointment, and were clearly apprehensive at the Chelsea connection. Those with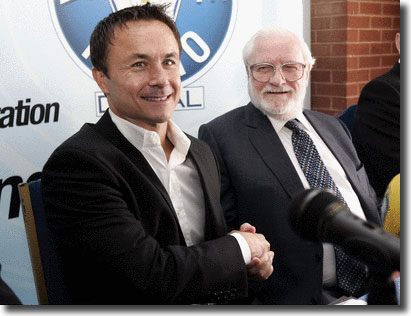 long memories could recall the enmity that had grown up between the two clubs during Don Revie's time.
Nevertheless, there was some relief that Bates had acted decisively and the chairman was typically forthright during the inevitable press conference, saying, 'What Dennis will bring to Leeds United is total honesty, total authority and total leadership. The players will be in no doubt whatsoever as to who is the boss. He will not take any crap from anyone. Some of the established players have had the run of the place. But now, it doesn't matter who they are because Dennis is not interested in reputations.'
Wise was equally forthright: 'I want them to be a bit like the Leeds of old - horrible, I want a bit of nastiness and togetherness. I have explained that to them. I said to the players I was bewildered by the side's position. I'll not be afraid to pull any punches. I need to look at what I've got … I need to know who wants to stay and who wants to leave. They know that now I have made a couple of decisions early doors with regards to the captaincy. It was important for me to make a younger up-and-coming player the captain. [Nicholls] was captain at Luton and has a bit of bite about him.'
On the day of Wise's appointment, reserve team manager David Geddis was in charge of the team as they faced Southend United in the Carling Cup. The 3-1 defeat brought a stark reminder, if any were needed, of the size of the task facing the incoming boss.
Phil Hay in the Yorkshire Evening Post: 'He was subjected to a performance from United which explained in minute detail why he is here, and the scale of the challenge he has accepted. Wise may have travelled to Yorkshire with the belief that news of Leeds' demise has been greatly exaggerated, but last night's third round defeat will have left him with no doubts about the severity of the job in hand. The task of reviving the Elland Road club really is as big as it seems.
'Southend's victory exposed every one of United's deficiencies - inept passing, suicidal defending and an acute lack of confidence - and Wise took his place in the manager's seat this morning knowing Leeds require a substantial overhaul.'
Four days later, the two teams met at the same venue with Championship points at stake, and happily for Leeds, the new manager impact was evident, as reported by Duncan Castles in the Sunday Times.
'Leeds came into this match in relegation form, having shipped 18 goals while losing their last five matches. Logically they should have lost Dennis Wise's first match in charge too. But Wise relishes challenges and he rose to this one. The win came from late goals in each half, from Ian Moore and Robbie Blake,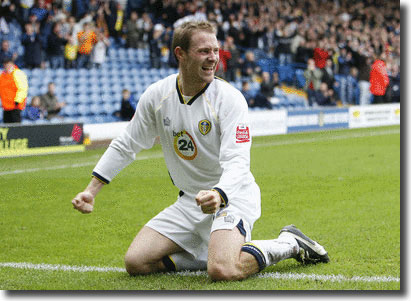 large draughts of perspiration, and a fair degree of fortune in resisting Southend's second half dominance.'
But Leeds could not sustain the momentum and a midweek trip to high flying Preston brought a comprehensive 4-1 defeat. Wise said afterwards: 'There needs to be a lot more competition. At some stage we may need to bring fresh faces in. It's not a massive squad, and there are some players who are always going to play. It seems a little bit stale, and the body language is not strong.
'Over the three games I've seen it's not enough for me. It really isn't. I'm not too pleased. What was most disappointing was that when the first goal went in, I thought to myself we don't look like we're going to get back into this. That worries me.'
Four days later, Barnsley beat United 3-2 at Oakwell to overtake them in the table, coming back from 2-1 down at the interval. Wise was once more forced to front it out with the press: 'We're trying to make new signings and that's all we can do. But if we don't, these players have got to look at themselves. We have to get ourselves together and dig ourselves out of this hole. We need people with big shoulders who will dig in deep and give as much as possible.'
Wise was prepared to try pretty much anything to arrest United's slide - in an attempt to negate a poor defensive record (they had conceded 32 goals in 12 games), United had approached the Football League to reduce the size of the Elland Road playing surface to the minimum allowed in the rules. The request was turned down on the basis that the size of the pitch must be registered before the start of each season.
Robbie Blake had spoken after the Barnsley defeat of the club's lack of self confidence and belief. When Dennis Wise arrived at Elland Road, he had ordered Blake to shed some weight, but the forward was becoming a key man under the new manager, netting two goals in three games, and he did even better when United entertained Colchester on 11 November.
Blake netted a goal in each half, sandwiching Richard Cresswell's second of the season, as United pulled off a heart warming 3-0 victory, prompting Wise to hail him as his 'little gem'. 'He put a good shift in today - not just things he did with the ball but his general work as well. He needs confidence and he's been doing great. He finds little places that other players can't find and he can hurt teams from there.'
The win moved United up the table, but they struggled to maintain momentum, collapsing 3-0 againt Southampton. They won their first away game since August when Blake and Lewis goals earned victory at Plymouth, but then slumped to a 2-1 reverse at Burnley with Hayden Foxe sent off.
United fell foul of the Football Association for naming six loan players against the Turf Moor club. League rules stipulate that the maximum number of loanees in a match day squad is five. United pleaded extenuating circumstances through a late injury to Matthew Kilgallon. They were fined £2,000, with half of it suspended.
Dennis Wise had been active in the loan market, shipping Paul Butler and Neil Sullivan out and recruiting Coventry centre-back Matt Heath, Middlesbrough defender Ugo Ehiogu and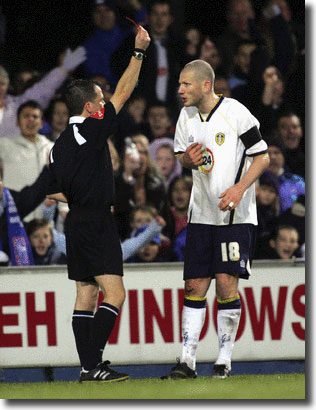 Barnet striker Tresor Kandol. There were rumours that Cresswell, Healy and Kilgallon would be allowed to leave Elland Road in the January transfer window to fund a spending spree, but it was clear that United were no longer an attractive option. Wise would have to scratch around for players who weren't adjudged good enough for other clubs in order to refresh the United ranks.
Steve Stone's contract was cancelled by mutual consent, with the former England midfielder accepting the inevitable and retiring. His time at Elland Road had been ruined by injury and he said, 'I came to Leeds full of hope that I could be part of another promotion success. But unfortunately, four or five days into pre-season I suffered the Achilles injury and it has never really recovered. I got back eventually but knew things weren't right pretty much straight away. I was getting a pain every time I tried to sprint, and if you can't do that at the top level then you can't do your job. I tried to adapt my game but it proved impossible and as someone who has always given his all, I knew I couldn't go on.'
The run in to Christmas brought new gloom, with home points dropped in draws with relegation rivals Barnsley and Hull, and 1-0 defeats against Derby and Ipswich, where Kevin Nicholls was sent off for using an elbow on Danny Haynes.
A 2-0 defeat at Sunderland on Boxing Day and a farcical defensive display at Stoke on 30 December showed exactly how low the club had sunk. They were second from bottom and five points from safety, with the poorest defensive record in the division.
Dennis Wise stressed that 10 wins from the final 24 games would be enough to keep United up, but the first four of those games reaped one point and one goal. The manager remained relentlessly upbeat, but his words were starting to sound naive: 'There is only one way and that is up. It is too soon to be talking about anything like that (relegation); there are 21 games to go. Eight wins and you are out of it, seven wins you could be out of it. You have got to start worrying when you get to 12 games to go and you are struggling. At the present moment, January is coming and we are going to bring in some new faces. That will give it a lift, it always does.
'It is no good saying "yes, we are this and that." I think in a positive way and not a negative way. That is the way I am. If you think in a negative way, you will act in a negative way.
'We seem a little bit worried when going forward about the spaces being left behind. When we do go and attack, we end up with a problem. We need to be brave and not worry about making mistakes. We are being too cautious and we need belief. Be bolder and have a go. It's not a problem if they make mistakes - that is one thing I do not want them to worry about.'
As 2007 dawned, Leeds United seemed to be stumbling blissfully into the abyss.
Part 2 - Into the abyss - Results and table