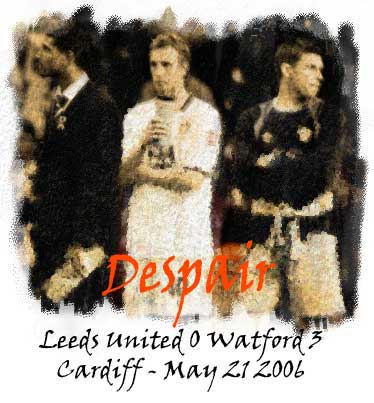 Ken Bates: 'At the start of the season I didn't think we'd get in the Play-Offs, I thought this would be a year of consolidation - although I asked Sam Ellis what he thought and he said, "Maybe the Play-Offs."'
After a long and largely successful season, Leeds United had made it through to their first appearance at the Millennium Stadium for the Play-Off final against Watford on Sunday 21 May. The prize on offer was a place in the money-spinning Premiership for 2006/07, with the Play-Off final generally acknowledged as the single most lucrative event in sport.
Nick Harris in The Independent: 'Never in the history of professional sport has one single fixture been as valuable as tomorrow's Championship Play-Off between Leeds United and Watford. The £21m earned by Evander Holyfield when he beat Mike Tyson in their 1997 rematch - the richest prize fight ever - is small beer by comparison. The £10m on offer when teams vie for Champions' League qualification is a relative pittance.
'A win tomorrow would be worth £41m to Leeds, and £39m to Watford. This is new, extra income they will earn if they win, according to detailed analysis by The Independent. Win or bust, all or nothing, almost. Actually, the losers will take home £1.3m. With so much on offer to the team that triumphs, the clubs have agreed that the losers keep all the gate receipts. It will be a small consolation.
'The riches are so massive because victory brings access to the Premier League, and its mammoth TV income, for at least one season. This will be worth a minimum of £18m in league payments, TV facility fees and performance pay next season, even for finishing bottom. On top of that, in the event of relegation, there would be two years of Premiership parachute payments between 2007-09. Under the terms of the Premier League's recent bumper £1.7bn TV deal with Sky and Setanta, which comes into effect from 2007, that parachute money will be worth some £9m a year. So instead of £1m from the Football League's central pot (including TV money) this season, tomorrow's winners will get £36m.
'The £41m and £39m figures have been calculated on a worst case scenario basis. They assume that whoever goes up stays up for a single season and are relegated in bottom place. Should they fare better than that, the earnings potential moves upwards. But television riches are not the only factor taken into consideration. Probable increases in gate receipts and commercial income have also been added. The rewards are higher, potentially, for Leeds, because of the significant difference in the size of the clubs. Leeds have a capacity of 40,000 at Elland Road, whereas Watford can hold only 19,500.
'Leeds attracted average crowds of only 22,355 this season and, in the Premiership, this could be expected to rise to 36,000 or higher. Therefore ticket money would jump from £10m in 2005/06 to £18m next season. Watford, averaging gates of 15,450 this season, took £3.4m in gate money. In the Premiership, they would expect to be 'at capacity or close to it', according to their chief executive, Mark Ashton. Still, it is expected that total receipts would not top £5m.
'Similarly, Leeds' larger fan base and greater international profile mean their commercial income would climb more steeply than Watford's. Leeds earned about £4m from merchandise and £9.5m this season from other commercial income (including sponsors, banqueting, perimeter advertising and internet).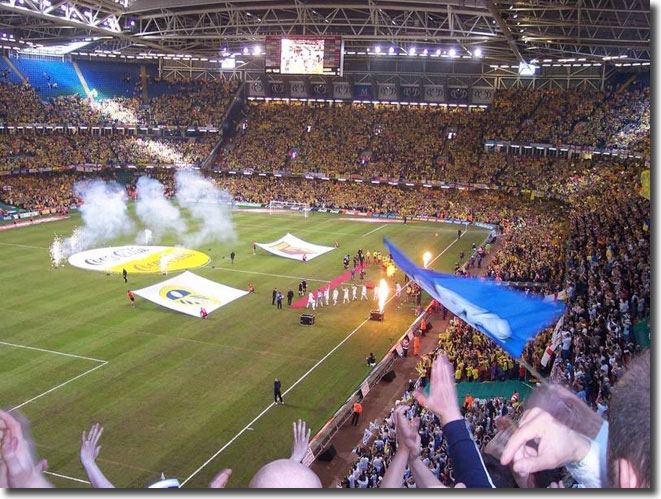 'This would be expected to jump to £6m for merchandise and £12m from other commerce in the Premiership. Watford made £850,000 from merchandise and £3.25m from other commercial deals this season. In the Premiership, this would climb to £1.5m and £5m, with Ashton anticipating a 'significant move north' in the shirt sponsorship deal with loans.co.uk alone.
'In short, Watford's income would jump from £8.5m this season to £29.5m next season, and they would also be guaranteed at least £18m in parachute money, for the total value of £39m. Leeds' income would jump from £31m this season (including £6.5m in parachute money still being paid as a result of relegation in 2004) to £54m next season - adding another £18m in parachute money makes £41m.
'But Leeds' situation has added complexities. Losing tomorrow would actually see a drop in income of £6.5m next season because the parachute money from 2004 will no longer be paid. Yet winning, and elevation to the Premiership, will also trigger a payment of £5m to creditors from the Peter Ridsdale era, plus £1.8m to Middlesbrough as a result of the deal that took Michael Ricketts to Elland Road as Mark Viduka went the other way. These monies are not payable if Leeds remain in the Championship.'
The £40m match: How winning the Championship Play-Off sends income soaring
WATFORD
2005/06/In Premiership 2006/07 Tickets £3.4m/£5m
Merchandise £850,000/£1.5m
All other commercial income £3.25m/£5m
Central pot & TV £1m/£36m
Total earnings £8.5m/£47.5m
VALUE OF PLAY-OFF WIN TO WATFORD: £39m
LEEDS UNITED
2005/06/In Premiership 2006/07 Tickets £10m/£18m
Merchandise £4m/£6m
All other commercial income £9.5m/£12m
Central pot & TV £1m/£36m
Parachute £6.5m - Total earnings £31m/£72m
VALUE OF PLAY-OFF WIN TO LEEDS: £41m
Glenn Moore in The Independent: 'The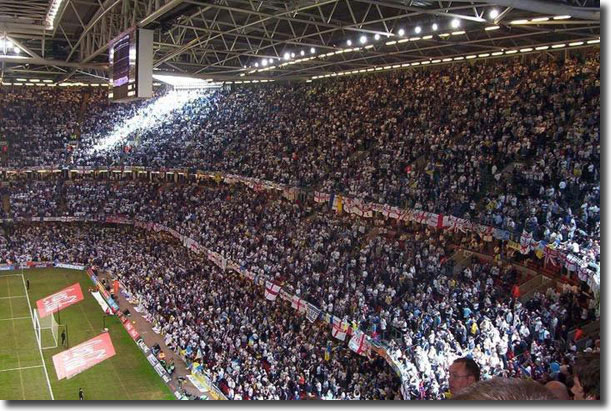 delayed delivery of Wembley Stadium will produce an ironic twist tomorrow as Leeds United seek a return to the Premiership in the city where Peter Ridsdale, the man who 'lived the dream' at Elland Road, and prompted a nightmare, now operates. The former Leeds chairman works with Sam Hamman at Cardiff City, a few miles from the Millennium Stadium.
'Leeds' relegation in 2004 followed the financial meltdown provoked by Ridsdale's over spending. Supporters feared the club would continue to struggle, like Sheffield Wednesday and Nottingham Forest, but under Kevin Blackwell they have rebuilt and are now one match from regaining elite status. Barring their way are a Watford side who have also come back from money problems and were just two points from dropping into the third tier last season.
'In a further twist the man who has inspired their improbable promotion challenge, Adrian Boothroyd, was working for Blackwell only 14 months ago. Boothroyd was hired by Leeds to be Blackwell's No 3 and worked at Elland Road for eight months. He now hopes he can turn that knowledge to his advantage.
'"I know Kevin, I've worked with him," Boothroyd said. "As a No 3 you do a lot more watching and listening than you do talking; I don't think Kevin will know my tactics particularly well. I think I might have a slight edge because of that. Mind you, he'd probably say he's spent £12m that gives him an edge."
'Boothroyd, who at 35 is younger than players taking part tomorrow, added: "The situation at Leeds when I was there was like something out of [Sky TV's] Dream Team. One week we were wondering whether we would go into administration, one month we couldn't pay the players' wages, then Ken Bates came in and we were saved. I keep a diary, and when I look back I realise how much I learned."
'Boothroyd's ebullient presence, Blackwell said, helped Leeds' recovery process. "When this club came out of the Premiership it was as low as any club could be. It was not just that we had been relegated, but also the number of people leaving," the Leeds manager said. "The atmosphere was awful. I needed to bring in people who had that little something extra - they had to handle being at a club the size of Leeds, but also bring a little bit of joviality. In his interview Adrian came across as bubbly. I was at a club where everything was so flat and there was nothing to look forward to. We had no money and I couldn't buy players. But Adrian was full of beans and it was that element I needed."'
The Millennium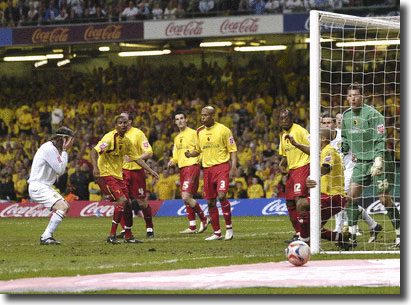 match was a real date with Destiny for Leeds United and they went into the game with high hopes of victory. During the regular season they had been undefeated against Watford and had come from behind to win a thrilling midweek contest at Elland Road in February. On the down side, United had suffered a late dip in form that had destroyed any chances of automatic promotion. Prior to their victory at Preston in the Play-Off semi-final second leg, there had been a single victory in eleven, and that at home to relegated Crewe. Kevin Blackwell's men had simply lost the essential secret of scoring goals.
Undeterred, United's passionate supporters were inspired by the occasion and flocked to Elland Road in their thousands to try and get some priceless tickets for the match. It was widely believed that 40,000 of the 65,000 crowd were Whites supporters and they certainly made their presence felt, making the Millennium Stadium a surrogate extension of Leeds for the day. That was in stark contrast to the average attendance at Elland Road, which had slumped to little more than 22,000, the lowest figure since 1988/89, the days of the old Second Division.
Kevin Blackwell went for a conservative, overtly defensive approach, deploying the same 4-5-1 formation that had been so effective in the semi-final win at Preston. He was forced into one change, recalling fit again captain Paul Butler for the suspended Stephen Crainey and switching Matt Kilgallon to left-back.
It was clear from the first few seconds that United's back four, completed by Gary Kelly and Sean Gregan, would face a torrid afternoon. Watford had laid down a specific and very effective game plan, playing to their strengths of power and pace. A hard running midfield four would back up strongly behind the front two of Marlon King and Darius Henderson - at every dead ball opportunity, including throw ins, the ball would be launched deep into the heart of the United penalty area for the Hornets to physically tussle for the ball. They had a long throw specialist in Gavin Mahon, and the exciting wide man Ashley Young was a free kick expert. It was his dead ball strike that had brought the Hornets a lead in the Championship contest at Elland Road.
Boothroyd had identified the United centre-backs as weak links, with a one-paced Gregan and a half-fit Butler forced to turn and chase at every opportunity. Within two minutes the reinstated skipper was forced to head desperately over his own bar under robust challenge from Henderson.
Watford were up close and personal and all over United like a rash. They were committed to making life as uncomfortable for Leeds as possible, content to let them have ball and space deep where they could do no damage, but harrying mercilessly whenever they advanced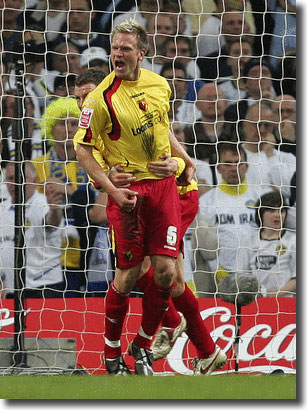 into more threatening areas.
Paul Dews in the Evening Post: 'Even before half-time you got the feeling that United's Premiership hopes had already been washed down the gutter by the torrential rain which had swept South Wales ahead of the game.
'Had an early effort from Derry not been deflected to safety by Ashley Young it might have been very different. Nine times out of 10 the United midfielder would have been celebrating a rare goal, but Young got a vital touch at a vital time.
'Watford had forced a couple of early corners but betrayed signs of early nerves themselves - goalkeeper Ben Foster flapped at the cross which led to Derry's chance - and the Hornets didn't look entirely at ease in a Millennium Stadium which was rocking to the sound of the Leeds support.
'But, for all their experience, Leeds didn't look entirely comfortable either - or maybe their approach was too comfortable - and there were a few players who looked ill at ease with the big occasion. No one stepped up to take the game by the scruff of its neck and the old failing of a lack of midfield creativity proved costly.
'Loan man Liam Miller never got into the game while his partner Jonathan Douglas, whose game is founded on a good work ethic, struggled to make any impact against a Watford midfield which was bossed by Gavin Mahon.'
The Hornets' quartet - Mahon, Young, James Chambers and Matthew Spring (whom Boothroyd had signed from United for £150,000 at the start of the season after he managed just 15 games for the Elland Road club) - settled far more quickly to their work than their anonymous United counterparts, despite being outnumbered. Only Shaun Derry could find his genuine form. Watford's dominance in the midfield trenches gave them sound foundations on which to build, denying United any bolthole from a defensive battle of attrition as the booming dead ball shells rained down on their area.
Nevertheless, it was twenty-five minutes before Adie Boothroyd's men could make their possession count. They had earned a series of corners and always looked like giving United problems. Beefy American centre-back Jay DeMerit was supposedly being man marked by Rob Hulse, but the striker was left holding his head disconsolately in his hands as DeMerit battered his way towards Young's deep corner. No one took responsibility as the cross dropped invitingly and the defender powered home a fierce header from close in.
The goal boosted Watford's already glowing confidence and they controlled midfield thereafter, retaining possession and picking up all the loose stuff as United's overshadowed players struggled to keep hold of the ball.
Nevertheless, Leeds did fashion some chances towards the end of the half - Sean Gregan put his header into the side netting and then United looked unlucky when Rob Hulse was hauled down by Hornets keeper Ben Foster inside the six yard box. Referee Mike Dean gave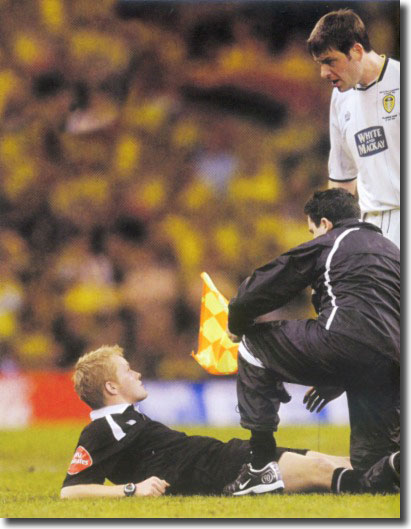 the free kick to Watford, insistent that in the run up to the incident Frazer Richardson had nudged Foster in the back as he jumped for Eddie Lewis' cross.
It looked a dubious decision and the Leeds fans groaned with disappointment, sensing that this was not to be their day.
Kevin Blackwell changed things round at the interval, bringing Robbie Blake on for an out of touch Richardson and moving to 4-4-2. The change brought not even the occasional ripple to the calm waters of Watford's half. The Hornets came out as strongly as they had finished the first period and Henderson tested Sullivan with a powerful shot. They went further ahead, virtually ending the match as a contest, after 57 minutes. The referee awarded them a throw in on the left that should probably have gone to United, and Mahon launched another long throw towards the goal.
There was a tangle in the middle of the area and from eight yards Chambers turned and put in a low shot that looped up off the foot of Eddie Lewis, taking it over Neil Sullivan's despairing dive. The ball touched the far post and looked like bouncing out until it went in off the prostrate Sullivan's back.
It was a heart-breaking goal for Leeds, prompting Blackwell to bring David Healy on for Miller and push forward in the vain hope of a revival that was never on the cards. United looked incapable of even manufacturing a half chance, even if the game had lasted double its allotted ninety minutes.
Shaun Derry, the sole United player who lived up to his billing on the day, saw his header from Blake's cross cleared off the line after 70 minutes.
There was an amusing if frustrating five-minute hold up in play when one of the referee's assistants had to be replaced after a leg injury. The fact that, before he did so, he strolled nonchalantly onto the pitch demanding treatment and only then collapsed in a heap made it all the more galling for the United players, who were now irritably casting around for someone to pick a fight with.
Six minutes from the end, Watford tied the match up. Former Leeds loanee Marlon King was released in the area after a quick break and when he cut back across Derry, the midfielder flicked his ankle, sending him to the ground. It was heart rending to see Derry sitting despondently on the turf afterwards. He had enjoyed a spirited afternoon, rallying those about him and at times holding the Hornets at bay on his own.
Henderson calmly slotted home the penalty to complete an emphatic 3-0 victory.
And that was that…
United were well beaten on the day, picked apart by a team that was simply more up for it than they.
Kevin Blackwell acknowledged as much at the end, though he tried to emphasise the positive improvements made at United. 'It hurts like hell right now. I have been here two times in three years and lost 3-0 both times, but that's not as disappointing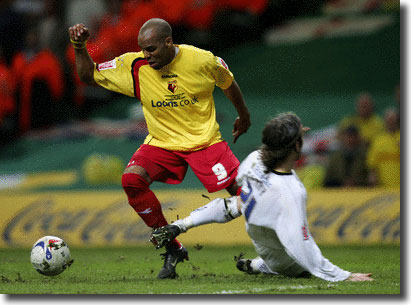 as dropping out of Premiership, seeing everybody leave and nearly losing the club as well.
'We'll dust ourselves down but the game has gone, we all have to live with it for the rest of our careers and we will come away with some if onlys; quite a few of them will come away with some if onlys. We have not done what we came here to do. The dressing room is very quiet.
'But I wish Adrian all the best in the Premier League. Go on and enjoy it and congratulations.
'We have put together a side that has proved it can be competitive and we have achieved a lot in the last year. Eighteen months ago we were among the favourites to go down with Rotherham and Gillingham, but to be in the final here with 40,000 Leeds fans shows how far we have come.
'Next season the Championship is particularly tough with West Brom, Birmingham and Sunderland, big clubs down and there will be some big attendances next year, but we just have to think we can continue to put a side together that will prove to be competitive.'
Adie Boothroyd, formerly head coach at Elland Road, wished his former mentor well, as he began his preparations for the big step up to the Premiership.
'I have a great deal of sympathy for Leeds and Kevin Blackwell,' he said. 'To be on that touchline can be a lonely place sometimes. Kevin came in to say well done to the players, which took a lot of doing and I respect him for that. They're a massive club and I'm sure they will bounce back.'