printer friendly version
For Leeds United, the shiny nugget of automatic promotion had been something of a forlorn hope through most of the 2005/06 season. The early season sprints of Reading and Sheffield United had taken them well clear of the chasing pack and built enough of a cushion to more or less guarantee a Premiership place.
Nervy jitters had dogged the Blades from the middle of January and Leeds had been inexorably hauling them in until their own late collapse had seen them capture just nine points from the last ten games. That sentenced United to the lottery of the Championship play offs and pitched them against a dogged Preston North End outfit. The Deepdale team had secured 26 points from their own final ten matches and were the division's form team. They had ended the season with the best defensive record in the Championship and when they defeated Leeds 2-0 in the closing contest at Deepdale on Sunday, April 30, they climbed above United into fourth spot, giving them home advantage in the decisive second leg.
Leeds boss Kevin Blackwell had sent out what amounted to a reserve side in that League encounter, keeping his powder dry for the bigger test to come.
But when young North End striker David Nugent scored a brilliant individual goal in the Elland Road first leg on Friday May 5, it looked like all Blackwell's strategies would come to nought. Nugent made the breakthrough in the 48th minute, taking on and beating virtually the entire United defence with his pace and trickery.
Happily, Eddie Lewis dug United out of a hole with a wonderfully placed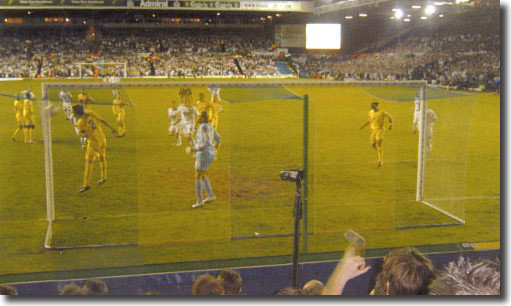 curling free kick with 16 minutes left and the teams would start on level terms at Deepdale with away goals having no benefit under the play off rules.
The pairing of the two clubs was given added spice by Blackwell's habitual raids on Deepdale - in the two years he had been in charge, former North End favourites David Healy, Eddie Lewis and Richard Cresswell had all crossed the Pennines to throw their lot in with United. Sean Gregan, another Preston old boy, had arrived at Elland Road by courtesy of West Bromwich Albion.
The reaction of North End boss Billy Davies and his staff at the end of the match at Elland Road showed how much the result meant to them. The little Scot said afterwards: "It's a tremendous result for us, we can ask for no more, we've come here, done the job. It now swings towards our favour and with our hostile crowd, the onus is on us to finish the job off at Deepdale. We didn't play as well as we can on Friday, but we will perform better tonight. Confidence is high, but when you lose only six of 46 matches then confidence should be high."
Kevin Blackwell would reveal later how he used the Preston reaction to fire up his troops for the second leg at Deepdale on the Monday evening.
He set out with Rob Hulse spearheading a 4-5-1 formation that was designed to frustrate and contain Preston. If the Lancastrians thought that the hardest part of the job had been done in Yorkshire they soon realised they were in for a battle royal on the fifth anniversary of United's Champions League semi final clash with Valencia.
Billy Davies picked a team with four recognised strikers - Nugent, Danny Dichio, Brett Ormerod (who had spent time on loan at Elland Road in 2004) and the
veteran Marcus Stewart, recalled from a loan spell at Bristol City. After ten minutes, one of them was being stretchered off.
Irish midfielder Jonathan Douglas hustled Brett Ormerod as he ran in from the left flank and tackled him fiercely. It looked a foul, but the real damage was done when Ormerod caught his foot in the turf and broke a fibia. Davies retained his attacking approach by bringing on Simon Whaley as substitute.
The incident ignited the flames of simmering tension between the two sets of players; it was clear that everyone was well fired up for the occasion and we soon saw a spate of nasty running battles. Referee Mike Thorpe seemed content to let the players take the law into their own hands early on and ill feeling often boiled over. Sean Gregan and Danny Dichio were at each other's throats throughout, while David Nugent and Matthew Kilgallon seemed to believe their main responsibility was winding each other up. A challenge by Eddie Lewis on Claude Davis left the Preston centre-back requiring treatment and the partisan home crowd baying their rage.
It was 24 minutes before we saw a shot - Frazer Richardson's dipping half-volley from 20 yards was theatrically caught by Preston keeper Carlo Nash.
North End bounced back almost immediately when Graham Alexander's corner was nodded back across goal by Brian O'Neil, but Dichio fluffed his header. The burly striker was at even greater fault six minutes before the break when he flashed another header badly wide after meeting Tye Mears' cross from the right.
Shaun Derry was the first to see his name go into the referee's book after 30 minutes for a lunge on Stewart. In the closing minutes of the half, Kilgallon and Nugent joined him after a spiteful kick and push on the edge of the penalty area. A less lenient referee might have gone for more serious sanction.
As the official blew for half time, Deepdale and the surrounding streets were plunged into darkness due to a sub station failure that took 25 minutes to resolve. There were some worried looks as time dragged by - neither camp wanted an abandonment and the players struggled to stay match sharp.
Happily, the fault was eventually fixed and the teams came back out for the restart at 9.10 with Preston bringing Patrick Agyemang on for Marcus Stewart.
The delay had a greater impact on Preston than it did on United, who came out with increased tempo and attacking intent. After having Sean Gregan booked for blocking off a run by David Nugent in the opening
seconds of the half, Leeds shocked North End with some concerted attacking, and took the lead after 56 minutes.
United won a corner on the right, and, as Gary Kelly took it, Shaun Derry was appealing for a foul after appearing to be obstructed. The concentration of the Preston defence, the meanest in the Championship, was disrupted and Rob Hulse had an acre of space to run into from the back post and made the most of it. He rose to flick it perfectly into the bottom left hand corner as Carlo Nash remained rooted in the centre of the goal.
Seconds earlier the confident home crowd had been chanting, "We are superior", but they were shocked to see their heroes concede at Deepdale for the first time in 568 minutes.
The goal shattered North End's confidence and Leeds pressed home their advantage just after the hour mark. They had continued to threaten and Liam Miller touched the ball through a defender's legs to Hulse on the left of the penalty area. He burst through a non-existent challenge and held off Mawene to fire the ball low across the six-yard box. Davis got a touch to the cross but it reached Richardson in space at the far post, who had time to trap and fire goalwards from six yards out. Nash reached the shot but its pace took it underneath his body to give United a 2-0 advantage.
That looked like it would be a decisive score, but North End hopes were raised when Stephen Crainey was sent off after 69 minutes for a second bookable offence. He had received his first caution five minutes earlier for dissent and his second came for bringing Nugent down on the way towards the area. Liam Miller was booked for protesting the decision.
Sullivan pushed the resultant free kick by Paul McKenna
wide and then Kilgallon deflected a Nugent strike over the bar, but Preston's urgency was getting the better of them.
Kevin Blackwell brought Richard Cresswell on for a tiring Hulse after 78 minutes and he was booked rather harshly within a minute of entering the fray.
Preston thought they had pulled one back when Tye Mears headed home a Graham Alexander corner. The goal was disallowed after the referee ruled that the corner had curled out of play before reaching the far post.
It was then down to the far end and an ugly looking challenge by Cresswell on keeper Nash. The striker had little choice other than to go for the loose ball but left Nash with a broken cheekbone, inspiring a mass brawl in the North End goal area. Strangely, referee Thorpe chose to book Kelly and Douglas, letting Cresswell off scot free. Arguably, Nash and Davis merited a caution for their part in the conflict, and it was bizarre that United now had eight men in the referee's book to just one from Preston.
The toll increased further when Cresswell did eventually fall foul of the official as the game ticked into injury time. The forward tussled with a North End defender and when the decision went against him he allowed the ball to bounce away off his outstretched foot in an ill advised attempt to kill some time. He protested long and hard but Thorpe was adamant and left United clinging on for six minutes of injury time with just nine men.
Cresswell said later: "I do not know what the referee was doing for the first booking. He called me over and said 'Have I booked you before?' I
was like 'Pardon? I have only just come on'. He said 'I obviously have not booked you then, here is a yellow card'. I did not know where he was coming from.
"I felt the second was harsh because he said I kicked the ball away."
Strangely, the heat had gone out of Preston's attack and they struggled to manufacture an opportunity worthy of the name. As the final whistle sounded, the United party and their fervent supporters went into fits of ecstasy, celebrating their place in the Millennium final.
There was a party on the pitch at the end of the game, going on long into the night.
Kevin Blackwell: "I'm extremely proud. The lads were fantastic. They showed true grit and determination to get through here. I said before we had to be solid and strong and not try to make too much of a game of it and we did that.
"Gary Kelly, who captained us here, was the only player I had 18 months ago. We've built a club that is one game from the Premier League, and that's a magnificent achievement.
"It was a game that had everything. There was a power cut, delays, goals disallowed, tackles, bookings and a referee that seemed to lose his way right at the end. I wasn't sure we would have players left the way he was going on. I was very sceptical about the two refereeing appointments made for this semi-final, and I made my feelings known to the powers that be at the time. These games are too big for these kinds of officials. It annoys me that nobody took any notice of what I said to them last week. This is a £40m match and I don't understand why we should have a rabbit in the car headlights in charge. The standard was up and down. No one knew what was going on. Hefty challenges weren't getting booked early on. Later you could get a yellow card for anything. He could well have denied two players a massive opportunity to play in the final with his display. I will have to have a look at the bookings and think about appealing."
Blackwell also talked of the motivational tactics used to get his men up for the game. After Billy Davies' touchline celebration at Elland Road, Leeds required no greater motivation.
Memories of Davies celebrating in front of the away fans at Elland Road on Friday night were etched into the players' minds, and steps were taken to ensure they remained there.
Paul Dews in the Yorkshire Evening Post: "A simple
note pinned on the dressing room door provided the added inspiration for Leeds United in their quest for promotion from the Coca Cola Championship. The words 'Billy Davies - Job Done' were stuck up on the wall on the inner sanctum at Deepdale on Monday evening ahead of United's clash with Preston North End.
"While Davies was apparently angry that his post match comments following Friday's first leg had been misinterpreted on this side of the Pennines, the Leeds United management team were keen to make sure all the players knew how the Scot had reacted to the 1-1 draw.
"Hull City boss Peter Taylor admitted last month that he had done a similar trick for the visit of Leeds after United manager Kevin Blackwell reportedly said his side had 'annihilated' the Tigers earlier in the season.
"Never ones to miss a trick, Leeds used the same tactic to provide an added source of inspiration for their own date with destiny.
"While the jubilant players never mentioned the dressing room notice after Monday's success, the United squad were clearly still bristling at events which had surrounded the two-legged play off affair with the Lancashire side."
Sean Gregan: "To go there and win after what's been said in the media from some quarters made it all the more satisfying. There was a bit of an edge to it. I've got to be careful what I say because I have got a lot of good memories of Preston and I don't want to have a go because of the supporters there. And I don't want to rub it in because we still have a big task ahead of us in the final. But the way some of their players conducted themselves in the tunnel and at the final whistle on Friday night ... all I can say is that what goes around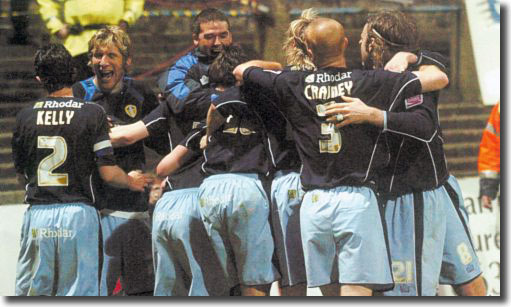 comes around."
"Preston were jumping up and down at Elland Road thinking they were in the final, but we came here to prove otherwise," said Blackwell.
"To be at Leeds is tough, and why do I say that? Because every game we play - whether it's someone like Brighton or Crewe away - is a cup final. People ask me 'why didn't you win there?' and I say because they are big cup final games and the players have to get themselves up for them all the time. It is an emotional roller coaster being at Leeds, and at this point the lads have handled it exceptionally well."