Part 2 - Momentum, bottle and the loss thereof - Results and table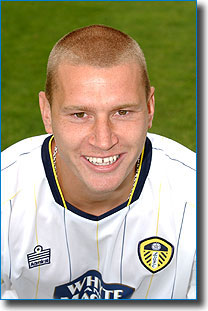 When the irascible Ken Bates appeared on the Elland Road scene in January 2005, he was treated with cynicism and suspicion by badly bruised fans. There were some cynical sneers when it became clear that young Aaron Lennon would be allowed to depart in a cut-price £1m deal. From the Elland Road faithful came the cry that Bates was just a money hungry chancer, stripping the few remaining assets.
There was little choice in the matter. Bates needed to address a still dire financial position and Blackwell explained that United simply could not afford the contract that Lennon was on, with built in bonuses and wage increases: 'He actually took a wage cut to go to Tottenham. His contract was so prohibitive that there was no way we could afford to keep him.'
There was other squad trimming: long serving Lucas Radebe retired, while reserve keeper Sasa Ilic was released and Marlon King had remained a free agent; Michael Gray's loan deal expired and he returned to Blackburn; Clarke Carlisle, Matthew Spring, Simon Johnson, Julian Joachim and Martin Woods were all shipped out.
The highest profile departure was that of injury prone midfielder Seth Johnson, who had arrived from Derby County in a £7.75m deal in October 2001. Johnson had figured in 59 games for United, and the terms of the transfer meant that if he played just one more first team game, Leeds would have to stump up another £250,000. He had 11 months left on an exorbitant £35,000 a week contract, and Ken Bates said that he would sooner leave Johnson to rot in the reserves than pay Derby a penny. The midfielder's contract was cancelled by mutual consent and he rejoined County.
Ken Bates: 'There are a few people Kevin Blackwell inherited that are slowly being moved out and one of those is Seth Johnson. He had a good pre-season but went to Norway, played 45 minutes and then his knee swelled up. With the transfer window, we could not take the risk. He has got everything he is entitled to, but the way we have done it means there are cost savings for Leeds United.'
Over the summer months, the club's dealings earned Ken Bates some respect. The new chairman provided the funds to build a team that had a realistic chance of promotion. It was generally accepted that the departures made sense and seven promising replacements were well received.
West Brom striker Rob Hulse had shown great promise during a loan spell in the spring and he completed a permanent £1.1m move in early May. He was joined by Birmingham keeper Ian Bennett, Preston left winger Eddie Lewis, Portsmouth midfielder Steve Stone, Brighton left-back Dan Harding, Birmingham forward Robbie Blake and CS Maritimo's Angolan defender Rui Marques.
Kevin Blackwell spoke at length of his dealings with Ken Bates: 'We had a long chat and talked about where we need to be next season and how we get there. The chairman is still working hard at putting in place the financial side.
'On 12 August last year we only had 12 players signed. Every one of them was a free. The cost of the whole team I put together did not equal one player's wages from the year before. I was working to a budget that kept being taken away from me. No one knew what would happen next. It was about keeping the club alive, keeping it afloat long enough for someone to come along and help us move on. If we had been down in the bottom half of the table in January I don't think Ken would have touched us. The club would not have survived a second relegation.
'Established players weren't exactly falling over themselves to join us. This time last year we didn't even have a bench for the first game against Derby. At times last season I had four players on £500 a week. I had 28 debuts last season, which I think is a professional record, 64 trialists, including a Dutch winger who lasted 10 minutes at Macclesfield because I realised he must have been a waiter, and to go through all that was just incredible. I kept thinking, "This cannot be right." We've got state-of-the-art facilities at Leeds and yet we cannot get any players in.
'The chairman has worked with me for four months and has had an opportunity to say he either wants me or he doesn't. He has obviously liked what he has seen and respects what I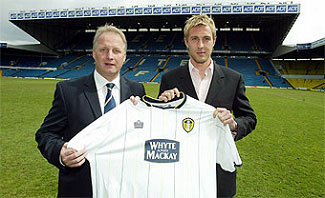 have done. His football acumen has come to the fore already. He has a wealth of knowledge and contacts and he's passionate about turning Leeds around.
'The great thing is that if I need an answer I'll get it. That's how to run a business. He's very proactive and I've really enjoyed working for him, and I'm not just saying that because he's my chairman and I want to continue working for him. He can be bombastic and belligerent but I've learnt so much from how he operates and the way he thinks. He is the reason why we have turned around so quickly.'
Turning to the new season, Blackwell said: 'I have to temper everybody's expectations, don't I? I expect us to improve on our position last year and that's as much as I want to say. If I come out and say Leeds will get promoted, I've just done the team talk for every manager in this division. We'll settle for steady progress. I don't want any more dreams here just yet. We've lived the dream, and seen what happened when we woke up.
'I am optimistic about the future. In September 2003 I wrote a 17-page report for Peter Reid in which I predicted we would get relegated from the Premier League. There was so much wrong here and as an outsider it was easy to see. If I was to write a report now I would say the long-term future of the club is so much better than I could have dreamt 12 months ago. Don't get me wrong, we are still building from nothing and while I have got a good squad of players they have never played together.'
The summer was spent strengthening the financial position. In July, administrators acting for Leeds United plc settled with the outstanding creditors, including a £30,000 pay-off to former chairman Professor John McKenzie. A pot of £500,000 had been set aside when Adulant Force took over in March 2004, and after the settlement, £100,000 was left over to contribute to transfers.
Chief operating officer Shaun Harvey commented on a Football League report on agents' fees: 'The six-month report to 31 December 2004 saw Leeds United reported as having committed to pay licensed agents £1,553,688 which was comfortably the highest amount paid by any club and in the main applied to payments made at the time of the cancellation of high profile players contracts. A full reconciliation of payments made showed it was understated as there were issues as to the effective date of two transactions. In the interest of transparency these figures have now been included. The revised figure for the period is £1,896,688.'
In the six months to December 2005, fees fell to £576,800, despite 11 players arriving. It was a sharp lesson in economics.
One decision that was less welcome was a hike in ticket prices. Bates had said when he arrived, 'Leeds are losing £120,000 a week, with an average gate of 30,000. They are subsidising everyone to the tune of £8 per ticket, well I ain't going to do that.'
He was as good as his word - fans in the two main stands would pay almost 25 per cent more for their season tickets and were not happy. The chairman was unrepentant, saying, 'What amuses me is that people pay increased council tax, petrol, every other tax you can think of and don't complain. But put the price of their football ticket up and they go apeshit. I've said this is the price of watching Leeds - if you want a Leeds.
'It's a much tighter ship now. The club won't be going bust and the threat of administration has passed. That said, we still don't have much money and we have to watch our pennies. There are still little things coming out of the woodwork, but there's not much woodwork left now.'
The move had a massive impact on gates. In their opening game, televised live by Sky, United faced Millwall at Elland Road on Sunday, 7 August, a day after the rest of the division had kicked off.
George Caulkin in The Times: 'Leeds United began their second consecutive year in the Coca Cola Championship playing in front of their lowest League crowd since May 1989. The absence of Millwall supporters had a role in that, but only a partial one, given that last season's smallest attendance was more than 4,000 bigger. Marching on Together in reduced numbers.
'Under the chairmanship of Ken Bates, the Leeds debt may have fallen to a more manageable figure, but the dreams of an entire generation have been punctured. When it was announced that 20,440 people had not found anything better to do yesterday afternoon, there was jeering, although the target of the boos was unclear. The figure is a measure of decline.'
There were three debuts - Dan Harding at left-back, Eddie Lewis in midfield and Robbie Blake up front. Neil Sullivan recovered from a shoulder injury to start in goal, and played behind the centre-back pairing of skipper Paul Butler and Sean Gregan. It had been evident from pre-season that Blackwell would opt for the Butler-Gregan partnership, much to the concern of fans, worried by their lack of pace. Gary Kelly was at right-back, and Eirik Bakke in a midfield four alongside Jermaine Wright, Shaun Derry and Lewis, with David Healy partnering Blake up front.
Two players were absent through injury: Rob Hulse and Steve Stone. Hulse damaged ankle ligaments during pre-season and was out for a month. The Stone situation was more worrying: he sustained an Achilles injury in training and needed an operation. Scans later showed there had been an infection in the wound. For a time it was feared that Stone's career was over, but after three operations and much heartache he made his debut in April 2006.
First-day opponents Millwall were in disarray and tipped for relegation. The South London club had gone into freefall: chairman Theo Paphitis stepped down and manager Dennis Wise resigned amid speculation that he would take over at Elland Road; they were followed out by Kevin Muscat, Paul Ifill, Darren Ward, Peter Sweeney and Danny Dichio. Former player Steve Claridge was appointed to replace Wise in late June, but resigned five weeks later.
The game looked to be an easy opener for Leeds. Barry Hayles, playing as a lone striker, gave Butler and Gregan trouble and Don Hutchison shone in midfield alongside former United schemer Jody Morris, fiercely abused by the crowd, but United were the better side. Blake and Lewis played well and Healy was in fine form. In the 28th minute, Healy opened the scoring from Lewis' corner. The centre was deflected across goal by a Millwall defender and the Irishman turned sharply to hook the falling ball through the hands of keeper Marshall.
On the hour, the Lions equalised. Full-back Alan Dunne robbed a hesitant Dan Harding on the byline and pulled the ball back. Hutchison, who had joined Millwall 48 hours earlier, smashed home a 13-yard volley. It was a breathtaking strike.
In the 73rd minute, Bakke was brought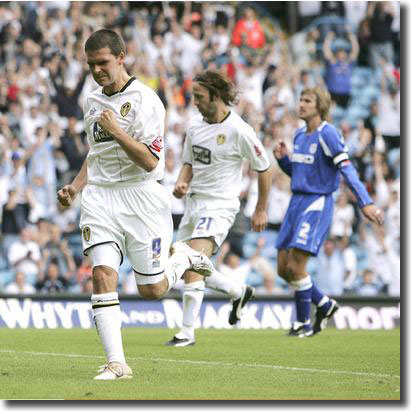 down in the area and Healy coolly notched his second goal from the spot to complete a 2-1 victory.
Kevin Blackwell was jubilant afterwards, saying, 'Last year, we wouldn't have won that. 60% of the team have hardly played together but the stuff that I saw pleased me and it can only get better.' Recalling the days of Peter Ridsdale and his £20 a month rented goldfish, 'The chairman has said we're not a selling club any more. In my time here, I've sold everything, but if we still had the fish, we would keep them now. That's how far we've improved. Unfortunately, we had to eat them.'
Three more points were anticipated when United travelled to Cardiff two days later. With an unchanged side they had the best of the early exchanges and the 539 travelling fans taunted Peter Ridsdale, now Cardiff chief executive, when Robbie Blake opened his United account after some sharp footwork in the 22nd minute.
Leeds led at the break, but had to bring Matt Kilgallon on for Paul Butler, who had a badly bruised foot. Midfielder Jason Koumas came off the Cardiff bench after 56 minutes and on the hour he hammered in an unstoppable equaliser from the edge of the area.
City went ahead in the 66th minute. Kilgallon was adjudged to have handled, even though there was no appeal. Referee Tanner had no doubts and Darren Purse crashed home the penalty.
The referee was similarly adamant in the closing minutes when ruling that a Cardiff handball was accidental, and Leeds were left complaining after a 2-1 defeat.
Robbie Blake: 'I think the referee has to look at his decision making today - we were harshly done by on certain decisions. It's frightening to think that the referee can see a penalty from 40 yards away, but he was stood five yards away from the other one and he hasn't given it. Cardiff is a difficult place to go as it is, but when you have people not making decisions that should be made, it's even harder.'
Michael Ricketts got his first start of the season days later at promoted Luton. But it was goalkeeper Ian Bennett, making his debut for the injured Sullivan, who took the credit, earning a goalless draw with a splendid display.
Rob Hulse returned from injury on August 20 as Leeds entertained fancied Wolves, enjoying a 21-game unbeaten run. Hulse scored the second in a 2-0 victory. The Sunday Times described the match as United's 'most assured performance of the season so far', though Wolves had the better of the game.
Kevin Blackwell: 'We knew it would be tough and it proved to be the case. We changed one or two people today and the goals came from those people doing what was asked of them, but the whole thing was a team effort.
'There are going to be times when things are not going well and you have to dig in and keep a clean sheet. That for me is what won us the game because there was a ten minute spell before half-time when they were on top. At half-time we went man for man and put three up top in a system that worked well for us last year.
'I asked Rob Hulse to give us everything he's got for sixty minutes or so and he did just that and the icing on the cake was his goal. There's a presence about him and a confidence that helps the team.'
With the end of the transfer window fast approaching, Blackwell made some final adjustments to his squad: he paid Preston £1.15m for striker Richard Cresswell and Republic of Ireland midfielder Jonathan Douglas arrived on a season long loan from Blackburn. Eirik Bakke (to Aston Villa), Jermaine Wright (Millwall) and Michael Ricketts (Cardiff) were all off on loan.
Blackwell commented: 'I'm looking long term and the players we've signed are spot on for the next two to three years. We will improve on that as we go along and the great thing is that instead of there being wholesale changes it will be one in, one out and a steady progress of rebuilding the club to a higher level. That means a high level of player and with that comes extra cost and higher wages, so the whole thing has to be thought about carefully and that's what the chairman and I are trying to do.'
Another goal from Hulse brought a priceless victory at relegated Norwich on 27 August to lift United before a two week international break. While most of the squad had some rest and relaxation, David Healy was more than thankful to be in action. His splendid strike at Windsor Park earned Northern Ireland their first victory over England since 1972.
Healy: 'It's an unbelievable feeling to score against England. I think I've hit better goals in my career but that was definitely the sweetest moment - it will be the most memorable as well because it was against England and it was the winner.'
When league action resumed, United stumbled badly, drawing 3-3 at home to Brighton and losing by a goal at Sheffield Wednesday. Both teams were struggling and Leeds were lucky to get anything out of Brighton, who led 2-0. Healy scored twice, but an own goal from Sean Gregan looked to have settled things in the 83rd minute. Jonathan Douglas' first goal for the club in injury time snatched a point that Leeds did not deserve. Those results left Leeds sitting in 10th, seemingly about to see their season drift into some sort of limbo.
Sheffield United, Reading and Watford were streaking away at the top of the table and it seemed that the best the Whites would manage would be a play off spot.
Some of the gloom was lifted when a Rob Hulse tap in after 41 minutes was enough to earn a win at Queens Park Rangers, despite United having to play the final 26 minutes with ten men. David Healy was dismissed for a petulant stamp on Marc Bircham after he had been fouled.
Three days later, the first two goals of Richard Cresswell's Leeds career settled a Carling Cup-tie at Rotherham but irritating inconsistency raised its head again when two Sam Parkin goals saw Ipswich win 2-0 at Elland Road on 23 September. Leeds dominated matters with 11 shots on target but failed to score even when they were awarded a penalty, Cresswell crashing the ball against the bar. It was a very bad day at the office.
United put the disappointment behind them and a series of decent results saw them fourth by 18 October. Rob Hulse's first half hat trick put paid to Derby County, though the pitiful 18,353 crowd confirmed that fans were still not happy. Hulse came closest to breaking the deadlock when United secured a goalless draw at Watford - his shot hit both posts before being cleared. The match marked the seventh clean sheet in 13 games. Hulse managed further goals in the wins at Burnley and at home to Southampton to take his tally to 8 in 10 matches - it was an incredible return, boosting United's chances of promotion.
It was just as well that Hulse had hit form - Richard Cresswell suffered a ruptured knee ligament against Derby and was expected to be out of action for months.
Now came a real test - Friday, 21 October brought the Sky cameras to Elland Road for the Yorkshire derby against Sheffield United. The Blades were top of the table, having dropped just six points out of 42. The prickly relationship between Kevin Blackwell and mercurial Blades boss Neil Warnock brought added spice. Blackwell had worked under Warnock at seven different clubs over a period of 17 years before taking on the role of assistant to Peter Reid at Elland Road in 2003. Since then relations had been distinctly frosty.
When Blackwell signed Richard Cresswell in August, Warnock accused him of doing it out of spite, thwarting his own move for the striker. 'I was aware before the weekend that Leeds had definitely made an enquiry for the player. I am disappointed as I feel it would have been a good career move to come to Bramall Lane, but Leeds have given him a much higher basic salary than we offered.'
Leeds opened nervously and the Blades imposed a stranglehold. Phil Jagielka tried his luck from 25 yards, but his shot veered narrowly past the upright.
The Whites enjoyed a number of chances after the quarter hour mark. Paul Butler freed Frazer Richardson in space, but he shot feebly at keeper Paddy Kenny. Eddie Lewis put a dangerous cross into the area that neither Hulse nor Blake could get a touch to. When Richardson's low pass found Hulse
12 yards out, he shot wide after turning Sheffield defender Chris Morgan.
In the 20th minute, Sheffield United had their best chance when Kabba, allowing Alan Wright's pass to run on to Neil Shipperley, spun to receive his strike partner's adroit lay off. His powerful shot drew another good save from Sullivan.
The keeper saved smartly again from Kabba two minutes later. The tricky Sheffield striker skipped across the edge of the penalty area, withstanding challenges by Kelly, Douglas and Kilgallon. When he eventually opted to shoot, the powerful drive was straight at Sullivan.
Leeds had the chance of the half on 36 minutes. Blake's cross from the right deflected off a defender onto Hulse's head but he somehow put his diving header wide from inside the six yard box.
After the break, Leeds exerted more pressure and broke through in the 53rd minute. Robbie Blake created space with intelligent control and movement to feed Frazer Richardson on the right flank. Richardson left full-back Alan Wright for dead and skipped inside to smash an unstoppable drive into the roof of the net.
Neil Warnock was emphatic that Leeds had stolen a yard at a throw leading up to the goal and protested vehemently. Shortly afterwards he had other things to worry about as security staff threatened to remove him if he continued reacting to the crowd.
The Sheffield boss said later: 'The fans chanted, "Warnock, Warnock, what's the score?" and I signalled to say "1-0, but there is plenty of time left." The fourth official came up to me four minutes later and said the head of security has said,"'If you incite the crowd any more you will be removed from the touchline." The game is bent if you can't have a laugh with the crowd.'
Warnock managed to recover his composure sufficiently to spark a Sheffield revival with a couple of substitutions. He brought Keith Gillespie and Danny Webber on for Shipperley and Ifill. The move reaped instant rewards, prompting a 69th minute equaliser. Leeds struggled to clear their lines and Webber played Kabba in. The striker shot through Kilgallon's legs and into the corner of the net.
A point apiece was probably a fair reflection of play, though Leeds were disappointed not to have three after giving one of their best performances of the season.
Kevin Blackwell: 'I said before the game that this was a benchmark as to how the club has moved forward. Sheffield United have been building for a long time but inside nine months we are competing at the top end of the division. It was a cracking game, like the old days in the Premiership. We knew it would be tough but we more than competed and could easily have won. We scored a great goal but there was some poor defending for theirs. We're better than that and it's frustrating.'
Neil Warnock: 'I thought it was a good game and a good Yorkshire derby. It was a great advert for the Championship and it would be lovely to have this game in the Premiership next season. It's nice to talk about two good teams in Yorkshire after all the doom and gloom of recent years. I think Kevin should be pleased. I shouted to him a few minutes from the end, "shall we settle for a draw?" I'd have taken a last-minute winner, mind. When you're 1-0 down it's good to come from behind and get a point. Leeds were super; I couldn't fault them. They have bought some good players and they've got a good chairman.'
Another major test came four days later when Leeds visited Blackburn in the Carling Cup. It gave Blackwell the chance to assess how close his men were to living with a top flight team. Shaun Derry, suspended after reaching five bookings for the season, was missing and Blackwell rested others, giving rare starts to Ian Moore, Gylfi Einarsson and Danny Pugh. Craig Bellamy inspired a 3-0 triumph for Rovers after coming on as a 53rd minute substitute with the game goalless. Einarsson was dismissed four minutes from time after a two footed lunge on Robbie Savage.
Blackwell felt the Welshman was lucky to stay on the field after bearing his own studs in the challenge and making provocative gestures: 'Robbie Savage jumped in and they've both gone for the ball. I've seen the video and the ball's there and they've both gone for it with feet off the ground. Robbie wasn't injured, he's got up afterwards and waved to the Leeds fans. We'll look at the video again before deciding whether we will appeal, but if he's sent Gylfi off then he's got to send Robbie off.'
United were pitched straight into another big match, away to second placed Reading, unbeaten since the opening day of the season.
The Telegraph: 'There was no procrastination; this game got straight down to business. Reading love to play at a high tempo and they ripped straight into their visitors. The guileful American, Bobby Convey, was teasing and probing on the left flank and he went close after 14 minutes, his inswinging free kick from the right just missing the forehead of Ibrahima Sonko and the outside of the far post. Leeds responded to the onslaught with the rough stuff. Reading kept coming: Doyle was denied brilliantly by Neil Sullivan; Convey cut in and shot at the near post; Kitson could not guide a header on target from Nicky Shorey's fine cross and then nodded over from James Harper's corner. After 63 minutes the Leeds resistance finally crumbled. Convey collected the ball as his own corner was cleared and found Brynjar Gunnarsson in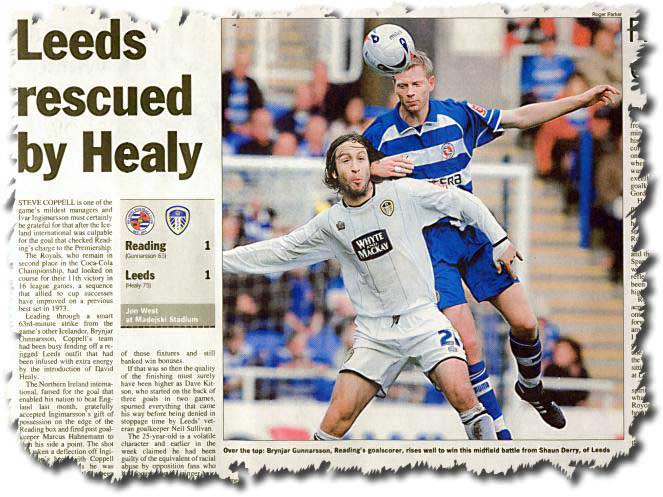 the box. The Icelander took a touch before driving in low at the near post.'
That was the signal for Kevin Blackwell to bring David Healy on for Robbie Blake.
Leedsunited.com: 'United should have been back on level terms on 72 minutes when Healy's ball into the centre saw Murty slip and the ball found Douglas inside the area with just the keeper to beat but he sliced his shot unforgivingly wide. Healy then saw a shot just turned behind by Hahnemann for a corner. The Northern Ireland international had certainly added bite to United's attack.
'It all came right for Leeds on 75 minutes when they got back on terms and it was no surprise that Healy was the maker and scorer of the equaliser. He shot low and hard and his shot took a deflection off Ingimarsson that took it past the keeper.'
The match finished 1-1 with Blackwell raving about Healy's performance. 'We were robbed,' he said with tongue firmly in cheek. 'To be fair to Reading, they had long spells on top and we knew it was going to be difficult coming here. But we kept our shape and battled well and we've had our best 15 minutes near the end and could maybe have walked away with all three points. Reading play at a high tempo but it's important that you don't lose your confidence.
'David gave us a different dimension and got up the field a bit higher, bringing the midfield into it a bit more.'
The draw saw Reading set a club record 18-game unbeaten run and provided evidence that Blackwell's men had found the necessary resilience and spirit to compete with the best the division could offer. It was six games since a Championship defeat.
All the more depressing then that a visit to second bottom Crewe on 1 November should see a return of the wobbles. Defeats to struggling sides on cold midweek evenings were becoming sadly habitual, and an own goal by Paul Butler after 8 minutes left United chasing. They had a number of chances but couldn't take even one, leaving Blackwell seething. 'I am very angry and have let the players know that I can't tolerate that. We got our noses bloodied here tonight and Crewe thoroughly deserved it. I told the players before the game that the pitch was particularly slippy and asked them about their studs, but at times it was like Bambi on ice out there. We couldn't get any cohesion going in the game whatsoever, Crewe started at a fast pace and took the game to us and we were still asleep or still on the bus. You can prepare teams, you warn them about
what to expect and they go and play like that. You couldn't print what I said to them at half time. It's no good dominating the last 20 minutes of the game when we lost composure in front of goal, and we had some good chances, and people like Robbie Blake, who is an accomplished finisher, were slashing at things and for me that summed the night up. You do have bad days at the office but I don't want them.'
The manager sought midfield reinforcements and persuaded Manchester United to release Irish international Liam Miller on a two-month loan deal. The 24-year-old former Celtic star offered some creative potential and would bring much needed cover with the threat of suspensions and injuries starting to bite.
The deal was the catalyst for an upturn in United's fortunes, but the early signs were not great. Miller's debut came in a sterile goalless draw against Preston. David Healy had a fifth minute headed goal disallowed, but that was the only bright moment. Kevin Blackwell was impressed with neither the official nor his players: 'Only Andy D'Urso knows why that goal was disallowed, but it was a poor performance from him throughout the game. No one knew what was happening next and it was a surprise if we got a free kick. I was happy with the back five, and a clean sheet is important. But looking at the strikers, we needed sharpness and invention in a game that was there for the winning. They played 4-5-1 and have a system that puts the onus on you. We were looking at the wide men to get around the back and get crosses in, but that didn't happen. I think that certain players looked jaded. It's been a long haul and we welcome the rest now - some of the players are desperate for a break.'
United had slipped to sixth in the table, and were 14 points behind second placed Reading. The two-week international break gave some much-needed time to regroup. The talk was all of refreshing jaded limbs, and no wonder - Leeds were without a win in five games.
The first half of the match at Southampton on 19 November brought no sign of a return to form. A goal by Pahars and two by Quashie left the Saints 3-0 ahead at the break. For the first 20 minutes of the second half there was little change, and if anything it looked like Southampton might grab a fourth.
Then Kevin Blackwell threw David Healy on for Frazer Richardson and switched from 4-4-2 to 4-3-3. The change brought instant rewards as Paul Butler headed an equaliser from a corner. Six minutes later, Healy's shot-cum-cross fell for Blake to smash into the bottom right hand corner of the net. 84 minutes, and Healy's shot was adjudged to have been handled by Danny Higginbotham. The Irishman brought the scores level from the spot. Still the Whites were not satisfied - two minutes later Miller drove the ball home to secure victory, a truly astonishing recovery that made headline news. As the Yorkshire Evening Post reported: '4.31pm: Saints 3 United 0 - 4.46pm: Saints 3 United 4.'
The adrenaline rush revived a season that had been drifting and United built on it, winning three more games on the bounce. The points lifted them to third.
Sheffield United were now second, having taken just five points from their four games. They were wobbling as Reading stormed away on the back of an unbeaten run that now stood at 21 games.
1-0 defeats to Cardiff and Wolves were reminders of Leeds' inconsistency, but United enjoyed maximum points from their other December games as a stable line up carried all before it.
Top of Championship 3 December 2005

Pos

P

W

D

L

F

A

Pts

1st

Reading

22

16

5

1

41

11

53

2nd

Sheffield United

22

15

4

3

43

21

49

3rd

Leeds United

21

11

6

4

28

19

39

4th

Watford

22

10

8

4

37

26

38

5th

Luton Town

22

10

4

8

33

31

34

6th

Preston North End

22

7

11

4

26

20

32

7th

Burnley

22

9

5

8

31

26

32

8th

Crystal Palace

20

9

4

7

32

23

31

9th

Wolverhampton W

22

7

10

5

27

19

31

10th

Cardiff City

22

8

7

7

32

26

32

11th

Stoke City

22

10

1

11

26

30

31
When asked about the 4-3-3 formation he had adopted, Blackwell was typically forthright: 'Last season it was forced upon me because I didn't have an attacking left sided player - I had Danny Pugh but he's more of a defensive midfielder - so I had to put David Healy over there and go 4-3-3, with Frazer Richardson on the right in front of Gary Kelly. That made us very defensive but we were solid and able to get results.
'So lo and behold, I go out to get Eddie Lewis and Steve Stone. I spend a lot of the summer tracking them, chasing them and signing them. Then Stoney went and did his Achilles after 30 minutes training. I'd invested heavily in him and the others so the money wasn't there to go chase anyone else. It was no good moaning about it.
'Once again I put Frazer in there - but Frazer's attributes aren't necessarily about going forward and being creative. They're more about sitting in there and being solid - then going forward as a natural full-back. So I was putting too much pressure on him. He can do it, but the attacking role is not his forte. So I decided to change the system to 4-3-3 and go that way. I think we've performed very well with it.'
The Sky TV cameras caught Leeds in irresistible form during a trip to Plymouth on Monday evening, 2 January. The Whites had to withstand some pressure in the first half, but did so professionally, never looking in difficulty, before Eddie Lewis pushed forward after the break to turn in a man of the match performance. His whiplash crosses from the left brought goals before the hour from Cresswell and Blake.
Rob Hulse returned from a lengthy injury lay off for an 8 minute cameo performance as sub for Blake. He put Cresswell's nose badly out of joint by insisting on taking an 86th minute penalty and crashed home the kick to secure a 3-0 victory.
The victory left Leeds five points clear of fourth placed Watford and 11 behind Sheffield United in second spot. At the beginning of November, the Blades had enjoyed a 17-point advantage over the Whites. The bandwagon was rolling.
Part 2 - Momentum, bottle and the loss thereof - Results and table